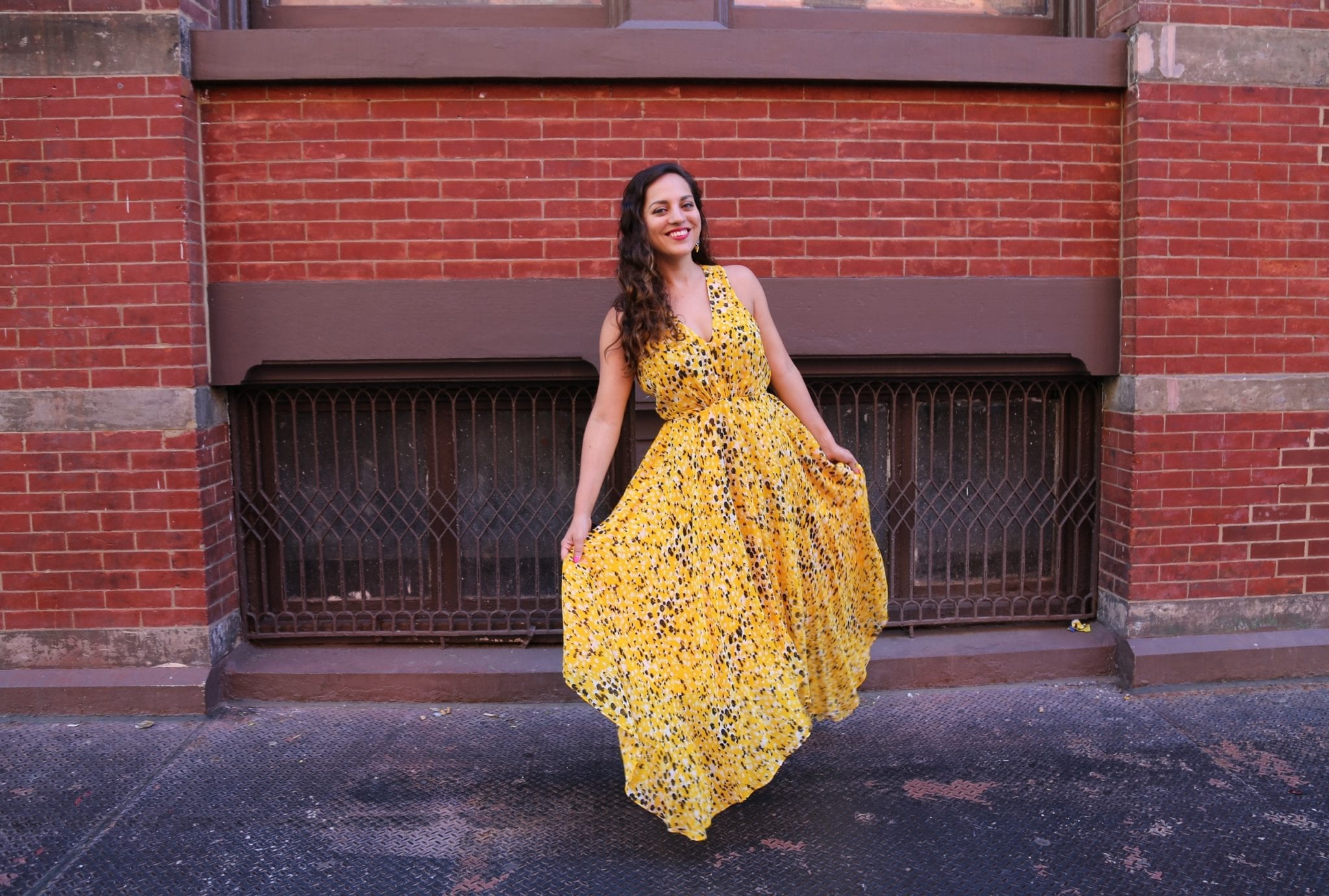 So much good happened this month — but I'm going to open with a story.
I needed to buy a new strapless bra before the Antigua trip, so I went to Victoria's Secret. I tried on my usual size, 36B, along with some 34Bs and 34Cs and 36Cs just to cover the bases, and nothing fit me right. I sighed and decided to call in the saleswoman to get measured. Most women wear the wrong bra size; I was probably off, too.
"I've been wearing a 36B forever," I told her as she wound the tape around me. "34B before that. But my body has changed since I started working out — maybe I'm actually a C?"
"No, honey. You're a 32DD."
I blanched. "Are you fucking kidding me?"
"No. This is your real size."
32DD. The pinnacle. Literally the best size that exists on the planet. Have I seriously had Double D's my entire adult life WITHOUT HAVING A CLUE?! Apparently.
I spent the next hour trying on a few dozen bras — all kinds of shapes and styles. Turns out her measurement wasn't a fluke. 32DD fit me PERFECTLY. And now I have to buy a completely new bra collection because I've realized how poorly the old ones have been fitting me. You're not supposed to poke out of the tops like a soufflé.
In the grand of scheme, does your bra size really matter? No. Of course not. But I'm screaming it from the rooftops anyway because it was such a good surprise.
I feel like Dorothy in The Wizard of Oz. All my life I've been living like a perfectly average B-cup, and who knew that I had Double D's all this time?!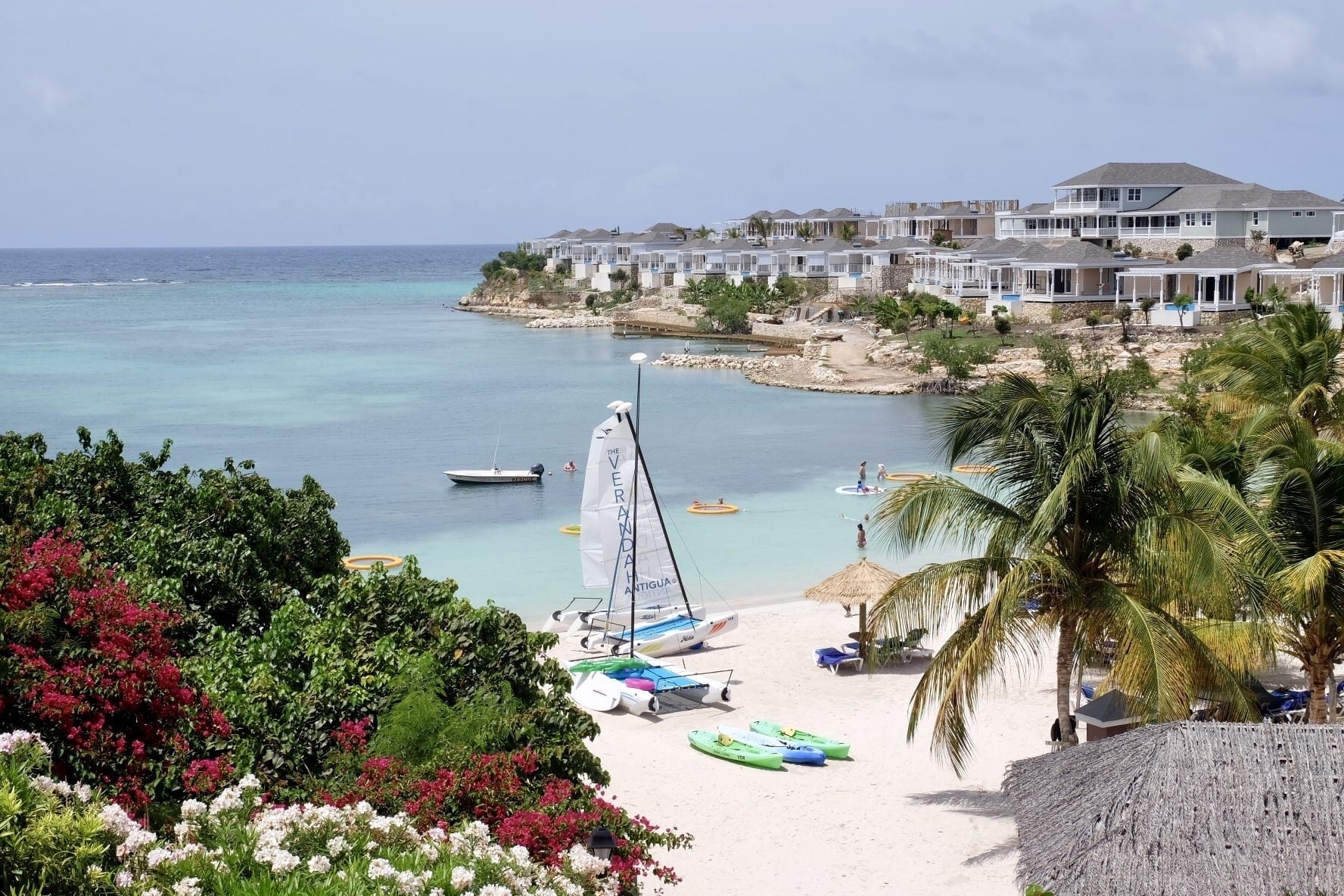 Destinations Visited
New York, NY
Long Bay, English Harbour, St. John's, and Turner Beach, Antigua
Ansonia, CT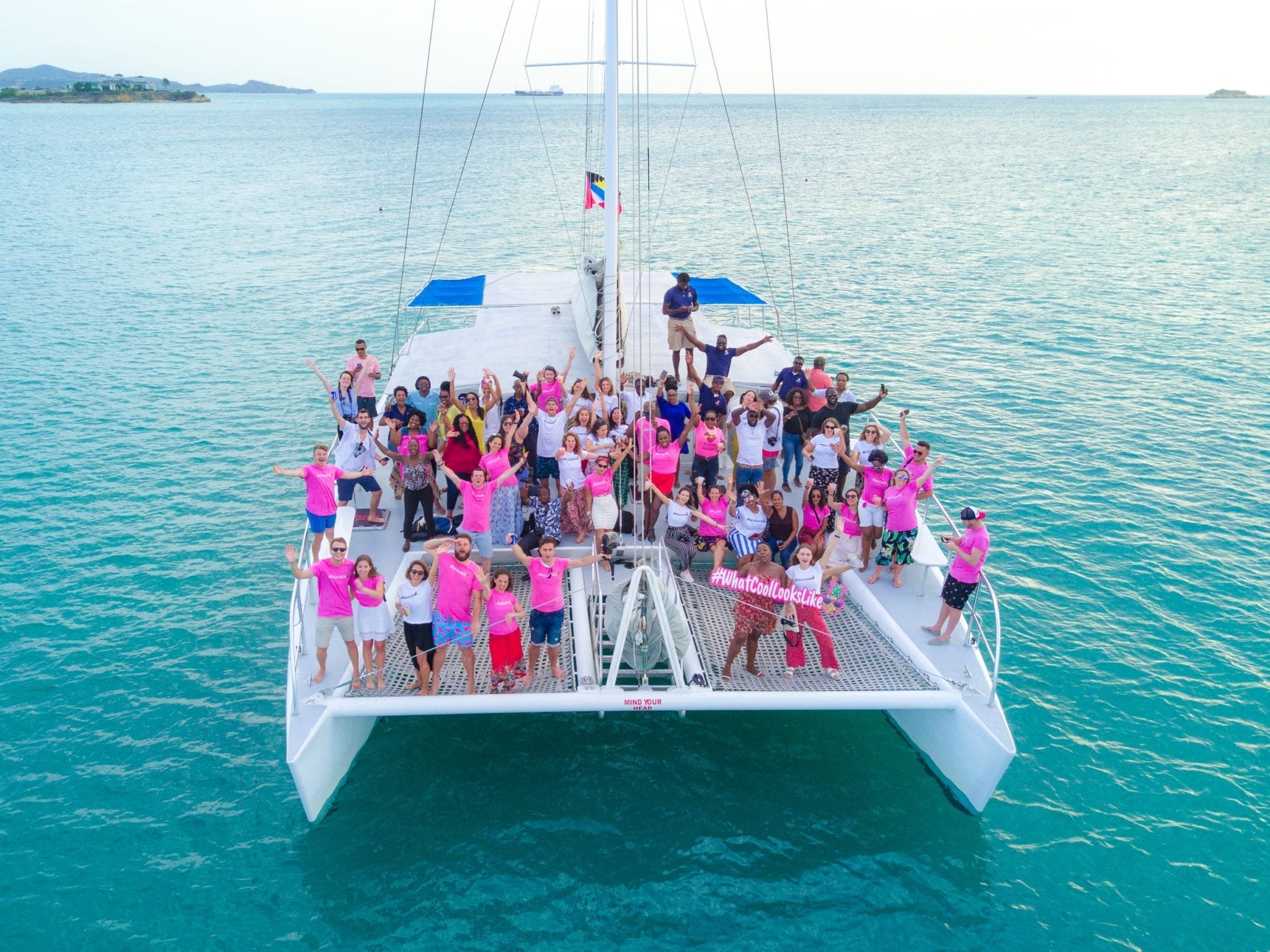 Image: Brendan van Son
Highlights
An incredible trip to Antigua. This is one of the best trips that I've had in a very long time and I can't wait to share all the stories with you. Traverse put on a mini-conference for travel content creators on this wonderful little island. We all stayed at the same all-inclusive resort, The Verandah, we chose the activities we wanted to do, and we basically had an open bar for seven days straight.
Antigua is a gorgeous little Caribbean island — and so easy to get to from New York, with nonstop flights on multiple airlines! Sprawling out in water hammocks was glorious, as was checking out the markets and eating the sweetest black pineapple, Antigua's signature fruit. Riding on a catamaran, taking in the sunset, as well as gallivanting over the view of Shirley Heights — just pure magic. And I get inspired when I spend so much time with my creative colleagues! Expect more on Antigua soon.
Raising more than $1,000 for NARAL Pro-Choice America. In the wake of attacks on reproductive rights in the United States, I started a fundraiser on the Adventurous Kate Facebook page — and so many of you chipped in. I love that I can count on you to stand up to injustice and put your money behind it. THANK YOU.
Seeing BLKS, a new off-Broadway play. I got comped tickets to this show at the brand new MCC Theater in Hell's Kitchen.  This play was SO funny, I couldn't stop laughing! It's branded as "Like Broad City or Girls, but with black women," and that's pretty on the nose — though much more like Broad City. The show is about three twenty-something black women living in Brooklyn and dealing with their lives, loves, and the fuckery that New York presents. I loved it and you should go see it.
Spotting a K train in the wild. The other night I was waiting for an A train at Canal Street and a K train pulled up on the local track! This is crazy because THE K TRAIN HASN'T BEEN IN SERVICE SINCE 1988. As in when Reagan was president. Somehow the trains still have these old signs and with a hex key some pranksters were able to turn them to the K train. Bizarre.
I posted it to the NYC subreddit and it went viral. It's always trippy when your readers recognize you on Reddit!
Getting professional photos taken in SoHo. I really loved the yellow dress I got for Antigua, so I hired a photographer from Airbnb Experiences to do a photoshoot. It's nice to finally have some good professional photos based in New York!
Spending time with two of my little loves. Two of the little babies in my life have recently turned into adorably rambunctious toddlers. I love getting to spend time with them. And I melted into pieces when one little boy took two steps toward me for the first time ever. And now he loves to stab me with a sword and giggle as I shriek and pretend I'm hurt.
Lots of fun times in New York. New eats, new drinks, fun times with friends.
Challenges
Losing a friend. See the "In Memoriam" at the bottom of this post for more. And honestly, whenever someone dies, it feels ridiculous complaining about anything else that happened this month.
Two of my close friends moved away. And I had to say goodbye to them on the same day! One home to Sydney, one off to a new adventure in Austin. I'll miss them both and I wish New York weren't such a transient city.
Nearly missing my flight to Italy. My flight to Italy was on an airline I've never heard of — Air Italy — and when I went to check in, there was no record of my flight to Milan, only home from Milan. And JFK had no record of the flight. It took 30 minutes to get through on the phone to customer servic,e but they said both the flight and my ticket existed, so I headed to the airport.
But that wasn't all. I usually take an Uber to JFK, but because I would have to leave during rush hour on a summer Friday, I elected to take the subway. I took the LIRR out to Jamaica and found out THE AIRTRAIN WAS NOT RUNNING TO JFK. I initially waited in line for a shuttle bus transfer, but after a few minutes, I realized that nobody was gong to make their flights on time and I summoned an Uber. Even with that Uber, I only barely made it through security in time.
General New York transit madness. One day I had to take five trains — D, F, A, C, and S, in that order, to get from Harlem to Crown Heights on a Sunday, and to make things worse, the D train went local and was full of Yankee fans. The next weekend, I had to wait 28 minutes for the L train — in the middle of the day. The subway is a mess and it's unconscionable how our leaders are failing us.
Getting caught in a rainstorm in open-toed shoes…in Alphabet City. Alphabet City is not close to public transportation, and due to general fuckery the F train wasn't even running when I needed it. The streets of New York can be gross to begin with, and even worse when it's rain and you have to walk nearly a mile.
Quote of the Month:
Will: "I'm going to be 22 soon. I'M SO OLD!"

Me: "You are not old! I'm 34."

Will: "What were you like when you were 22?"

Me: "Let's see. I lived in Boston, I would go to clubs constantly, and I would grind on a different guy to 'Return of the Mack' every weekend."

Will: "Cool. What's 'Return of the Mack'?"

Most Popular Post
Solo Female Travel in Australia — Is it Safe? — Australia is a fantastic country to travel solo — as long as you're sufficiently prepared for driving and wildlife!
Other Posts
Moving from Boston to New York — 25 Things You Need to Know — I feel like I am the utmost expert on this subject, so I was thrilled to finally write about the cultural differences between these similar-seeming cities.
Where to Stay in Seattle — Best Neighborhoods and Accommodation — A complete guide to the best neighborhoods and hotels for all kinds of travelers.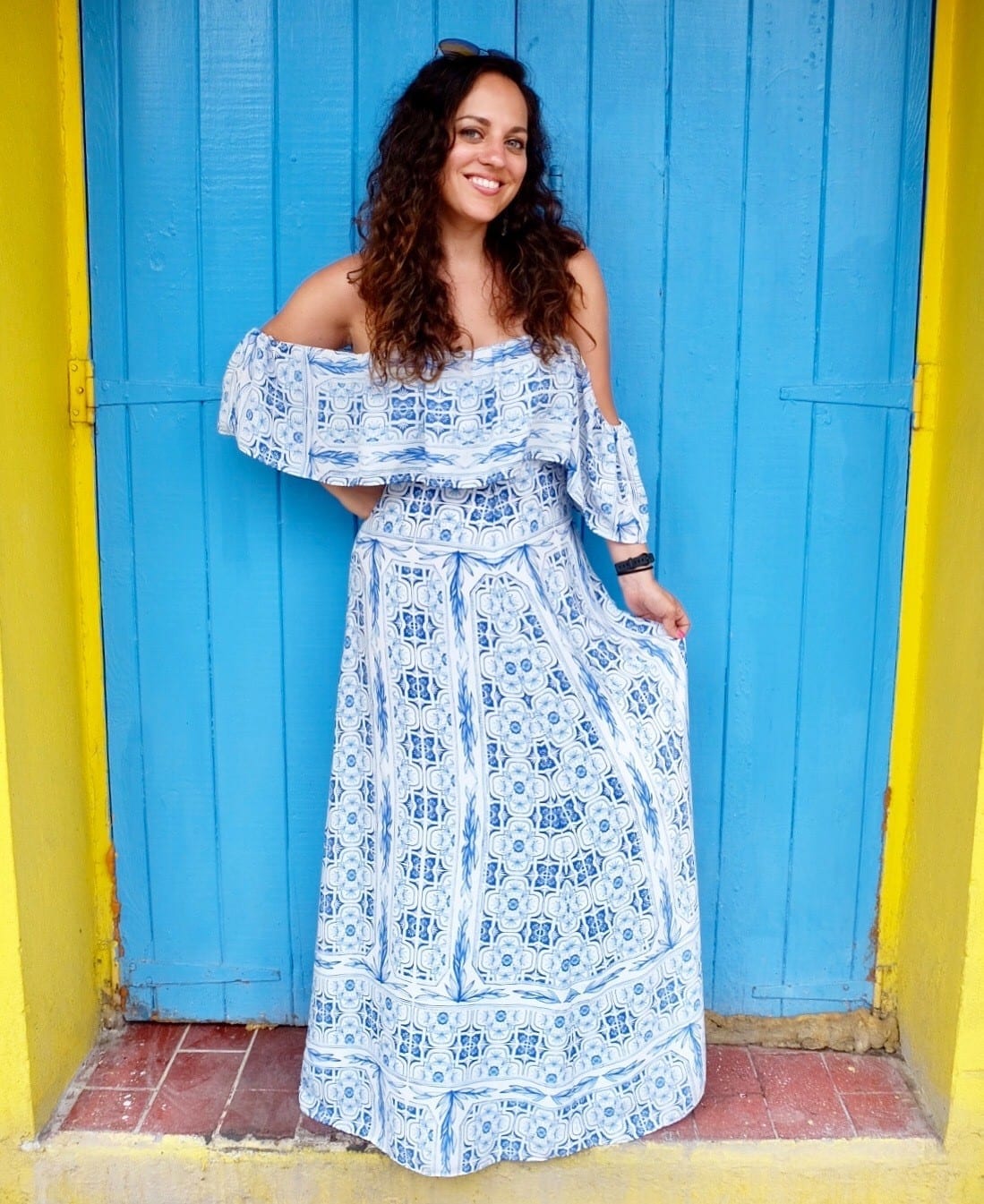 Most Popular Photo on Instagram
If there's a yellow and blue wall somewhere, shouldn't you pose in front of it? Well, that's certainly what our group in Antigua thought, because EVERYONE was taking photos in front of this wall! For more updates from my travels, follow me on Instagram at @adventurouskate.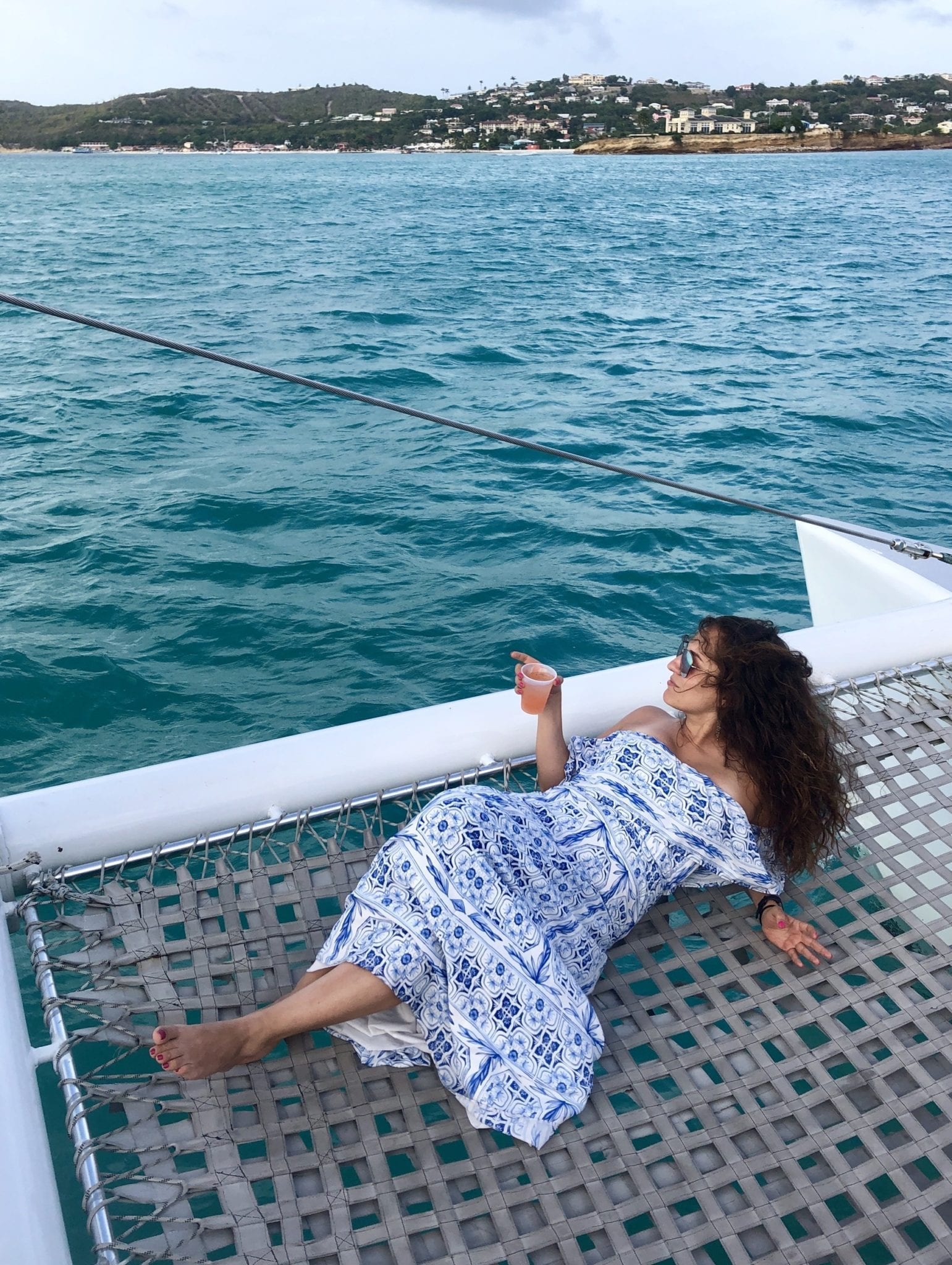 What I Wore This Month
I had a VERY good month for fashion — I'm really happy with the dresses I chose for Antigua! The one in the popular Instagram photo above is by Amanda Uprichard, which I rented via Rent the Runway. It was the PERFECT dress to wear on a boat. My friend Will told me I looked like a privileged pirate, and my friend Tom told me I looked like Dutch pottery.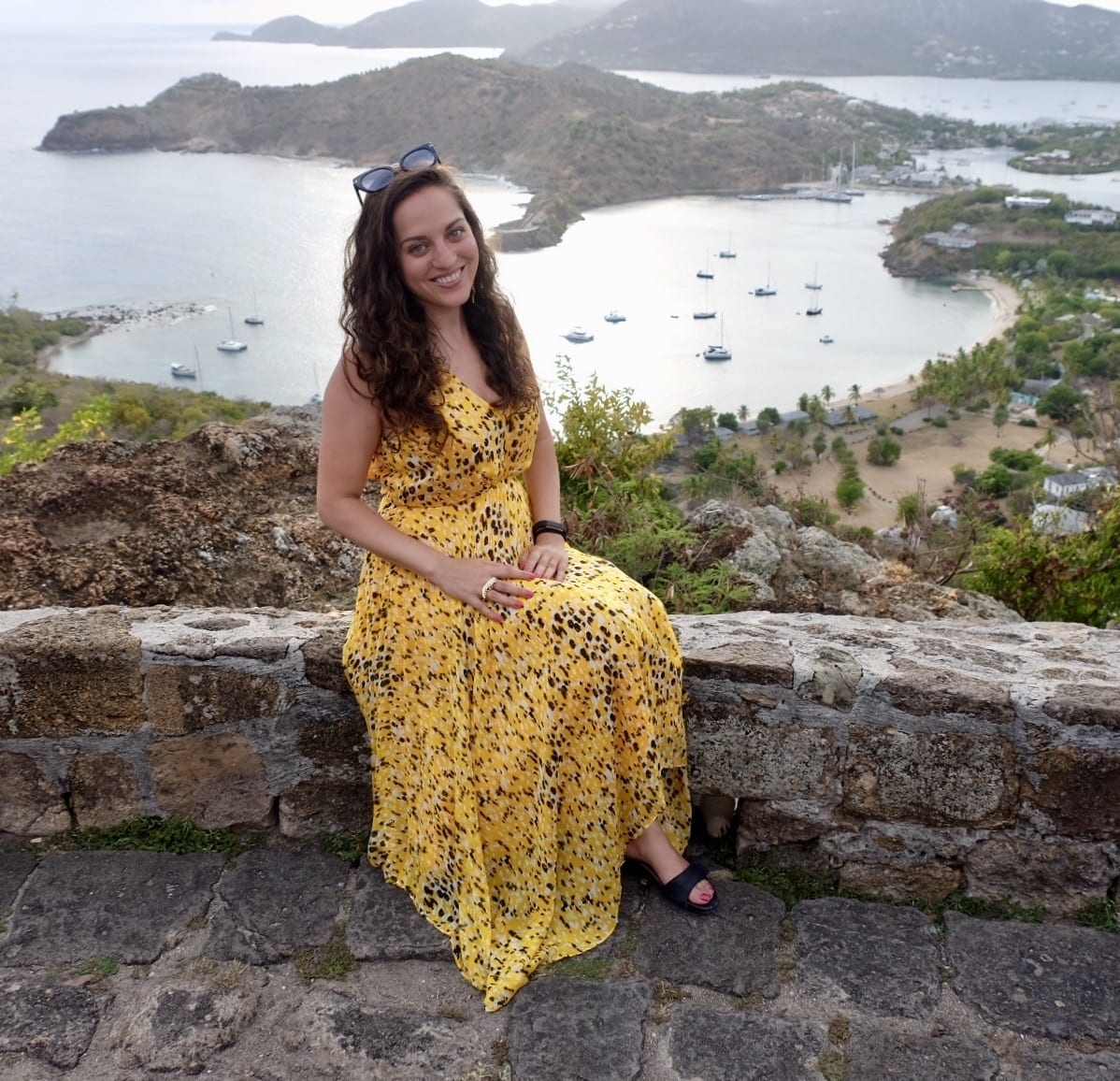 I was obsessed with this yellow Derek Lam dress from Rent the Runway. My whole life, my mom has been telling me I can't wear yellow, so it was amazing to hear so many people (including my mom!) telling me how good the color looked on me. I felt like royalty!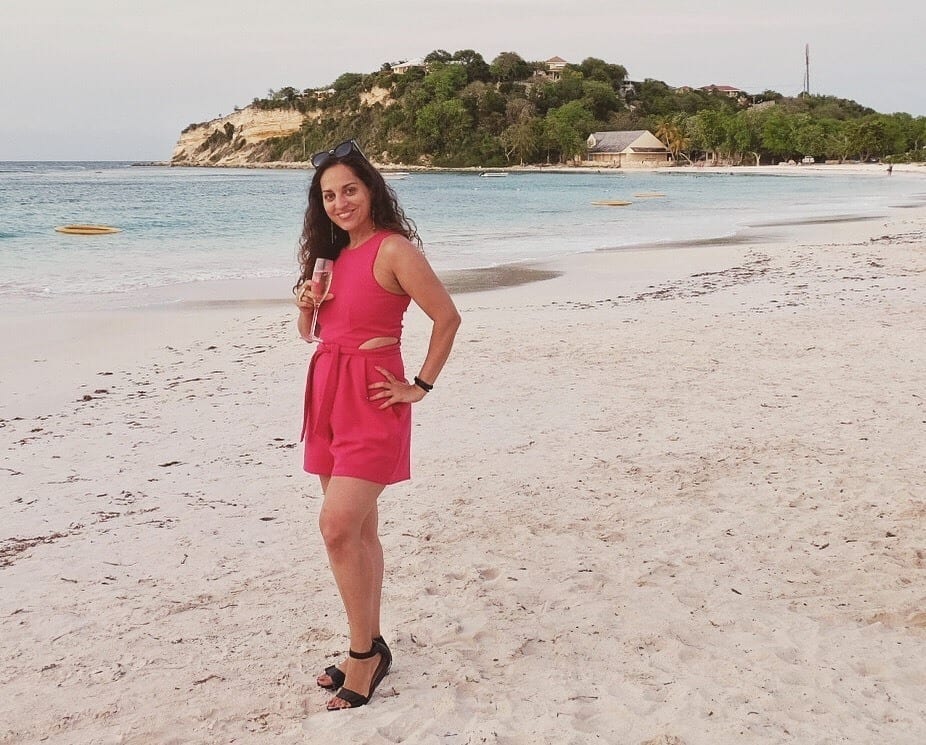 I had actually rented this hot pink Hutch romper last year, and I wore it so much that I decided to buy it from Rent the Runway this year. I love how it can be dressed up or down and be either sporty or dressy. It was just as good on the beach in Antigua as it was at the US Open last year.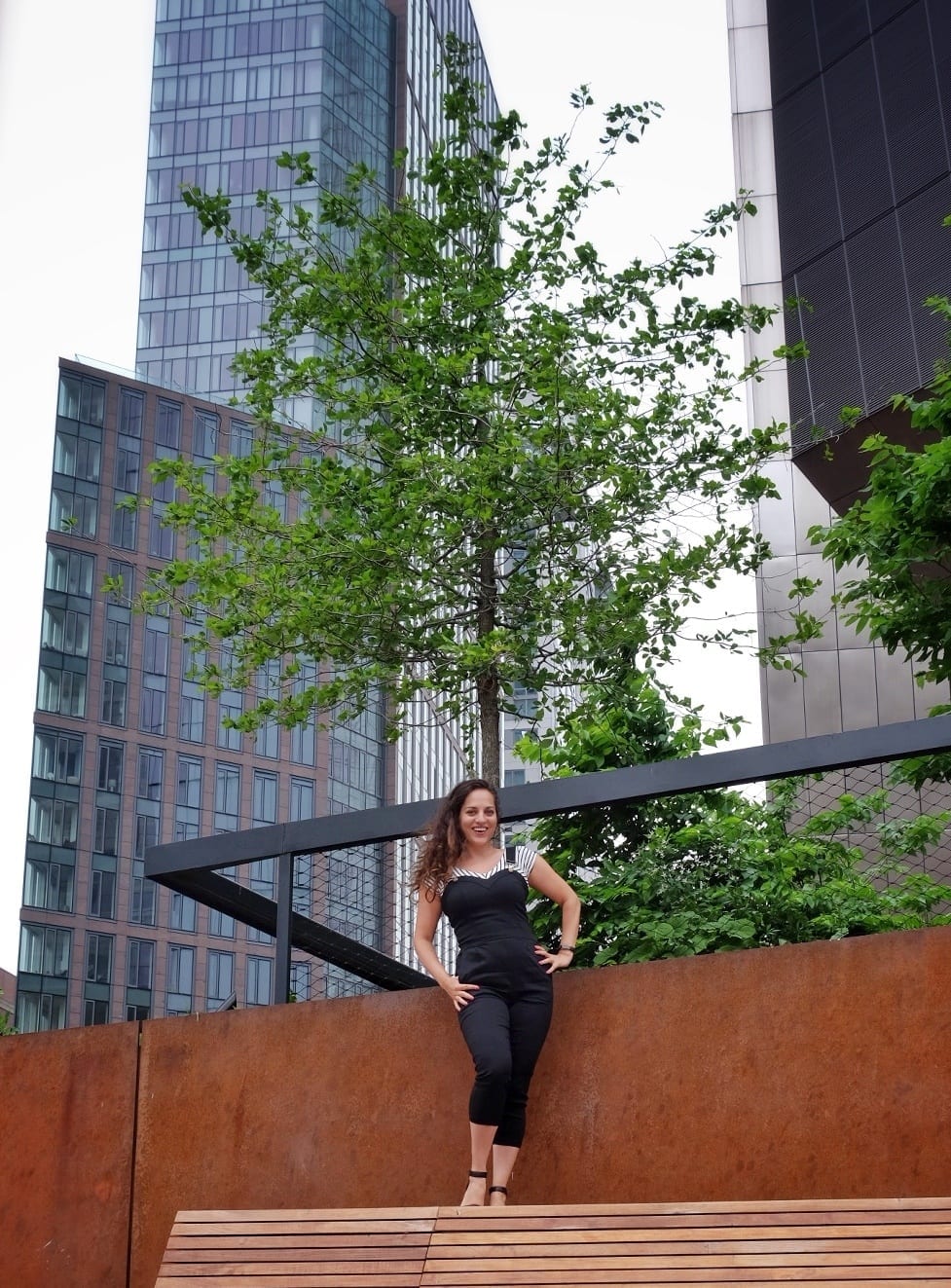 And finally, I bought a pair of gorgeous overalls from Unique Vintage. I haven't worn overalls since middle school but I am OBSESSED with this cropped fitted pair by Voodoo Vixen.
What I Listened To This Month
I've been hearing so much about Lizzo, and this month I finally bit the bullet and checked out her new album Cuz I Love You. Well, Lizzo is worth every bit of hype. She infuses her songs with so much humor and self-love — and on top of that, the songs are pretty danceable! My two favorites are "Juice" and "Tempo," the latter of which is the greatest twerking song of the last few years.
What I Watched This Month
This month, I rewatched Sex and the City for the first time in my thirties and the first time since moving to New York. I wanted to see how their experiences of thirty-something dating in New York in the late 90s and early 2000s matched up to the late 2010s — and boy, was it interesting.
I'm actually looking forward to writing about this. People who rewatch Sex and the City tend to complain about the same issues over and over — that the show had no diversity, that Carrie couldn't afford her lifestyle, that Mr. Big never would have changed. But I want what I write to be different. For starters, I couldn't relate to anything until Petrovsky showed up, and then the hairs on the back of my neck stood up with familiarity. That's because I've mainly dated foreign guys in NYC, often incomprehensible and fascinating foreign guys.
Also, the clip I attached above is the funniest clip in the series — when Miranda finally figures out how to dirty talk. I laughed until I cried. The expression on her face…
What I Read This Month
Well, I kind of fell off the reading wagon this month. I went from averaging around 10 books per month to only reading three. I'm at 46 books for the year so far and still hope I can meet my goal of 100!
Shortest Way Home: One Mayor's Challenge and a Model for America's Future by Pete Buttigieg (2019) — If you've been paying attention to the 2020 race, you've heard of Pete Buttigieg's run for president by now. He has the most fascinating biography of anyone running — elected the mayor of South Bend, Indiana at age 29; went to Harvard; was a Rhodes Scholar; joined the Navy reserve and served in Afghanistan; speaks seven languages, and is gay and happily married to a social media darling named Chasten.
This book lays out Buttigieg's biography beautifully, as well as showcasing the good work he's done in South Bend. I've been supporting Mayor Pete for president since the beginning of the year, and this book strongly communicates his values and what he would bring to the presidency. I love his style of writing, too — it's so calm. It reminds me a lot of Murakami, but without the creepiness.
We Are Never Meeting in Real Life by Samantha Irby (2017) — Samantha is a writer, comedian who lays her whole life bare. This collection of essays is about life, love, failed and successful romances, awkward sexual encounters, and what happens when you scatter your dead parent's ashes in the wrong direction.
This was my book club's selection for the month and it was a fun read, often laugh-out-loud funny. That so, there was a little bit of melancholy to it — I feel like most women memoirists have a lot of sadness infused in their comedy. It was a great read and I'm so glad to hear that Samantha found love and got married!
Let's Explore Diabetes with Owls by David Sedaris (2013) — If you've ever read a collection of David Sedaris essays, you know what this one is going to be like. This latest collection of stories discusses everything from his first colonoscopy, his adventures picking up trash on the side of the road in the British countryside, and his yearning for a friendship with his Parisian periodontist, along with stories from his childhood that he has somehow held off on telling until now.
I've always loved reading David Sedaris's essays, but this was the first collection where I felt a bit uncomfortable at times — particularly when he was discussing race. I don't think that he's changed over time (and I do maintain that "Six to Eight Black Men," a story about a remarkably racist Dutch Christmas tradition, is one of his best essays of all time), I think it's more of a sign of how I have changed over time. That said, most of this book was a funny read. I listened to it as an audiobook and it made a great background for when I was taking walks around the reservoir in Central Park.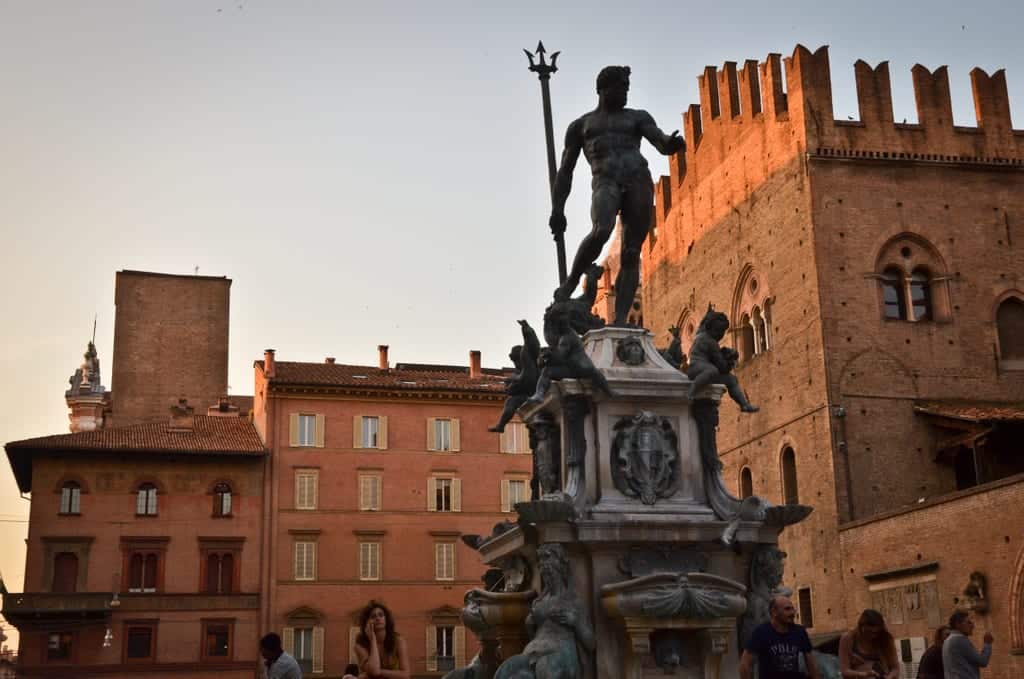 Coming Up in June 2019
As this publishes, I'll be in Italy! One of my absolute favorite countries in the world — FOR THREE WHOLE WEEKS. Cailin and I will be traveling together the whole time.
We are starting in Bologna, my favorite Italian city, staying with our friends Steph and Mike and their adorable two-year-old daughter. Next we head up to Trento in the Trentino region for Traverse 2019, where I will be speaking about the most important things I learned in nine years of professional blogging. After that, we head to the Dolomites for a few days, staying at the culinary resort Ciasa Salares, then we head down to Lake Como for two days, then spend a week in Milan while exploring the surrounding region. I plan to visit Verona and Torino for the first time and return to Florence for the first time since 2006. This fall will be 15 years since my life-changing semester abroad, and I plan to commemorate it.
What I'm looking forward to the most is seeing my friends. After that, learning new things at the conference. After THAT, I just want to drink a million espressos while standing at the counter. Va bene. God, I love Italy.

In Memoriam
We experienced two tremendous losses in the travel blogging community this month. The first was Evelyn Hannon of Journeywoman, who passed away after a three-year battle with cancer at the age of 79.
Evelyn was our fairy godmother — I can think of no better term for her. She began blogging in the mid-1990s, when truly nobody else was blogging about women's travel. Her resources were the light in the darkness for so many women at the time. As time went on, Evelyn became a symbol of traveling at any age. She graciously contributed to my Solo Female Travelers Over 40 post and was the oldest woman featured at age 75.
Rest in peace, Evelyn, and thank you for doing your part to help women achieve their dreams.
And then there was Rachel. Rachel Jones of Hippie in Heels died suddenly at the age of 29. You can read her obituary here.
While Rachel and I were never close, we had been online friends for years, and had seen each other last in December in New York. What I admired about her was how generous and humble she was — far more than most people I've known. She cared deeply for animals and adopted two street dogs. She demystified travel in India for women and made the country more accessible to travelers, especially nervous and uneasy women travelers.
Rachel was going to get married this year. I'm heartbroken that a life can end so suddenly without any warning. I still can't believe she's gone; it doesn't feel real. We've lost so much.
Rest in peace, Rachel.
What's coming up for you in June? Share away!
The post AK Monthly Recap: May 2019 appeared first on Adventurous Kate.