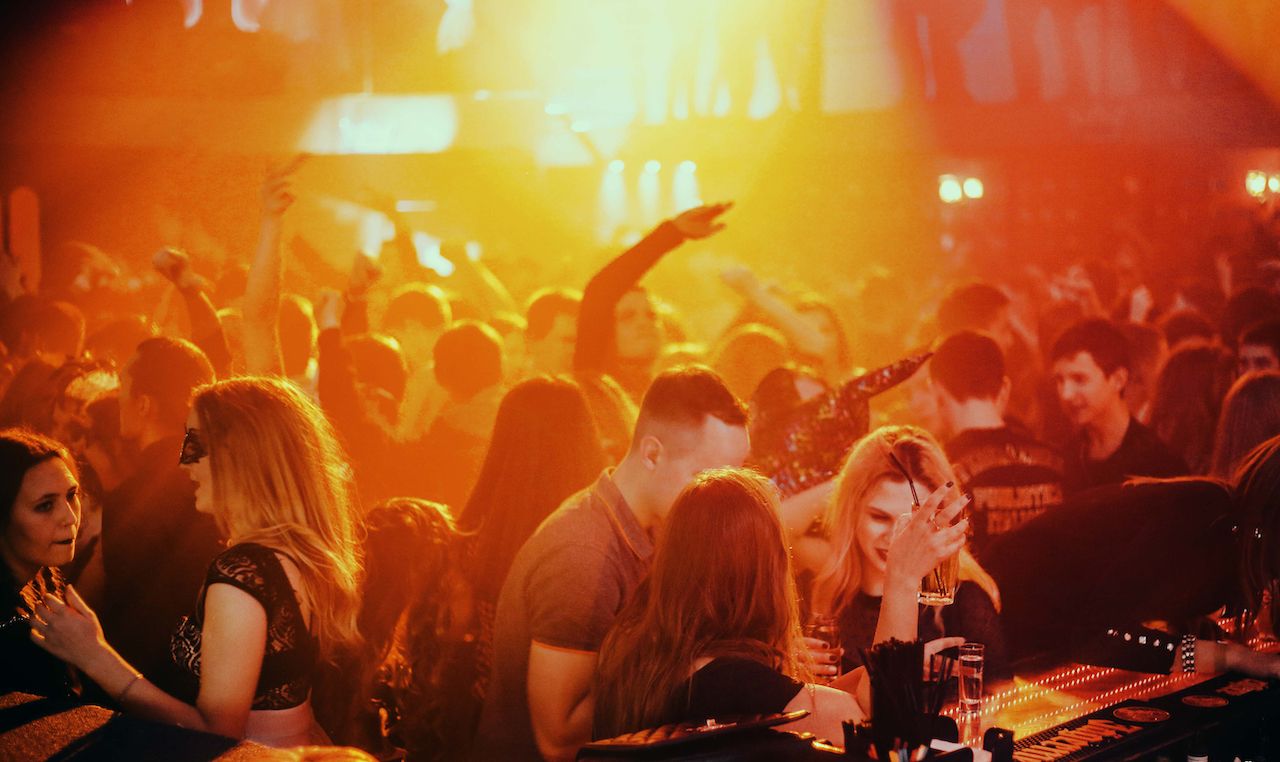 "Wild" is kind of a relative term.
To some people, "wild" means staying up until the sun rises on consecutive nights, possibly ending up on a private jet somewhere over Bimini. To others, it means staying up past 9:00 PM on a weeknight so you can catch that extra episode of SVU. Point is, determining the "wildest" cities in the United States can be subjective.
To help settle that debate, online sports book and betting tip site OLBG took a look at a series of factors — bars, strip clubs, and casinos per capita; rates of binge drinking; and marijuana and cocaine use — to find out which cities partied the hardest. Though the overall winner should surprise no one, the rest of the top 20 are not what you'd expect, as are the cities that are left out. Read on to find out which is wilder: Miami or Milwaukee.
A surprisingly low showing for the Windy City, whose reputation for nightlife and drinking (especially during the winter) didn't hold up to its massive population, ranking only 12th overall for nightlife with about 17 bars per 100,000 people. Though it did tie for seventh overall with 22 percent of residents admitting to binge drinking, Chicagoans' relatively low cocaine (18 percent) and marijuana (60.2 percent) use kept the city on the tame side.
It likely didn't surprise anyone conducting this study that Washington was a runaway winner for the highest rate of binge drinking, with 28 percent self-medicating to deal with living in the home of our federal government. DC also scored highly in nightlife, ranking fifth with 21 bars pers 100,000 people. Surprisingly, though marijuana has been decriminalized in the district, fewer than 60 percent of Washingtonians have tried the stuff. That, and a complete lack of casinos, kept the nation's capital low on the list.
This city full of great beaches, first-rate food, and friendly people can surprise you in a lot of ways, but perhaps the biggest surprise is that it ranked highest in Florida on this list. Though it boasts just under five bars per 100,000 people (and likely even fewer per square mile) Jax ranked highly in percentage of adults who've taken marijuana (62 percent) and number of casinos. No word on how it out-paced strip club meccas like Miami and Tampa, but no shock it was wilder than Orlando.
San Diego cracks the top 20 thanks in large part to its abundance of nightlife, with 14.1 bars per 100,000 people. That was nearly four bars more than the next-closest California city in Sacramento and double LA. San Diego also ranked sixth overall for binge drinking, with 22 percent of residents admitting to heavy consumption. Though we'd like to just chalk that up to the abundance of great breweries. Interestingly, fewer than 60 percent of residents admitted to taking marijuana, despite its legality and the city's surfer-dude reputation.
16. Oklahoma City, Oklahoma
OKC doesn't rank too highly for nightlife (28th), casinos (18th), or binge drinking (34th), which might beg the question of how it ended up so high on this list. It seems folks on the plains like to keep the party at home, with over 64 percent of residents smoking marijuana and 22 percent having tried cocaine. Not sure how that would translate to a wild weekend there, but Bricktown is never a bad time.
Casino-less Dallas was only the third-wildest city in Texas, with its 9.37 bars per 100,000 people ranking 19th overall, about half the ratio of Austin. Residents here also keep their drinking under control, with only 16 percent reporting binge drinking, just behind LA. The city scores points, if you can all it that, for marijuana and cocaine use, at 63 percent and 20 percent respectively.
Who would have guessed that nondescript Charlotte would rank ahead of San Francisco, Seattle, and New York for strip clubs per capita, with 1.26 per 100,000 people? Though in a banking town, that's no shock. Lap dance opportunities aside, the Queen City also has a relatively high number of binge-drinkers at 20 percent, though it does miss the finance trifecta with only 19 percent of people trying cocaine.
13. Ft. Worth, Texas
There's a reason you see so many bachelor and bachelorette parties roaming around The Stockyards on weekends, and it's not because they enjoy in-depth lessons on agricultural history. The FW in DFW may only have about eight bars per 100,000 people, but they all seem to be in the same neighborhood. Beyond that, 63 percent of Ft. Worth respondents admit to taking marijuana, and 21 percent admit trying cocaine, which combined with its eighth overall ranking for strip clubs made Ft. Worth the second-wildest city in Texas.
Speaking of bachelorette parties, it comes as expected that Nashville was the highest-ranking city in the south for nightlife, with 18.98 bars per 100,000. That ratio may drop as people move here in droves, but Music City probably won't be dropping off anyone's uninhibited-fun radar for awhile. In addition to its abundance of nightlife, Nashville nearly cracked the top 10 due to its large number of marijuana-using residents (64 percent) and cocaine users (20 percent).
11. Mesa, Arizona
One might think Scottsdale would be the Phoenix suburb with all the wild times, but that would be if you never looked behind closed doors. Sure, Mesa ranks dead last in both strip clubs and casinos per capita, and has only Fresno to thank for keeping it from dead-last in nightlife. But when you only have 2.55 bars per 100,000 people you have to bring the party home. That's why Mesa ranks #1 in marijuana use, with 65 percent of residents having tried the stuff. And it fell just behind Phoenix proper in cocaine use, ranking second with 22.5 percent .
10. Tucson, Arizona
That Arizona is a crazy, crazy state, with three cities in the top 11. The home of the University of Arizona cracks the top 10 thanks mostly to its nightlife, with nearly 13 bars per 100,000 people. Like the rest of Arizona, it also seems to like the white stuff as 21.8 percent of respondents here have tried cocaine, putting three of the top five cocaine-using cities in the Grand Canyon State. Tucson also had the most strip clubs per capita in Arizona, ranking 12th overall just between Philadelphia and Denver.
Boston's reputation as a drinking town is not even a little overstated, as it fell just behind government-stressed DC for number of binge-drinkers with just under 26 percent over-consuming. It also ranked eighth for nightlife with about 19 bars per 100,000 people, a clear sign Bostonians are happy to intoxicate themselves the old-fashioned way. That point is driven home with a relatively-middle-of-the-pack ranking for marijuana use at just over 61 percent and a 24th-place finish for cocaine at 18.6 percent.
8. Columbus, Ohio
Few people outside Ohio know Columbus is the largest city in the Buckeye State, and even fewer probably think of it as the wildest. Though as the home to THE Ohio State University, it really shouldn't be that surprising; C-bus scored highly thanks mostly to the college kid formula of binge drinking (20 percent), marijuana use (64 percent), and cocaine use (20 percent). But it gets a huge boost from the unexpected abundance of strip clubs, ranking sixth — just behind Houston — with 1.78 per 100,000 residents.
No casinos, no problem! Indy finds plenty of ways to get wild despite a complete dearth of gambling houses, ranking behind only Mesa for marijuana use with 64.6 percent. Indiana's largest city also cracked the top 10 for cocaine use, with just over 21 percent having indulged — that's higher than LA, Dallas, and New York. Most of the action here still seems to be at home, as the city ranked 22nd for nightlife with just over eight bars per 100,000 residents. Though it does have the 10th-most strip clubs per capita at 1.6 per 100,000.
America's cocaine-iest city isn't Miami, LA, New York, or anywhere else you see people sneaking off to the bathroom in movies. No, it's Phoenix, Arizona, where a full 23.3 percent of residents — or nearly one in four — have tried cocaine. So maybe it isn't the dry air that's making everyone sniffle. The Valley of the Sun also fell just behind neighboring Mesa and Indianapolis for marijuana use with 64.4 percent . But you'll have to seek out the party if you come to Phoenix, as it rated fourth-worst for nightlife with just over four bars per 100,000 people.
A city that literally brands itself on beer production really should rank highly for binge drinking, and Milwaukee doesn't disappoint, ranking fourth overall with 25 percent enjoying more than a few beers. And Milwaukeeans would rather do said binge drinking around others, as the city also gets high marks for nightlife with nearly 19 bars per 100,000 residents, good for 11th overall, just behind Nashville. That said, Bridesmaids aside, it still has yet to become a hotspot for wild bachelorette weekends.
The city that's "not really Texas" is also the state's wildest, ranking sixth overall for nightlife with 20.55 bars per 100,000 residents. An impressive feat as the rate of bar openings seems to have kept pace with the rate of California tech people moving in. That California culture is also evident in the rate of marijuana use, with 63.8 percent of people having tried it, tied with Columbus, Ohio, for eighth overall. It also had a similar rate of cocaine use as Columbus at a flat 20 percent. Austin's relative lack of strip clubs kept it from ranking higher.
Colorado has molded itself into a not-so-low-key destination for marijuana tourism, and the people of its largest city are happy to indulge with 64 percent of residents having tried the stuff. Surprisingly, that's only good for seventh overall, but Denver's 20 bars per 100,000 people put the Mile High City near the top of the list. Despite the altitude, 26 percent of Denver residents report binge drinking, which ties it with Boston for second overall. The city also rated highly for cocaine use, with 21.2 percent of residents trying it.
There are a lot of rather odd things about Portland, and up there with the oddest is its strip club culture, where going to a pole emporium is just as normal a thing to do on a Saturday night as drinking beers or watching SNL.The Rose City and its abundance of strip clubs ranks second overall, thanks in large part to its league-leading seven strip clubs per 100,000 people. That's nearly three more than second-place Baltimore and double the ratio in Las Vegas. But PDX has plenty of places to party that don't include single dollar bills, placing third in nightlife with almost 30 bars per 100,000.
Yes, there were a number of surprises here. But Sin City topping a list of wildest cities is definitely not one of them. Its ranking is largely bolstered by its 26.22 casinos per 100,000 residents, which is over 26 times second-place Seattle. Vegas was also a runaway winner in terms of nightlife, with 54.45 bars per 100,000, or about 20 more than second-place San Francisco. And while you don't need numbers to tell you Las Vegas is the wildest city in America, it's interesting to see just how big the gap is between this city and everyone else.


More like this:
The 25 places you need to travel in 2020
The post The 20 wildest cities in America appeared first on Matador Network.