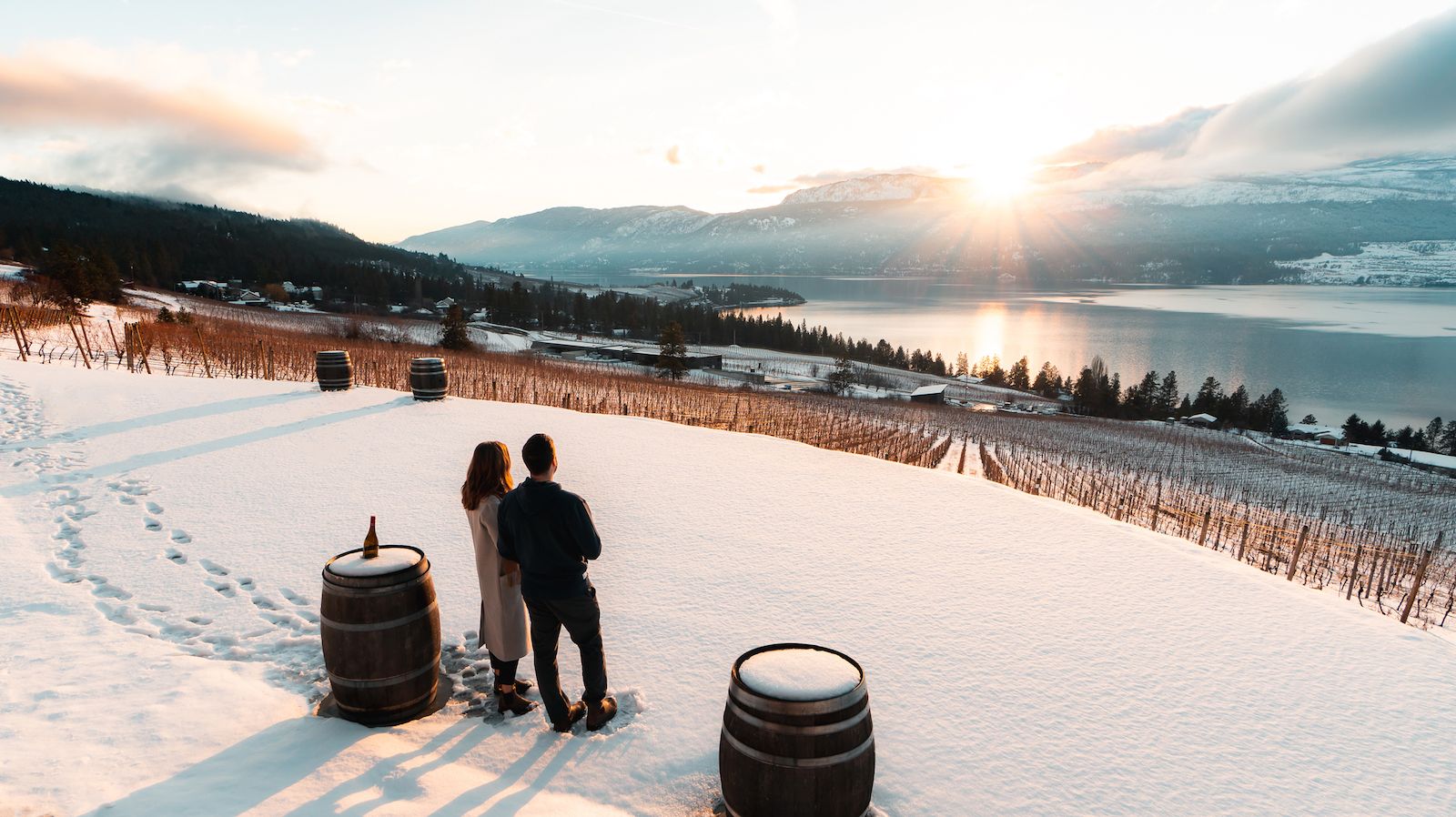 Imagine yourself with a hot buttered rum in hand, sitting in front of the fireplace, skis melting on the porch. You're deep in the mountains of British Columbia, less than five hours east of Vancouver. The landscape around Kelowna looks like a big 'ol bowl of fresh milk — earlier this morning, you were putting down fresh tracks on its surface.
Welcome to the Okanagan Valley, where scenes like this are the winter standard. For the perfect ski trip, you'll spend your days at Big White Ski Resort, one of the largest in interior British Columbia. Whether you're jonesing for double black-diamonds and 25 feet of champagne powder or you're simply looking for the best place to teach your kids how to snowplow, Big White should be at the top of your list.
And once you've gotten in that last run, a beautiful 35-mile drive takes you back to Kelowna and all the comforts of the city. Located on the shores of Okanagan Lake — smack dab in the middle of three mountain ranges — Kelowna has mega-options for your time spent off the planks. Not to mention an international airport that makes coming and going a breeze. It's the best home base for a BC ski trip, and here's why.
Skiing at Big White
At 2,765 skiable acres, "Big White" is no misnomer. Sixteen lifts access 119 designated ski trails (half are intermediate, with the remainder divided evenly between beginner and advanced), meaning you'd have to push hard to catch them all in a few days — but don't let that stop you from trying.
For an epic top-to-bottom groomer run, start at the top of the Cliff Chair, take the Whitefoot Trail to Powder Bowl, down to Blue Sapphire, on to Ogo Slow, and all the way to the lowest chairlift, Gem Lake Express. If you're a gnarl-meister looking for pow face-shots, there's a ton of ungroomed terrain and lots of room for powder playtime. Need to tackle a 2,550-foot vertical drop? You can check that one off, too.
The day doesn't have to end at sundown, either. With 38 acres of illuminated trails, Big White has more night skiing than anywhere else in Western Canada. Once the sky goes dim, everything on the edges of the trails retreats to quiet darkness, and Big White's famous "snow ghosts" (trees covered with ice) really do look like ghosts — but you'll be swooshing down the slopes so quickly, there'll be no time to get spooked.
Note: Consider starting your Big White experience with a free mountain tour with one of the resort's expert Snow Hosts to get tips on the absolute best ski and snowboard spots. It'll make the decision process that much less time-consuming.
Beyond the slopes at Big White
Maybe your quads need a break, or someone in your group isn't big on downhill. Big White has plenty of alternatives that'll keep you outdoors and in the fresh air.
For cross-country skiing and snowshoeing, there are 16 miles of groomed and wilderness trails (hire a snowshoe guide to show you the best routes). Fat biking, high-speed sliding at the five-lane tube park, dogsledding, and backcountry snowmobiling can be on the itinerary, too. The resort also has the highest outdoor skating rink in the country, the perfect place for views of the surrounding mountain ranges.
The après scene at Big White
The entire Village at Big White is a massive ski run, which means you can pop off your skis just about anywhere and duck into one of 20+ restaurants and pubs to warm up — and slow down — with a drink.
Nothing screams mountain culture like The Woods, a chalet-style pub you can't miss — the patio spills right out into the middle of the Village. Order an All Canadian Espresso Martini, made with maple-cream liqueur and whisky, to bring a literal tingle to your toes.
Snowshoe Sam's, the Village's oldest pub, is another ridiculously fun option. There's usually live music, and next to the central stone fireplace is the perfect spot to sip that hot rum.
Back in Kelowna: Where to eat
Big White might be ski heaven come winter, but Kelowna is wine nirvana all year long. This is the birthplace of BC wine, and 30 wineries are open year-round to showcase their goods.
When you're ready to lose the planks, sidle up to the intricately carved tasting bar at Summerhill Pyramid Winery to sample their award-winning wines. A Kelowna winter favorite is the Icewine, a Canadian specialty where a freeze on the grapes intensifies the sugars to give the end product a distinctive, sweet-yet-tangy flavor profile. Across the lake at Quails' Gate Winery, try testing your wine palate with a Black Out Blind Tasting — deep-black wine glasses force you to focus on smell and taste over appearance. And if the rest of your party is spending a day on the slopes without you, spend yours diving even deeper into the Kelowna wine scene by swishing and sipping across the city with Wicked Wine Tours.
One (unfortunately) cannot live on wine alone — which is why CedarCreek Estate Winery recently opened their headline-making Home Block restaurant. Pro tip? Leave room for one last course of red-wine-poached pears.
Otherwise, Kelowna's big into farm-to-table food. Several farms are located right within city limits, and nowhere offers better proof of this than RauDZ Regional Table, where you can rub elbows with the locals over farm-fresh cuisine at a community table. And at BNA Brewing Co. & Eatery, grownups can unwind with a local beer, while the whole family can take part in some 10-pin bowling and top-notch, unpretentious food (minors are welcome until 10pm).
Back in Kelowna: Where to stay
There are tons of accommodation options in Kelowna, which means not only can you choose your location, you can also choose your budget. The affordable Sandman Hotel & Suites Kelowna is centrally located on Harvey Avenue, and their indoor pool is a great place to swim it out after a big ski day.
For luxury lakeside digs, try the Delta Hotels by Marriott Grand Okanagan Resort. Located in the middle of the Cultural District — Kelowna's historical fruit-packing area — the Delta is surrounded by art galleries, theaters, bistros, and several of Kelowna's museums, including the Okanagan Wine & Orchard Museum. There's also the Eldorado Resort, right on the waterfront with a private boardwalk and marina. Its British roots date back to the 1920s, and the award-winning Eldorado Lounge and Whisky Room has an ambiance that's hard to beat.
Of course, we're barely scratching the surface of wintertime in Kelowna. There are so many more places to stay and things to do than we can possibly pack into this article — head over to the Tourism Kelowna website and start exploring for yourself. You'll find everything you need to plan your perfect BC ski trip.

The post For the perfect BC ski trip, make Kelowna your home base appeared first on Matador Network.