Every year, I love looking back at the best travel moments. What were the moments that I'm going to remember for always? I write them down and document them on the site so I can always look back at them when I need a smile.
I began the year thinking that I was going to maintain a lower level of travel while living in New York. "Let's not poke the beast," I wrote in 2018, thinking that I had finally found what worked best for me.
The year certainly began that way, with a weeklong trip to Mexico and nothing else until March — but after my trip to Italy in June, I did a 180 and decided to spend most of the summer traveling. From early July through late October, I was barely in New York at all as I explored Italy, Canada, Prague, and the Caucasus.
That's what set me on my path to leaving New York, something that would have seen so out of left field last January. And yet here I am, back in Prague, just a few weeks from spending the winter in Mexico.
But before we get ahead of ourselves, let's look back.
From Tbilisi to Guyana, from Abruzzo to Newfoundland, these are the travel moments that brought me the most joy.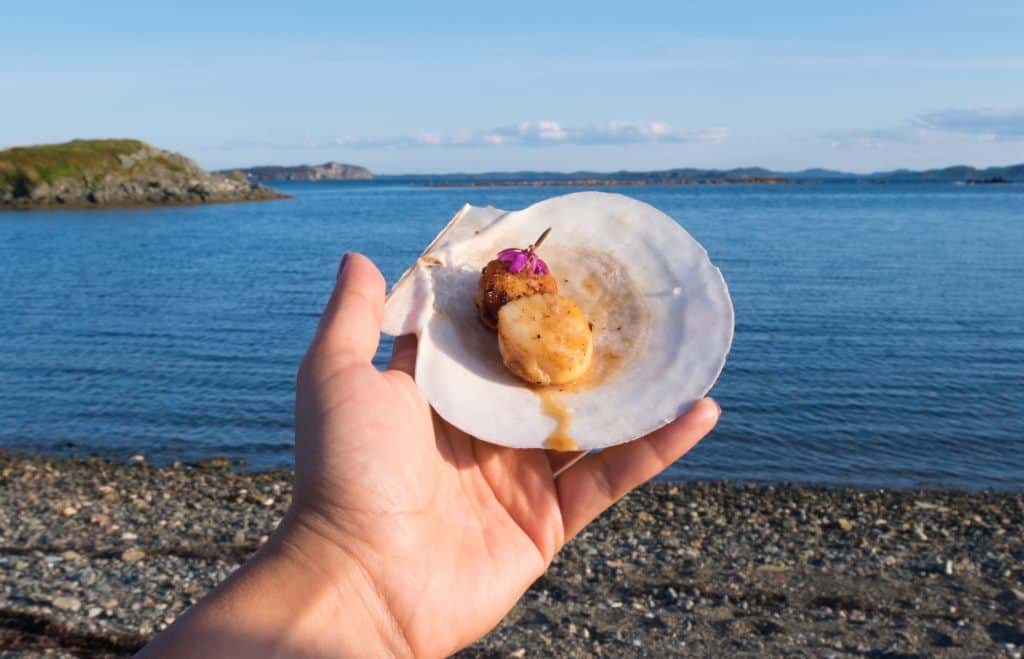 Dinner on the Beach in Newfoundland
My absolute favorite activity all year was having a seafood dinner on the beach in Twillingate, Newfoundland. Chef Krystal Antsey from Experience Twillingate brings you on a walk to a beach, picks up some edible plans to incorporate to the dinner, and cooks a multi-course seafood feast over the fire.
I want everyone who goes to Newfoundland to do this. The dinner was SO much fun. The food was universally outstanding — from scallops and crab legs to the traditional Newfoundland delicacy of cod tongues! Fried in butter and bacon lardons, they almost melted in your mouth.
But food is only part of the experience, and we really lucked out that night. The weather was astoundingly beautiful and led to one of the most beautiful sunsets I've ever seen. And we were joined by a wonderful couple from Vancouver who were exploring Canada after their recent retirement. The four of us gabbed for hours about our travels and dreams, eating the most wonderful seafood and telling stories.
It was one of those nights I want to bottle up and remember forever.
Swimming in the Creek in Guyana
In a year of traveling to remote destinations, the single most remote place of was the southern Rupununi of Guyana. While other guesthouses in the Rupununi promised a tiny bit of limited wifi, more easily accessed after 11:00 PM, Saddle Mountain Ranch barely had electricity, let alone internet or a website!
But this ranch was one of the highlights of my time in Guyana. After 24 hours offline, my mind had stopped clicking over to my phone and I entered that blissful stage of digital detox. We rode ATVs into the sunset, learned about cattle herding, and slept in shared rooms with the doors wide open to allow the breeze.
After getting hot and sticky on a tougher-than-anticipated climb up Saddle Mountain, we went to cool off in the creek by the ranch's entrance. It was jade green, surrounded by palm trees, and filled with tiny fish that bit at you constantly.
After so many days in isolation, with early wakeups and pitch black riverboat rides and mice that pooped on your head from rafters above, sliding into that fresh, cold creek was heavenly.
We stayed for hours, telling stories from our lives as travel writers, squatting on mossy rocks with the water up to our necks.
At one point, one of the ranch's staff drove past, coming back from a supply run (a three hour round-trip). "Beer! Beer!" we shouted jokingly. Sure enough, he had beer! We snapped the bottles open with our flip-flops and brought them into the creek with us.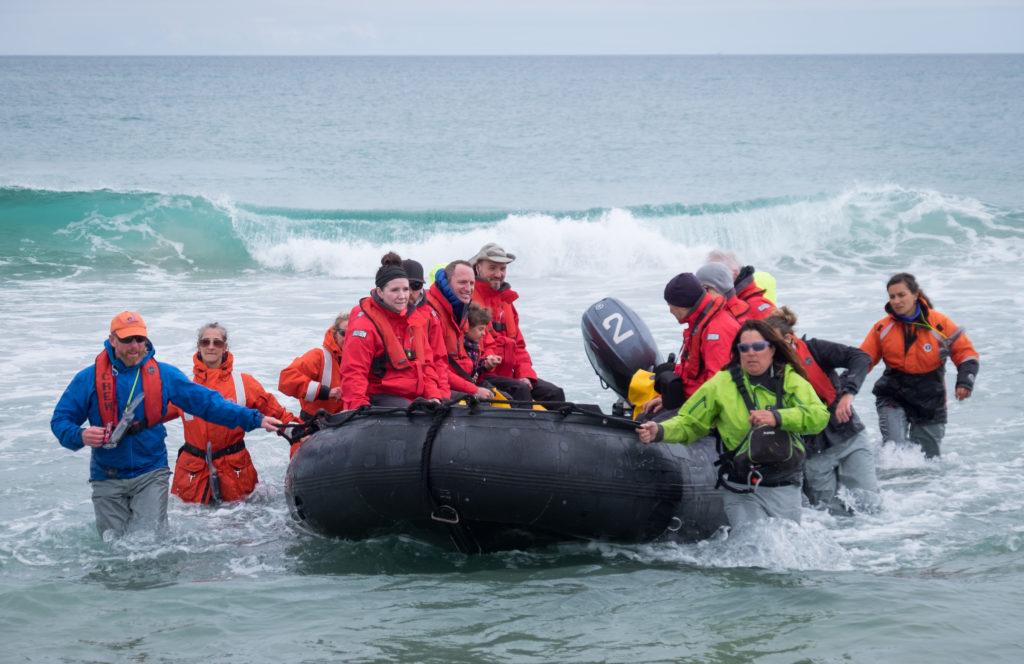 Landing on Sable Island
It didn't look like it was going to happen. Sable Island, a remote island in the North Atlantic, east of Nova Scotia, was the ultimate destination of my Eastern Canada cruise, and for many of the horse lovers on board, it was the culmination of a lifelong dream. Getting there is a challenge — there's a reason why so many boats shipwrecked off Sable Island.
We got the bad news that morning — we were unable to land on the north shore of the island, as planned, due to high winds. But the captain was going to try to get us to the other side. It would take a few hours to get there.
Finally, we got the all-clear to suit up. Cailin and I were dancing with excitement. And eventually we jumped into our boats, the island a blip on the horizon. One by one, the zodiacs zoomed through the surf into the hands of the waiting crew members.
Our driver froze. She told the other boats to go ahead of her. She knew how to do all kinds of landings, but this one was especially treacherous, and the fear was written all over her face.
Cailin and I looked at each other in horror. Was it going to end like this? Just offshore in a zodiac, so close we could taste it?
Eventually, another driver came in and swapped with our driver. She expertly drove the boat to shore and the crew guided us into the crashing waves and onto the island.
Sable Island is a little wisp of a thing, full of sand dunes and wild horses. One of the most mysterious places in all of Canada with a crazy history, and uninhabited to this day.
We had a little over an hour on Sable Island, not the multi-hour visit we had hoped for. Still, being able to stand there and say we made it there made it SO worth it. In retrospect, I feel like the difficult arrival made it even better. Plus, as soon as we stepped ashore, the sun came out.
Later, we found out we were the first large ship in history to successfully land on the south shore of Sable Island. Holy shit.
A Memorable Road Trip Stop in Abruzzo
One of the goals I made this year was to visit all 20 Italian regions. At the time I had visited 10 — and I picked up another seven in 2019 alone! Since we were driving from Puglia in the south up to Emilia-Romagna in the north, it made sense to make some stops along the way. Our route cut through three new-to-me regions: Molise, Abruzzo, and Le Marche.
I didn't just want to stop at a gas station and chant, "Done!" and drive on our way. I wanted an experience. We stopped for a pampanella sandwich in Termoli, Molise, one of the signature food experiences of the region. And we spent a few nights at an agriturismo in Le Marche, visiting some of the nearby towns (Urbino was a favorite). But nothing tops the afternoon in Abruzzo.
Abruzzo is mountainous and soon our car was climbing higher and higher, turning narrow switchbacks as forests surrounded us. Soon we broke out, gawking at gray sloped mountains against the blue sky — some of the most spectacular scenery I've ever seen in Italy.
And there it was, right in the middle of absolute nowhere — a butcher shop called Ristoro Giuliani. You buy meat inside the butcher shop and cook it on the grills outside.
We bought tons of arrosticini, Abruzzo's signature lamb skewers, and added some liver and hot pepper skewers and a few slabs of pancetta to the grill. Eating that delicious meat in the middle of nowhere, surrounded by bikers and the gorgeous mountains, was one I wanted to share with every Italy lover.
The Antigua Catamaran Ride
Antigua was a fantastic time — I basically got to spend a week at an all-inclusive resort with 40 of my friends, doing all kinds of cool activities and enjoying the Caribbean breezes. But they definitely saved the best activity for last.
We spent our last night on a catamaran ride, departing the capital at St. John's in the late afternoon. Being a crew of travel bloggers and influencers, we were decked out in flowy dresses and tropical wear. While the day began a bit cloudy, soon the sun arrived and it mellowed out into a gorgeous sunset — from lavender to bright orange .
Surrounded by friends, dancing to music, drinking all the rum punch — it was the perfect way to end a week of fun.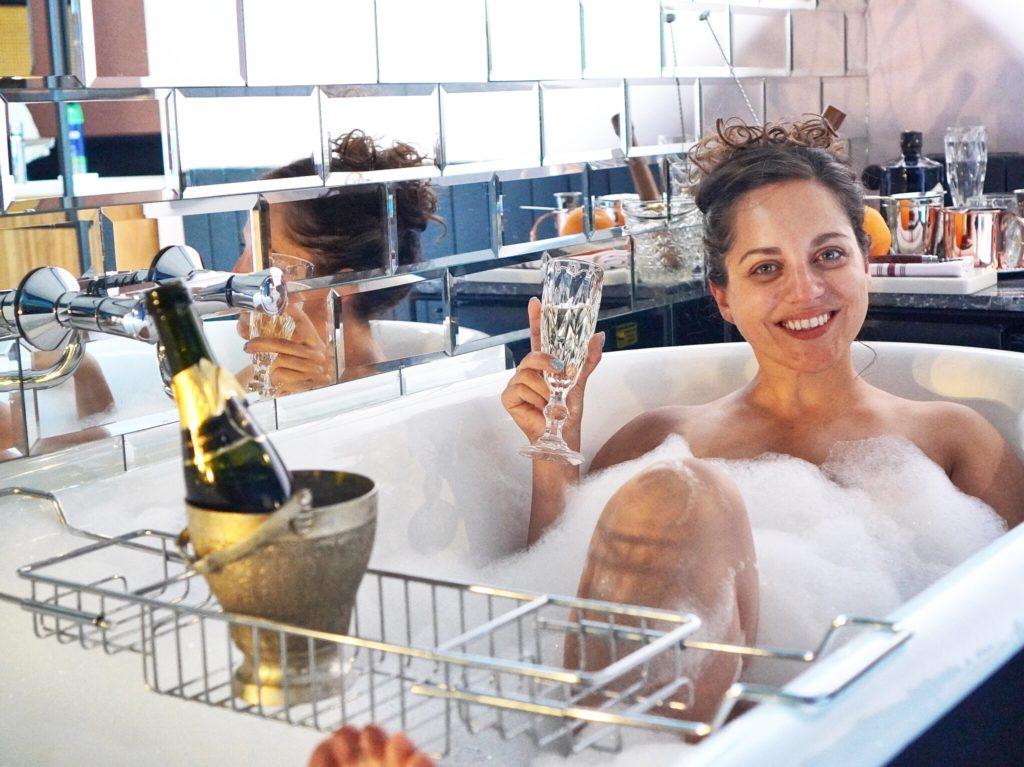 Turning 35 in Tbilisi
Being a summer baby, I'm used to all my friends being away on my birthday. Most years I wonder if it's worth even doing anything if most of my friends won't be able to come. This time it was different — I was in Tbilisi on a trip with several of my blogger friends.
And that made the day SO nice. From staying in the most gorgeous hotel, the Communal Sololaki, to having a rooftop dinner at Bina 37 with qvevri wine made on the roof, to getting a gift of khachapuri and khinkali socks from my friend Meg, to a bartender at Wine Factory choosing the perfect wine for my tastes and giving it to me for free as a gift — it was as perfect a day as I could have wished for.
Turning 35 was awesome — the friends, the destination, the food, the wine. And arriving in a country and city that I had yearned to visit for so long was the icing on the proverbial cake.
I've only spent a handful of birthdays abroad — now I want even more! I wonder where I'll ring in 36…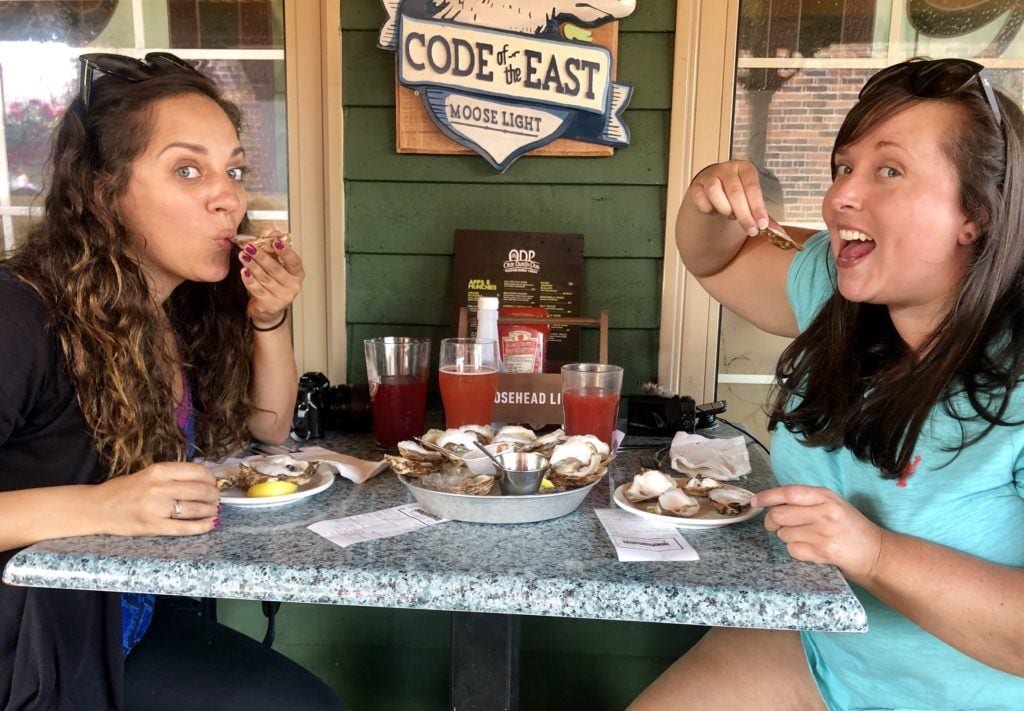 Finding 75-cent Oysters on PEI
I'm a big oyster fan, and so is Cailin, with whom I traveled quite a bit in 2019. One of the most famous spots in the world for oysters is Prince Edward Island, where the malpeque oysters are sweet and buttery.
We arrived anticipating a full day in PEI, but it was extremely windy and we couldn't disembark until the afternoon. Our PEI excursion was whittled down to just a few hours and we had to strategically plan our time in Charlottetown.
Lobster rolls with butter and garlic? Check. Ice cream? Check. People in funky old-timey costumes? Check.
But what we really wanted was dollar oysters. CANADIAN dollar oysters. Which means that they're 75-cent oysters in US dollars.
Finally we found a place with dollar oysters, the Olde Dublin Pub — but happy hour didn't begin until 30 minutes before we were supposed to be back at the bus. "Can we tentatively put in an order for oysters for the minute the happy hour begins?" we asked our server. Of course we could!
Lots of our fellow expeditioners had the same idea. At 4:00 on the dot, plate after plate of oysters came out. And they were perfect. Those fresh, cold, lemony oysters from the most delicious of islands.
Cailin and I ate those two dozen oysters in record time — and made it to our bus with moments to spare.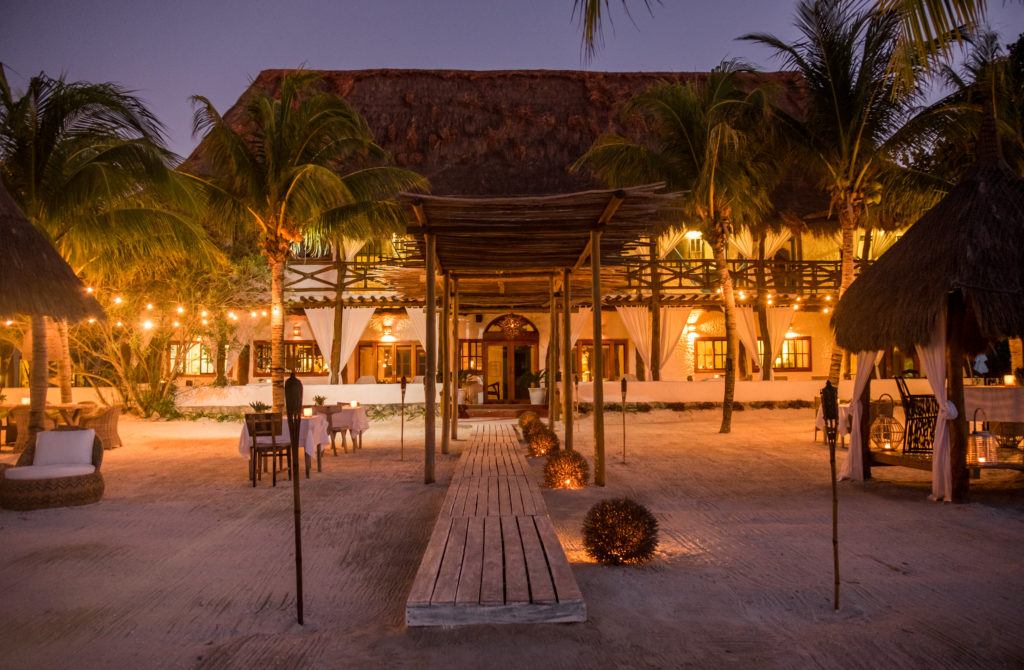 Fantastic Eats and Opera Singers on Holbox
I loved every minute of my stay at Casa Sandra on the island of Holbox in Mexico. As nice as the digs are, the most special part was the night where we enjoyed dinner on the beach. Casa Sandra has a renowned restaurant featuring chefs who have worked with NOMA's Rene Redzepi.
We feasted on onions fried in black tempura that exploded with flavor while drinking craft gin and tonics, complete with burning springs of rosemary. Each dish brought the drama.
But what brought the evening to the next level was the entertainment. Opera singers. Two tenors. Singing to us on the beach at night.
The two men, one from Cuba and one from Mexico City, performed the most gorgeous duets live. It was a mix of classical and pop music. And you could see how much fun they were having — joking around with each other, encouraging each other to turn up the volume. They seemed like two friends having the time of their lives and we got to enjoy it with them. More resorts need to have opera dudes!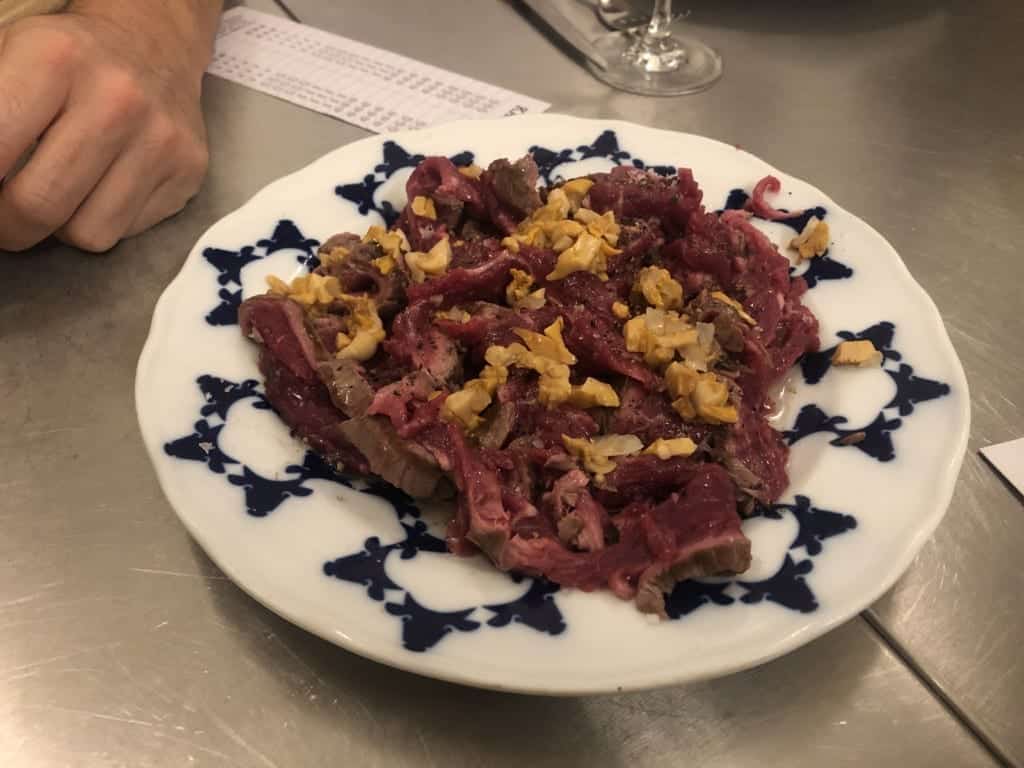 Eating Dinner Off the Bone in Prague
This fall I returned to Prague for the first time in 15 years. The city has changed a lot in that time and so have I. Today Prague has a sophisticated dining scene and particularly excels at butcher shops that double as restaurants. One of the best is a place called Kantyna, which puts on "Dinner Off the Bone" three nights each week.
For about $50, you get to join 11 other people in feasting on some of the best cuts of meat Kantyna has at the moment. It comes from high quality, sustainable animals, and they include unusual cuts and oft-discarded pieces. It's nose-to-tail eating in the best way.
It blew my mind when the chef grabbed a barely seared hunk of steak roughly the size of a human torso and used an incredibly sharp knife to slice it into carpaccio. Most people use a meat slicer to make carpaccio. This guy did it with a regular knife.
From the tour of the kitchen to fried pig's ears to the black puddings to the shots of local pear liquor halfway through to the thickest pork schnitzel I've ever seen, this dinner was a hell of a ride. Delicious but also fun and playful and great for meeting other visitors to Prague.
Kantyna is one of my top recommendations for Prague. Even if you don't do Dinner Off the Bone, go in and try their burger. It's next level.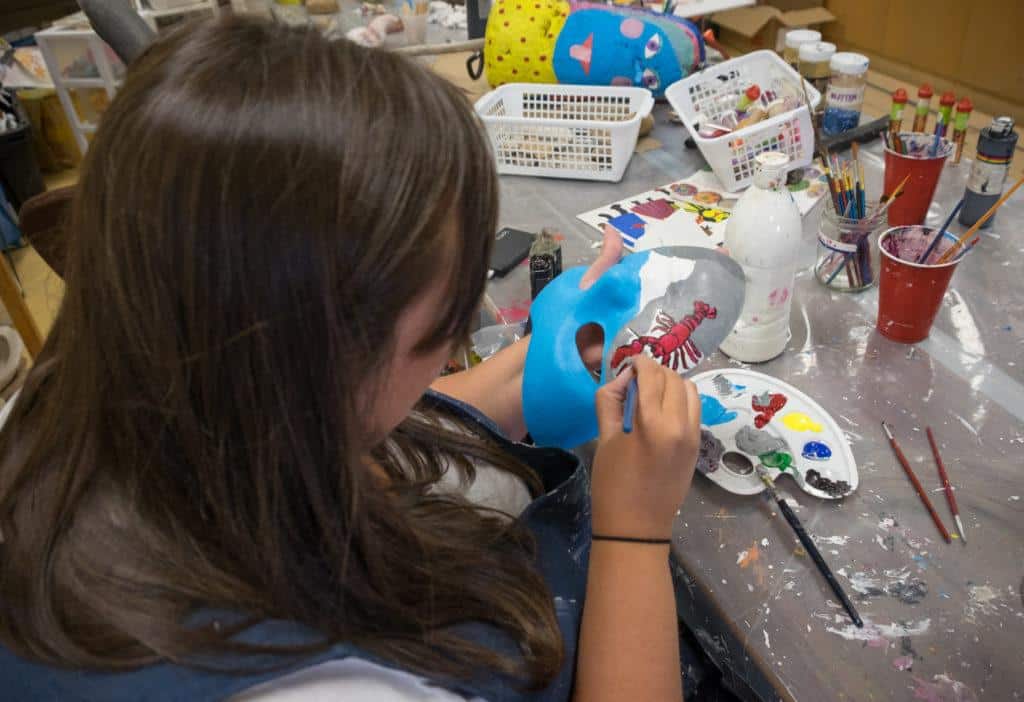 Learning About Mi-Carême in Cape Breton
This is the most surprising activity that I loved. When traveling in Cape Breton, Nova Scotia, my itinerary included a visit to the Mi-Carême Centre. I expected folk art and crafts, but I didn't expect to learn about a fascinating festival tradition that only lives on in tiny portions of French Canada!
Mi-Carême takes place halfway through Lent. Locals dress up in costumes — I mean, costumes designed to REALLY conceal your identity, complete with masks, gloves, stilts, and wigs. People go from gathering to gathering and try to guess each other's identities.
We spent the afternoon painting masks and it was wonderful to slow down and just be creative. When was the last time I've painted for fun? I can't even remember! We chatted with the resident artist about life in Cape Breton today and the positive and negative impacts of tourism.
The local ladies invited us to Mi-Carême next year and even offered us a place to stay in their homes! This is what I love about traveling in Atlantic Canada…you're treated like family wherever you go.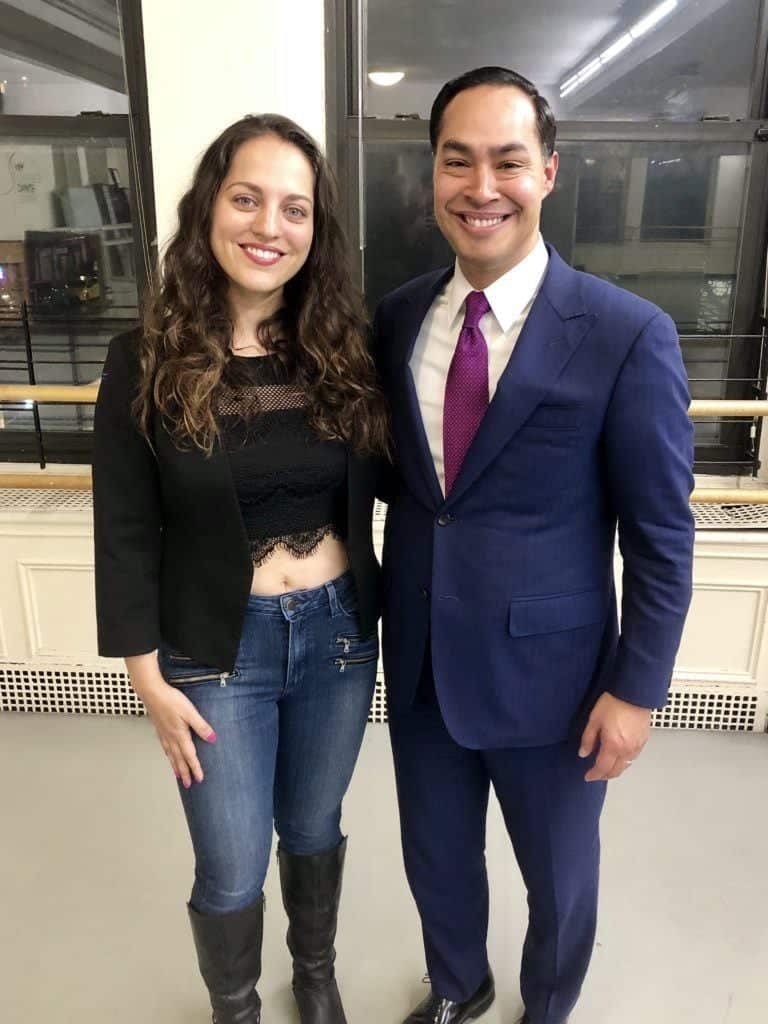 Meeting Julián Castro in New York
While, granted, I was living in New York at the time, I still want to put this on my list because it was one of the highlights of my year. I was so happy to finally meet Julián Castro, current presidential candidate, former HUD secretary and San Antonio mayor. He is one of the political figures I most admire, and I actually get a chance to talk with him about entrepreneurship today.
What I love so much about Julián is that he's consistently a champion for the most vulnerable people: black trans women, who are murdered at an alarming rate; native people whose environments and ways of life are most endangered by climate change; disabled immigrants seeking asylum at the border. I nearly fell out of my chair when he said in the first debate that trans men need reproductive healthcare as well — it's true, but I never expected any candidate to be fearless and actually say so!
We spent a few minutes talking about entrepreneurship. I mentioned to him that in the past decade so many people have gone full-time with as digital-based entrepreneurs, from bloggers and Etsy creators to romance novelists and language tutors, but I don't hear candidates talking about people like us. The only reason why I was able to go full-time in the first place was because I lived in Massachusetts and we had Romneycare before Obamacare became the law of the land.
That's what we need, he told me, and that's part of his small business platform. We need to support entrepreneurs with healthcare, childcare, paid family leave — benefits that we're currently denied.
I'm glad I got that time with him. He would make an excellent president.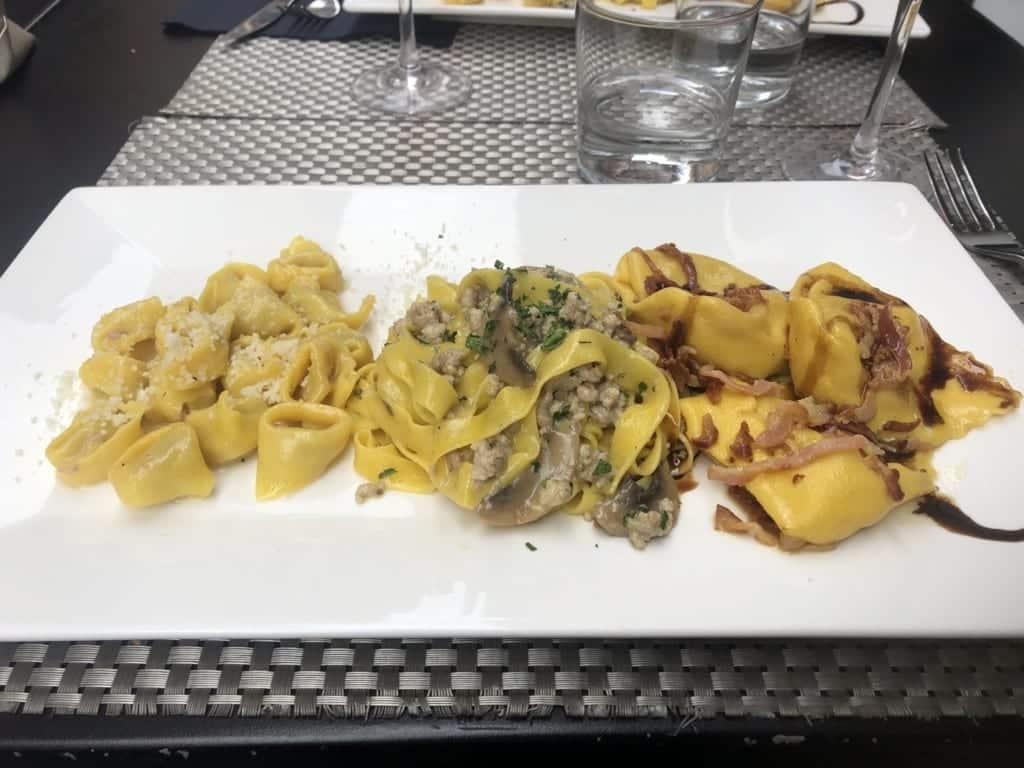 One Perfect Day in Italy
Some of the best moments on the road are the simple ones. My most recent full day in Italy was one of those perfect, warm, blue-sky October days. I jumped on the train in Monfalcone and headed down to Ferrara to hang out with Katie and Steph, two of my longtime blog friends who now actually live in Emilia-Romagna, the region that I love so much.
We began our day in Ferrara, which I had only visited once — on the hottest day of the year in 2013. This was a million times better. It was unseasonably warm after a cold spell and the streets were filled with locals enjoying the glorious weather and drinking wine. The three of us each enjoyed a trio of Emilian pasta dishes, finished up at the world's oldest wine bar, and went back to Katie's place where I finally met her husband and little girl after reading about them for years.
Steph and I got a train back to Bologna, bizarrely got a taxi ride in an actual Tesla (the first Tesla I've ever ridden in, and the driver had to show me how to open the doors), and returned home to her husband Mike and their adorable three-year-old daughter, who went from calling me "your friend" earlier this summer to calling me "my friend."
We hung out. We got pizza. We walked the dog. They generously let me crash at their place.
Mike and I talked a lot about business and before the night was over, we decided to work together. Mike is now managing my hosting through his company, Reggio Digital Studio, and he is the one who redesigned my site! Two VERY big changes on the back-end this year, and I'm so glad to be working with someone who is genuinely invested in my site's long-term success.
The next morning I headed for the airport. I wouldn't be returning to Italy for at least six months. All the reason to savor that day a bit longer.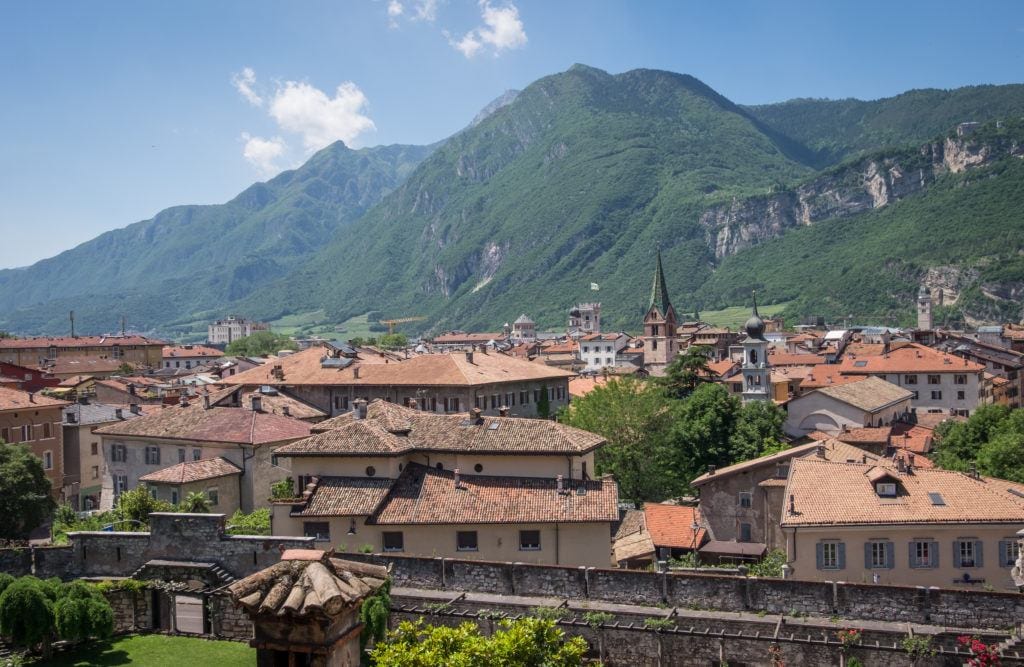 Finding Love on the Road
As some of you know, this year I met a special guy on my travels. Well, we met in real life — we had actually worked together years ago before meeting in Italy this summer. He works remotely, travels as much as I do, and is as obsessed with Italy as I am (and he's been to 18 regions, more than my 17!).
I once thought that I would no longer reveal as much as an iota of my romantic life on the blog. And I did keep that up for several years, but it feels ridiculous to hide something this big from you, my dear readers, after having your trust for nearly a decade. I now know that it's possible to talk about my guy on the blog every now and then while giving my relationship the privacy it needs.
Being partnered with a hardcore traveler doesn't mean that my solo travels are over — I've got some solo trips planned for next year. I am SO excited to do Peru solo in March!
Just know that things are going well. I feel very lucky.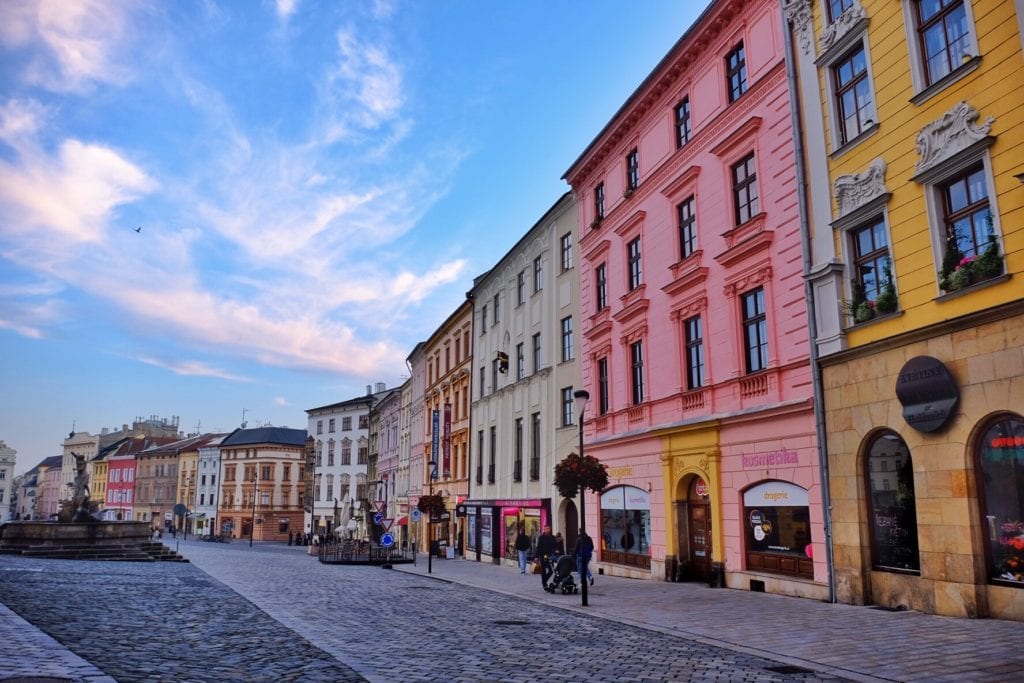 Favorite Posts of the Year:
Regardless of popularity, these are my favorite posts that I wrote this year:
Turning 35 and Letting Go of Fear — What happens when you turn 35, the age when you should be pretty sure whether or not you want to have a baby and still…you're not quite sure? How do you get to a point when you're okay never becoming a parent after spending your whole life assuming that it's going to happen someday? This post is where I go into the dilemma and eventually find peace.
After publishing this piece, so many women wrote to me privately and thanked me, telling me that they had gone through the same thing.
How I Became a Successful Travel Blogger: My Smartest Decisions — This post is very long, but a good read. After reading Malcolm Gladwell's Outliers and realizing that Bill Gates became so successful not just because he was smart, but because he had unprecedented access to a computer lab at a very early age, I wondered how to apply it to my own life. Why did I become successful as a travel blogger?
Like Bill Gates, I got tens of thousands of hours of practice in before my peers. It was about building Backstreet Boys websites in the age of Angelfire. It was about spending close to a decade blogging and honing my voice before Adventurous Kate even existed. It was an obsession with geography at a young age that turned into a travel obsession at 16 and learning that long-term travel was possible at 22.
What was your favorite travel moment of 2019?
The post My Best Travel Moments of 2019 appeared first on Adventurous Kate.