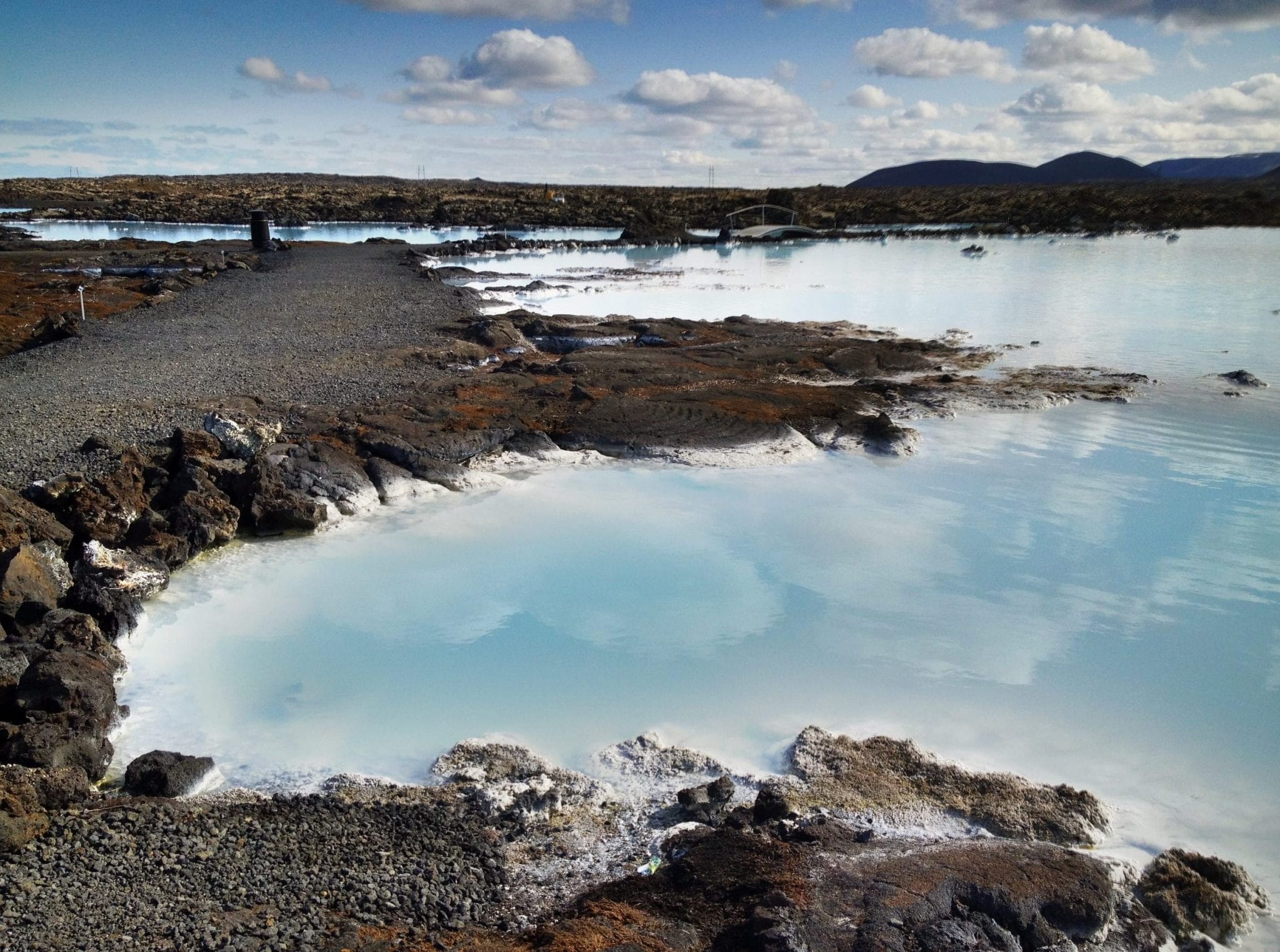 Going to the Blue Lagoon is a must for anyone traveling to Iceland! It's the most popular tourist attraction in Iceland — it seems like nearly everyone who visits Iceland works a trip to the Blue Lagoon into their itinerary.
And being the most popular destination, there are plenty of guides and how-tos for the Blue Lagoon Iceland. But to be honest, I was surprised by how many things I didn't know.
I've visited the Iceland Blue Lagoon several times, in different kinds of weather. As you can see by my photos, I've seen the Blue Lagoon on a gorgeous day in May; I've also visited the Blue Lagoon on a cold and rainy August day. It wasn't ideal, but it was still worth visiting the Blue Lagoon in the rain.
Before you go to the Blue Lagoon, here's what you should know.
This post was updated in October 2019.
---
---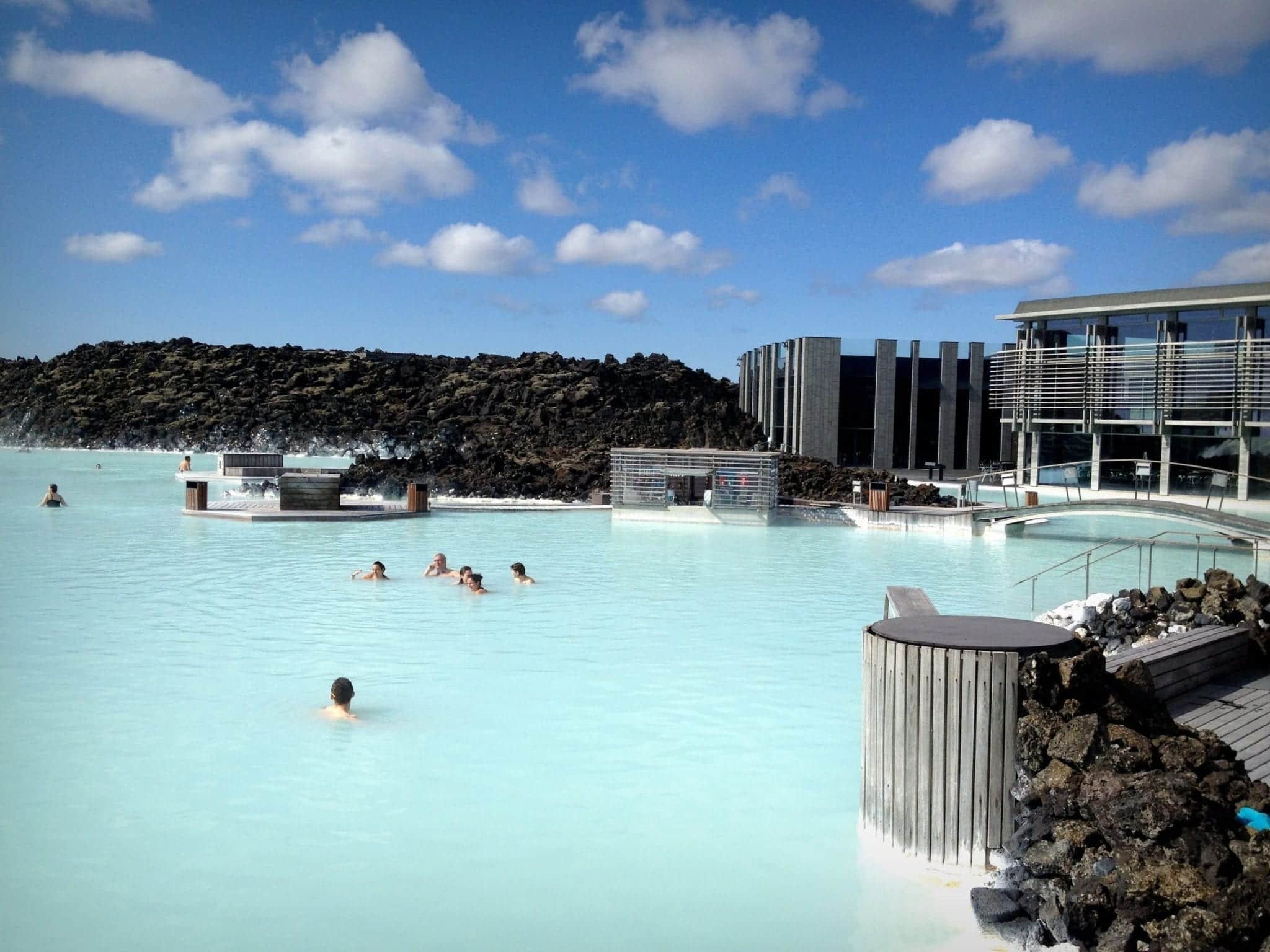 Blue Lagoon Iceland
---
Is the Blue Lagoon in Reykjavik?
The Blue Lagoon is not in Reykjavik. It's in Grindavík, close to the airport and about 45 minutes from Reykjavik.
Two-thirds of Iceland's population may live in Reykjavik, but the Blue Lagoon is quite a distance away. If you haven't rented a car, you'll need to book a transfer with a tour company. You can book Blue Lagoon tickets with round-trip transportation from Reykjavik here. The drive takes about 45 minutes each way.
That said, Reykjavik is a fabulous city and being based here is the best option for visiting the Blue Lagoon and exploring the nearby region. See below for where to stay in Reykjavik.
Is the Blue Lagoon a natural spring?
The Iceland Blue Lagoon is not a natural spring. While Iceland is a country brimming with natural hot springs, the Blue Lagoon isn't one of them. The land is natural, as is the lava that shapes the pool, but the water is actually the result of runoff from the geothermal plant next door.
The plant was built first, and it uses Iceland's volcanic landscape to produce heat power. The runoff is filtered straight into the Blue Lagoon, which is what heats the water.
That doesn't mean it's dangerous or toxic — far from it! It's just not the natural phenomenon that many people believe it to be.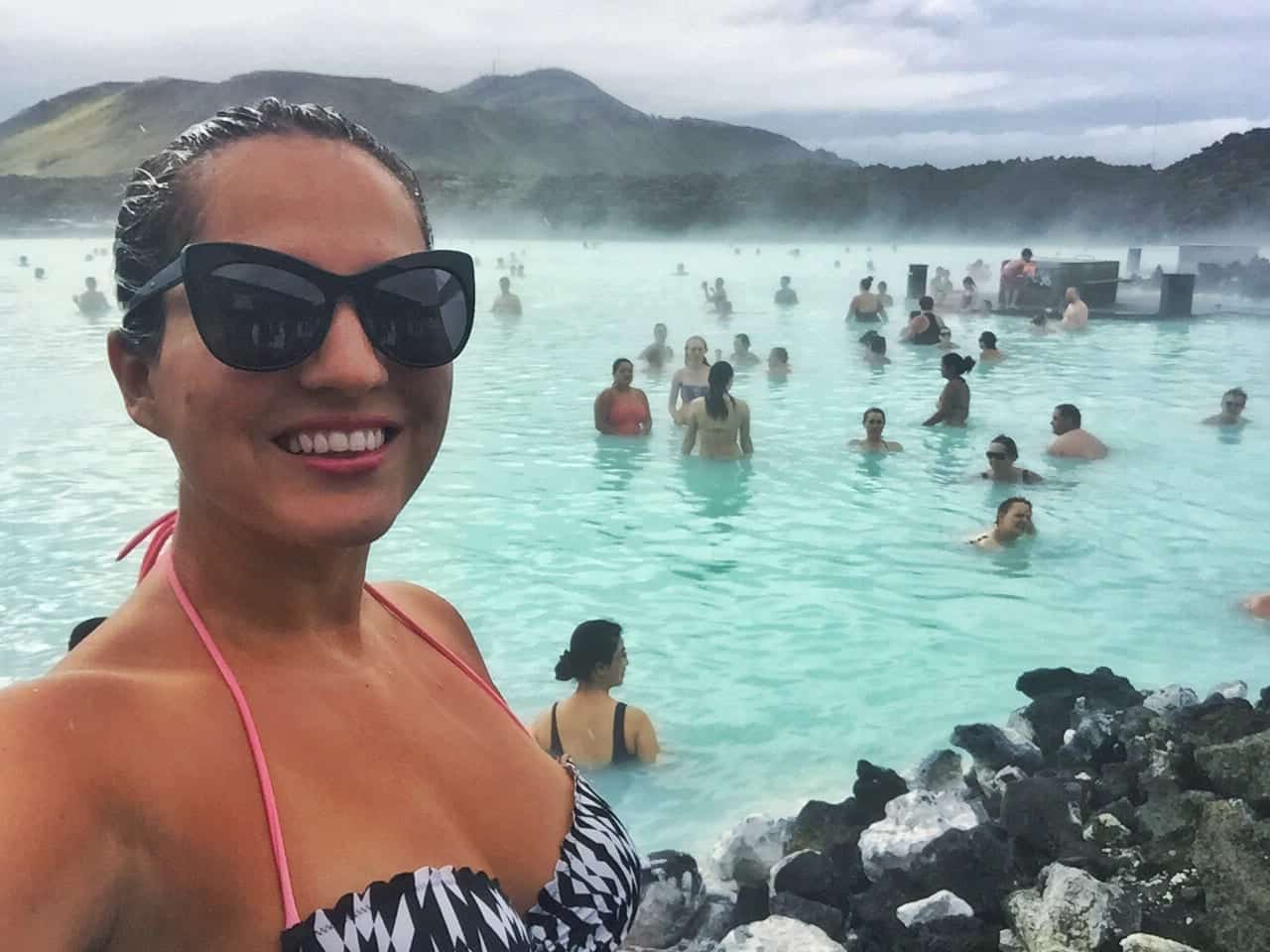 Best Time to Go to Blue Lagoon
When is the best time to go to the Blue Lagoon? If you want to have the space to yourselves, I recommend going as soon as it opens, first thing in the morning. If you're waiting at the Blue Lagoon right as they open and you rush in the locker room, you could be one of the first people in it! (This is also the best option if you want to get photos without other people in them.)
If you want to be a bit of an overachiever, you could check the flight schedule at Reykjavik airport and plan your trip when the fewest flights are arriving and departing. Personally, I think this is a bit overkill, but some people who live for data enjoy doing this.
In terms of the best time to visit Iceland, you have options. While Iceland is very popular throughout the year, there are the fewest tourists during the winter months. If you want to experience a quieter Iceland, I highly recommend visiting during the winter. Keep in mind that it's a cheaper time to visit, flights will likely be less expensive, and fewer tours and activities will be available.
The Northern Lights are most likely to be seen during the winter months and around the vernal and autumnal equinoxes (March 21 and September 21). You are extremely unlikely to see them in the summer. As always, you can plan to see the Northern Lights, but they are finicky and unpredictable and many an Iceland tourist has been disappointed at missing their chance.
My advice? Don't make your trip all about the Northern Lights. (Frankly, there are places much more reliable than Iceland to see the Northern Lights, like Alaska and northern Norway.) Go in with cautious optimism. If you see them, great! If you don't, you've still had a fun trip to Iceland.
Most tourists choose to travel to Iceland during the busy summer months. This is when you'll have the best (and warmest) weather, though keep in mind Iceland weather can be brutal and ever-changing! You'll also have the greatest amount of sunlight. This is when Iceland will be at its most crowded and expensive, but most activities should be available.
If you choose to visit Iceland during the summer, be sure to book as much as you can ahead of time. Many hotels, flights, and activities will sell out in advance.
---
---
Blue Lagoon at Night
Can you visit the Blue Lagoon at night? Yes — but the opening hours vary based on the time of year. From June through mid-August, the Blue Lagoon is open until 11:00 PM or midnight.
Iceland Blue Lagoon Hours:

1 January – 30 May: 8:00 AM-9:00 PM

31 May – 27 June: 7:00 AM – 11:00 PM

28 June – 18 August: 7:00 AM – 12:00 AM

19 August – 31 December: 8:00 AM – 9:00 PM
One advantage of visiting the Iceland Blue Lagoon at night is that it has a peaceful, dusky, almost spooky atmosphere. Most of the visiting children will have left by night.
However, don't plan to get images of the Blue Lagoon at night underneath a dark sky. If you visit during the summer months, midnight in July will only be a bit dusky; frankly, it will be a lot darker in late December at 9:00 PM.
Is it possible to see the Northern Lights at the Blue Lagoon Iceland? Don't plan on it. Most of the images you've seen of the Northern Lights have been in places with little to no light pollution. The Blue Lagoon is full of light. Proper Northern Lights tours will take you far outside the city to see them.
---
---
How Deep is the Blue Lagoon?
The Blue Lagoon is a maximum of 1.7 meters (4.7 feet) deep. For this reason, all children are required to have a guardian while in the Blue Lagoon.
Blue Lagoon Temperature
The Blue Lagoon has a temperature usually ranging between 37 and 40 degrees Celsius (98 and 104 degrees Fahrenheit). It feels like a nice warm bath. However, keep in mind that the outdoor temperature and weather mean that the temperature can fluctuate a bit higher and lower.
Do you have to shower before going into the Blue Lagoon?
Not unlike spas in Europe and around the world, you must take a shower before going into the pool. The Iceland Blue Lagoon goes one step further and requires you to shower naked. Don't worry if you don't want to be naked in public: while some showers are out in the open, there are now several shower stalls that lock for privacy.
Once you're rinsed and your hair is conditioned, you can put your bathing suit back on and head on into the Blue Lagoon.
Should you book the Blue Lagoon before or after your flight to Iceland?
Try to time your visit to the Blue Lagoon to your flight to Iceland. If you have super early flights to Iceland, you may not be able to do this — but if you have a morning or afternoon arrival or an afternoon or evening departure, you should take advantage of hitting up the Blue Lagoon on the way to the airport.
The Blue Lagoon is much closer to the airport than Reykjavik. Going to the Blue Lagoon en route to the airport will save you time.
If that's the case, I recommend booking a private airport transfer via the Blue Lagoon. This will give you two hours to enjoy the lagoon on the way to the airport, giving yourself more time to spend doing other things in Iceland, plus you won't have to worry about getting onto a bus with strangers.
If you're visiting Iceland as a stopover between North America and Europe, you'll find much more convenient times for visiting the Blue Lagoon from North America to Iceland to Europe than if you are flying from Europe to Iceland to North America.
---
Did you book the cheapest flight to Iceland?
Skyscanner usually has the best deals.
---
Should you combine a Blue Lagoon visit with another tour in Iceland?
If you're only visiting Iceland for a few days, you can save time and money by booking tours that include multiple activities in a day. Here are some suggestions:
All four of these tours include admission to the Blue Lagoon in the price.
Your hair will get DESTROYED at the Blue Lagoon.
The one thing that everyone says is, "Use lots of leave-in conditioner." The locker rooms at the Iceland Blue Lagoon offer lots of conditioner, so that made it easy.
The water at the Blue Lagoon is not good for your hair. I would especially be cautious if you have natural, curly, or color-treated hair.
I thought my curly hair would be okay. Well, after covering my hair in conditioner, twisting it up in a French twist, leaving the conditioner in, and going into the Blue Lagoon, then coming out, rinsing my hair, conditioning it like crazy, and leaving it in again — my hair was destroyed for the next five days.
Take my advice — even if you condition your hair, don't let it touch the water. You're not missing out on much if you don't.
Iceland Blue Lagoon Pricing
The Blue Lagoon doesn't make it easy to find out how much they charge. They don't have a list of prices; you can only see the prices on specific days, five to six months in advance. Adult tickets are sold to those who are age 14 and older.
Tickets are sold in tiers: Comfort, Premium, and Retreat Spa. Comfort and Premium just vary in terms of amenities, but the much more expensive Retreat Spa tier gives you access to a private spa and private area of the Blue Lagoon Iceland.
Comfort tickets at the Blue Lagoon cost 76 EUR to 86 EUR ($84-94), depending on the time of year. Comfort tickets include entrance to the Blue Lagoon, silica mud mask, use of towel, and first free drink of your choice.
Premium tickets at the Blue Lagoon cost 98 EUR to 107 ($108-118), depending on the time of year. Premium tickets include entrance to the Blue Lagoon, silica mud mask, use of towel, first free drink of your choice, second mask of your choice, dining reservation (optional), and sparkling wine with your dining reservation.
Retreat Spa tickets at the Blue Lagoon cost 565 EUR ($621). Retreat spa tickets include entrance to the Blue Lagoon, access to the private Retreat Spa (four hours), access to a private changing room, The Blue Lagoon Ritual, Retreat Lagoon, skin care amenities, access to the Spa Restaurant, and first free drink of your choice.
Which tier is best at the Iceland Blue Lagoon? Personally, I think that Comfort is more than fine — there's no real point to Premium. But if you want to go all out and have the cash to spend, go ahead and do the Retreat Spa.
---
---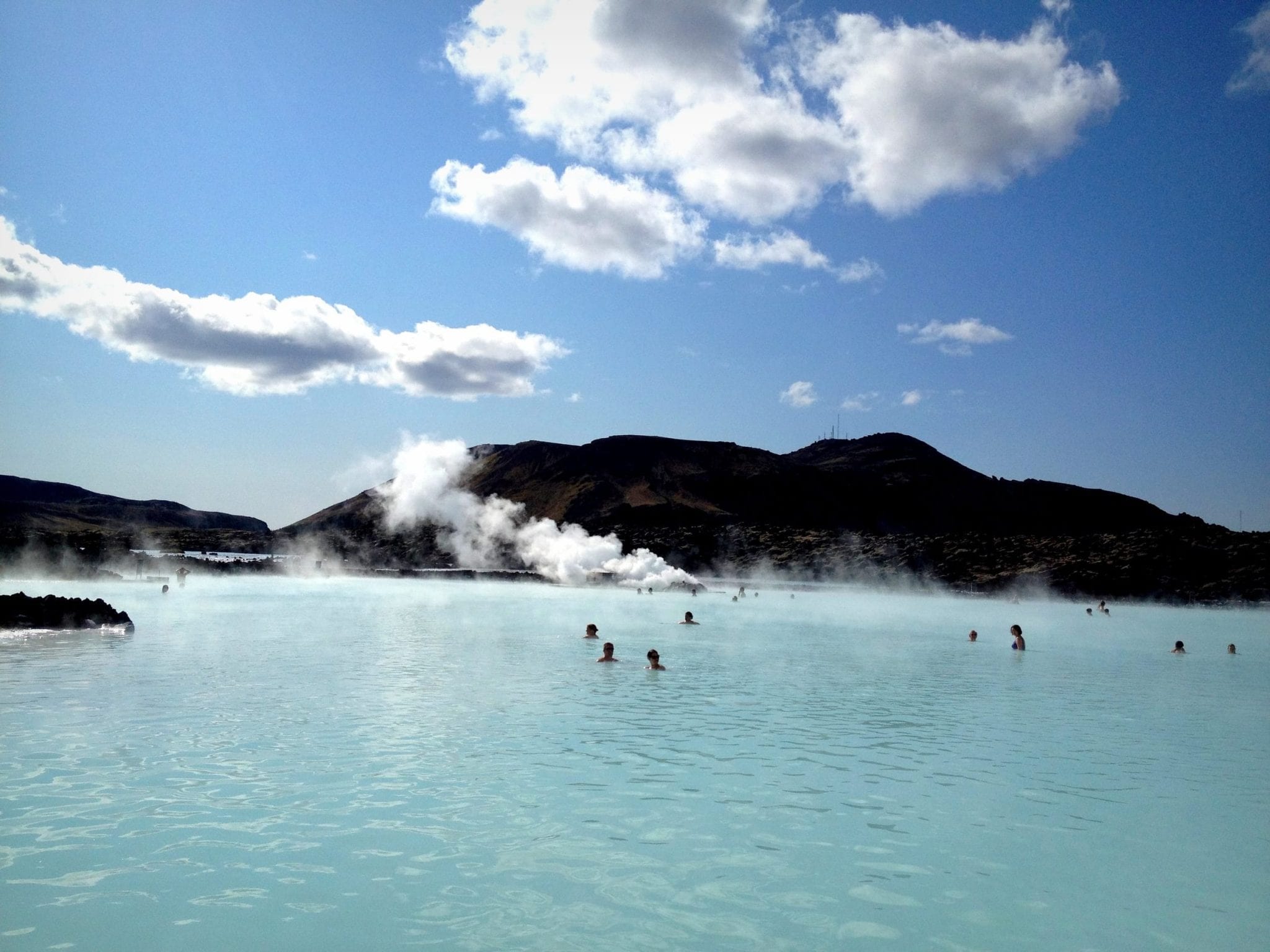 Blue Lagoon Experience
I enjoyed my time at the Blue Lagoon. Being the kind of girl who loves extreme heat, I thought the water wouldn't be hot enough for me, but it turns out that there is a super-hot section just for cold-blooded ones like myself! You can see it in the above picture — it's where the steam is coming out.
It never gets too hot in Iceland — in my spring and summer trips, temperatures hovered in mid-40s Fahrenheit (about 10 C), which made the pool nice and toasty, and not so cold that walking outside was like Nordic torture. It felt just fine.
If you visit the Blue Lagoon in winter, it will be colder, but that just means you should get in the water a little bit faster. It's nice and cozy year-round.
The Blue Lagoon gives you wristbands that you can use for purchases while in the water. This is a brilliant way of paying for items without having to keep an eye on your purse or wallet. The wristband system also prevents people from buying more than three alcoholic drinks.
The Blue Lagoon has a sauna and steam room, as well as an exclusive section. You can get a variety of spa treatments, including a massage on a float right in the Blue Lagoon! There are cocktails at the swim-up bar, but I prefer the smoothies instead, which you can conveniently pay for with your wristband.
Overall, if you're going to Iceland, the Blue Lagoon is one of those experiences that you just have to try. But if you can, I recommend you do it on the way to or from the airport — and I beg you, don't let that water touch your hair!
Blue Lagoon Iceland Address
Visit the Blue Lagoon in Iceland at:

Blue Lagoon Iceland

Norðurljósavegur 9, 240 Grindavík
Where to Stay In Iceland
Where's the best place to stay in Iceland? If you're only staying in Iceland for a few days, Reykjavik makes an excellent base for exploring western Iceland. Here are my recommendations for Reykjavik accommodation:
---
READ NEXT:
---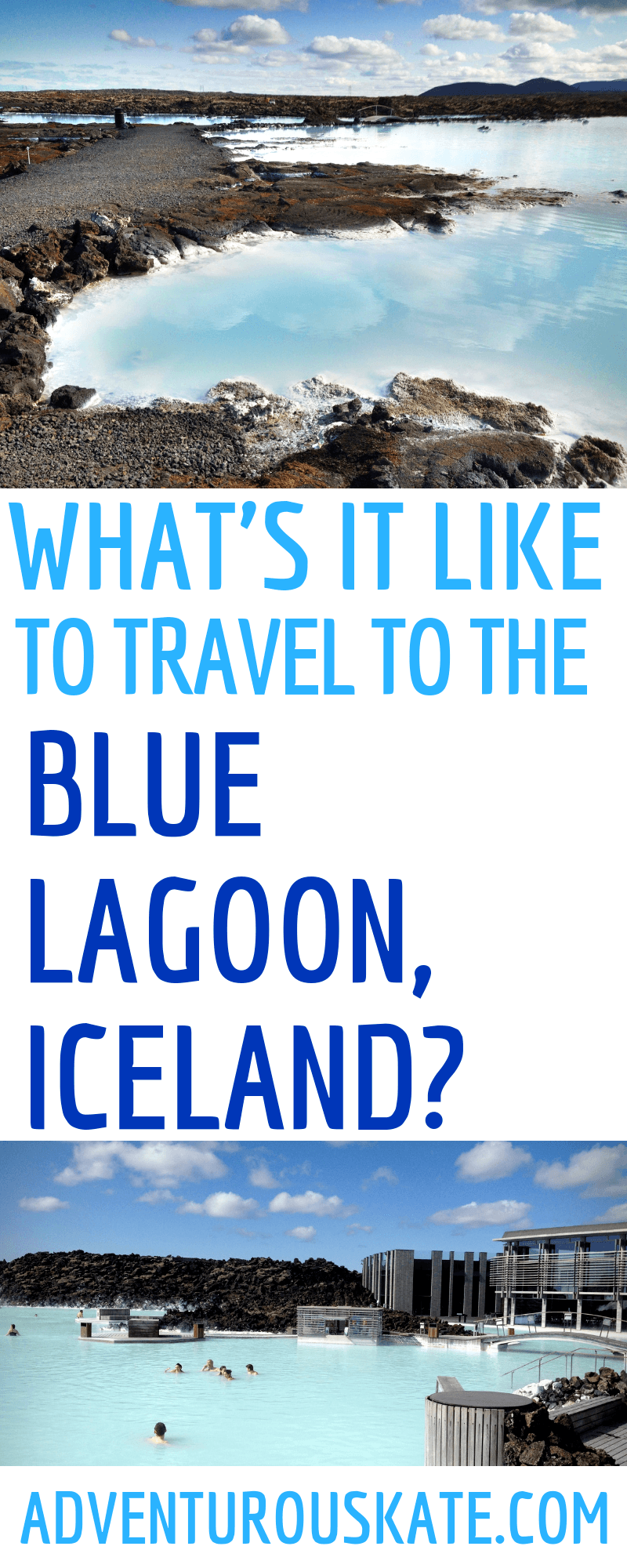 Essential Info: The Blue Lagoon Iceland has several different tiers of pricing: Comfort, Premium, and Retreat Spa, with entry as cheap as 76 EUR ($84 USD) in the colder months. Ticket prices vary based on the date and time of booking. Book tickets to the Blue Lagoon including a transfer from Reykjavik here.

Iceland is full of awesome tours, from ice climbing to whale watching to snorkeling between the techtonic plates. Check out some of the best tours here.

For flights to Iceland, I find the best rates on Skyscanner. Double-check here to make sure you got a good rate.

Looking for a group tour to Iceland? G Adventures has several Iceland tours, all with small groups.

The best way to get from the airport to downtown Reykjavik is the Flybus. It's cheap, easy, and runs frequently.

While Iceland is one of the safest countries in the world, it's vital to get travel insurance before your trip. If you get seriously injured and require an air ambulance home, it could save you literally hundreds of thousands of dollars. I don't travel anywhere without insurance, and I use and recommend World Nomads.
Many thanks to the Iceland Tourism Board and the Blue Lagoon Iceland for hosting my first visit in 2012. I've since returned and have paid my own way. All opinions, as always, are my own.
The post Things No One Tells You About the Blue Lagoon, Iceland appeared first on Adventurous Kate.