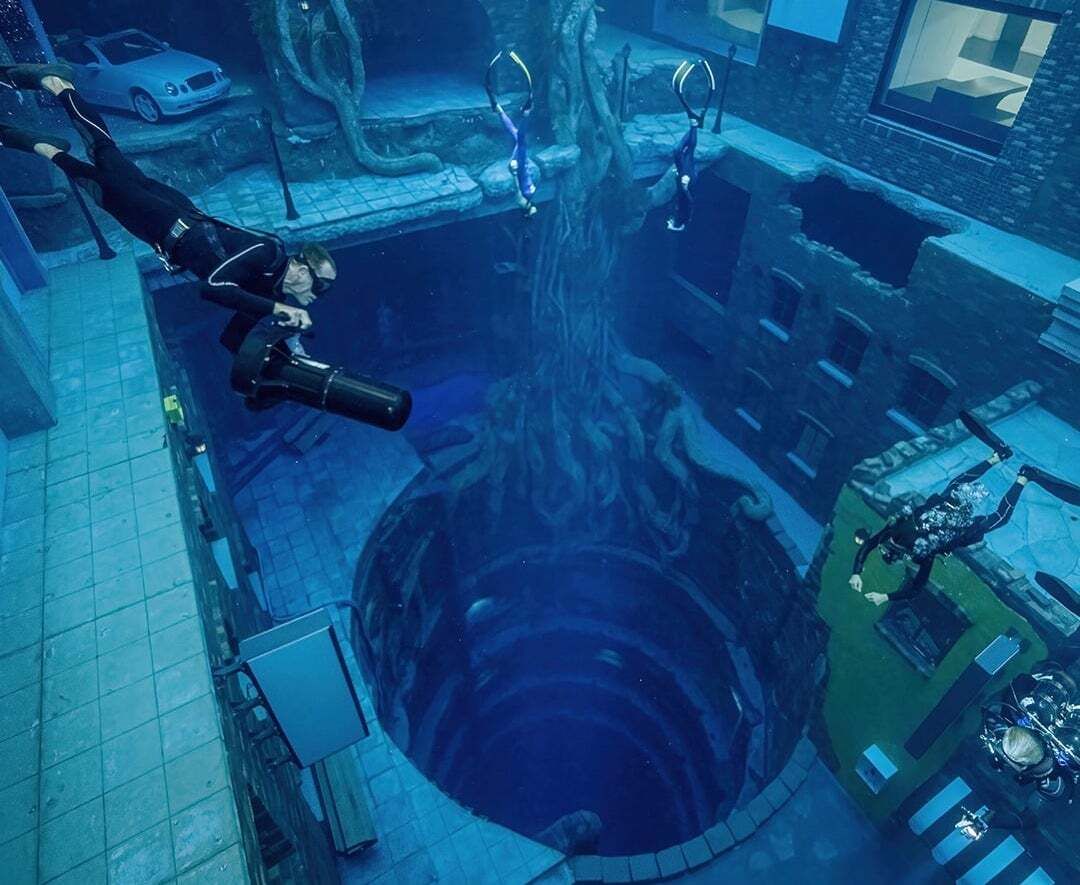 Dubai has just added another extreme to its record-breaking architecture — the world's deepest pool. Deep Dive Dubai is an astonishing 60 meters, or nearly 200 feet, deep.
That's three times deeper than scuba divers with basic certification can descend in open water, and deeper than all but a few world-class free divers can manage. Fortunately, as soon as you get underwater at Deep Dive Dubai, there's a lot to see before you plunge towards those eerie, high-pressure depths.
Filled with 14 million liters (3.7 million gallons) of water, the massive pool is set up as an "abandoned" city with apartments, a parked car, and other curiosities that divers can explore. The underwater city also includes some well-tended "artifacts" — among them a working foosball table, a chess board, and a pool table.
With the water kept at a pleasant 86 degrees Fahrenheit, pool sharks can comfortably finish their underwater billiards game in a light wetsuit before it's time to ascend. A high-tech sound and lighting system also add to the ambience. Non-divers can check out the action through huge glass windows — a bit like being at an aquarium.
Deep Dive Dubai pool took the Guinness World Record for "Deepest Pool for Diving" from a 45-foot-deep pool in Poland. But Dubai's Crown Prince Sheik Hamdan makes the deep dive look easy in this video.
"There are so many things it's really not fair to call it a pool," Deep Dive Dubai director Jarrod Jablonski told CNN. The pool is currently open by invitation only and will be open to the public in the fall.
Dubai is already home to the world's largest mall and the tallest building, but, as experienced divers know, it's not safe to go up after going down. Deep Dive Dubai asks divers to wait a day before ascending to the dizzying heights of the Burj Khalifa.

The post Dubai just opened the deepest pool in the world, with a 'lost city' to explore appeared first on Matador Network.