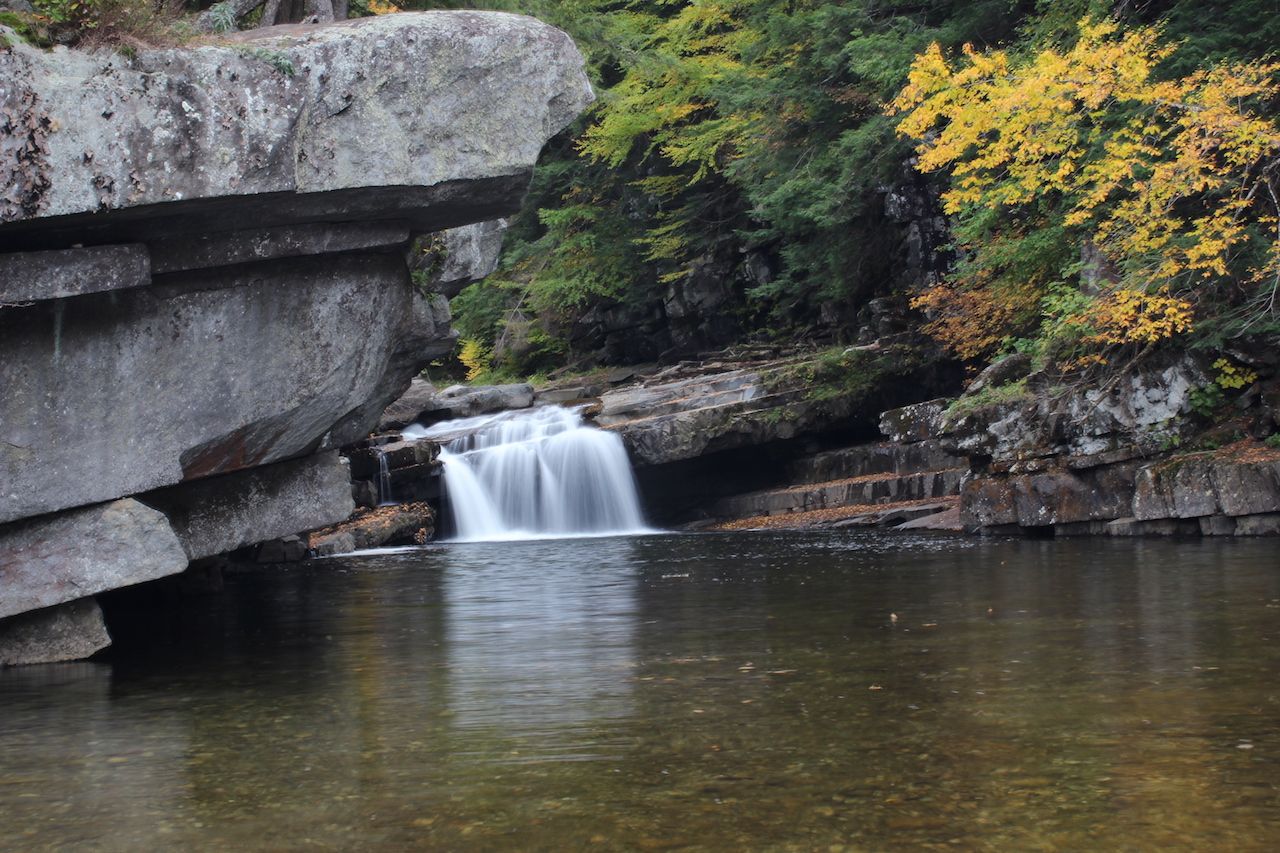 In Vermont, a state with only about 600,000 people, the opportunities for a summertime respite abound in the state's parks and high country. There's no better release from the unrelenting heat of summer than a dip in a local swimming hole, and here you can find them under bridges, tucked behind barns, or on a several-mile hike through the woods — if you know where to look. With a bit of scouting and a little know-how, these four swimming holes are actually quite easy to find and are perfect for a plunge on a hot day.
1. East Middlebury Gorge — Middlebury
As the Middlebury River tumbles out of the Green Mountain National Forest, it passes through a rocky gorge underneath Route 125. A bridge marks the spot where the current is mellow enough to jump into and lounge. Though this swimming hole is easy to find, you're likely to find just a small handful of locals who've come to take advantage of the sunshine and cool water.
Park alongside Route 125 in East Middlebury. Under a bridge, a channel cut by the river presents multiple options for jumping and bathing. Toddlers and adults can wade in the shallower end while the more adventurous can jump the 10-foot ledge and let the current carry them into the shallows, where they can climb out and do it again. For a more remote experience, swim the 20 yards against the current and sunbathe on the couch-sized rocks just upstream.
How to get there: Follow Route 125 east off Highway 7 south of Middlebury until you see the parking area on the side of the road. From Montpelier, the drive takes about an hour and a half.
2. Bristol Falls (aka Bartlett Falls) — Lincoln
A second central Vermont stash invites visitors to explore further beyond the parking lot. Turning off Route 17 and driving uphill from Lincoln, you'll see the cars lining the side of the road, but don't get discouraged — the higher you go, the more secluded it will become. While many quick day-trippers stop by for a dip, many don't actually walk up to a more secluded area.
The lower portion of the river features several large ledges from which you can jump into the water below, the largest being 15 feet. Here, it's best to follow local advice and jump where it's been established as safe. Further upriver, the focus is less on mid-air acrobatics and more on relaxing with a book. When the river gets low during summertime dry spells, water collects in bathtub-sized pools that are perfect for sitting and soaking with your beverage of choice. The north side of the river gets more sun than the shaded south, so take your pick based on how much of a tan you want to come home with.
How to get there: Bristol Falls is located just off Route 116 near the town of Bristol. Signs point drivers towards the parking area. The drive from Montpelier is about one hour.
3. Dorset Quarry — Dorset
While it's got a louder, more raucous atmosphere during the day on weekends, in the evening this former quarry site is perfect for a peaceful swim. The Dorset Quarry invites the true thrill-seeker, with ledges ranging a beginner's jump of under five feet to a stomach-churning 20-foot plunge into the pool below.
In between jumps, take some time to explore around this former marble quarrying site. The stone walls of the pit are smooth and cut at right angles, which makes picking a spot to roll out your picnic blanket easy. Be on the lookout for stone carvings in the rocks as well.
How to get there: Dorset Quarry is just off Route 30 in Green Mountain National Forest. The nearest towns are Dorset and Manchester, both a very quick drive. The drive from Montpelier is about two hours.
4. Townshend Pool — Townshend
Hidden in the Townshend Dam Recreational Area is a secluded pond that's ideal for a quiet swim. Though no more than six feet deep and 30 feet in diameter, it's large enough for an individual or a small group to enjoy — and there's often no one around. The water is fed by a large conduit that comes out from under a nearby bridge, collecting into a pool that's hidden away from the area's more popular sites.
Bring a pair of sandals with you because the pool is just one spot to explore here. The Townshend Dam, just a few hundred yards away, features a sandy beach, picnic tables, and restrooms.
How to get there: The day use area is located about 20 miles from the town of Brattleboro on Route 30. Once you park, the bridge and pool are a short walk. The drive from Montpelier is about two hours.


More like this:
The 7 most stunning swimming destinations in the world
The post 4 incredible swimming holes in Vermont you need to check out appeared first on Matador Network.