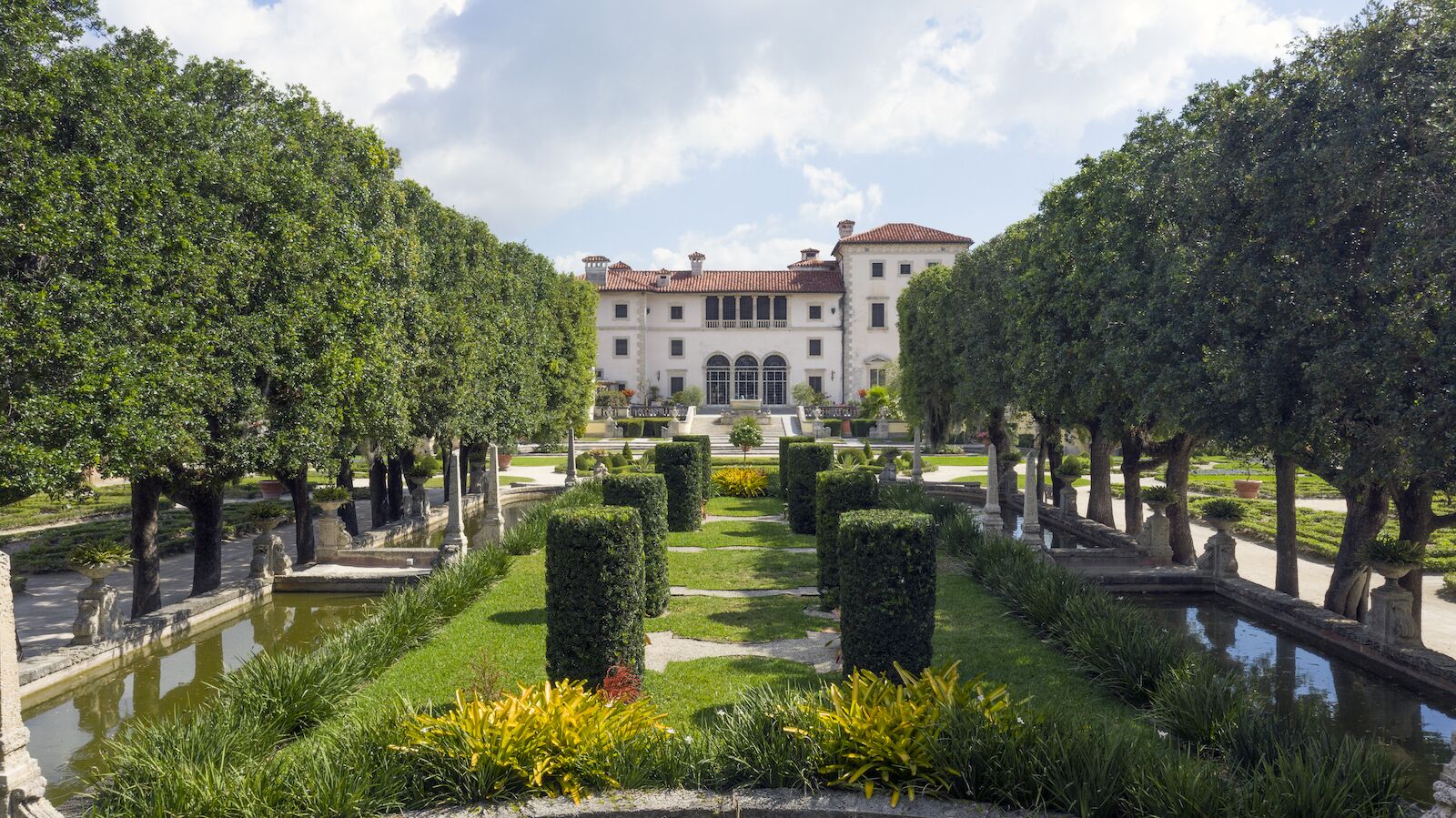 The wealthy people of South Florida have never been subtle. And long before the speedboats and two-story penthouses of today's nouveau riche, there was Vizcaya, the 1920s seaside mansion of farm equipment magnate John Deering. The 54-room, 45,000-square foot home was built in the style of Europe's great castles, with three-foot walls and stunning views of Biscayne Bay.
The palatial estate is as much a marvel of landscaping as it is architecture, once boasting 180 acres of delicately manicured greenery. It is slightly smaller now, but still allows guests to wander around grottos, mangroves, and labyrinths. Vicaya is a Miami mainstay for weddings and quinceañeras, one of the city's most scenic spots and a lesson in its pre-air-conditioning history.
With so much beauty to take in during a Vizcaya visit, figuring out where to start and the best things to see can seem a bit overwhelming. Especially if you're not used to the warm weather. So we paid Vizcaya a visit, took a tour, and chatted with Vizacaya's Adult Learning and Entertainment Manager Elgin Grey to find the best way to experience this Miami must-see.
---
---
How to get to Vizcaya Museum and Gardens and where to park?
Vizcaya Museum and Gardens sit just south of Miami's towering Downtown and Brickell skylines, north of lush Coconut Grove. It's on South Miami Avenue, near busy US-1, and is a fairly easy, 15-minute drive from South Beach. There's ample free parking on the two parking lots available on the east and west side of South Miami Avenue.
If you don't have a car, Vizcaya has its own Metrorail stop with an easy walkway leading right to the entrance.
Address: 3251 S Miami Ave, Miami, FL 33129, United States
The #1 piece of advice for visiting Vizcaya Museum and Gardens
"Prepare for an outdoor experience," says Grey. Though the main house is now air-conditioned, much of the time you spend at Vizcaya will be outside. And in Miami, that can mean strolling through a sweatbox if you go between late spring to early fall. So dress for the weather, and absolutely bring a water bottle. Vizcaya has refilling stations around the property so you can hydrate at will.
"Wear comfortable shoes," adds Grey. "And we recommend putting on mosquito repellant before you come in. We don't want you spraying it."
The best times to visit Vizcaya Museum and Gardens
If you want to avoid hitting hot weather, visit Vizcaya between about November and April. Of course, this is also when everyone else will be visiting, as Grey pointed out the museum's busiest times are from Thanksgiving weekend through March. She advised visiting on Wednesdays and Thursdays, before 11 AM. If that's too early, after 2 PM is also a little less crowded.
The height of hurricane season is from August to early October, so planning during those months is always a roll of the dice.
Where to start your Vizcaya visit
While the stunning home may seem like the obvious spot to start a tour of Vizcaya, Grey recommends hitting the north side of the property first. It's far less-visited than the house and south side, where the bulk of the gardens are.
"They can see the entirety of Vizcaya from there," she says. "People often miss the orchidarium, where we have rare species of orchids." From there it's a short walk to the waterfront, where you can bask in the blue waters of Biscayne Bay before venturing on to the main house.
A map of the estate in several languages is available on the website for you to plan your visit.
How long should you budget to visit Vizcaya?
How long you spend touring the grounds depends greatly on how many pictures you take in the gardens, and your relative tolerance for heat. On average, Grey suggests budgeting about two hours, especially if you're taking a guided tour of the house.
The Vizcaya Café is the best spot to grab a bite during your visit
The Vizcaya Café and Shop sits in what was once the home's basement bowling alley, on the north side of the property near the indoor/outdoor pool. It has gourmet sandwiches, salads, wraps, and pastries. You'll also find a full menu of coffee drinks, waters, and sodas. Seating is outside in a shady courtyard, making for an ideal place to relax after your visit.
The six best things to see at Vizcaya Museum and Gardens
1. The barge and Biscayne Bay
Getting 85 different types of marble stones and hundreds of pieces of furniture to Miami wasn't easy in the 1920s. So engineers dredged a canal through Biscayne Bay so large ships could pull right up to Vizcaya. But the loading dock is no simple piece of concrete; it's a Mediterranean barge complete with statues and staircases that once boasted a tea house for afternoon relaxation. It's no longer reachable from the museum, but it's Vizcaya's signature site and worth walking out to see.
2. John Deering's suite
Deering's bedroom is far from the most impressive from a decorative standpoint. His bathroom, however, is a marvel of marble and ceiling design, with stunning views of Biscayne Bay. It sits upstairs, which is not part of the regular house tour, so you'll have to make an extra effort to see the master suite.
3. The Garden Mound
If you've seen pictures from a wedding at Vizcaya, chances are they were taken atop the Garden Mound. Grand limestone staircases lead to a shaded deck of live oaks and Spanish moss, where Biscayne Bay peeks between the trees. The view from the top looks out over the property's lush gardens, and you'll get your best photo ops up here.
4. The rooms of the first floor
Each room on Vizcaya's ground floor is decorated in a different style, from the Versailles-like Reception Room, to the stately English library and the Italian loggias that once served as outdoor patios. And each is a mini museum unto itself.
"If people are in a pinch, the main attractions are the large rooms and their intricate areas," says Grey. "Going on a guided tour is helpful (to see those) and gives you an idea of what Vizcaya is all about."
5. The Breakfast Room
In contrast to the rest of the home, which is done up in European design elements inspired by the grand mansions of France and Italy, the upstairs Breakfast Room is an immersion in Asian art. "The breakfast room is where (Deering) ate most of his meals," says Grey. "And it has great views of the gardens."
6. The Secret Garden
The Secret Garden isn't really much of a "secret," since seemingly every Quinceañeras picture in Miami is shot there. But its coral walls and elevated walkways make for the best "mini-tour" at Vizcaya, where photo ops under vine-covered arches and in limestone chairs abound. The garden was originally meant for orchids, but was replanted with succulents when orchid growing failed.
Three underrated areas you should visit at Vizcaya Museum and Gardens
1. The Marine Gardens
During Vizcaya's heyday, the property stretched south for 180 acres, and featured lagoon gardens where guests could step into a slice of natural Florida. Much of that property was sold off, but the Marine Gardens on the far south end still offer a bit of that feel, where mangroves, estuaries, and black-water ponds give the home a hint of the Everglades. "It gives you a look into what the gardens were like when this was a much bigger estate," says Grey. "It's a wild looking environment."
2. The upstairs kitchen
Most grand old estates had kitchens either just off the main dining room or completely removed from the house. But not at Vizcaya, where the main kitchen sits upstairs, next to the breakfast room. It was a marvel of technology for its time, with electric refrigerators, butter molds, and automatic dumbwaiters. "Aesthetically, it's very different from the rest of the house," says Grey. "It's very plain, but very grandiose at the same time."
3. The orchidarium
This oft-overlooked garden sits on the north side of the house, directly across from the Vizcaya Café. It's full of the colorful flowers that have become synonymous with Florida, and because the main house separates it from the other gardens, few visitors make it here. It's the most calming and tranquil of all Vizcaya's landscapes, and bursting with color most of the year.
What you can skip at Vizcaya Museum and Gardens
The upstairs of the main house might seem alluring, but beyond Deering's suite and the breakfast room and kitchen, there's not a whole lot to see. The guest rooms are elegant, and a look at what bedrooms were 100 years ago. But if you've seen these sorts of rooms in historic homes before you don't need to take time to see them.
Vizcaya hours and ticket prices
Vizcaya is open every day except Tuesday, with the first admission at 9:30 AM and the last one at 4:30 PM. Once inside, you can stay in the main house until 5:00 PM and the gardens until 5:30 PM. Guided tours of the house run at 11:30 AM and 12:30 PM, and are $5 per person. Vizcaya also offers self-guided audio tours, available for no extra charge on Vizcaya's app.
Admission for adults is $25, children six-12 are $10, and kids under six are free. Active duty military, military veterans, and people with disabilities are also free.