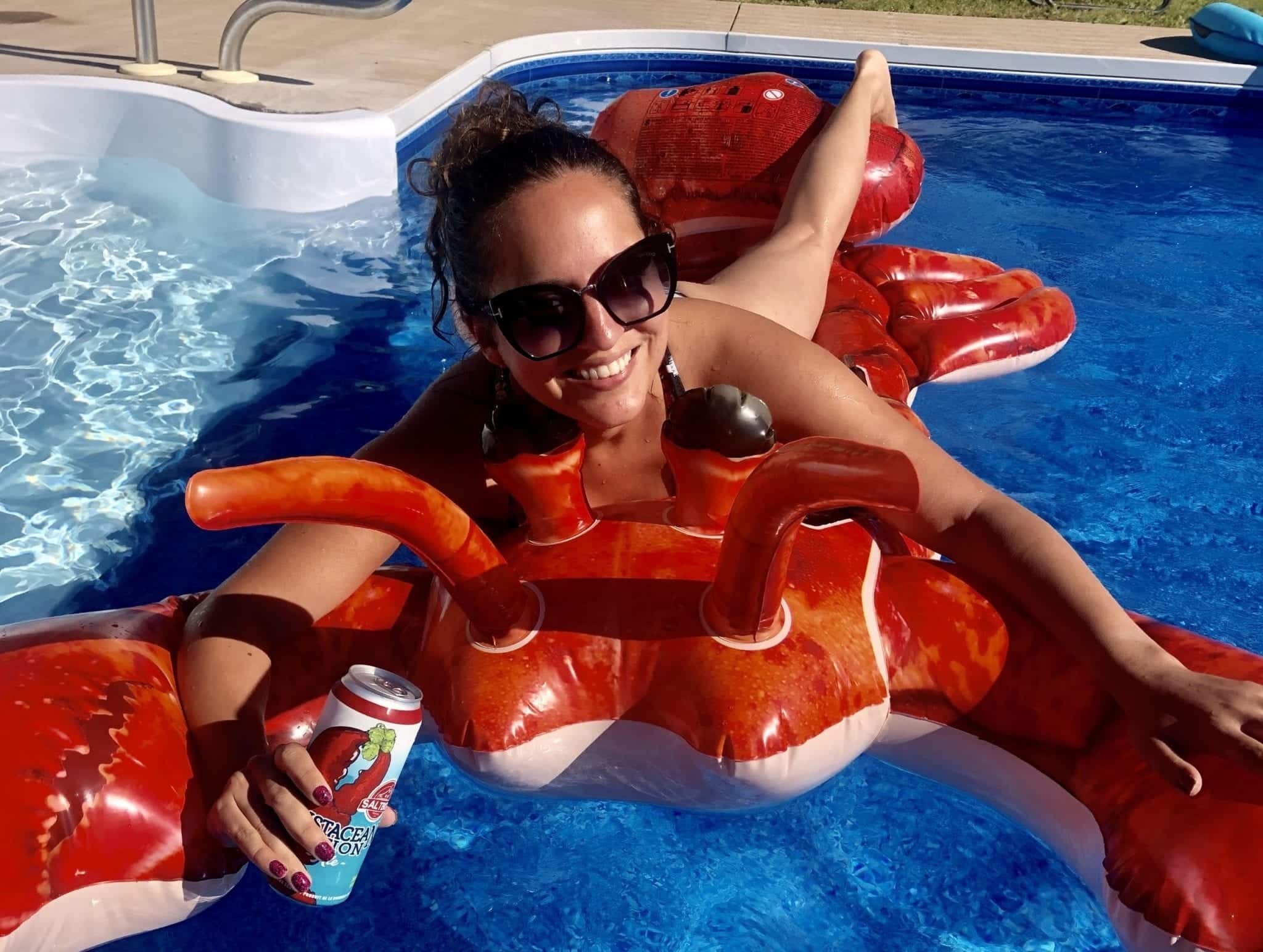 Summer is my favorite season, and New York is one of my favorite cities, but I can't stand New York in the summer.
Take how I was welcomed back to the city. There were no 1 trains running between 137th and 96th, and I was running a bit late, so I had to pay $15 for an Uber from 145th to 99th.
Then I hopped on the 2 at 96th, then switched to the 1 at 14th…and the 1 train was 15 minutes late. Taking the express downtown had saved me zero time. I got on — and the AC didn't work. Usually when the AC is off, the entire car is cleared out, but not today — so few trains were running that everyone was crammed in. Sweat dripped off people's faces and chests.
New York's subway system is in a state of emergency. Get on that, Cuomo.
It was torturous being flung around in the heat. But as the doors opened at Christopher Street, an uptown train was pulling into the station. Instinctually, everyone by the door leaned out and caught the breeze that ensued.
It was hardly anything — but the entire train seemed to sigh with relief.
That may seem like an odd note on which to begin my latest monthly recap, especially during a month of so much travel. But that's the epitome of New York. You get punched in the face three times in a row, metaphorically speaking, then share a gorgeous breeze with strangers.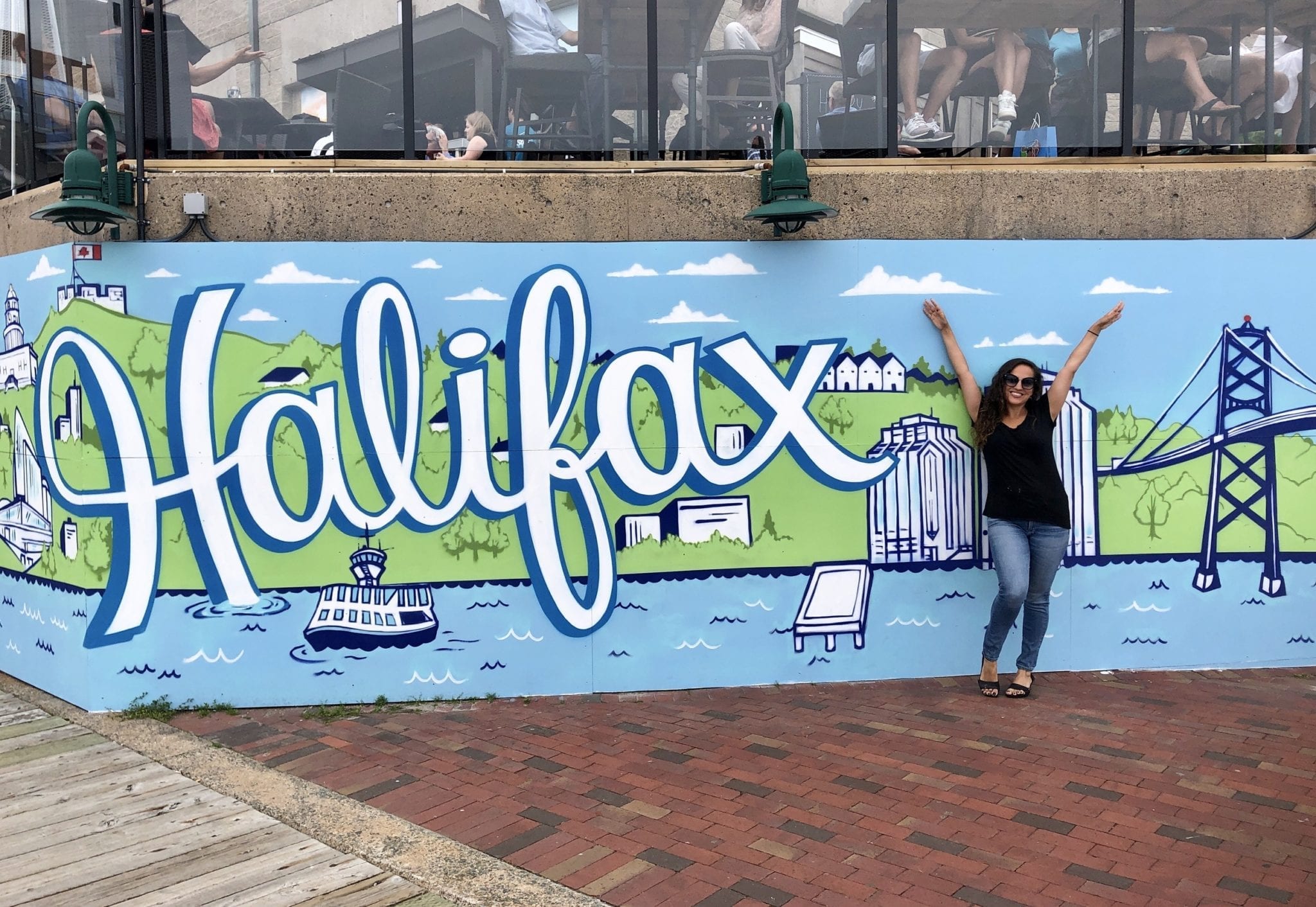 Destinations Visited
New York, New York, USA

Reading, Woburn, Salisbury, and Lynnfield, Massachusetts, USA

Halifax, Black Point, Mahone Bay, Lunenberg, Peggys Cove, Sydney, Louisburg, Sable Island, Ingonish, Eskasoni, Chéticamp, Cape Breton Highlands National Park, Grand Étang, Pleasant Bay, Dingwall, White Point, Baddeck, Antigonish, and Dartmouth, Nova Scotia, Canada

Georgetown and Charlottetown, PEI, Canada

Havre-Aubert, Pointe Basse, L'Étang-du-Nord, Bonaventure Island, Percé, and Anticosti Island, Quebec, Canada

Woody Point, Gros Morne National Park, and Little La Poile Bay, Newfoundland, Canada

St. Pierre and Miquelon, France

Baku and Qobustan, Azerbaijan

Highlights
Finally visiting Cailin in Nova Scotia. Cailin and I have traveled around the world together, and she's visited me in New York several times, but this is the first time I got to visit her on her home turf! We had a great time in Halifax, going for afternoon tea at Tartan Tea House (they have fancy hats that you can borrow!), enjoying a beer garden on the waterfront, and checking out nearby spots like Lunenberg and Peggys Cove.
A long overdue return to Canada. I haven't visited Canada since becoming a travel blogger — well, except the three-hour plane-to-bus layover in downtown Toronto in 2012. There are no excuses for this because Canada is such a fantastic country. I'm glad I made it back for an awesome three-week Maritimes trip, and I sincerely hope there is much more Canada travel in my future!
An amazing cruise through the Canadian Maritimes with OneOcean Expeditions. I've already written about my favorite moments of the trip here, and I can't wait to go more in-depth on other posts. Sable Island, PEI, and the Îles-de-la-Madeleine were my favorite destinations of the trip, but there were so many wonderful moments. The Maritimes have captivated me and I can't wait to go back and explore more. Hopefully a road trip through PEI next year!
Being on the first cruise ship ever to successfully land on the south shore of Sable Island. That felt really good. I can't believe I made it somewhere so few people get to visit.
A wonderful road trip through Cape Breton, Nova Scotia. We hit the ground running after our cruise docked — Cailin and I headed straight out on a four-day road trip along the Cabot Trail on Cape Breton, the northern island of Nova Scotia. This is a gorgeous part of Canada — it reminded me a lot of Maine or New Hampshire. It's so beautiful, the people are so friendly, there's a lot of interesting art, I enjoyed the beauty of the roads through the national park, and we ate more lobster than should seem humanly possible. I can't wait to write about this trip.
Visiting Peace by Chocolate in Antigonish, Nova Scotia. I've heard a lot about the chocolate shop run by Syrian refugees who were resettled in Canada — Justin Trudeau even brought some of their chocolate to Nancy Pelosi. The chocolate is delicious and we enjoyed getting to talk to the women there.
Spending the Fourth of July at home in Massachusetts. My sister and her partner and I all made the trip and got in some quality time with our dad. We got in some pool time, some beach action in Salisbury, and even hit up the cool Lord Hobo brewery in Woburn (how is there a brewery in Woburn?!). I spent time visiting my five-month-old practically-a-nephew in Massachusetts, who LOVES music. And I maintain that I'd rather watch the Boston Pops on TV than go watch fireworks live.
Getting upgraded on my 11-hour flight to Azerbaijan. That was a birthday gift from someone who knows me VERY well. It was like a level between Premium Economy and Business. So much space that I couldn't touch the chair in front of me, great service, and tons of food. If it had been a lie-flat seat, it would have been perfect. Definitely worth upgrading to Comfort Class if you're flying Azerbaijan Airlines!
Enjoying the sights and tastes of Azerbaijan. Azerbaijan was a bit of a wild card for me — I didn't know much of what to expect and didn't have huge expectations. I enjoyed all of the crazy modern architecture, eating dinner with a view over the Flame Towers, and checking out cool sites near the city like the mud volcanoes and petroglyphs of Qobustan and a nearby fire temple.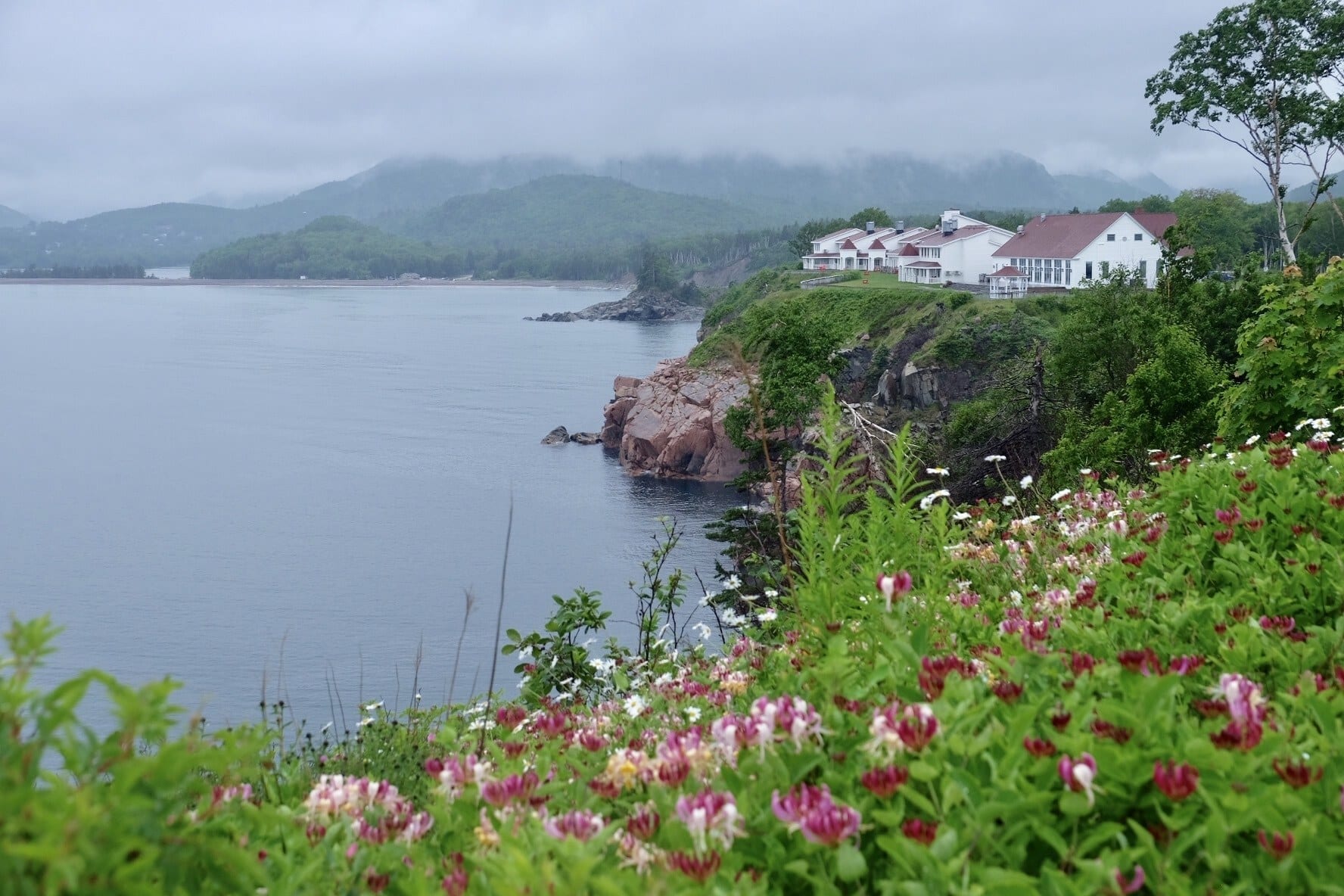 Challenges
Leaving important stuff in New York and having to go back from Boston. Man, this was one of the dumbest mistakes I've made in recent memory. I left a critical hard drive in my desk drawer — one that I desperately needed for my trip to Canada. Turns out the only option was to take a $200 round-trip train ride in a single day — or else brave ten hours on the bus. Sigh. I took thAt least I had time to get my nails done at my favorite salon while I was there.
Not doing laundry…and facing the consequences. I knew laundry on the cruise would be expensive, but I was kind of hope that the laundry price would be reduced after the halfway point of the trip (which has happened on cruises I've been on before). It was not. And I just couldn't bring myself to pay $4 per pair of underwear. So…I kind of pushed the limit on wearing clothes for far too long.
I'm getting scared about politics and the country. It's been frustrating and awful for YEARS, and so many people are suffering as a result of the Trump Administration, but this month set off a bunch of alarm bells in particular. It's getting harder to be strong.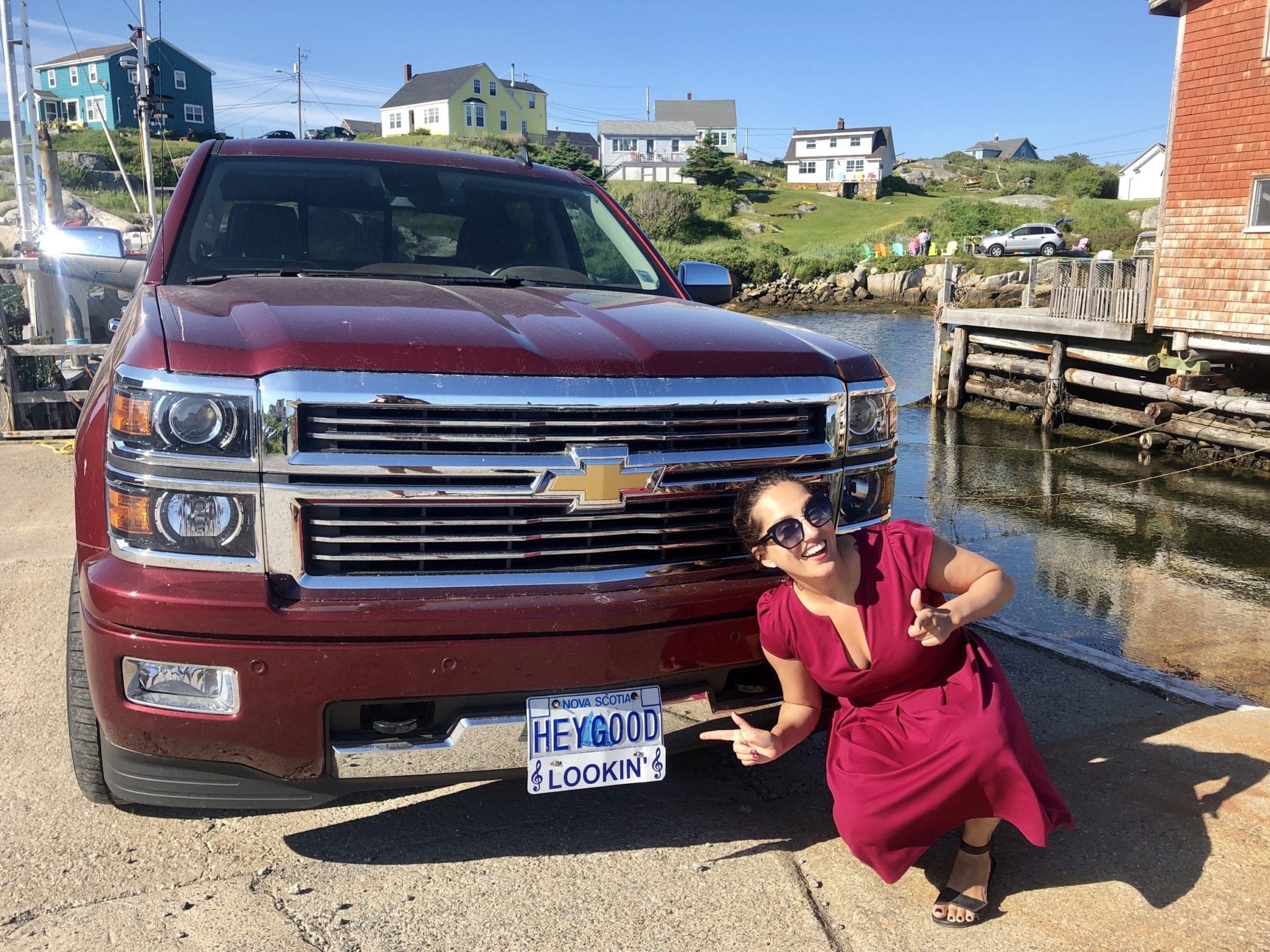 Most Popular Post
Why I Love Traveling to Puglia, Italy — This region of southern Italy is so special to me.
Other Posts
My Favorite Moments Cruising Canada with OneOcean Expeditions — I absolutely loved this trip, and here were my favorite moments.
Three Weeks in Northern Italy: An Itinerary — This was one of my best Italy trips ever, so I'm excited to share all the details so you can plan the same trip!
Three Days in the Dolomites: A South Tyrol Getaway — If you're traveling to the Dolomites in the summer, this is how to maximize your first visit!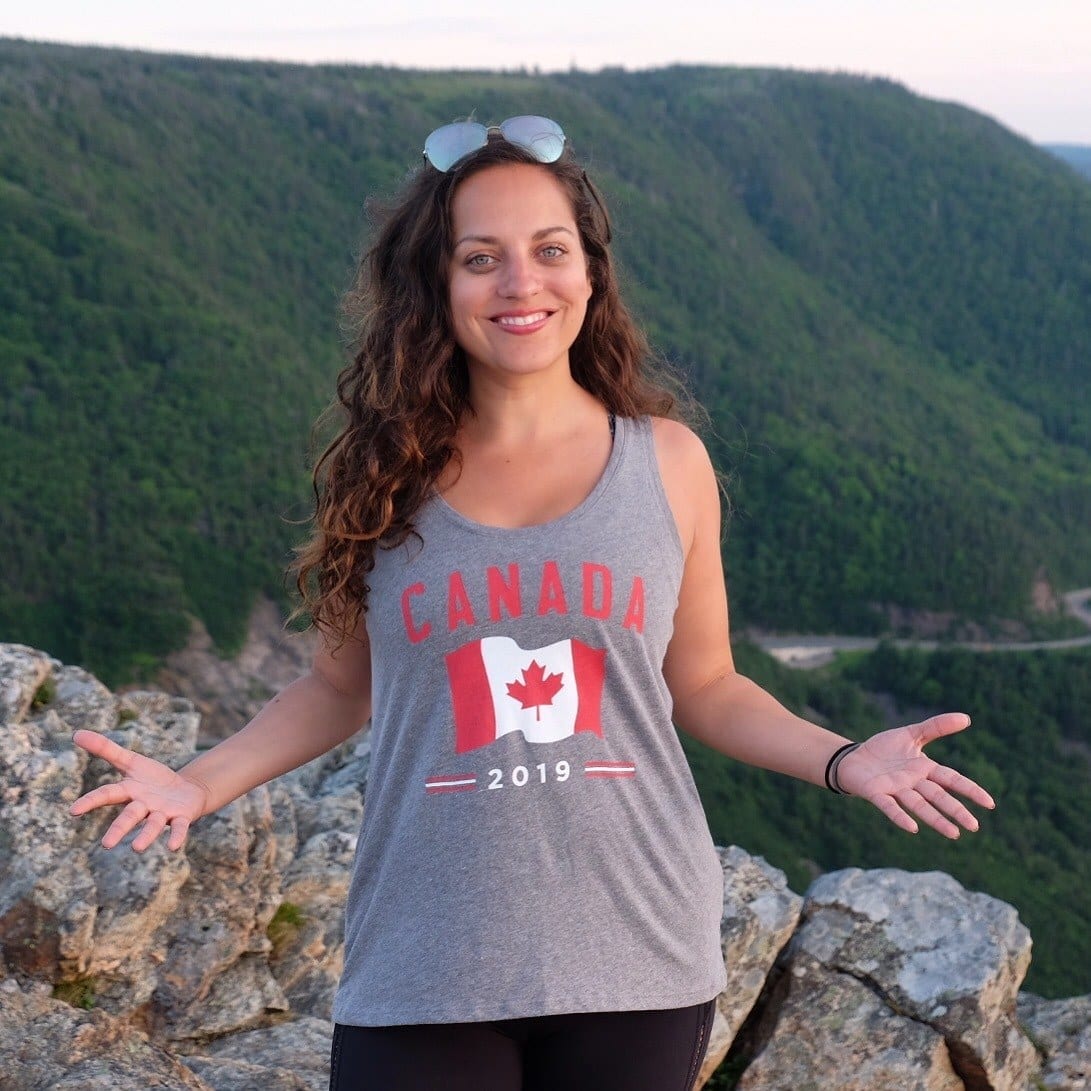 Most Popular Post on Instagram/What I Wore This Month
It's so frustrating to be dealing with the constant algorithm challenges on Instagram. I've never gotten too angry about it before, but this month the algorithm gave me a big hit before I did my two Canadian campaigns. Awful timing to suddenly have a much smaller reach than usual. That said, this was the most popular post of the month! For more updates from my travels, follow me on Instagram at @adventurouskate.
As for what I'm wearing, Cailin gave me a care package of Canadian gifts to welcome me to Nova Scotia — and one gift was this shirt from Old Navy. I love it! (She also included All Dressed Chips, lobster mints, and a Kinder Surprise, because "They're illegal in America." Truth.)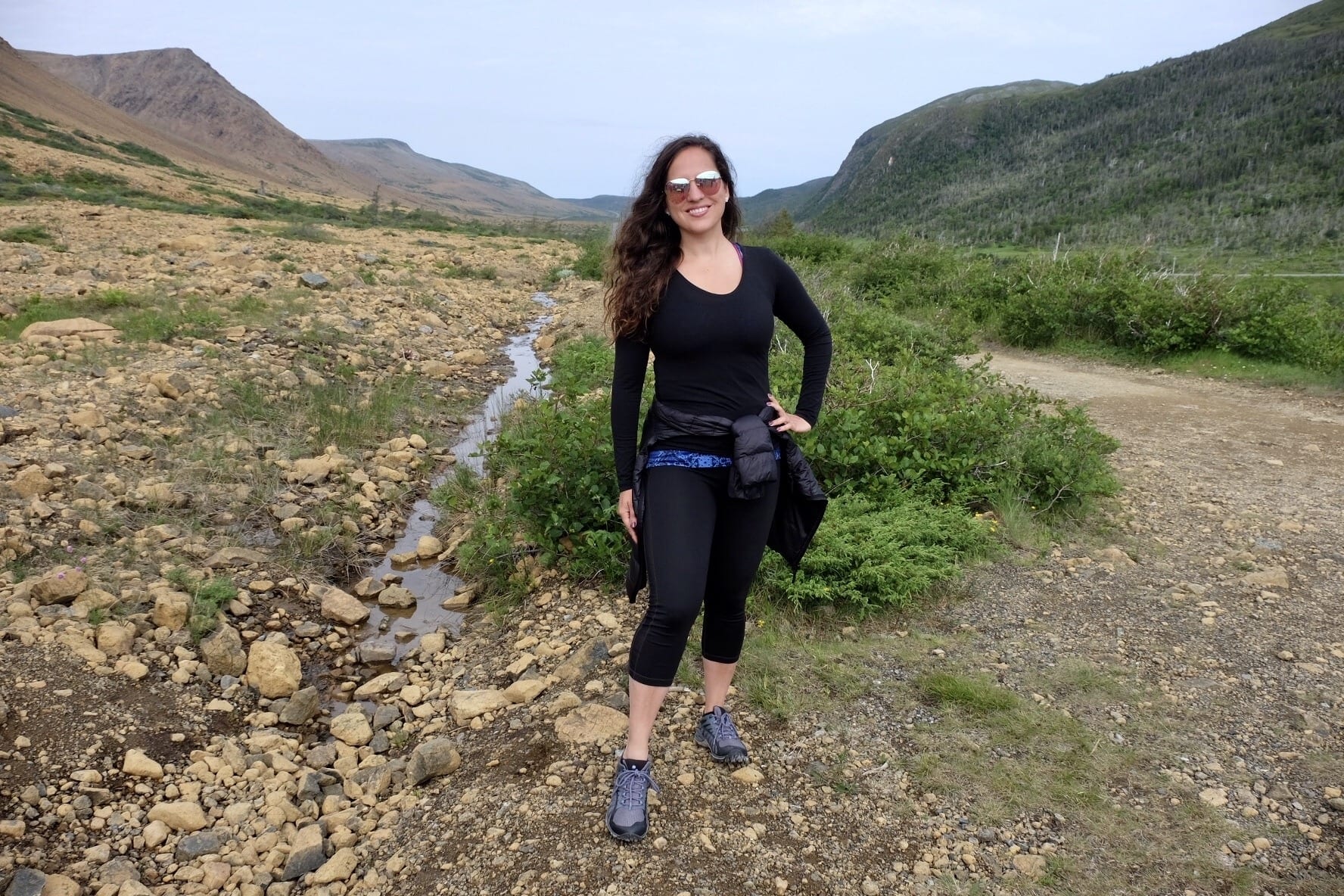 Gear of the Month
This month I bought new shoes for my travels: Merrill Siren Edge Q2 Waterproof Trail Runners. I had been carrying both sneakers and hiking boots, and I decided that it would make way more sense to pack a pair that could work for both purposes, so I headed down to REI (and finally signed up for the co-op). These ones felt the best.
I wore them for the first time in Canada (above, I'm in the Tablelands of Newfoundland), and they are AWESOME — they work equally well for hiking and working out. I should have bought these years ago!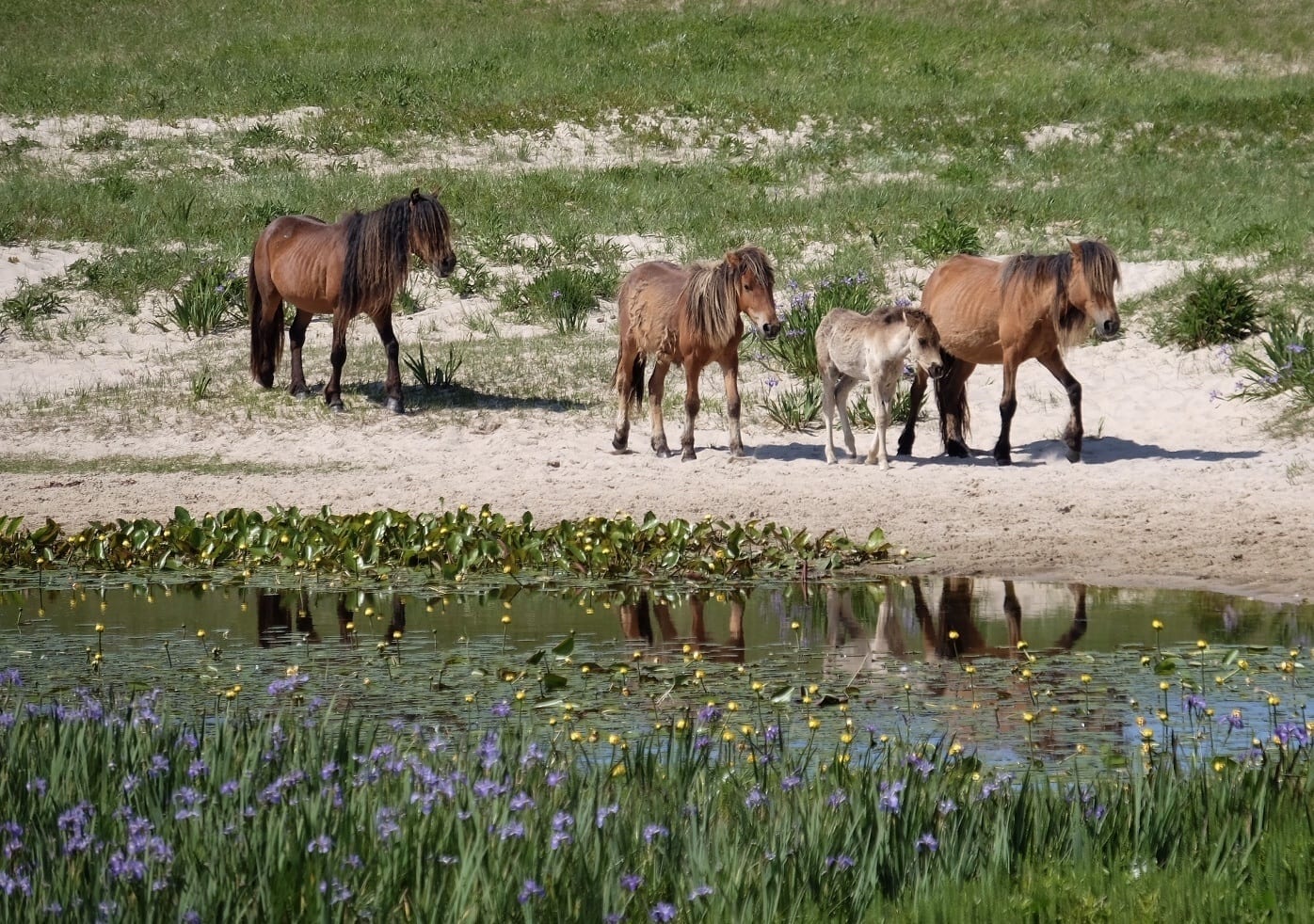 What I Read This Month
City of Girls by Elizabeth Gilbert (2019) — It's 1940 and Vivian Morris has failed out of Vassar College, so her parents send her to live with her Aunt Peg in New York City. Soon Vivian finds herself swept up in the heart of the theater scene — and becoming a wild child. When her recklessness has devastating consequences, it alters the rest of her life and relationships, just as America enters World War II and the world changes.
This is one of my absolute favorite books of the year. Elizabeth Gilbert gets a lot of hate she doesn't deserve — the reason why Eat, Pray, Love was so successful is because she is a fucking magnificent writer. It would have been utter crap in anyone else's hands. Everything she's written is fantastic, and her latest is no exception. I loved all the vibrant characters, but the New York of 1940 is the greatest character in the book — you get swept up in the shows and nightclubs and cocktails. And best of all, this is a coming-of-age book of a very interesting and independent woman in an era when women were expected to be anything but. Vivian grows beautifully, and the book is satisfying as a result.
Feminasty: The Complicated Woman's Guide to Surviving the Patriarchy Without Drinking Herself to Death by Erin Gibson (2018) — One of the hosts of the podcast Throwing Shade, Erin Gibson knows how to provocatively and hilariously discuss gender equality issues in the present day. This is an comedic essay collection covering topics including equal pay, reproductive rights, telling women how they should dress, women in STEM, and many, many more issues.
I listened to this book as the audiobook version and really enjoyed it. Since Gibson is a podcast host already, she's got the distinctive voice for it! Though I have to say a lot of it got me so angry I scrubbed my bathtub extra hard. I appreciated how much research and historical context Gibson put into each of her essays. I wouldn't call this one of my favorites of the year, but it's a great easy listening book for when you're cooking, cleaning, or walking.
Slouching Towards Bethlehem by Joan Didion (1968) — This is perhaps the greatest collection of essays about life in America during the upheaval the 1960s. Didion writes about all kinds of topics — grisly criminal cases, drugs and counterculture in San Francisco, trips to Death Valley and Hawaii and Las Vegas — before wrapping it up with "Goodbye to All That," her gorgeous essay about making the decision to leave New York City.
I had never read anything by Joan Didion before, believe it or not, but after reading the essay collection Goodbye to All That last month, based on her essay of the same name, I decided this would be a good way to jump in. Honestly, it was the best essay in the book, far and beyond everything else — but I enjoyed the whole book. Everything in this book is so descriptive — I could feel the Santa Ana breezes on my arms as I read about the Inland Empire. I especially like that Didion eventually moved back to New York City.
Originals: How Non-Conformists Move the World by Adam Grant (2016) — Why do some people take chances and succeed, and others take chances and fail? That's what this book tries to answer. There are lots of interesting examples profiled in the book — like an Apple employee who challenged Steve Jobs and won, and a CIA employee who knew she was right by the timing was too early, so she waited and got herself into the prime position before launching her idea. It also talked about Seinfeld and how it seemed like the opposite of a hit, but worked out everything.
I really enjoyed reading this book — but as I sit down to recap it, I barely remember it! (I read it on the beach on the Fourth of July.) If you like Malcolm Gladwell's books, I found this to be very similar and loved the examples in it. It's a great beach or travel read for this summer.
Howard Stern Comes Again by Howard Stern (2019) — Few people have pivoted more than Howard Stern. He came up as a shock jock who had no qualms about insulting people to their faces — but over time he realized he wanted to tell more in-depth stories, and became one of the most skilled interviewers around. This book is a collection of his most memorable interviews — people from Jay-Z to Ellen DeGeneres to Gwyneth Paltrow, and many Trump interviews as well.
Few things fascinate me more than growth, especially when it's tinged with maturity. I absolutely love the 180 that Howard Stern has done in recent years, and as a result, I find his interviews are fascinating. What he wrote about his friendship with Rosie O'Donnell was deeply touching. He also makes a good point that doing extensive research makes for better interviews. That said, if you're a regular listener of the show, you will have heard most if not all of these interviews before. This is probably a better read for people who are newcomers or who don't listen to him at all.
Coming Up in August 2019
I'm beginning the month in Azerbaijan, then traveling to Georgia and Armenia! FINALLY, after years and years of telling you guys I how much I want to visit the Caucasus, it's happening!!! I'm going to be exploring this region with JayWay Travel, an excellent travel agency specializing in custom Central and Eastern Europe tours. (You may recall I traveled with JayWay to Ukraine in 2017 and loved it.)
I'm especially excited to be visiting the Svaneti region of Georgia. This mountainous region is gorgeous, tough to get to, and home to a unique language and culture. I always said that when I went to Georgia I wanted to go to Svaneti, so I'm so glad it's happening. I'll be spending time in the capital of Tbilisi as well, and checking out Kutaisi, Mtshketa, and the Imereti wine region too. This portion of the trip will be a group trip with several of my blogger buddies, which will be a lot of fun.
In Armenia I'm looking forward to exploring the city of Yerevan, seeing tons of monasteries, and getting into the countryside at Dilijan and Lake Sevan. I need to do some more reading up on the Armenian Genocide — my friend Alexa is of Armenian descent and recommended some good books.
Later in the month I head to London briefly for a wedding, then back to New York. After that I'm heading BACK to Atlantic Canada (yes, right after my epic trip) — to Newfoundland! After I saw the Broadway musical Come From Away last summer, I was so enchanted, I nearly booked a ticket to Newfoundland on the spot! On this trip I'm going to be exploring the central and eastern regions of Newfoundland — none of which I explored on my OneOcean cruise, so this is all new to me.
I'm spending a few extra days in St. John's at the end of the trip to hang out with friends, catch up on work, and live like a local before heading back to New York.
Any suggestions for the Caucasus or Newfoundland? Share away!
The post AK Monthly Recap: July 2019 appeared first on Adventurous Kate.