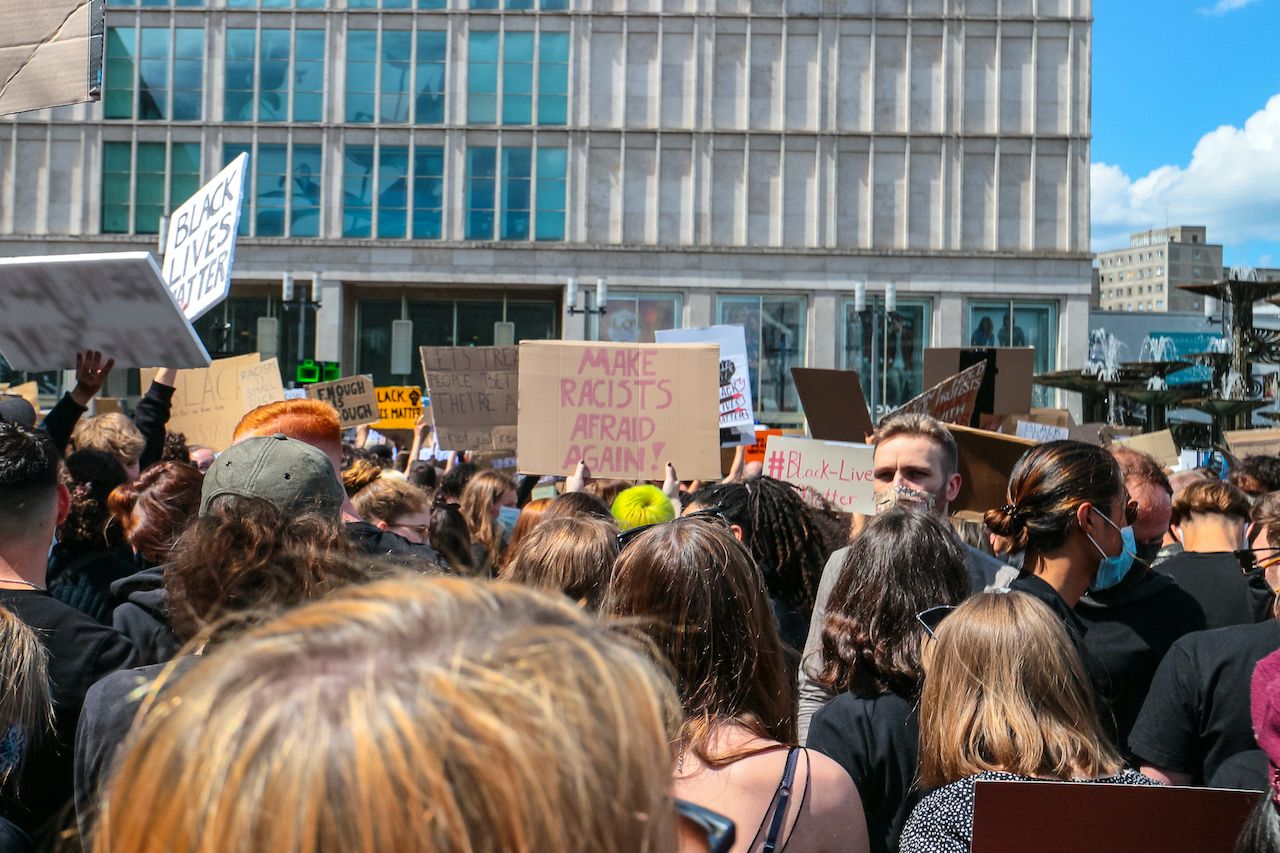 Protests sparked by the murder of George Floyd haven't just been contained to the United States. This weekend, what is believed to be the largest turnout of Black Lives Matter protesters outside of the US took place in Germany. Over 15,000 protesters gathered in Alexanderplatz, in Berlin's city center, in acknowledgment that racial discrimination and police brutality against people of color isn't just an American issue. They held signs like "Germany is not innocent" and held a moment of silence for eight minutes and 46 seconds — the amount of time police officer Derek Chauvin kneeled on George Floyd's neck.
This today in #Berlin So moved by how the world is coming together. #BlackLivesMatter #Unity #Humanity 🙏🏽🙏🏼🙏🏿🙏 pic.twitter.com/Um2UUOTajW

— Melissa De Sousa (@1MelissaDeSousa) June 6, 2020
Protests in Germany spread beyond just Berlin to nine other cities around the country. Twenty thousand people gathered in Munich while 14,000 rallied in Hamburg. German soccer teams joined the movement too, with Werder Bremen, Wolfsburg, Borussia Dortmund, and Hertha Berlin all kneeling in solidarity with Black Lives Matter.
8 min 46 sec Silence for #GeorgeFlyod on #Alexanderplatz #Berlin at #BlackLivesMatter #BlackLivesMatterDE #b0606 @rbb24 pic.twitter.com/ekkx1L4duo

— Olaf Sundermeyer (@O_Sundermeyer) June 6, 2020
Racial discrimination has been a long-standing issue in Germany, especially with regard to the police force. According to an annual report by the German Federal Anti-Discrimination Agency, between 2016 and 2019 the number of reported cases of racial discrimination increased by 59 percent. And in 2017, a United Nations group determined that the country had systemic problems with racism and "repeated denial that racial profiling exists in Germany."

The post Ten of thousands of anti-racism protesters gather in Germany appeared first on Matador Network.