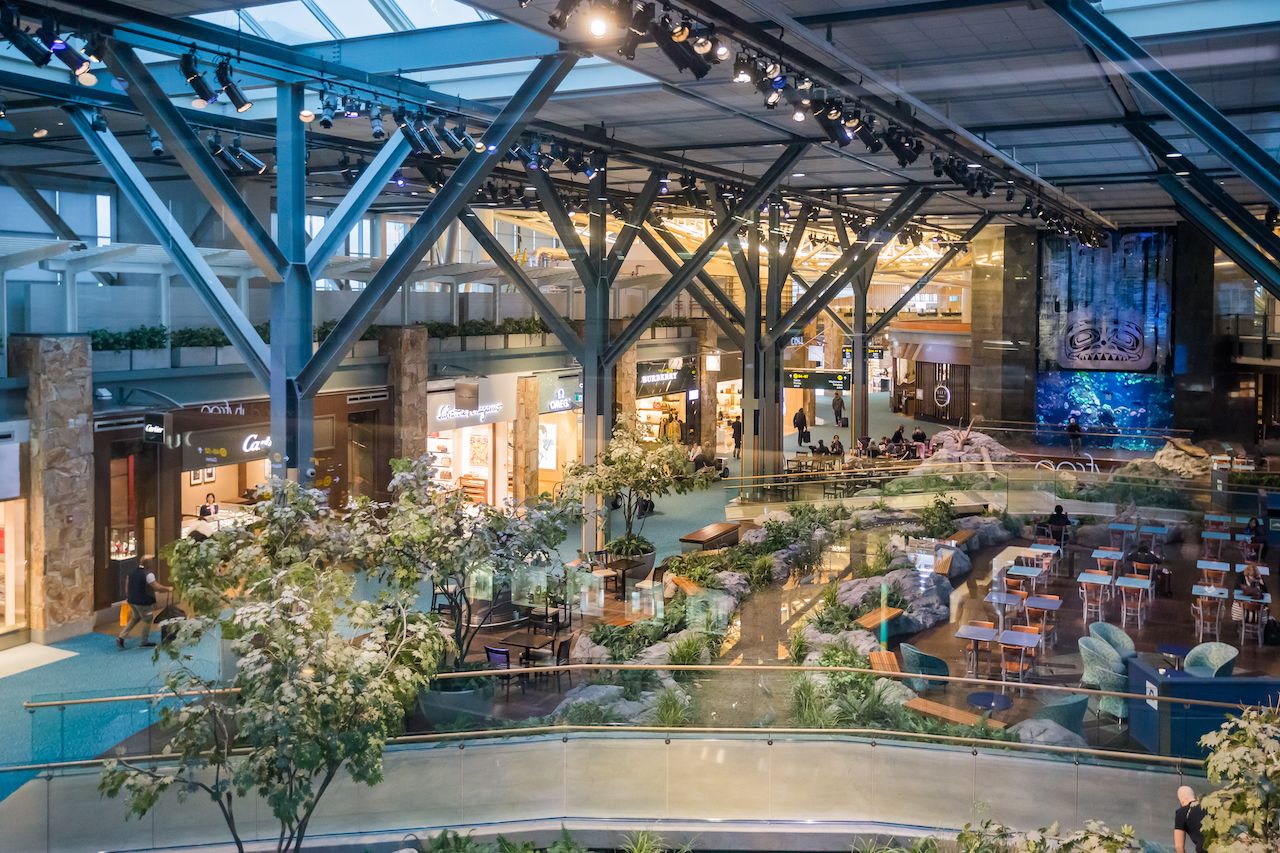 Flying is bad for you. This shouldn't be groundbreaking news to anyone who's gotten home after a long flight and slept for 12 hours, since the combination of thin air, cramped spaces, and a flying petri dish of germs isn't exactly a recipe for pure bliss. This is why airports around the world have started adding stuff like spas, gyms, and relaxation centers,to help you feel a little less awful while you fly.
To see exactly which airports are doing the best job of helping you stay healthy in the air, Netflights looked at which have the most quiet spaces, yoga studios or fitness classes, relaxation zones, outdoor or green space, gyms, prayer rooms, massages, and running tracks. Then tallied it up to find which airports were the best for wellness.
1. Frankfurt Airport
The eighth-busiest airport in the world can also be among the most relaxing, thanks in large part to its two, full-scale yoga rooms. Not merely old closets with a few mats in the corner, these rooms have floor-to-ceiling windows, blocks, mats, and monitors with yoga videos. If you're not looking to limber up, retreat to the airport's designated quiet room, or sit in one of its many silent chairs. FRA also helps you escape the hectic airport concourse without leaving your seat at artificial plant gardens around several gates. Add in a visitors' terrace to watch the planes, and you've got a little slice of serenity in one of Europe's busiest hubs.
2. Schiphol Airport, Amsterdam
The Massage-o-Matic sounds like some kind of futuristic robot that's great at first, until it goes haywire and starts massaging everything around it. Thankfully, the five-minute shiatsu massage — for two euros! — at one of Schiphol's automatic massage chairs knows when to call it quits. If you prefer a human touch, a live person will massage you at the ExpressSpa not far away. The airport also has a meditation center and a park within the airport for passengers to read and respirate. And you can get an education in the Dutch masters at the Rijksmuseum, or let your kids learn about science with eight interactive exhibits at the NEMO Science Museum.
3. Dubai International Airport
Leave it to Dubai to come up with the most insane in-airport gym in the world, where you'll feel like you're at a mega-resort spa and fitness center without even leaving the terminal. The G-Force health club at DXB has steam rooms, a sauna, jacuzzi, Nautilus gym, relaxation pool, and showers, so a long layover can actually leave you less stressed than a short one. The airport also has two spas, if you'd prefer to skip the workout portion of wellness, and multiple prayer rooms complete with Ablution facilities. They're designed for Muslim passengers but open to anyone.
4. Changi Airport, Singapore
You don't routinely top lists of the world's best airports without a good fish spa. So be sure to hit the Airport Wellness Oasis, where fish will nibble on your feet while you wait for your flights. You can also get non-fish pedicures, massages, or other spa treatments. The wellness doesn't stop once you leave the designated oasis, though! You'll also find oasis lounges with big, comfy couches and ergonomic recliner chairs. Rather swim like a fish than get massaged by one? There's a full-on lap pool at the Aerotel Transit Hotel, which is free to hotel guests and available to anyone for a fee. Or you can just cool off and shower at one of two Ambassador Transit Lounges, then enjoy an orchid garden, butterfly garden, or piazza garden full of seasonal plants.
5. Hong Kong International Airport
The Terminal 2 Wellness Lounge with massages, mani/pedis, and full hair salon services lands HKG pretty high on this list. As do the free shower facilities, designated resting lounges, and "relaxation corners" with giant recliners and fast WiFi. If you want a little exercise, this airport is a short shuttle ride from the SkyCity Nine Eagle Golf Course, where you can play nine holes before jumping on your next flight.
6. Vancouver International Airport
You realize what an emphasis the folks at YVR put on relaxation when you step into their customs arrivals hall. The airport takes a place almost always synonymous with stress and decks it out in local plants and waterfalls. It's the most relaxing immigration line in the world, a big part of why this airport ranks so high. Another is the Fairmont Vancouver Airport's Fit on the Fly program, which allows passengers traveling through the airport to access its fitness facilities for a small fee. Look for Vancouver to rank higher in coming years: The airport's installing a forest of live Douglas Fir trees as part of its $9.1 billion renovation, complete with an open roof to allow in rain and snow.
7. John F. Kennedy International Airport, New York
JFK is a lot like the city it services: Like NYC's five boroughs, the airport has eight separate terminals that could really be individual airports unto themselves. So lumping American's terminal in with Delta's would be like lumping the Bronx in with Staten Island. That said, JetBlue's Terminal 5 rates JFK highly on its own, with reclining silence chairs and a lounge with full showers. There's also an urban farm right outside the terminal, which grows produce for employees and a small amount of Terra potato chips. You can't visit the farm — it's only open to local school kids and employees — but it's nice to know a trip to JFK can also be a relaxing trip to the countryside.
8. Haneda Airport, Tokyo
Tokyo's Haneda Airport recently launched the groundbreaking new Haneda House. It has, to our knowledge, the only full-fledged boxing gym located in an airport, a few years late for Tyler Durden but still a pretty cool advent. It's also home to a virtual driving range if you want to hit some balls and take out that flight-related aggression. There's also a folding bike rental, providing bicycles you can take with you into the city. Outside Haneda House, the airport also boasts a calming observation deck where you can relax and take in the wonders of flying after all that exercise.
9. San Francisco International Airport
The airport that led the in-terminal yoga room charge in America still ranks high for wellness, offering two yoga rooms and three spas for pre-flight relaxation. SFO also is the odd airport with its own aquarium, which is open at all hours (though the fish might be sleeping). You can buy day passes and shower at both the American and Delta lounges, as well as at Freshen Up, which is also open 24 hours in the International Terminal. The Napa Farms Market is also one of the best airport food shops in the country for healthy, fresh-tasting local food.
10. Toronto Pearson International Airport
North America's fourth-largest city doesn't skimp on wellness amenities at its international airport, starting with the WellBeing Spa in Terminal 3. Here you can get facials, waxing, or threading while you wait for your flight, or just relax in the nearby Plaza Premium lounge. Lucky for us Americans, both of these are located after customs in the US flights section. If you're in Terminal 1, you can also hit Goodlife Fitness, a full gym that sells day passes and will rent you clothes if you didn't pack them in your carry-on.


More like this:
The 10 best airports in Europe to travel through
The post The 10 best airports for wellness in the world appeared first on Matador Network.