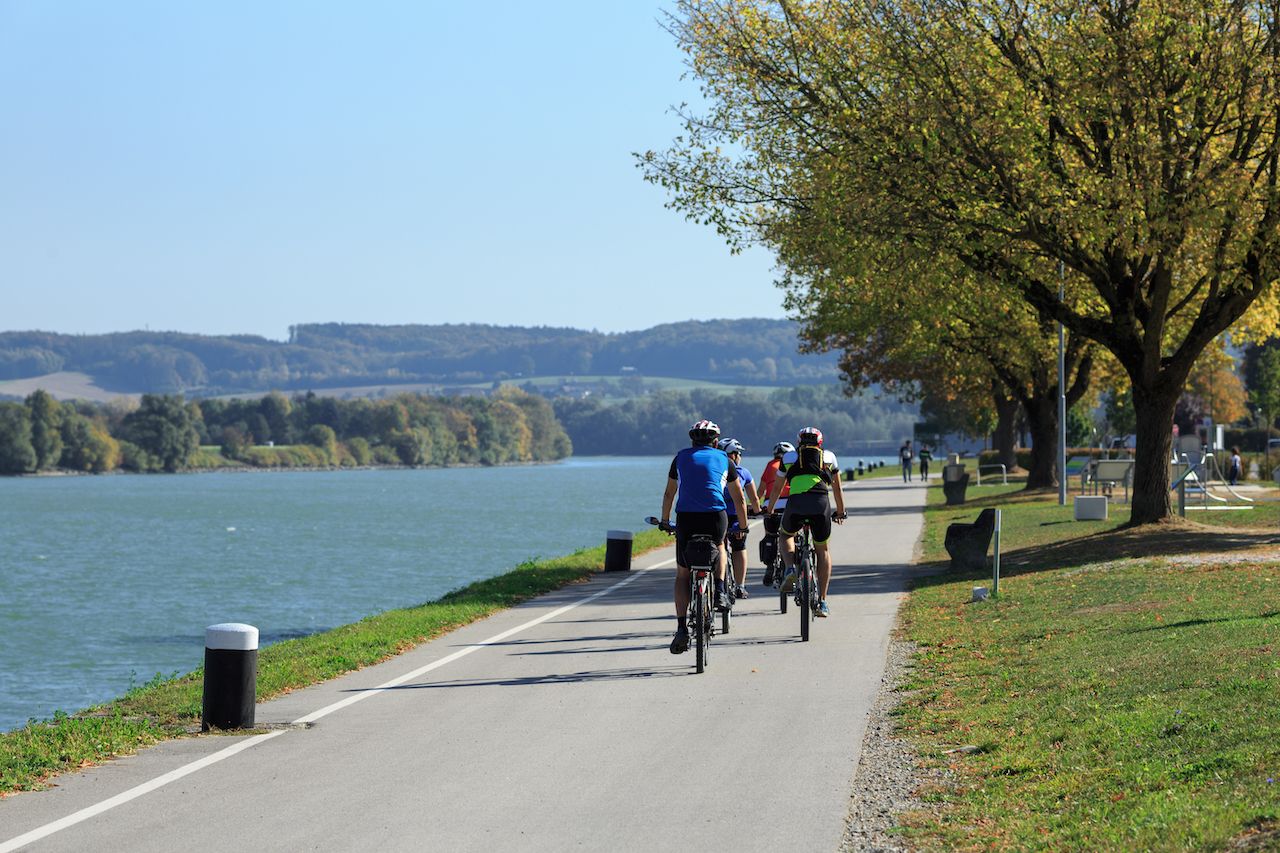 When I was a kid, my dad used to say, "We don't take vacations. We take adventures." Sounds bold, but back in those days it meant spending your whole "vacation" on a bicycle, sweaty and sore, instead of relaxing like literally every other family on the block. Now, active vacations are as common as beachside all-inclusives, and among the most popular are cycling tours through breathtaking scenery.
Almost every scenic spot in the world has bike tours now, which means the options can be a little overwhelming. To get you started down the right… path (thanks, Dad) here are seven summer bike tours that will be the leg-cramping vacation of your life.
1. Camino de Santiago, Spain
Europe's midlife-crisis hiking equivalent of the Pacific Coast Trail is the lengthy Camino de Santiago, a network of pilgrimage trails leading to Santiago de Compostela, Spain. Cycling the Camino, however, is far more efficient, which you'll discover as you speed past beleaguered hikers on your way from Leon to Santiago. This Intrepid bike journey stretches 185 miles over eight days, bringing you through some of the most spectacular architecture and natural scenery of northern Spain.
You'll begin with a ride from Leon to Astorga, where you can stop atop a 13th-century bridge that looks down on a medieval jousting ground. From there the pilgrimage continues to the Cruz de Farro, a hilltop cross that's an emotional stop for pilgrims to drop tokens of worship. Next you'll make a serious climb into Ponferrada, where a 12th-century Knights Templar castle awaits, before an afternoon ride through rolling hills and vineyards. The following day is a pleasant descent into Triacastela and its sixth-century monastery.
Your penultimate day brings you to Santiago, the point where pilgrims get their "Compostela," or certificate proving they've made the journey. The final day you can ditch the bike and simply enjoy this magnificent city, visiting its famous cathedral, wandering its narrow, cobblestone streets, and enjoying some excellent Galician food.
2. Finger Lakes bike and wine tour, New York
With over 100 wineries in the Finger Lakes region, you'll need to take it easy if you're going to make it through this four-day Wilderness Voyageurs tour. Assuming you have a modicum of discipline, you'll spend days biking around three of the Finger Lakes to local wineries and into some of the best state-park scenery in the nation. The journey begins in Seneca Falls, riding along Seneca Lake before a calming downhill to Taughannock Falls. From there you'll spend a night in Ithaca before heading into Watkin Glen State Park.
Though the summer colors at Watkins Glen aren't quite what they are in the fall, neither are the temperatures. So you'll enjoy the steep gorges and towering trees in all their green glory under the warm New York sun. Next, you'll cruise around Lake Keuka and into Hammondsport, a tiny town with award-winning breweries in addition to its wineries. From there, you'll spend your last night in Belhurst Castle in Geneva before finishing the loop back in Seneca Falls. The tour offers plenty of time to check out the region's small towns and is the ideal way to see the northeast's premier wine country.
3. Passau to Belgrade on the Danube
Europeans, they get a little more vacation time than we do. But if you happen to be the odd American who can take two-plus weeks off in the middle of summer, you won't find a more culturally fascinating way to spend it than on this Wheel2Wheel bike trip down the Danube. You'll start and finish in Passau, an under-the-radar architecture gem on the Germany–Austria border, then bike nine of 14 days through Vienna, Bratislava, Budapest, and Belgrade.
Along the way, you'll stop in Iron Gates Natural Park and take a boat ride through Cataract Canyons. These gorges off the Danube offer the most striking natural scenery of the trip, providing a welcomed respite on day seven. In addition to the headlining cities, you'll visit Kalocsa, the paprika capital of Hungary and home to the paprika museum. The tour also stops in the medieval town of Ilok, Croatia, a wine-filled destination with ample chances to taste.
You'll pedal past castles, through dark forests full of big bad wolves, and into corners of Eastern and Central Europe you'd be unlikely to visit otherwise. With rides topping out at about 32 miles a day, none of the trip is too taxing. Though we can't make any promises about your inbox when you return.
4. Cabot Trail, Nova Scotia
Nova Scotia means "New Scotland" for those not up on their Canadian place-naming, and this five-day Freewheeling Adventures trip through the Cape Breton Highlands gives you a good sense of why. Along the 200-mile loop, you'll pedal along paved, windy mountain roads, past sweeping cliffs and crashing waves, while whales breach in the distance and eagles fly overhead.
The trip begins with a dive into the Margaree River Valley, where you can cool off in one of its famous swimming holes or try your hand at catching salmon. You'll continue into Cape Breton Highlands National Park, climbing two 1,400-foot peaks with a lunch break in between. The next day brings you to White Point, home to the Highland Links golf course, the rare links course on this side of the Atlantic.
On the final day you'll climb about 2,700 feet to Cape Smokey before finishing back in Baddeck. Along the way, your nights are spent in quirky, Maritime inns eating the freshest seafood of your life — and getting as close to a Scottish holiday as you can without an overnight flight.
5. Bourbon Country Burn, Lexington, Kentucky
Biking and bourbon generally sounds like something you'd read on the back of a jacket at a Hells Angels rally. But in Lexington, they fuse together magically from September 28 to the 30th on this three-day ride through bluegrass. Though you can take the bike route along Kentucky's Bourbon Trail whenever you want, this organized ride from the Bluegrass Bicycle Company features a Bourbon Base Camp at the Kentucky Horse Park, a sort of retirement community for championship racehorses.
From base camp, you can explore four daily loops, offering distances from 20 to 100 miles through Kentucky horse country, visiting six distilleries along the way. Those include Makers Mark, Wild Turkey, and Woodford Reserve. Each night when you return to camp you'll have the chance to sip more bourbon from the distilleries you just visited, in case you were taking it easy in preparation for the long ride home. The next morning you'll wake up and do it all again, allowing you to tour the trail without having to pack up once. With ample time to nurse your hangover in the morning.
6. Cairngorms National Park, Scotland
The Scottish answer to the bourbon trail tour is appropriately a little more… rugged. This eight-day H+I mountain bike adventure takes you through Cairngorms National Park, the largest park in the UK and home to its only arctic environment. Like the bourbon ride, you'll have a home base from which to start each day; this one is a guest house in Aviemore. You'll be introduced to the Highland singletrack, which you'll be riding for the week, and learn some skills to help along the way.
From there you'll spend each day traversing pine forests, crossing pristine rivers, and navigating thick heather among tree roots and rocks. The tour includes a trip into Speyside and the highest concentration of distilleries in Scotland, a nice break before the hardest day of the trip. Day five brings you into Cairngorms harsh arctic environment where you'll spot wild reindeer before climbing boulders and carrying your bike. Next is a visit to Her Majesty's Highland residence before a final day of fun careening through the trails around Carrbridge. The trip finishes with dinner on the River Ness, where scotch will flow freely.
7. Banff to Jasper, Alberta, Canada
Biking through the Canadian Rockies might sound like an insurmountable task, but if you ride your own pace and enjoy the glacial majesty of the Icefields Parkway, it's a lot easier than it sounds. This four-day Mountain Madness tour starts with a nice little warm-up riding out of Jasper to Athabasca Falls, the first grand scenery on the tour. The next day gets into some steeper terrain, going past Tangle Falls and onto the Athabasca and Dome glaciers. The cold air coming off the ice will make for a relaxing environment as you climb towards Sunwapta pass before coasting through a 10-mile downhill to the waterfalls of the Weeping Wall.
The next day begins a tough climb to Bow Pass, but it won't seem so bad with turquoise lakes and snow-capped mountains passing by. The pass offers a spectacular view of Peyto Lake, which you'll have plenty of time to take in before descending into Lake Louise. Finally, the Bow Valley Parkway takes you into Banff, a calming, rolling final day capping the most rewarding ride of your life.


More like this:
The 7 most epic bike tours around the world
The post 7 amazing bike tours you should take this summer appeared first on Matador Network.