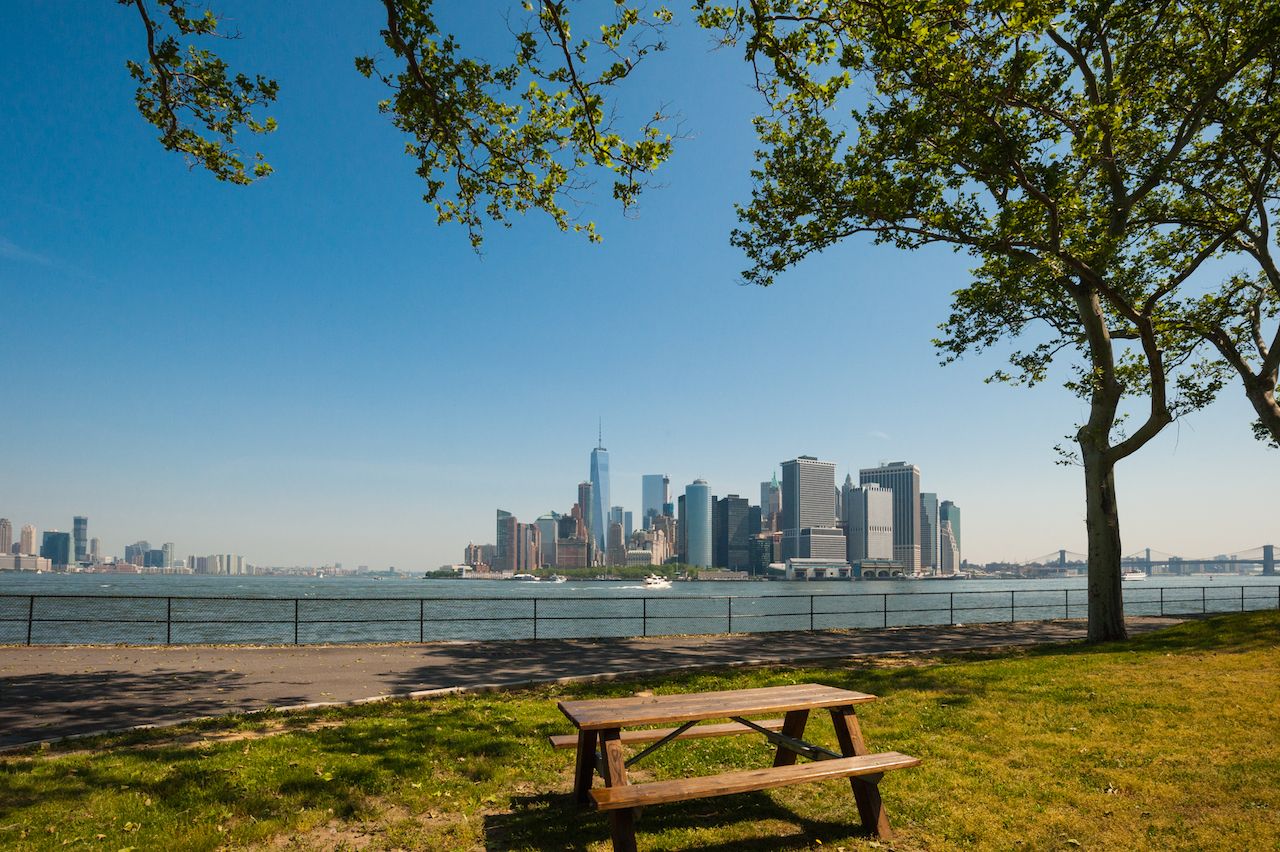 Sometimes you need a quick getaway from the urban rut, but the thought of hours on the highway to achieve the serenity you seek strikes you as anything but relaxing. Fortunately, you can reach campsites in forests, islands, and desert landscapes in under an hour from major urban areas. If you need a remedial wilderness getaway, and don't have hours to spend getting there, check out these camping escapes right next to major cities to kickstart your urban adventure.
San Francisco — Angel Island
Anyone who's visited the City by the Bay in the summer knows foggy, grey days are normal. But in the fall, temperatures climb and multiple days of blue skies are common, making it a great time to get outside. We recommend pitching a tent on Angel Island, an actual island in the San Francisco Bay, which you can get to on a ferry from downtown San Francisco in about 25 minutes. Angel Island has 11 campsites that you can reserve ahead of time.
You'll be hard pressed to find a better view of the SF skyline, which also makes the island a perfect setting for Bay Area night photography. Angel Island State Park offers hiking and biking, island history tours, and lunch at the Angel Island Cantina on the weekend. If you decide to row over to Angel Island on your own, the island also has a campground specifically for kayakers.
New York City — Governors Island
Want to sleep outside but don't have your own gear? No problem. Head to NYC's Governors Island, a car-free island accessible by ferry from Brooklyn and Manhattan. Camp with Collective Retreats and enjoy your choice of various levels of luxury "glamping." Breakfast is available every day, as are "BBQ to-go" boxes you can snag for your own harborside grill-out.
Aside from having all of NYC just minutes away, you'll be close to Governors Island's art galleries, biking trails, and even a city-view zip-line course and year-round ice skating. Or you can just chill out on the island's famous Hammock Grove, where bright red hammocks are just waiting to be napped in.
Boston — Boston Harbor Islands State Park
At Boston Harbor Islands State Park, your neighbors are harbor seals, your views are of the Atlantic ocean, and the building next to you is a 300-year-old lighthouse. And this is less than an hour from one of the biggest cities in the country. You can access eight of the 34 islands in Boston Harbor Islands State Park via ferry, and you can camp on four of them: Grape, Bumpkin, Peddocks, and Lovells. (Reserve up to six months in advance.)
Three traditional campgrounds are available, plus one slightly higher-end facility featuring yurts with bunk beds and electricity. The park feels more removed from Boston than it actually is, and activities include historic harbor tours, wildlife hikes, and ranger-led kayak tours. A handy guide to island wildlife is available, and harbor seals can be seen occasionally seen on the outer islands. Come at the right time of year, and you may spot migrating whales in the distance, too.
Miami — Oleta River State Park
Just a 25-minute drive from Miami, Oleta River State Park has a dozen fairly rustic (but air-conditioned) cabins available for booking. The park offers all the activities you'd want in Florida, including kayaking and paddleboarding, fishing, or mountain biking and hiking on its 14 miles of trails.
The park has a saltwater lagoon and, since it's on Biscayne Bay, a large white-sand beach — the perfect place for a long outdoor swim. Unlike the much swampier Everglades National Park, Oleta River State Park has ocean vibes with cool breezes and plenty of gardens and manicured areas through which to wander. Don't miss the butterfly garden, which is full of indigenous plants designed to attract the area's most colorful fauna.
Las Vegas — Red Rocks Campground
If you want to mix up a trip to the slot machines and dance clubs in Vegas with a little bit of fresh air and quiet, book a site at Red Rocks Campground, just 20 minutes from the Vegas strip. Red Rocks Campground opens for the season on August 31 and stays that way through the end of May. Given the excessive heat, the campground is closed during the summer months. Some sites are first come, first served, but most should be reserved ahead of time.
Rocks Canyon has 26 hiking trails through incredible desert topography, with rocky spires, narrow canyons, and tall peaks. Our favorite path is the 12-mile North Peak trail, which offers amazing summit views. We recommend going for a few nights in order to leave plenty of time to both hit the Vegas strip and explore Red Rocks.
Washington DC — Greenbelt Park
Greenbelt Park, just 12 miles outside of Washington DC in Maryland, is ideal for campers seeking a mix of urban convenience and rural landscapes. Choose from more than 150 campsites, all of which feel like you're in the middle of the forest (and require advanced booking). Hiking trails run throughout the park, and in autumn, the changing leaves give this mid-Atlantic park a New England feel.
Beyond the woodsy scenery, the best aspect of Greenbelt Park is how easy it is to get to. The park is on DC's public transportation line, and a short one-mile bus ride will take you to the Greenbelt metro station, allowing you to take the metro to DC's famous attractions. Whether you plan to explore the Smithsonian museums, visit the pandas at the zoo, or catch a National's game, you can leave your car at home for the weekend and still have a wonderfully authentic camping experience.


More like this:
The most underrated cities for a fall weekend escape
The post The most serene camping escapes just outside of major cities appeared first on Matador Network.