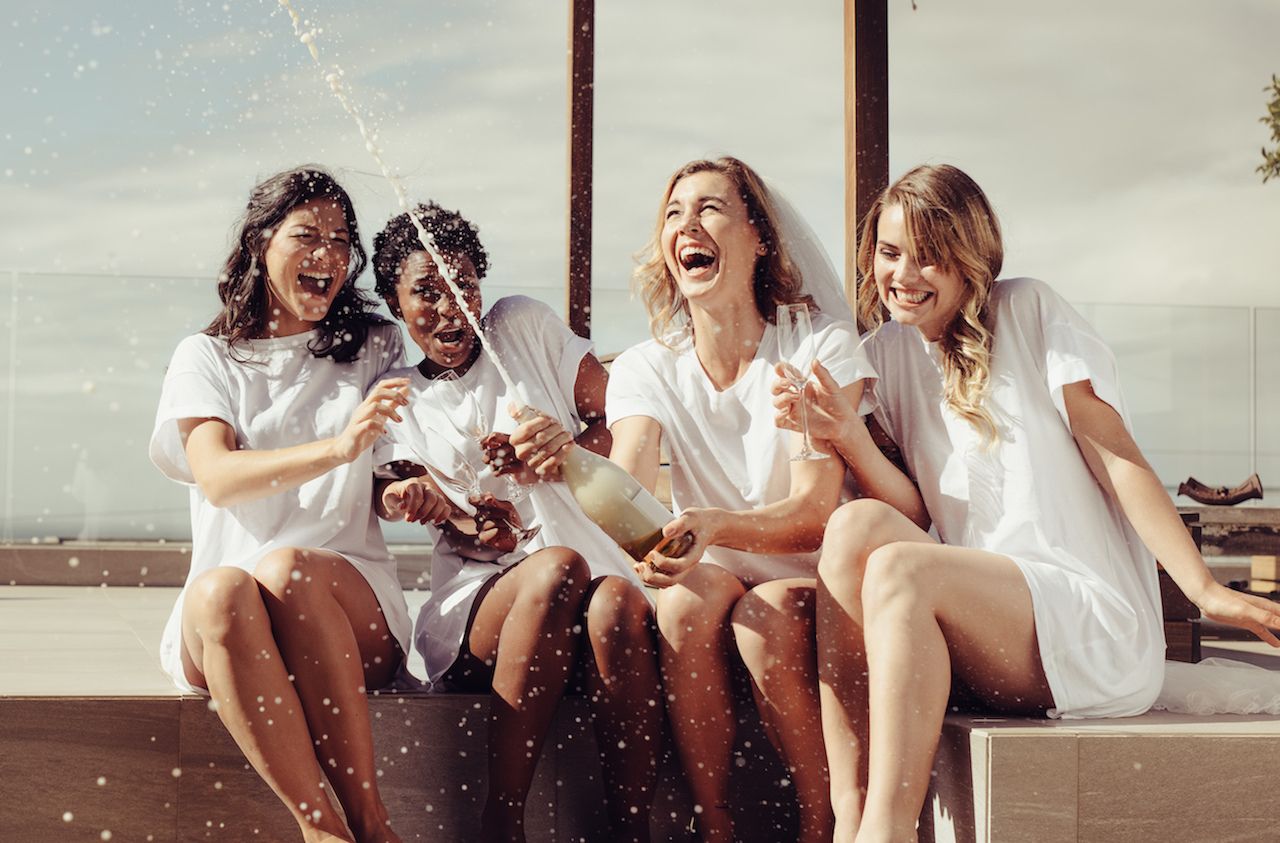 Let's say you're about to get married and you want to take your friends on an awesome holiday – or you're the maid of honor/best man and you want to really bring it. Las Vegas, Miami, or Nashville isn't going to cut it; you'll be battling other stag parties and hen do's for the same bar space. Instead, go somewhere really unexpected abroad, while still keeping costs cheap for your wedding party. Here are the best, inexpensive destination in Europe for a bachelor or bachelorette party that everyone will love and no one will see coming.
1. Berlin, Germany
Everyone knows Berlin is a hotbed of artistic and creative expression. It's also known for being one of the most hedonistic cities in Europe, with a variety of hip and grungy bars that would satisfy even the most dedicated day (or night) drinker. Berlin is also chock-full of inexpensive hotels, apartments, and Airbnb's to crash at after an all-night rager.
During the day, you can rent a bike from the racks on most corners to see the sights — with the added benefit of safe transportation if you're not quite sober. You can also sweat out all the toxins from the night before in a sauna and thermal bath. Fun fact: bachelor(ette) parties in Germany are less about stripper poles and more about wandering the streets with your friends, and selling sex toys and condoms to strangers to earn money to buy more alcohol. Who could resist that?
2. Tallinn, Estonia
Tallinn has been known as the party capital of Europe for a while. It's only now coming to the attention of the rest of the world. The exchange rate makes Estonia very affordable, so you'll be spending very little to get a lot. If you're not into midnight ragers, Tallinn is also packed with colorful medieval buildings, castles, and spires. Wandering through its fairy-tale streets is also a good way to walk off a hangover.
Start with a visit to Energy Farm, a medicinal plant center where you can blend your own teas – and add a dash of positive thoughts, through a lovely ritual. Later, climb the stairs of Trepimägi, where you have to come up with something you love about your future spouse on every step. Other options are demolition derbies, machine gun training, and a "Medieval Lesbian Stripper Show." Whatever your tastes and budget, you'll definitely find something in Tallinn to make your last hoorah one to remember.
3. Bratislava, Slovakia
Since the 1989 Velvet Revolution ousted the Communists, Slovakia has risen in popularity as a place for wild adventure. That's partly because of the favorable exchange rate; Slovakia is a very affordable country to visit. You can buy a pint of beer for less than a dollar, and an entire weekend should cost you less than $200 a person, depending on what you do. Good quality booze is everywhere, including the local liquor slivovica.
For exciting activities, you could go white water rafting or "football zorbing," where you strap yourself inside a clear plastic ball and roll around after your friends in some semblance of sport. The city is also jammed with spas, restaurants, and cheap shopping for souvenirs that will help you remember your trip, even after a couple of knocks on the head while zorbing.
4. Hvar, Croatia
Hvar is called "the town that never sleeps" by the locals, and you will find a plethora of cool nightclubs and hot bars to accompany your days spent lounging on white sand beaches next to the unbelievably clear water of the Adriatic. Hvar is a little more expensive, but Croatian beer is cheap and plentiful.
Carpe Diem Beach, a short boat ride from the Hvar harbor, offers daytime spa pampering and nighttime partying. Regular full moon parties occur every month in the summer. Partying winds down a little, although still happens, in the winter. Check the almanac, or the local tourism websites, for dates.
5. Aquitane, France
Does all of this partying sound exhausting? Consider a weekend relaxation getaway and go glamping at Quirky Camping Yurts. If you're planning a spring wedding, you'll get low season pricing, as costs go up in July and August. Choose from a variety of upscale yurts, which are Mongolian style permanent tents, on a gorgeous French farmland, complete with boule court, plunge pool, and orchards.
You can pick your own fruit to snack on, or rent bikes and explore the countryside. Breakfast is delivered right to your door, and there are all kinds of parks nearby if you want to wander around in nature or go caving. If the vibe is right, you can also consider having your wedding there. They accept a few couples every year for a rustic woodland wedding, celebratory campfire, and cocktails.
6. Inish Beg, Ireland
Inish Beg Island in County Cork, Ireland, is green, wooded, and excitingly remote, so nobody can interfere with your shenanigans. Inish Beg Estates gives you the opportunity to create a custom bachelor(ette) party, tailored to your needs. You can select from whale watching trips, cooking classes, quad bike rentals, and a ton of other activities ranging over Ireland's rocky coastline. The property contains multiple gardens and hiking trails, including one that leads you through the history of a 1631 pirate attack on the nearby town of Baltimore.
Almost all the food provided in the multi-course delicious meals is grown on the estate's organic farm. If a custom party is out of your budget, you can prepare your own meals at the property's 2-3 bedroom cottages, which start at €70 ($81) a night.
7. Kotor, Montenegro
Montenegro offers amazing opportunities at cheap prices. In the Bay of Kotor, the town of Kotor was named a UNESCO World Heritage Site for its picturesque old buildings, 12th century city walls, and location at the foot of towering mountains that encircle the bay. Take a boat out to Our Lady of the Rocks, an artificial island which has a tiny museum and a large 17th century church. Or continue through the bay to the Instagram-ready town of Perast.
Kotor is quieter, and cooler, in the spring and fall. The town has inexpensive apartments for your group to rent, or you can spend a little more and book rooms in the Cattaro Hotel, whose historic buildings, including a theater built by Napoleon, make up much of the city's south wall. Climb up the old Austro-Hungarian road to St. John's Fortress; halfway up, you'll pass a tiny bar where you can enjoy local goat cheese, pomegranate juice, and fiery rakija. Just don't sip so much rakija that you can't make it back down. You can also drive out to beaches on the Adriatic, and hit the bars in Budva. Or stay in Kotor, which has plenty of pubs for its small size – as well as city walls to keep inebriated friends from wandering away in the night.

The post 7 cheap, underrated European destinations for a bachelor(ette) party appeared first on Matador Network.