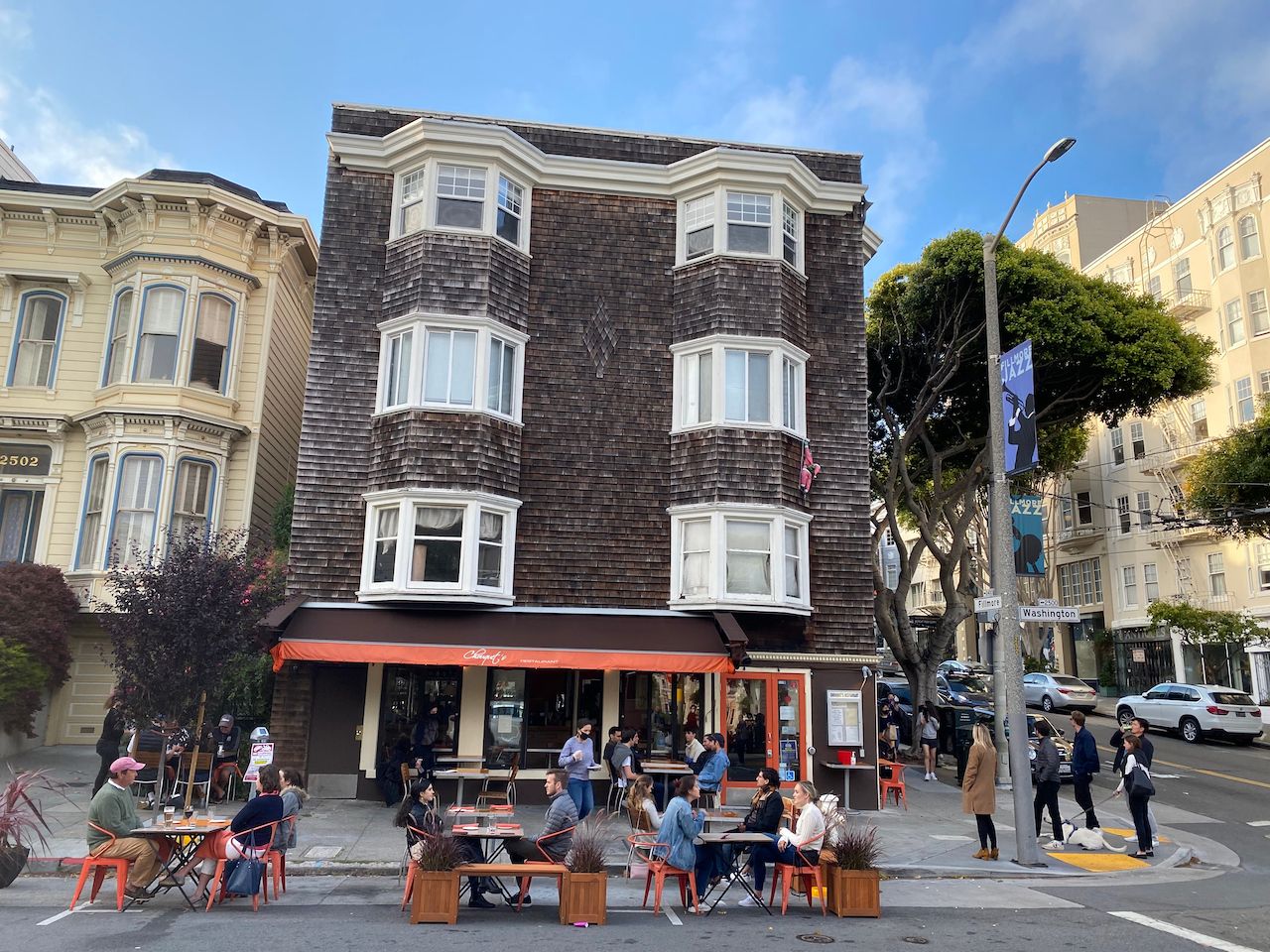 One silver lining of lockdowns and isolation on cities worldwide is that many are converting outdated urban spaces to better serve the citizens. The process is known as "tactical urbanism." Popularized in a 2015 book by Mike Lydon and Anthony Garcia, this concept refers to a city that optimizes a public space for the benefit of, well, the public. In most cases, this refers to pedestrians, cyclists, and small gatherings of people rather than cars or vacant buildings. In fact, many instances of tactical urbanism involve taking over a space that was formerly used by cars, whether for parking or for driving, and giving it back to people.
The COVID-19 pandemic has forced cities around the world to rethink everything from outdoor dining to cycling and walking — and some have gotten quite creative. Now, leaders of the following cities plan to make these changes permanent. Once travel is safe, US cities from coast to coast will welcome visitors back to a better urban experience, from art to dining to mobility. These three are leading examples.
Fayetteville, Arkansas, develops massive arts corridor and curbside drink zone.
Tactical urbanism begins with what's known as the "parklet" — an increasingly common staple in urban cores that repurposes parking spots and unused curb spaces into chilled-out zones for congregating or relaxing. The National Association of City Transportation Officials defines a parklet as a "physical intervention that takes over one to three parking spaces, widening the sidewalk and creating places to sit, talk, play, dance, eat, read, nap, observe, or park your bicycle."
Fayetteville, Arkansas, has taken this concept and run with it. Early in the pandemic, a citywide emergency measure allowed businesses to apply for parklet space in order to better accommodate customers while maintaining social distancing. Following that, work began in July on the development of a new Cultural Arts Corridor to be located in the heart of the city. The corridor will link local theatres, arts centers and galleries, and the Fayetteville Public Library to the University of Arkansas' already established Art and Design District. The 50-acre outdoor space will be pedestrian-friendly and connected by a bikeway that will bridge the two phases of the project through the popular Fay Jones Woods, a large urban park complete with trails. It will also provide easy access to another tactical urbanism development that came to life this year and that has caused quite a buzz around town.
To support local businesses struggling through the pandemic, the city created an Outdoor Refreshment Area encompassing multiple city blocks in the urban core from downtown west to the University of Arkansas. Patrons of businesses including restaurants and bars can possess and consume alcohol at leased parklets within the defined area, as long as it was purchased from one of the establishments. The test appears to be well received, in part because it doesn't allow imbibers to simply roam the streets. Consumption happens in the areas monitored by the businesses, which have applied for space at which to operate their parklets. Businesses are charged a day rate for the parking spots that their parklet occupies, ranging from $2.50 to $5 per spot.
Parklets in the area have also served as meeting points for those out walking or cycling through town, as well as spaces for outdoor, socially distanced conversation by those not wishing to enter a cafe. Artists have also popped up at parklets across town, displaying and selling work to passersby. Based on an overall positive experience to date, Fayetteville's city council has discussed making these changes permanent, with formal decisions still pending, according to the Fayetteville Flyer.
Denver is making Shared Streets permanent.
Early in the pandemic, Denver closed 15.9 miles of streets in its urban core and an additional 10.2 miles in its parks to vehicles and opened them to pedestrians and cyclists in an effort to provide space for socially distanced exercise within the city. The roads were promptly taken over not only by outdoor recreators but by socially distanced coffee meetups, musicians hosting impromptu gigs, and, of course, local dogs who had a newfound reason to lure their owners outside for a walk along what used to be car-clogged roads. What's more, the streets were decorated with art representing everything from hearts to koi fish to the video game Space Invaders.
This month, Denver became one of the first cities to announce that at least some of these changes, known as the Shared Streets program, will become permanent. In December, it was announced that the Shared Street on Bayoud, a stretch of road through the densely populated Capitol Hill and Cheesman Park neighborhoods just south of downtown, would remain closed to traffic, allowing the non-motorized walking and curbside revelry to continue. Additional permanent changes are expected to be announced by the city in January, according to Jill Locantore, Executive Director of the Denver Streets Partnership.
What's most exciting about this is that the permanent transition of Bayoud Street — and any closures announced in the future — stem directly from public input following the popularity of Shared Streets during the pandemic. Locantore told Matador that the area "was actually already planned to be a 'neighborhood bikeway' and the community support for the Shared Street expedited this process."
San Francisco harnesses street art and European-style outdoor dining.
Among US cities, San Francisco has been a parklet pioneer for the past decade, having installed more than 50 since 2010. But the famously progressive city has ramped up its efforts even further this year. Following indoor dining restrictions stemming from the pandemic, the city launched a program that allows local restaurants to apply to convert street parking in front of their business to a parklet or outdoor dining setup. Here, though, in a city with an already walkable urban core and a largely international cultural influence, outdoor dining has become a bridge between neighborhoods. Walk the streets of Lower Polk, Fillmore, and Lower Pacific Heights, and you'll see many cafes and restaurants that have effectively taken over unused parking spots to allow for outdoor dining that is both socially distanced and socially stimulating.
A crop of new street art has taken hold across the city as well. The Paint The Void program, launched by the city to lift spirits and support local artists during the pandemic, drove the creation of 100 new public murals on 84 buildings throughout the city, which you can browse on an interactive map on their website.
Perhaps San Francisco's most popular development has been the closure of its iconic Great Highway — a stretch of beachside road running along the Pacific coast — to cars this past spring. Originally closed due to an overflow of sand on the road, cyclists and pedestrians took over, and the city decided to keep it closed to cars to provide a space for outdoor exercise. The San Francisco Recreation and Parks department has looked after the space, with many local residents continuing to advocate for it to be permanently kept as a park.

The post 2020 inspired these cities to turn roads into beautiful public spaces appeared first on Matador Network.