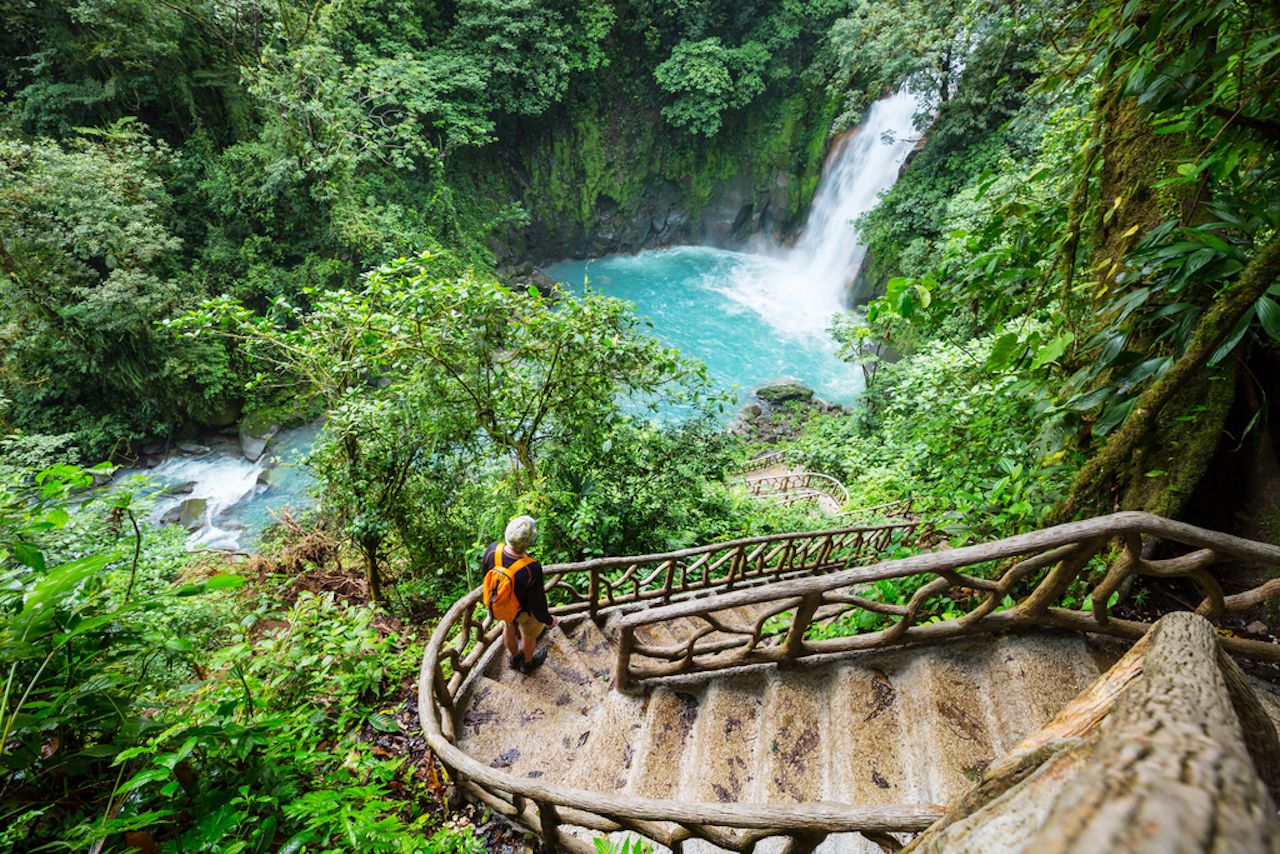 While other countries have wreaked havoc on their lands, squandering priceless ecosystems to mine fossil fuels and precious metals, one Central American country has been busy designating an astonishing 28 national parks and reserves — shielding over 25 percent of its landmass from development, more than any other country in the world.
Costa Rica, the Rich Coast, has been living up to its name since as early as the '80s by realizing that true national treasures don't glitter, they grow. As if it wasn't already far enough ahead in the race to save our planet, this year the country announced that by 2021 it will become the world's first plastic-free and carbon-neutral country.
Part of the Central American bridge connecting north and south, the vast swaths of nature reserves have attracted a wide range of biodiversity — from magnificent arrays of animals to fantastic displays of vibrant flora. Full-time travelers and touring scientists alike can't fail to be impressed with what's on offer in Mother Nature's best-kept refuge.
One daunting task any time-limited visitor faces, though, is choosing where to dedicate their explorations. With a length of 288 miles, double its width, and 800 miles of coastline bordering both the Pacific and Caribbean, you'll need to be decisive in planning which of the country's diverse and flourishing protected zones you'll want to visit. With one-quarter of its land dedicated to national parks, and another five percent for private nature reserves, you'll have plenty of options.
Costa Rica's regions
We've divided Costa Rica's national parks into three regions: the Pacific Coast; the central, mountainous area; and the Caribbean coast. We've also included an off-shore marine reserve. Even among these regions, there's tremendous diversity. Among the parks on the Pacific coast, those closer to the southern border with Panama tend to be lusher, while in the northern Guanacaste province, the flora and fauna reflect the drier climate. In the country's mountains, the variety of wildlife across different elevations is astonishing.
The Pacific coast is home to a dozen national parks and nature reserves while there are even more along the volcanic ridgeline that runs through the center of Costa Rica. Only three nature reserves grace Costa Rica's smaller Caribbean coastline, but one of them — Tortuguero National Park — is among the most pristine areas in the hemisphere. In each area, these our other favorites national parks and reserves.
Pacific Coast
Corcovado National Park, Osa Peninsula, southern Pacific coast
This thumb of land sticking out from the southwest coast is the absolute epicenter of the country's biodiversity and was even labeled "the most biologically intense place on Earth" by National Geographic. It's easy to lose yourself in a world of outdoor adventures in Costa Rica's largest park, which is said to house an estimated 2.5 percent of the world's biodiversity. Follow hiking trails around the coastline to enjoy the peninsula's calm Pacific waters or head inland to explore one of the world's oldest forests, tucked away in mountains that reach an elevation over 2,500 feet.
Ballena Marine National Park, southern Pacific coast
Humpback whales leaping from the water, green marine iguana's sunbathing on rocks, bottle-nosed dolphins playing in the surf, and baby hawksbill turtles waddling toward the ocean… all these animals take advantage of Costa Rica's most impressive marine park. Ballena Marine National Park encompasses nine miles of coastline, 13,000 acres of ocean, and Central America's largest Pacific coral reef, all shielded from development. The park is open to sustainable tourism, though; you can relax on some of the Pacific's most beautiful untouched beaches, explore a wide range of wildlife in the extensive mangrove forests, and snorkel or scuba dive to take in its underwater treasures.
Manuel Antonio National Park, mid-Pacific coast
Costa Rica's most visited national park is a form of heaven on Earth. This park's setting at the water's edge is what makes it so appealing. Palm-lined shores with azure waters lapping at brilliant white sands lead into dense forest, jam-packed with over 100 varieties of mammals and almost 200 types of birds. Manuel Antonio, known as the "Jewel of the Pacific," is one of the country's smaller national parks — but it still accommodates nearly a half million visitors a year. With activities and sights to please both hardy nature explorers and lazy beach bums, it's easy to see why it draws so many admirers.
Barra Honda National Park, northwest coast (inland)
While many of Costa Rica's national parks are centered around natural events under the sun, Barra Honda was established in 1974 to protect a deep and dark secret world. The rocks and soil beneath this national park are riddled with cave systems that are thus far thought to be less than 50 percent explored.
Endemic species, unique hanging stalactites, and rising stalagmites are just a few of the interesting features awaiting any traveler who comes to explore the caverns, accessible with a permit/guide. Some of the most notable are the Santa Ana cave, which sits 780 feet below the surface; La Trampa; and Nicoya, where pre-Columbian artifacts were found.
Near San José and inland
Poás Volcano National Park, central inland, north of San José
The main attraction in this national park, just an hour north of the capital city San José, is a hotbed of natural activity. The massive Poás Volcano's crater is a desolate hole spewing so much sulfur dioxide that visitors are restricted in how much time they're allowed to marvel at this geothermal wonder.
If you want to make the easy trek to look over Poás's rim, book with the visitor center online in advance and aim for an early morning spot — as clouds often roll in past noon, reducing visibility to mere yards. In stark contrast to the active fumarole of Poás, the park's inactive crater became Lake Botos some time ago and is surrounded by luscious cloud forest.
Irazú Volcano National Park, Cartago, Central Costa Rica, east of San José
This national park is so close to the capital that when the area's Irazú Volcano exploded in the 1960s, San José had its share of ash rain. The national park's rain and cloud forests encompass the area around Irazú, Costa Rica's largest and highest active volcano at over 11,000 feet. Driving up toward the park's tourist center, you'll be treated to spectacular views of the verdant landscape below — until you breach the upper treeline and reach the bare, lunar-like highland.
The extreme elevation has most people pulling for a little extra breath of the thinner air as they explore nearly a mile of trails leading to and around the main crater, a deep smoldering gouge. Trails also lead to the Diego de la Haya crater, which in the rainy season can be filled with rain washed down the mineral-laden slopes to create a pond that's either rust red or emerald green in color. On rare occasions when there are no clouds — most likely to happen in the morning — you can see both the Caribbean and Pacific seas from Irazú's flanks.
Arenal Volcano National Park, central north
Within the last few decades, the park's main volcano was a bubbling cauldron of lava, complete with red streams down its sides and boulders spewing from atop, and it could soon be so again. But, for now, the calm and towering Arenal Volcano can be seen from almost anywhere within the national park, so long as it isn't shrouded by clouds. If you picked a particularly nebulous day, don't despair: The park is also known for being an ornithologists dream as most of Costa Rica's 850 species of birds can be spotted within the trees of the park.
Monteverde Cloud Forest Reserve, northwest inland
Monteverde is in fact not a national park but a private reserve. It's on this list as it was the first private reserve in Costa Rica to show that sustainable eco-tourism could also work within areas owned by non-profits entities and environmental groups. The participation of these groups brings the amount of protected land in Costa Rica up to nearly 30 percent of the country.
Monteverde, one of the world's premier cloud forests, is an elevated reserve crisscrossed with many kilometers of hiking trails winding through misty slopes. While it's possible to explore these paths in the peace and quiet of your own company, we recommend you follow a local guide, whose impressive knowledge of the area can help you spot animals and plants that would otherwise remain hidden in the dense vegetation.
Carribean coast
Tortuguero National Park, northern Caribbean coast
With a diverse range of protected habitats — including rainforest, mangroves, swamps, lakes, beaches, and lagoons — Tortuguero has some of Costa Rica's most impressive fauna and flora. Only accessible by plane or boat, the remote nature of its location on the Caribbean coast has allowed much of the area to be completely untouched by human activity, providing the perfect breeding ground for all manner of creatures — among them several species of turtle, including the endangered green turtle, manatees, crocodiles, caymans, bull sharks, jaguars, sloths, toucans, peacocks, and three out of four of Costa Rica's monkey species, all found along this 20-mile stretch of coastline. You can explore the portions of this park open to visitors on land trails or by boat, kayak, or canoe.
Cahuita National Park, southern Caribbean coast
South of Tortuguero on the Carribean coast, Cahuita was created nearly 50 years ago to protect a large and colorful coral reef, which still sustains over a hundred different species of fish and turtles. But behind Cahuita's beaches lies a forest that teems with howler monkeys, coatis, crab-eating raccoons, iguanas, sloths, several snake species, and countless birds, including toucans. It's one of the loveliest of Costa Rica's many stunning national parks and, unlike Tortuguero, it's reachable by car.
Offshore
Cocos Marina Conservation Area: Pacific Ocean
Three-hundred-and-forty miles off the western coast of Costa Rica lies its most unspoiled paradise, one that has been designated a UNESCO World Heritage aite. Entry to Cocos Island is by permit only, and no accommodations are to be found here, making overnight stays only possible on liveaboard boats. The sacred waters are exploding with marine life — including white tipped sharks, dolphins, and the majestic manta ray — making this location a world-class must for qualified scuba divers.


More like this:
The absolute best spots in Central America for every water sport
The post All the Costa Rica national parks and reserves you need to visit appeared first on Matador Network.