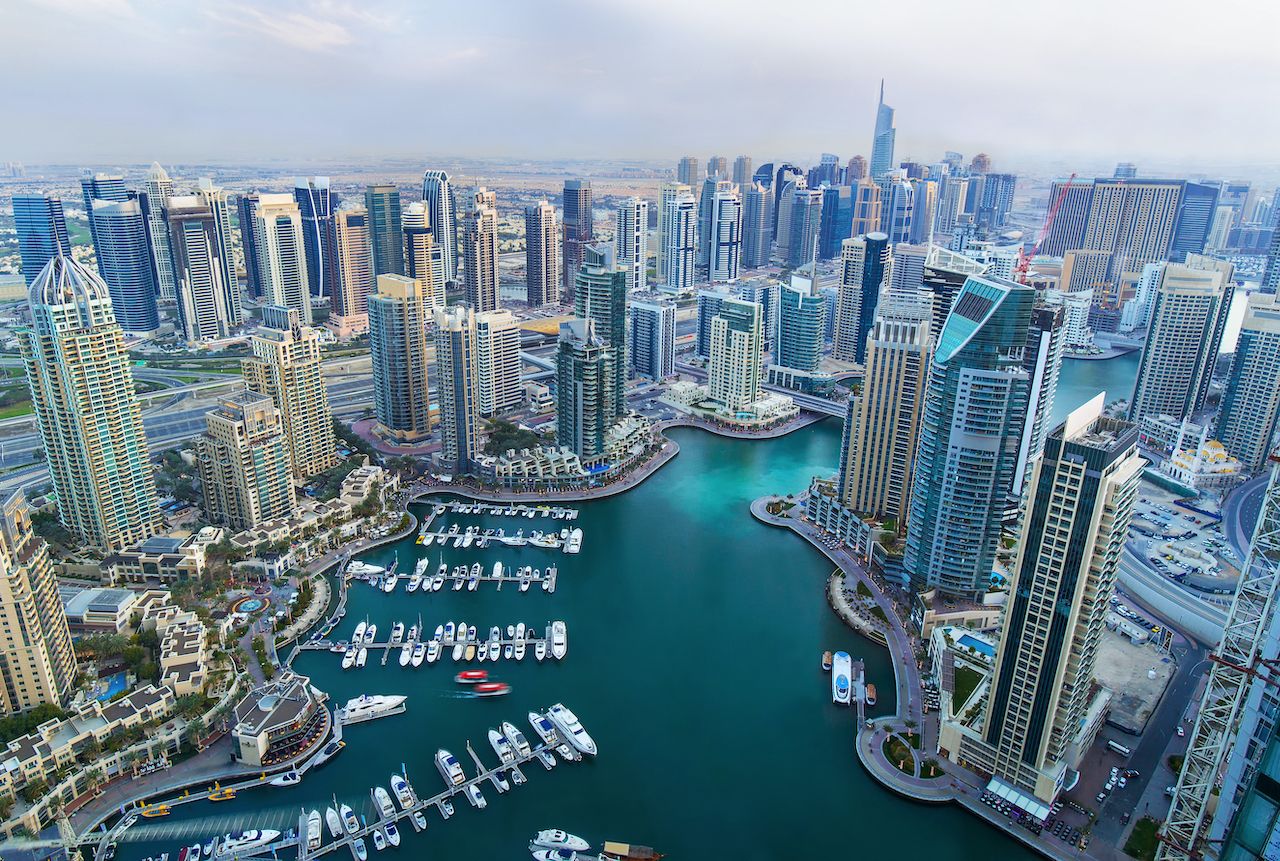 As so many of us transfer from being attached to a fixed office space to being able to work flexibly in our homes, it comes as no surprise that some nations around the world are welcoming remote workers who are looking to relocate from the US. Most of the places we have listed here tick one, if not all, of the following boxes: good weather, an affordable cost of living, a supportive work-life balance, an exciting culture, and an interesting food scene.
Many new digital nomad visa programs have popped up during this summer, but we have also included information about nations in Europe who have long-standing options for freelancers and those who are self-employed. Although travel restrictions are still in place for Europe, many of these visas take a minute to get through the paperwork, so they are still worth considering in the long term.
From tropical Caribbean islands to magical European destinations, here are some of the countries offering the best digital nomad visas from around the world.
1. The Cayman Islands
The Cayman Islands launched its remote worker program named Global Citizen Concierge in October. This new visa will allow people to live and work on one of the three islands for up to two years. The Caymans encompasses Grand Cayman, the more developed island of the three; Cayman Brac; and Little Cayman, where you can encounter the region's diverse wildlife. The Caymans are no stranger to expats — especially the British — and it is one of the most notorious tax havens in the world.
"Global Citizen Concierge provides the perfect opportunity for remote workers to live the life of their dreams on our idyllic shores and amongst our Caymankind people," said Hon. Deputy Premier and Minister of Tourism Moses Kirkconnell in an announcement. "Our Government has been successful in the face of the global health crisis and we've emerged as a safe haven in the Caribbean."
The program requires you to have proof of an annual salary of $100,000 for a single person, $150,000 for a couple, and $180,000 for a family. The usual documentation such as a valid passport, a certified letter detailing your employment outside of the Caymans, and another from your bank are needed for your application which costs at least $1,469.
2. Dubai
In mid-October, Dubai announced its new plan that will allow remote workers and families to live in the city and have benefits that were originally only available to residents. This new visa will give people the opportunity to live there for a year with the additional benefit of not paying income tax. In order to qualify, you must make at least $5,000 per month, submit three months of bank statements, and have proof of employment. The application is not hugely expensive costing $287 and you will need to pay for an extra processing fee and health insurance.
3. Aruba
The Caribbean island of Aruba announced recently that it's going to start catering to remote employees from international countries with a new visa scheme. The island is part of the Netherlands, so the fusion of laid-back Caribbean culture and that of the Dutch influences everything from the architecture to the cuisine. It was also one of the first Caribbean islands to open to tourists after COVID-19 travel restrictions, but there are still a few things to consider before embarking on a new start.
The government is offering remote workers a chance to live and work on the island for a maximum of 90 days with its new One Happy Workation visa. Other initiatives — such as discounted rates for accommodation, outdoor experiences and local activities, and the promise Wi-Fi zones — make this option even more appealing.
There are a few stipulations, but in comparison to many other nations, the Aruban government is not asking you to jump through too many hoops or have a bulging bank account. To apply for this visa you must be employed or self-employed in your home country, and during the 90 days, you cannot work for a local company or individual. You must also hold a valid US passport at the date of entry and throughout your stay.
If your application is successful you will also need to respect the COVID-19 regulations in place, comply with the entry testing requirements, and have the necessary health insurance. Read more about the current COVID-19 requirements for entry to Aruba and what to do once you get there.
4. Barbados
If working from a Caribbean beach surrounded by rich culture and world-class cuisine sounds idyllic, the beautiful island of Barbados has also launched its version of a remote working visa this summer. The new visa, called the Barbados Welcome Stamp, allows people to work remotely in the country for a year. Prime Minister Mia Mottley has spoken highly of the scheme, boasting to The Washington Post, "'The sunshine is powerful. The seawater is powerful. They're both therapeutic in ways that are hard to explain. And we felt that, why not share it?"
So what are the basic requirements for the pleasure of working from paradise? To start, you need to pay $2,000 for an individual visa or $3,000 for a "family bundle." Families are being encouraged to make the most of this new initiative too. All applicants must go through the online process, which is pretty standard; upload a passport picture, copy of passport, and birth certificate; and include a note of any relations you have in the country. It's also worth noting that successful applicants do not need to contribute to Barbados Income Tax. Like all countries listed here, you will again need to adhere to the local COVID-19 regulations and make sure you have up-to-date information prior to departure.
5. Bermuda
Bermuda is another island that's aiming to attract remote workers with its new visa scheme, but the island is taking it a step further by welcoming students to apply. Like many of the Caribbean countries, Bermuda has a large expat community, so it's a welcoming option if you are relocating alone.
This visa option is valid for up to one year, and there's not a large number of restrictions in comparison to others. Students need to be over the age of 18 years old and be enrolled in an education program. Remote workers need to provide proof of income and hold a valid contract of employment. If you are successful in your application, the visa grants you multiple entries and exits, so you can come and go as you please. There is also an application fee of $263 and you need valid health insurance. Again, Bermuda has somewhat strict COVID-19 regulations, so make sure you are aware of the current stipulations.
6. Antigua and Barbuda
The Caribbean nation of Antigua and Barbuda is launching a remote worker visa program this fall. Positioned on the border of the Caribbean and Atlantic, the islands are well known for their beautiful protected reefs, rainforest topography, and stunning beaches — of which there are 365.
The two-year Nomad Digital Residence program has a few stipulations. You must earn at least $50,000 a year, and your employers can not be from the nation. There is also an application fee of $1,500 for an individual, $2,000 for a couple, and $3,000 for a family of three or more. The nation also requires you to have the correct health insurance.
7. Estonia
If the Caribbean does not fit your lifestyle, you can consider relocating in the future to Europe. The small Baltic country of Estonia voted to amend it's Alien Act in order to allow remote workers to live and work in the Baltic country for up to one year.
Often overlooked, the nation might be a little out of the way, but it is home to some of the prettiest towns and cities and diverse national parks in the region. The country also has a general overall living cost that's 30 percent lower than the US, making it a very attractive option during this climate.
In order to apply for Estonia's extended visa program — the Digital Nomad Visa — you must be able to show that you have a steady income of at least $3,988 a month — which is quite a lot. There is also a $117 processing visa fee and you will need a valid contract of employment and proof of salary. Once you've got all that put together and travel restrictions are lifted, you will be required to go to your local Estonian Embassy or Consulate to submit your application.
8. Georgia
This summer the Georgian government also announced it will be inviting travelers and workers who want to live in the country for over six months to apply for their new visa. Located at the crossroads between Asia and Europe, Georgia, like Estonia, is often underrated. Due to the mix of culture and tumultuous history, Georgia's colorful capital Tbilisi is exciting, multicultural, and worth considering if you are looking for a change of lifestyle.
Although its visa program is still to be launched, the scheme will be focused on freelancers and remote workers and will offer a pretty stable option if you are looking for something long-term and affordable. You will need to cover all the bases: proof of travel insurance, a certificate of employment, and all the other standard information needed for a basic visa application. Applicants also have to wait in their home country during the application process, and upon arrival, the government will require you to quarantine at your own expense. As stated, applications are not yet open, but if you are keen to understand more about the process and government requirements, you can have a look over other visa options here.
9. Spain
One of the reasons many people choose to work remotely in Spain is because of its strong economic ecosystem, which is full of entrepreneurs and digital nomads. The expat culture is thriving in most parts of the country, so you won't find it hard to make English-speaking connections.
The cost of living in Spain averages out around $1,185 per month for an individual living in a city. You won't get anything fancy for that, but the quality of life in the country is high, fresh produce is cheap, and both the cities and rural countryside are appealing. Keep in mind Wi-Fi might be an issue outside of major cities, so do a little reading before you set your heart on a farmhouse on a southern Spanish vineyard.
For a basic remote work visa valid up to one year in Spain, you need to have proof of employment and pass a background check. The application must be made in person and you have around a 90-day wait before you may get confirmation. You can not have a criminal background. You also have to have around $31,000, or more, in the bank. That's going to make most digital nomads of our generation exempt from applying, but other than that and having private health insurance, there's not a huge amount more to it.
10. Czech Republic
The Czech Republic has been offering US citizens a long-term business visa for quite some time. For years, people have been taking advantage of this opportunity that welcomes remote workers to live in an affordable location with superb links to major European cities. Its busy yet charming cities and sprawling countryside peppered with castles make this a perfect base if you are looking for a country with diversity in the heart of Europe.
In order to apply for the visa, you will need to contact your consular office in the US and remain in the US during the application process. You must be outside of the Czech Republic and on US soil when the visa is electronically added to your passport.
The process for applying is pretty standard, which includes making sure you have all the documentation notarized and attending an interview at the embassy. You also have to prove you have at least $5,600 for the year of your stay. Further information about the details of the visa and the application form can be found here.
11. Portugal
With some of the coolest cities and small towns in Europe, a stunning coast, and a superb food scene, Portugal is worth considering for those who are willing to do a little homework and are looking for something more long term.
Portugal requires independent workers to demonstrate that they have skills needed within the country before applying for a temporary residence permit. This is a common requirement for many countries around the world and the list of what skills and professional training governments need often change. That said, staples such as those who work in health care, or have a degree in engineering can be found on most lists — though it would be more challenging to find a remote option in those fields.
In Portugal, you also have to register as a freelancer in the country, and if you offer a service, it helps your application if you have local clients. There are different visas depending on how long you would like to stay in the country, so overall this option requires you to do a bit of research, but the payoff of living on the Portuguese coast — especially if you have some language skills — would be worth the work.
12. Germany
Germany is welcoming those who are self-employed, but it might not come as a huge surprise that in order to apply for this visa you have to have your ducks in a row and fill out a truckload of paperwork. The country's freelance Freiberufler visa only lasts for three months, but you could potentially convert it over to a three-year residency permit if your freelance business is successful. From all the usual application forms to documentation, they ask for letters of recommendation from previous employers, a resume and cover letter, certificates of degrees, bank statements, and a written plan of what you intend to do when you're in the country — which we doubt partying in Berlin will suffice.
13. Mexico
Mexico is clearly an attractive and somewhat obvious option for US citizens who are looking for a different pace of life and a change of scenery. The one year, temporary resident visa in Mexico is not a new scheme, and if you meet the criteria and stick to the guidelines, you can have an option to extend this visa for another three years. For this visa, you need what they call "economic solvency" to prove that you have an income of more than $1,620 per month, which is not hugely difficult, or an account balance of over $27,000, which is a harder ask for most. Under this visa, you can't work for a business or individual within Mexico, meaning you'll have to have a remote job stateside.

A version of this article was previously published on September 23, 2020, and was updated on October 22, 2020, with more information.
The post The 13 best digital nomad visas from around the world appeared first on Matador Network.