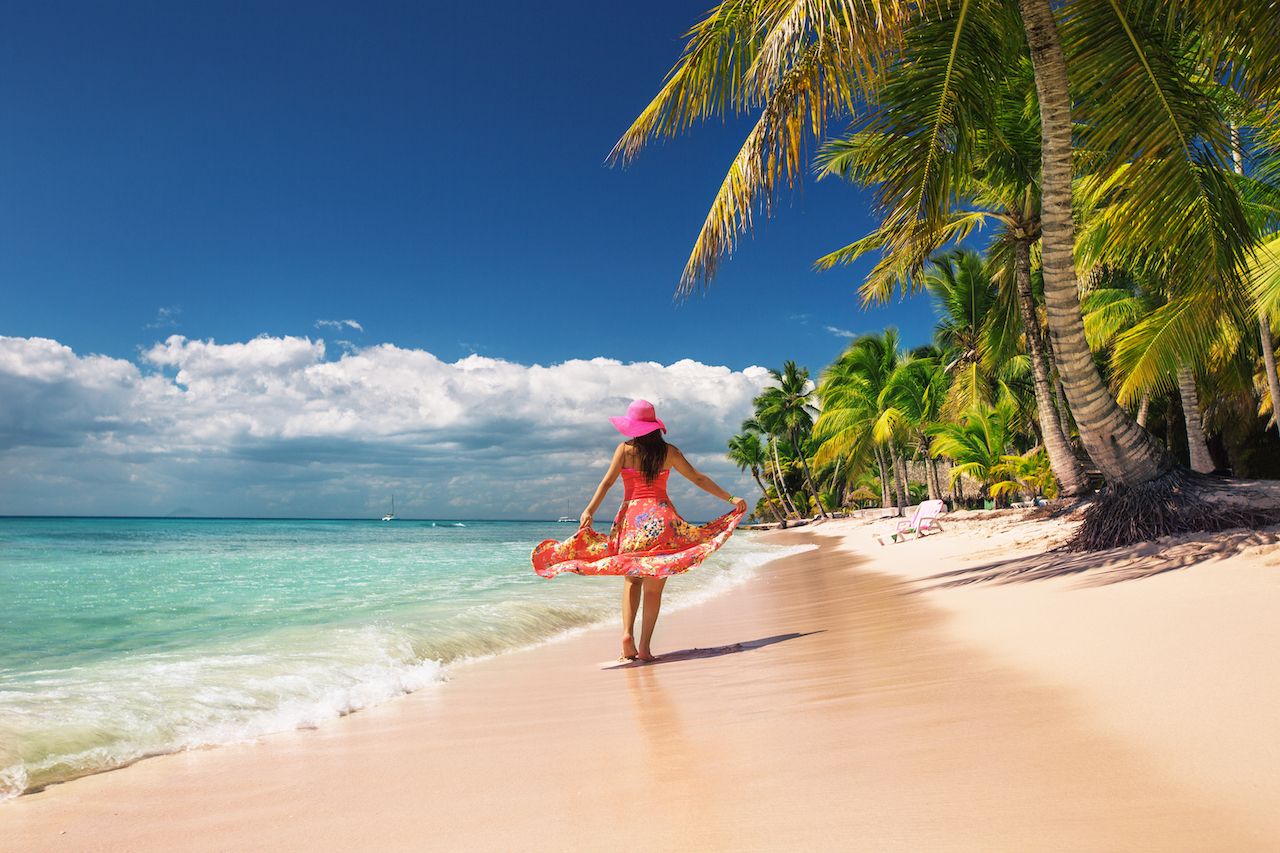 With bright blue sky, turquoise water, and palm trees that softly sway in the breeze, the Dominican Republic is one of the most quintessentially beautiful Caribbean islands to explore. A country where tourism is a huge pillar of the local economy, the Dominican Republic suffered a major loss by closing its borders in mid-March due to the COVID-19 pandemic. Now, three months later, the nation is up and running, and excited to welcome tourists again with ramped up safety measures.
The Dominican Republic is arguably one of the best places to plan a Caribbean vacation post-COVID. While the capital, Santo Domingo, is densely populated, the rest of the country is as rural as it gets. You can bask in the sunshine of Samana's tropical beaches to the northeast or discover Jarabacoa's hidden waterfalls and luscious vegetation further north.
If you're dreaming of an island escape, here's everything you need to know about planning a safe, responsible, and undeniably one-of-a-kind trip to the Dominican Republic during the summer of 2020.
What to know before booking your flight
The Dominican Republic officially opened for international tourism on July 1. The country has two major international airports at Punta Cana (PUJ) and Santo Domingo (SDQ), both of which offer frequent flights from the United States typically operated by Spirit Airlines and JetBlue.
Visitors will not need to present or take a COVID-19 test upon arrival and will not need to be quarantined. There are, however, additional safety measures put in place. All incoming travelers will have their temperature checked at the airport upon disembarking the plane. If a passenger shows a body temperature higher than 100.6F or presents any other symptoms, they will be instructed to take a rapid COVID-19 test on the spot and may be asked to go into isolation. Check here for the latest updates regarding the country's health regulations.
The airport terminals have also established distancing guidelines to ensure that travelers keep a safe distance from one another. The use of face masks for passengers and airport staff is mandatory. Travelers will be asked to sign a Health Affidavit, stating that they have not experienced any COVID-19 symptoms in the 72 hours prior to arrival in the Dominican Republic and provide contact information for the next 30 days.
How bars and restaurants are upping their hygiene protocols
Bars and hotels have been instructed to increase the level of sanitation and test all employees on a bi-weekly basis. Capacity for customers is limited to 35 percent, and all patrons need to wear masks. Bars are providing antibacterial dispensers readily available to customers, and restaurants require that you sit at least six feet away from one another. Employees will diligently be cleaning surfaces between customers to ensure maximum sanitation. Some restaurants will be providing digital or disposable printed menus to ensure as little physical contact as possible between guests.
Hotels will be taking the temperature of all incoming travelers and will have them sign a health form at check-in stating that they haven't been experiencing COVID-19 symptoms. Additionally, hotels will provide free face masks and will ensure a safe distance between guests in all common areas. All luggage will be disinfected and the self-serve food and beverage buffet will be eliminated altogether.
Consider remote villages and small towns for your base
If you're in need of a tropical vacation away from it all, head to the northeast and explore the Samana Peninsula. Remote villages and small towns welcome you with ample nature, ensuring plenty of space to properly observe physical distancing. El Valle is one such destination that has only recently reached a level of prominence with travelers.
Focused on wellness and community, El Valle village is home to the Dominican Treehouse Village — a luxury treehouse resort that allows you to fully integrate into nature. Each treehouse has its own entrance and is separated from the neighboring property by at least 30 feet. A quarter-mile up the road, the Unique Exotic Eco Hotel is another great option. The trendy and stylish space attracts a diverse crowd of artists and bohemians. Its rooms are sufficiently distanced from one another as well, and there are a few different communal areas so you don't have to be within close proximity to other guests.
Just next door, the Ganesh Hostel is the ideal alternative for those who want to meet new people and enjoy paradise for a fraction of the cost. Its outdoor pool and front porch invites you to relax with your travel partner or group without any crowding. If you are looking for a wellness element to your vacation, El Valle Lodge prides itself on its wellbeing and farm-to-table cuisine. Personally run by a family from Argentina, the lodge is committed to offering a nourishing vacation experience through yoga, meditation, and homemade meals.
What these resorts have in common is that they are all privately owned and are pillars of the local community, employing more than half of its residents. When you stay in El Valle, you can rest assured that your dollar goes toward strengthening a close-knit community. Moreover, all of these boutique lodges have few rooms, ensuring that crowding will never be an issue.
If you'd like to stay closer to the action and have a bird's-eye view of the larger nearby town of Samana, stay at Hacienda Cocuyo. Geared towards wellness, the small boutique hotel that sits on top of a cliff offers modern amenities and air conditioning, while retaining eco-luxury characteristics. Offering only 10 rooms, Haciendo Cocuyo is ideal for romantic getaways or small groups of family and friends.
Further up, the peninsula gives visitors the opportunity to explore El Limon's impressive waterfall. Salto El Limon is a 130-foot roaring tower of water nestled into one of Samana's hidden corners. At the entrance of the village, you'll find a natural pool where locals go to dance, relax, and enjoy a refreshing dip. In the mornings you'll find the space to be quite empty. The Samana Eco Lodge just down the road from the pool is a collection of sustainable accommodations run by a local family. Each of their bungalows and treehouses is at least 12 feet apart from one another and has its own porch. The garden is extensive, allowing for enough freedom of movement without running into other guests. Across the street, you'll find Don Juan Mejia's cigar workshop — a local landmark where you can have a one-on-one meeting with the famous local craftsman who used to roll cigars for Winston Churchill and Frank Sinatra.
Look to remote beaches and you might find them all to yourself
Between El Valle and Las Terrenas, you'll find dozens of large, uninhibited postcard beaches with fine golden sand and crystal blue waters. Playa El Limon is one of the many such beaches that have no development. Locals come here to fish and travelers enjoy undisturbed peace and quiet under the hot Caribbean sun.
Playa El Valle is another gorgeous spot that is hardly ever crowded. The beach gained popularity in 2019 thanks to bachata superstar Prince Royce and artist El Alfa who shot music videos on site. Playa El Valle still feels completely authentic though. There are only two restaurants here, Mami's and Josefina's, where the tables are spaced out sufficiently to avoid contact. Both serve the quintessential Caribbean dishes — catch of the day, fried plantain, beans and rice, and fresh coconuts at very affordable prices.
A 20-minute, private scenic boat ride from Playa El Valle, you'll discover Playa Ermitaño — a secluded spot where you can swim your heart out or have a barbecue. It's hard to argue which part of the experience is better — being on the beach or the boat ride to it, which allows you to take in views of limestone rock formations and lush green mountains that flank the remote spot.
Keep your distance and experience local culture and cuisine in Las Terrenas
Las Terrenas is one of the most beautiful coastal towns in all of the Dominican Republic. Formerly a French settlement that is known for its expat community, Las Terrenas has plenty of beachfront restaurants that serve gourmet meals, small Italian gelato shops, and boutiques where you can shop for local arts and crafts. You can experience the best of the Dominican Republic dance scene by taking a private, one-on-one bachata class with Bolivar — the world-famous bachata dancer who runs a local dance school.
Largely a pedestrian town, Las Terrenas is easy to get around, though most visitors prefer to rent an ATV and cruise around on four-wheels. Head over to Las Ballenas Beach, known for its whale-watching season where every spring you can observe humpback whales in their natural habitat.
Find a mountain refuge up north
While the Dominican Republic is known for its beaches, the country has a large catalog of picturesque mountain villages up north in La Vega with the hamlet of Jarabacoa taking the number one spot for scenic beauty. River rafting at the Jarabacoa River Club is one of the area's highlights. Another water adventure is the Salto de Baiguate Waterfall — a local stunner nestled below a canyon that drops down from a height of 82 feet to an emerald green pool of freshwater.
If you're in search of adrenaline, you can go paragliding with Flying Tony and get the ultimate bird's-eye view of the lush countryside. Or you can treat yourself to some spa time at Akasha where you can visit for the day and enjoy a soothing massage followed by a hammock hangout, or stay overnight and make a weekend out of it, all while observing social-distancing.
Arguably the best way to traverse the Jarabacoa valley is on a mountain bike or by hiking. Unlike the tropical Samana Peninsula, Jarabacoa's spring climate, with a milder temperature, is much more comfortable for outdoor exploration and sports. And if you enjoy horseback riding, you can book one of the many guided visits on offer.
Whether you opt for a Caribbean beach escape or prefer to traverse luscious valleys, the Dominican Republic is an incredible vacation destination that is eager to welcome you back while ensuring your safety.

The post Everything you need to know about visiting the Dominican Republic this summer appeared first on Matador Network.