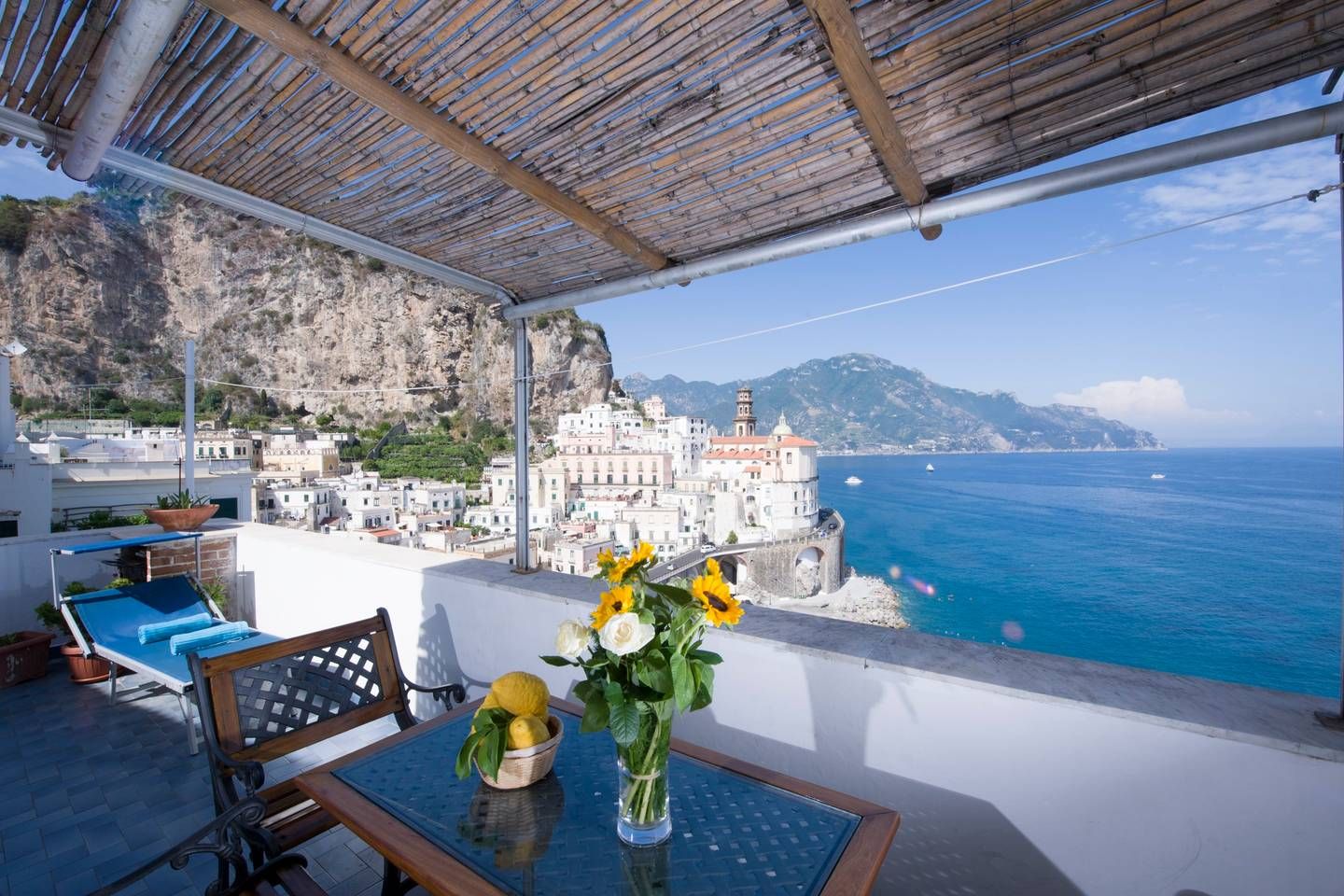 Italy's stunning beauty might break the lens on your camera, but these Airbnbs aren't going to break your wallet. With a bit of effort, Italy is a country where you can find comfortable, private lodging for well under $200/night — especially if you're willing to sacrifice extra space for a memorable view. That way, you'll have extra cash for dining, which is going to leave a major dent if you do Italy the right way. Check out these AirBnbs to get motivated.
1. Trulo Aromatic Green in Ostuni
How does crashing in a domed castle with jaw-dropping views of Ostuni's surrounding countryside sound? The word romantic comes to mind but somehow doesn't quite seem to cut it — it's almost hard to believe this spot is actually real. The castle sleeps six in three bedrooms, but you'll probably spend most of your time out on the massive patio, perhaps lying on the hammock or meandering through fully-bloomed gardens and up the stone staircases. The entire place costs only $108 per night, a far better deal than you'll find at the nice hotels in town — especially when split among friends.
2. La Salentina on the Salento Peninsula
La Salentina sits just outside of the city of Tricase within the natural beauty of the Salento Peninsula — the heel of the boot. It has views of the nearby Adriatic Sea and a patio rivaling that of an upscale beach resort. With nine beds for up to nine guests, you'll need the large patio and lawn chairs for afternoon social sessions. The house is only $120/night. Come soon and stay long, a sentiment you'll get used to around here.
3. Historic Villa with Island Views of Logo Maggiore
Lago Maggiore is home to a series of rolling hills and small islands jutting out from the water, and you'll sit right above the water in this villa, which retains old charm while certainly not shorting on modern comforts. Epic patio dinner, anyone? Plus, there's a telescope in the bedroom facing out over the lake, so you can spend your days staring out at the islands and your nights looking up at the stars. Sleeping four at just $191/night, your crew can even splurge on a nice bottle of wine to enhance the experience.
4. La Maison Bellevue in Rome
This flat is like that Neil Diamond song, "Up on the Roof," only better because you're in Rome. From your rooftop perch you'll overlook the dramatic landscape of the city. It's right in the heart of Rome, near the Spanish Steps and walking distance to some of the best pasta dishes and wine pairings you'll ever experience. There are two beds, one bedroom, and up to four can stay at a time. And at $72/night, you really can't go wrong.
5. La Casetta Di Nana in San Mantano, Naples
A cottage overlooking the water on the Amalfi Coast is about as dreamy as it gets. The view from the living room couch will nearly have you convinced that you're on a boat crossing the adjacent Tyrrhenian Sea. You're also less than two miles from Sorrento, so you know the Limoncello is going to be on point. La Cassetta Di Nana sleeps up to three guests at $78/night, but it's ideal for a couple as you'll wake up to a view of the water, which can cause things to get a bit steamy.
6. Terraced apartment in Naples
This loft, and its accompanying view of Naples, are worth a trip to Italy in and of themselves. It's big enough that the cool breeze of the coast whistles through the apartment while offering the seclusion of a walled-off terrace. It's on that terrace that you and up to seven other people will likely spend most of your time. You'll have everything you need right there, as well. The spot is walking distance to the town center, public transit, and, of course, restaurants. The entire flat costs $129/night.
7. Casa do Saraceno Siracusa in Catania
This place is basically a mansion right on the waterfront for $121/night. It looks like something you'd see used for a swanky aperitivo party scene on a movie set, with characters dressed to the nines sipping fine wines from crystal glasses. You'll be doing exactly that with a party of up to six people, most likely alternating between talking in disbelief about the setting you've found yourselves in an arguing about who gets the hammock next.
8. AltanaAlbaChiara in Venice
This snug two-bedroom flat is within walking distance of the heart of Venice, not far from the Grand Canal. Sip wine by moonlight as you look out over the city, taking in the canals and rooftops, the city's energy buzzing below you. As an added bonus, you're only a five-minute walk from St. Mark's Basilica and the city's legendary dining scene. This apartment sleeps four guests in two bedrooms for $251/night.
9. Domus Claudia on the Amalfi Coast
You're coming to the Amalfi Coast to stare in awe at the classic cliff-lined architecture as much as the coast itself, and there's nary a better place to do it than on the balcony of this two-bed, four-person villa. You'll be within walking distance of the town center and the cathedral of Amalfi, but good luck pulling yourself away from the views. At $227/night, this one is among the more pricey options on the list, but when split between two couples, you'll still be able to dine with class.
10. Chiara's House on the Amalfi Coast
You'll have to walk 100 steps to reach Chiara's House (or pay €1 for an elevator), but the sweeping vista is worth the effort. Every room looks out towards the deep blue sea. You'll be less than a mile from the town center, enough to relax over a bottle of fine Biancolella on the balcony without being hounded by the noise of bustling tourists below. With five beds at just $179/night, go ahead and splurge on an extra bottle.
11. Coloftseum in Rome
This loft offers everything you need for a stay in Rome. It's located in the ancient neighborhood of Rione Monti, within walking distance of the Colosseum in a district loaded with excellent dining, drinking, and culture-seeking options. There's one bed, but the owner allows up to three people to go in on this cozy spot at $129/night.


More like this:
10 epic treehouses you can actually rent on Airbnb
The post The 11 dreamiest AirBnbs in Italy appeared first on Matador Network.