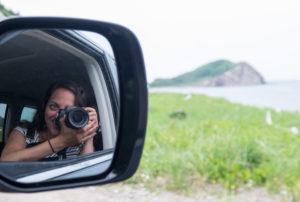 Looking for one of the most beautiful road trips in the world? Consider driving the Cabot Trail in Cape Breton, Nova Scotia. While this is one of the best known road trips in Canada, I hadn't heard of it until recently — and I was stunned at just how special it was.
This summer I've been spending a lot of time in Atlantic Canada, which is one of the better decisions I've made lately. This is one of my new favorite parts of the world. But one of the biggest highlights of Atlantic Canada has been driving the Cabot Trail and discovering the Cape Breton region of Nova Scotia.
Nova Scotia was in the works for awhile. Earlier this year, I met representatives from Visit Nova Scotia and we decided to do a campaign together. I did my research on the province, trying to figure out where to go, and landed on Cape Breton, the rural, beautiful island in the northeast part of the province, and driving the Cabot Trail. I'm always down for a road trip. And I had great company — my frequent travel buddy Cailin, who herself is from Nova Scotia!
This was my first time in Nova Scotia (well, I also went when I was a fetus, my parents are quick to point out), but it reminded me so much of where I grew up. The Halifax area and its surroundings reminded me so much of Massachusetts — but once you get into Cape Breton, everything spreads out and countrifies. It feels more like New Hampshire or Maine!
I loved Nova Scotia because of its beauty, because of its friendliness, because of how relaxed it was. And on top of that, it had a quality I'm having trouble defining. It was special.
And if you're from the New York City area or New England — and I know many of my US-based readers are — Nova Scotia is a very easy trip. Hop on a short nonstop flight to Halifax from New York or Boston. It's a two-hour flight from either city!
What is the Cabot Trail?
The Cabot Trail is a scenic driving route on the island of Cape Breton in Nova Scotia. Cape Breton is the large island in the northeast of Nova Scotia, home to 18% of the province's land and 14% of the population. Cape Breton is known for being a slow-paced and beautiful corner of Nova Scotia.
The Cabot Trail is well-marked, easy to drive, and filled with tons of attractions. At 298 kilometers (185 miles), it's ideal for a four-day road trip.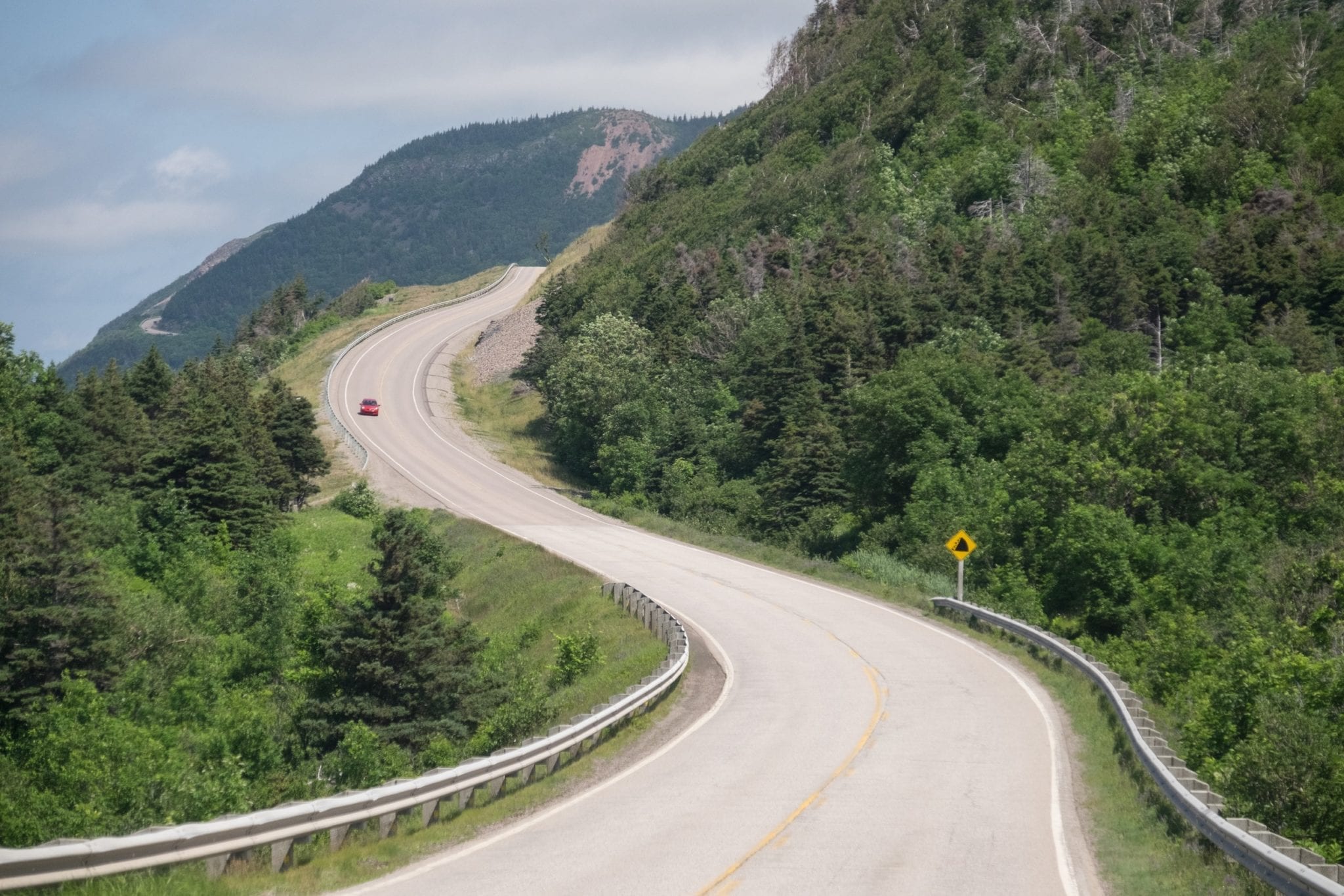 Reasons to Travel the Cabot Trail in Nova Scotia
There are so many reasons to travel the Cabot Trail. Here are some of my favorites:
The most beautiful winding roads. Driving through Cape Breton Highlands National Park is like driving in a cartoon. The roads are so windingly photogenic. I don't think I've ever seen such beautiful roads as I did in Cape Breton!
If you want to get photos like I did, have the person in the passenger seat turn their camera to a super-fast shutter speed and shoot as you drive along. Be sure to periodically clean your windshield.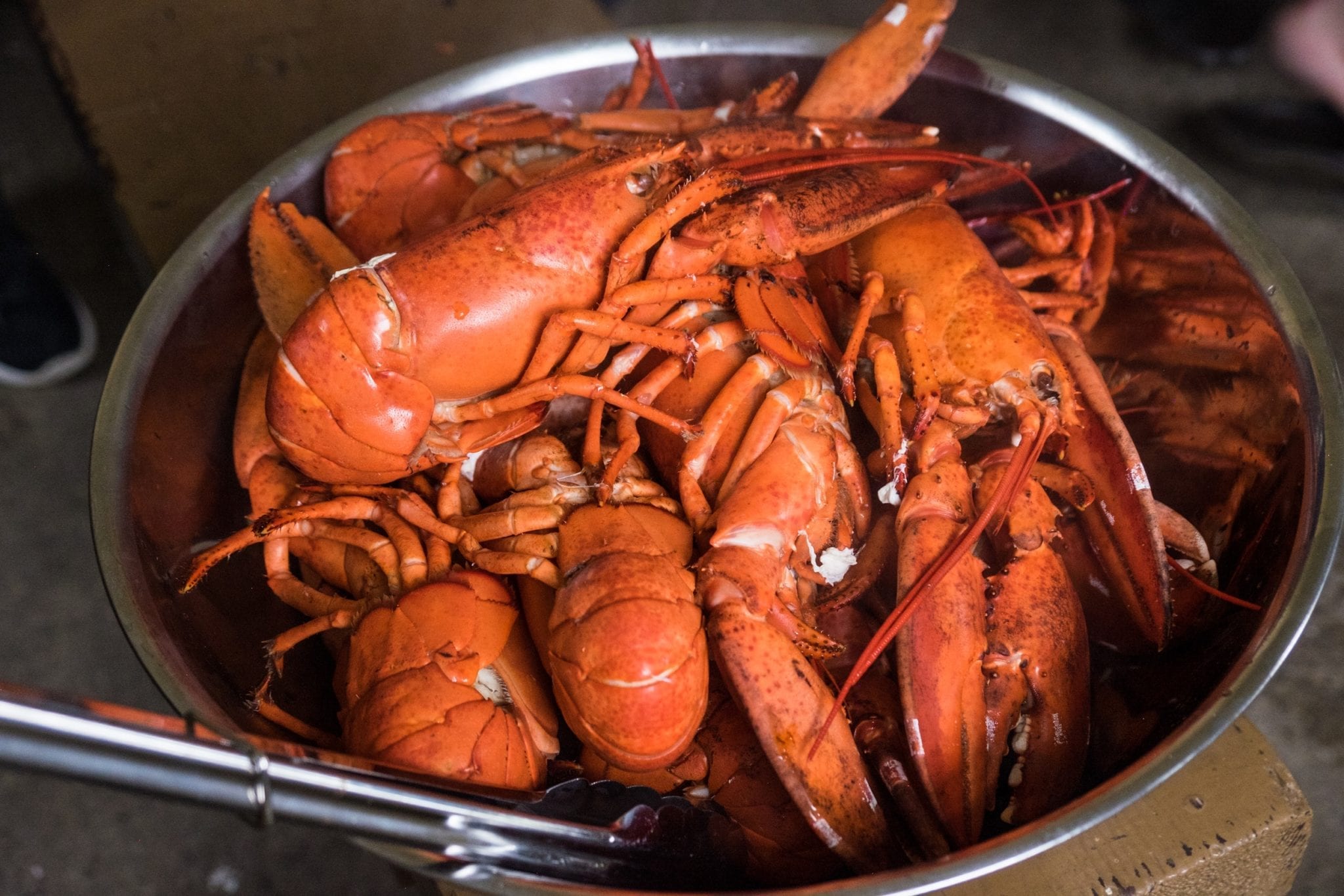 The freshest, most succulent, most delicious lobster. For years Cailin has been telling me that Nova Scotia has the best lobster in the world (or, more often, yelling, "THAT'S NOT LOBSTER!" whenever I eat lobster in the Caribbean). To be honest, I rolled my eyes at her exultations — but then I tried it and WOW. I'm used to Maine lobster, but Nova Scotia lobster is on another level. And it's available everywhere on the Cabot Trail.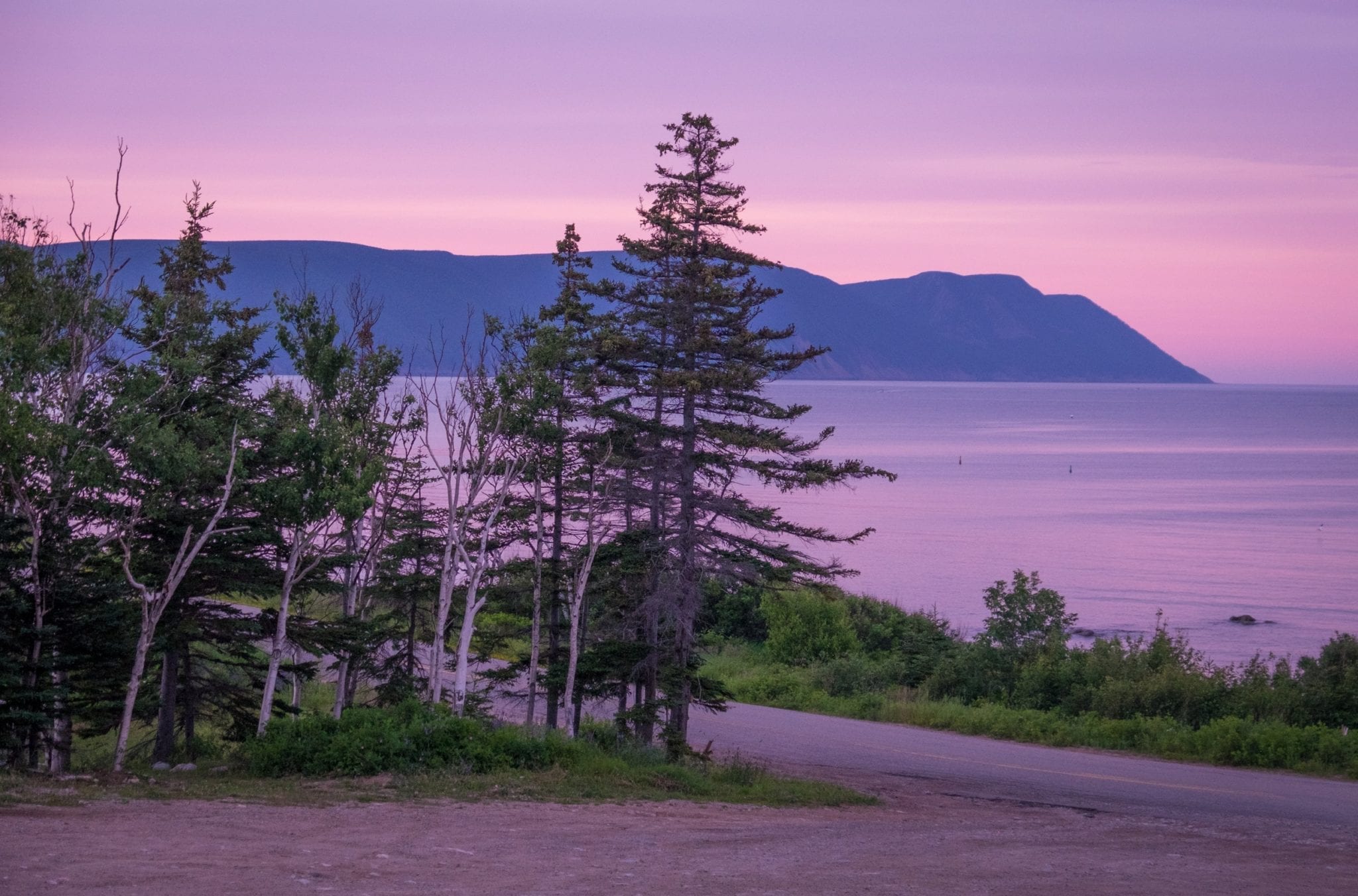 Endless changing landscapes. At times, like in White Point, I felt like I was in Normandy. At other times, driving through the lusher parts of the highlands, I almost felt like I was in Hawaii! And when the sun dipped behind the mountains, I was reminded of Colorado.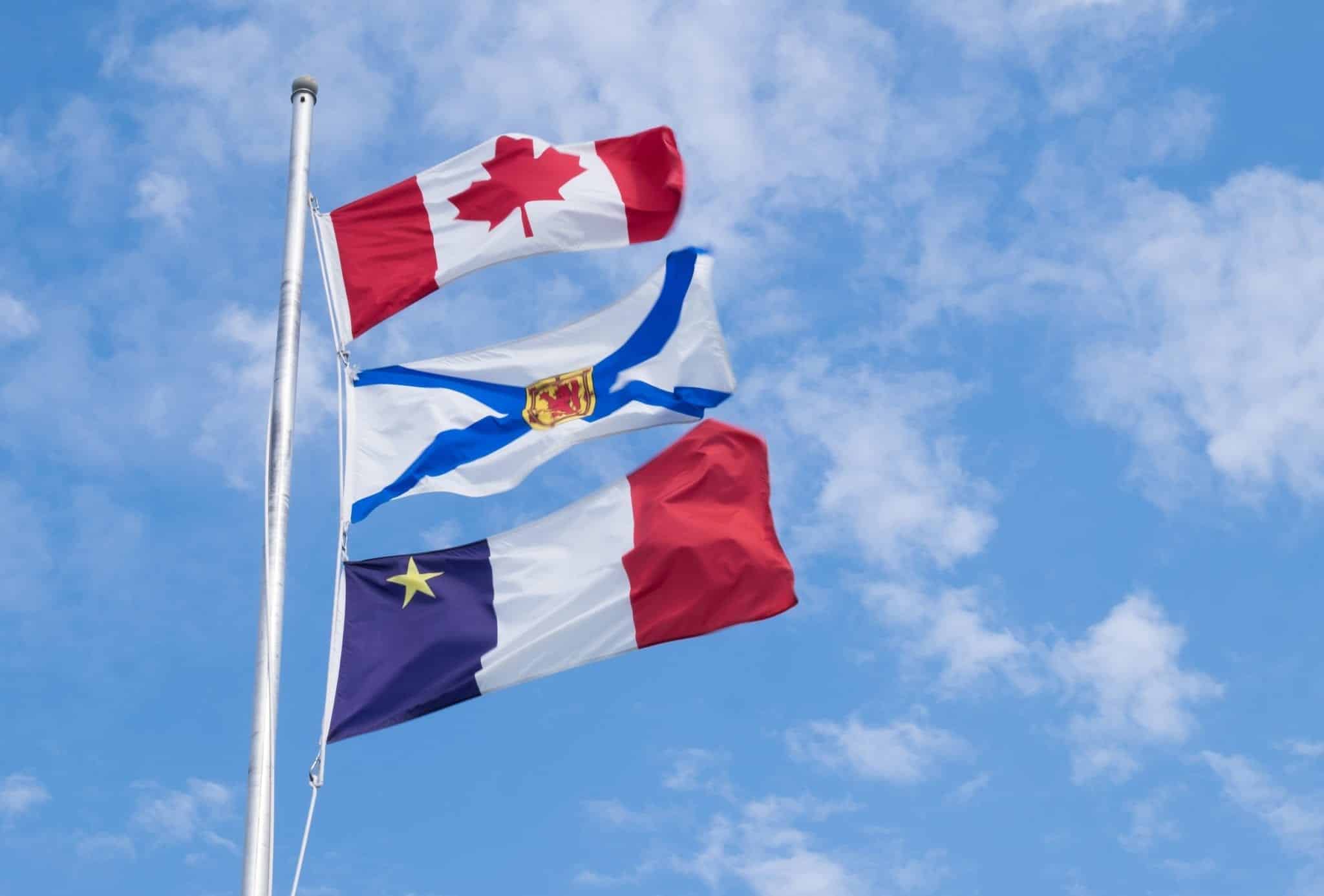 Three interesting cultures in one place, shared proudly with visitors. You can explore indigenous Mi'kmaq culture, Acadian culture, and Gaelic culture all on this same island. And they're all respected as being essential parts of Canadian culture. It really hits you when you walk into the visitors' center at the national park and it reads, "Welcome. Bienvenue. Pjila'si. Fáilte."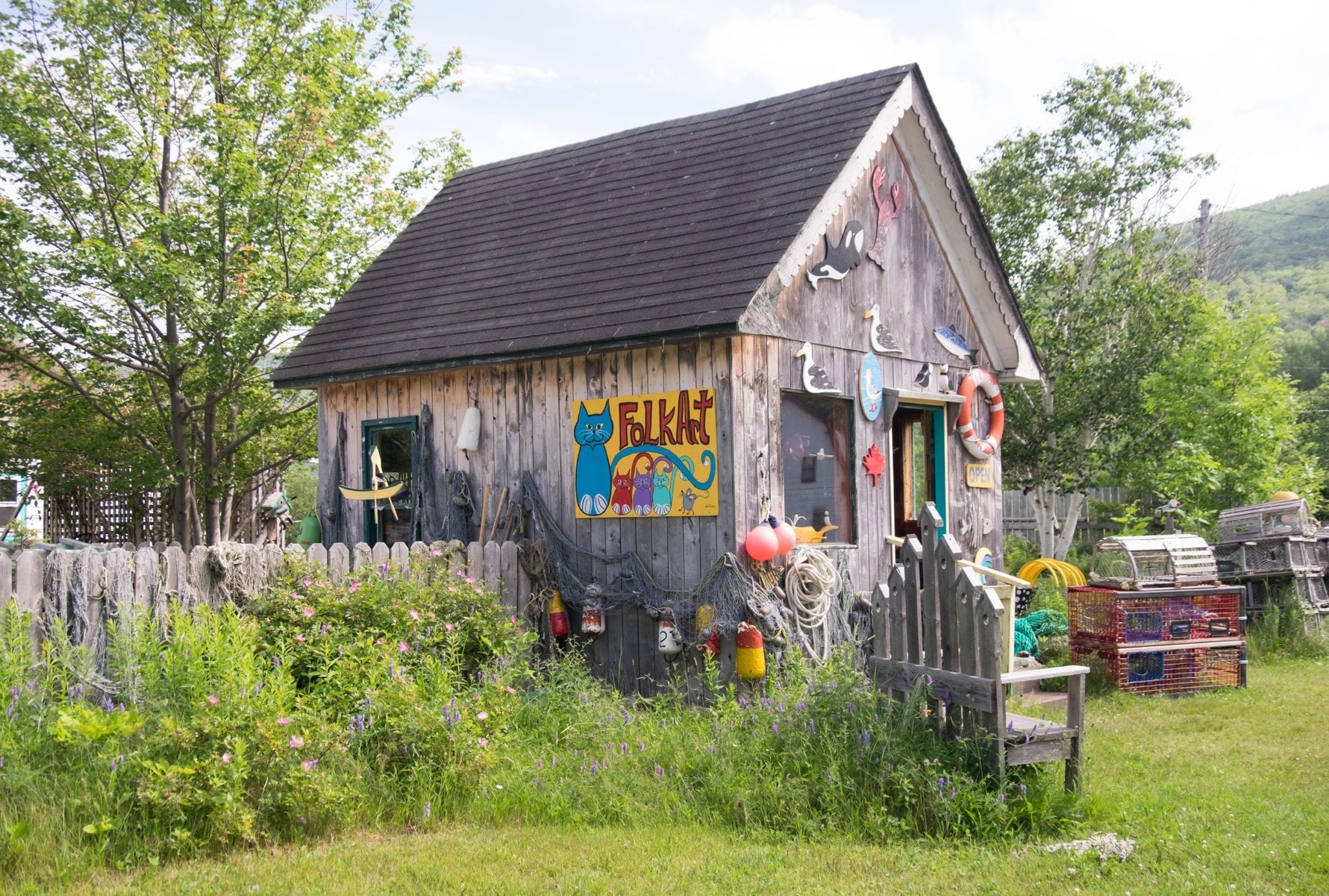 A slow, country pace. When you live in a city (especially New York City), you notice how much slower it is in the country. Things move at a slow pace. People take their time to enjoy themselves. It's a nice break for your brain.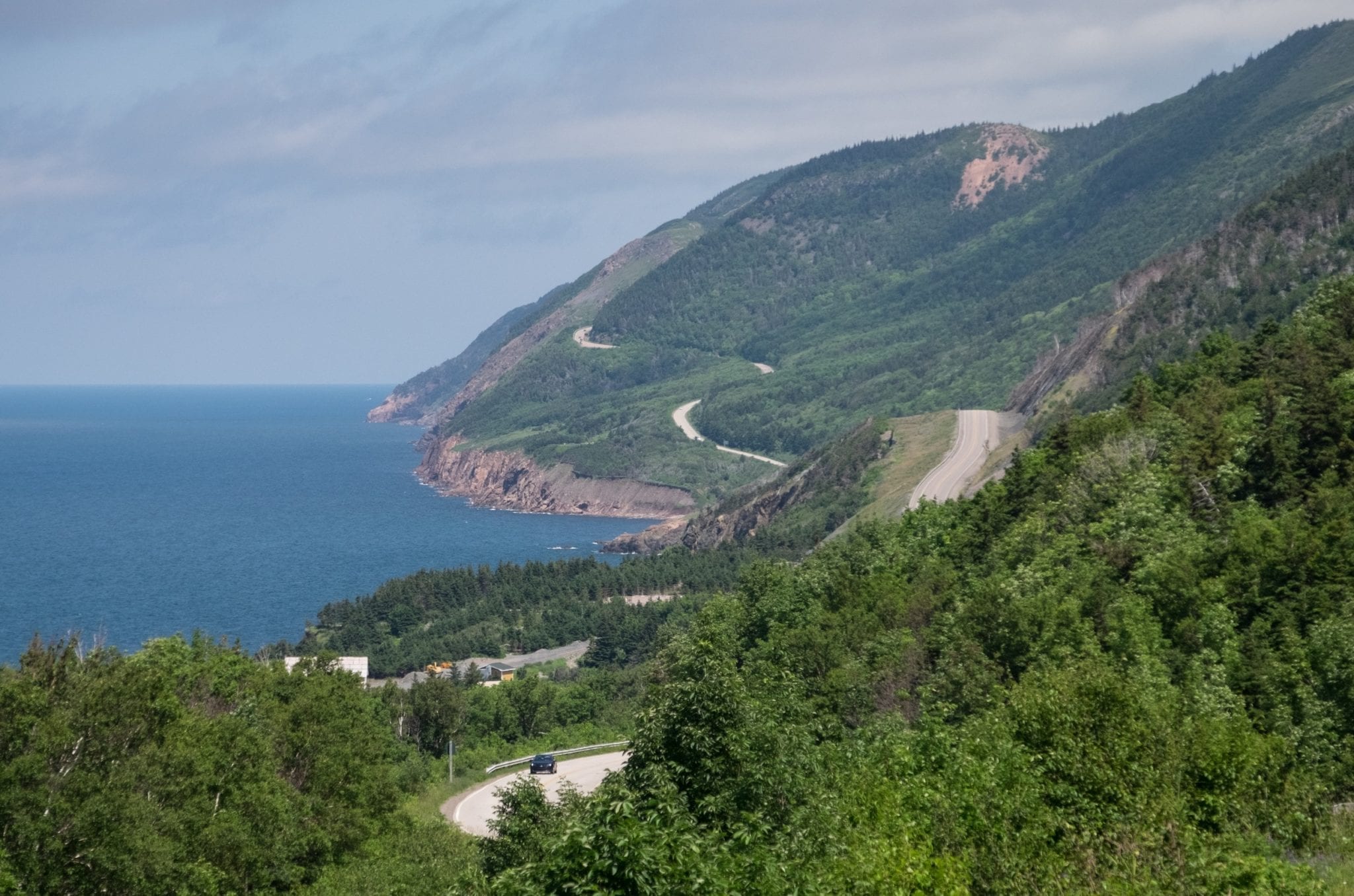 One incredible national park. Cape Breton Highlands National Park is the one national park on the island, and the Cabot Trail drives right through it. It's a sensational park. The best known activity on the Cabot Trail is the Skyline Trail, a hike in the park best done at sunset.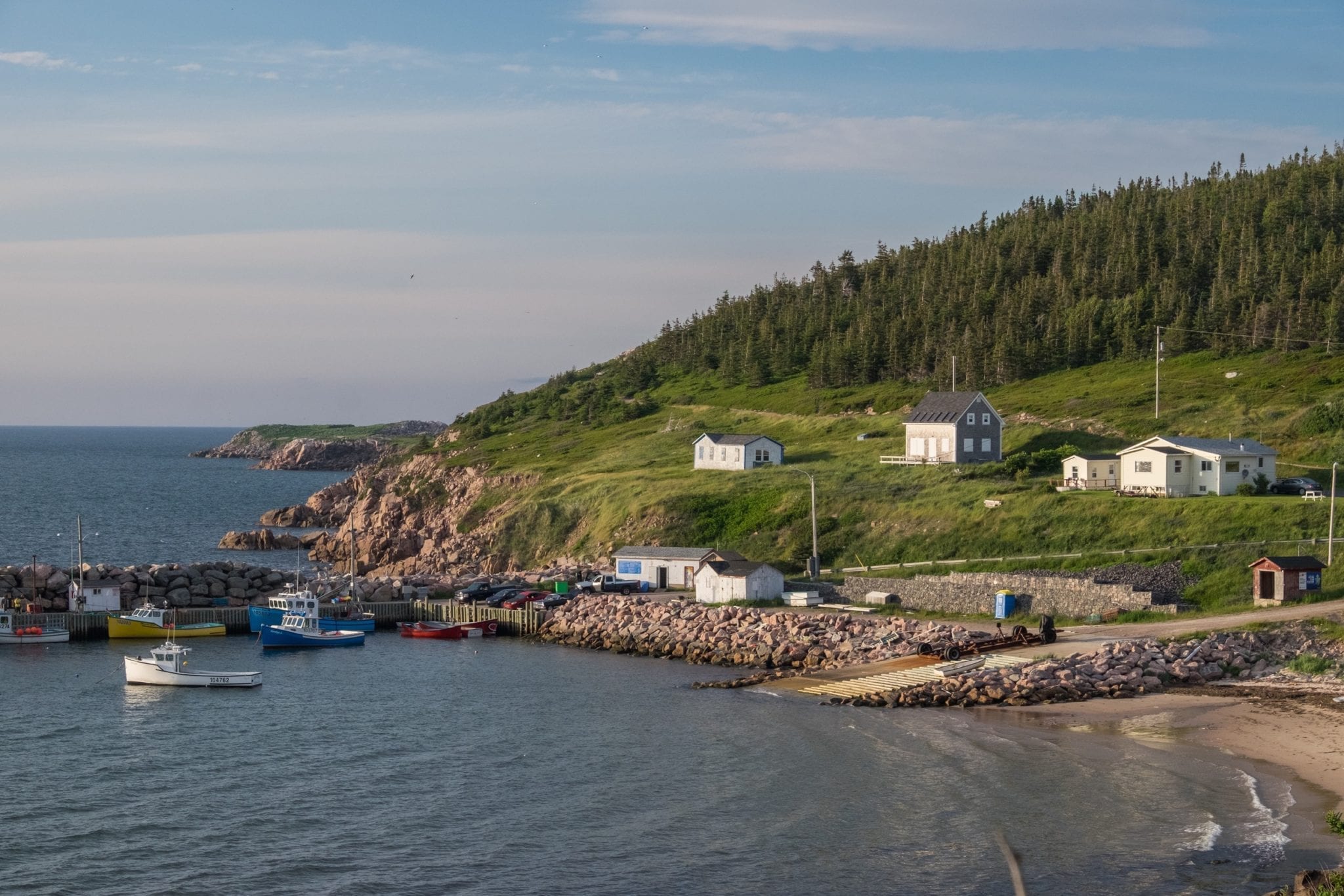 Wonderful and welcoming people. So many memories from Cape Breton are tied up in the wonderful people we met. The Acadian ladies who invited us to come back and stay in their homes for the Mi-Carême celebration in winter. The Mi'kmaq educator at Eskasoni Cultural Journeys who told us about their natural cancer-fighting remedies that Westerners may be on the verge of exploiting. The artist who worried about the impact of Airbnb on young Cape Bretoners being unable to afford homes. The smart, thoughtful guides at Parks Canada who were bubbling over with their love for the outdoors.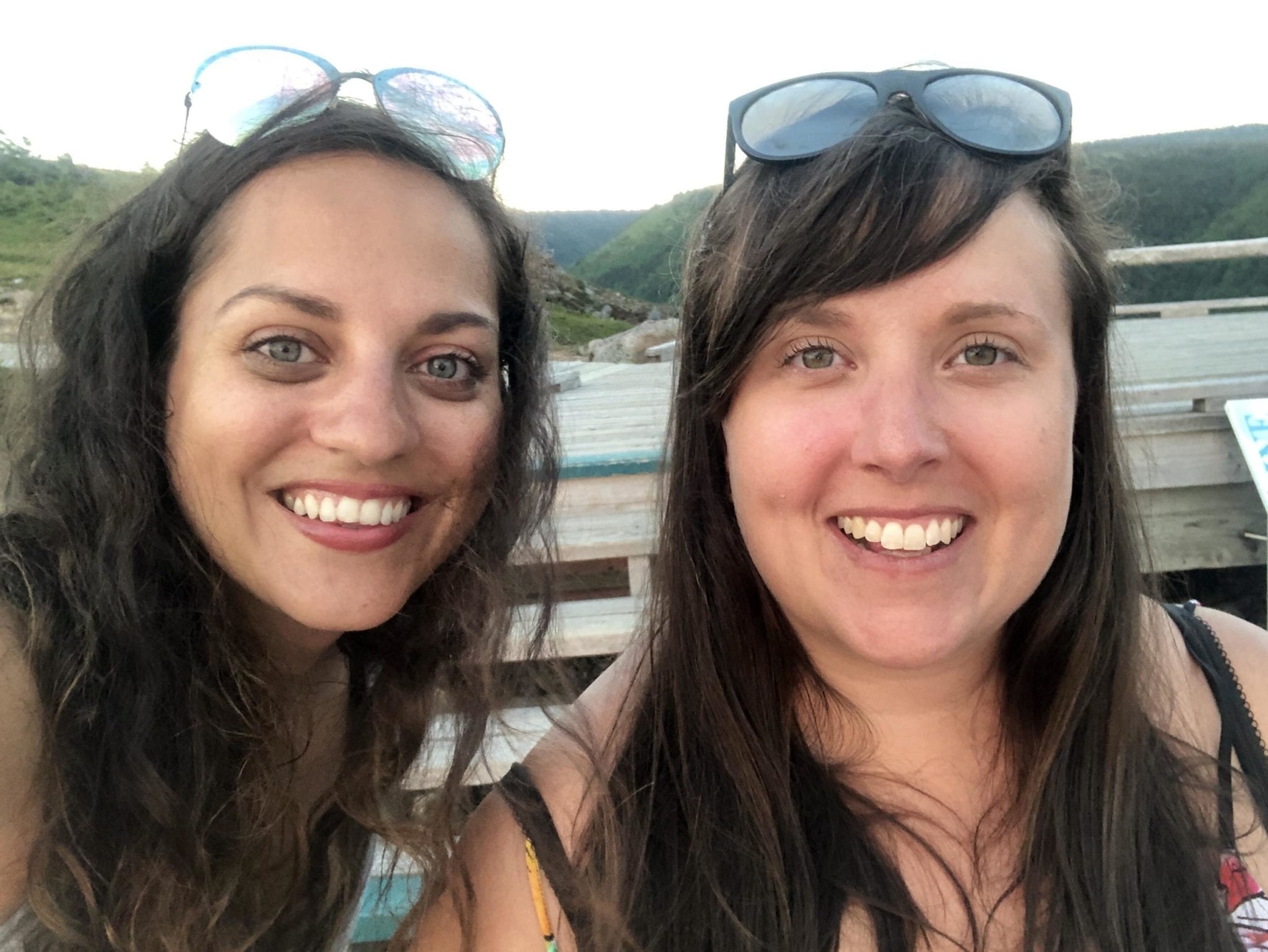 How Many Days Do You Need on the Cabot Trail?
I think you can travel the Cabot Trail in a minimum of three days — but I would recommend stretching to four days if you can. You can travel the Cabot Trail for longer if you'd like, having a more leisurely trip than we did, and traveling for longer gives you a bit of insurance in case you have some rainy days.
If you only have one or two days, I recommend staying in the Chéticamp area rather than trying to do the whole trail. Most of my favorite experiences on the Cabot Trail were in or around Chéticamp: hiking the Skyline Trail and the Learn to Lobster Boil experience in Cape Breton Highlands National Park, the Mi-Carême Centre, Aucoin Bakery, and L'abri restaurant.
It's best to rent your car in either Sydney or Halifax and drive to the trail. Sydney is the largest city in Cape Breton and it has a small airport and several car rental locations. It's about a 45-minute drive from the Cabot Trail and you enter at Englishtown, near Baddeck.
Halifax is a bigger city and major air hub and it's on the mainland of Nova Scotia. It's about a 3.5-hour drive from the Cabot Trail and you enter at Hunters Point, also near Baddeck. You can rent a car one-way from Sydney to Halifax, as we did, but one-way rentals can be very expensive in Nova Scotia.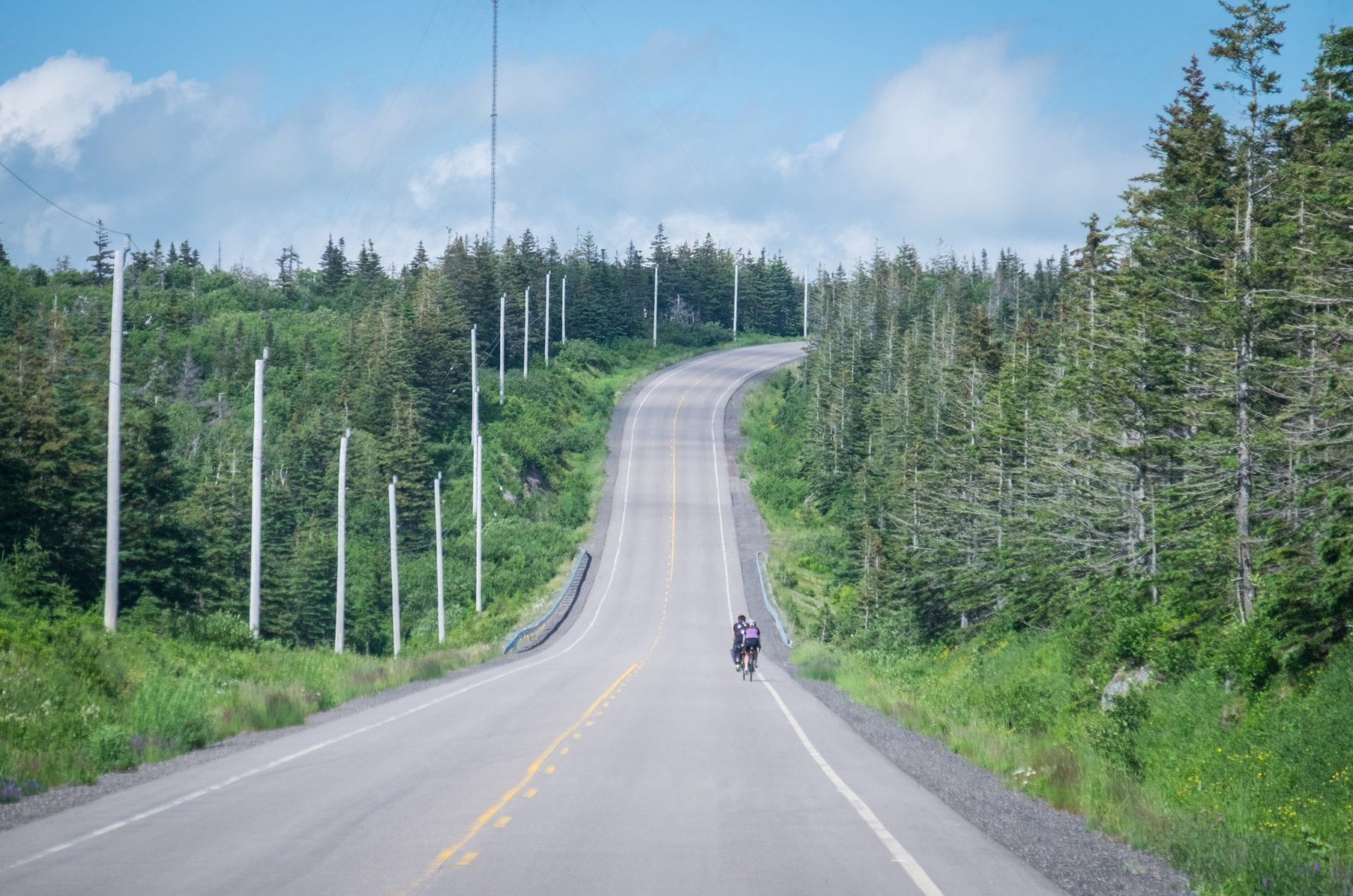 Cape Breton Road Trip Four-Day Itinerary
Driving the Cabot Trail for four days will give you enough time to enjoy the best of this gorgeous part of Nova Scotia. This itinerary gives you an extra day in what I think is the nicest part — Chéticamp — but gives you enough time to enjoy some of the other lovely places, like Ingonish, Baddeck, and of course Cape Breton Highlands National Park.
A lot of people ask whether you should drive the Cabot Trail clockwise or counterclockwise. Honestly, it doesn't matter. It would matter if you only drove in one direction and never backtracked whatsoever. Cailin and I ended up driving back and forth several times in the most photogenic part of the national park because the weather kept changing and we wanted better photos!
We ended up driving the bulk of the trail clockwise and we felt happy with it. Here is our full itinerary: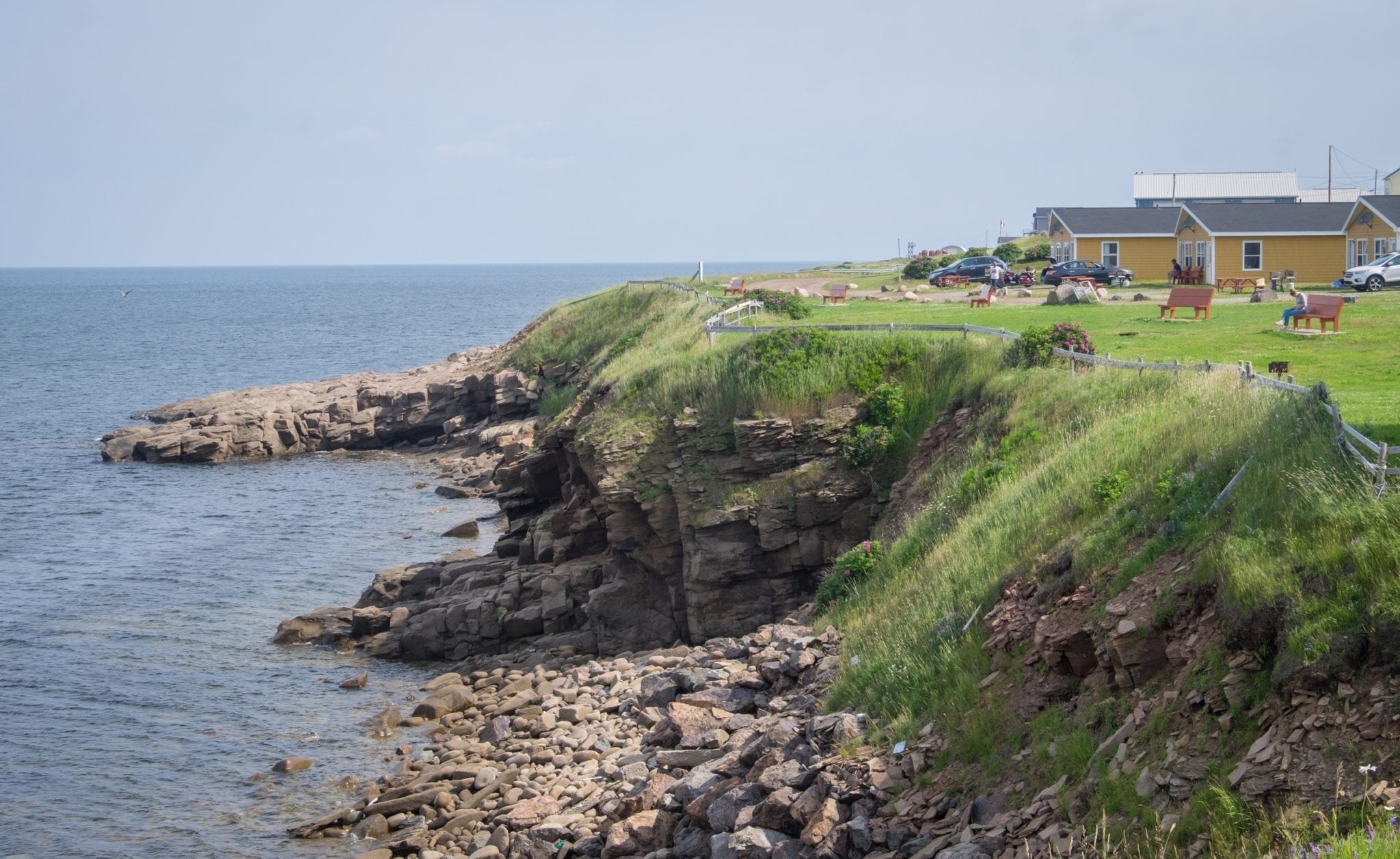 Day One on the Cabot Trail: Sydney to Chéticamp
Cailin and I began our Cape Breton road trip immediately after our OneOcean cruise docked in Sydney. Sydney is close to the Cabot Trail at Englishtown, but I had wanted to explore indigenous culture in Nova Scotia, so we headed south and started slightly off the trail in Eskasoni.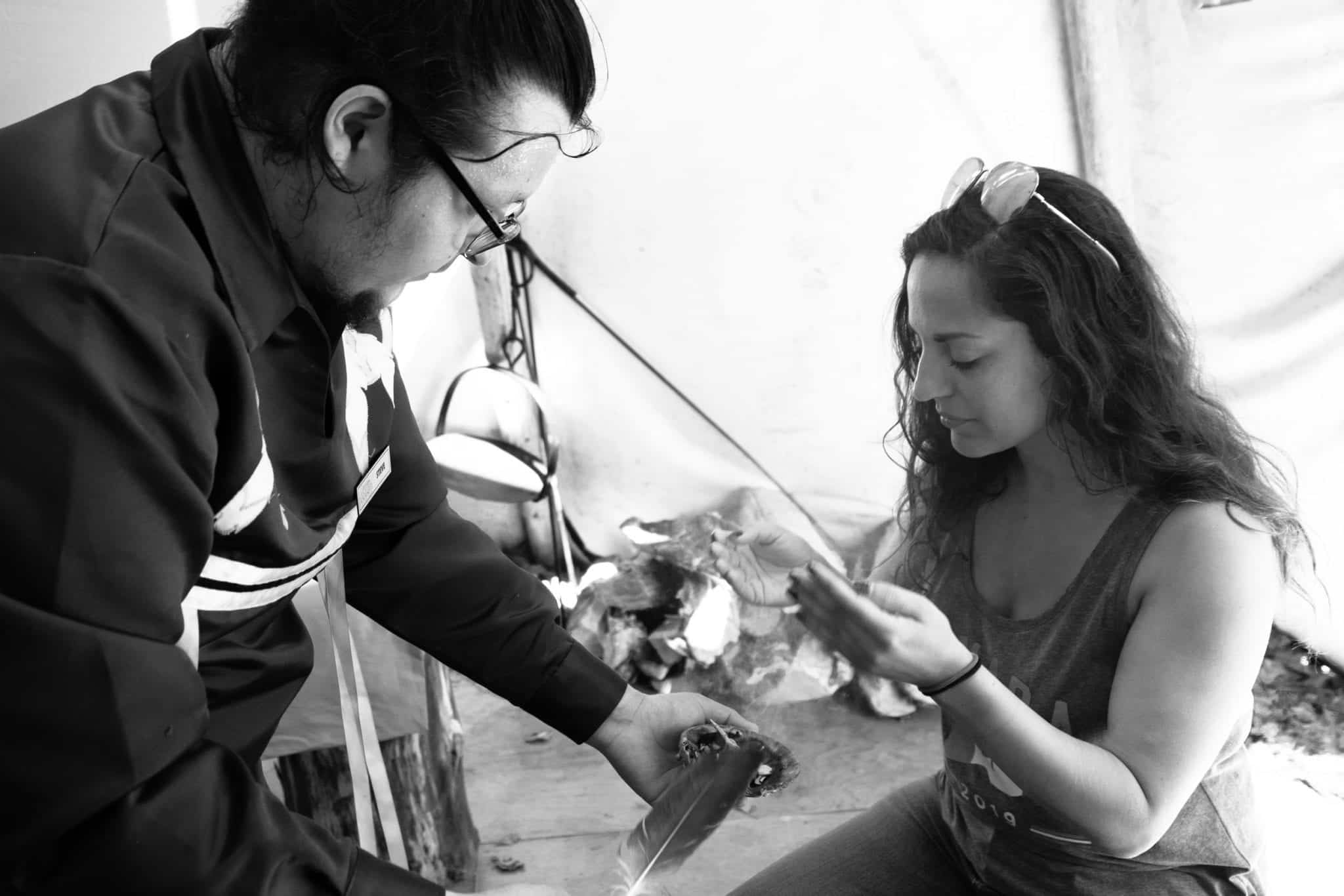 Eskasoni Cultural Experiences is where you can learn about Mi'kmaq indigenous culture and traditions from Mi'kmaq people. You take part in a smudging ceremony, learn about hunting and weapons, learn some dancing, and even cook some bread over the fire, Mi'kmaq-style.
It is a bit field trip-y — you can tell that groups of students are their bread and butter. But I loved learning about Mi'kmaq culture and I especially loved learning from so many Mi'kmaq folks directly. Learning from actual indigenous people is all too rare these days, and it should be cherished.
I loved how the guides weaved in traditions and how they use them today, like medicinal plants that are used to treat cancer. One of the guides, Steve, even offered to smudge my passport to give me protection on my travels.
Next, if you have the time, visit the Highland Village. Just off the trail in Iona is a village that re-creates life among Gaelic settlers in Cape Breton from centuries ago, complete with costumes, set beautifully on Bras d'Or lake. While we didn't have time to do this due to a late start, this is absolutely worth the beautiful setting alone.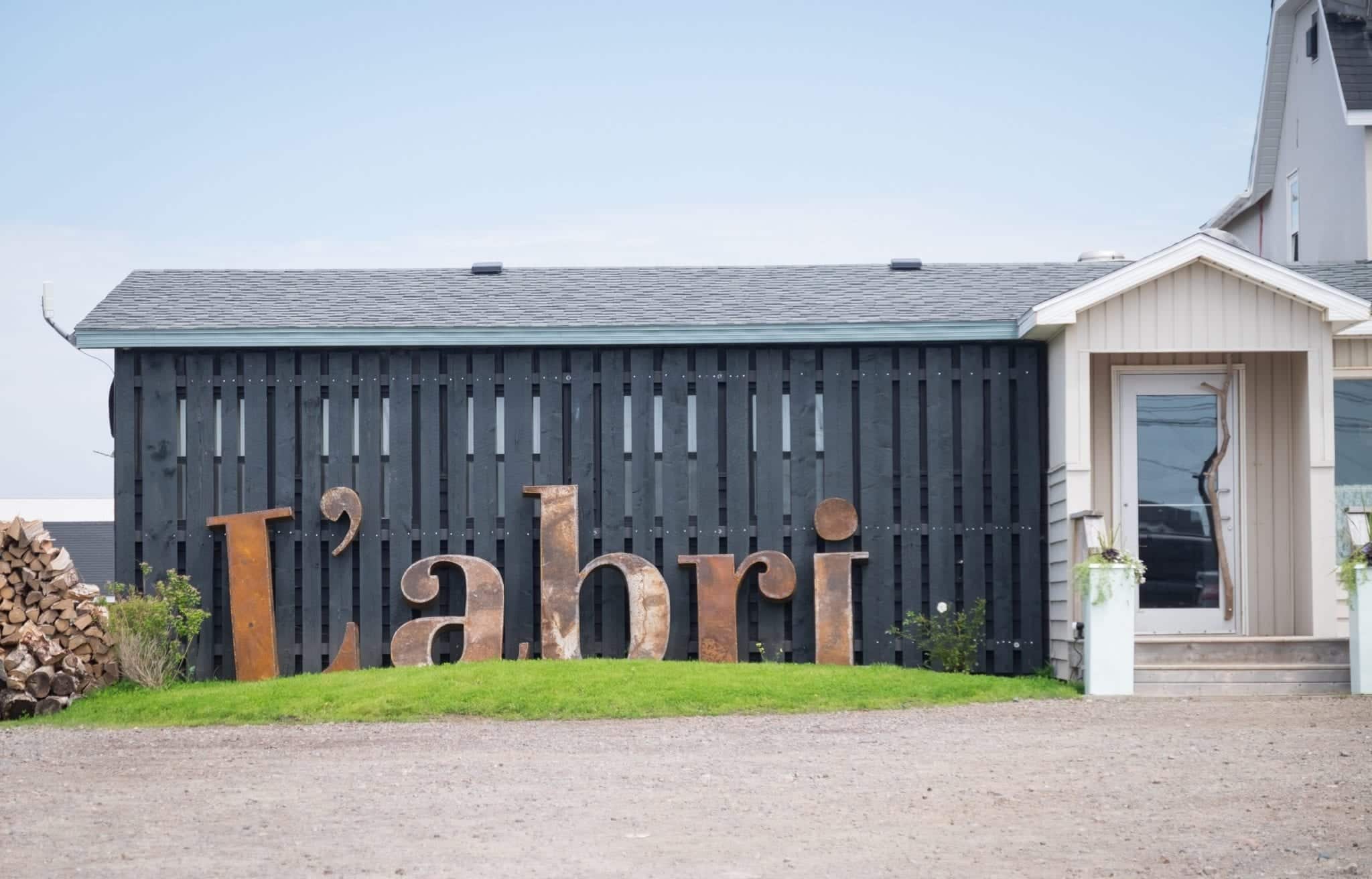 Spend the afternoon driving to Chéticamp and get an early dinner. You are now officially on the Cabot Trail! The drive to Chéticamp is lovely, especially once you hit the water. For an early dinner, I recommend L'abri — a relatively new, very queer-friendly restaurant that the locals can't stop raving about. They do a great lobster roll. Cailin and I loved L'abri so much that we went multiple times!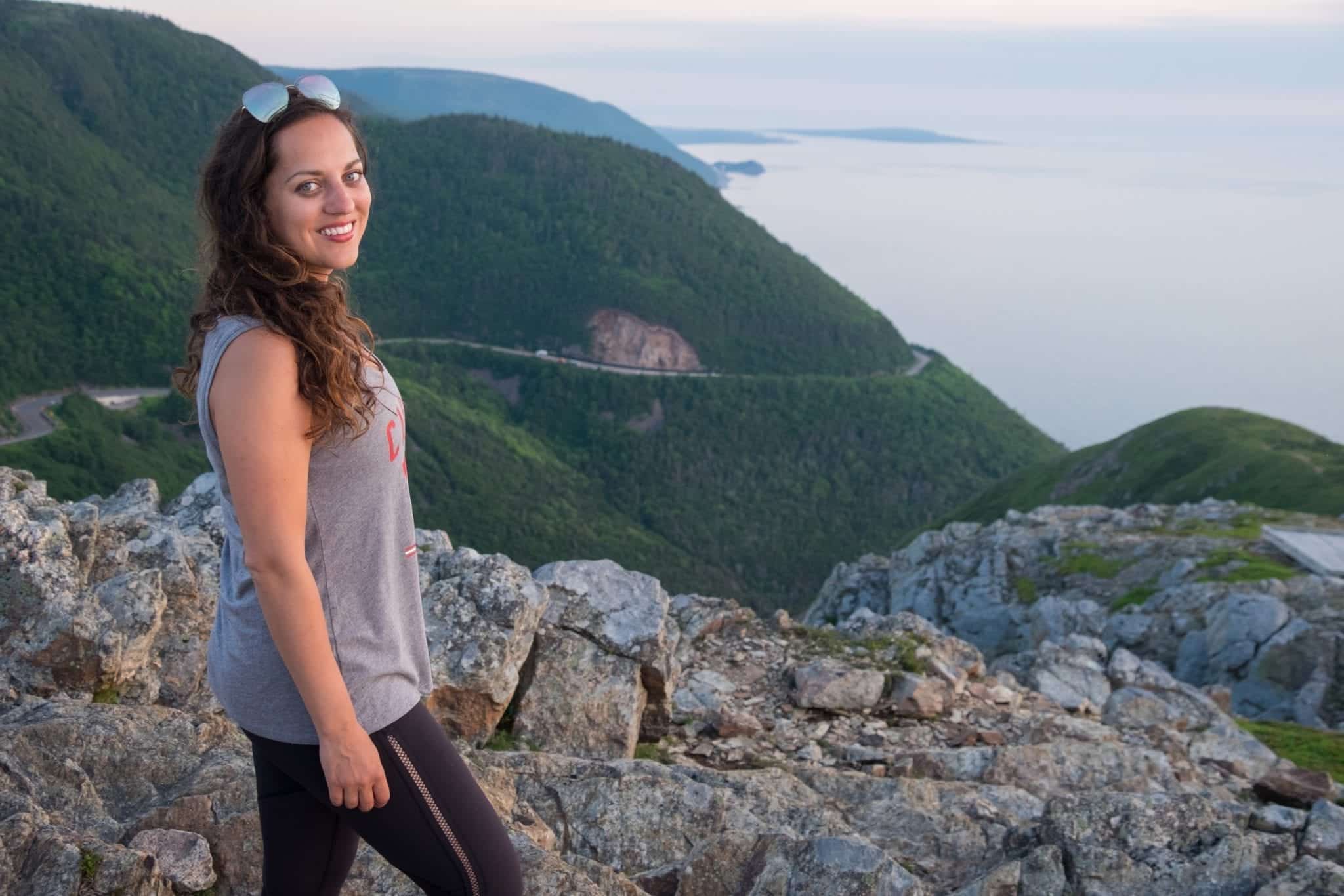 In the evening, hike the Skyline Trail, the most famous hike in Cape Breton Highlands National Park. This is an easy, even hike with a gorgeous view at the end, even better at sunset. I think it's the best Instagram spot on the Cabot Trail. While you can do this hike on your own, Parks Canada offers a guided sunset hike that takes about three hours altogether.
The Skyline Trail is the best place on the Cabot Trail to see moose, so keep your eyes open! There is even a moose "exclosure" (first time I had ever heard that word) where you have a moose-free zone and can climb a platform to see if you can spot them outside.
The Skyline Trail seems mostly even, but you don't realize until you turn around and head back that the path had been slowly sloping downward the whole time. You can definitely do this hike with kids but it helps to bring a light source for the walk back, even if that light source is the flashlight on your phone.
Keep in mind the hike starts two hours before sunset, but you also have to pick up your park pass at the entrance and the start of the hike is about a 20-minute drive from the entrance. This is why you get an early dinner!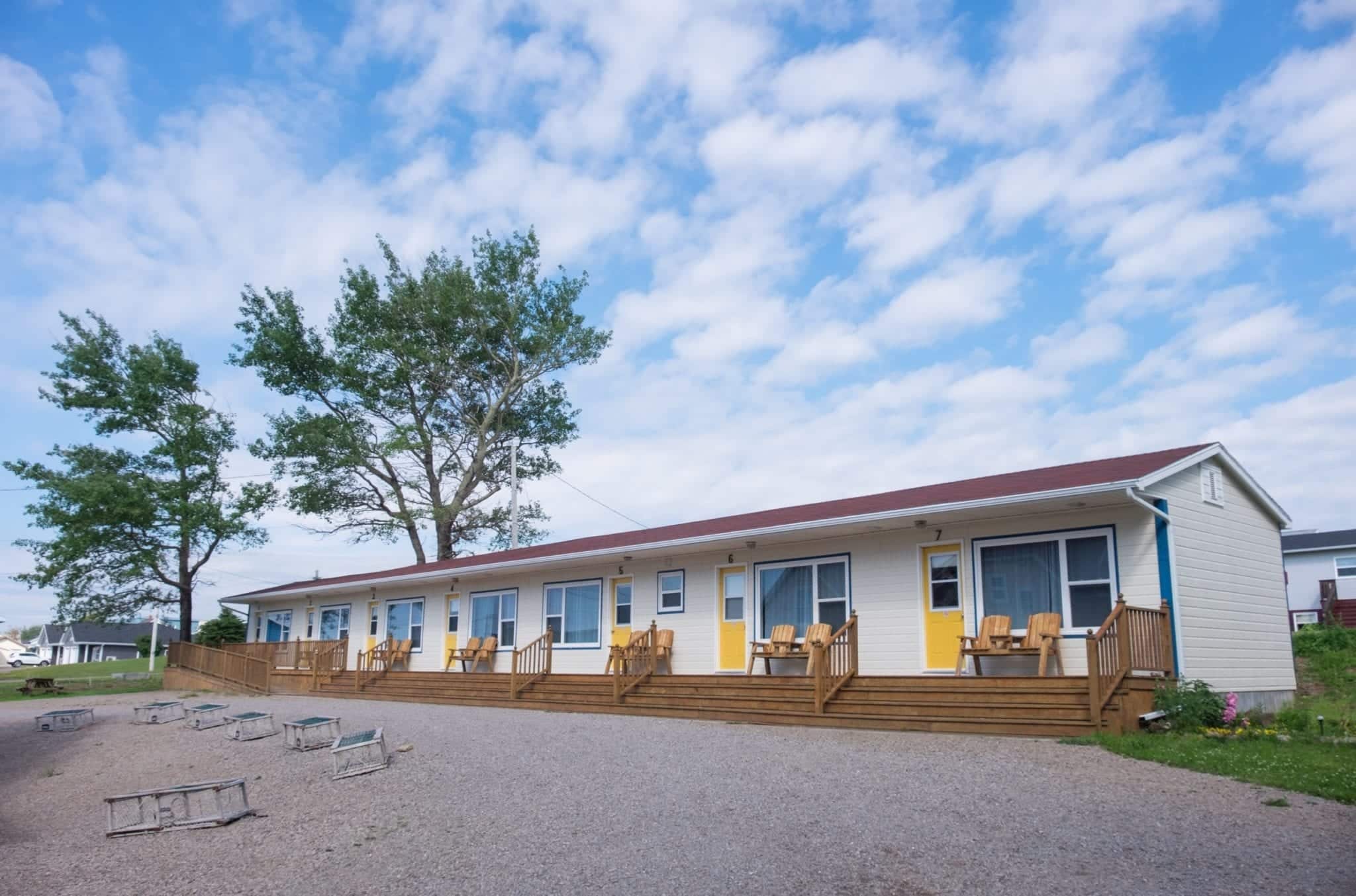 Where to Stay in Chéticamp: Silver Linings Inn
In Chéticamp we stayed at Silver Linings Inn, a midrange guesthouse and motel that I highly recommend. We were the first guests to stay in a new suite above the main guesthouse: a loft with two incredibly comfortable queen beds, tons of excellent pillows, and an ensuite bathroom. Rates from $149 CAD ($112 USD).
The guesthouse also has the best continental breakfast I've ever seen anywhere. Tons of muffins, bread from nearby Aucoin Bakery, cereals, fruit, drawers filled with peanut butter and all kinds of jellies and jams, even a designated gluten-free zone. They really make an effort to do a simple breakfast well, and the breakfast room is airy and beautiful.
The internet wasn't great and only worked decently in the public areas of the guesthouse, which were closed at night, but this is standard for Cape Breton. (See more on internet in Cape Breton in the "Cabot Trail Travel Tips" section below.)
One qualm: there is a doorstop right in the middle of the bathroom floor and it blends into the tiles, so Cailin and I stubbed our toes on it multiple times. (I would yelp from the bathroom and Cailin would yell, "Did you step on it again?") However, we brought it up with the manager and since we were the first people to stay there, they had no idea and said they'd look into removing it.
Check out more hotels in Chéticamp here.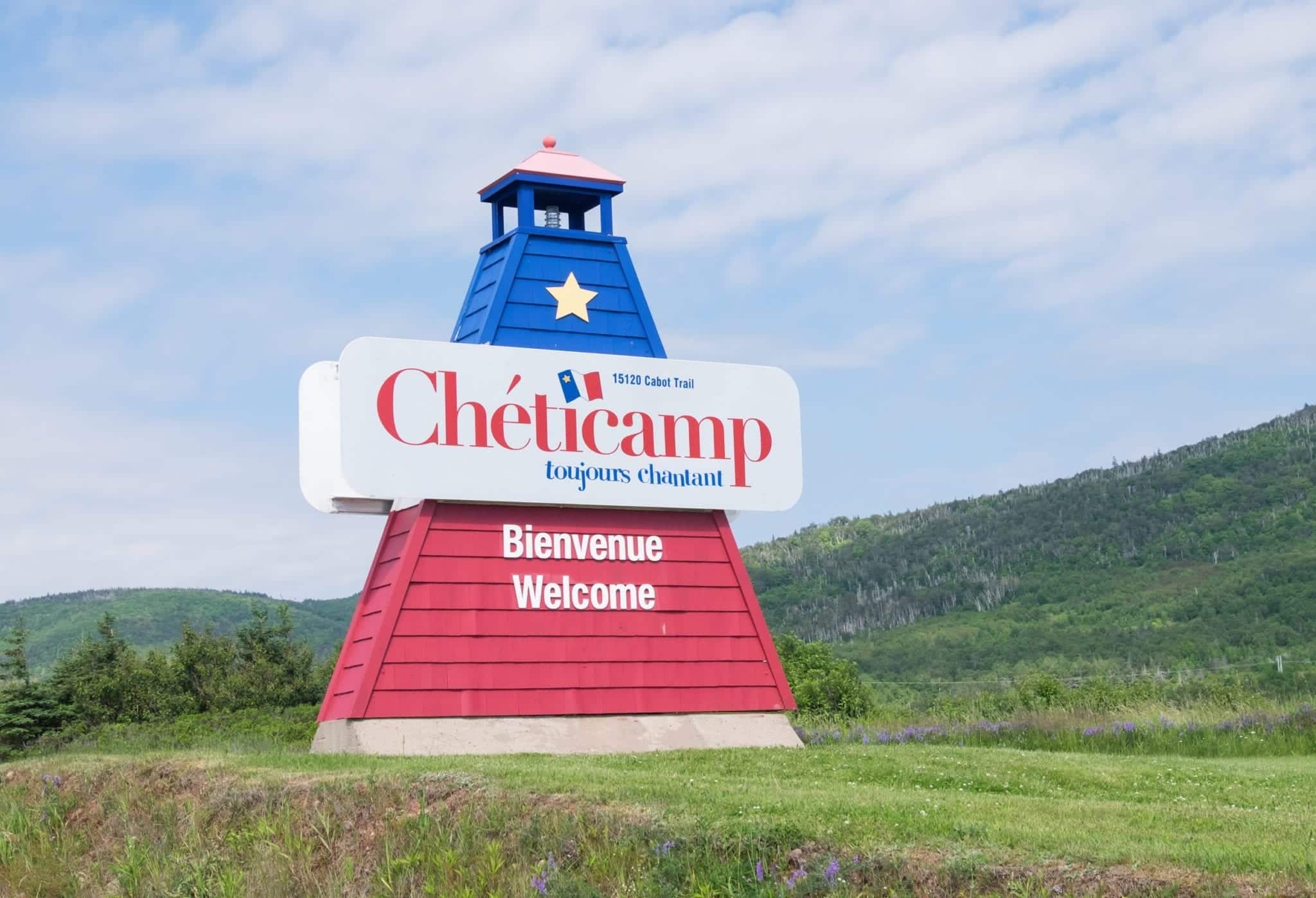 Day Two on the Cabot Trail: In and Around Chéticamp
Chéticamp was my favorite part of the Cabot Trail because there are so many cool things to do nearby. It's absolutely worth spending an extra night in Chéticamp to get the most out of this part of Cape Breton. Start your day with breakfast, then plan to hit up a lot of sights.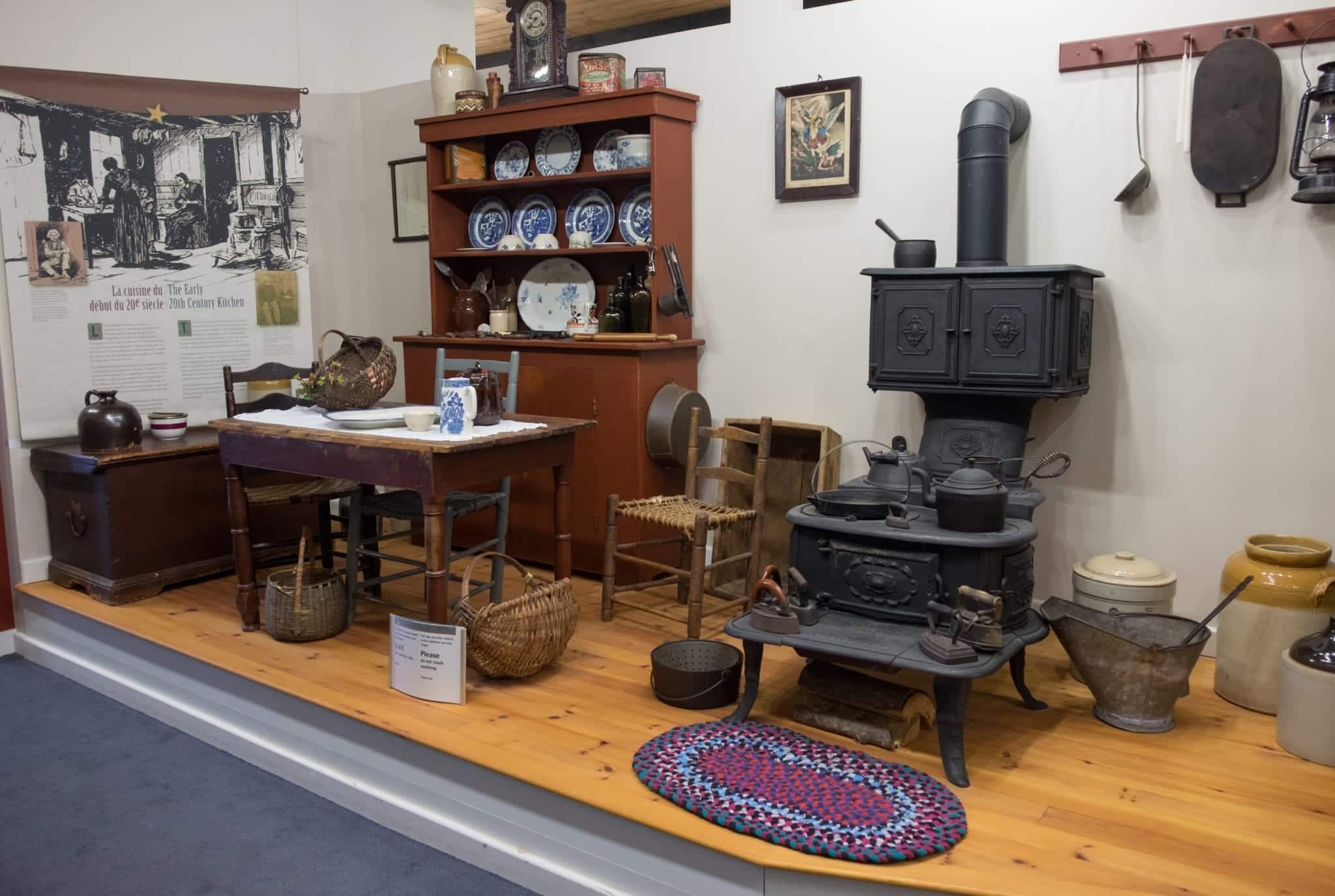 Learn about Acadian culture at Les Trois Pignons. This museum and cultural center is a great place to learn about the Acadians who lived in Cape Breton centuries ago. While you can see recreated living quarters for Acadian families, the coolest part is seeing the hooked rugs.
The hooked rugs were so interesting. Artist Elizabeth LeFort was one of the most gifted hooked rug artists, and she was particularly talented with hooked rug portraiture. In the 1960s, she did portraits of all the Apollo astronauts — as well as JFK, Jackie Kennedy and Pope John Paul II!
But for me and Cailin, our favorite portrait was of a white Persian cat. It actually used long mohair strings that were pulled through, making a very fluffy cat — and had a very necessary DO NOT TOUCH sign beneath it. So tempting.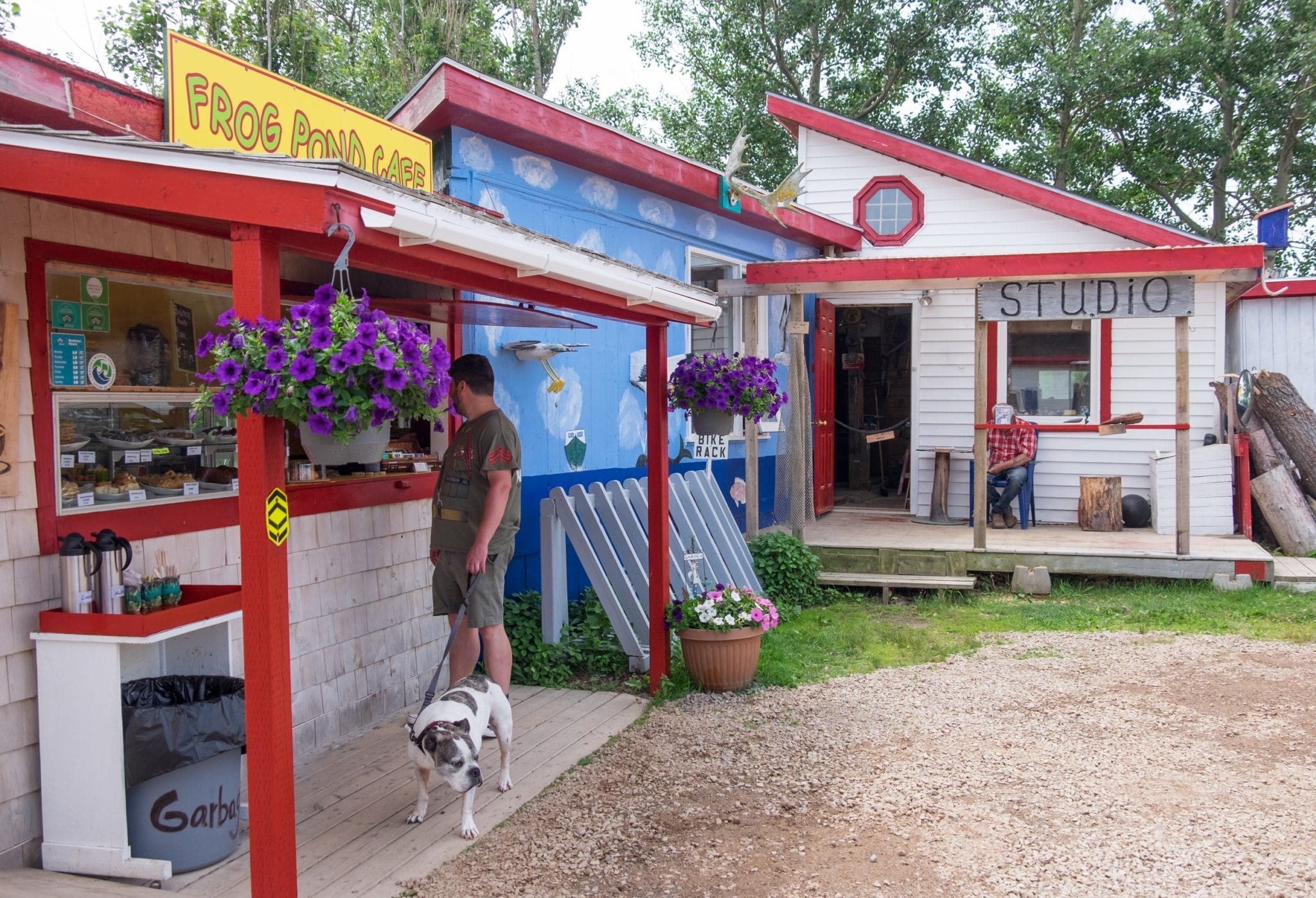 Stop for coffee at the Frog Pond Cafe and check out folk art at Sunset Art Gallery. These two establishments are located side by side in Chéticamp. Artist William Roach has been carving and painting works of art for decades, and the gallery is now home to works by 15 Cape Breton folk artists. This is a great spot to stop for a coffee and a browse.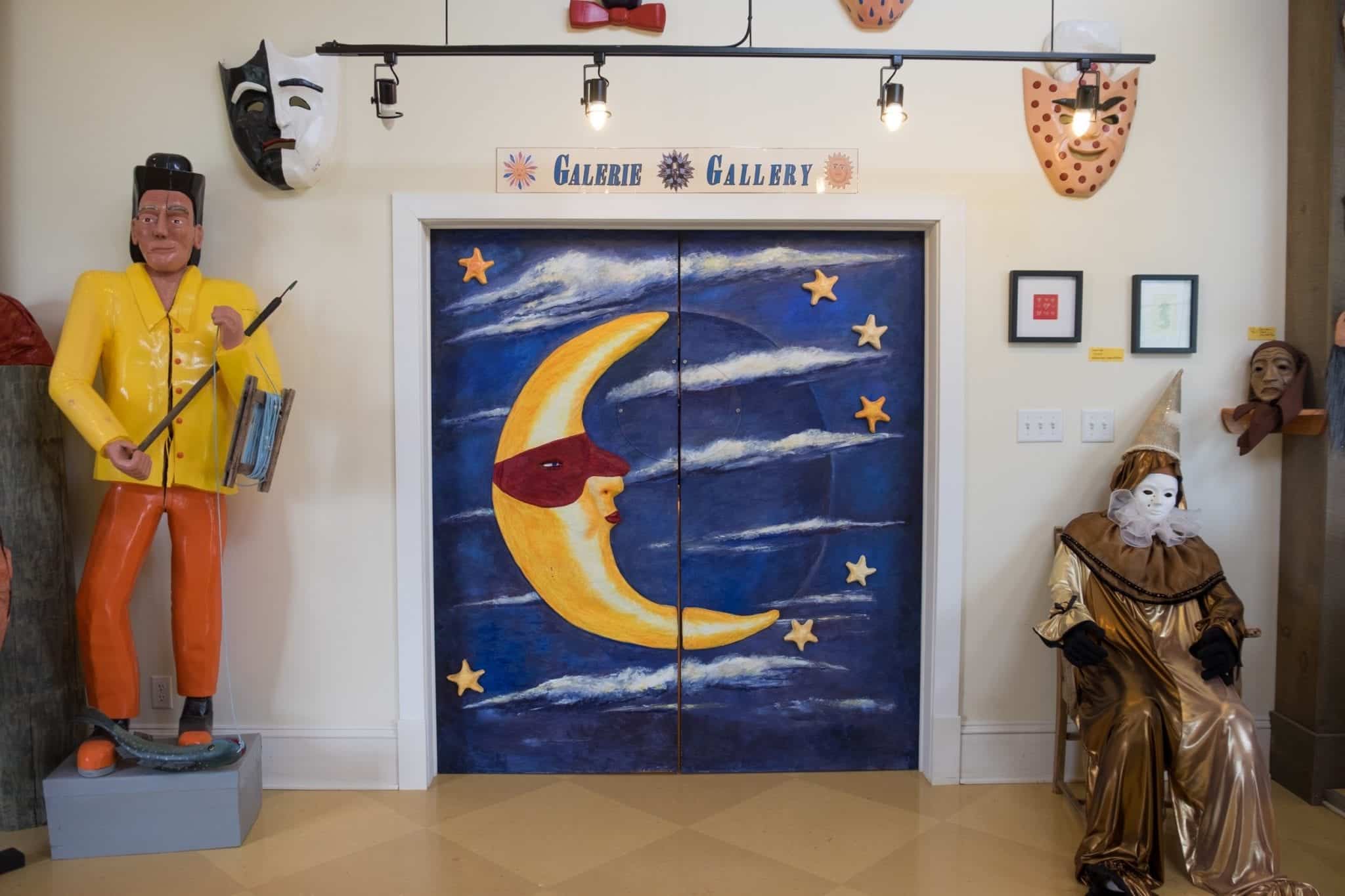 Next, paint your own masks at the Mi-Carême Interpretive Centre. When I saw "paint traditional masks" on my itinerary, I wasn't too excited — but this ended up being one of the highlights of the trip. It was definitely my favorite indoor activity, too!
Mi-Carême is a traditional French celebration that brings joy to a dark time — the name means "middle of Lent" and it's a leap of fun in the midst of a month of austerity. People dress up in elaborate costumes to conceal their identities — seriously, people wear full masks, gloves, wigs, and stilts to fully disguise themselves — and go around from place to place, having people guess who they are.
Mi-Carême was celebrated as early as the Middle Ages, but sadly it has died out everywhere but a few communities in French Canada. It has similarities to Mardi Gras in Louisiana (where the Acadians migrated from Canada), Mummering in Newfoundland and Labrador, and Carnival all over the world.
This was SO MUCH FUN! Cailin and I chose masks and began painting. She painted a full Nova Scotia seascape with a lighthouse and a lobster. I did a black and white and pink design. The whole time we painted and chatted with resident artist Diane Bourgeois about Cape Breton and how it's changed over the last several years.
After that we actually put on costumes that matched our masks and took some photos! There is a full museum at the Mi-Carême Centre that shares the history of the event.
"I so want to come back for Mi-Carême!" I exclaimed to the staff. "We should do it next year."
"Yes! You can stay at my house!" one of the women offered. I OFFICIALLY LOVE CAPE BRETON.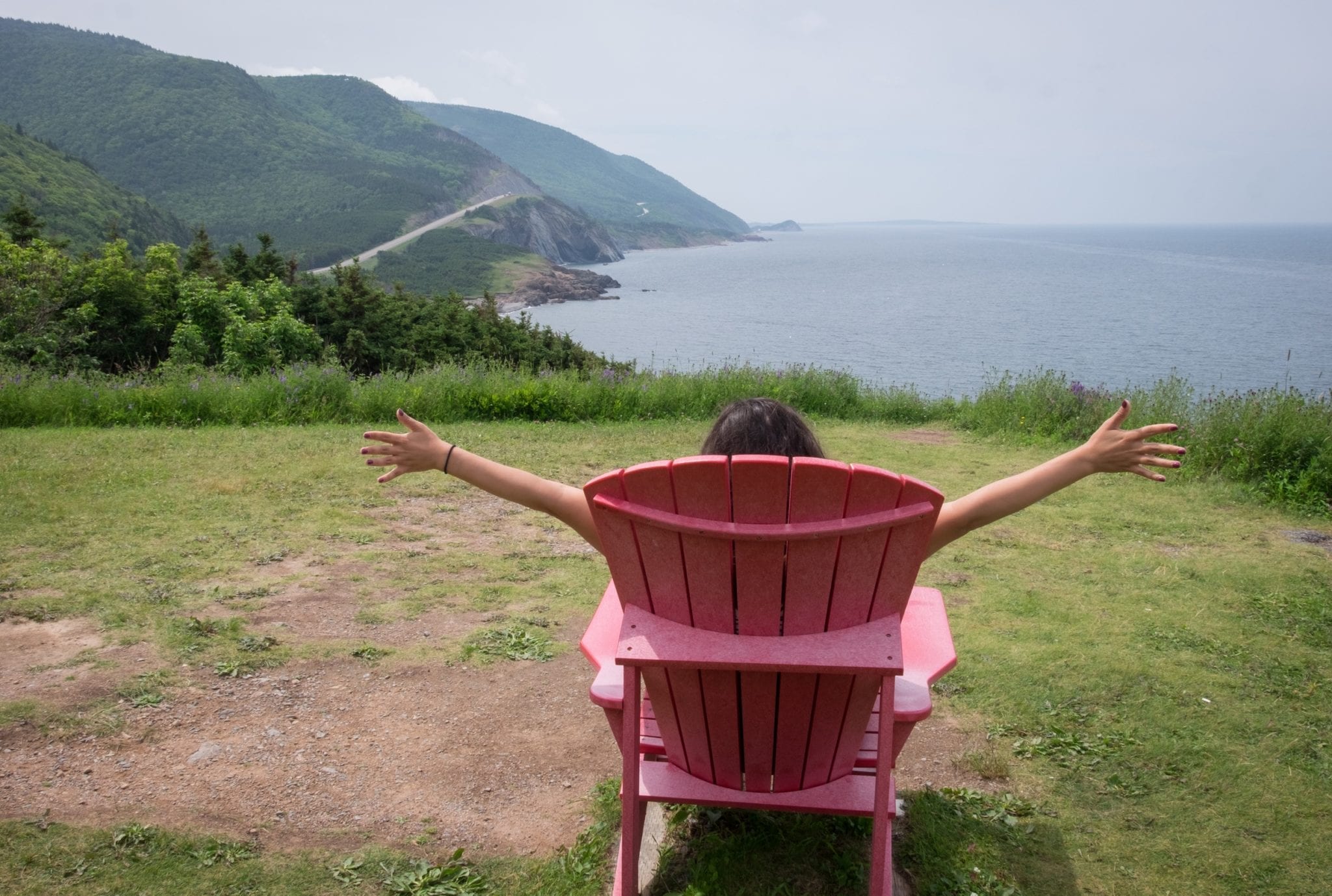 Explore Cape Breton Highlands National Park. It depends how much time you have at this point before dinner, but this is a great opportunity to explore the western part of the park and take lots of photos!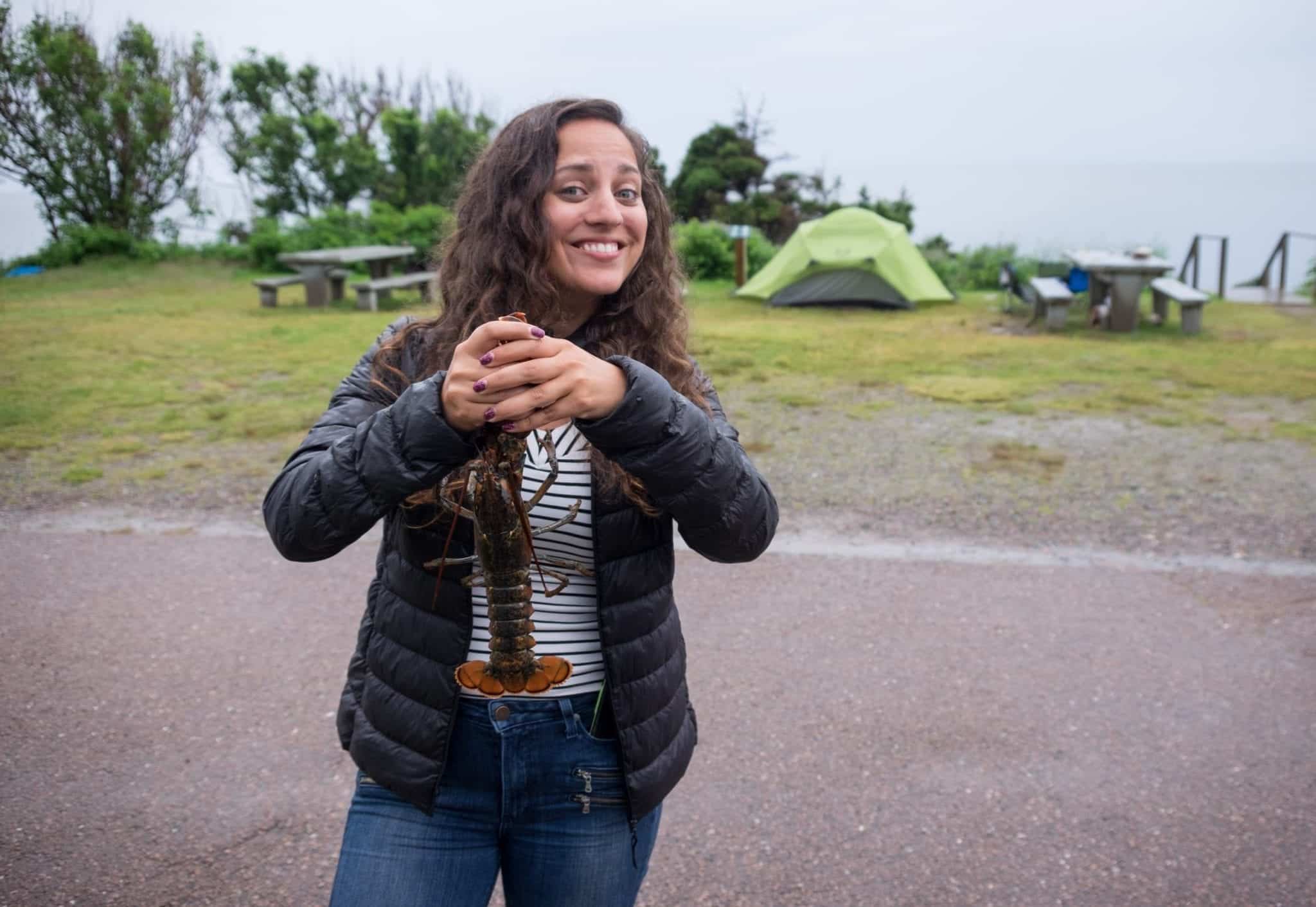 Get ready for the best meal of your trip in the evening — you're going to Learn to Lobster Boil in Cape Breton Highlands National Park. You enjoy a lobster boil on the beach with Parks Canada guides, including Robert, who is the authority on cooking and eating lobster.
This is a great activity for people who are lobster aficionados like me and especially Cailin, but it's extra special for people who live inland or have no idea how to eat a whole lobster. We were joined by a family of six from Alberta who had never eaten whole lobster before and were delighted. There's no better introduction to eating lobster than cooking your own on the beach and being instructed by an expert!
There were a few differences in the lobster-cooking process here: they only use a few inches of water instead of filling the whole pot with water, and they GENEROUSLY salt the water. It basically has to be like cooking the lobster in the ocean.
And it paid off. This is the best lobster I have ever had. It was so incredibly fresh and succulent. And sharing it with an interesting group of travelers and Parks Canada guides made it even better.
This is usually done on the beach, but it was a rainy night, so they moved our group to an indoor/outdoor shelter. Don't despair if rain is in the forecast!
Stay at Silver Linings Inn one more night.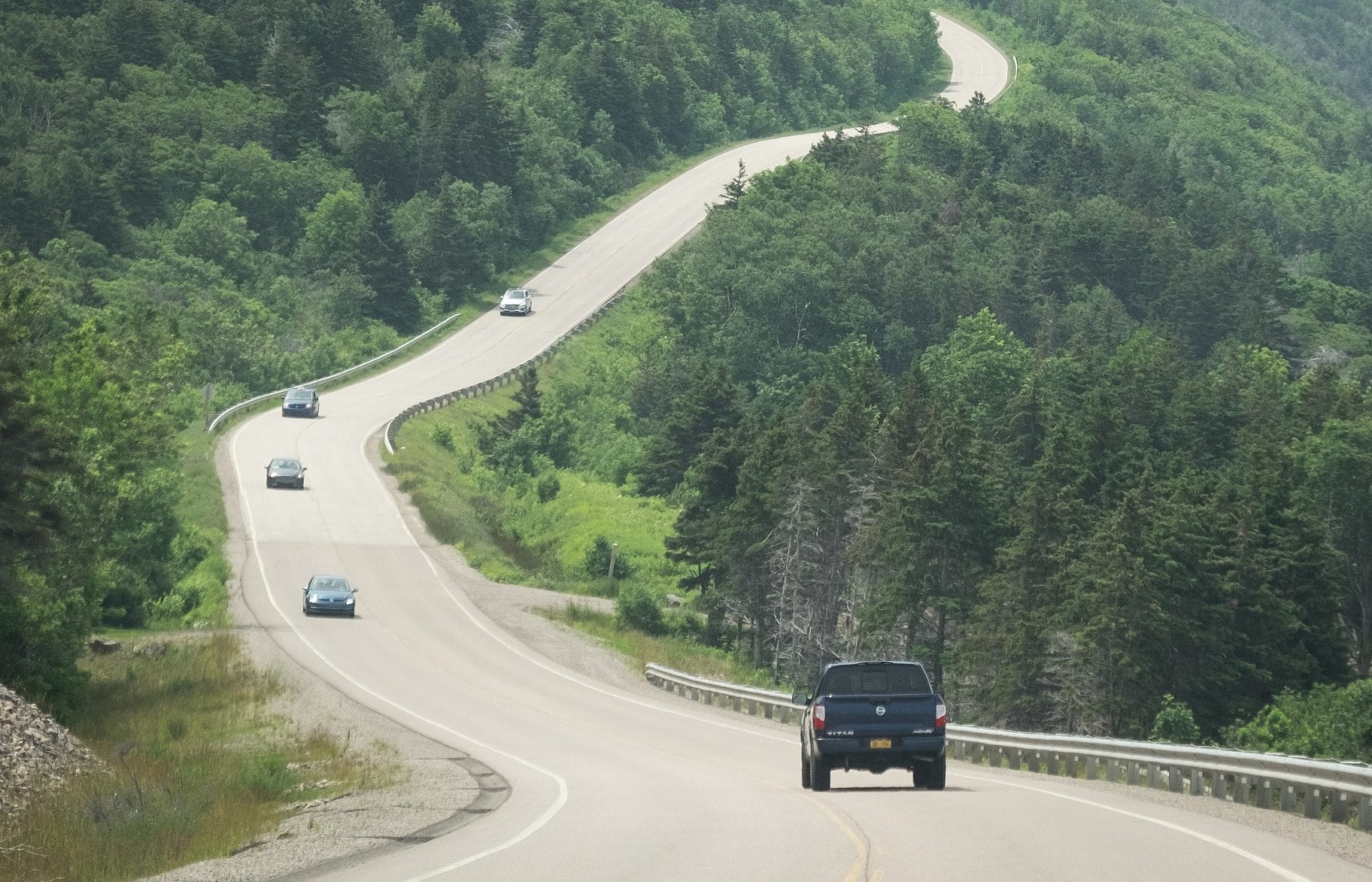 Day Three on the Cabot Trail: Chéticamp to Dingwall
Before you hit the road, know that today will be the most rural part of your Cabot Trail road trip. Phone service will be its weakest along this part of the route, and there won't be a lot of dining options. It's best to plan ahead and double-check for opening days — don't leave anything until the last minute! You may want to make your dinner reservation in advance.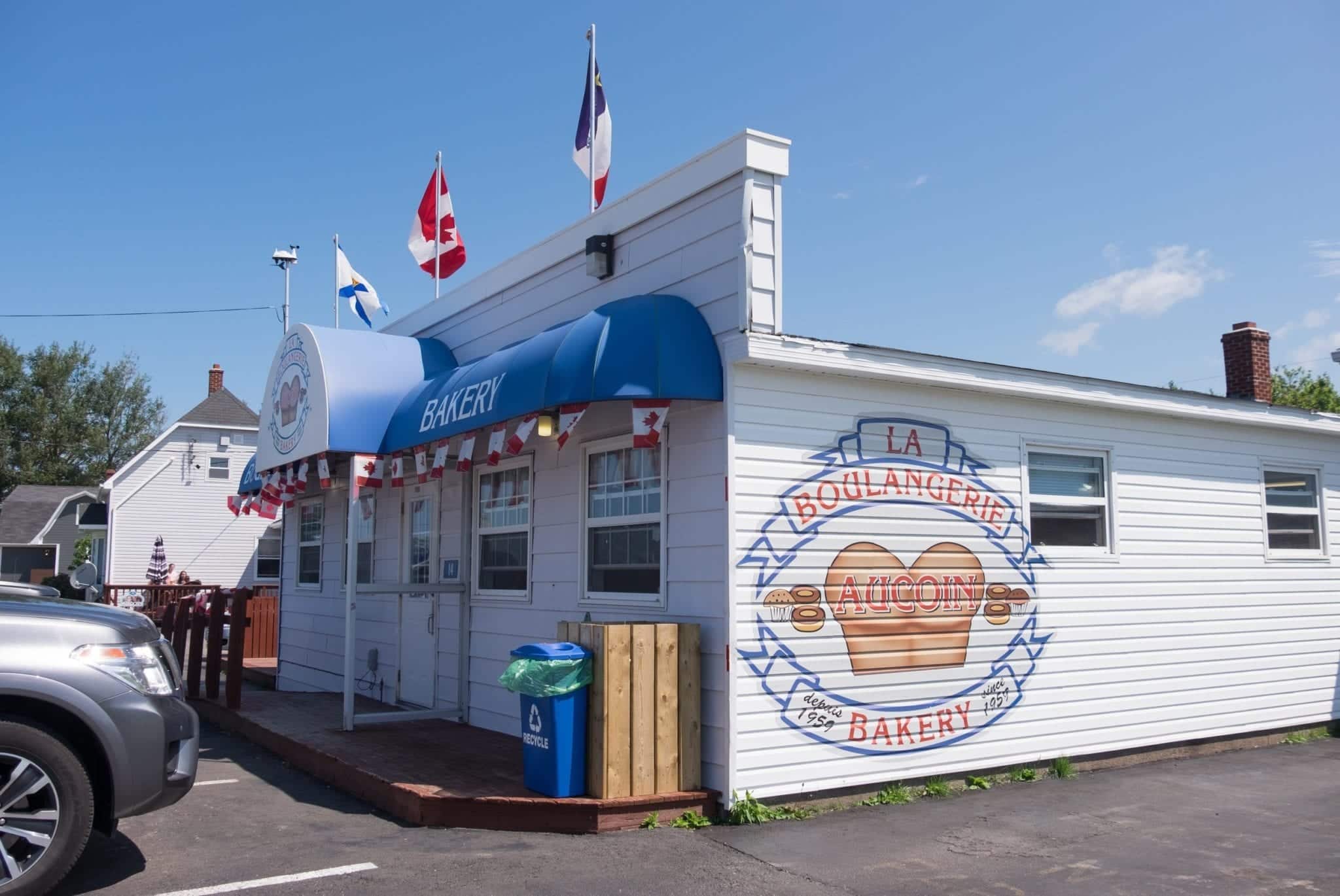 In the morning, stop at Aucoin Bakery. Aucoin Bakery is a huge source of local pride for Chéticamp! Everyone raves about it. Silver Linings Inn uses Aucoin Bakery bread for their breakfast. Learn to Lobster Boil uses Aucoin Bakery rolls for their dinners. Nearly every local we met recommended that we stop here.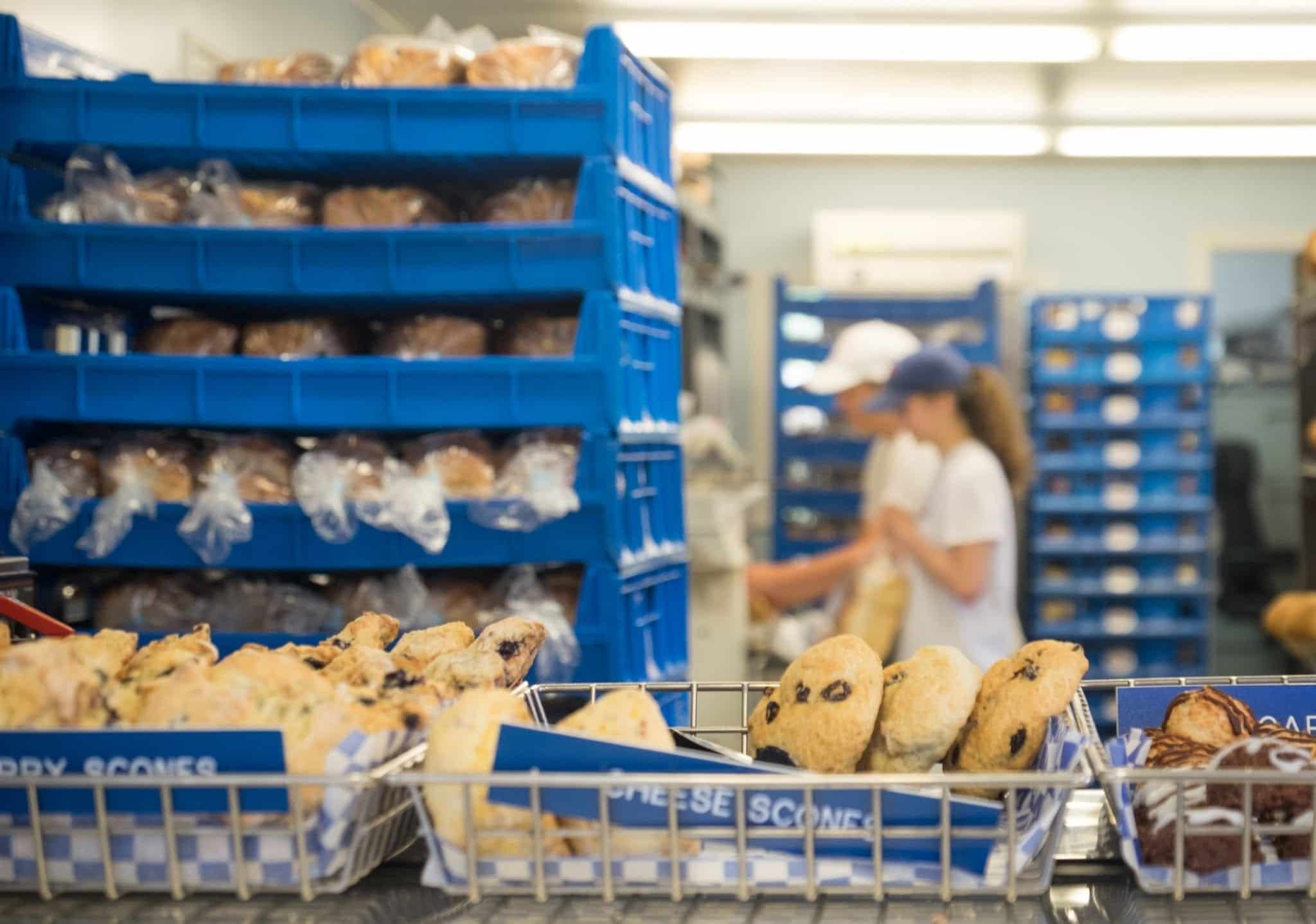 We grabbed some cinnamon buns and oatcakes — both delicious. Cailin was sampling oatcakes, a Nova Scotian delicacy, throughout Cape Breton, and we found that Aucoin Bakery had the largest and softest oatcakes of all.
Aucoin Bakery is small — there is almost no seating. It's a better spot for picking up pastries and taking back to wherever you're staying — or even on a picnic in the national park!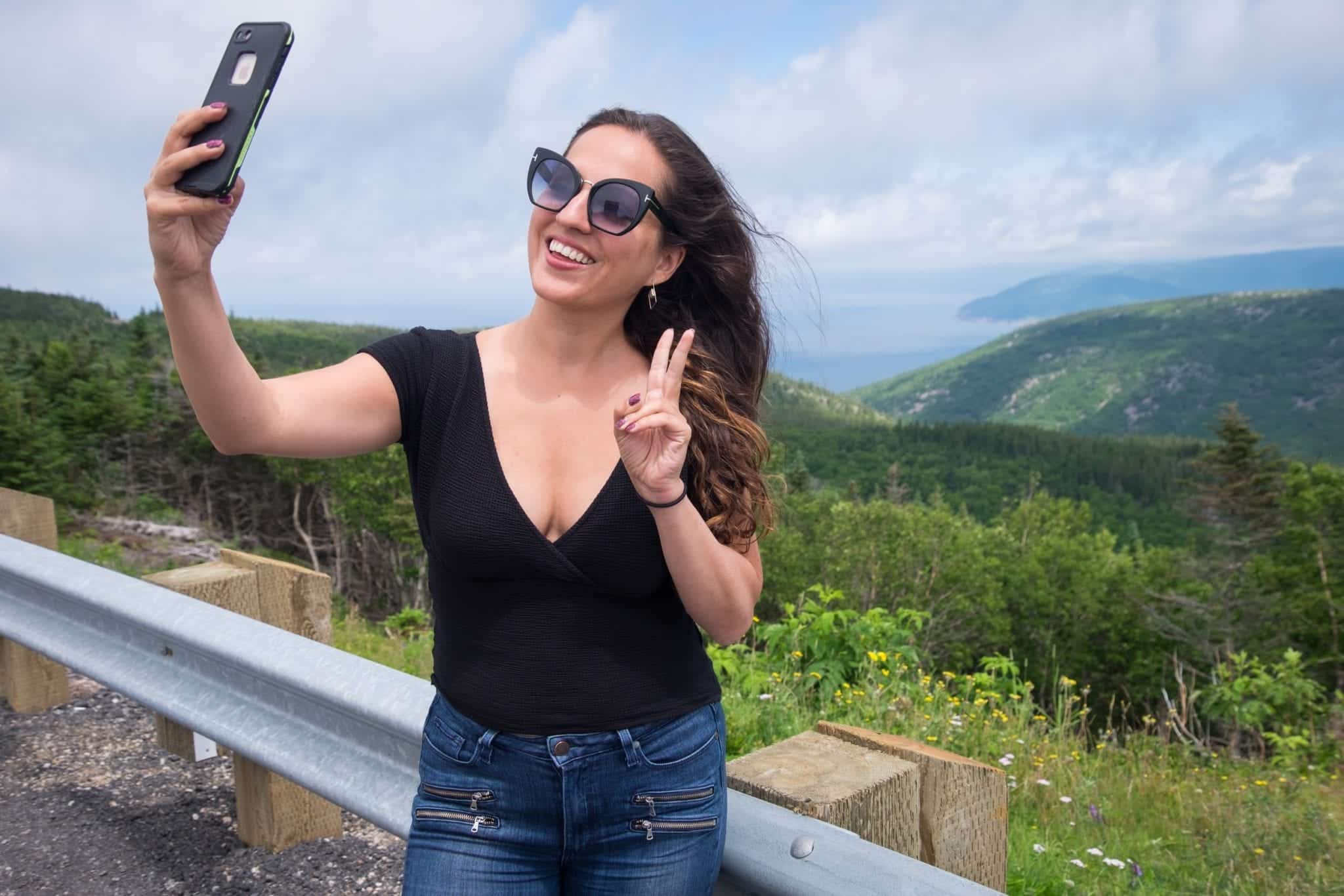 Next, drive through Cape Breton Highlands National Park. This is a beautiful day of driving, and the Cabot Trail will take you through most of the park. There are lots of viewpoints and hiking trails just off the highway, but it's nice just for driving through.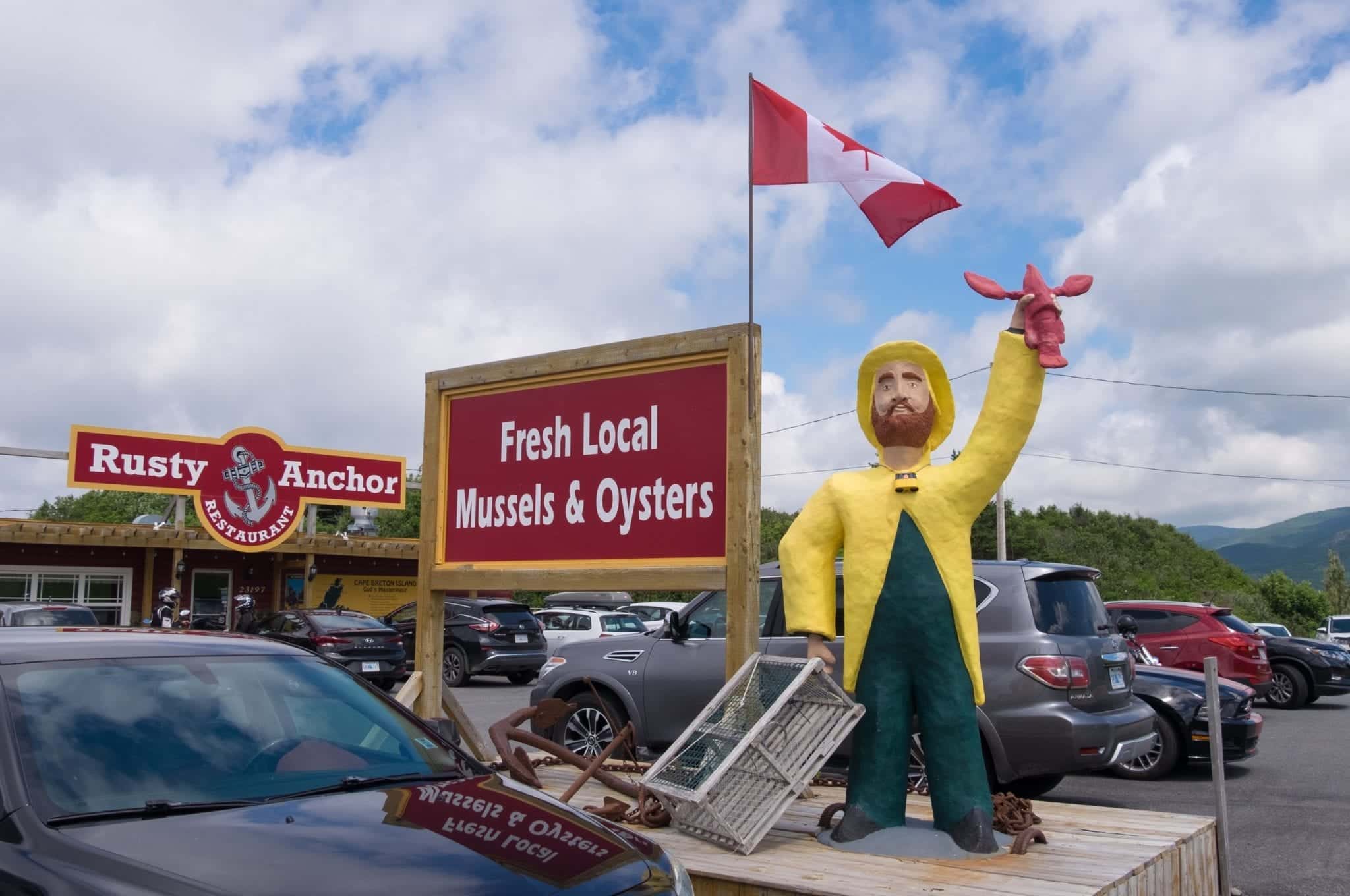 Have lunch at the Rusty Anchor in Pleasant Bay. With its jaunty fisherman waving you in with a lobster, the Rusty Anchor is a quintessential road trip stop! They're especially known for their mussels and oysters. I sampled both and they were terrific!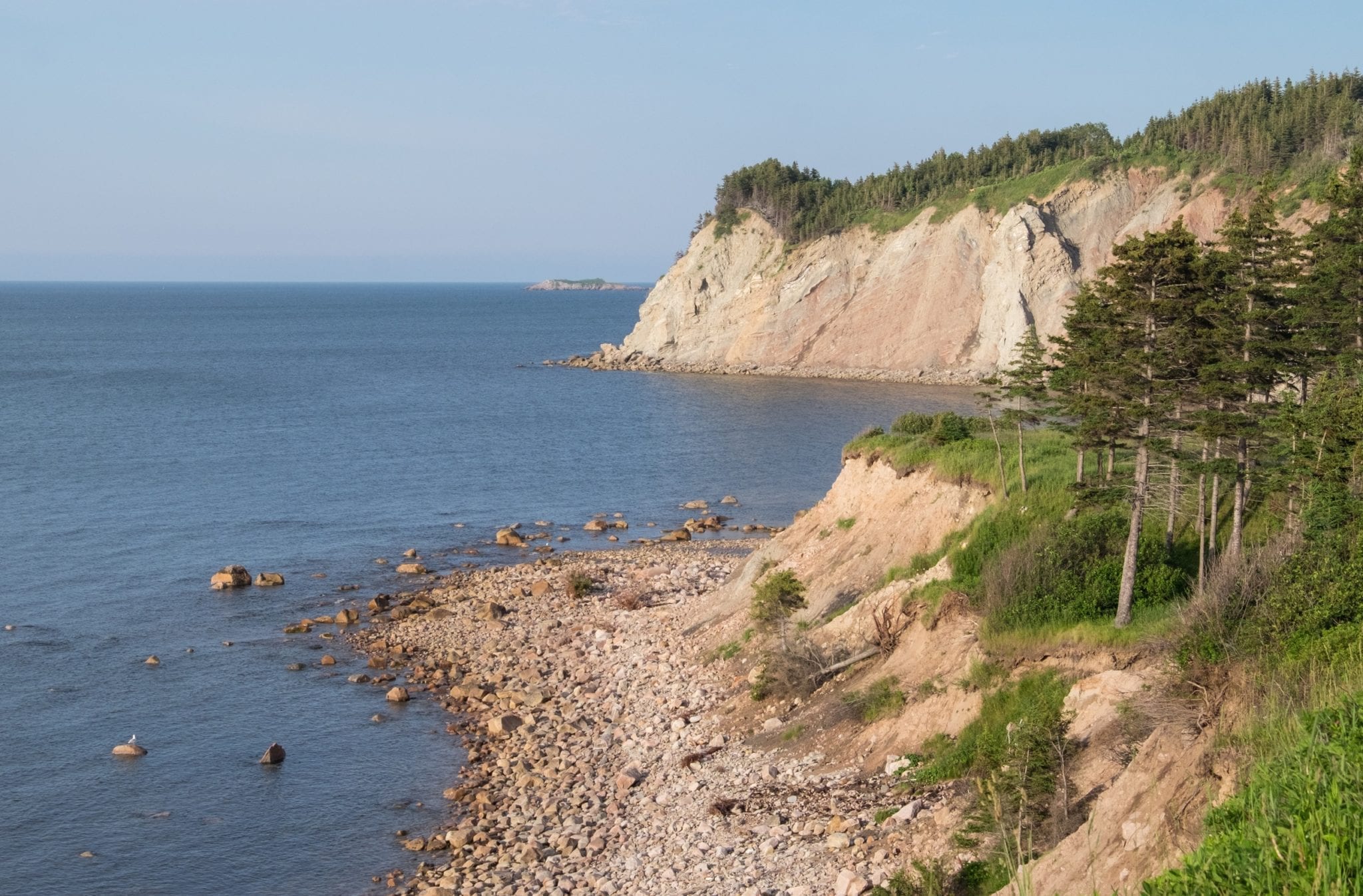 Drive around and explore the local area. We checked into our accommodation at the Blue Bayou (see more on that below) and had lots of time to explore. This is a great area for getting off the Cabot Trail and exploring. If you have time, you can drive all the way to hilariously named Meat Cove, near the northern tip of Cape Breton. It's about a 45-minute drive each way. We stayed close by and checked out White Point, including the Normandy-esque white cliffs above. There is a hiking trail here too.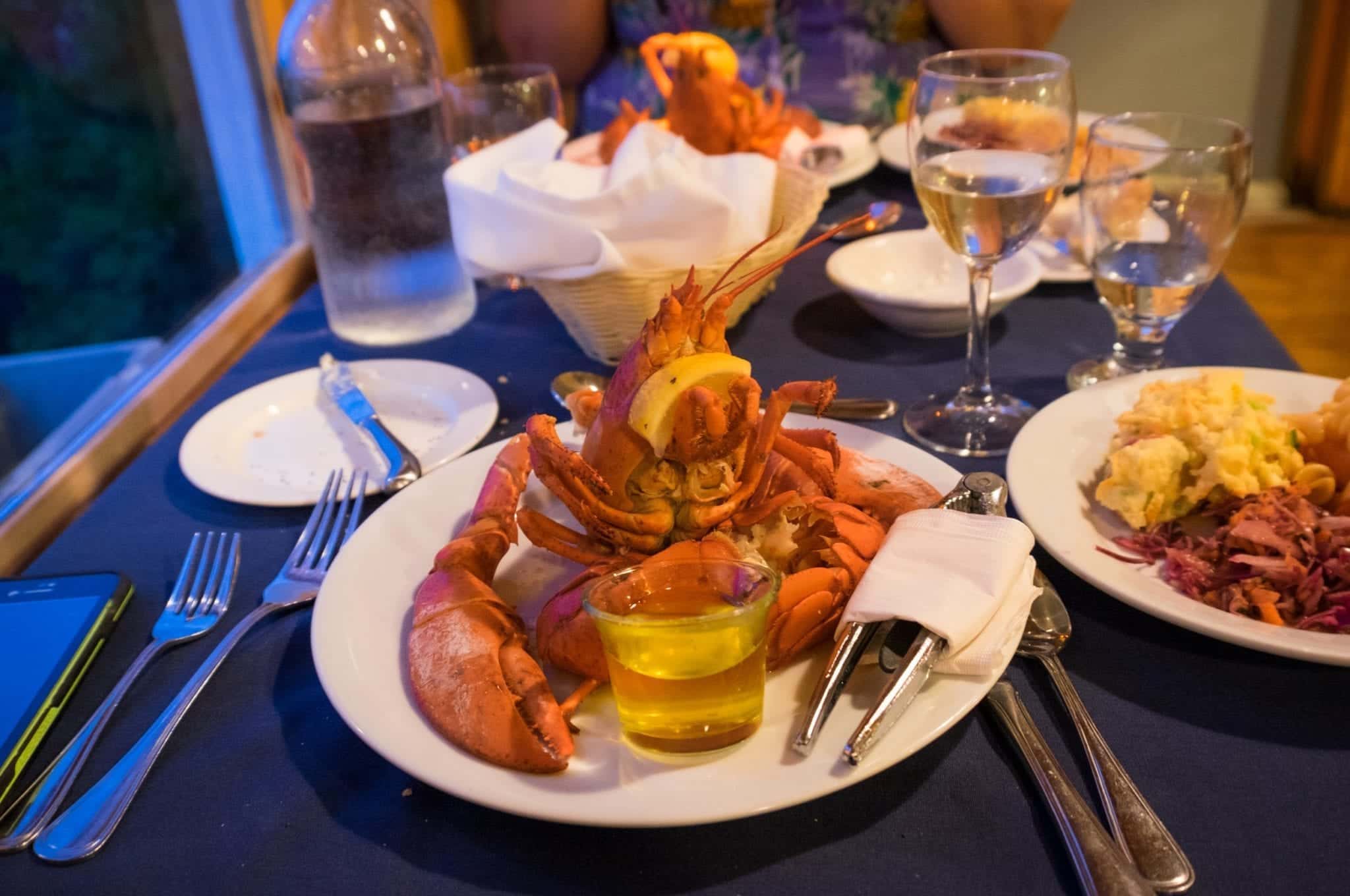 Have dinner at The Markland. The Markland is one of the more upscale hotels in the area. We were originally supposed to eat at at restaurant that was closed, and this was one of few options in the area. They were booked up and we had to wait about an hour, but it was worth it to have YET ANOTHER DELICIOUS WHOLE LOBSTER and some lovely strawberry rhubarb pie.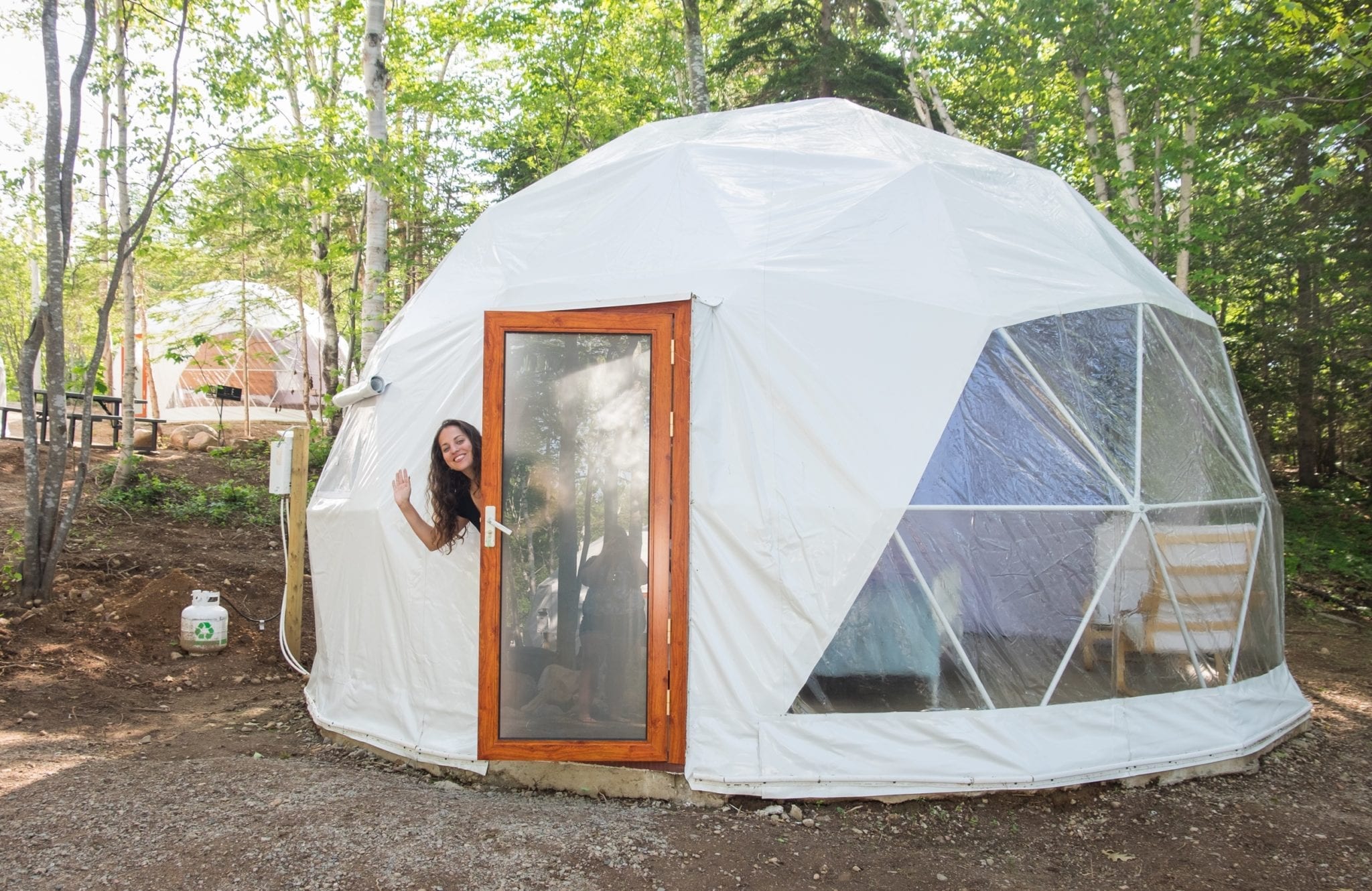 Where to Stay in Dingwall: Blue Bayou Geodesic Domes
Ever wanted to sleep in a dome? Here's your chance! The Blue Bayou Resort is a campground near Dingwall on the eastern shore of Cape Breton, right on the ocean. Rather than tents, this campground is filled with geodesic domes (as well as three tipis). Each dome has electricity, hot water, and a private bathroom with a toilet, sink, and shower. Each contains two queen beds or a king bed. Domes from $180 CAD ($135 USD).
After I posted this, the most popular question I got asked was "Does it get hot?" During the day, it gets quite warm inside and smells a bit of plastic — but opening the screened-in windows makes a big difference. At night, it's much cooler, and you'll be ready to bundle underneath the covers. There is plenty of hot water, and you can easily get privacy by pulling down the curtains.
Do note that this is not a luxury glamping experience — it's cool-looking, but simple. As someone who grew up camping and took her first steps in a tent, I thought it was a fun place to stay for a night; if you require a higher level of luxury, this place is going to be too basic for you. I loved waking up to the sound of raindrops the next day.
Check out more hotels near Dingwall here.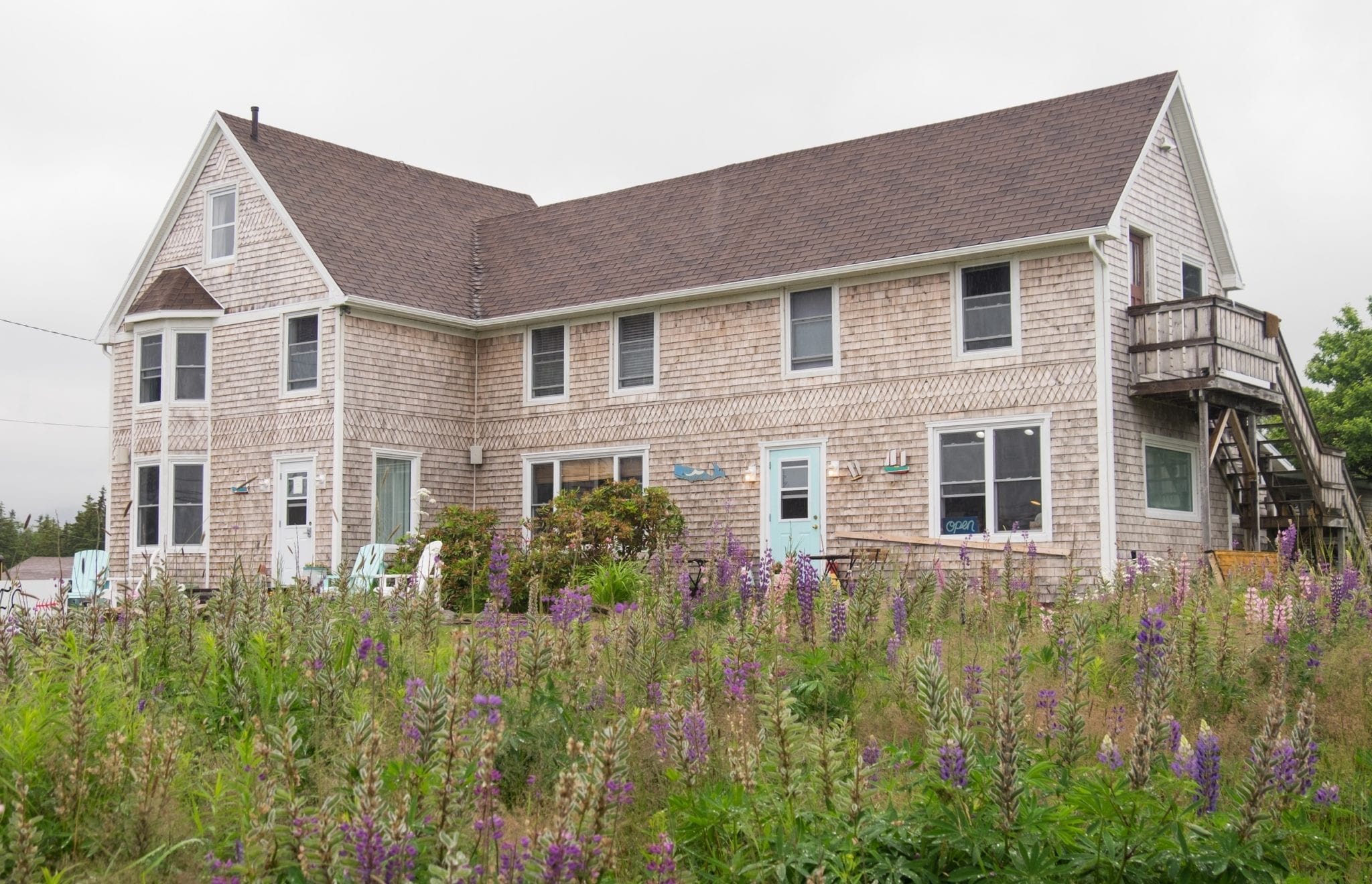 Day Four on the Cabot Trail: Dingwall to Baddeck
On this day, everything changes. You've left the Acadian, French-flavored part of Cape Breton and have entered the Celtic part of the island, complete with tartans and bagpipes and kilts. It feels so different from where you've been, but that's the magic of the Cabot Trail. On this day we dealt with a lot of rain, but still managed to have a great time.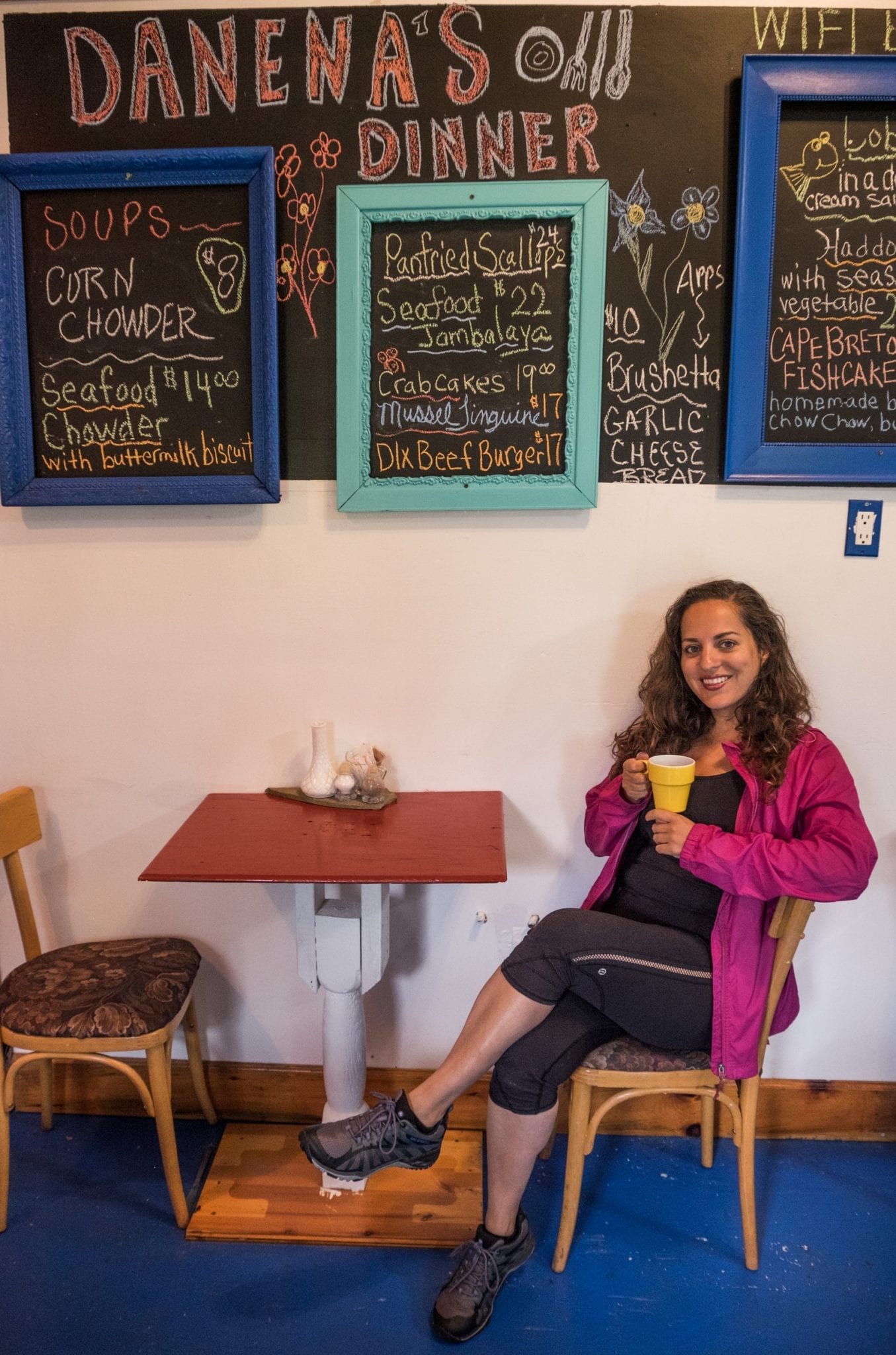 Get breakfast at Danena's Bakery and Bistro. Danena's is a small diner that doubles as a thrift shop. You can even eat amidst the piles of stuff for sale! We enjoyed a hearty Canadian breakfast here, perfect on a rainy day.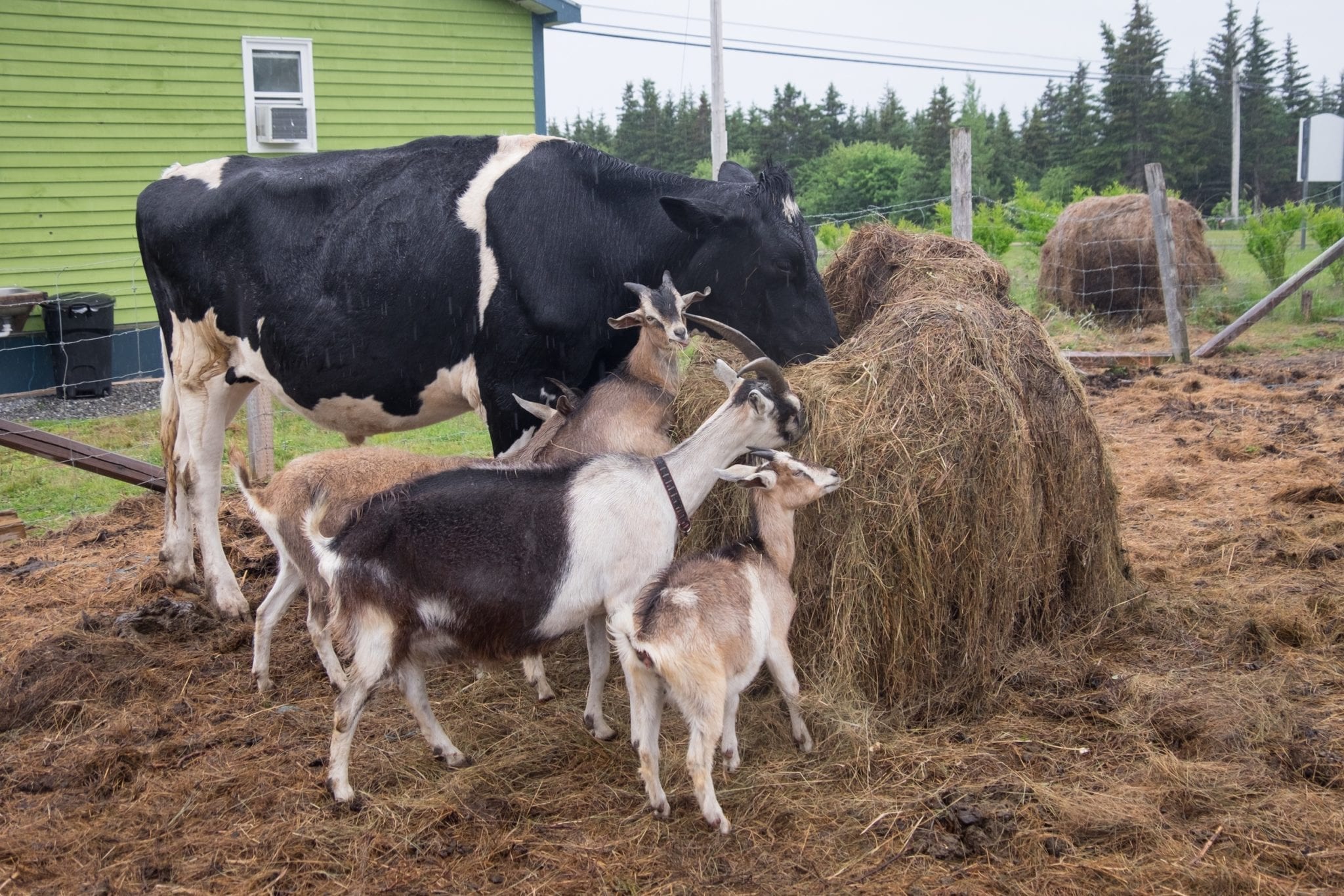 Explore the shops, cafes, and sights along the Cabot Trail. Since it was a rainy day, it seemed like a good opportunity to check out some of the local businesses! Luckily, the town of Ingonish was filled with lots of places to see, and we had been given suggestions from our new friends in Cape Breton.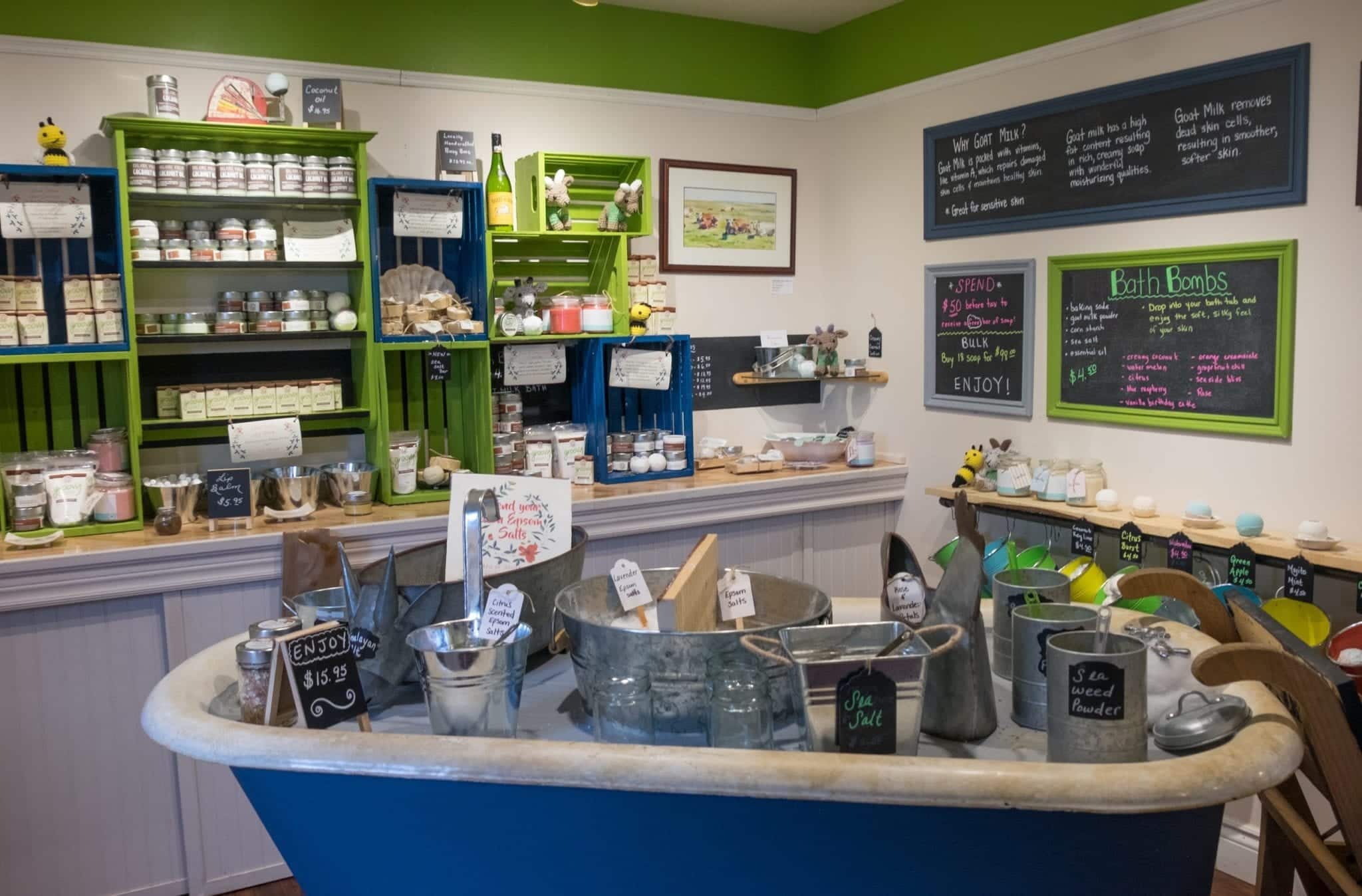 Groovy Goat is a goat farm and soap company. Their products are made from goat milk, which makes them a good option for sensitive skin. You can buy all kinds of bath and skincare products here, and they operate a petting zoo when the weather is nicer.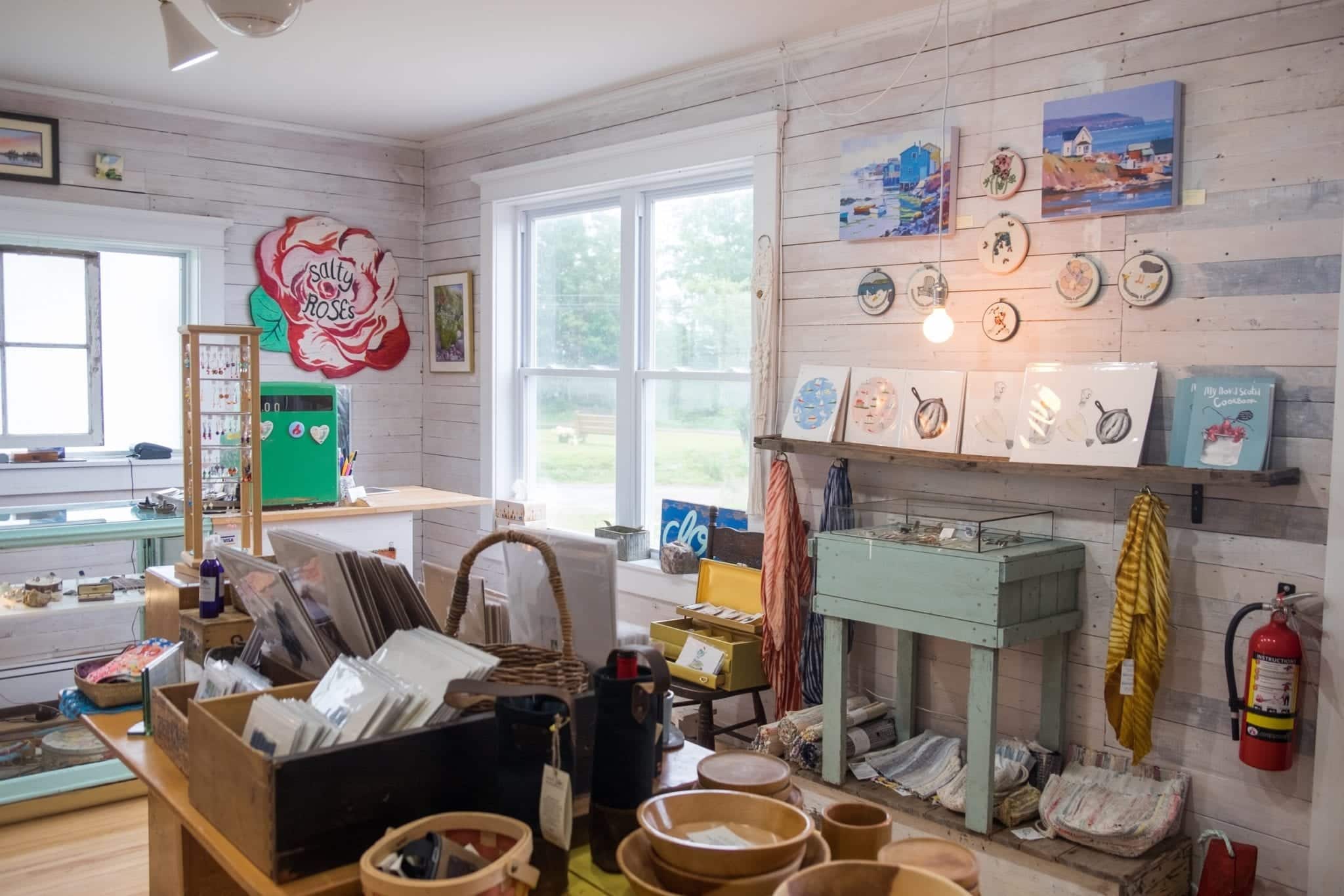 Salty Rose's is a beautiful shop featuring work by Nova Scotia artists. If I had been in a souvenir-buying mood (or house-furnishing mood), I would have bought everything from here. While you see a lot of folk art on the Cabot Trail, the selection here is more refined and modern.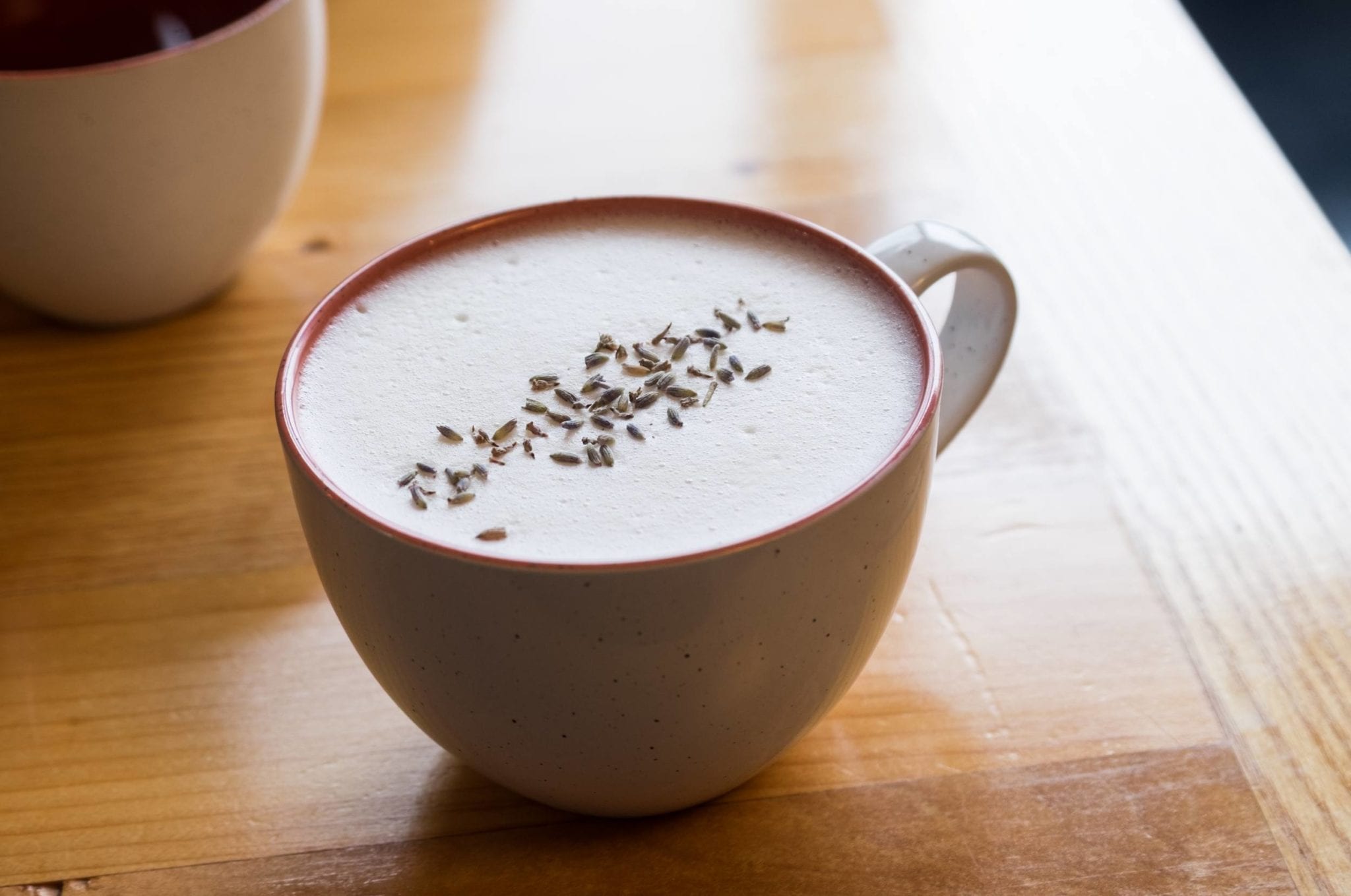 Attached to Salty Rose's is the Periwinkle Cafe. A great place to relax with a hot beverage. They actually had lavender lattes and lavender London Fogs on the menu! I had a lavender latte, but be forewarned — they serve it with lavender seeds on top. I recommend removing the seeds or asking for no seeds on top — they taste too much like soap to me.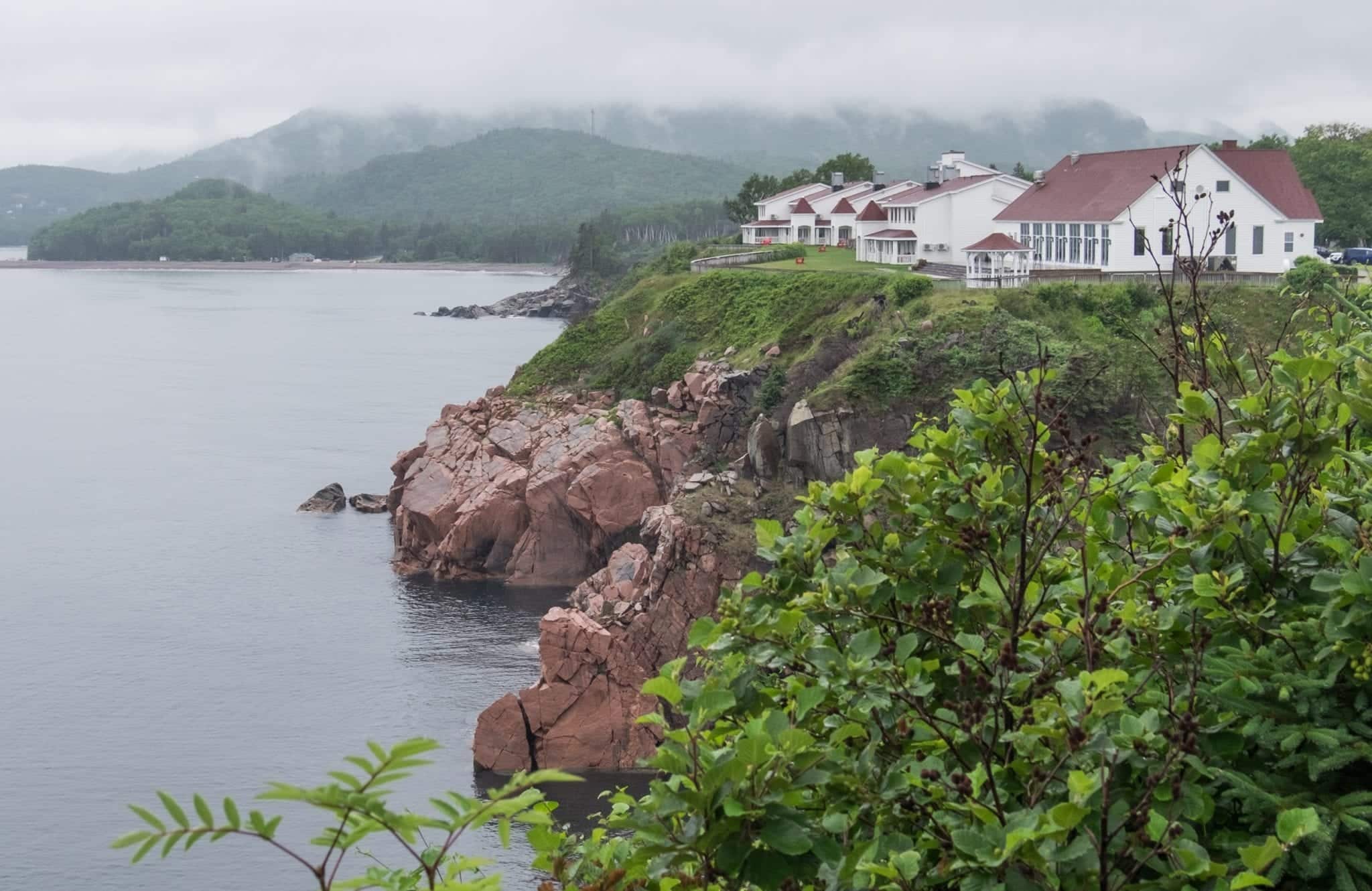 Stop at Keltic Lodge for lunch. The Keltic Lodge is home to some of the most high-end accommodation in the region and the best golf course in Cape Breton. It's also one of the best Instagram spots on the Cabot Trail.
The restaurant features classic Canadian and American dishes — nothing too culturally significant, but a nice solid option.
Go whale watching with Ingonish Whale Tours. We were supposed to go whale watching, but it ended up being too rainy. But if you're eager to see whales, Ingonish is one of the best spots for whale watching in Nova Scotia.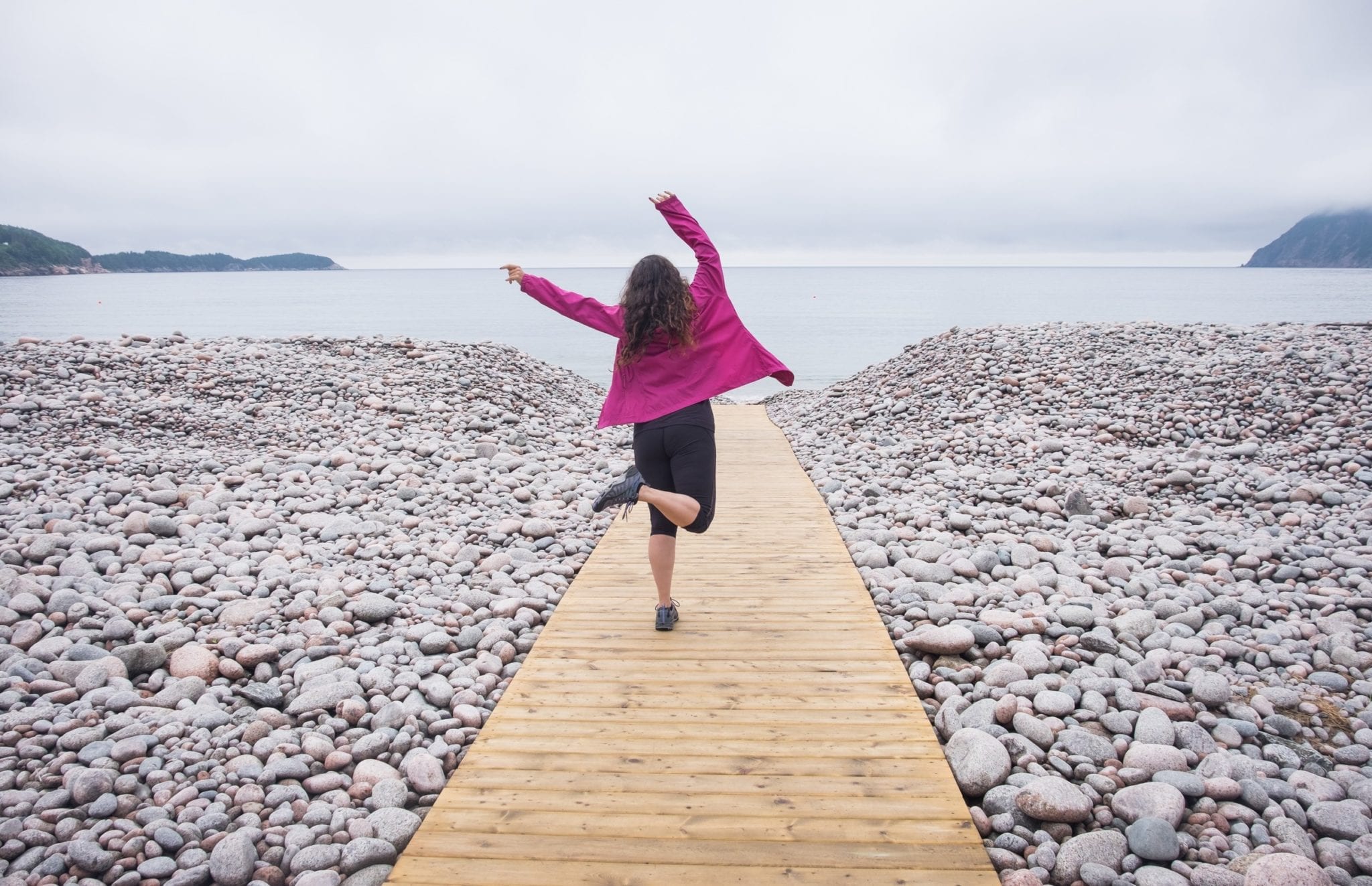 Check out Ingonish Beach. This beach is rocky until you get to the shoreline, where it's filled with soft sand. It's great on a beautiful day, but a moody day will get you some ethereal photos! What I really liked was the sound the water made as it ran over the rocks — such a gentle whisper. Time your visit during high tide if you want to hear it.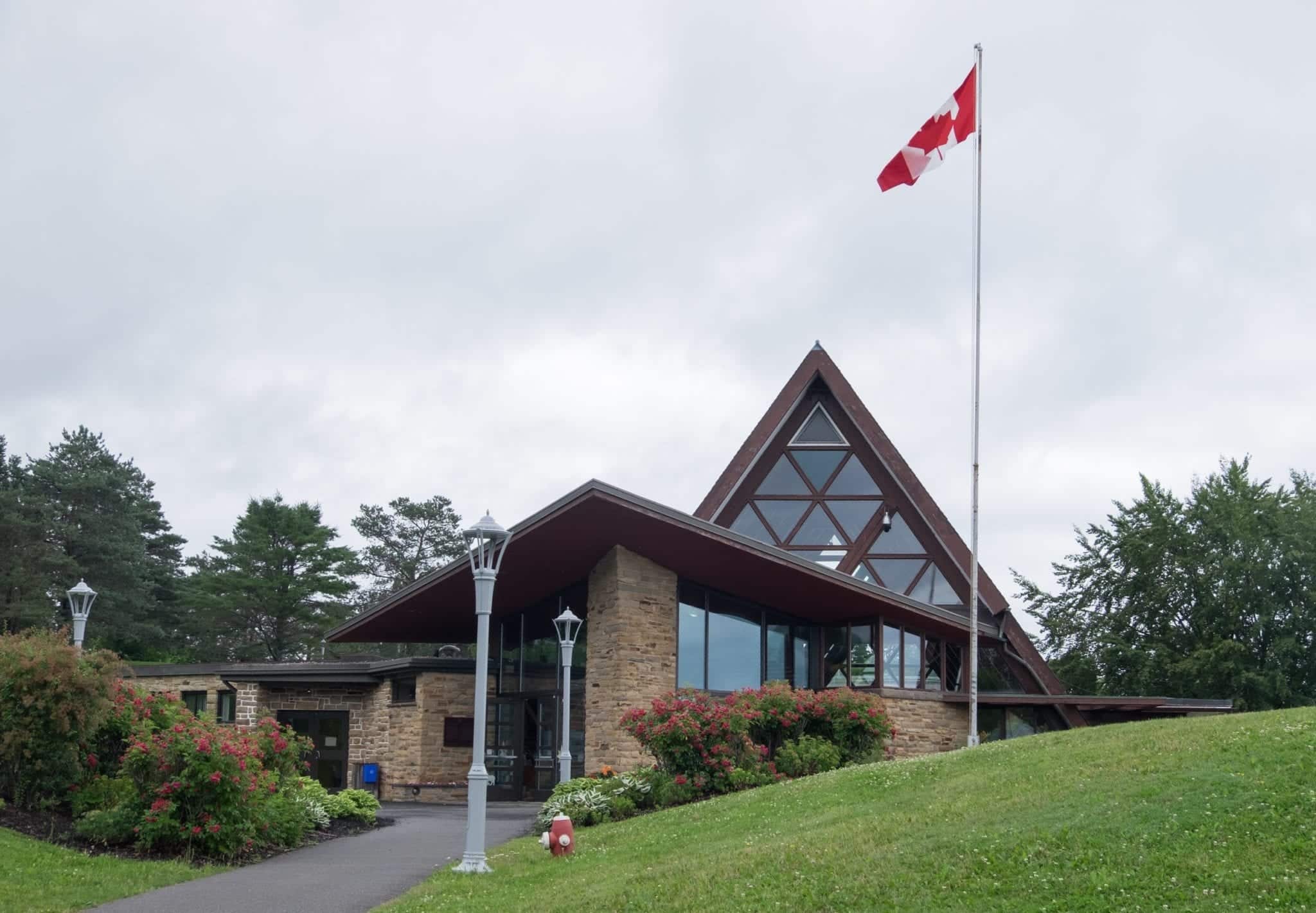 Head to Baddeck and visit the Alexander Graham Bell National Historic Site. While I didn't get to this museum on our trip, I've heard so many good things, including from Cailin — and small, tightly focused museums are my favorites!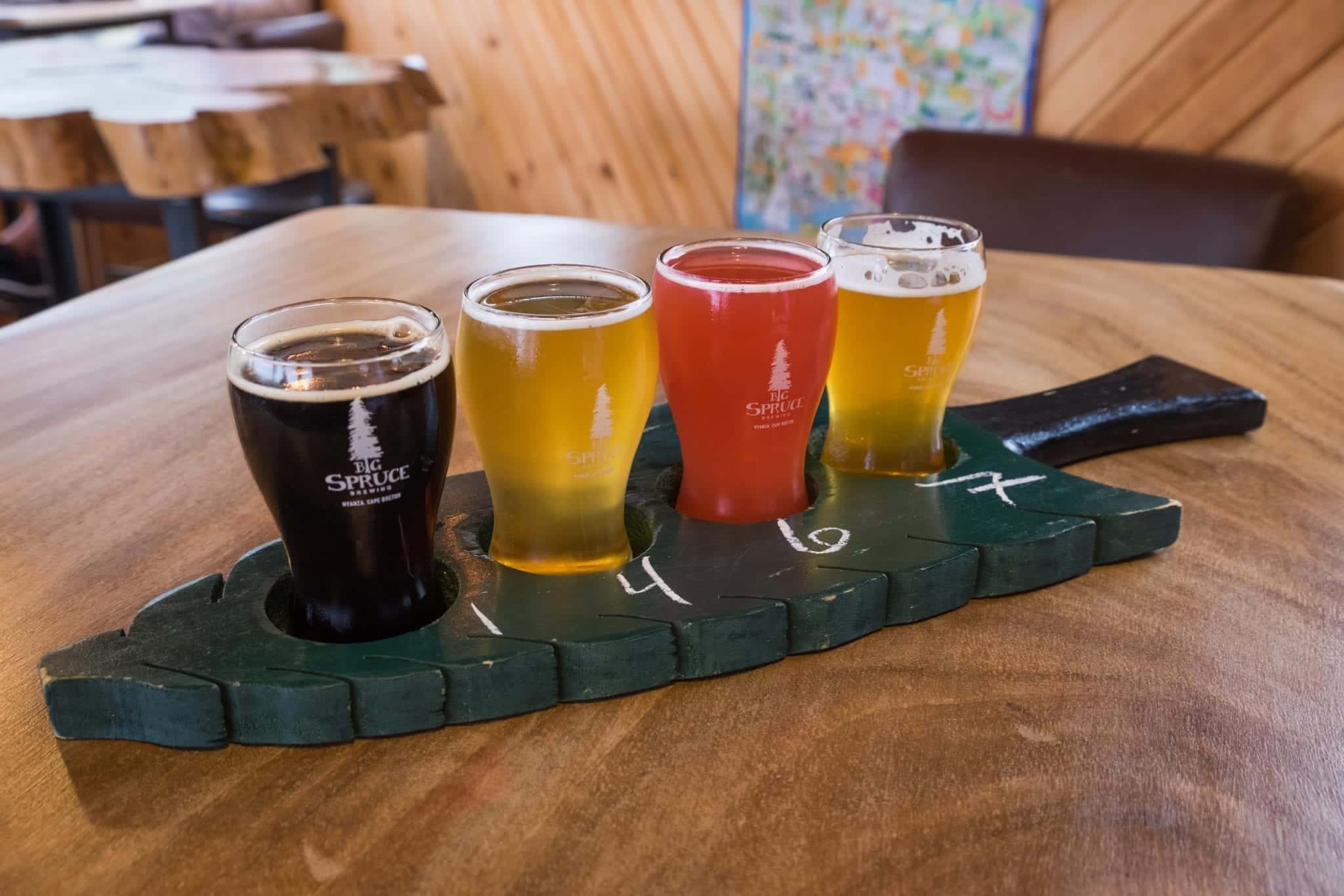 Try some beers at Big Spruce Brewing. Breweries are popping up all over Nova Scotia, and Big Spruce is a nice one to visit if you're in Baddeck. It's a cozy setting and they have board games. My favorite, not surprisingly, was the fruity strawberry beer…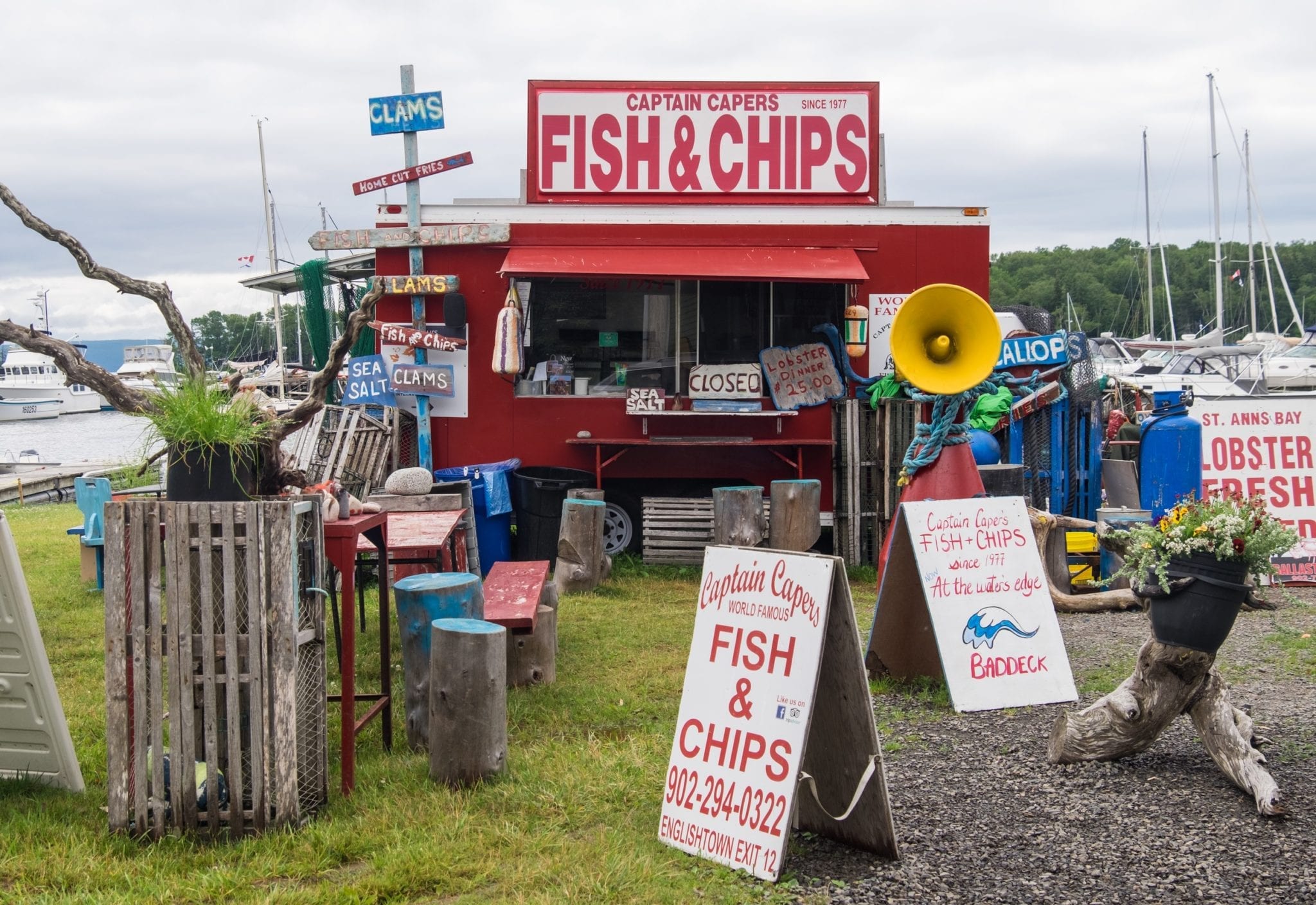 Explore Baddeck. Or leave your exploring to the next morning, if you'd like. It's a small but very pretty town.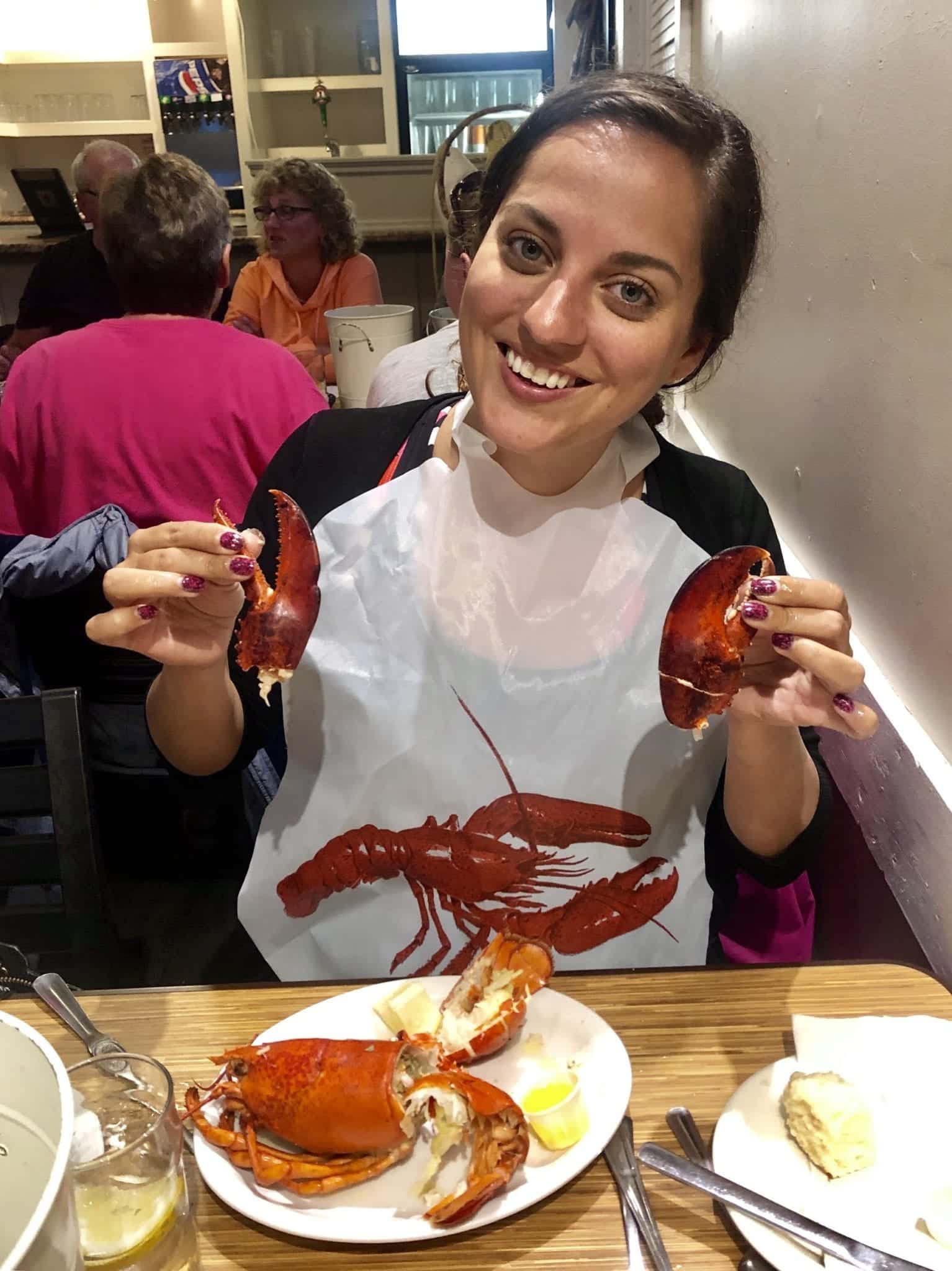 Have dinner at Lobster Suppers Baddeck. This fun, friendly, and casual restaurant featured the best deal of our trip. You can choose between whole lobster (obviously), Atlantic salmon, Cape Breton snow crab, or strip loin steak, and you get that, plus unlimited mussels, plus unlimited seafood chowder, plus a dessert, plus a nonalcoholic beverage, plus tea or coffee, for $50 CAD ($38 USD).
Hell yeah, I jumped in. Then I quickly realized that they give you so many mussels that you probably won't want to order a second serving!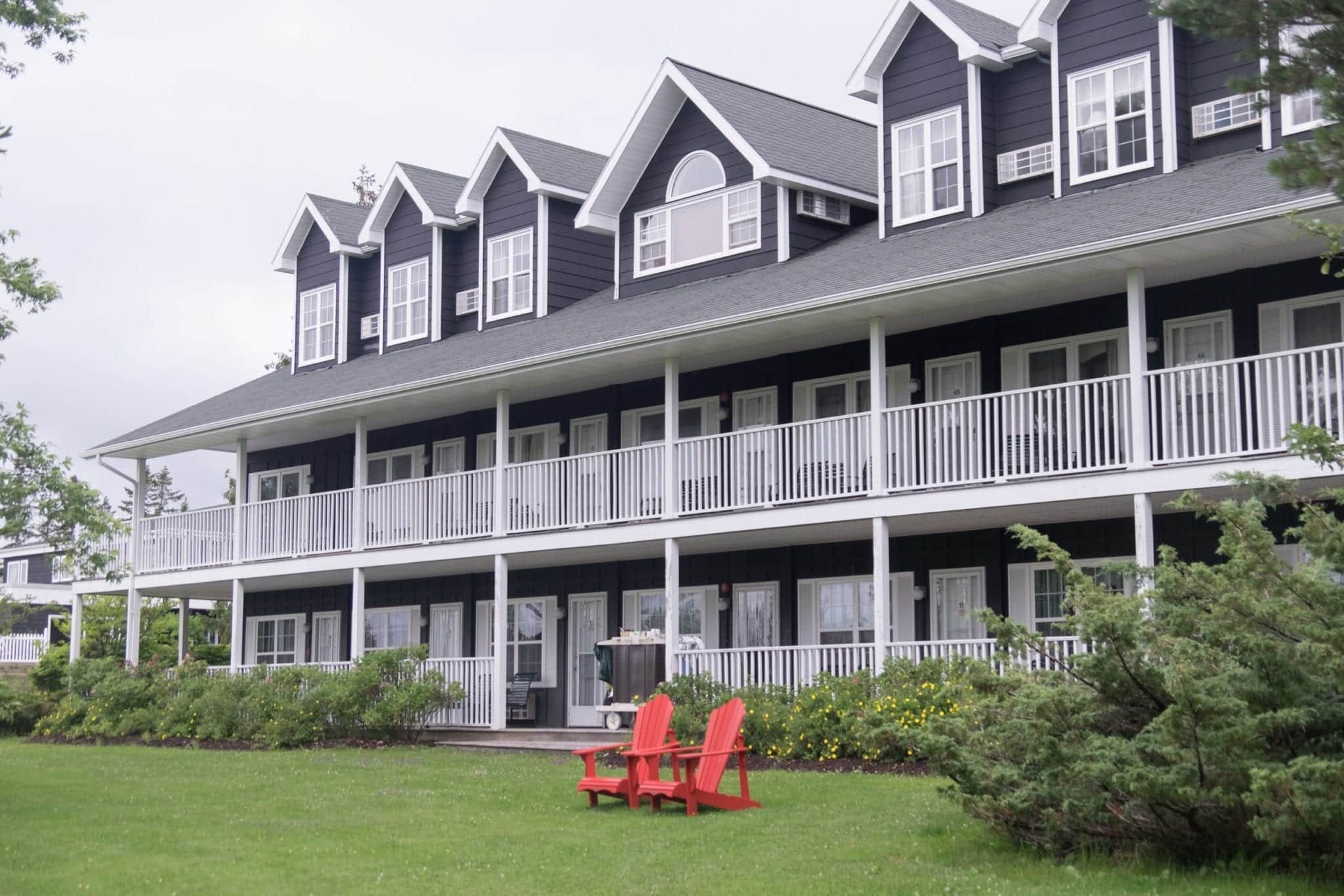 Where to Stay in Baddeck: Inverary Resort
Our final accommodation, the Inverary Resort, was beautiful to look at — all dark wood with white trim and pops of color with Canada's symbolic red chairs out in the sitting areas. We had a room with two queens for our final night. Rates from $159 CAD ($120 USD).
We had a comfortable sleep and a nice hot breakfast the next morning. And the grounds are absolutely beautiful — so peaceful. I wish I had more time to relax in one of those chairs with a book.
One caveat: originally we were given a room on the same floor as the pool and sauna, and the room reeked of mold and had a ground-floor window that didn't close or lock. The staff moved us to another room, but if you want to stay here, I would request a room not on the floor with the pool and sauna.
Check out more hotels in Baddeck here.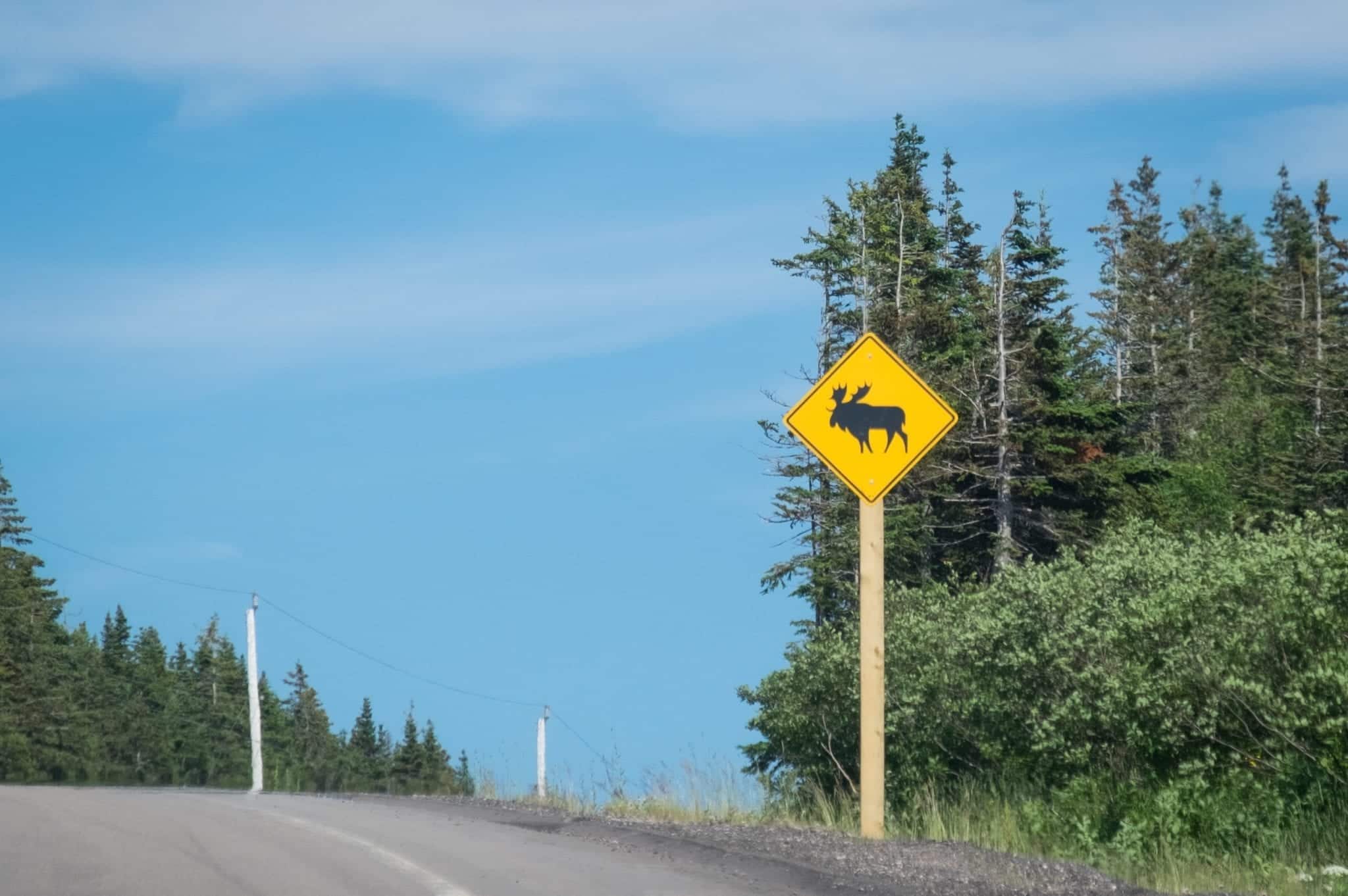 Tips for Driving the Cabot Trail
Brake for moose. Keep an eye out for wildlife constantly, and if you see a moose, hit the breaks. Hitting a moose will likely kill you, as they are tall, weigh a ton, and will fall onto your windshield and crush you. It's much more dangerous than hitting a deer.
I grew up in Massachusetts and camped in New Hampshire every summer, so "Brake for Moose" has been driven into my head since birth. (Even some guys at my theater camp were in a band called Brake for Moose.) This isn't common knowledge if you're not from an area with moose, so please take it seriously. Moose tend to congregate around the Skyline Trail.
Keep an eye out for cyclists and motorcyclists. Especially be cautious when going around those hairpin turns in the eastern part of Cape Breton Highlands National Park. The Cabot Trail is a very popular spot for motorcyclists especially (and from what I noticed, French-speaking motorcyclists).
Get a Canadian SIM card. Having a phone signal will make your Cape Breton road trip much easier, especially when you're navigating with Google Maps. I got a SIM card and data plan from Lucky Mobile. Signal is good in the larger towns but often drops out in more rural areas.
Internet is poor in this part of Nova Scotia. Phone signal is weak and often nonexistent, especially in the national park; some places (and hotels) have wifi with very limited reach. Basically, if you're not within 20 feet of the router, the wifi probably won't reach you.
If you're working from the road, I recommend taking time off from work while you're in Cape Breton. If you must work, I recommend bringing a wifi extender.
Prepare for rain — and don't let it ruin your trip. You could luck out and have a perfectly sunny Cabot Trail road trip — or you could get a lot of rain. If you're like us, you could have a mix of sunshine and rain.
But rain isn't a deal-breaker. Cailin and I used rain as an opportunity to check out cool local businesses in the area — like the Salty Rose in Ingonish. You'll always find interesting places to explore.
Get travel insurance. Travel insurance is vital for every trip, even in a country that has great healthcare like Canada. If you get injured while hiking, if you get robbed, or even if you have to be flown home, travel insurance will protect you from financial ruin. I use and recommend World Nomads for trips to Canada.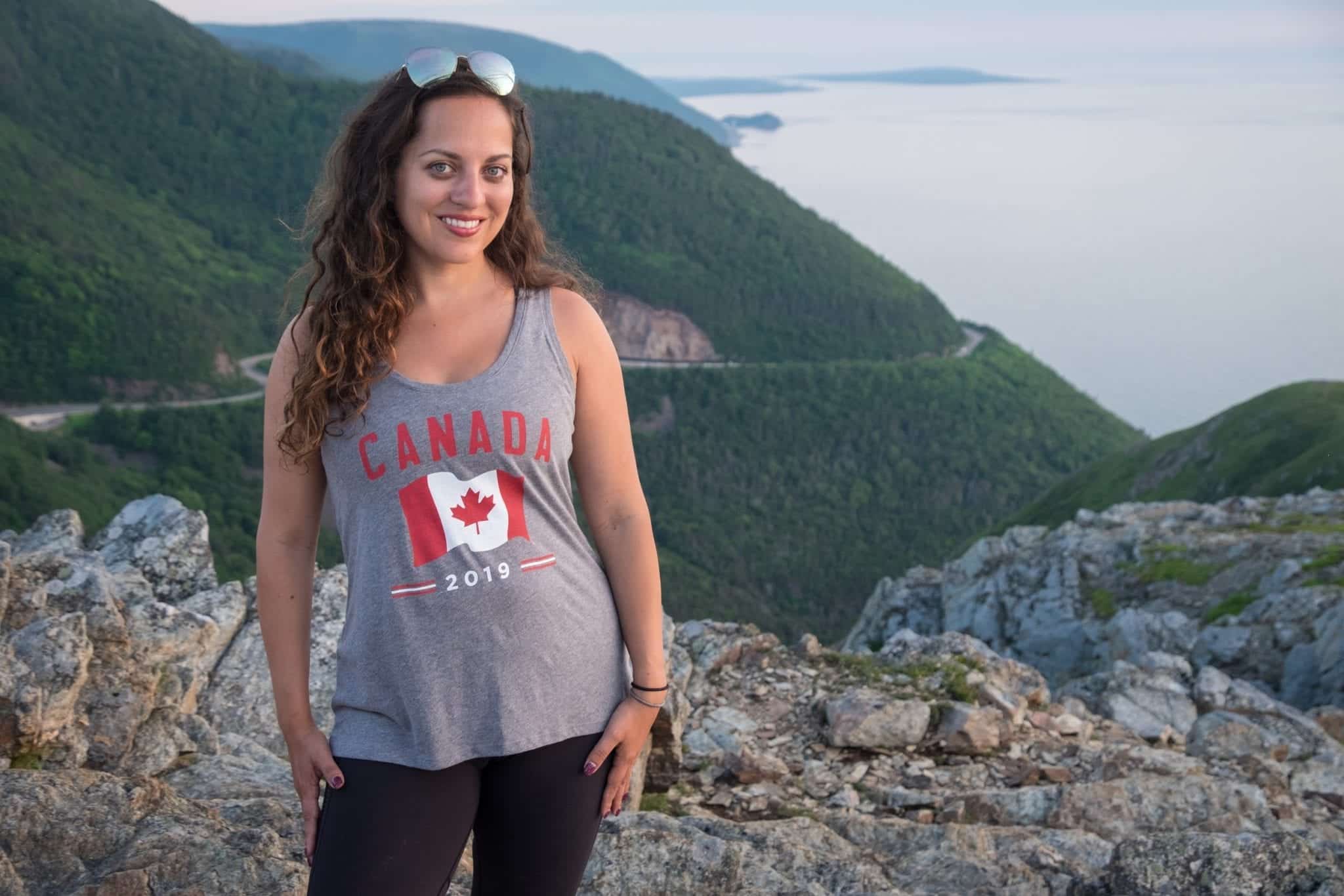 Best Instagram Spots on the Cabot Trail
So much of the Cabot Trail is beautiful — there are hundreds if not thousands of places where you can take beautiful shots. But if you're looking for the VERY best spots for Instagram photos, here are my recommendations:
1. The Skyline Trail in Cape Breton Highlands National Park. My pick for the absolute best Instagram spot on the Cabot Trail, if not Cape Breton. There are so many interesting shots you can get at the end of the trail, overlooking the mountains. Get the best light by going at sunset.
2. Curvy roads in Cape Breton Highlands National Park. Most of the cartoon-like curvy roads are along the 30-minute drive between the entrance at Chéticamp and the Skyline Trail. Don't pull over unless it's in a designated parking area where you can pull over safely.
3. Keltic Lodge in Ingonish. The white cottages perched atop the red-brown cliffs are spectacular, whether it's sunny or rainy. You can get them from another angle (albeit from a distance) at Ingonish Beach.
4. Between the rocks at Ingonish Beach. There is a boardwalk that leads to the beach through high piles of rocks. The symmetry makes for a great Moses-in-the-Red-Sea pose. The rocks make a great texture, too.
5. The moose ears in Englishtown. Just for laughs! They're right outside The Clucking Hen Cafe and Bakery.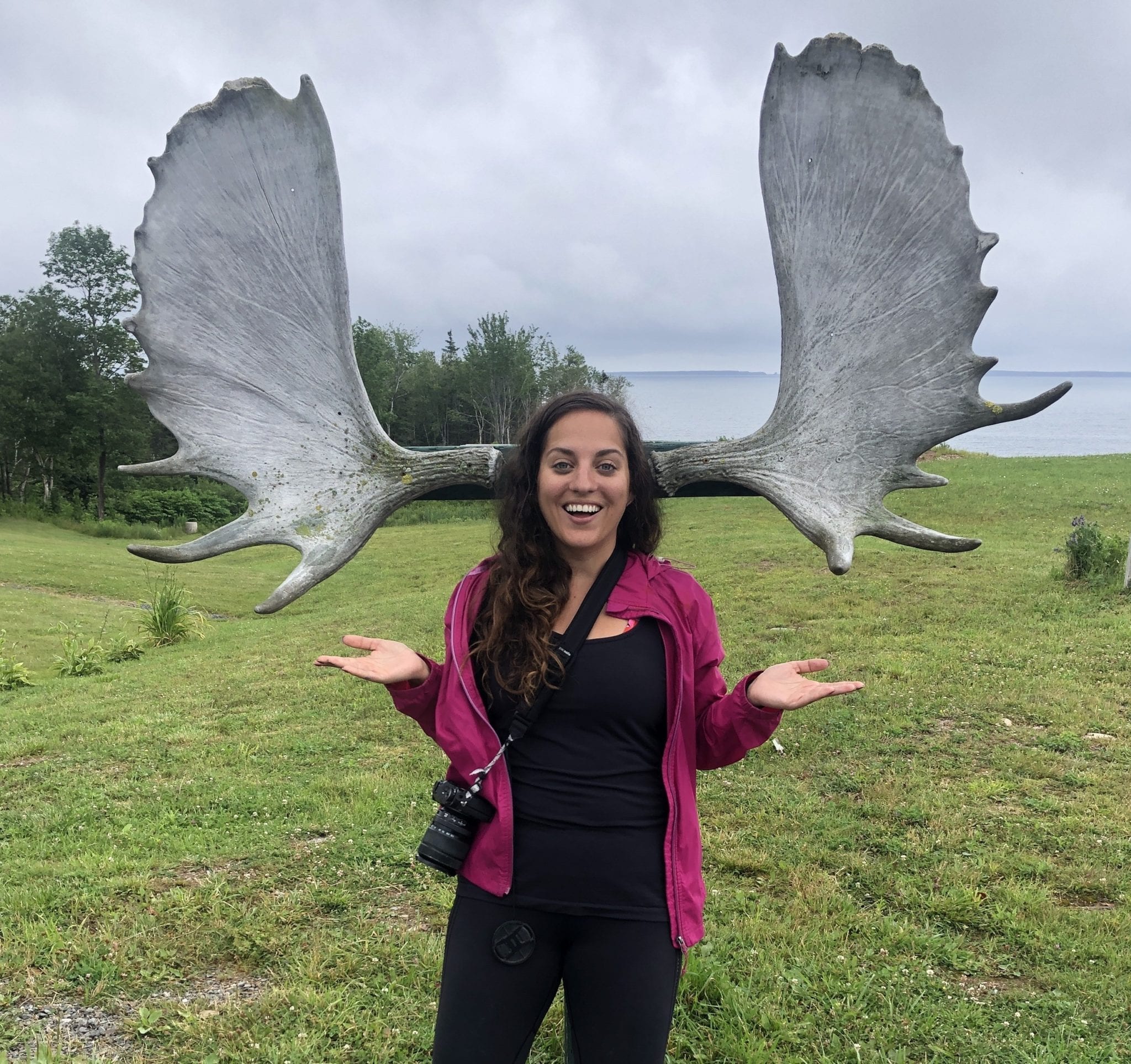 What to Pack for a Cape Breton Road Trip
If you're traveling to Nova Scotia during the summer, pack for warm days and cool nights, with extra layers like fleeces and leggings. The weather can change frequently, and almost every day I wore some kind of cardigan, long-sleeved shirt or fleece on top.
Cape Breton is a very casual destination. I needed exactly ZERO nice pieces of clothing. While you might want to bring something nice to wear out in Halifax, you won't need anything upscale here.
A light hooded rain jacket. A simple windbreaker like this one is easy enough to stash in your backpack and throw on when you need it. Much better than carrying an umbrella.
Hiking gear. I usually hike in workout clothes; if you prefer something more specialized like zip-off pants, pack them. If you hike with poles, bring them. You'll want the good stuff if you're doing challenging hikes.
Hiking shoes. If you're doing the Skyline Trail, which is pretty level, you can get away with sneakers or athletic sandals; if you're doing anything more intense, you'll want hiking boots. I wore my Merrill Siren Edge Q2 Waterproof Trail Runners, which are a great hybrid between sneakers and hiking boots.
Consider a Speakeasy Travel Supply scarf. These beautiful scarves have a hidden pocket in them, which is great for holding onto valuables or cash without carrying a purse. I love these scarves (I even designed my own!) and they come in a variety of weights that work for Cape Breton.
Bathing suit. It might be a little too cold to swim in Cape Breton — or not! You never know when you'll need it, and you never know if there will be a jacuzzi somewhere.
A portable safe. This is a great way to lock up your valuables in your accommodation and I consider it the most important thing I pack.
A reusable water bottle. The water is safe to drink throughout Cape Breton and this cuts down on waste.
Insect repellant. Some of the areas get buggy, and you'll be glad to have the protection.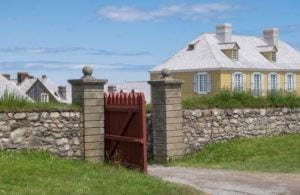 Where Else to Go in Nova Scotia?
Once you finish your road trip in Cape Breton, where do you go next? There are plenty of options!
Louisburg. Louisburg is home to a historic village in the south of Cape Breton. Historic villages aren't usually my thing, but I had a great time here (don't miss the rum tasting!) and it's definitely worth a stop if you love history.
Peace by Chocolate in Antigonish. If you're driving back to Halifax, Antigonish is an easy stop right off the highway. You may have heard of Peace by Chocolate — it's a chocolate shop run by Syrian refugees who were chocolatiers before they were forced to flee their home country. They've built a new business in their new home of Canada. Justin Trudeau even brings their chocolate as gifts to other world leaders.
I loved stopping in and getting to chat with the lovely women. The Gold Bar in particular is SO decadently good! I bought a bunch of chocolate, thanked them in Arabic, and they were delighted and insisted on giving me even more chocolate.
Halifax and the surrounding area. Halifax is a fun city and worth a full day in its right. Ride the ferry to Dartmouth, sample ciders at Lake City Cider, and have afternoon tea at Tartan Tea House (you can even borrow a fancy hat to wear!). The waterfront is an EXCELLENT place to hang out with a beer and some poutine. And you must try the infamous "donair" — a Halifax invention, a doner kebab with a sweet white sauce.
I recommend spending a day doing a loop around the Halifax area. In a day you can visit Peggys Cove, one of the most photographed lighthouses in the world and home to a beautiful village; Mahone Bay, a quintessential Nova Scotian village; and Lunenberg, a UNESCO World Heritage-listed town that is a lovely place to explore.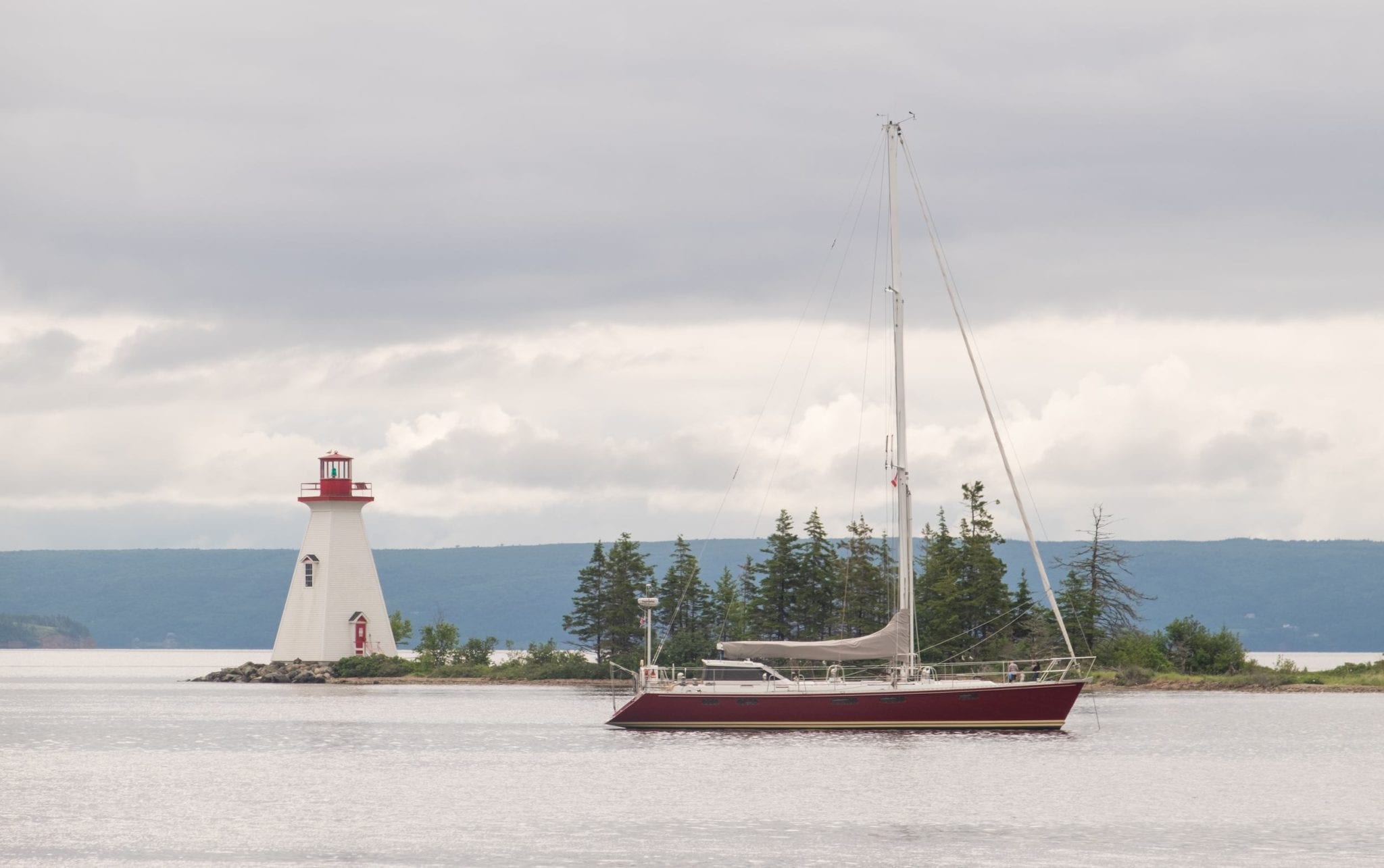 The Takeaway
When I was younger, I felt like the only destinations worth visiting were the most "exotic" ones. That's why I originally went off to Southeast Asia for six months and why I spent years racking up far-flung destinations. Why would I waste my time going somewhere like Canada?
I'm so glad I got over that. The older I get, the more I appreciate the beauty of more familiar places. Canada may not have scorching hot summers or street food meals for a dollar, but Canada is beautiful and entertaining and safe and full of surprises. As for Cape Breton and the Cabot Trail, it reminded me so much of my New England upbringing, then dazzled me with the most spectacular views and lobster.
Nova Scotia is waiting for you. It's close by. And it's fantastic.
---
READ NEXT:
---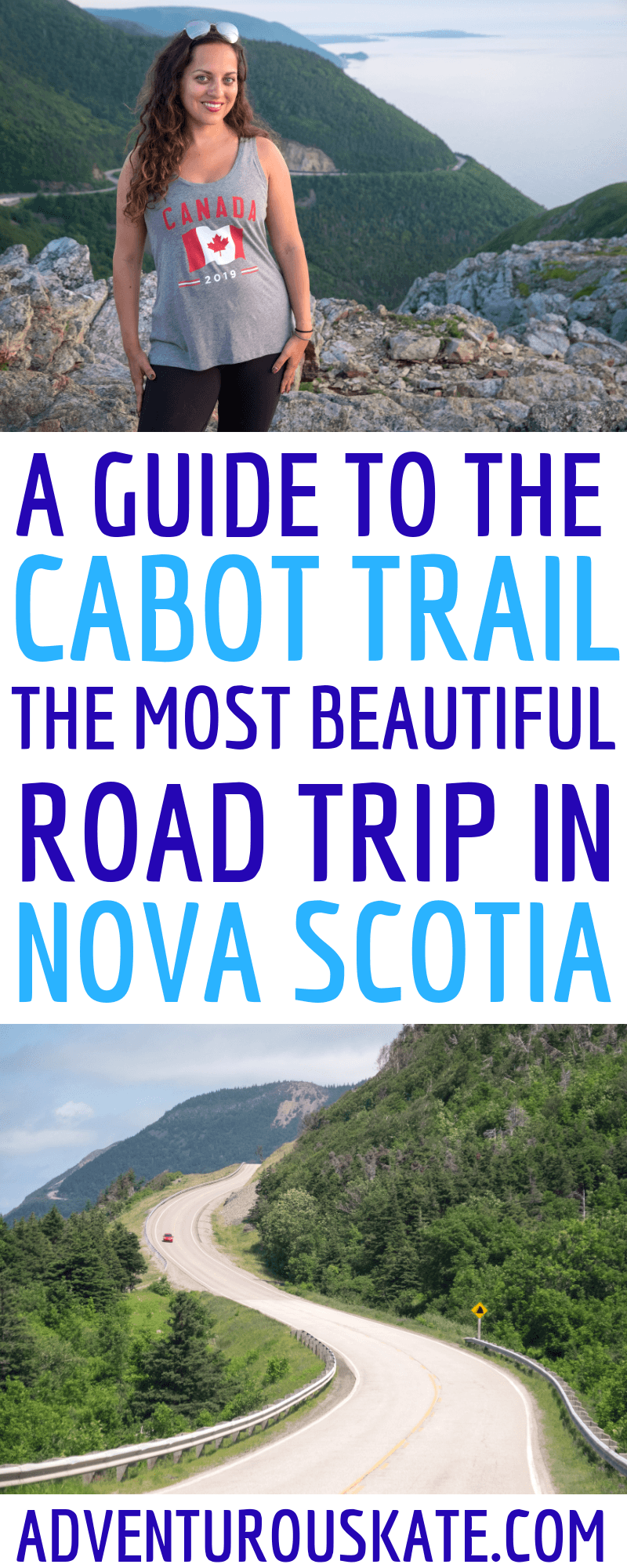 Essential Info: Visits at Eskasoni Cultural Journeys are Monday to Friday only and must be booked in advance. Sometimes special arrangements can be made on weekends. $40 CAD ($30 USD) per adult and $20 CAD ($15 USD) per child under 10.

Admission to the Highland Village is $11 CAD ($8 USD) per adult, $9 CAD ($7 USD) per senior and $5 CAD ($4 USD) per child.

Admission to Cape Breton Highlands National Park is $7.80 CAD ($6 USD) per adult and $6.80 ($5 CAD) per senior per day, and free for kids. You can also get an annual Parks Canada Discovery Pass to all the parks for $67.70 CAD ($51 USD) per adult,  $57.90 CAD ($44 USD) per senior, and $136.40 CAD ($103 USD) per family.

In the park, the guided Skyline Trail sunset hike is $14.70 CAD ($11 USD) per participant. The Learn to Lobster Boil is $58.70 CAD ($44) per person, $22 CAD ($17) for people who don't want to eat lobster.

Visiting Les Trois Pignons is free of charge!

Entry to the Mi-Carême Interpretive Centre is $5 CAD ($4 USD) per adult and $4 CAD ($3 USD) per senior or student. Painting a mask is $25 CAD ($19 USD) for a preformed mask and $80 CAD ($60 USD) for a papier-mâché mask.

Ingonish Whale Watching has fishing boat tours from $40 CAD ($30 USD) per person and zodiac tours from $45 CAD ($34 USD) per person.

Admission to the Alexander Graham Bell Historic Site is $7.80 CAD ($6 USD) per adult, $6.55 CAD ($5 USD) per senior, and free for youths.

Rates at Silver Linings Inn in Chéticamp start at $149 CAD ($112 USD).

Rates for domes at the Blue Bayou Resort in Dingwall start at $180 CAD ($135 USD)

Rates at Inverary Resort in Baddeck start at $159 CAD ($120 USD).

Travel insurance is vital for every trip, even in a country that has great healthcare like Canada. I use and recommend World Nomads for trips to Canada.
This campaign is brought to you by Tourism Nova Scotia and Discover Cape Breton, who covered most of the costs during my time in Cape Breton. All opinions, as always, are my own.
Have you been to Nova Scotia? Would you like to do this road trip? Share away!
The post Driving the Cabot Trail in Cape Breton, Nova Scotia: The Ultimate Road Trip Itinerary appeared first on Adventurous Kate.