You might know your way around the Croatian islands — but none of them are like Vis, Croatia. Vis island is one of the most special places in Croatia, and has a different feeling from everywhere else.
I've been visiting Croatia's islands for nearly a decade. My two favorite islands in Croatia are Kor?ula and Vis — but for very different reasons.
Kor?ula is where you go to do tons of cool activities. Vis is where you go to chill out and relax. And sure, you could relax on any other Croatian island, but the isolation, calmness, and exclusivity of Vis bring it to the next level.
Vis island is the furthest Croatian island from the mainland. A former Yugoslav military base, Vis was actually closed to outsiders until 1991. Because of this, Vis feels more like how tourism in Croatia used to be, before the islands were discovered by an international audience.
Vis might be better described by what you DON'T find there: Rows of cheap souvenir stalls. Backpacker cruises. Inflatable water playgrounds. Irish pubs.
More than anything, Vis feels much more exclusive than other Croatian islands, and it feels like it attracts a different cadre of travelers.
It feels different here. It's slower. More intentional. It's a longer journey here than the other islands, and there's only one decent hotel, so everyone has made a conscious decision to choose Vis over easier options.
For these reasons, I think that Vis makes an excellent choice for your second or third trip to Croatia — or the end of your first trip, after having visited other islands. I think the appeal of Vis increases enormously once you realize how special it is. And that can be a bit lost on people who have never traveled to another Croatian island.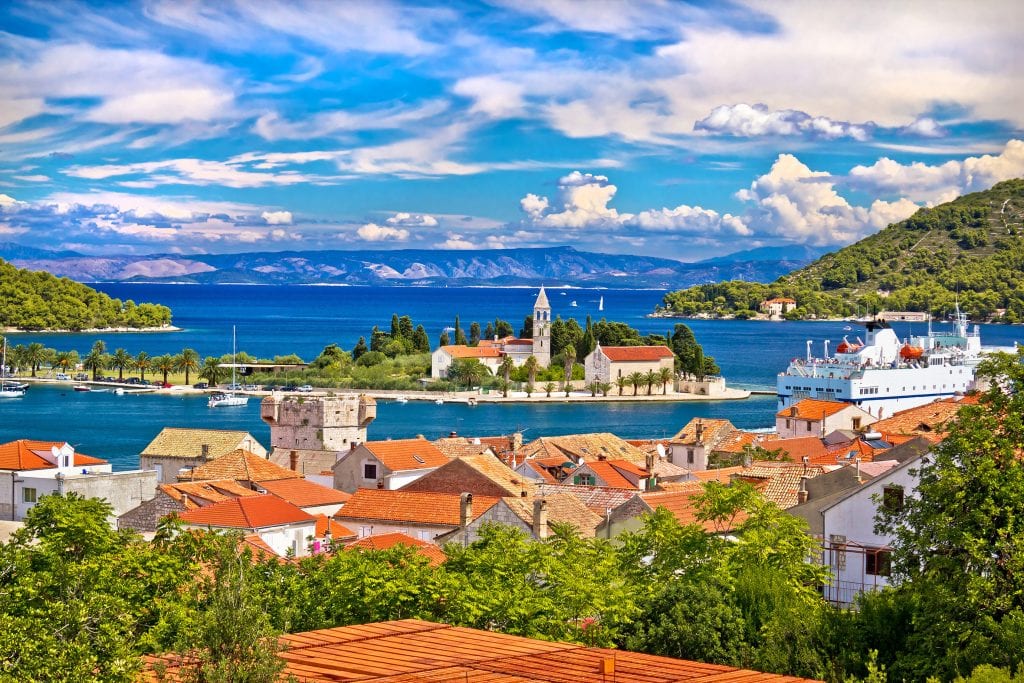 Vis Island
Vis island has a complicated, multicultural history, having been ruled by the Greeks, Romans, Venetians, Austrians, and Italians. In the 1920s, Vis became part of Yugoslavia; in 1940, it was converted into a military base and one of Tito's favorite hideouts.
Vis was closed to visitors for the next 50 years. In 1989, Vis was abandoned as a military base; in 1991, Croatia became independent and Vis opened to tourism for the first time in decades.
Today, Vis welcomes all kinds of tourists during the summer months — but it's especially popular as a sailing destination. Whether small sailboats or massive yachts, seafarers of all kinds treasure Vis as an Adriatic getaway.
How do you get to Vis, Croatia?
The Jadrolinija car ferry from Split to Vis has several departures per day in summer and takes 2.5 hours. If you don't have a car, there are passenger-only catamaran ferries from Hvar Town, Hvar, and Milna, Bra?, though not daily.
What are the best things to do on Vis island?
Spend a day on the boat tour around the island, visiting the Blue Cave, Green Cave, Stiniva Beach, and the beach where Mamma Mia! Here We Go Again was filmed!
How much time do you need on the island of Vis?
I recommend spending at least three days on Vis, but you could easily stretch it into a week if you wanted a more relaxed trip.
Where is the best place to stay on Vis?
There are very few hotels in Vis; most of the accommodation is rentals. I highly recommend Hotel San Giorgio, a boutique hotel in the Kut neighborhood of Vis town.
How do you pronounce Vis?
"Vis" rhymes with "peace."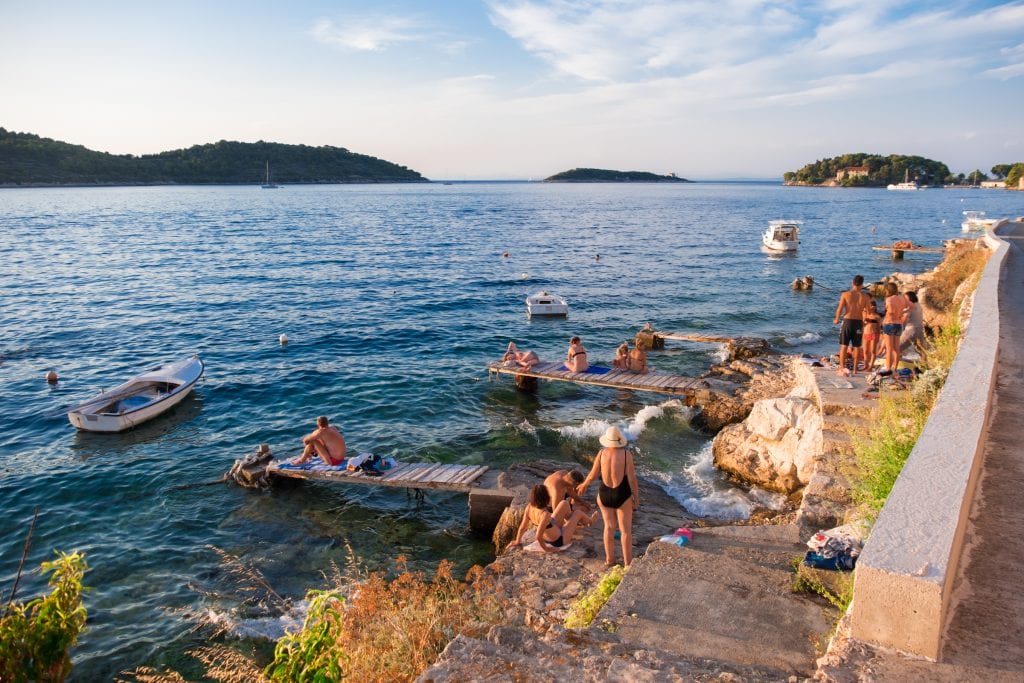 Things to Do in Vis, Croatia
Vis Island has two main towns: Vis (which I will call Vis town in this post to avoid confusion) and Komiža (ko-MEE-zha). Like many small islands, these two towns are only 20 minutes apart but locals act like you're going to the ends of the Earth if you're driving from one to another!
In between there are smaller, blink-and-you-miss-it sized towns, and some areas home to cottages.
Also, I feel like I made a big deal about not doing anything on Vis…but there are actually tons of things to do!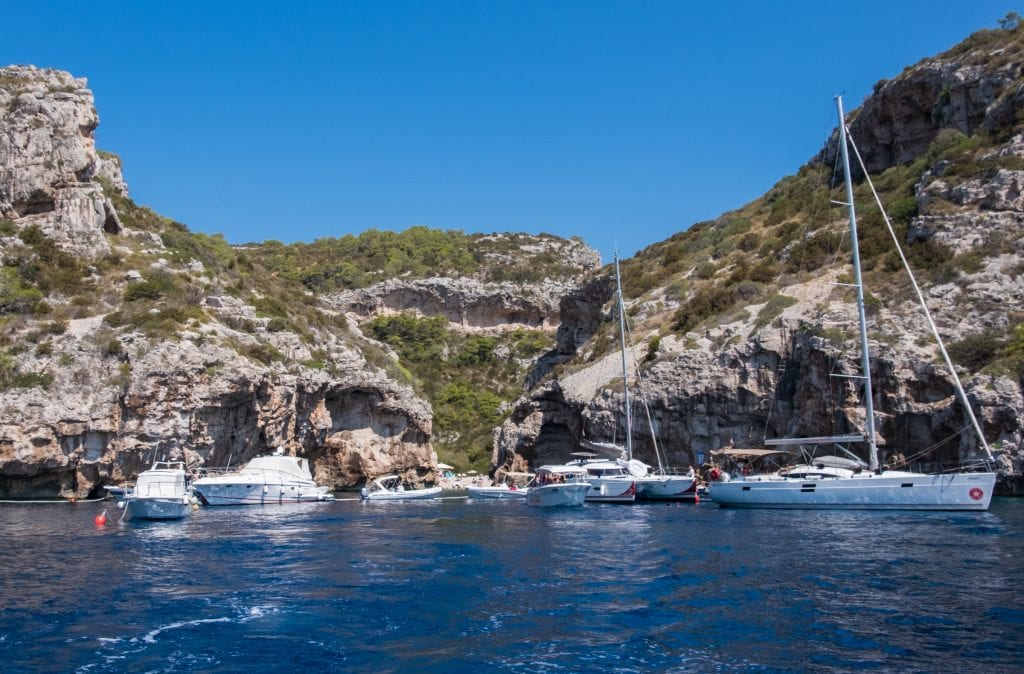 Boat Tour Around Vis Island
If there's any one activity you should do on Vis, it's spending a day on the full-day boat tour around Vis island. Honestly, I was a bit skeptical at first, but this was the absolute best way to visit the highlights of the island. I loved this whole day!
The tour departs from Vis town. First, you visit the Green Cave, where you can take a swim; next, you dock outside Stiniva Beach and swim in from Stiniva Bay (much easier than hiking in!). Next is Biševo Island, which is also home to the Blue Cave, and you can grab lunch there.
Finally, you stop for a swim by the beach where Mamma Mia! Here We Go Again was filmed, and you drop by the submarine tunnel, where you may see a sailboat or two docked!
There are lots of companies doing this tour; we went with Paiz Travel and had a wonderful time. The tour costs 650 kuna ($103); bring money for lunch and admission to the caves.
I highly recommend bringing a dry bag or waterproof phone bag so you can tuck away some cash and buy yourself a beer after swimming to Stiniva Beach. When you get to Biševo, though, you'll be able to dock and walk to the beach.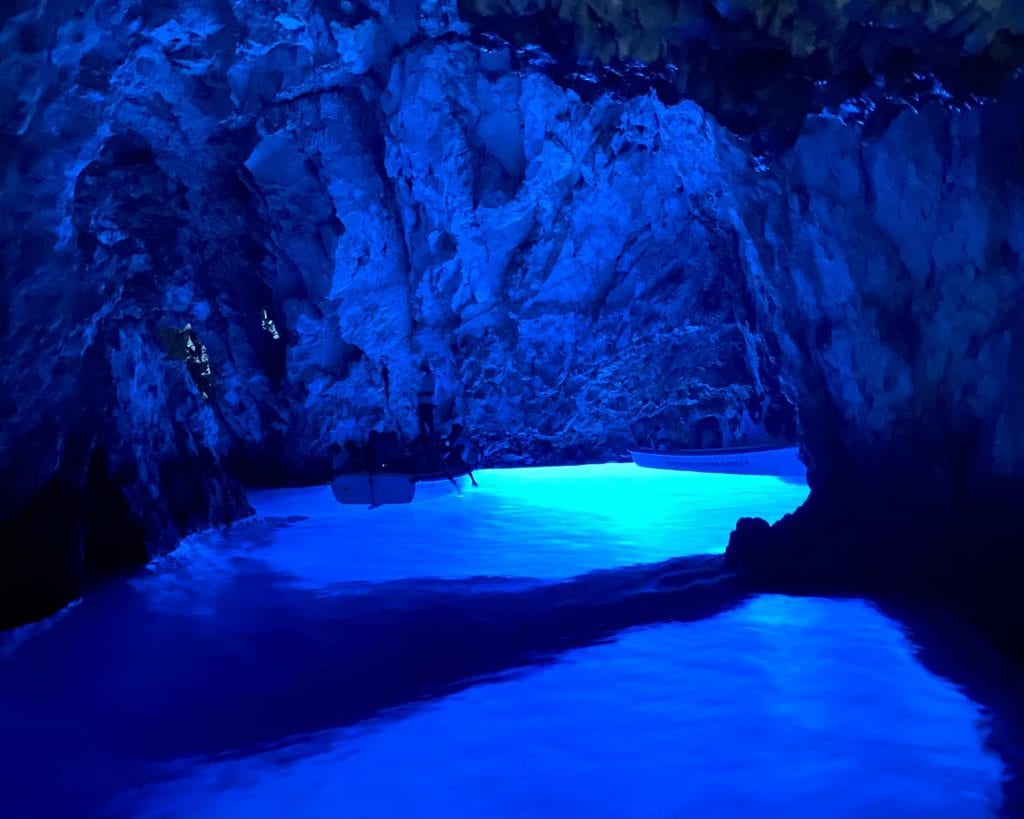 Blue Cave Vis
The Blue Cave is the most famous attraction in all of Vis — a cave that is illuminated in shades of bright blue. The cave is located on Biševo Island, a tiny islet off the coast of Vis.
You will be herded onto a wooden rowboat — be sure to keep your head down on the way in! The endless azure illumination is a trick of the light, and the effect is only roughly from 11:00 AM to 1:00 PM. For this reason, it can get very crowded at the Blue Cave during the summer months, and you might be sharing your visit with a few other boats. The visit is short, lasting about five minutes.
There are day tours to the Blue Cave from Hvar, Bra?, even as far as Dubrovnik and Montenegro (!!). (For the record, I think it's insane to day trip to Vis unless you're coming from Hvar — everywhere else is just too far. More on that below.)
To get to the Blue Cave, I recommend taking the aforementioned full-day boat tour around Vis. If not, you can book a tour of the Blue Cave from the town of Komiža, which is about a 20-minute boat ride away and about a 90-minute tour total. You can also arrive independently by boat.
If you go independently, admission is 100 kuna ($16) for adults and 50 kuna ($8) for children.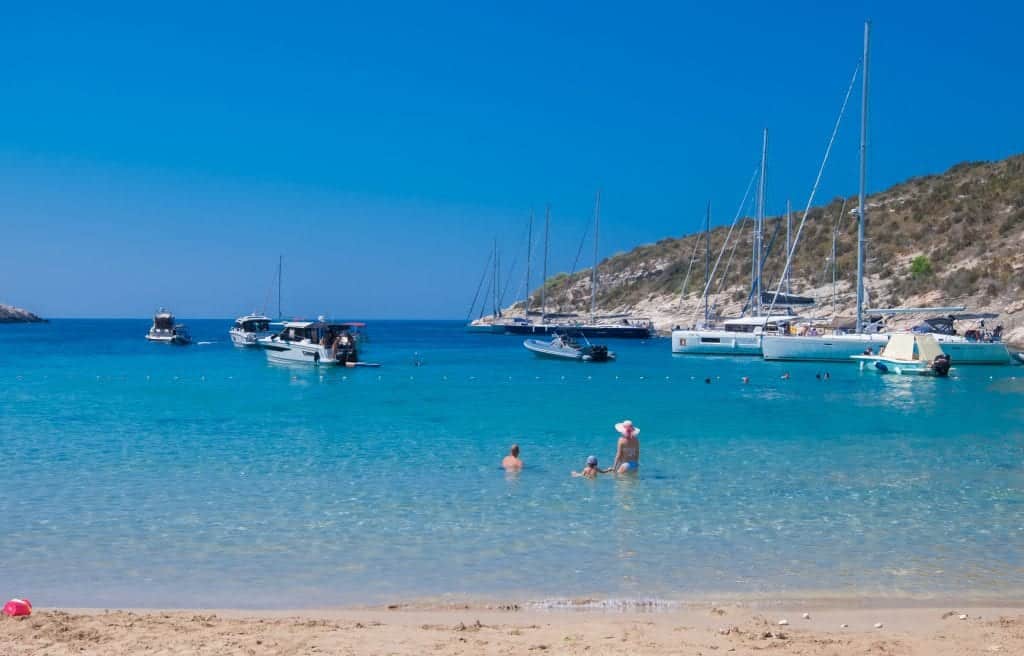 Biševo Island
If you're spending time at the Blue Cave, it's worth checking out more of Biševo Island, the island southwest of Vis! On the other side of the island from the Blue Cave, you'll find Porat Beach, which makes a nice stop for a swim.
Porat Beach is partially sandy and partially pebbly, with calm, shallow water that is especially good for young kids. On the beach are two restaurants serving up simple fare — fish and chips and the like.
Biševo Island is a stop on the aforementioned full-day boat tour around Vis, and you'll see many sailboats dropping in for a few hours of beach time.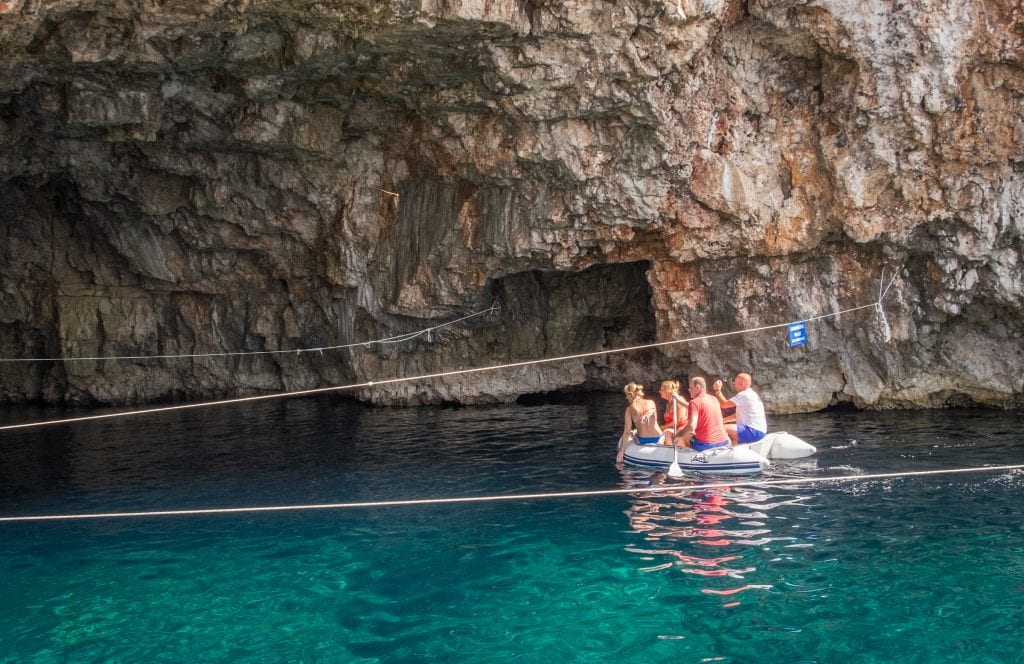 Green Cave
Vis's Blue Cave might be more famous, but don't overlook the Green Cave! This cave is located on the islet of Ravnik, just south of Vis island, and it's part of many tours to the Blue Cave and boat tours around Vis. A trick of the light illuminates the cave in green.
Unlike the Blue Cave, you're able to swim and snorkel in the Green Cave. It reminded me a lot of the cenotes in Mexico. Toward the back of the cave there's a rocky ledge that you can climb, even jumping into the water!
Admission to the Green Cave is 10 euros ($12).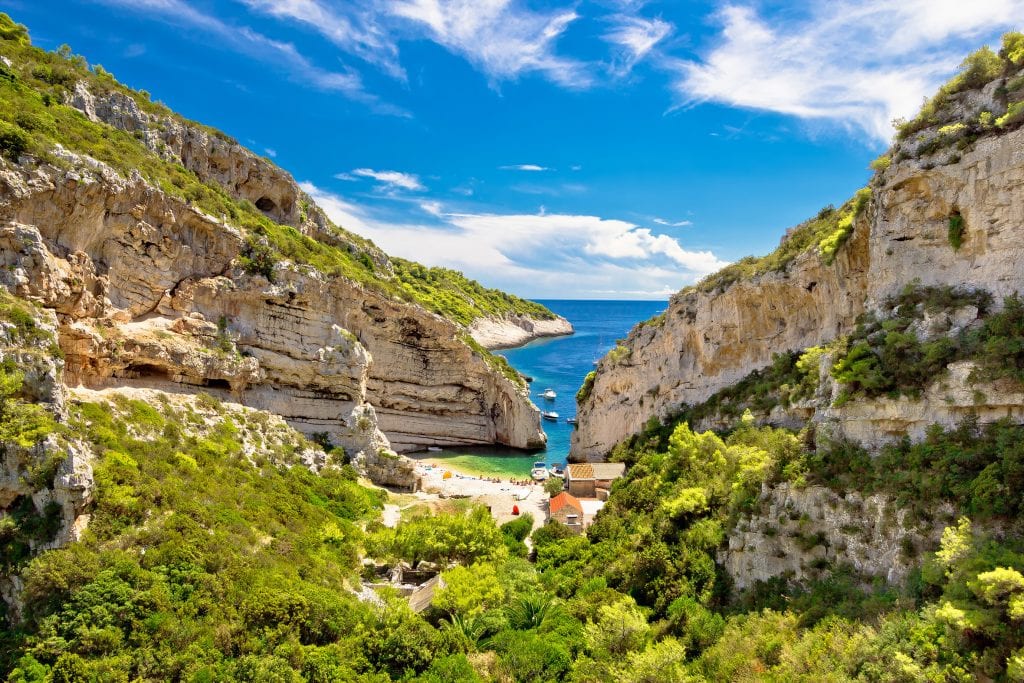 Stiniva Beach
Stiniva Beach, on Stiniva Bay, is frequently cited as one of the best beaches in Croatia — and in Europe. You descend a rough path downhill and see a rocky beach laid out before a series of cliffs, out of which you can swim into deeper water.
Is it stunning? Absolutely! If there's any one beach to visit on Vis island, this is it. But you should know that it's a bit of a challenging hike down. It's doable for people who are active, even school-aged kids, but I don't recommend it if you have mobility challenges.
Because of the rocky path, flip-flops are not enough. I highly recommend sports sandals (these are my favorites) at the very least; trail runners or sneakers would also work well.
There is another option, however — taking the aforementioned boat tour around Vis. You dock your boat near the beach and swim to shore. I did that and very much enjoyed it!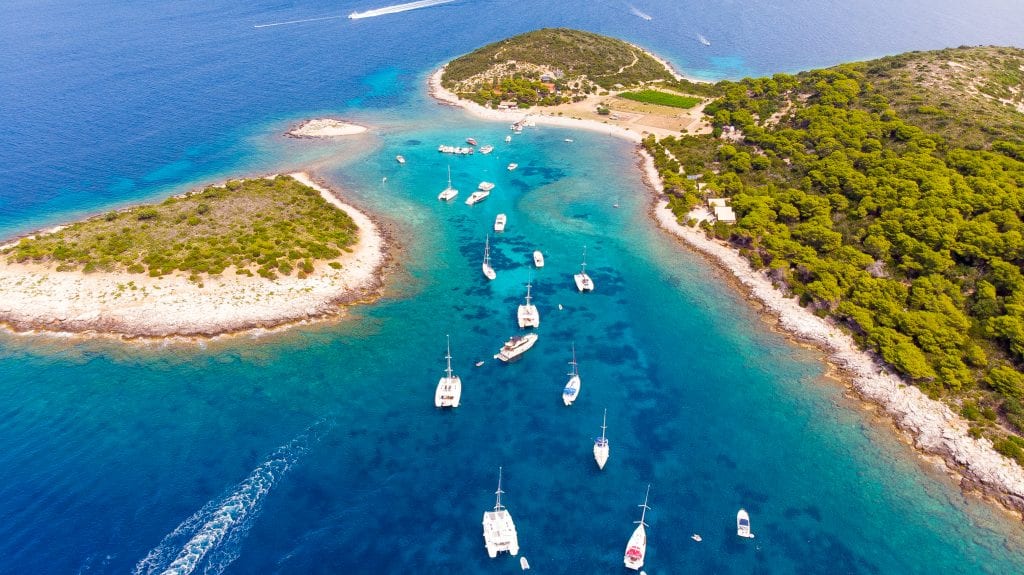 Budikovac Island
Lots of different places around the world claim ownership of the term "Blue Lagoon" — from Tahiti to Malta to Iceland — and the island of Budikovac is home to the Blue Lagoon of Croatia. The endless blue waters here make for a wonderful swim spot on a day trip from Vis, and it's one of the best spots for drone shots!
Budikovac Island is a stop on some tours of Vis, though not on the boat trip I mentioned previously.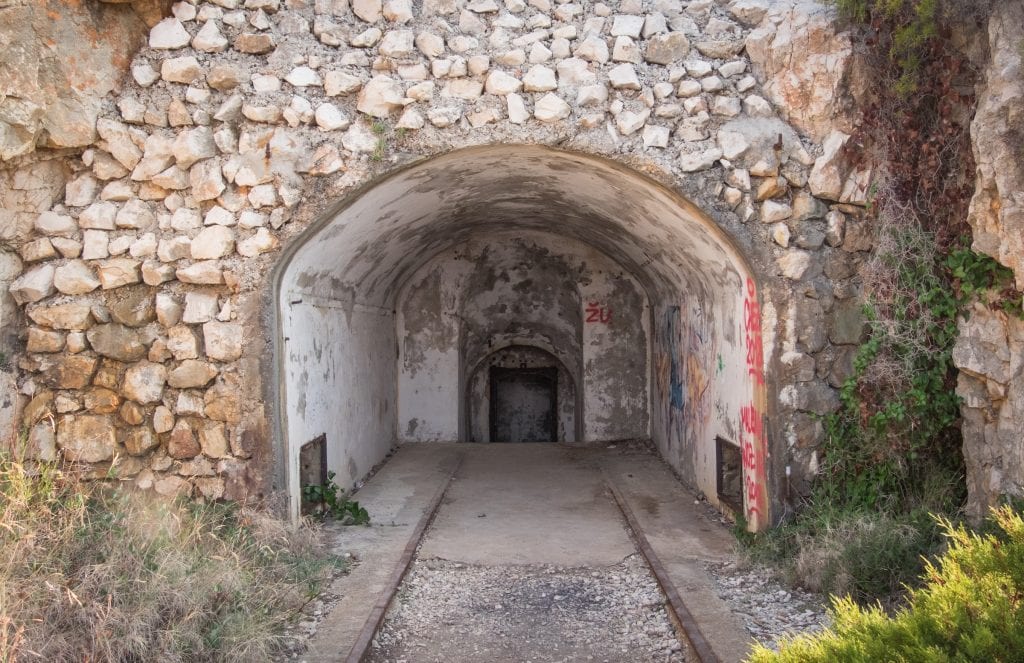 Military Tunnels
The military tunnels are the most unique thing to do on Vis, Croatia. The island's military base may have been closed for 20 years, but these tunnels still exist! Where else are you going to find military tunnels on an Adriatic island?
You need to do this activity with a guide as it's not safe to do on your own. A guide will give you a flashlight and helmet and lead you through the maze of tunnels, teaching you about Vis's military history. Breaking out of the darkness onto the edge of the sea is a feeling you won't find anywhere else in Croatia.
This highly-rated tour takes you into the military tunnels and Tito's Cave, and also stops at Hum Mountain, the highest peak on Vis island.
Alternatively, you can visit the military tunnels as part of a quad biking safari!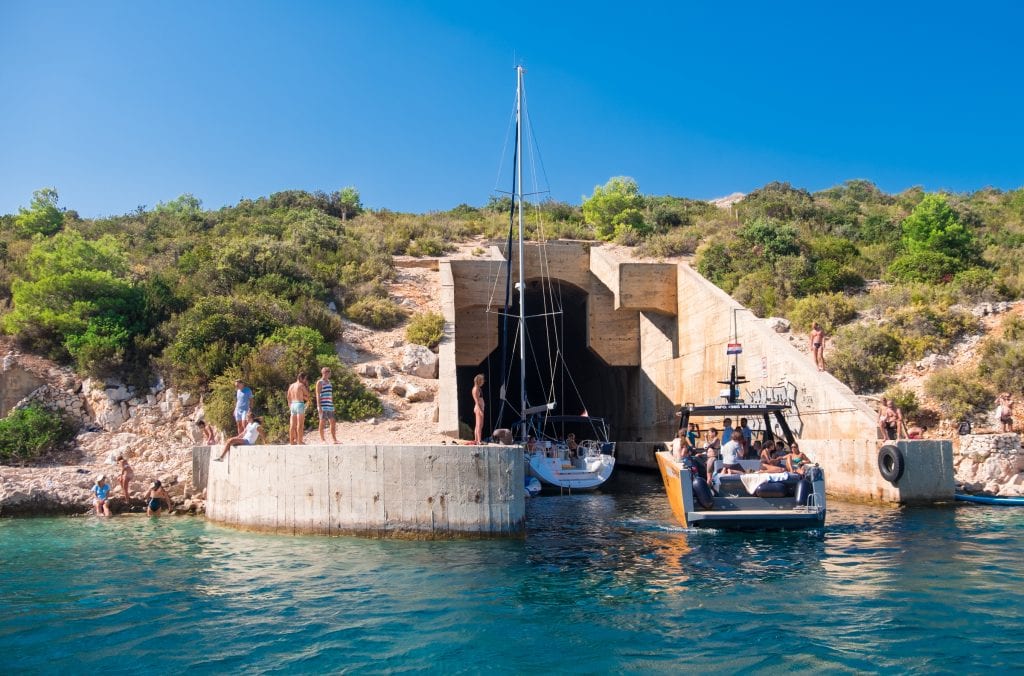 Submarine Tunnel
The submarine tunnel is one of the most famous shots of Vis! This tunnel was part of the strategic military bases around the island.
Are sailboats allowed in the submarine tunnel? Technically, no, they're not. Does that stop them from going in? Nope! It seems like most boats sail on in for the novelty of it all. Some people choose to swim in the tunnel, but judging by the number of beer cans in the military tunnels, I don't think I'd do it.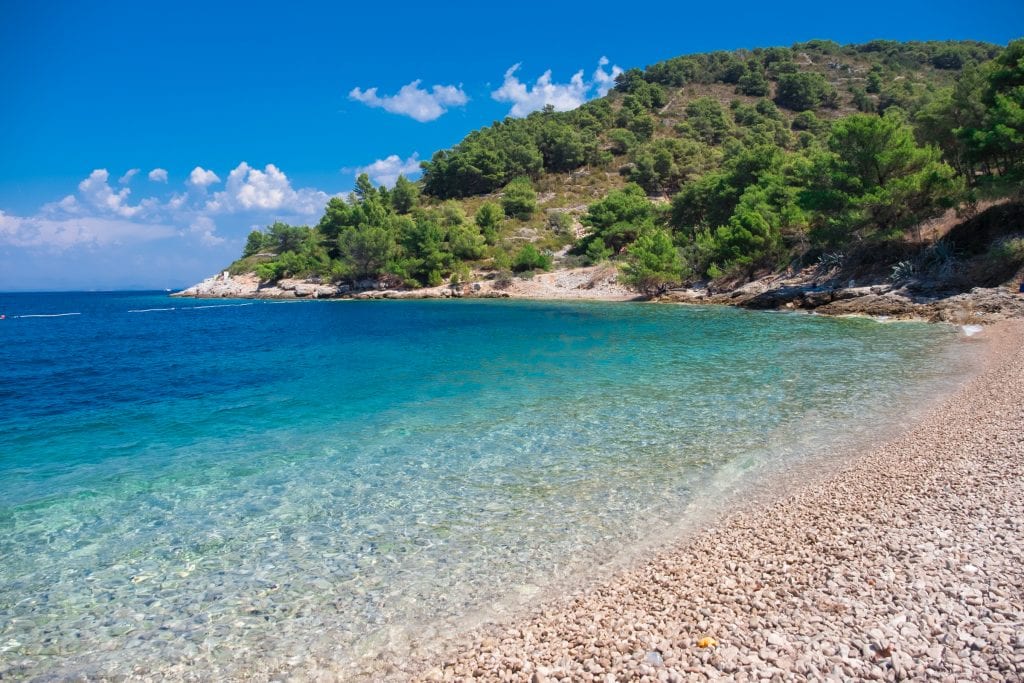 Vis Beaches
Stiniva Beach is lovely — but you don't want to make the hike down (or swim in) every day! Luckily, there are plenty more beaches on the island of Vis that are more accessible.
I especially enjoyed Grandovac Beach, which is just east of the Kut neighborhood and a great option if you're staying in Vis town. This pebbly beach gives way to clear blue water and has views of ferries and sailboats.
Srebna Beach, on the southeast edge of the island, is more isolated, yet one of the most beautiful spots on the island.
Zaglav Beach, close to the town of Milna, is home to a sandy beach — rare in Croatia!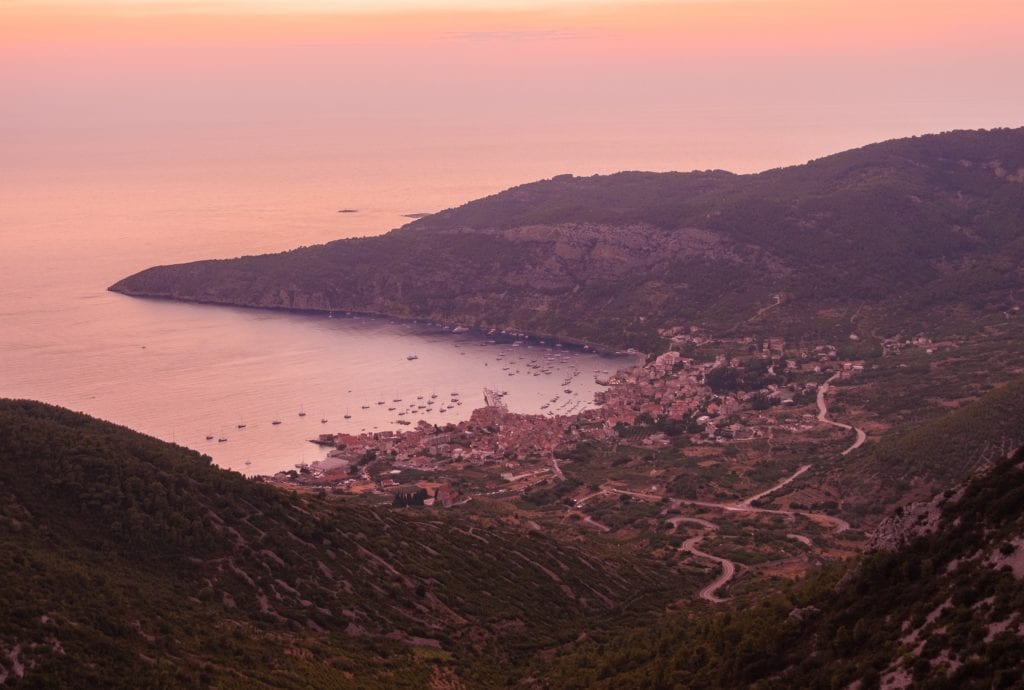 Hum Mountain
If you're looking for a great sunset view in Vis, head to Hum Mountain! This is the highest point on the island and it has excellent views over the town of Komiža as the sun sets.
Close to Hum Mountain is Tito's Cave, the cave where Tito planned out many of Yugoslavia's military strategies. Admission is free to both the mountain and the cave.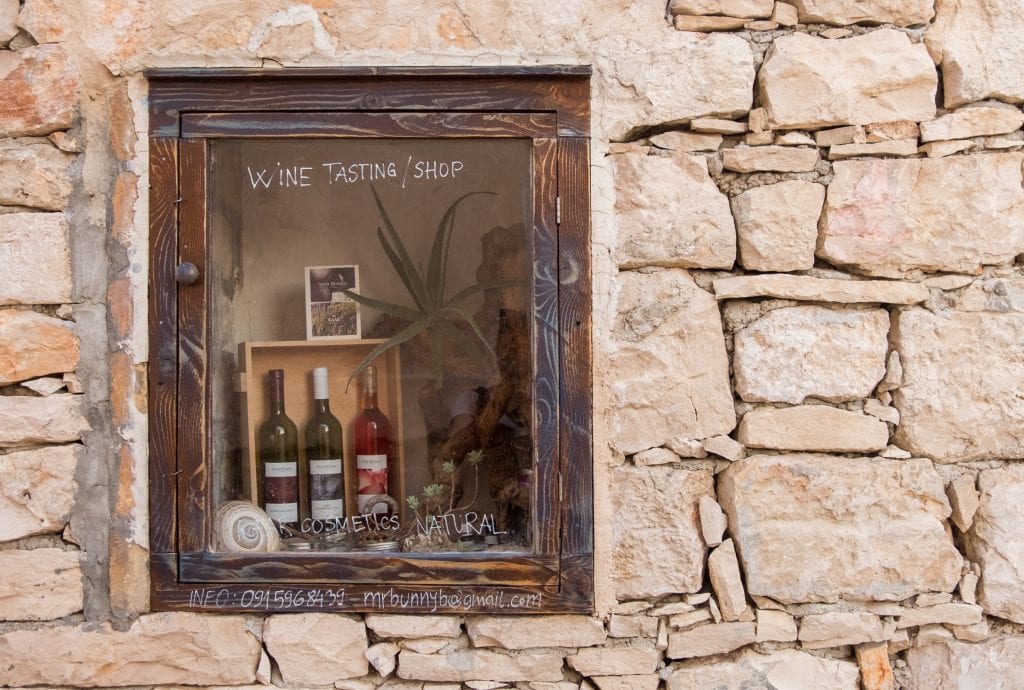 Wine Tasting Vis
Like nearly every other island in Croatia, Vis dabbles in a bit of winemaking. It might not be as lauded as the wines of Kor?ula or Pelješac, but you will find some tasty local varietals here: mostly Plavac Mali (red), Kurteloška (white) and Vugava (white).
Most local restaurants will be happy to point you to the island-grown wines, and shops in Vis town and Komiža advertise tasting sessions.
Want more? This Vis wine tasting tour takes you to several wineries on Vis island.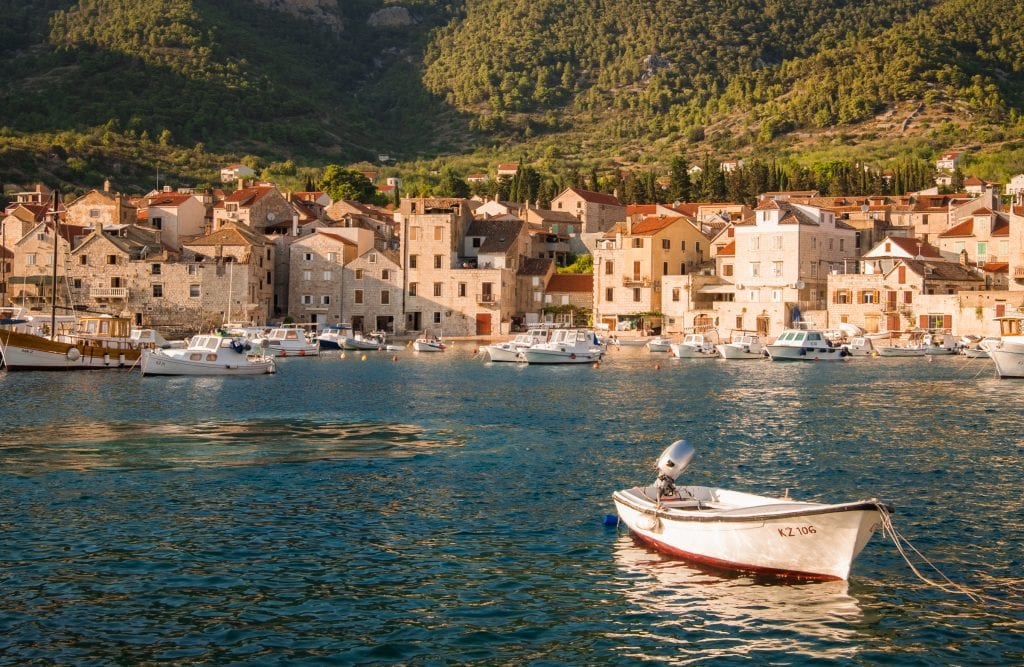 Komiža
If you're staying in Vis town, it's worth spending a bit of time on the island's other town, Komiža. It has a different feel from Vis town — honestly, to me, it feels a bit more like one of Croatia's other islands.
Home to a lovely waterfront with mulberry trees, outdoor restaurants, and quintessential stone buildings, it's a nice place to spend an afternoon.
To get to Komiža, you can take the 15-minute bus that runs from Vis town for 20 kuna ($3) each way.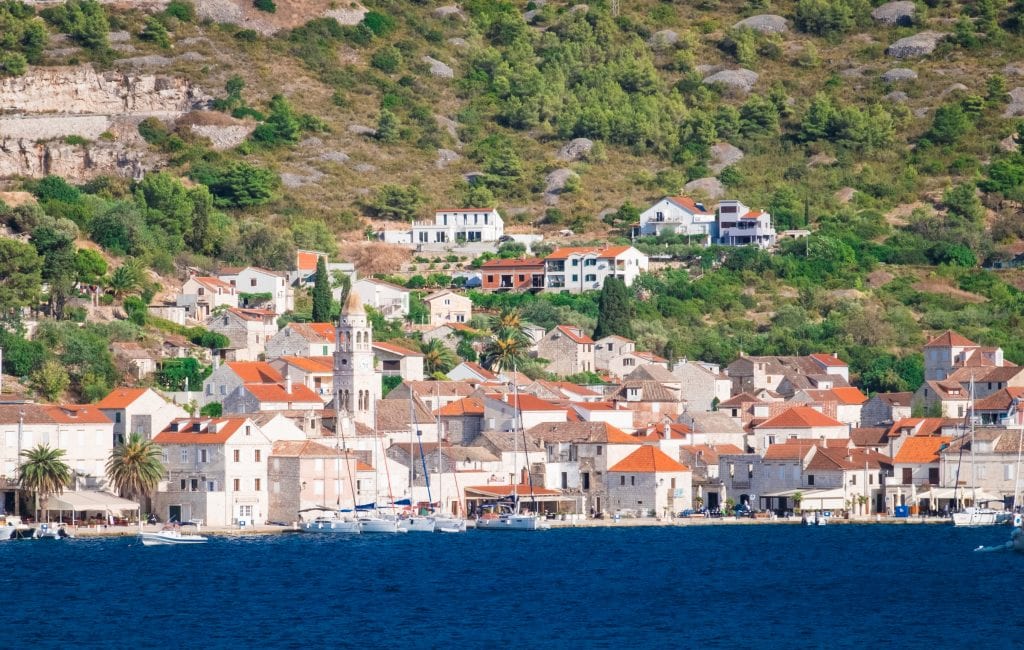 Kut, Vis Town
If you're not staying in the Kut neighborhood of Vis town, I recommend dropping in for dinner, drinks, and/or ice cream in the evening. It has a nice, calm, classy feeling and feels distinct from the rest of Vis town.
It feels like every restaurant and shop here hired a designer. And the people-watching is fantastic — I've never seen so many well-dressed sailors in one place.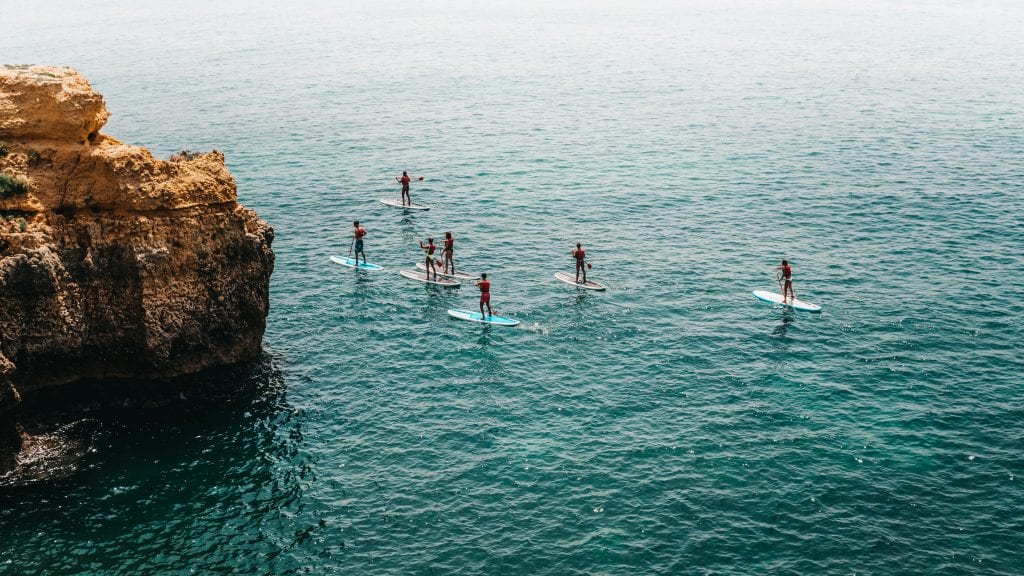 Stand Up Paddleboarding
If you've never tried stand up paddleboarding (SUP) before, Vis is a nice place to learn. This lesson for beginners takes place in calm Milna Bay on Vis and takes you on a little tour of the area.
Even better? Try a SUP yoga class! I've done SUP yoga a few times before (though not in Vis), and it's a really fun way to be active and connect with yourself while trying a new activity.
(Also, it's okay if you fall off! Most people do at least once.)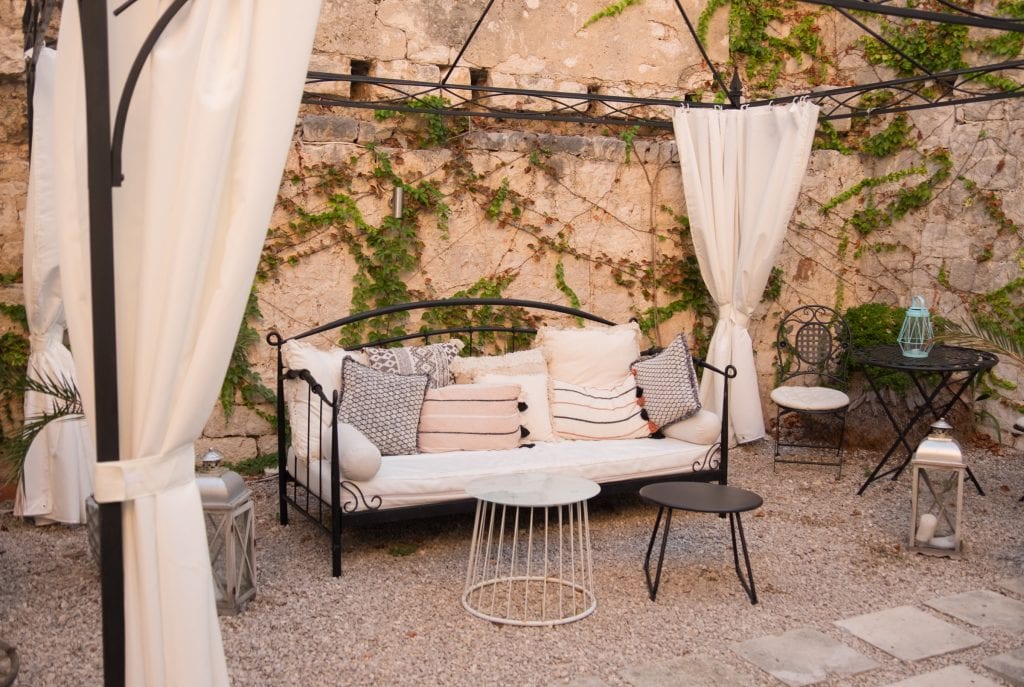 Where to Stay in Vis, Croatia
Vis is unique in that there are only three hotels on the island — and only one, Hotel San Giorgio, where you would want to actually stay. All of the other places to stay are apartment and house rentals.
There are two main towns on the island: Vis town and Komiža. Most travelers stay in one of these two towns, though some elect to be in a more isolated environment.
Both towns are solid choices. Vis town is more convenient, as the ferries arrive there and many tours depart from there.
I actually recommend staying in the Kut neighborhood of Vis town — a quiet and elegant part of town with lots of chic restaurants and bars. While there are all kinds of people in Vis town, there were lots of families, sailing groups, and older travelers.
Komiža tends to have a bit more of a celebratory atmosphere. While there were all kinds of travelers, I felt like there were more groups of partying young adults here, though nowhere on the level of Hvar. It's not as polished or classy as Kut, but it's a lot of fun. And it tends to be a bit cheaper than Vis town.
In fact, if you're spending several days in Vis, you might enjoy staying in both towns! A lot of the sailing routes have one night in Vis town and one night in Kožima.
I stayed at Hotel San Giorgio in the Kut neighborhood of Vis town, a fantastic little boutique hotel that I adored.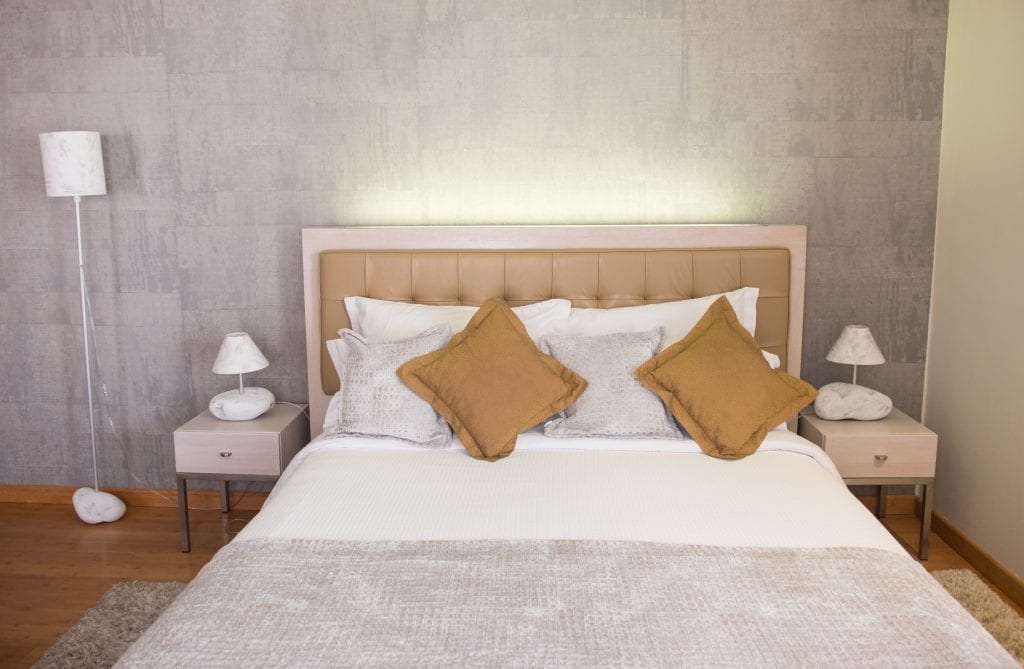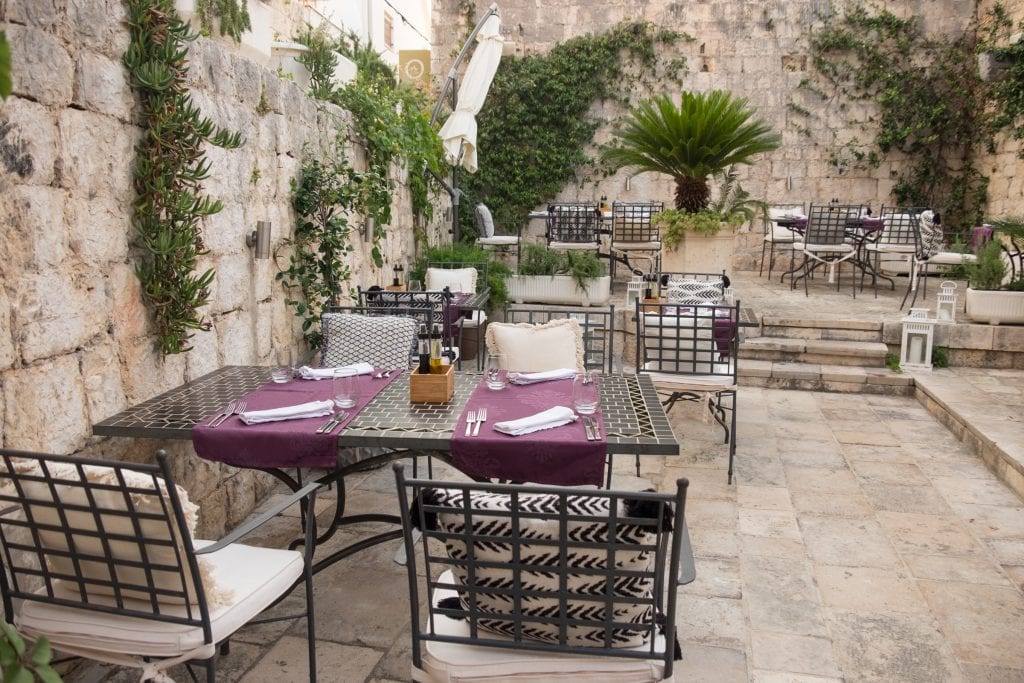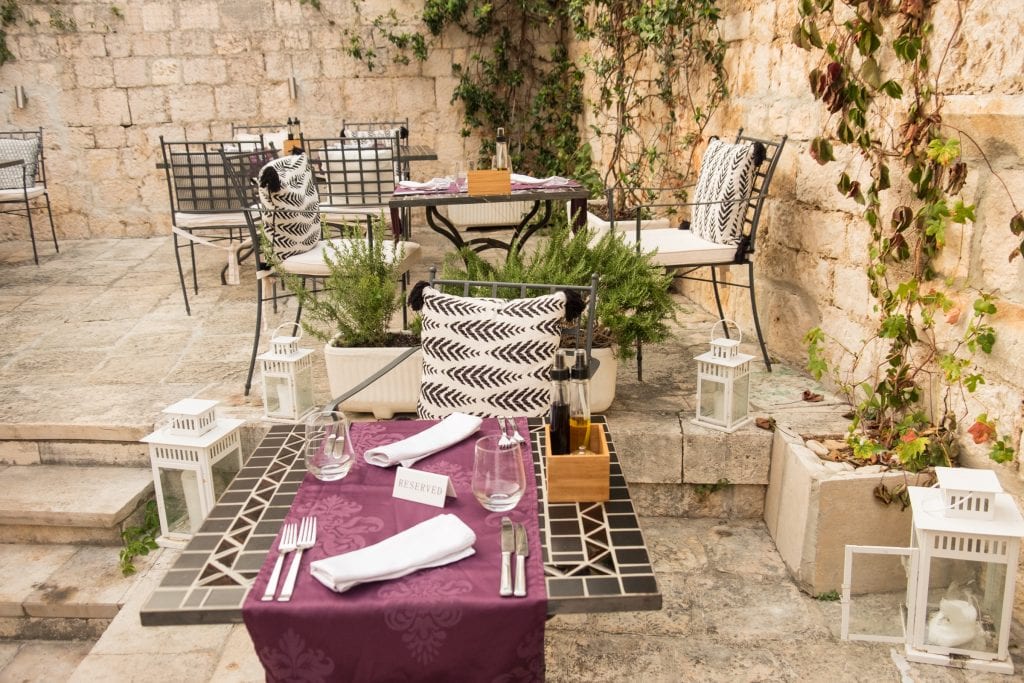 There is so much to love about Hotel San Giorgio — even if it wasn't the best hotel on the island. The owners are fabulously friendly and treat you like a long-lost family member. The service is excellent. It's in a wonderful location in Kut.
But more than that, this place feels intimate. Like a secret. Whether you're sitting on your balcony and taking in view of the Adriatic, or having dinner in the private courtyard, you get the feeling that you're in the best place you could be.
Breakfast was lovely, and even the simple vegetable omelet I ordered each morning was made euphoric with the addition of flaky sea salt from Dugi Otok, an island close to Zadar.
However, being a small property and the best hotel on the island, it books out super early. If you have your heart set on Hotel San Giorgio, book as soon as you can.
Where to Stay in Vis Town
There are plenty of properties worth staying at in Vis town. All of these choices are located in Kut.
If you want to splurge: Hotel San Giorgio is THE place to stay. If you want an apartment, try Apartman nono ive, right on the water.
If you want a mid-range stay: A lovely and cozy room has spectacular sea views; Apartment 2470 has a good-sized terrace.
If you're on a budget: Apartments Bili? and Guesthouse Torga offer quality rooms for the lowest rates in the neighborhood.
Find more places to stay in Vis town here.
Where to Stay in Komiža
If you want to splurge: Villa Kala Komiža brings tons of style; while Style Komiža brings modern elegance to the beachfront.
If you want a mid-range stay: Apartments Sole and Apartment Filomena bring you good value for money.
If you're on a budget: The Little Gem and Studios Ana Mari have low prices and very happy past guests.
Find more places to stay in Komiža here.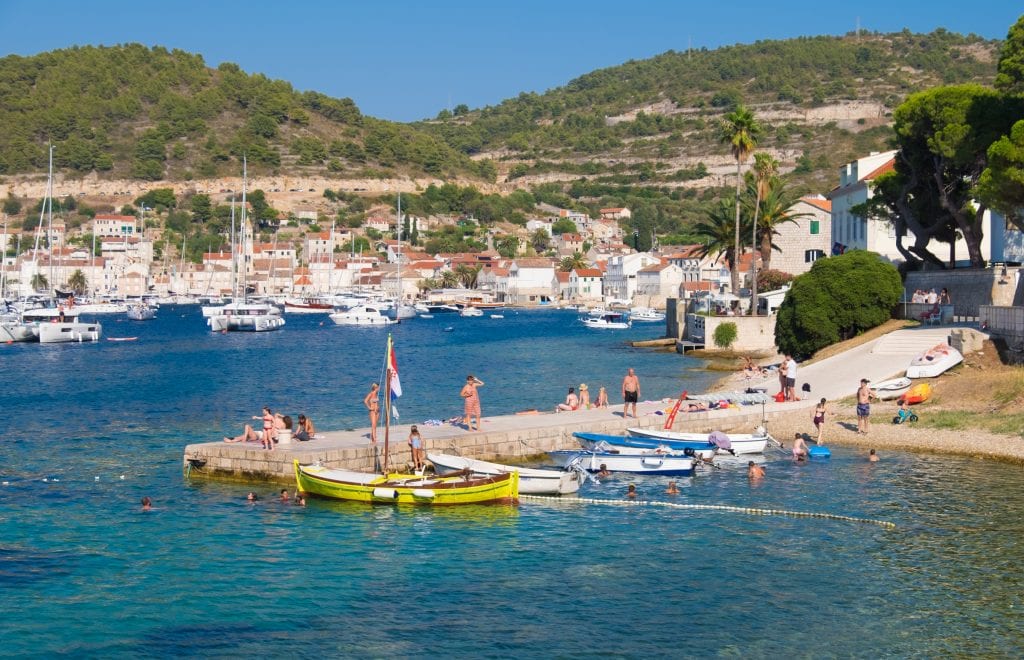 How Much Time to Spend on Vis, Croatia
How much time do you need for Vis? I recommend spending at least three days on Vis: one day for the boat tour, one day for exploring on your own — maybe checking out the military tunnels or Komiža, or doing some wine tasting? — and one day that's all about the relaxation.
Even so, you could spend a full week in Vis and it wouldn't be a waste of time. This might be one of the best places in Croatia to relax and recharge your batteries.
Day Trip to Vis Island
Can you do a day trip to Vis island? If that's all the time you have, it can be done. If you want to do a day trip to Vis, there's a good way to do it and a bad way to do it. The good way to do it is an organized day trip from Hvar town on the island of Hvar, which is the closest island to Vis.
This sailing trip from Hvar to Vis on Airbnb Experiences has a near-perfect rating and includes much of what you see on the daylong boat tour around Vis: the Green Cave, the Blue Cave, Stiniva Beach, plus the blue lagoon on the island of Budikovac and a stop on the Pakleni Islands on the way back. Note that it does not include the submarine tunnel.
While you technically COULD do a DIY day trip to Vis by booking ferries from Hvar or even Split, I strongly discourage this. The journey from Split is too far (2.5 hours) and the ferries from both Split and Hvar are just too infrequent. Having a few hours on Vis might let you stroll through Vis town or relax on a beach, but it won't give you enough time to see what makes the island special.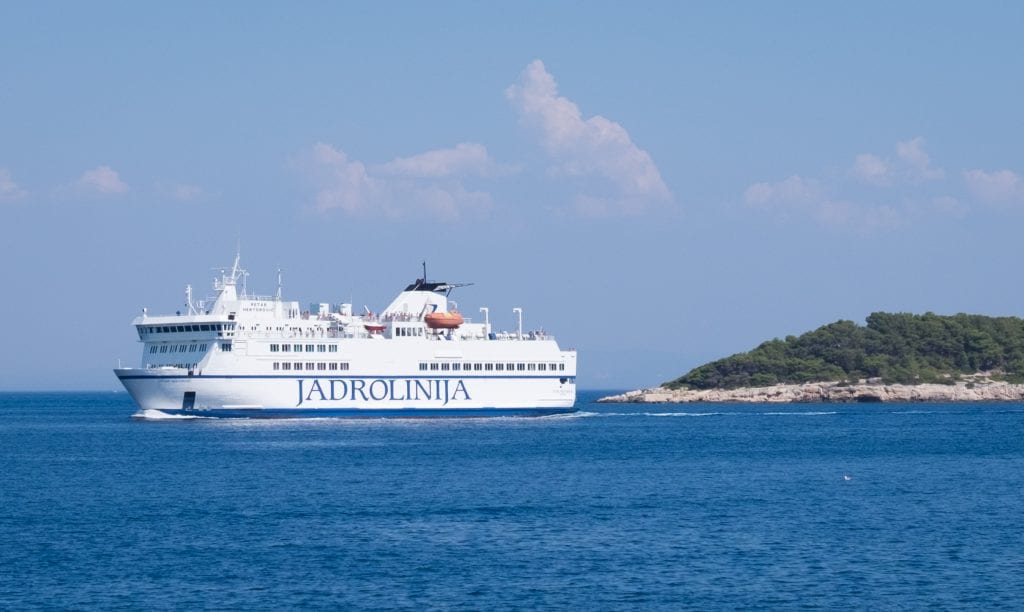 How to Get to Vis Island
Most people get to Vis by car ferry from Split. The ferries are on Jadrolinija and run several times each week; check the schedule here. The journey takes about 90 minutes.
There are also passenger-only catamarans that visit Vis. You can get direct ferries to Vis to and from Hvar town on the island of Hvar and Milna on the island of Bra? (keep in mind that there are Milnas on several Croatian islands, including Vis!). Know that these are not daily and you'll have to plan ahead.
Finally, there's the sailing-your-own-boat option, which is the option chosen by many travelers to Vis. That, of course, requires a lot more advance planning.
How To Get Around Vis, Croatia
I usually recommend renting a car in Croatia, as this is the best way to get around the country, but you might be better off without a car in Vis. We decided to leave our car in Split for a few days while we visited Vis, and this was a smart decision.
If you're basing in Vis Town for a few days and exploring by organized tour, you have zero need for a car. You'll meet your guides at a central point in town and they'll provide the transportation.
There is limited public transportation in Vis. If you want to travel between Vis town and Komiža, there are regular buses between the two cities that take 15 minutes and cost 20 kuna ($3). Some stop at other settlements on the island. Buses run all day and are especially timed to ferry arrivals and departures. You can also take a taxi.
You can rent a car in Vis for the day if you'd like. Renting a scooter is another fun option; I would probably choose to do that on my next trip.
Renting a bike is another option in Vis, but the landscape is VERY hilly, so I would only recommend this for experienced cyclists who relish climbing mountains on two wheels.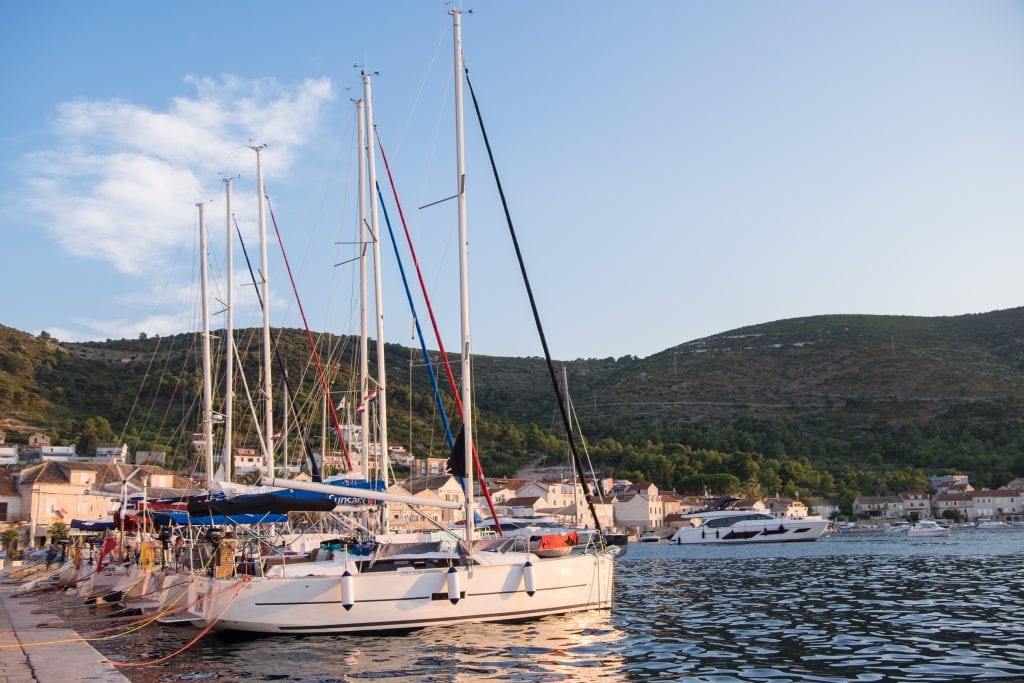 Best Time to Visit Vis, Croatia
Vis is very much a summer destination. From June through September, the island is filled with travelers, sailboats dot the harbors, and restaurants and beaches are busy. The absolute peak season, with highest prices and crowds, is during July and August.
For that reason, I recommend going a bit earlier or later in the season. June and September are both warm and beautiful with lower prices and smaller crowds, but September has much warmer water.
If I picked any time to go to Vis, I would choose late September. In fact, I wouldn't be opposed to swimming in the Adriatic as late as early October.
Vis is pretty quiet outside high season, and especially so in the winter. The island empties out; it's cold and gray; ferries run far less often. I don't recommend visiting Vis during the winter months unless you have a very specific reason, like wanting to write a novel with no distractions.
Read More: Best Time to Visit Croatia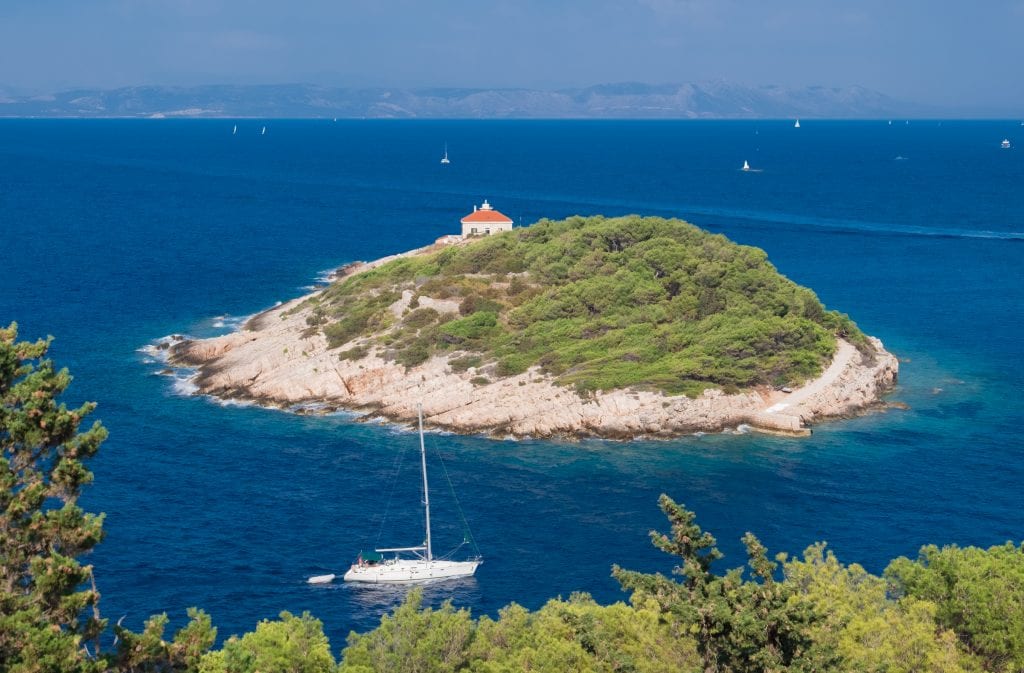 What to Pack for Vis, Croatia
Here are some items that you should be sure to bring to Vis. Keep in mind that while you can often buy what you forgot to pack in Croatia, Vis doesn't have as many shops as other islands.
Water shoes — Absolutely essential for all Croatia swimming. They help you stay upright on pebbly beaches and protect your feet from sharp rock slabs!
Sports sandals — An easy, comfortable way to get around, much better than flip-flops, especially for climbing the rocky beaches.
Insulated water bottle — Stay hydrated without adding to the plastic waste problem.
Reef safe sunscreen — Vis may not have coral reefs, but reef safe sunscreen is much better for the environment as a whole.
Wide-brimmed hat — Especially for boat trips when you get little protection from the sun.
Dry bag and/or waterproof phone bag — Protect your electronics when out on the water — and keep them dry when swimming from the boat to shore, like at Stiniva Bay. (I always promote dry bags because mine saved me when I was shipwrecked in Indonesia in 2011.)
Portable safe — Keep your valuables in here and lock it to something sturdy in your room.
Speakeasy Travel Supply Scarf — Keep your money in the hidden pocket and yay! No purse necessary and no thief will ever pickpocket you!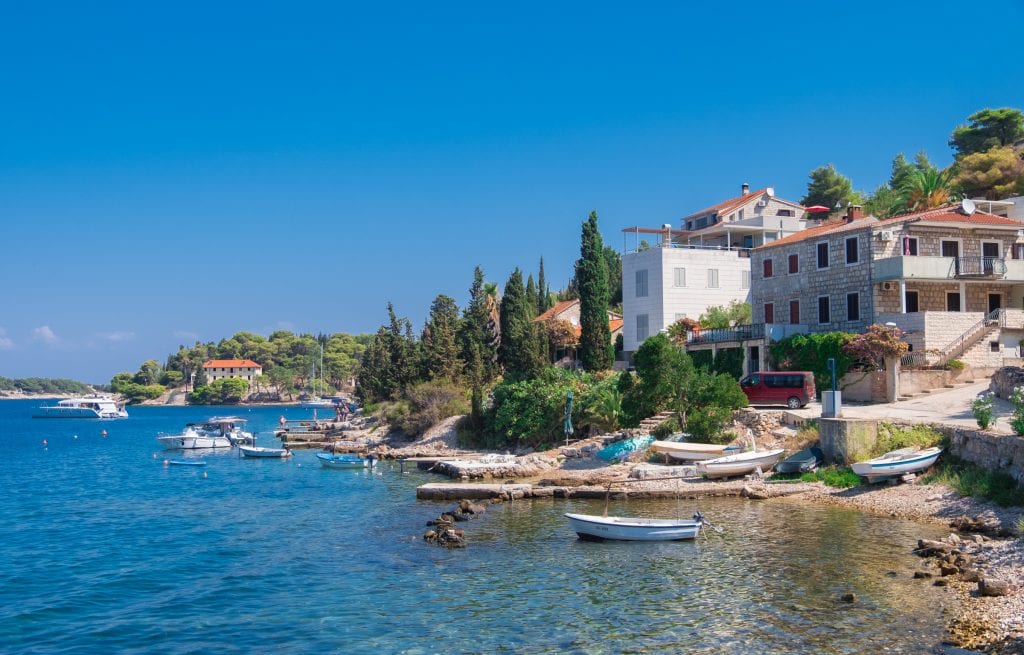 Travel Insurance for Croatia
A lot of people don't think it's necessary to get travel insurance for Croatia — after all, it's a safe country with decent healthcare. But you need it. If you get sick or injured on your trip, if you get robbed, or even if you have to be flown home, travel insurance will protect you from financial ruin. I use and recommend World Nomads for trips to Croatia.
I have thankfully never needed to call my travel insurance for help while in Croatia — but I do have a friend who had to visit the hospital after being stung by a wasp in Split, one who sprained her ankle after falling down the steps in Dubrovnik, and one who got her wallet stolen and needed to go to the police station.
While Croatia's hospital prices aren't anywhere near what the US would charge you, you could end up paying a lot of money for a serious medical issue. But travel insurance protects you and refunds you for your costs. It's the kind of thing you don't know you need until you need it. See if World Nomads is right for you here.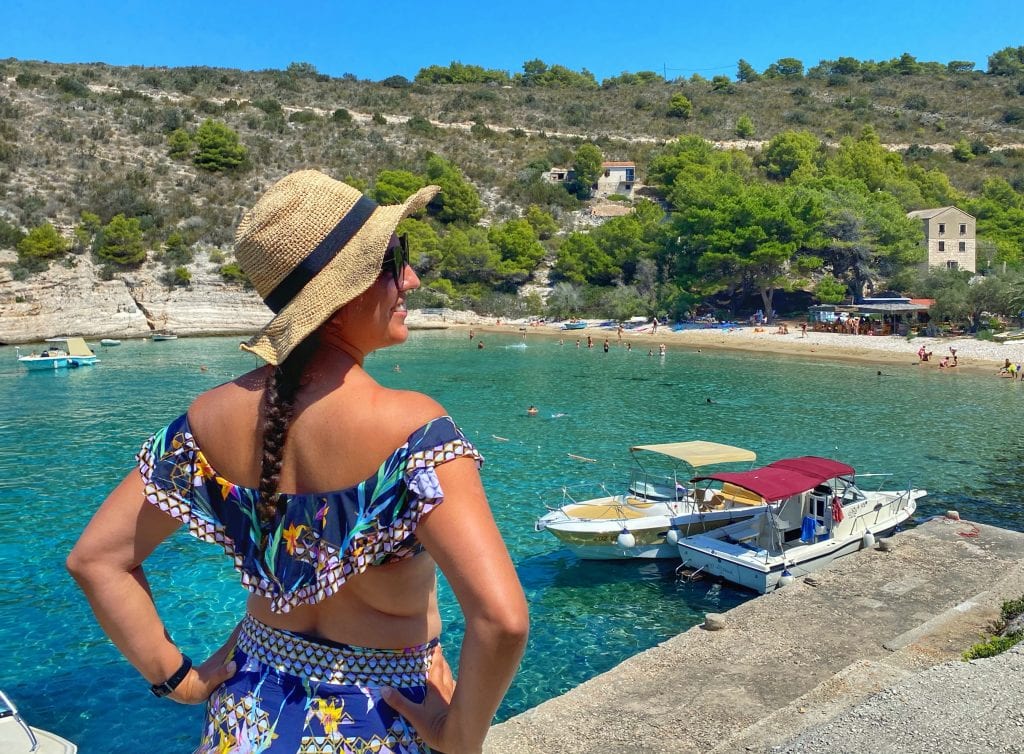 Is Vis Island Worth It?
Oh, Vis, you were SO worth it, my darling! I had been wanting to visit this island for so far, and when I finally made it, it was worth every bit of hype. As soon as I left, I was trying to convince my boyfriend to return for a full week next year.
Don't overlook Vis. This is a very special island, and nowhere else in Croatia feels like this. And for people who have traveled to Croatia before, it might be the smartest choice of all.
More on Croatia's Dalmatian Coast:
Exploring Kor?ula, Croatia's Coolest Island
How to Spend Three Days in Dubrovnik
Solo Female Travel in Croatia: Is it Safe?
See all Croatia posts here.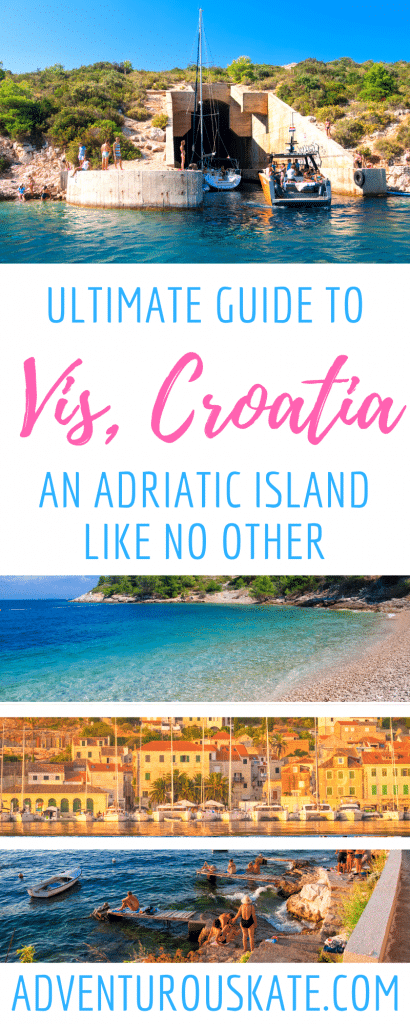 Have you been to Vis? How did you like it?
The post Exploring Vis, Croatia: Travel Guide to Vis Island appeared first on Adventurous Kate.