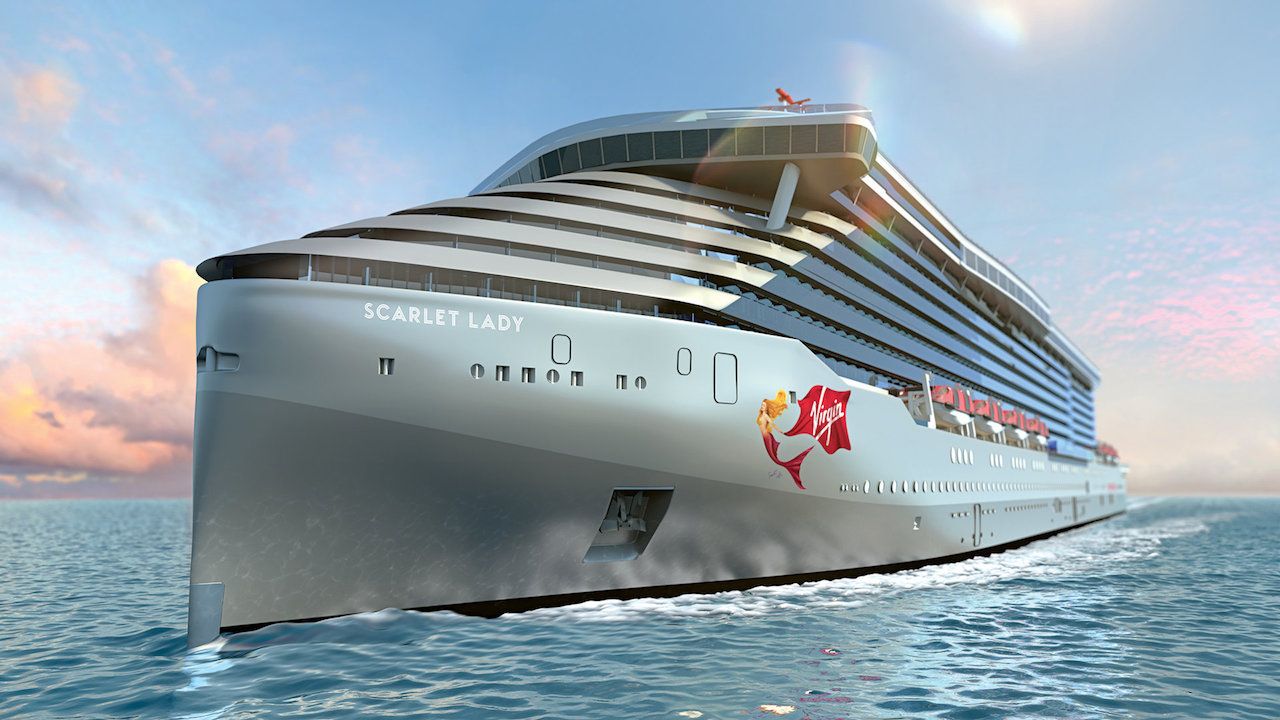 Crazy, crazy Richard Branson is at it again. This time the eccentric Aussie billionaire is taking the last bastion of unabashed gluttony and trying to turn it into something "healthy." At least, that's the indication we got from the first public renderings of his forthcoming Virgin Voyages cruise line, scheduled to set sail in 2020.
Last week at the ship's yard in Genoa, Italy, Virgin released videos, artist renderings, and some details about the Scarlet Lady, the first ship in the cruise line's fleet. And it looks more like a wellness retreat in Ojai than a weekend trip to Nassau.
Start with the 360-degree views from the white-daybed-adorned Crows Nest bar on the ship's top deck. Though it'll presumably serve the boozy, fruity drinks we expect on cruises, it serves them in a bright, breezy setting that'll have you chasing your Piña Colada with some fresh ocean air — a slightly more Zen setting than the typical rum bars next to a children's waterpark.
Just outside the Crows Nest, you'll find the Runway, a dedicated jogging track set over the ship where joggers won't have to compete with waddling passengers for running space. The track encircles the top deck, allowing runners great views and ample opportunities to make everyone below who isn't running feel guilty.
Not wellness-laden enough for you? Dick Branson's got more up his white linen sleeve with an outdoor training center and boxing ring. So if you feel like letting out any aggression you might have brought on board, you can do so in the ring. This will presumably help passengers avoid any fights over who was first in the midnight pizza line. There'll also be something called the B-complex with rooms that'll make you build, burn, bike, and balance, which sounds a little like riding your bike away from an insurance fire but actually involves weights, spinning, yoga, and other stuff that won't get you arrested.
After your workout, you can relax in the ship's Redemption Spa on deck five where, in addition to a hydrotherapy pool, there'll be all sorts of earthy treatments from a mudroom to a salt room to quartz beds. And if relaxing isn't hype enough for you, Redemption will also have a resident DJ spinning at the spa nightly. Because what life is complete without a party horn waking you out of a quartz bed?
And perhaps the most peaceful thing about the Scarlet Lady: no kids. That's right, the new adults-only cruise line isn't letting little ones on board. So no need to worry about your rooftop bliss getting interrupted by the youngest cousins from the O'Malley family reunion.
The ship has the sleek, curved look that we've grown accustomed to on Virgin Atlantic and Virgin America flights, with plenty of sultry reds and euro-chic whites throughout. The exterior is a lot of curves and closed walls with just enough chrome to make it look a little like a floating Vegas baggage claim. With so much wellness, such a striking design, and so few children, this might be the first cruise line in history where people leave feeling healthier than when they arrived. That crazy Richard Branson seems to know what he's doing.


More like this:
Mapped: The world's most popular cruise ship destinations
The post Virgin Voyages released the first pics from its first ship and it looks insane appeared first on Matador Network.