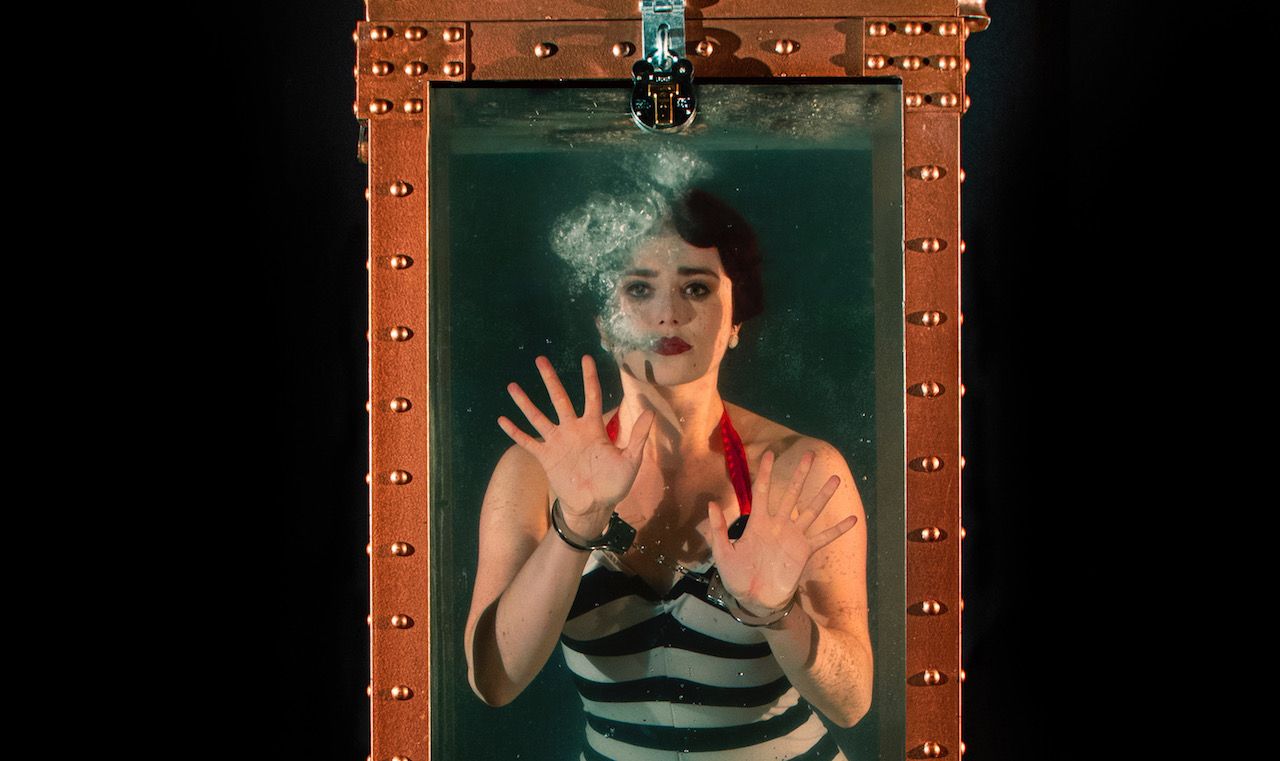 A new, immersive theater show has arrived in New York City, and it may just be the best way to celebrate Halloween this year. The Girl Who Handcuffed Houdini will bring you into the world of Minky Woodcock, a burgeoning private detective who's determined to make her mark in a man's world and finds herself part of the mystery surrounding famed magician Harry Houdini's final years of life.
The story primarily follows the unyielding Minky, who is first contacted to find out if Houdini is cheating on his wife, but after taking a job as Houdini's new assistant finds that the fidelity case may be one of potential murder. But in a similar style to the massively popular NYC show Sleep No More, audience members follow various members of the cast to see the story from their perspectives, sharing conversations with them and even following them backstage.
The mastermind behind it all is Cynthia von Buhler, who's also the writer and illustrator of the graphic novel of the same name that inspired the show. Buhler has a long history with the arts, and in addition to writing and art, she's a performer and playwright. "I am a visual artist, and you know, I've been an illustrator and painter for years, so for me, the thing I love doing is creating an environment," Buhler told Matador Network.
The entire idea stems from Buhler's own belief that Houdini was murdered by spiritualists, rather than as a freak accident, as well as all the information she uncovered as a result of her own investigation into it.
For around the last two years of his life, the magician would debunk spiritualism at the end of his shows by showing the audience spiritualist tricks and then explaining how they were done. "He actually even put out a pamphlet [about it]," Buhler explained, "with one big spiritualist named Margery, who's in the show. And the reason why he did this was that he felt like the spiritualists were preying on people for money. And they were, they wanted money and they were fake."
Guests will choose their own side in the spiritualism versus pragmatism debate when purchasing their tickets, and that will determine what character they'll follow throughout the show (though they won't know which character specifically until they arrive). They'll either be a spiritualist that believes in ghosts, a pragmatist that believes in science, or one of Houdini's favored guests that wish ghosts existed but is doubtful of their validity and doesn't like those who lie about it.
Pragmatist characters include Bess Houdini, Harry's wife, and Bennie Woodcock, Minky's brother, while spiritualist characters include Sir Arthur Conan Doyle, author of the Sherlock Holmes series. Tickets for these will cost $100. To be one of Houdini's favored guests and follow characters like Minky, Harry, and Margery, it'll be $200.
VIPs get exclusive scenes prior to the set start time when everyone gathers in the beginning. Once everyone is all together, each group will sit in a row corresponding to which character they follow, and they'll get a chance to interact with their character one-on-one before the magic (pun fully intended) happens. The actors are in character all night, giving guests a chance to get away from their day-to-day lives and slip into the '20s with an entirely new persona.
The show spans three different venues, all next to each other. Most of the main action takes place in Theatre 80, where guests will able to witness some of Houdini's famous acts. The William Barnacle Tavern next door — a real speakeasy from the Prohibition era — is where guests will be able to assist some of the characters in theorizing the motivations behind the murder plot over glasses of absinthe. In a townhouse above both venues, some groups will witness affairs and take part in a seance. Fair warning, much of the show involves the art of burlesque, so audience members will see plenty of nudity.
Several of Buhler's works take place in the 1920s and deal with mysterious murders. The catalyst was the 1935 murder of Buhler's own grandfather, Frank Spano, the owner of several speakeasies in New York City. She used the discoveries from her investigation into his death as fodder for her first immersive theater experience, The Bloody Beginning. "It was only supposed to be a one night show," Buhler said, "and it turned into five years."
Minky and crew's run will go until November 10th of this year, but there's definitely potential for her to stick around for longer if audiences demand it. You can buy tickets here.


More like this:
Brew your own Harry Potter cocktails at this New York City bar
The post This immersive Houdini show in New York City is the most magical way to spend Halloween appeared first on Matador Network.