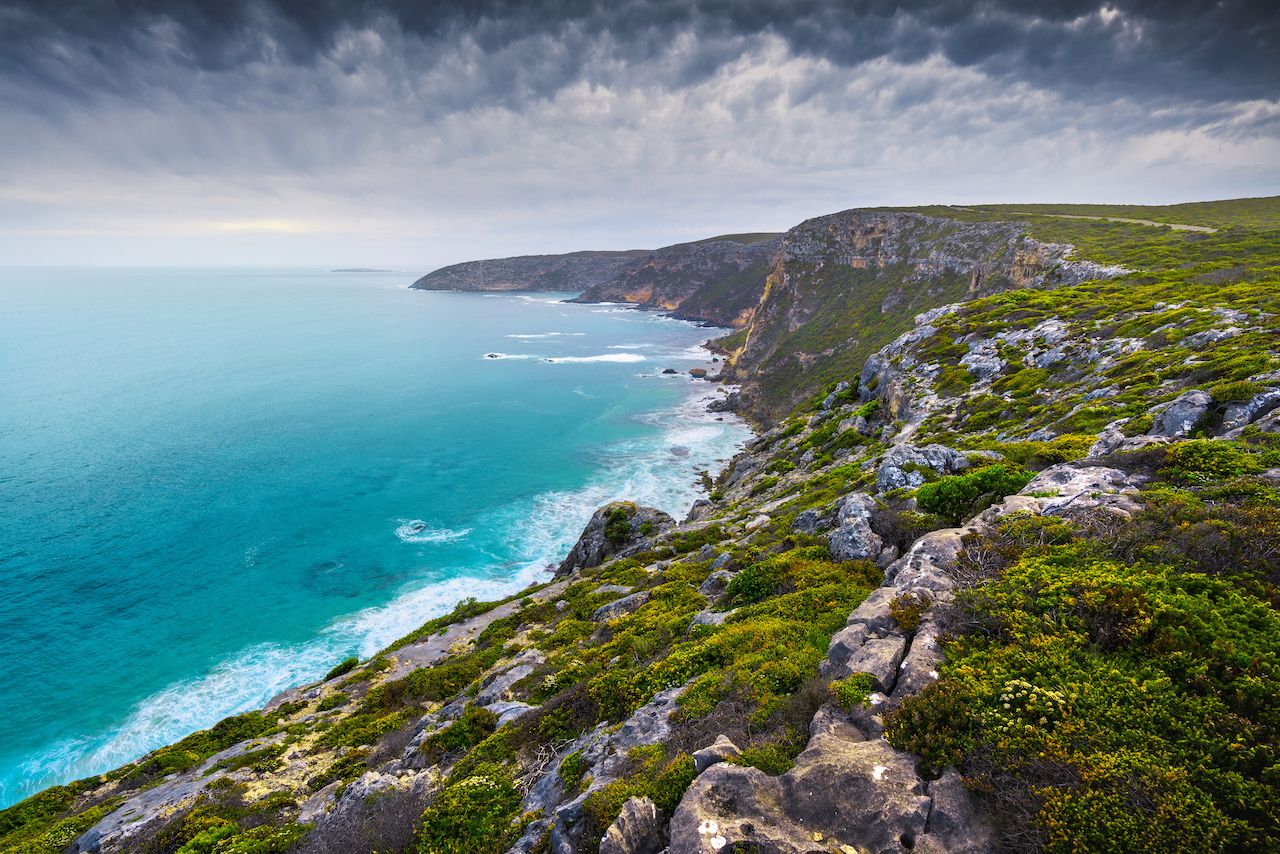 Adventure lovers could be tempted to stay on the Australian mainland without venturing further afield. With nearly three million square miles of territory, including 10,000 beaches and even skiable mountains in winter, Australia seems to have everything an outdoor lover could want. But adventure seekers should add one more stunning place to their list of Australian must-visit destinations: Kangaroo Island.
Australia's third largest island has 318 miles of rugged coastline, into which are hidden tiny coves with white sandy beaches while countless species of indigenous wildlife inhabit the island's sweeping hills and remote bushland. The rewards of adding Kangaroo Island to your Australian itinerary are more than worth the extra effort to get there; it's just a 40-minute ferry from Cape Jervis on the coast of South Australia. Here's what to do once you arrive.
Hike to hidden beaches and through eucalyptus forests.
Over a third of Kangaroo Island is protected by national parks, so there are plenty of trails of varying difficulty to choose from. If you're spoiled for choice, a good place to start is Stokes Bay, where "Secret Tunnel," a natural rock walkway, leads through the cliffs to a concealed beach beyond. Just make sure to time your walk at low tide, so the tunnel is easily accessible.
Alternatively, one of the more challenging hikes on the island is the newly opened 37-mile Kangaroo Island Wilderness Trail, which takes five days to complete. Starting in the Flinders Chase National Park, this walk leads past waterholes and river cascades, through eucalyptus forests, and along towering cliffs, showcasing some of the island's most spectacular scenery. Cup Gum, Hakea, Banksia, and Tea Tree campgrounds are also situated along the route, providing picturesque places for you to set up camp for the night.
To time your trip, the hiking season typically lasts from March to November, when the summer heat starts to become too much. During these months, and there's plenty to see. Koalas, echidnas, and a species of kangaroo unique to the island are frequently sighted, while in winter, the coastal trails provide panoramic views of majestic southern right whales completing their annual migration from the Antarctic to the Great Australian Bight to breed.
Surf intense ocean swells.
Contrary to popular opinion, there's more to surfing in Australia than Margaret River and the Gold Coast. Kangaroo Island is buffeted by consistent waves all year round, soaking up all the Southern Ocean swells that would otherwise reach Adelaide.
This swell brings good and bad news. The good news is that the island's distance from the mainland, and the remoteness of its breaks, mean quiet, or even empty, lineups. The bad news is that heavy waves, strong currents, and rocks can make many of the island's surf breaks unsuitable for complete beginners.
Confident surfers should check out spots like Hanson Bay and Rockies, while novice surfers should head to Vivonne Bay and Penneshaw Bay. On bigger swell days, it's also possible to surf the reef break at Stokes Bay for fast, hollow, powerful rides across the hidden bay.
Snorkel and spot marine life.
Whales aren't the only marine life attracted to Kangaroo Island's shores. Seals, dolphins, and sea lions also call the island home and can be spotted at its beaches. To maximize your chances of swimming with wild dolphins or seals, book a tour with Kangaroo Island Ocean Safari and visit some of the spots where marine life is most frequently spotted.
On the other hand, if you'd rather stay dry, Seal Bay Conservation Park also offers tours and is the only place in the world where visitors can enter a wild colony of roughly 1,000 Australian sea lions. For a truly special experience, join the sunset excursion and visit the sea lions in a smaller, more intimate setting as the sun sinks into the Southern Ocean.
If you'd rather avoid a tour altogether, you can still snorkel at spectacular beaches like Vivonne Bay, where the rock pools are a treasure trove of marine creatures, or Western River Cove, where colorful reef fish give the Great Barrier Reef a run for its money. Although, unlike the Barrier Reef, you'll need a wetsuit. Antarctic currents can make the water unexpectedly cold, even in the middle of summer.
Sandboard on very big dunes.
Without a doubt Kangaroo Island's most unique outdoor attraction, Little Sahara is exactly what you'd expect from somewhere named after the largest hot desert in the world: a small park of very big, naturally occurring sand dunes.
Formed 7,000 years ago, the dunes are a perfect example of the varying terrain across the island. They're also the only dunes in South Australia where you can rent quad or fat bikes to race over the dunes, or try the island's signature activity: sandboarding.
Hire a sandboard or toboggan from Kangaroo Island Outdoor Action, brave the slopes of dunes up to 230 feet high, and enjoy the sensation of snowboarding without the cold landing. To guarantee that the park will be open, check the weather forecast before you visit, as rain can cause the park to close.
Kayak on the Harriet River.
Away from the swells smashing the coastline, the Harriet River is an oasis of calm and a haven for birds, fish, and even koalas who live in the trees along its banks. By far the best way to experience the tranquility of the river is by kayak, floating down the river and soaking up the scenery.
Kayaks can be rented from Kangaroo Island Outdoor Action, which also offers guided tours of the river during which your guide will identify local flora and fauna and take you to the best spots to see some of the river's most attractive wildlife. Or, you can take the trip at your own pace and hire your own kayak to explore up to three miles of the river independently.
Savor local honey, seafood, and spirits.
There's nothing better than good food and good wine after a long day outdoors, and after its natural scenery and wildlife, Kangaroo Island is best known for its wineries and restaurants. The island is also world-famous for its Ligurian bee honey, and at the Island Beehive, you can tour the beehives and get both your sugar and your caffeine fix with a Ligurian or honeycomb latte.
Oysters are another of the island's exports, and the Oyster Farm Shop in American River is the best place to sample this local delicacy, as well as local marron and abalone. Self-defining as "not a restaurant" but a "funky little farm gate," it's a unique setting in which to taste a wide variety of the island's produce.
No trip to Kangaroo Island would be complete without toasting a long day of activities. After a day spent outdoors and eating oysters, wine-lovers should head to Dudley Wines for a guided tasting and a glass of "shearing shed shiraz." Meanwhile, for something stronger, Kangaroo Island Spirits gin has been internationally recognized and even offers a "blend your own gin" experience. Your head might not thank you for it the next morning, but you'll take away your own bottle of blended gin, the perfect memento of a unique island escape.

The post Kangaroo Island should be on your Australian outdoor itinerary appeared first on Matador Network.