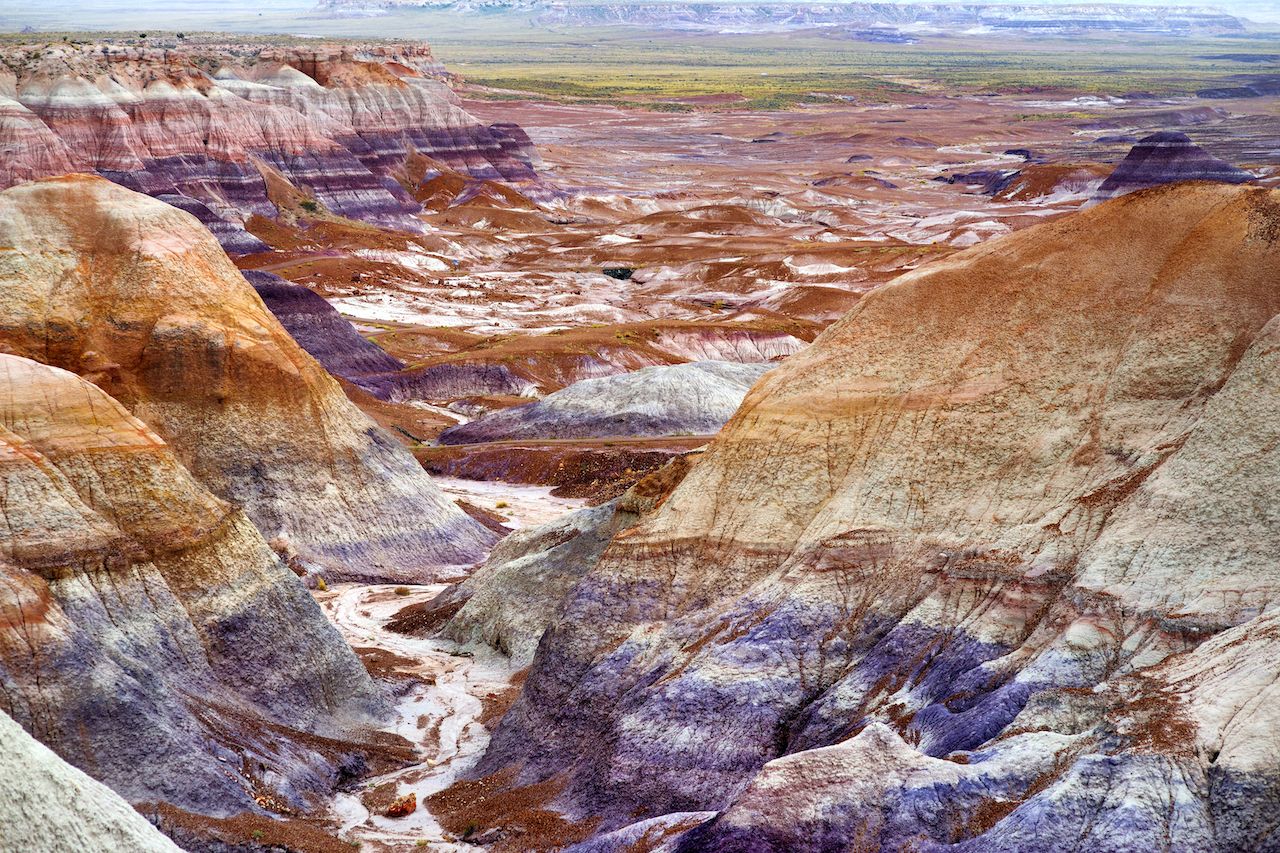 It's rarely surprising to learn that a major landmark has been designated a UNESCO World Heritage site. Pick a major city in any of the 167 state parties with listed landmarks, and you'll almost certainly recognize at least one. After all, more than 1,000 sites of natural and cultural importance have already earned protected status across the globe. It's a big world out there, however, with no shortage of UNESCO-worthy attractions, and it can be surprising to learn what hasn't made the list. At least, not yet.
In an effort to keep the long list of global knockouts up to date, the organization invites state parties to send in lists of tentative sites of "outstanding universal value" for consideration before being officially nominated. Those interested can peruse the nearly 2,000 sites currently on the list to learn a little bit more about the world, see what's in store for the organization, and, inevitably, get some travel inspiration. To pique your interest, these are the 19 US landmarks currently on the tentative UNESCO World Heritage List.
1. Big Bend National Park
Yellowstone and Mesa Verde national parks were both included in the first round of UNESCO inscriptions in 1978, representing the US alongside 10 other global sites. Several parks have since received World Heritage status as well, including Yosemite and Grand Canyon national parks. Big Bend, located in southwest Texas, might be next. It was established in 1944 and runs along the Mexican border, spread across the Chihuahuan Desert, the largest in the US, with the Rio Grande forming its southern boundary. Not just of natural value, Big Bend also houses dinosaur fossils and evidence of human history dating back 10,000 years.
2. The Brooklyn Bridge
Anyone who has seen a movie in the past decade could pick the Brooklyn Bridge out of a lineup, whether as Miranda and Steve's reconciliation site in Sex and the City, where Peter Parker professed his love in webbing for Gwen Stacy in The Amazing Spider-Man 2, or as a recurring casualty of action movies set in New York City. Completed in 1883, it was one of the first roadway bridges ever built in the US and the first steel suspension bridge built anywhere in the world. Construction was a sizable undertaking, lasting 14 years and resulting in a bridge measuring more than a mile long over the East River between Manhattan and Brooklyn. Today, it's a defining feature of one of the world's most iconic skylines, backdropping countless films, as well as the lives of the many millions who live in, and visit, New York City.
3. California Current Conservation Complex
The California Current Conservation Complex isn't a single site deserving of a post on the World Heritage List. It comprises much of the best of Central California's coast, from Monterey Bay and the Farallon Islands to parts of Point Reyes National Seashore and the Golden Gate Recreation Area. In total, the complex includes 20 distinct marine reserves between Point Arena in Northern California's Mendocino County and Point Piedras Blancas in San Luis Obispo County farther south. Significant marine life, including great white sharks and sea turtles, call the coast home, as do a number of seabird species. Blue whales, the world's largest animal and an endangered species, also make appearances in Central California's waters.
4. Central Park
You might think there'd be more, but NYC only has one World Heritage site at present: the Statue of Liberty. It's an obvious choice, but ask a New Yorker, and they'd probably recommend adding Central Park to the list, too. The park was designed by Frederick Law Olmsted, winner of an 1858 competition, and includes features like gardens, water bodies ranging from lakes to reservoirs to ponds, architectural and artistic hallmarks like bridges and sculptures, and plenty of green spaces to enjoy on a nice afternoon. According to UNESCO, it's one of the finest, most distinguished examples of urban design in the world.
5. Civil rights movement sites
Three Alabama historical sites from the civil rights movement were together submitted to UNESCO's tentative list in 2008: Dexter Avenue King Memorial Baptist Church in Montgomery, where Dr. Martin Luther King Jr. was a pastor from 1954 to 1960, and the Bethel Baptist and 16th Street Baptist churches in Birmingham. The Bethel Baptist Church earned its spot in the submission as the Alabama Christian Movement for Civil Rights headquarters while the 16th Street Baptist Church is remembered as the site of Ku Klux Klan bombing in 1963 and a hub of civil rights activity. The submission acknowledges other landmarks worthy of a nod, including the Selma to Montgomery National Historic Trail and Little Rock Central High School National Historic Site in Arkansas, but only the three churches were officially included.
6. Dayton aviation sites
The Dayton aviation sites commemorate the innovation of the Wright Brothers, the aviation pioneers who built, and flew, the world's first successfully piloted airplane. Four sites in the Dayton, Ohio, area where the brothers grew up are included in the nomination, overlapping with the Dayton Aviation Heritage National Historical Park properties. Of note are the Huffman Prairie Flying Field, where the brothers conducted test flights, and the cycle and print shop where they worked and conducted aeronautic experiments.
7. Early Chicago skyscrapers
Chicago is home to the very first skyscraper ever built, the Home Insurance Building, which was completed in 1885. Over the next couple of decades, Chicago's downtown was built up with even more tall high-rises. According to the nomination, nine structures best exemplify the innovative Chicago School architectural style that emerged in the late 19th and early 20th centuries: the Auditorium, Second Leiter, Marquette, Rookery, Monadnock, Old Colony, Fisher, Schlesginer and Mayer, and Ludington buildings. Not only striking to the eye, each required unprecedented technology, like steel fabrication and early elevators, resulting in never-before-seen skyscrapers that towered over the city from as many as 20 stories up.
8. Ellis Island
There's no American history without immigration, and there's no greater symbol of American immigration than Ellis Island. Twelve million immigrants, mostly European, are said to have passed through Ellis Island between the late 1800s and mid-1900s, belonging to what the UNESCO website refers to as the Great Atlantic Migration. The Ellis Island National Museum has been housed in the main building, one of dozens involved in the immigration process, since 1990, and the entire site today belongs to the Statue of Liberty National Monument. Though Lady Liberty has had World Heritage status since 1984, Ellis Island, under a mile away, was only submitted to be considered for an inscription in December 2017.
9. Hopewell Ceremonial Earthworks
These archaeological sites in Ohio are of great cultural importance as evidence of Hopewell culture, a broad term for the Native American traditions that developed in North America during the Woodland period from around 1000 BC to 1000 AD. The nine submitted earthworks (large geometric patterns formed by manipulating land levels, such as creating mounds, sometimes in the image of animals or other spiritual symbols) are split between three sites: Fort Ancient State Memorial, Hopewell Culture National Historical Park, and Newark Earthworks State Memorial, all in Ohio. They're the best-preserved of the dozens of surviving Hopewell earthworks, representing everything from prehistoric burial practices to ancient astronomical beliefs.
10. Marianas Trench Marine National Monument
We often envision soaring structures or natural features, like the Eiffel Tower or Victoria Falls, when we picture World Heritage sites. In a way, the Marianas Trench is impressive for its height, only it plunges deeper into the Pacific Ocean than Everest towers over the rest of the Himalayas. In total, the Marianas Trench measures roughly seven miles deep, 940 nauticals long, and 40 nautical miles wide. According to UNESCO, fewer people have explored its depths than set foot on the moon, making it one of the most mysterious and remote locales on the planet. Former president George W. Bush named the site, which includes both the trench and the submerged islands and volcanoes of the Mariana archipelago, a national monument in 2009. It was submitted as a World Heritage site in 2017, so UNESCO may be next to recognize it.
11. Marine protected areas of American Samoa
American Samoa is a US territory in the South Pacific, located roughly midway between Hawaii and Australia. The surrounding reefs are remarkably intact, protecting not only coral species, including some of the oldest on the planet, but also marine life like sea turtles, endangered giant clams, eagle rays, humpback whales, dolphins, and various sharks. Add in over a 1,000 distinct algae species, some of the largest fish you'll ever see, and seabirds that nest in the area, and it's no wonder why American Samoa's protected waters are up for a World Heritage nomination. The Rose Atoll Marine National Monument, Rose Atoll National Wildlife Refuge, and National Marine Sanctuary of American Samoa were officially submitted, but the appeal also recognizes American Samoa's societal contribution as the "birthplace of Polynesian culture."
12. Moravian Church Settlements
There's already one settlement founded by the Moravian Church on the World Heritage List, called Christiansfeld, but it's all the way in Denmark. One of the oldest Protestant denominations, the church has roots in Central Europe but spread internationally as its practitioners emigrated. Many found their way to Bethlehem, Pennsylvania, during the 18th century, establishing a settlement there in the image of the one in Germany where the church is based. It remains the most impressive, and best-preserved, historical example of Moravian activity in the US, as well as exemplifies the German colonial architectural style.
13. Mount Vernon
You'd think that the former plantation estate and burial place of the first US president would already be one of the country's World Heritage sites. It was submitted to the tentative list over a decade ago for its historical value, as well as its impressive size and 18th-century structures, which were modeled on the English and Central European architectural styles of the day. Spread across nearly 50 acres on the banks of the Potomac River in Virginia, the property includes a palatial main house, gardens, servant hall, salt house, smoke house, ice house, original tomb, and more. Also on site is a Slave Memorial commemorating the men, women, and children who worked the plantation. Mount Vernon has been remarkably well-maintained and was inscribed as a National Historic Landmark in 1960.
14. Okefenokee National Wildlife Refuge
Okefenokee is among the largest, most eco-rich wildlife refuges in the US and perhaps the most impressive outside of the West Coast. It's located in Georgia near the Florida border, with the southernmost part extending over the state line. The refuge was created around the Okefenokee Swamp, a massive freshwater ecosystem that feeds into the Atlantic Ocean and Gulf of Mexico. Countless species, endangered and otherwise, call the refuge home, notably alligators, black bears, gopher tortoises, and quadruple-digit moth species. Though evidence of logging has compromised some of the refuge's ecological value, it has made great strides since being protected and remains an impressively hydrologically intact wetland.
15. Pacific Remote Islands Marine National Monument
Snorkeling in Hawaii is enough to sell you on the undersea Pacific landscape, but this island cluster southeast of the Aloha State is far more remote and even more wildlife-dense. In fact, it's considered the "most widespread collection of coral reef, seabird, and shore bird protected areas on the planet," according to UNESCO. It's a massive monument, comprising three islands, three atolls, and the Kingman Reef. Together, they occupy over 300 million acres of prime Pacific real estate that's jointly protected by the Fish and Wildlife Service and the National Oceanic and Atmospheric Administration. Though it's best-known for its coral and seabird species, the marine monument also sees green sea turtles, reef sharks, Hawaiin monk seals, and more.
16. Petrified Forest National Park
It's not easy to stand out amid Arizona's extreme desertscapes, but Petrified Forest National Park is something special. It's famous for its concentrations of petrified wood, or fossilized trees and similar vegetation that generally take on striking colors and striations due to mineralization. These fossils, as well as the dinosaur and other ancient animal remains that have been discovered here, provide significant insight into the flora and fauna of the Late Triassic period over 200 million years back. Not just a natural marvel, Petrified Forest National Park also houses evidence of some of the Southwest's earliest human inhabitants and visitors, from prehistoric nomads to pueblo-dwelling Native Americans to Spanish explorers.
17. Serpent Mound
Serpent Mound is another example of an earthwork, specifically an effigy mound, and the world's largest remaining effigy mound at that. This particular earthwork was created in the image of a serpent, snaking more than a quarter-mile through southern Ohio and reaching heights of three feet. It's unclear when, or by whom, exactly, the mound was erected, but carbon dating has estimated its origins to the Fort Ancient people from around 1120 CE. A lasting example of prehistoric Native American culture, it's also just plain cool to look at.
18. Thomas Jefferson buildings
Photo: https://www.shutterstock.com/fr/image-photo/virginia-state-capitol-richmond-usa-362637068
Thomas Jefferson's early 19th-century plantation, Monticello, and his visionary "academical village" at the University of Virginia in Charlottesville, were together inscribed as UNESCO World Heritage sites in 1987. The third president's legacy extends beyond these two structures, however, explaining the appeal to add the Virginia State Capitol and Poplar Forest to the inscription. Jefferson leant his eye for design to the capitol building and secondary plantation estate between the late 1700s and early 1800s, creating two more candidates for the World Heritage List that exemplify the country's relatively short architectural history.
19. White Sands National Park
New Mexico's White Sands National Park is a brand new national park, only earning its designation on December 20, 2019. Prior to that, it had been classed as a national monument since 1933. Like Big Bend, White Sands is located in the Chihuahuan Desert. Though it's a fraction of the size, it's just as spectacular, famed for blindingly white dunes created by gypsum sand. According to UNESCO, its otherworldly landscape is similar to what you'd find on Mars, granted you wouldn't mistake it for the red planet.

The post These 19 US landmarks may soon become World Heritage sites appeared first on Matador Network.