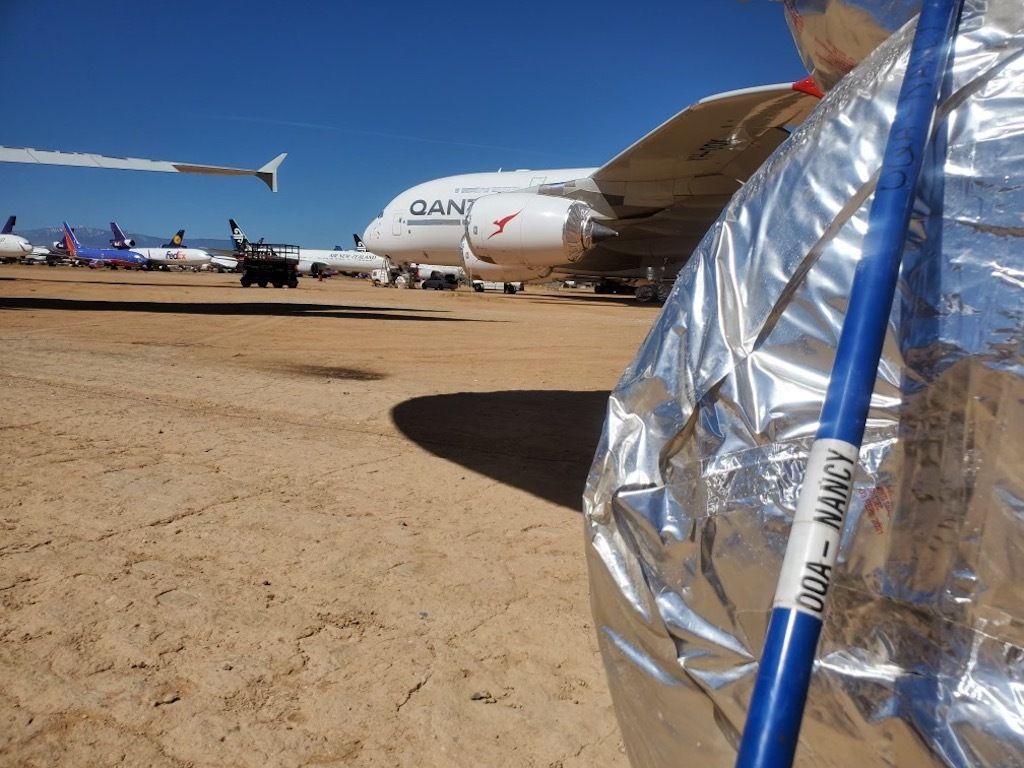 Australian airline Qantas put many of its planes in storage in 2020 when travel to and from Australia dramatically slowed down because of the COVID-19 pandemic. But stored airplanes still need to be inspected weekly. Qantas engineers in charge of maintenance have had to develop an unexpected pre-inspection routine: scaring off rattlesnakes and scorpions from planes.
Qantas has been storing its A380 superjumbos planes in California's Mojave Desert, as the dry heat and low humidity makes it an ideal place to store aircrafts. Upon routine checks on the planes, the Qantas engineers realized that some of the planes had attracted deadly critters like rattlesnakes and scorpions. The maintenance team came up with a simple but effective way to remove them — "wheel whackers" made from repurposed broom handles.
According to a news update on the airline's website, "The first thing we do before we unwrap and start any ground inspections of the landing gear, in particular, is to walk around the aircraft stomping our feet and tapping the wheels with a wheel whacker to wake up and scare off the snakes. That's about making sure no harm comes to our engineers or the snakes. Only then do we carefully approach each wheel and unwrap them before performing our pressure checks and visual inspections."
Experts don't think travel will return to pre-COVID-19 levels for at least another two years — and Australia is not expected to reopen to travelers before 2022 — so many of those planes are still on the ground.
Other procedures performed once the planes are in storage include inspections to drain fuel tanks of water caused by condensation, rotating the wheels to avoid flat spots, checking tire pressure, and more.
"Aircraft like these are highly technical and you can't just land it at the storage facility, park it and walk away. It's really important that even when in deep storage, the aircraft are maintained to the Qantas standard," Qantas reported in its news release.

The post Qantas uses 'wheel whackers' to scare off rattlesnakes hiding in its planes appeared first on Matador Network.