AZIZ ANSARI and Alan Young's Master of None is back with a second season — and a second round of must-visit restaurants, bars, and outdoor markets. This meal-by-meal guide will make you an expert on every foodie experience showcased on the hit Netflix show. Bon appetite!
Episode 1 "The Thief"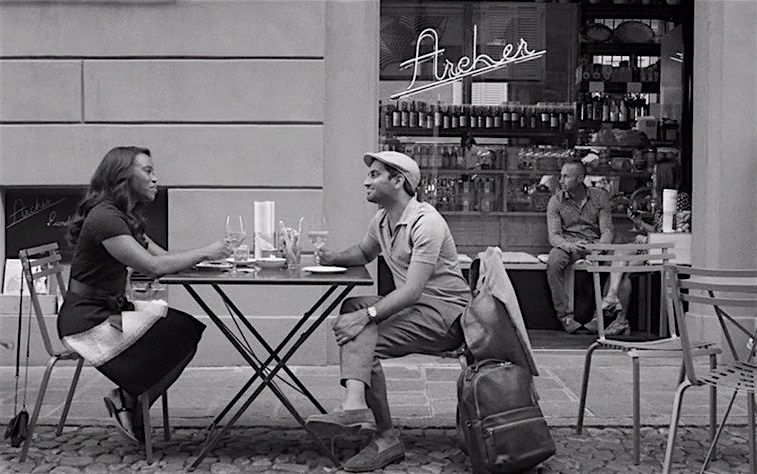 The start of the season sees Dev in the small Italian town of Modena, where he has been studying the art of pasta-making at Boutique del Tortellino. As a birthday gift to himself, he dines at Hosteria Giusti — and meets his first romance of the season over plates of mouth-watering pasta. They end an afternoon stroll with a pick-me-up at local wine bar, Archer. That night, he continues his birthday celebration with friends at Enoteca Compagnia del Taglio, a Modena eatery known for its wine and — big surprise — pasta. That birthday pie, alas, is not on the menu.
Boutique del Tortellino
Address: Via Antonio Scarpa 9
Hosteria Giusti
Address: Via Luigi Carlo Farini 75
Archer
Address: Via Cesare Battisti 54
Enoteca Compagnia del Taglio
Address: Via del Taglio 12
Episode 2 "Le Nozze"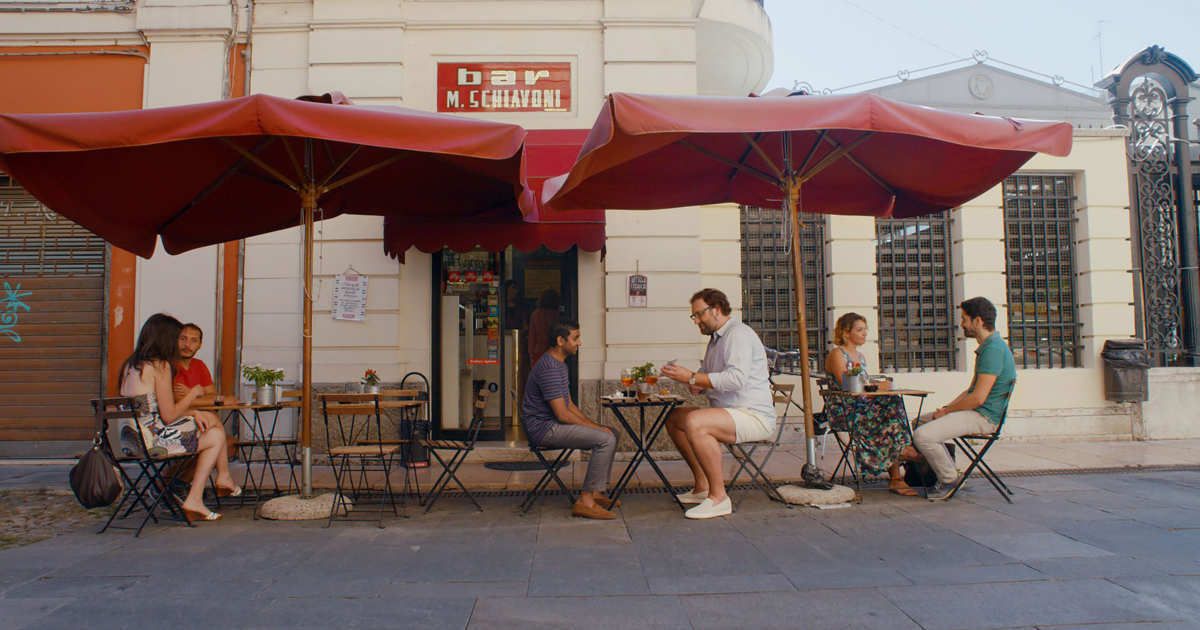 The lovable Hulk Arnold joins Dev in Italy and much eating ensues. After walking through Mercato Albinelli, the duo goes next-door to chow down on sandwiches at the well-known Bar Schiavoni. Arnold surprises Dev with dinner at Massimo Bottura's Osteria Francescana for a Michelin three-star meal. If you're able to snag a coveted rezzie, don't expect to be able to eat in the wine cellar yourself — the show got special access specifically for this scene.
Mercato Albinelli
Address:Via Luigi Albinelli 13
Bar Schiavoni
Address: Via Luigi Albinelli 13
Osteria Francescana
Address: Via Stella 22
Episode 3 "Religion"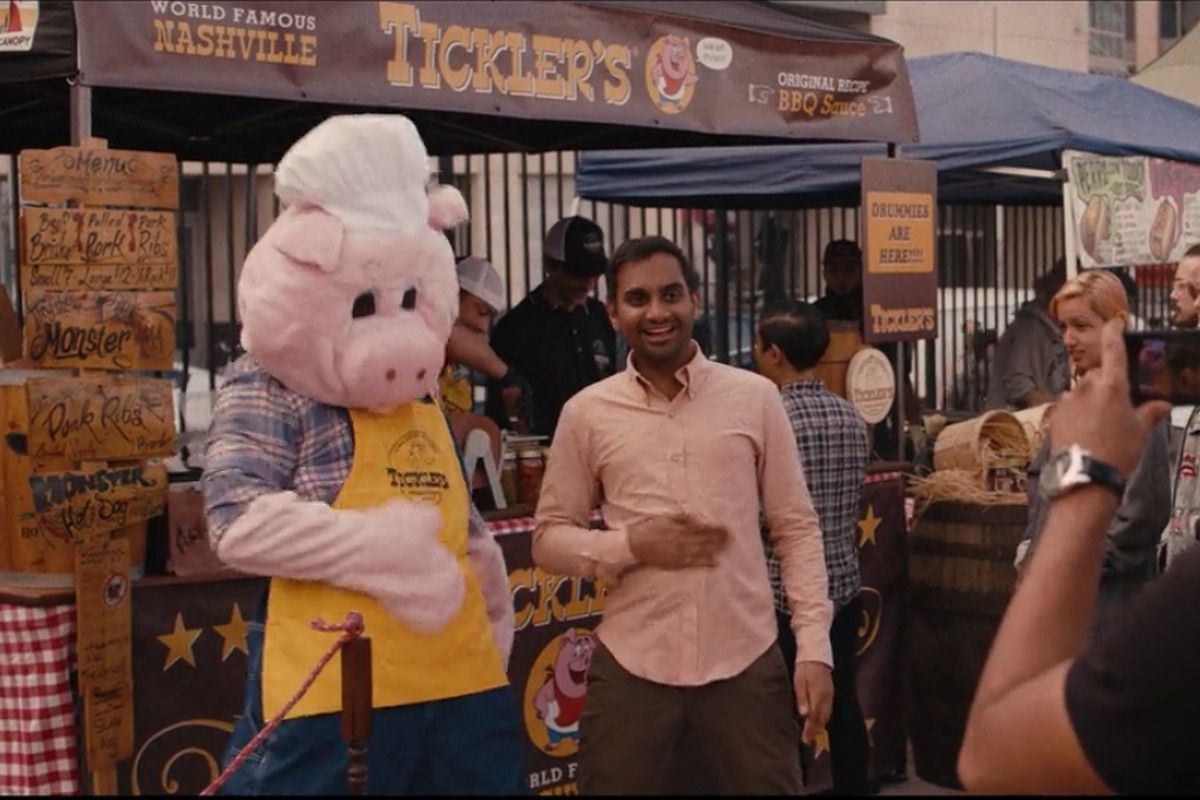 Back in NYC, Dev meets his parents and relatives at Oleanders, a retro-style fern bar and American eatery in Williamsburg. At his father's prodding, Dev pretends to be an observant Muslim — though he later tempts his cousin into sin with a pork cubano from Slick Willie. To complete their fall from grace, Dev and cousin eat their way through Smorgasborg Williamsburg, an open-air food fairground where you can stuff your face with over 100 local vendors' fares. While the featured Tickler BBQ is fictional, the actual pork was provided by Butcher Bar, which has locations in Astoria and the Lower East Side. At a second dinner with the relatives, Dev comes clean about his pork love affair at Thai Villa, where he orders — you guessed it — pork.
Oleanders
Address: 160 N 12th St. (McCarren Hotel & Pool), Williamsburg
Slick Willie
Address: 179 Meserole Ave, Greenpoint
Smorgasborg Williamsburg
Address: 90 Kent Ave, Williamsburg
Butcher Bar
Address:146 Orchard St., Lower East Side
Thai Villa
Address: 5 East 19th St., Gramercy/Flat Iron
Episode 4 "First Date"
Take a break from swiping to watch this episode for first date inspiration. The Four Horsemen, Dev's Tinder date go-to, is a Williamsburg favorite run by LCD Soundsystem frontman, James Murphy. Enjoy a glass of natural wine at the bar before sitting down to a plate of potato gnocchi. If all goes well, take a cue from Dev and hit up the latest Williamsburg rooftop bar, Westlight, for after-dinner drinks with a twinkling skyline view.
The Four Horsemen
Address: 295 Grand St., Williamsburg
Westlight
Address: 111 North 12th St., Williamsburg
Episode 5 "The Dinner Party"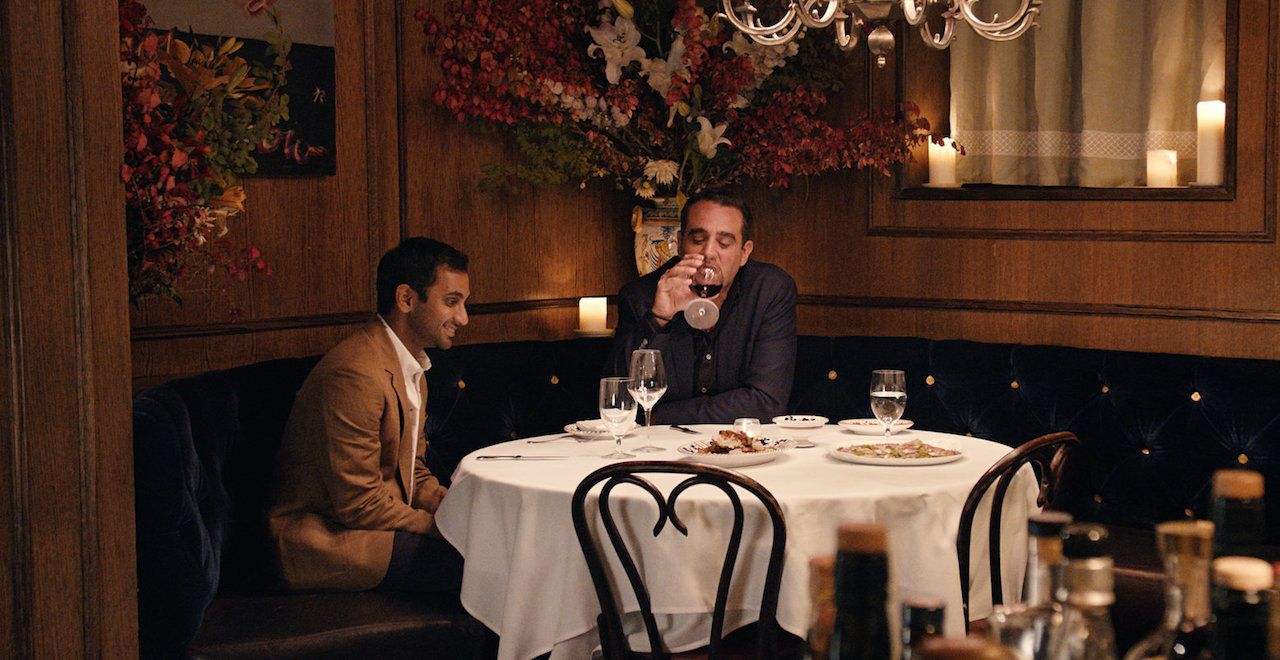 Dev meets his schmoozy celebrity-chef boss, Jeff Pastore, at Carbone, an A-list hot spot that serves up mean Italian fare. Get ready to drool as they gorge themselves on octopus, house-made mozzarella, and beef carpaccio. Later Dev pulls out his second-date skills for Priya, taking her to PDT, a hidden entrance speakeasy once voted best bar in the world. But not even a cool bar can save this date as it becomes apparent that Dev and Priya have little in common. Their fate is sealed over dinner at Noho Italian staple, Il Buco, when Priya says she doesn't like to share food.
Carbone
Address: 181 Thompson St., Greenwich Village
PDT
Address: 113 St Marks Place, East Village
Il Buco
Address: 47 Bond St., Noho
Episode 6 "New York, I Love You"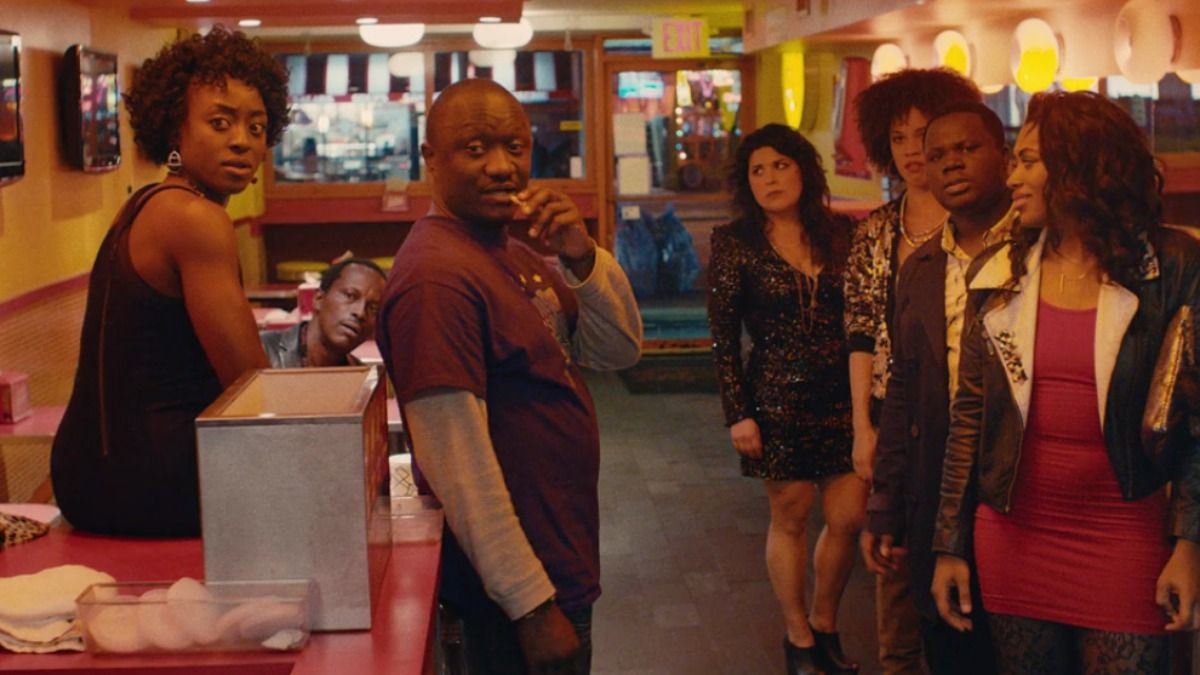 In this capsule episode, a trio of cab drivers stand in line at too-cool 1Oak before being denied entry. After being scammed into going to a lackluster club, the group ends up hanging out after hours at Lucky's Famous Burgers, a 50's style fast-food joint with an emphasis on fresh ingredients.
Lucky's Famous Burgers
Address: 264 West 23rd St., Chelsea
Episode 7 "Door #3"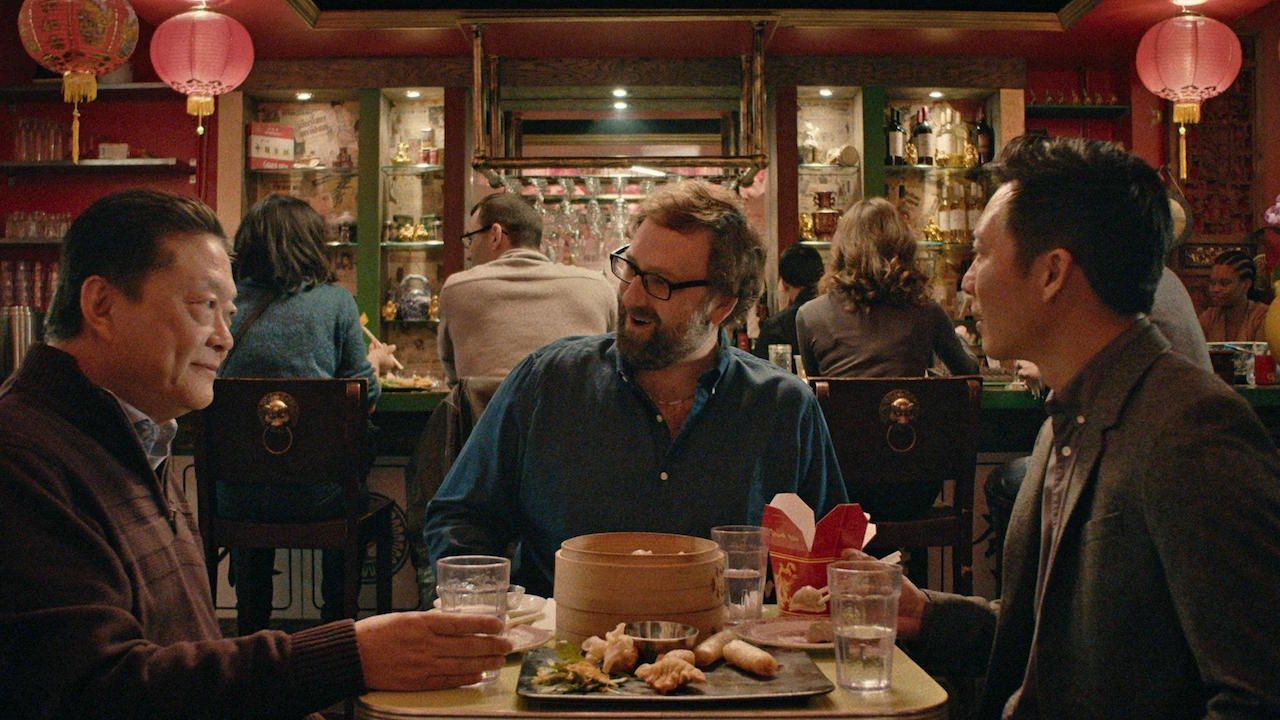 Dev takes Jeff to his favorite Indian restaurant, Agra Taj Mahal, a cheap eats haven on Manhattan Ave. After being featured on the show, it is bound to become a well-known favorite so be sure to visit before the flood. On the other side of Brooklyn, Brian talks relationships with his dad and Arnold over street food-inspired fare at The Chinese Club.
Agra Taj Mahal
Address: 1005 Manhattan Ave, Greenpoint
The Chinese Club
Address: 208 Grand St., Williamsburg
Episode 8 "Thanksgiving"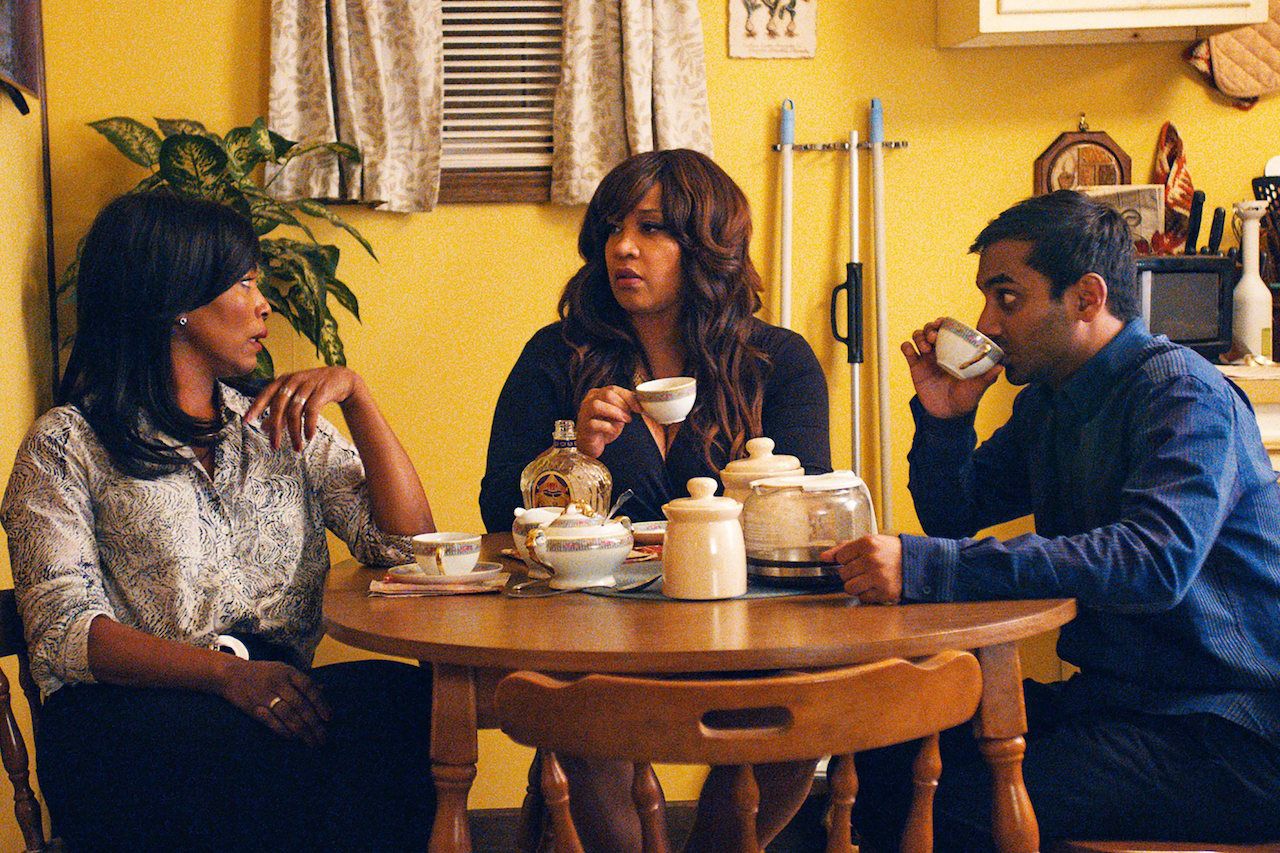 One of the best episodes of the season features the greatest meal of the year — Thanksgiving. No restaurants, just some good ol' home cooking and spectacular performances by Angela Basset and Lena Waithe.
Episode 9 "Amarsi Un Po"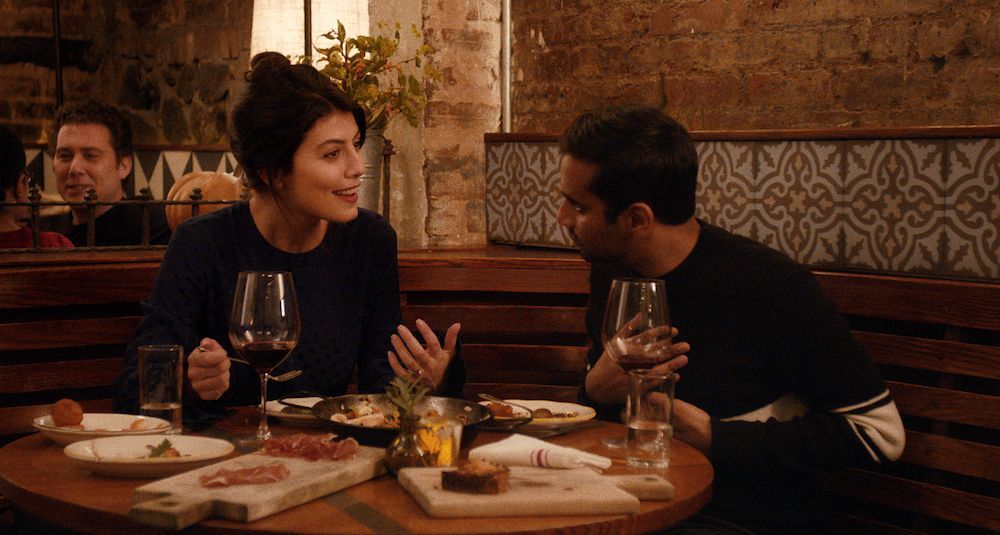 Aside from Dev and his stomach, Dev's real romance of season two is with his Italian crush, Francesca. After an hour wait, they gorge on tapas, red wine, and flirtations at Tertulia, before secretly texting at Francesca's boyfriend's birthday party at JIA Lounge. After almost crossing the line into illicit territory, Francesca pulls back and sulks while Arnold DJs at Good Room and Dev is left more than a little confused.
Tertulia
Address: 359 6th Ave, Greenwich Village
JIA Lounge
Address: 105 Rivington St., Lower East Side
Good Room
Address: 98 Meserole Ave, Greenpoint
Episode 10 "Buona Notte"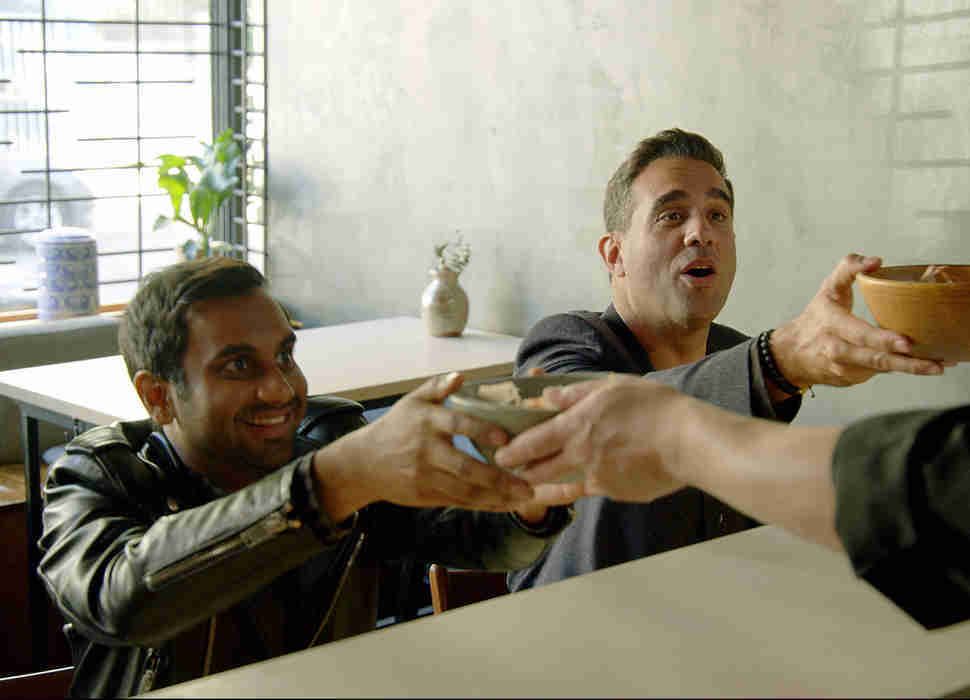 After starting a new reality show together centered around food, Dev and Jeff Pastore film an episode at Okonomi where they dive into bacon and egg mazemen — if you're looking to have the same, make sure you visit at night when the restaurant becomes Yuji Ramen. Later, over drinks with a friend at Wilfie & Nell, Dev figures out what every woman watching the show already knows: Jeff is just as slimy as he seems. After a sexual harassment scandal blows up his new show, Dev heads to get relationship advice from Arnold at the LES hotspot Nitecap. Dev and Francesca end the season with a question mark, but there's no doubt that there will be quite a few good meals in their future.
Okonomi/Yuji Ramen
Address: 150 Ainslie St., Williamsburg
Wilfie & Nell
Address: 228 West 4th St., Greenwich Village
Nitecap
Address: 151 Rivington St., Lower East Side

All images courtesy of Netflix.

More like this:
The 12 most wanderlust-inducing shows on Netflix