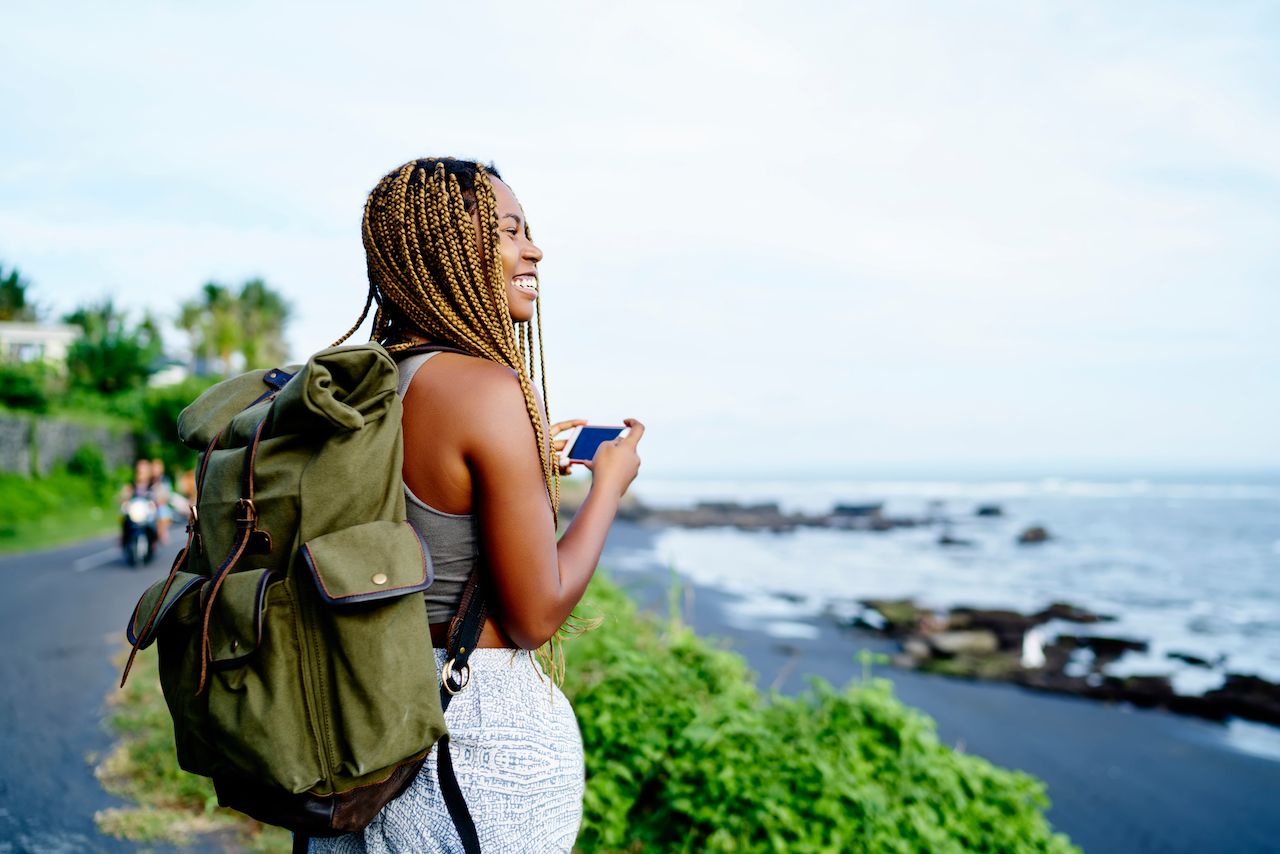 In 1980, after graduating from New England College, which, at the time, had a sister campus in Arundel, England, my mom traveled across Europe, Morocco, and Israel alone.
Born in Germany and raised primarily in Pennsylvania, she was no stranger to international travel. Transatlantic family reunions were common. She'd chosen to pursue her studies abroad, and two years prior to her months-long solo excursion, she'd been questioned at the Muscat airport for traveling independently to visit a college friend from Oman.
This, however, would be her first time truly, intentionally on her own. Solo female travel was relatively uncommon in that day, and her plans, loose as they were, were met with mixed reactions: Her peers largely considered the trip bold and exciting. Most everyone else thought she was crazy.
I caught the travel bug my mom brought into my childhood home. Nearly 30 years after her first solo trip, I took mine, boarding a plane to India a few months after graduating from high school in 2009.
Our plans were different. Though I would decide to travel completely solo before leaving the subcontinent, I'd set off to teach English through a volunteer program. Nonetheless, my trip was met with a similar reaction: My friends were encouraging while many of their parents, and my college counselor, were skeptical.
Like my mom, there was one question I heard most: "But, is it safe?"
In the decade since, not only have gap years become wildly more popular in the United States, but statistics also show that solo travel has skyrocketed, with female travelers leading the charge. According to Condor Ferries, a European freight and passenger ferry service, solo travelers now represent 11 percent of all travelers, and 84 percent of them are women.
The narrative around solo female travel is shifting accordingly, anchored by a growing community of women travelers, many of whom are sharing their experiences, and expertise, online.
"The progress that we've made, particularly in the last five years, has been phenomenal," says Alice Teacake, author of the popular Teacake Travels blog, remarking that 10 years ago, when she started on her solo adventures, people used to question her sanity.
Yet opposite the bloggers, writers, influencers, and everyday social media users showcasing the positives of solo female travel, headlines on the topic typically focus on instances of violent crime, and where it happens. Though they now encourage women to go solo, travel articles continue to cite gender equality, crime rates, and other subtextually fear-mongering justifications for listicles that pigeonhole women into the same, largely Western European, destinations.
Perpetuating the myth that by visiting, or avoiding, certain places women can control the crimes perpetrated against them encourages a victim-blaming mentality.
In actuality it's unclear, statistically, what risk of violence solo female travelers face abroad. Many women can likely recall instances of harassment, but the same is sadly true for women around the world traveling no farther than their local grocery store, solo or with company.
"It's becoming better," says Teacake, "but as long as people question our safety, we're going to be in a vicious cycle of things not improving … as long as this shaming of women continues when they get in trouble, and they always believe it's the woman's fault, then we're not going to make the progress we need."
Of course, safety does have its place in the dialogue. According to the 2019 Expedia Solo Travel Report, 51 percent of solo female travelers expressed concerns about their safety and comfort abroad compared to 21 percent of their male counterparts.
Matador Network staffer Dayana Aleksandrova, who traveled to the Dominican Republic alone in 2017, says she took extra precautions before, and during, the trip given its reputation among female travelers: studying up on self-defense, packing nondescript clothing, wearing a baseball cap.
On the ground, however, she experienced nothing but hospitality. "I didn't feel threatened or weird at any point," says Aleksandrova, recounting her tale of arriving in Punta Cana one evening with a five-hour, three-bus trip to the Santo Domingo Airport ahead. "I found the same to be true in the small villages of the Samana Peninsula," she continues, noting that, more often than not, those she met were inclined toward being protective of her.
I, too, have been shown as many kindnesses because I was a Western woman traveling alone as I have been targeted for that fact.
If not a question of facing particular challenges, taking extra precautions, or shying away from certain places, the question then becomes: What actually defines solo female travel, and what makes a destination particularly enriching for solo female travelers?
Empowerment, community, and education are recurring themes in conversations among women who travel alone. In the 2019 Expedia Solo Travel Report, gaining self-confidence and a new perspective were chief among the reasons women cited for traveling solo. Accordingly, the places we encourage these women to go should be evaluated by their potential to inspire this growth, not measured solely by their presumed risks.
First-timers, for example, might pick destinations with established female expat or traveler presences. This is among the reasons Teacake recommends Thailand as a starter trip. Earlier in our conversation, she'd also noted feeling a sense of empowerment after visiting the Wendake reservation in Quebec, Canada, where "women kind of run the world a bit," a quip she qualified after by affirming her belief in gender equality. In the Wendake society, women make up a council of elders and are responsible for much of the decision-making.
Similarly, across the world, on the banks of Lugu Lake between China's Yunnan and Sichuan provinces, there exists a "Kingdom of Women" that's been gaining tourist traction ever since being branded "the last matrilineal society in China."
According to Mosuo tradition, not only are money and property passed down through the mother, but women also choose their lovers, who live outside the village, through a practice called "walking marriage." Though largely monogamous today, Musuo women are customarily entitled to as many lovers as they want in their lifetime, and casual affairs, while not advertised, are still practiced.
Other female-led societies, from the Minangkabau people of Indonesia to the all-female Umoja tribe in Kenya, have invited foreigners to observe their customs, as well. Some, like the Bribri people in Costa Rica, have even taken tourism into their own hands, establishing an indigenous-owned tour agency to ensure their community is appreciated, not exploited.
The growing trend of modern female leadership in both government and the tourism sector is also impacting women across the globe, solo female travelers among them. According to UN Women, as of last year, the number of female parliamentarians in the world had roughly doubled since 1995, rising from 11.3 to 24.3 percent. Rwanda is at the helm, with women representing 61.3 percent of the country's lower house parliamentarians in 2019.
Neighboring Uganda has made strides of its own in recent years. In 2015, Jean Byamugisha became the first female CEO of the Uganda Hotel Owners Association, while across the continent Hafida Hdoubane became Morocco's first female mountain guide early last year.
Though there are still only a handful of licensed female guides in Morocco, supporting them and women like them around the world, while also seeking their support, can be more than just an assurance of security for solo female travelers: It can be moving.
Traveling through Pakistan, for example, Teacake witnessed heartening community support for young women and their education. "I was in Hansa for quite a lot of the time, and it was just really great to see the girl power there," she says, remembering how schoolgirls would proclaim their ambitions to become doctors and lawyers.
In other cases, it may not be a place, or a cause, that brings women together but a shared interest. Take the Austrian and Budapest Women's Runs, held May 17 and October 10-11, 2020, respectively. Or the Nagoya Women's Marathon in Japan, this year on March 8. Elsewhere, politically inclined travelers might meet like-minded women in Paris or Mexico City, which are hosting UN events this year for the 25th anniversary of the Beijing Platform for Action, adopted at the Fourth World Conference for Women to end gender inequality.
Or maybe you just want to go to Italy and start relationships only with plates of pasta.
Like all travel, solo female trips should be personal, not prescriptive. And they don't even have to mean going it alone. Consider joining the free Wanderful Women Who Travel community in-person at a local chapter or on Facebook, or Matador's travelstoke app, to sync up with fellow solo female travelers heading to the same destination, or even locals to meet up with once you're there.
It's safe to say that no two solo female travelers think exactly alike, or travel in the exact same way, but with a great big world out there to explore, no woman needs yet another recommendation to visit Denmark.


More like this:
7 unforgettable first trips for solo female travelers
The post It's 2020. Stop pitching solo female travelers 'safe' destinations. appeared first on Matador Network.