Is it even possible to travel in Antarctica as a solo female? Absolutely! I did so and I'm very proud that I've now traveled solo on all seven continents.
Now, I'm not talking about actually going to Antarctica completely alone, on a raft, without any support. That would be suicidal. The only people who get left alone in Antarctica are scientists, and they have extensive training and support to keep them safe. FYI: You are not a scientist.
I'm talking about booking a spot on an expedition cruise, like my voyage with Quark Expeditions, as a solo traveler. Something that quite a few women do. I think it's a fantastic way to explore Antarctica — perhaps even the best way.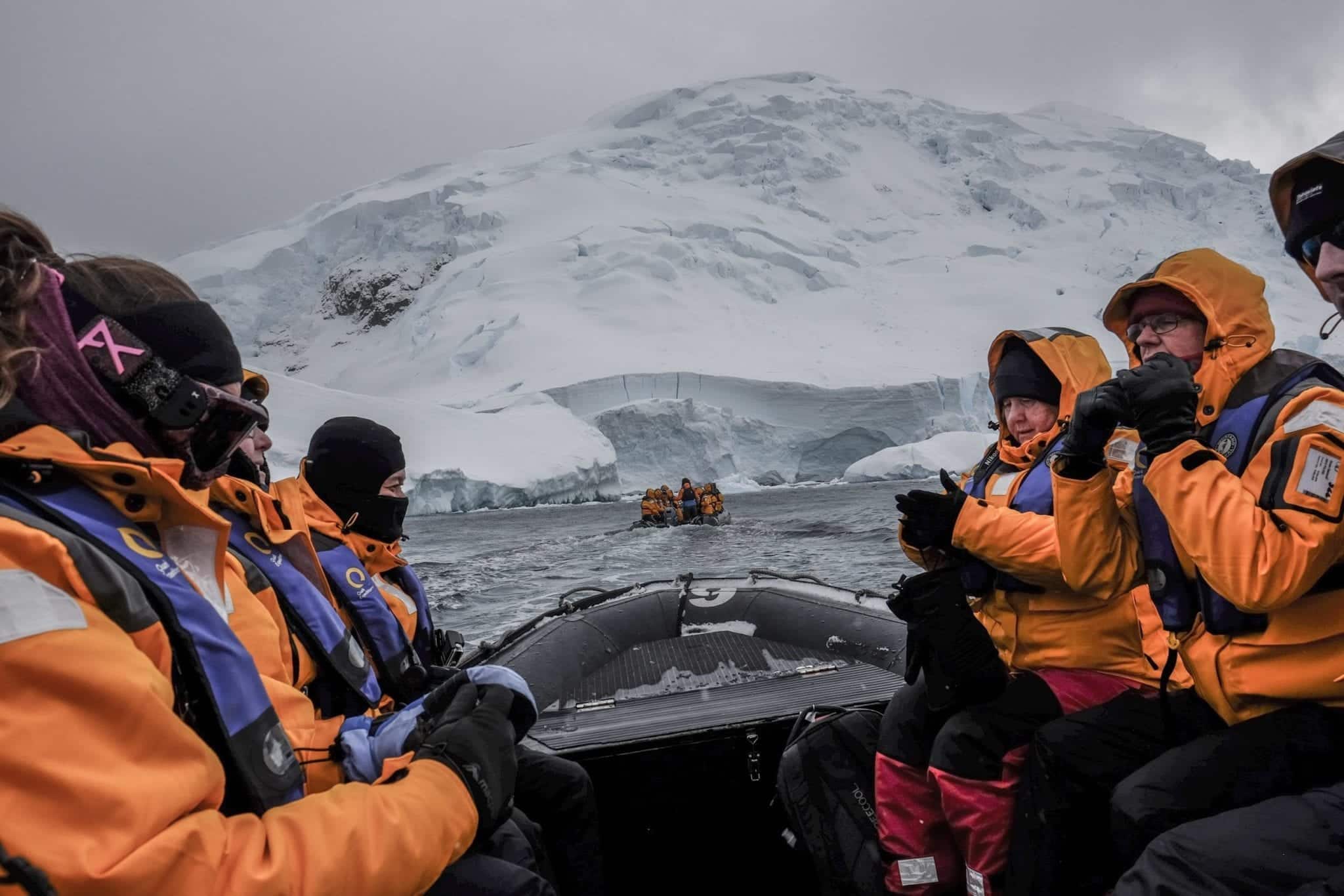 Antarctica Isn't for Everyone
It's one thing to convince a friend to come with you to New Orleans for the weekend — but Antarctica is a much tougher sell. It's probably the most expensive trip you'll ever do. You'll need to buy gear. And it requires a long flight to Ushuaia, Argentina (or Punta Arenas, Chile, for fly-cruises). The two-day journey across the Drake can be extremely rough; while I lucked out with relatively smooth crossings on my trip, some of my friends spent their crossings with their head in the toilet.
And yes, it's worth it. I always tell people that Antarctica is the best place I've ever been and the most beautiful place I've ever been.
But it's a lot to ask for a casual traveler.
There's a good chance that your usual travel buddy, or even your romantic partner, won't be up for the trip. And that's fine. If Antarctica is your dream trip, you shouldn't wait for someone who wants to join you. You should go to Antarctica solo.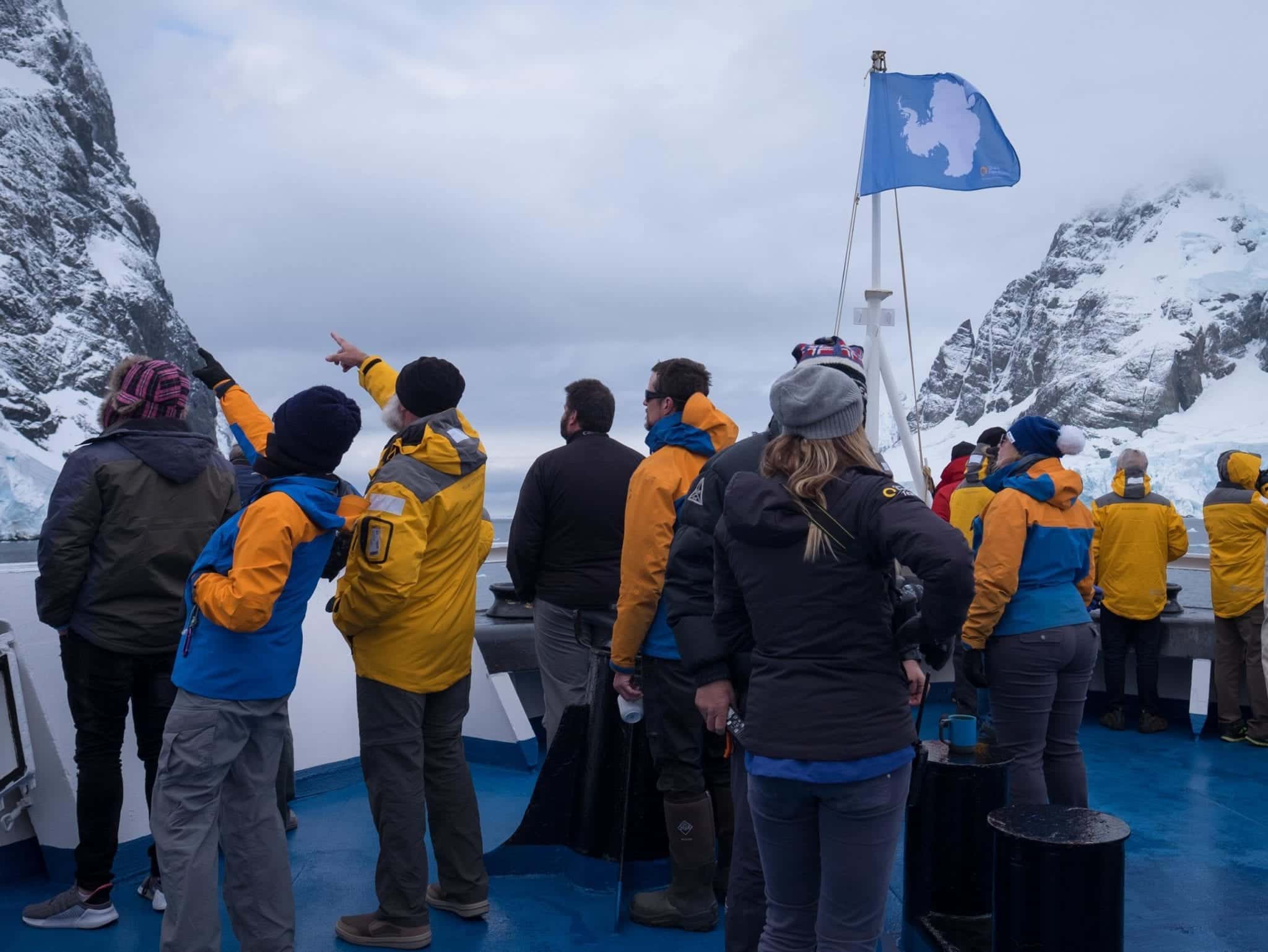 You Won't Be the Only Solo Traveler
I met tons of solo female travelers in Antarctica! There were a lot more solo women than men. They came from Australia, Hong Kong, the Netherlands, all over North America, and from every age range. Most were in their forties and fifties.
If you're hesitant about traveling to Antarctica on your own because you're afraid of being the only one, you can throw that theory out the window.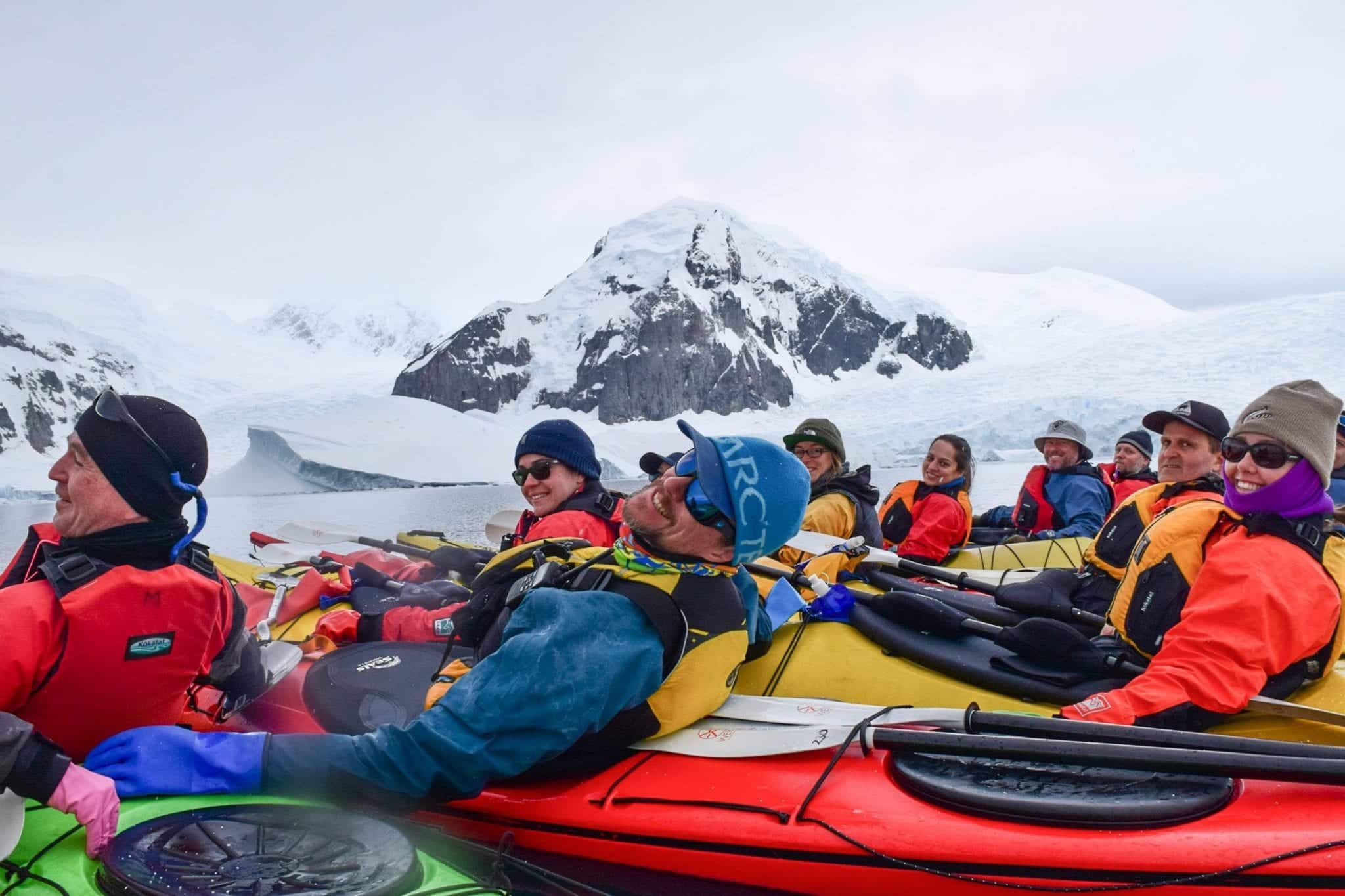 You Will Make Tons of Friends
I adore the friends I made in Antarctica. When you share such a mind-bending experience, you'll immediately bond with the people around you. I've kept closely in touch with lots of my Antarctica friends; I've met up with several of them since the trip and even hang out with one in New York on a regular basis!
Here's why it's easy to make friends in Antarctica:
Meals are at large communal tables. Tables are not assigned and most people tend to switch up their seating assignments, so you'll get to know lots of different people this way.
As an introvert, it's a bit tougher for me to start up conversations with strangers, but I found that the large tables led the most extraverted people to start the conversation and keep it going. And if you're stumped for topics, you can always ask people about what they've seen that day!
There's a good amount of downtime. With a two-day journey each way, a lot of us spent our time in the lounge, sipping tea and coffee and eating the seemingly endless supply of cookies. This was a good way to get to know people before we hit the seventh continent.
There are fun activities. The kayakers have their own little group throughout the trip, going out whenever possible. There could be other adventure activities throughout your trip, like hiking or snowshoeing. And there are activities on the boat as well, like trivia night and a barbecue out on the deck.
People like to party. Well, not everyone, but there is definitely a contingent hanging out in the bar every night. Walk in and grab yourself a glass of wine!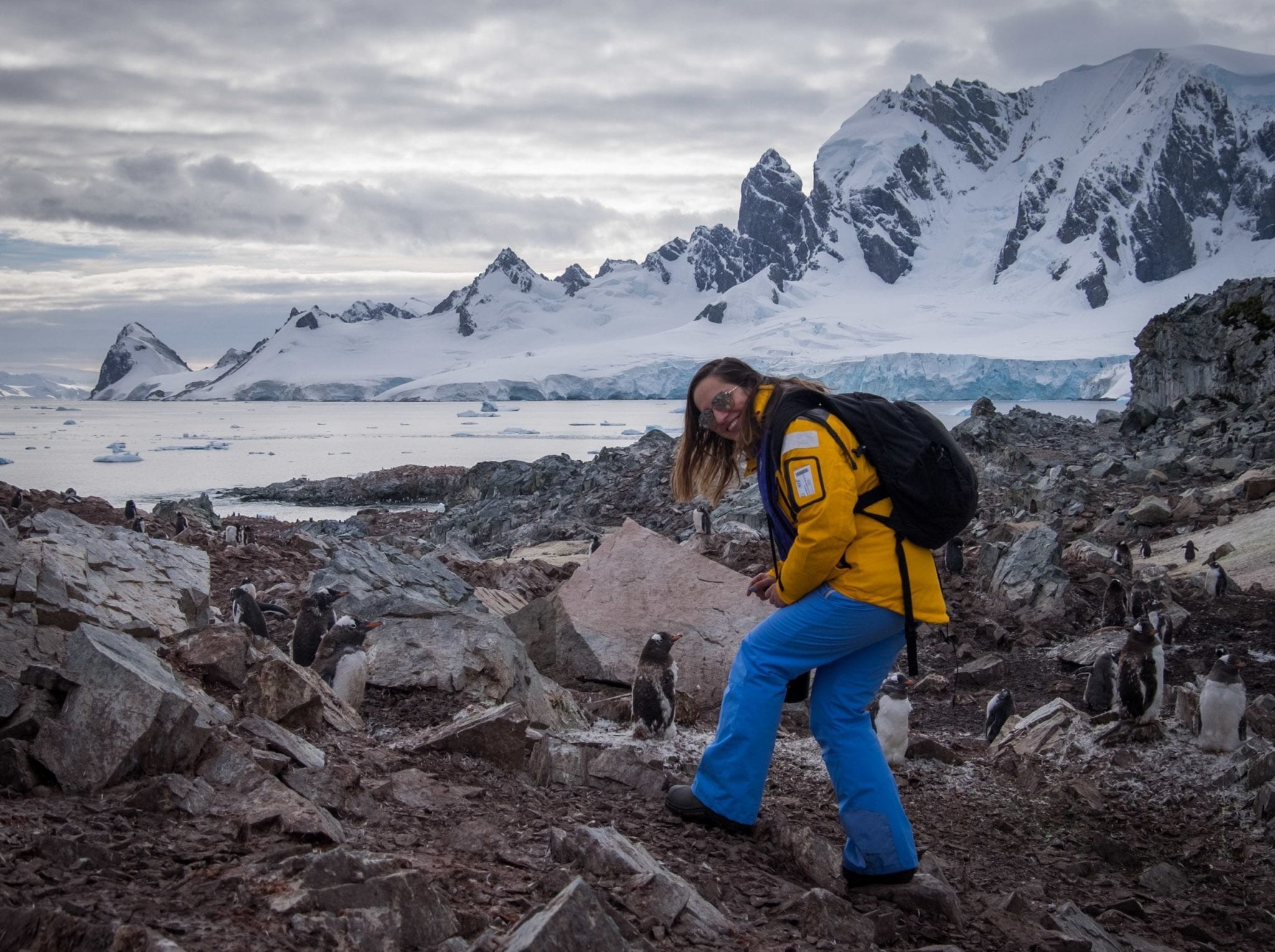 You Won't Be Charged Extra for Traveling Solo
One thing that holds women back from going on a cruise solo is that they'll have to pay an expensive single supplement. Most cruises are priced with couples in mind, but that doesn't happen on an Antarctica expedition. An expedition is nothing like a regular cruise.
If you're traveling alone to Antarctica, you can be assigned a roommate. On my trip, double and triple rooms were available and people were paired with roommates of the same sex.
I noticed that most of the solo female travelers tended to be paired up with people close in age. The 40- and 50-something solo female travelers tended to be grouped together. My own roommate, Leanne, was a few years older than me. I don't know if that was intentional or not, but it was nice.
And if you want to pay more to have your own room, you can absolutely do that. (In fact, one of the solo female travelers on the trip, a woman from Hong Kong, showed up in Ushuaia at the last minute and snagged a single room at a discounted rate! There are a lot of last-minute deals on various expeditions.)
Please note that every company is different, but Quark and many other companies room solo travelers together.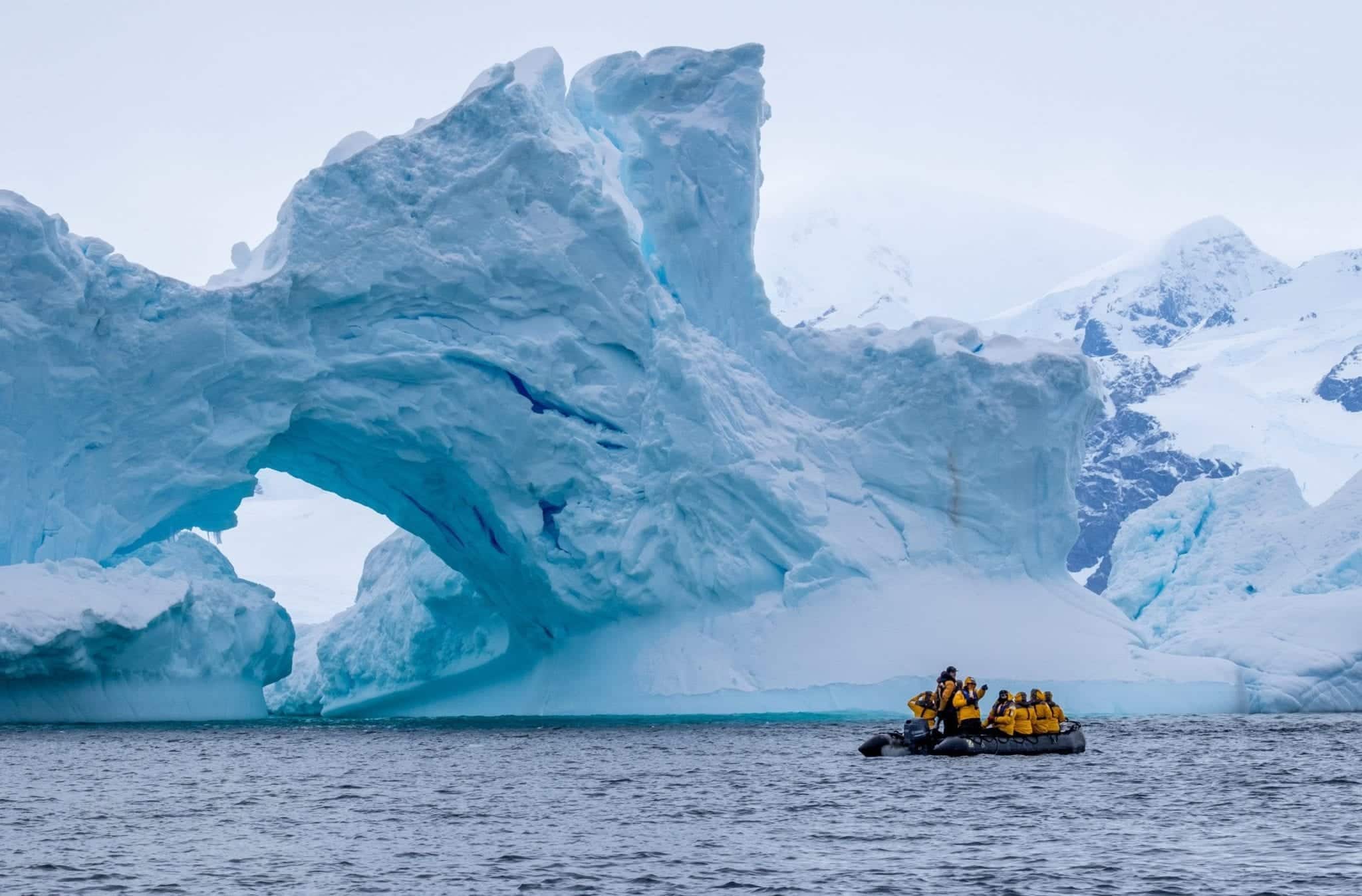 It's Safe to Travel to Antarctica — and Not Scary
One of the common misconceptions is that Antarctica is for extreme travelers only, marathoners and mountain climbers and the like. This couldn't be less true. A typical Antarctica expedition is not a physically demanding trip.
The only requirement is that you be in reasonably good health — able to walk for an hour or so, climb into and out of the zodiacs, and climb the stairs of the gangway with regularity. Some of the older people on board struggled with the gangway stairs, but the crew was helpful to them.
Choosing to kayak in Antarctica is a much bigger physical commitment, as you'll be kayaking for a few hours at a time whenever possible. You'll need to know the basics of kayaking and how to perform a wet exit. (One person fell in during our trip.) Some other physical activities require a higher fitness level.
---
---
The crew takes such good care of you on Antarctica expeditions. Their goal is for you to be safe.
My one scary moment was on Deception Island, the final landing of our trip. A huge fur seal began to charge at me. All I did was lift my arms in an X and that was enough to stop him in his tracks. The crew had warned us of this ahead of time and we fended them off with ease.
One thing I'll add is that Antarctica is not a place to take risks. Stay within the area the crew allows you to go. Dress properly (no stiletto-and-ballgown photo shoots). Don't antagonize the wildlife. If you're sick or injured, let a crew member know immediately.
---
READ MORE:
---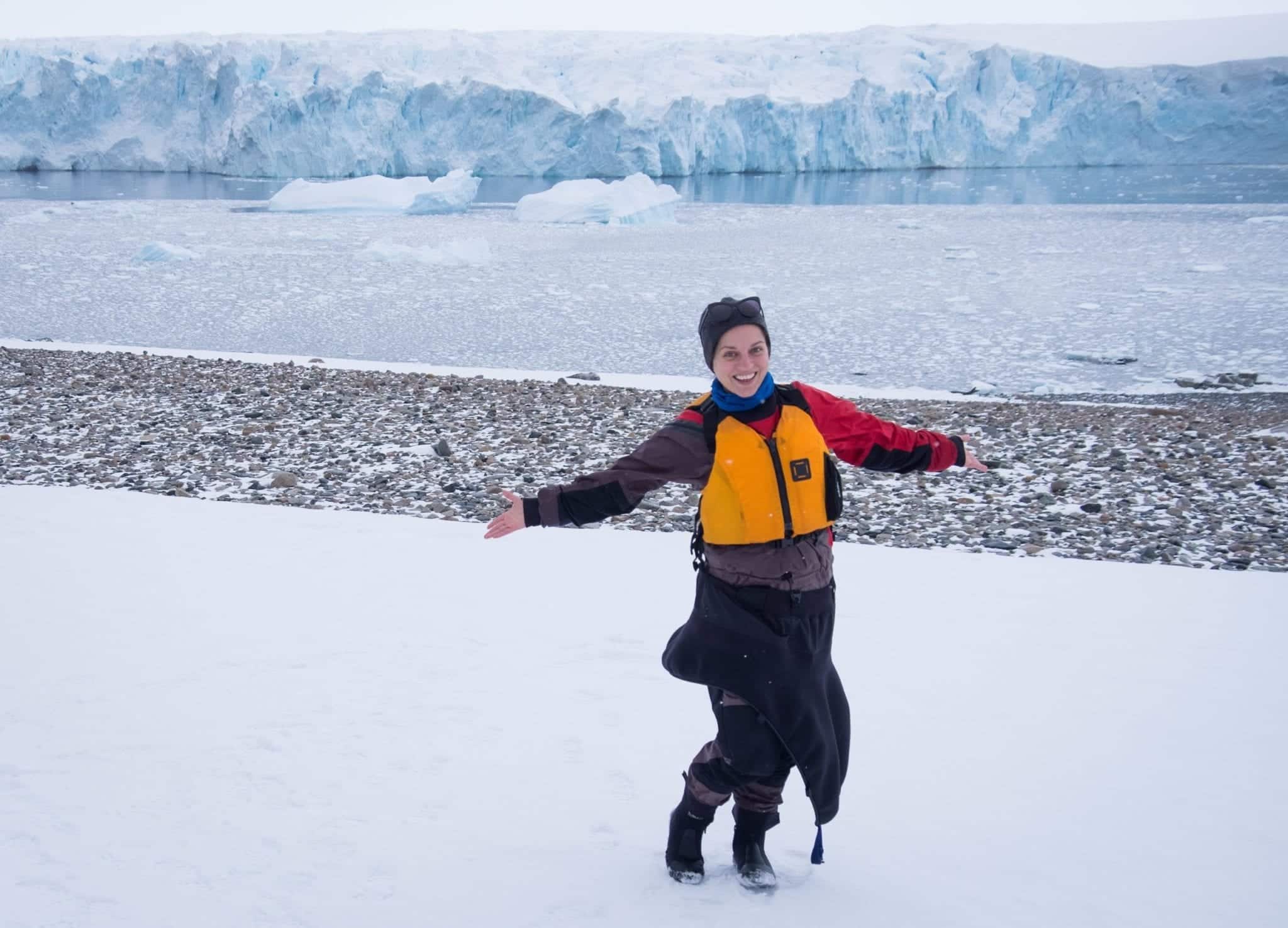 Antarctica is Best Experienced Solo
What I loved most about Antarctica was feeling dwarfed by its nature. It made me feel so small and insignificant — and that was beautiful. I honestly feel like my trip to Antarctica rewired my brain. I'm not the same person I was when I got on the ship.
I'll be chasing that feeling for the rest of my life.
---
---
And the truth is that if you're constantly spending your trip by someone's side, you're not going to have that same experience.
Even if you're traveling with a friend or partner, take time to experience Antarctica alone. Go for a walk on your own. Spend time watching the penguins play in the water. Admire the beauty without snapping photos. Breathe in the frigid air and just take it in.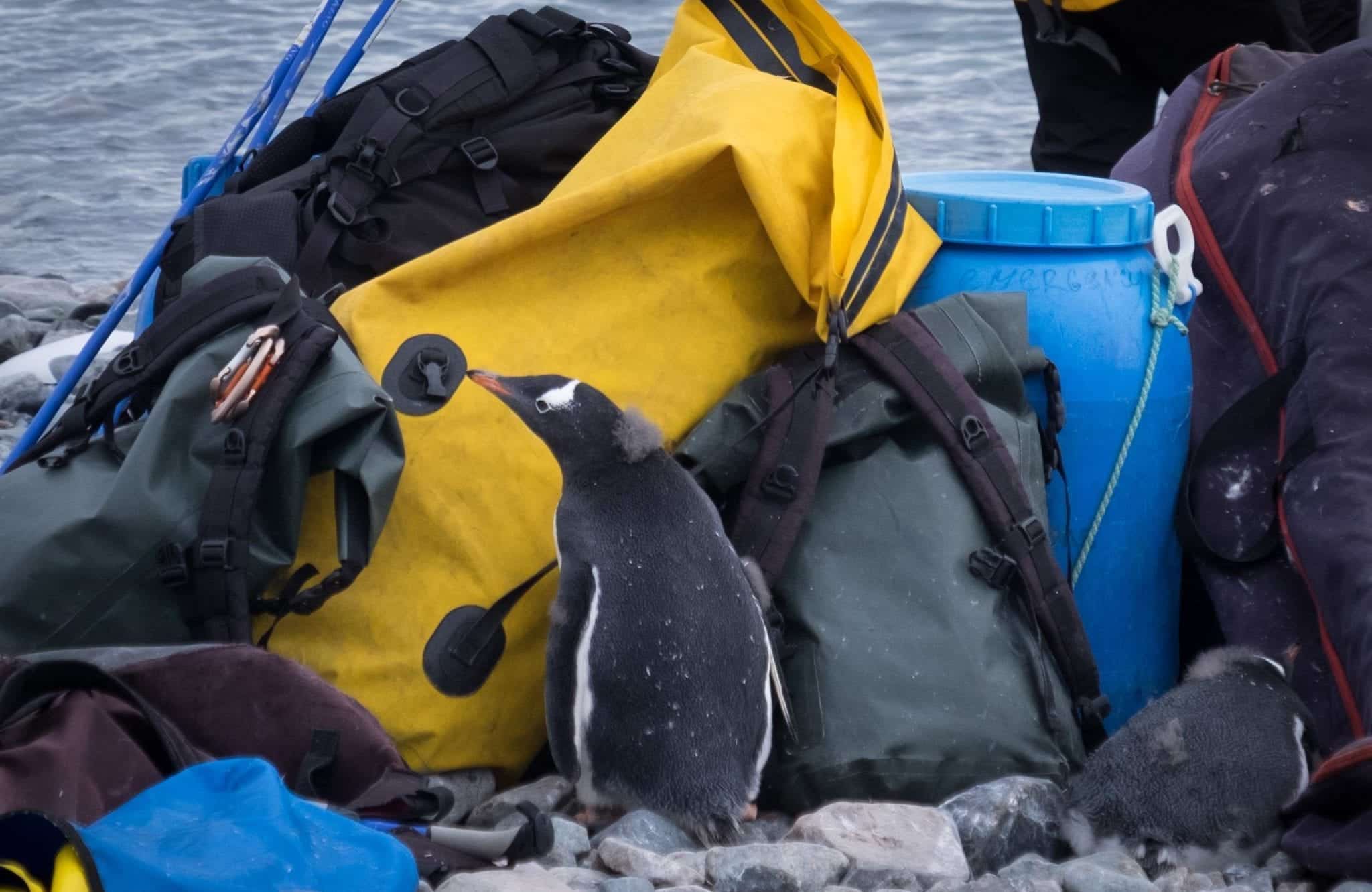 What to Pack for A Solo Trip to Antarctica
Antarctica is one trip where you need to pack carefully — you can't exactly pop over to the mall if you forget something. The Quark Expeditions ship did have a boutique on board, which was extremely helpful, but it's better to be prepared.
Here are the most important items to pack:
The absolute best waterproof mittens or gloves you can find (I used these)
Hot Hands Hand Warmers (for both hands and feet, and never directly on your skin)
Glove liners and sock liners, as well as thick socks
Waterproof pants (preferably a bright color, as everyone wears black and it's nice to be recognizable)
Buff or neck protector, along with headgear of your choice
Bathing suit (for the polar plunge!)
Dry bag for your camera
Seasickness medication (I got a prescription scopolamine patch, but after a few days it caused blurred vision; I switched to meclazine, a.k.a. Dramamine, for the crossing back)
---
---

Checking In with Someone at Home
One of my top travel tips for solo travelers is to stay in touch with someone at home. It's always a good idea to have someone who knows your itinerary and can check up on you. You can see the rest of my top tips for solo female travelers here.
That's not so easy at the bottom of the world. But many expedition ships have satellite internet connections. The internet on board our ship was grotesquely expensive ($100 for 100 MB), but there was a much cheaper package for email only.
I chose to pay the one-time $35 fee to have "ship wifi" — a new email address that only worked on the ship. This was the best case scenario because it allowed me to send "I'm alive" messages to my loved ones without getting sucked into my usual inbox. If your ship offers this option, I highly recommend taking it.
Other than that, I recommend staying off the internet. A digital detox does amazing things for your brain.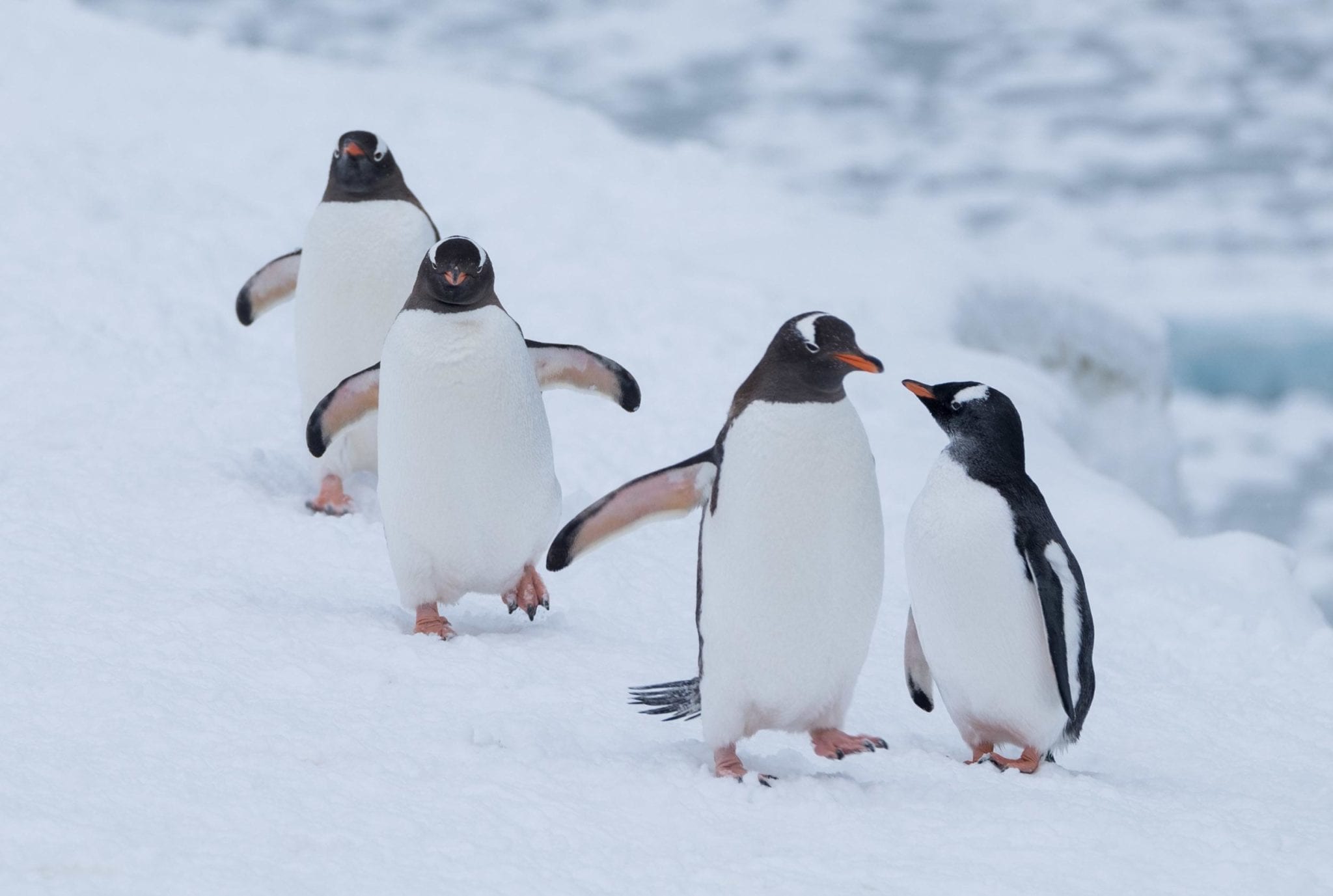 And a Word on Antarctica Romances…
Yes, romance can happen on an Antarctica expedition. I saw some things and heard some more things. YOU GUYS GOT UP TO SOME SHIT ON THAT TRIP. (And believe me, the most salacious Antarctica romances occurred in the 50+ set.)
Definitely don't go on this trip with the intention of finding someone; there are a lot less expensive ways to do that. And if you're clearly on the prowl, people will notice. (I'm talking to you, lady of a certain age hitting on a different man of a certain age every night.) But hey…you never know. A lot of people metaphorically go to the ends of the Earth to find love — maybe you have to do it literally!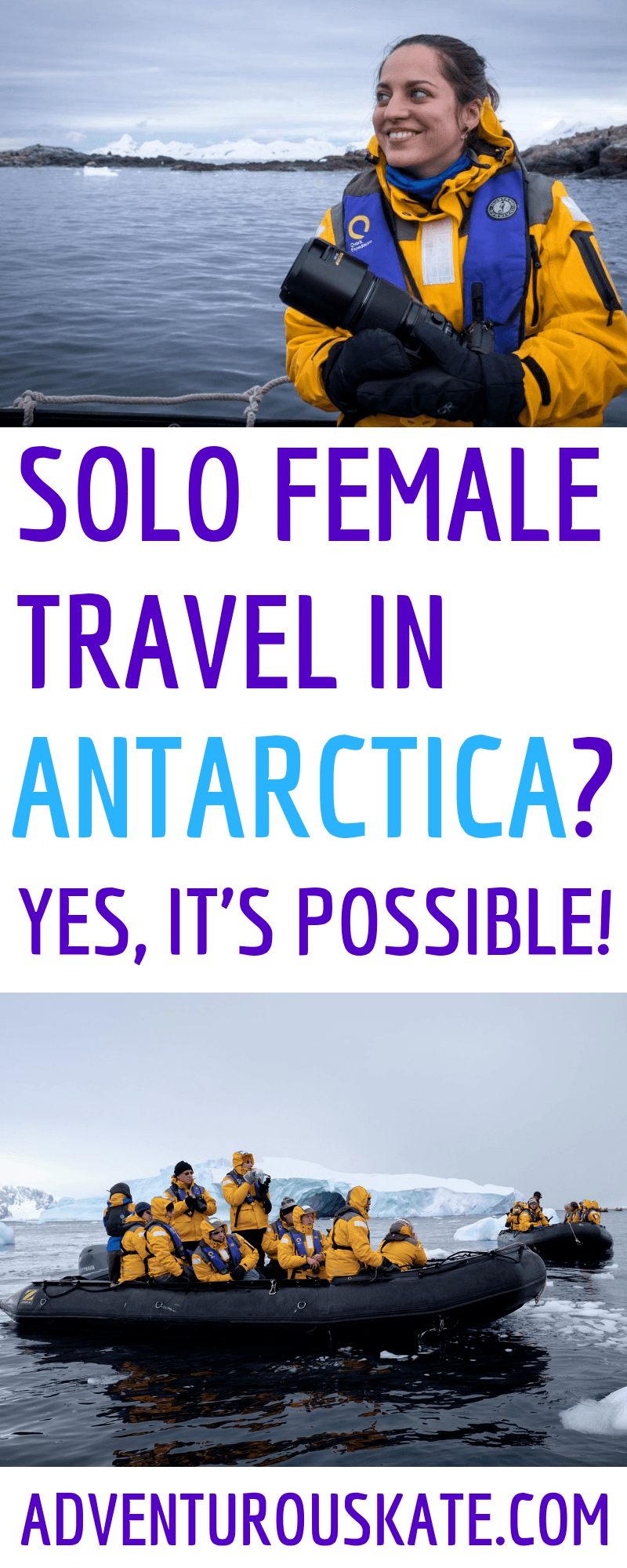 Essential Info: I traveled to Antarctica on Quark Expeditions' Crossing the Circle: Southern Expedition in March 2018. The 2019 voyage starts at $8,995. The kayaking supplement is $995, which includes kayaking throughout the voyage, but starting Quark is now offering one-day "paddling excursions" that are better suited for people with less experience who don't want to kayak every day.

Quark often has sales — I recommend following them on Facebook and checking out their website. Additionally, some people can get deals by flying down to Ushuaia and jumping on a last-minute discounted trip — though this is risky! You never know what will be available. If you're looking to kayak, book as early as possible, as kayaking slots are limited and sell out quickly.

While Quark has Antarctica-specific evacuation coverage for emergencies, you need to have your own travel insurance as well. For my trip to Antarctica, I used World Nomads, which I highly recommend for both Antarctica and elsewhere.
This post is brought to you by Quark Expeditions, who hosted me in full on this trip and covered most of my expenses including the full cost of the expedition, kayaking supplement, two nights' accommodation in Ushuaia, and round-trip airfare from New York. I paid for all incidentals, staff gratuities, gear excluding the Quark parka, and all expenses in Ushuaia excluding the hotel. All opinions, as always, are my own.
Would you travel to Antarctica solo? Share away!
The post Solo Female Travel in Antarctica: I Did It and Loved It! appeared first on Adventurous Kate.