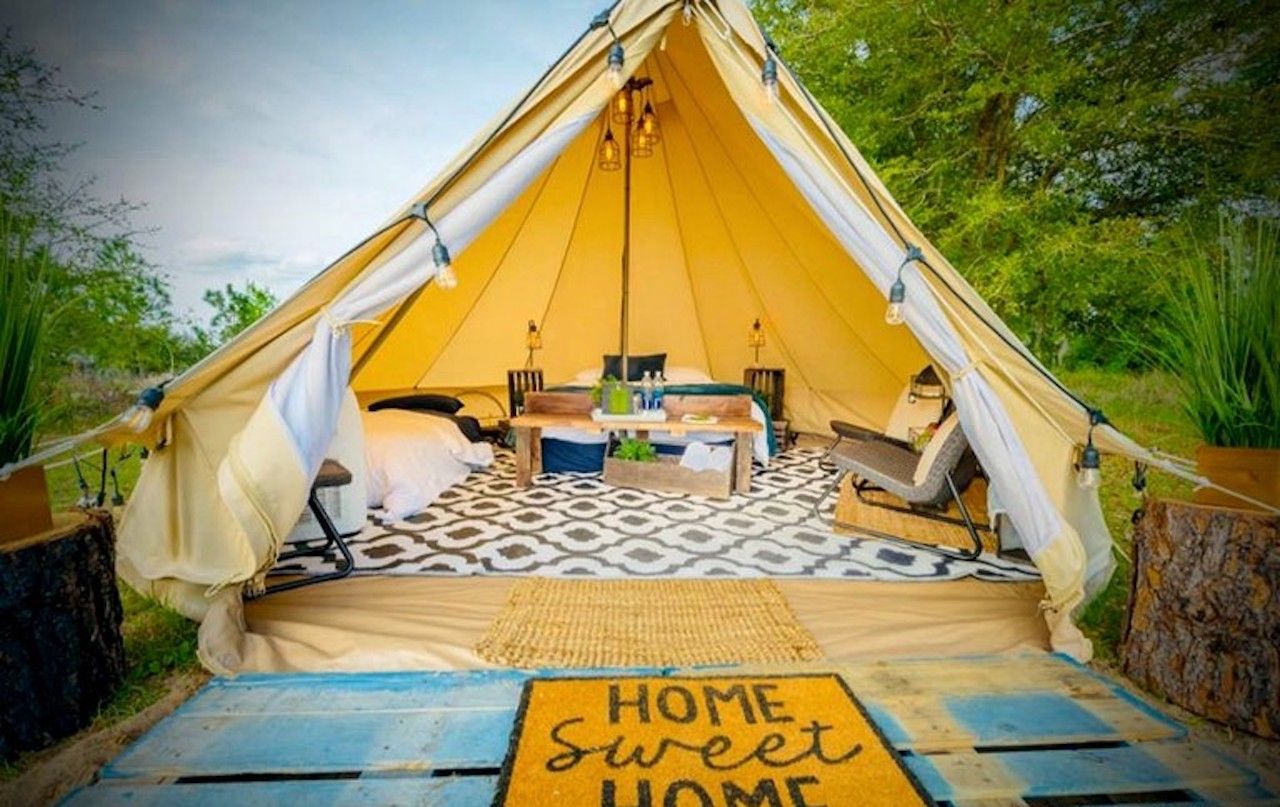 Florida has, not completely unfairly, become the butt of a lot of jokes. Botch multiple elections and give the world headlines like "Florida Man Arrested for Operating Retirement Home Chop Shop" and you're not escaping the late-night comedy circuit.
That said, Florida is still full of natural beauty, much of it beyond its world-renowned beaches. Perhaps the best way to experience that beauty is to get out and spend a few nights sleeping in it. "But what about the humidity, mosquitoes, and Florida people running wild," you say? This is why the world created glamping, a way to revel in the great outdoors without having to deal with any of the actual great outdoors. And through our good friends at Glamping Hub, we found these 10 uniquely Florida spots for glamping.
If one were to write down their Florida glamping fantasy, it would probably involve a beautiful, luxurious tent set up on a white sandy beach where they could spend their days taking dips in the Gulf of Mexico or hiking through Palmettos. Well, the fantasy comes true with these 16-foot bell tents in the Topsail Hill Preserve State Park. Each queen-bed-equipped tent also comes with a cooling and heating unit (the Panhandle can get cold in the winter) and sits just steps from the shoreline. During the day, you can explore the easy Florida wilderness on the park's hiking trails, or discover the charming coastal town of Santa Rosa Beach.
Once upon a time, in a long-ago era known as 2004, this home was constructed as a floating wedding chapel for 110 guests. Only one other such chapel was built — in Australia — and today this one sits along the Manatee River just outside Sarasota. The houseboat still has the arched wooden doors and original stained glass from the chapel, as well as a steeple that doubles as a sleeping loft via a spiral staircase. The high-ceilinged boat also comes complete with a gourmet kitchen with granite countertops, plus a living room with inviting leather recliners. Nearby, you can enjoy the communal swimming pool or relax in the jacuzzi. Or just call in a night early in the spacious master bedroom.
The lakes of the Florida panhandle are some of the state's more under-appreciated natural features, and you'll understand why after spending a relaxing weekend in these spacious safari tents. Set on a peninsula between Holly and Kings lakes, these twin tents in DeFuniak Springs each come with a king-sized bed, hardwood floors, air conditioning, and a Keurig machine. Plus you'll also enjoy a front row seat to the water, either from the comfort of your bedroom window or the Zero Gravity chairs on the front porch.
The property sits on 10 wooded acres, with a communal swimming pool if you're not up for swimming in the lakes. It's also only about 45 minutes from Panama City Beach, so if you're hankering for a body of water that's a little bigger and bluer, you won't have to go far.
About two-thirds of the way between Orlando and the Gulf of Mexico you'll find little Flying Eagle Preserve, set on a series of lakes just east of Highway 41. On that preserve sits one of the most old-Florida glamping experiences available, where you can spend the night in a teepee surrounded by nothing but trees and water. The small dwellings only sleep two guests, with not much past a USB port, a fridge, a coffee maker, and an alarm clock beside the bed. You'll have a communal bathroom in the indoor lounge a few feet away, plus access to a private deck with its own bar. Guests also get a full breakfast included in their stay, which is best enjoyed watching the sun rise over the thick Florida morning.
As far as getting stuck on a tropical island goes, you could do a lot worse than this private island about 20 miles east of Key West. You'll meet your hosts on Summerland Key and be whisked away by boat to your secluded solar-panel-and-wood palace. This isolated luxury getaway sleeps eight people between three bedrooms, two of which have en-suite bathrooms with art deco fixtures, and a third with bunk beds.
From the top of the home, you can get the lay of the land from the lounge, which boasts 360-degree views of the island and the water beyond. Downstairs, a gourmet kitchen awaits complete with Viking refrigerator, dishwasher, and range. Getting here may be difficult, but if you provision correctly, you can show up and never leave. Well, until the $1,700 a night price tag catches up to your bank account.
Even the best-planned trip to Miami can end up a little… hectic. Which is why returning to this jungle escape just west of Miami Beach makes for the perfect escape after a long day. The vintage airstream is done up in epic 1980s brown leather, with a full kitchen, flat screen TV, and king-sized bed. A venerable home-away-from-home just steps from the Golden Glades interchange.
Though it's inside the city, the Airstream is set back on a palm-filled property, where you can sit outside and enjoy a cold drink under your Christmas lights or take a dip in the communal swimming pool. There's also an outdoor gym if you want to get some exercise, and a collection of hammocks if you don't.
Deep in the wilderness of Lake Louisa State Park you'll find these bright, airy tents offering a calming respite after an active day outdoors. Each tent comes with a queen-sized bed, though if you've got more in your party, you can always request an air mattress. More importantly, they come with heat and air conditioning, so you'll have a cool escape from the Florida sun. At night, head to the private pavilion for a barbecue, and roast some smores in the fire pit. Then retire back to your tent, now joyfully illuminated by Christmas lights in the dark, tropical night.
From the outside, this collection of three containers might look like a well-placed assortment of Florida junk. But dig a little deeper and you'll find one of the most unique homes in South Florida, where three old shipping containers have been converted into a three-bedroom home. A total of eight guests can stay here between three bedrooms, each one with wood furnishings and big, bright windows.
The main house has a kitchen, living room, and patio, the ideal place for everyone to meet at mealtime. The home is just south of Indiantown Road in Jupiter, close the beach, golf courses, and Square Grouper bar the city is known for. Though you wouldn't be wrong to simply enjoy the serenity of the Cypress Creek Natural Area just cross the road.
From above, this Middle Keys private island looks like it could be some kind of arena for a sub-tropical Hunger Games. But the beautiful white sand and classic Keys house is a different kind of surreal, a tiny piece of land inexplicably filled with a mansion and a swimming pool, all for just you and your guests. The main home sleeps eight people in three bedrooms, all surrounded by a wraparound porch ideal for sunset drinks. You'll also have recliners set up on the pool deck to breathe in that sunset, as well as a private lagoon pool right next to the sand. You'll get to the island via a short boat ride from Marathon, and if you feel like escaping your private slice of heaven, you can join the crowd at the Sunset Grill, right at the foot of the Seven Mile Bridge.
If Florida Man had a home — that wasn't a trailer — it would probably look something like the floating barrel cabin. You won't find much in this round house other than a bed, a sink, and a tiki bar. But if that's all you need for a perfect Keys vacation, this might be the perfect choice. The red cedar barrel cabin has a queen-sized bed inside, with a panoramic window behind the head so you'll still see the sights while you sleep.
The sink is made from an old whiskey barrel, looking almost like a miniature version of the cabin itself. The tiki bar sits on a private dock, with lounge chairs for you to enjoy the sunset by the water. The hosts do ask, however, that you not use hairdryers or other high-powered electronics as the barrel cabin is green powered, and those will use up all the electricity.


More like this:
9 glamping resorts you need to stay at this summer
The post The most spectacular places to go glamping in Florida appeared first on Matador Network.