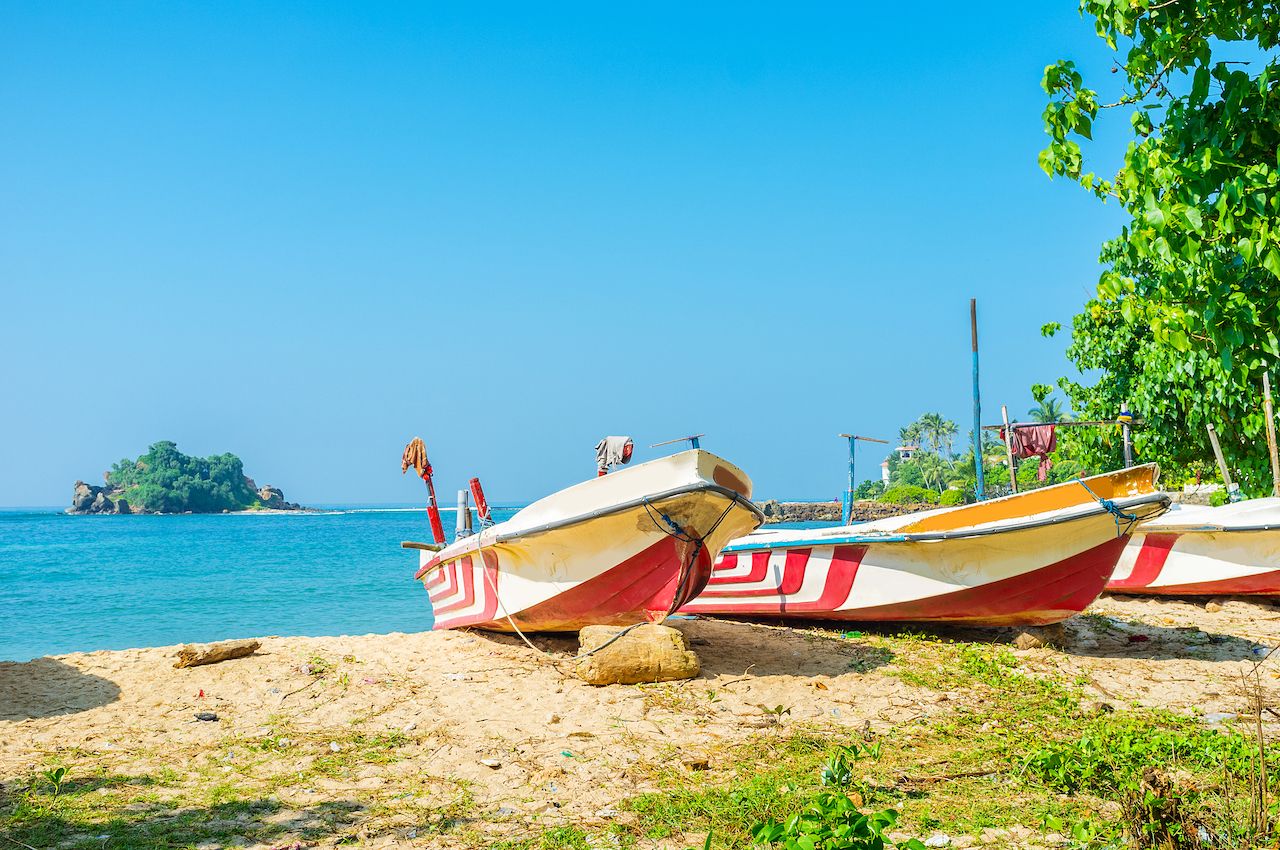 Following the tragic church bombings in the nation's capital Colombo last April, interest in visiting Sri Lanka is slowly starting to rise again, and the country is eager and ready to welcome tourists back. Now is actually the best time to explore Sri Lanka as the crowds are few and prices are low. For those who seek adventure, the southern coast of the island nation offers a plethora of offerings, among them stunning beaches, wildlife, a chill vibe, and great food.
The best way to get to know the area is to board the coastal line train from Colombo and head south to Galle. From Galle, work your way down to rustic southern corners in Hambantota. Along the coastline, you will surf, hike, and explore the national parks — and, of course, swing in a hammock with a chilled thambili, or king coconut. Here are the best things do on Sri Lanka's southern coast.
Swing into the ocean.
A lively coastal hamlet, Unawatuna is a quick tuk-tuk ride away from Galle. Wijaya Beach in Unawatuna is usually crowded, whereas Jungle Beach offers perfect scenery. If you want to swing into the Indian Ocean on one of the Instagram-famous swings, head to Dalawella Beach. It costs $2 per person. For budget travelers, La Boheme is a cozy place with hipster vibes. If you want to stay inside the Galle Fort, opt for Pedlar's Inn Hostel.
Chase the waves in Weligama and Midigama.
Weligama is a bustling fishing town. A wide-open, two-mile-long sandbank hugs the Bay of Weligama and offers perfect surfing conditions for beginners and intermediate surfers. The beach break sits in the bay and is open for surfing throughout the year. Go north of Weligama and there you will find the sleepy Midigama Bay. There are two mellow breaks which sit opposite one another in Midigama: Lazy Lefts and Lazy Rights. The former is frequented by longboarders, while beginner and intermediate surfers flock to Lazy Rights looking for their first reef break. Ceylon Sliders, located in Weligama, conducts surf lessons year-round while its sister property Sunshine Stories organizes surf retreats.
Watch the giants of the ocean.
Mirissa is located a few miles south of Weligama, and is popular for its laid back vibe. Hop on a boat with Raja & the Whales to see the blue whales, who are the largest existing creatures on Earth. These ethical marine tours are run by a local family with certified guides. A few miles off the coast, you're able to spot fin whales, sperm whales, bottlenose dolphins, spinner dolphins, turtles, manta rays, and sharks. Once you see these marine giants, head to the 'gram-famous Coconut Tree Hill in Mirissa. The palm-tree fringed sandhill offers picture-worthy scenery and the perfect spot to watch the sinking sun.
Climb up the hill to visit a rock monastery.
Once you are in Tangalle, a mellow coastal town with several powder-like beaches, head inland to Mulkirigala, a monastery from the second century BC. Tucked away in the green jungle, you will find the beautiful temples perched on a rugged terrain. Climb up some 500 odd steps and you can see the temple complex from several terraces. There are a few cave temples with large Buddha statues and wall paintings that depict Hindu deities and Buddhist stories of the bygone era. Mulkirigala also houses a pagoda perched on top of the rock. Getting here involves a steep climb from the base, but the panoramic view of the surroundings is worth it.
Go on a wildlife safari.
The south of Sri Lanka houses several national parks. Places such as Yala National Park are immensely popular among tourists. However, it's one of the few places to spot the Sri Lankan leopard. For those who want to see elephants, go on a day trip to Udawalawe National Park. Near the national park is Elephant Transit Home, a government-run ethical wildlife initiative that looks after orphaned baby elephants until they become independent enough to be released back to the wild. You can buy a ticket for $5 and see the baby elephants being fed milk. Feeding takes place four times a day. Entrance fees for Yala and Udawalawe national parks are around $15, but there are taxes and other small charges. A jeep usually costs $16-22 for a trip.
Play with sand dunes.
Palatupana is a sleepy little deserted hamlet that borders the Yala National Park. There are long sandbanks and far-stretched dunes in Palatupana with no soul in sight. On good days, you can swim in the ocean and take a dip in the natural rock pools. Long sandbanks are dotted with wildflowers and shrubs, creating stunning vistas. Back of Beyond provides luxury glamping by the dunes in Palatupana. If you are on a budget, however, opt for Yala Yin Yang Hostel. The soul-fulfilling hostel is nestled in a beautiful garden, which is frequented by dancing peacocks, lizards, and vibrant birds. There are plenty of hammocks in the garden to relax in with a book.
Join a yoga retreat.
The thriving surf culture in the south has also brought in a wellness-oriented vibe to the region. Talalla Retreat, just south of Matara, hosts several beach retreats a year, including yoga, meditation, organic meals, surfing, and luxury-style accommodation by the sea. Tucked away in the tropical garden in Ahangama, you will find Camp Poe. The unique camp-style stay has options for all budgets. Adorned with bohemian decor, the lovely retreat also hosts fun music workshops on the weekend.
Eat, drink, and repeat.
The southern region of Sri Lanka is home to cozy cafes, chill hideouts, and a plethora of up-and-coming restaurants serving delightful fusion cuisine. Here are some of the best places.
Aloha Coffee Gallery — A dreamy little place, Aloha serves flavorsome, healthy meals. It's a top spot in Mirissa for brunch, and you can pick avocado toasts with a Sri Lankan twist, smoothie bowls, and iced coffee served with vegan coconut milk.
Hangover Café — The cafe of Mirissa's famous Hangover Hostels provides a communal, easy-going atmosphere in a colorful space. It's popular for its "Suicide" burgers. It also has creamy pasta dishes, sandwiches, and tortilla wraps.
Lucky Fort Restaurant — This family owned restaurant inside Galle Fort is one of the top places for local rice and curry in the south. You will be served nine vegetable curries and one chicken curry along with rice. Curries are cooked in the Sri Lankan-style with coconut milk and flavorful spices.
Bedspace — For a delightful seafood meal, there's hardly a better place than Bedspace. The communal restaurant is located in the garden of the Bedspace guest house. A perfect blend of Sri Lankan and international flavors, Bedspace serves a range of amazing dishes. Try the pad thai, black pork curry, and the coconut lemongrass soup. You can also pick up your double espresso here.


More like this:
The 8 most epic hiking trails in Sri Lanka
The post Surf, sand dunes, and smoothies on Sri Lanka's south coast appeared first on Matador Network.