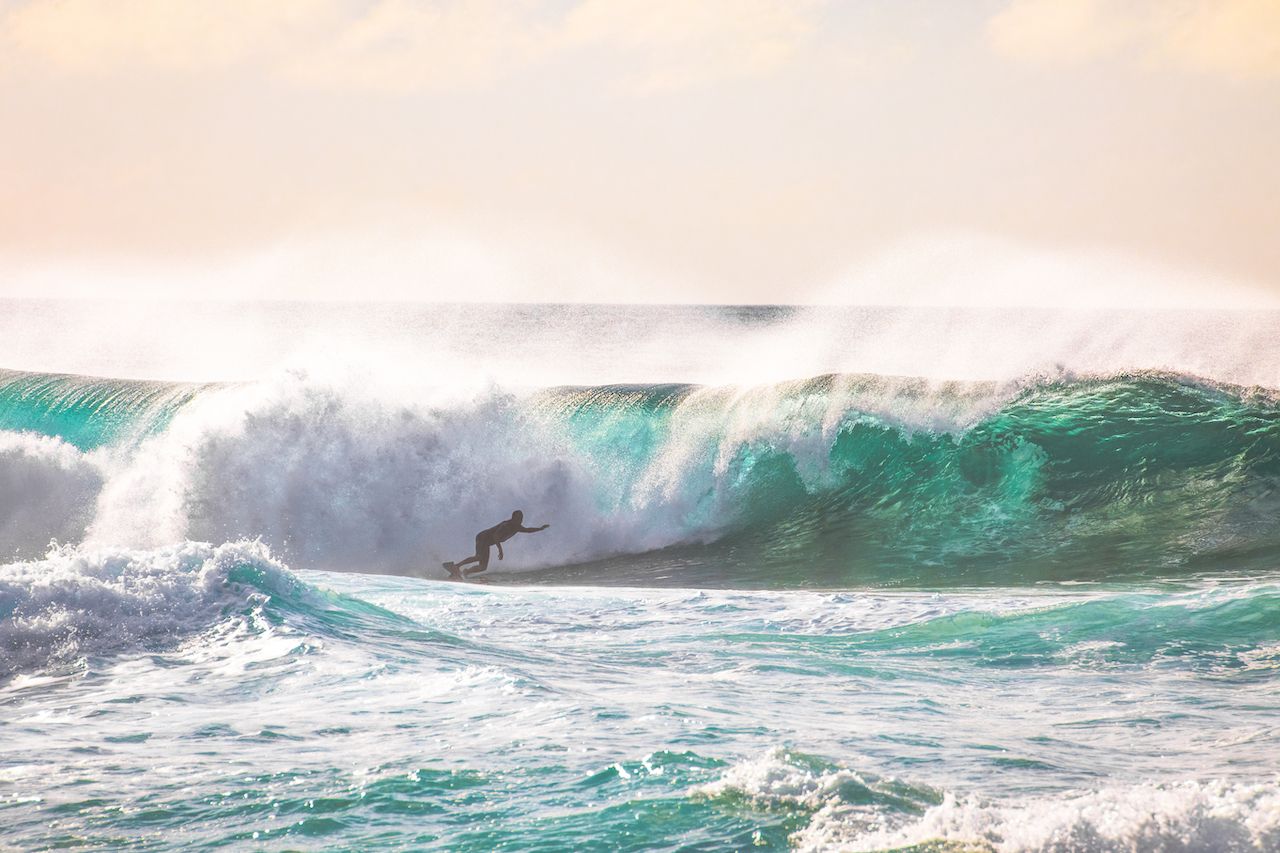 Maybe you've been surfing for a couple of years and want to take your wave riding skills to the next level in Hawaii. But where to go? On Oahu, Waikiki is famously an awesome place to learn to surf and the North Shore is the province of experts. But where does someone who's good on a shortboard but not exactly getting tube rides to go? On any island, finding the best break, or surf spot, for your ability is the first step to a vacation full of excellent rides — whether straight towards the beach or deep in the barrel.
The choice of where to surf is a dynamic one, since the time of year, weather, and other factors affect the waves. The winter months of November to February tend to promise bigger waves, even huge ones in the northern beaches, favoring the most hardcore surfer. These same north-facing breaks can look like lakes in the summer, while breaks on the south side of the islands are getting their best waves of the year. Likewise, an offshore wind can make for excellent surf, while a side- or onshore wind can turn the swell into a pile of choppy slop.
With all that said, Hawaii is packed with surf options, and these are the best surf spots in Hawaii for beginners, intermediates, and pros on the major Hawaiian islands.
Oahu
Oahu is where the surf scene first entered the greater imagination. Duke Kahanamoku, a swimming gold medalist in the 1912 and 1920 Olympics who is credited with popularizing surfing in the 20th Century, lived on Oahu. The first major surfing contest held on the North Shore was named for Kahanamoku. Yet nowadays the most popular breaks can be quite full, so be prepared to paddle in at the crack of dawn if you don't want a crowd.
Beginner — Waikiki
No place evokes easy, graceful surfing on a longboard better than Oahu's Waikiki Beach. The waves here build up ever so slowly and hold their shape long enough for those just learning to surf — and hence doing so on a lengthy, stable board — to catch the wave, stand up, and ride it towards shore. Waikiki's only drawback is its fame. It gets crazy crowded, and a lot of surfers in the water means more obstacles to hit and more people vying for the same wave. And it doesn't matter how good the waves are if you can't get a couple for yourself. An alternative not far from Waikiki is the surf at Diamond Head. And if you are on the North Shore, then the inside of Chun's Reef is suitable for beginners if there isn't a big swell.
Intermediate — Malaekahana Beach
At one end of Waikiki Beach is Publics, a surf break that has Diamond Head is also great for intermediate surfers honing their skills. The break by the Diamond Head Lighthouse is a faster wave, suitable for surfers already on shortboards or skilled longboarders. Alternatively, get away from the bustle of the south side altogether and head north to Malaekahana Beach. Variable conditions there mean it can be good for early learners and, depending on the swell, for experts, too.
Expert — Bonzai Pipeline
If you're not from Oahu but you are into surfing, you have to go to Pipeline — to watch. Not to surf. The wave here is one of the fastest, most challenging waves you'll find anywhere, and, moreover, locals are very protective of it. It was here that Kelly Slater, the most decorated surfer of all time, developed his skills as a teenager along with a posse of other surfers who each had illustrious surf careers of their own. So go to Pipeline, grab a towel, sit yourself down on the beach, and marvel at the locals getting barreled in the green room. It's one of the best surf spots in Hawaii for spectating.
Kauai
Although Oahu may have made Hawaiian surfing famous in the 70s and 80s, some of the world's most legendary surfers call Kauai home. Titus Kinimaka, is a surf legend who became one of the best big wave surfers around, grew up on Kauai. Bethany Hamilton, who continues to win international competitions despite losing an arm, was also raised in Kauai.
Beginner — Poipu Beach or The Pier at Hanalei
From February to May, the north shore gets a nice swell, and the best spot is Hanalei Bay by the Pier. There, the swell gets tamed by the eastern wall of the Bay and the outer reef, so that by the time the wave gets to you it's slow-rolling and gentle. The Pier is a beach break with a soft sand bottom.
If you're in Kauai in the summertime or after April, head to Poipu Beach in front of the Ko'a Kea resort for gentle waves on top of a reef. The reef means that you will enjoy consistent waves that break more or less in the same place, making it easier to hone your skills. On the other hand, you will need reef booties and know how to fall flat, lest you fall on the sharp reef. A good bet is surf lessons from a number of surf schools.
Intermediate — The Bowl
In Hanalei Bay, the Bowl is the perfect spot for a solid intermediate — one who reads the waves well, knows how to avoid getting caught in a reef, and can pop up quickly but not necessarily as quickly as might be required on a steeper, hollower wave. The Bowl demands a very long paddle out but once you are there you're rewarded with a fast and exciting right-hander that's forgiving to long boards, holding its shape long enough for you to get a couple of good turns in and paddle back for more.
Summer is a bit more challenging on Kauai since you are limited to breaks on the south and west shore. If you go at high tide, Waiohai is an exciting wave that holds its shape and has some good power. Don't go at low tide, since in a best-case scenario you will end up with a foot full or urchin spines.
Advanced — Hanalei Point
Hanalei Point and Tunnels Beach on the North Shore are typically thought of as more advanced breaks in Kauai, while in the summer months the top dogs might head out on the dirt road to the hot, dry beach at Polihale or, for a short fast break, Shipwreck Beach in Poipu. We've heard the rare guide mention Anahola as a place to surf. That beach is adjacent to land that is set aside for those of Hawaiian descent and, as such, the surf break is as local as you can get. Respect the locals' right to surf there, and keep that break for them. If you want to surf on the east side of the island, opt for Kealia Beach instead, which has a perfect, clean left when the wind isn't blowing.
Maui
Maui is best known as the place where kitesurfing became a thing. But Maui is also home to Jaws, one of the most formidable big waves in the world, the kind of wave that only a handful of people can actually surf, among them one of the people behind the start of surfing into a wave behind a jet ski, known as tow-in surfing: Laird Hamilton.
Beginner — The Cove at Kihei
Kihei is the perfect place for beginners to get their feet wet, so to speak. Although some of the beach has a sand bottom, there are spots where there is reef, so newbies should in fact wear reef booties. The waves are nearly always small and slow and, in fact, the issue is more often that it's hard to catch a wave without that push on the surfboard from the instructor. It's a good thing there are plenty of them around, as a few surf schools teaching at the Cove. As with any surf break, keep your eyes on the swell and forecast, for the handful of days that the Cove is too big for learners.
Intermediate — Olowalu
Photo: https://www.shutterstock.com/image-photo/surfing-one-mauis-secret-spot-summer-731172676
Olawalu is one of those surf breaks that is perfect for those who already have been surfing for a couple of years and know how to surf the board down the line — as opposed to just going straight and riding the wave's messy whitewater towards the shore. The wave is sloped enough (as opposed to steep and hollow) for longboarders and less confident shortboarders. That said, like any surf spot, conditions can vary and, when it's double-overhead out there, leave this place to the experts.
Expert — Honolua Bay
Honolua Bay in Maui's northwest corners is the island's answer to Bonzai Pipeline. It has a steep, hollow left-hander over a shallow reef that creates the perfect conditions for those surfers skilled enough to get in and out of the barrel in one piece. The wave is strictly for experienced surfers and has been the site of more than one surf competition. Experts also head out to Ho'okipa, just beyond the town of Paia and the island's best known kitesurfing locale. If you do go there, be sure you leave the far-right spot at Ho'okipa, Pavilions, to the locals.
Professional surfers — Jaws
P
We only list this spot as a must-see — not must-surf — destination for avid surfers. It's on this wave at Pe'ahi on Maui's North Shore that tow-in surfing became a thing. That's because the wave is just too big and fast-moving to paddle into with one's own strength. So a jet ski pulls the surfer into the wave, the surfer lets go and rides the wave, and the jet ski driver presumably zips away in time to avoid the wave. Anytime from November to as late in the big surf season as March, a forecast of monster waves at Jaws will attract top big wave surfers from around the world to surf this heavy, thick beast.
Island of Hawaii
The Island of Hawaii — also known as the Big Island — is not the first place that comes to mind when you think of the best surf spots in Hawaii. But it's a gem that is full of hidden adventure spots, and it has a few great places to catch waves as well.
Beginner — Kahaluu Beach in Keauhou
Right near the resorts of the popular and ever-sunny Kailua-Kona coast, Kahalu'u Beach is the perfect place to learn to surf, particularly in summer, as it gets southwesterly swells. The reef bottom does mean learners should wear reef booties, but makes for consistent, predictable waves that make learning easier as well. You'll find a few surf schools operating at Kahalu'u Beach as well.
Intermediate — Kohanaiki Beach Park or Pohoiki Beach
The Kohanaiki Beach Park lies north of Hawaii Island's western bulge, so the surf break there — also known as Pine Trees Beach — gets the faster swells coming from the north. In winter months, Pine Trees attracts both intermediate and expert surfers. The shore is very rocky, so it's not an ideal place to swim or just hang out — unless you are hanging out to watch the locals who carve up the wave face here. On the west side of the island near Hilo, Pohoiki isn't just a startlingly beautiful black sand beach; in low winds, it's a lovely break. Just note that it is often blown-out; i.e.; the waves are smashed down and turned into a soupy broth by Trade Winds from the east.
Expert — Honolii Beach Park
Like Pohoiki, Honolii Beach Park is also on the eastern, Hilo side of Hawaii Island. Because of the eastern winds, conditions here are rarely clean or glassy, meaning the waves don't have the smooth look from windless conditions. However, in summer you can get offshore winds there that hold the waves up nicely. This spot is crowded with some of the better surfers on the island, so be respectful of their wave.

More like this
The post The most perfect surf spots on each Hawaiian island for your skill level appeared first on Matador Network.