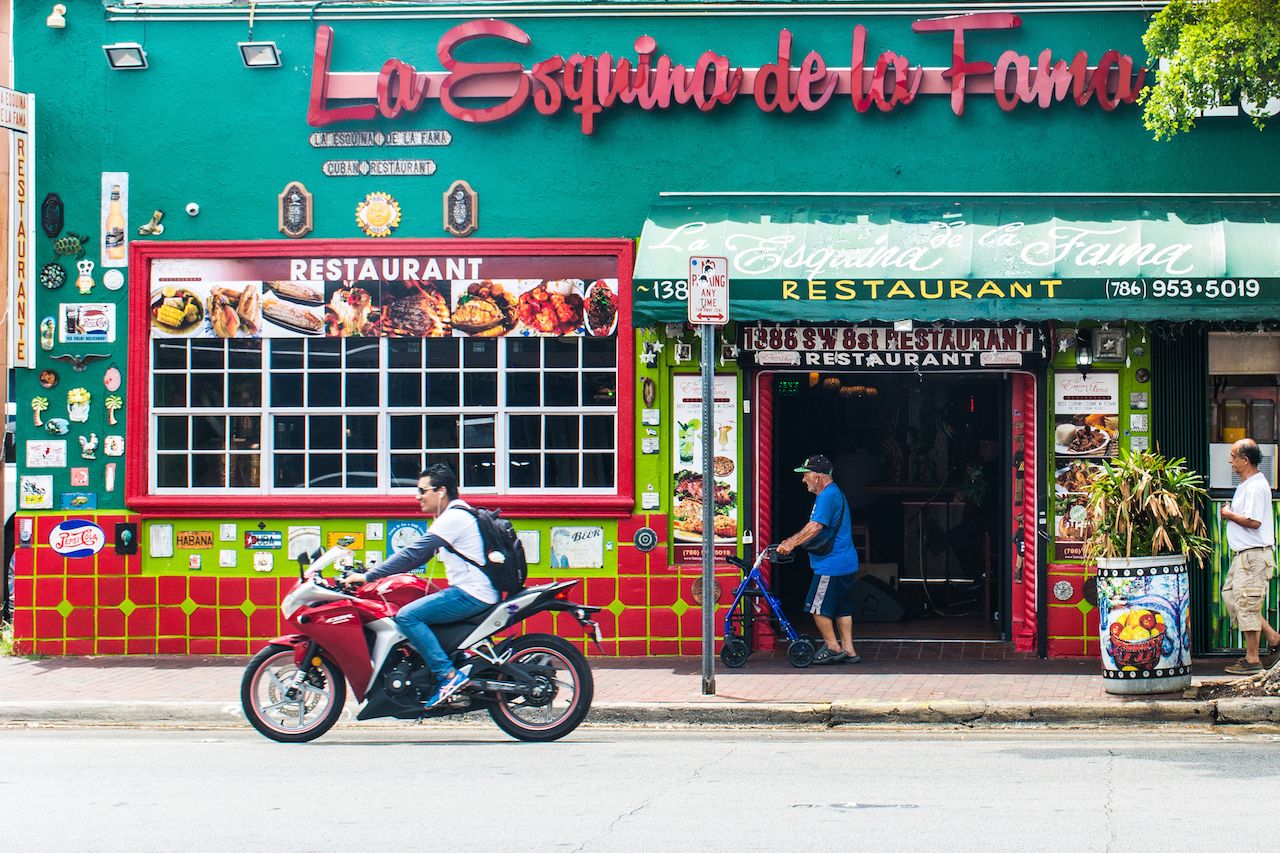 "You know I used to get my car broken into here?" I said to my friend from LA as he met me downstairs at Miami's Life House Hotel. "Seriously, I lived right around the corner and every time I parked on the street, BAM! I was missing a cell phone charger."
"Oh, that'll still happen," a man sitting in the hotel's library coworking area said, looking up from his laptop. It was nice to hear the old neighborhood hadn't changed.
Not that car break-ins are exactly a boon for tourism, but in an era when the arrival of things like sleek boutique hotels often also mean the death knell for a neighborhood's character, Little Havana, it seemed, still has its soul.
We strolled a couple of blocks on uneven pavement, past a beat-up white station wagon selling a Styrofoam cooler of camarones (shrimp) from the back. Ear-splitting bachata music poured from the third floor of an old stucco apartment building as people sat slumped against the front door drinking Presidente. It wasn't dangerous, per se. It's just wasn't anywhere a realtor would describe as having "curb appeal."
"Remind me why we're not going to South Beach?" my friend joked as a police cruiser rolled by.
"This is why," I said, as we turned the corner and found ourselves smack in the middle of a Cuban street party. A Latin band was playing in the open entrance to a bar while tourists and spandex-clad locals shook their hips, sugary mint-garnished cocktails in hand. Inside we ventured to the back patio where another band played under a bandshell shaped like a pineapple. We lit up a couple of cigars and sat under tropical plants as the cool January breeze blew through the patio.
"Welcome to Little Havana," I said.
A legendary jazz club is restored to glory, leads a resurgence.
The bar we were sitting in, Ball and Chain, is the anchor of the newly revamped SW 8th Street, known colloquially as Calle Ocho.
During the 1930s, Ball and Chain was where black musicians, who were not allowed to perform on Miami Beach after midnight, played after-hours shows for locals. It reopened a few years ago after several other iterations — including a furniture store — with the original Dade County Pine ceiling and an interior painstakingly restored to look exactly as it did during its heyday. The walls today are lined with posters advertising performances from Count Basie and Billie Holiday.
It's the retro-cool icon of what once-rough-and-tumble Little Havana has become this decade: a neighborhood that's opened creative, entertaining businesses that fit seamlessly into the neighborhood's style.
The man behind the project is Bill Fuller, co-owner of Madroom Hospitality and managing partner of the Barlington Group, which owns a sizeable amount of the property in Little Havana's historically protected district around Calle Ocho.
He and his partners are the antitheses of the big developers who turned Miami's briefly hip Wynwood arts district into a maze of parking garages and mid-rise apartment buildings no artists could ever afford. And the thirsty real estate people who turned quaint South Beach into America's sunniest tourist trap.
"It's about protectionism. We need to protect the identity; we don't need to grow as fast as some of the allegedly cool neighborhoods. We like the slow, organic growth," Fuller says.
He goes on to explain how he's turned down big offers for many of his properties, primarily because the bigtime investors don't share the vision for the neighborhood. "If you hold out for great local entrepreneurs, you can blow through the economics of what a big, national tenant can offer you. South Beach has been a great lesson for South Florida. The short-term gains of high rents are not good for the neighborhood."
Along Calle Ocho, you'll find a fresh oyster bar, a gourmet donut shop, and a you-can-only-order-once Thai tapas joint with a perpetual line. But you can still stroll up to a ventanilla and get a café con leche and a croqueta for a dollar.
You'll also find the Union Beer Store, a wrestling-themed craft beer bar full of Florida beers and old wrestling pay-per-views on TV. Here, you can enjoy Funky Buddha Floridian Wheat beer, with notes of grapefruit and banana, while watching Ricky the Dragon Steamboat take on Macho Man Savage at Wrestlemania 4.
Though the concept sounds straight out of any American hipster enclave, Union reminds you that you're still somewhere very Cuban, with "Estevie 3:16" signs throughout the bar. It's an allusion to how a Cuban might pronounce Steve Austin's most famous catchphrase.
"They're a classic example of what this neighborhood is," Fuller says referring to his beer-slinging tenants. "The next generation of Cuban-Americans growing authentically, responsibly."
A Cuban-American connection keeps the neighborhood from losing itself.
Little Havana is a bit of a misleading name, at least it is in 2019. When Cuban immigrants first came to Miami in the 1950s and '60s, they settled in this area about a mile southwest of downtown, scooping up the hodgepodge of bungalows, Mediterranean-style houses, and tropical cottages that fill the blocks.
But as Cubans gained affluence they moved out of their immigrant enclave and into suburbs. They were replaced mostly by Miami's newest immigrant class: Central Americans.
But even now, that is changing.
"What you're getting now is maybe someone that's coming from (Miami's financial district) Brickell, who's been in Miami for a couple of years," says Frank Melo, who owns Cedano Realty Advisors and has been managing, buying, and selling property in Little Havana for over 17 years. "They see Little Havana and say, 'Hey, that's only a stone's throw from Downtown and Brickell, and I can live there for half the price.'"
Still, though transplants roll in, Cuban-Americans still feel a connection to the area. And many are setting up shop here to maintain some of that culture.
"For my first bar, I wanted something close to my roots," says Cuban-born Julio Cabrera, who gained national acclaim in South Beach as head mixologist at the Regent Cocktail Club. GQ named him America's Most Imaginative Bartender in 2013. "After I was involved with Ball and Chain I felt something special in Little Havana and Calle Ocho. I knew that was the place when I was ready."
This year he opened Café La Trova, which pays homage to 1950s Cuba as bow-tied bartenders shake cocktails in rhythm with the live salsa band sent against a Havana street façade. Its back bar is straight 1980s Miami, with plentiful mirrors and not-even-a-little-subtle cocaine references. Drinks range from the La Chancleta, a cachaca drink served in a house slipper, to the Yin y Tony, another play on Cuban Spanglish.
The fact the rent in Little Havana was also half what he would pay in South Beach or Wynwood didn't hurt either.
"It's cheaper now," he says. "In two or three years? I don't know."
Stable rents keep Little Havana residents from being forced out.
Gentrification is most often criticized for displacing the people who gave a neighborhood its character. But that's not happening in Little Havana, in large part because developers realize their importance.
Or, as Fuller puts it, "The best amenity of this neighborhood is the people who live here. Without those people, it's Epcot Center."
Rents, he says, are below market in many buildings around the historic core, in large part because landlords have relationships with tenants that stretch back decades. It's also harder to tear the neighborhood down and build cookie-cutter midrises in Little Havana because the properties are so small.
"You don't have big blocks of ownership here like you did in Wynwood. It's fragmented," Melo explains. "So within a block, you can have an owner of 30 years, and an owner of 40 years, and one who owes nothing and one who owes a lot, and the motivations are completely different. Those motivations make remodeling very slow."
Little Havana is also massive, stretching from Interstate 95 west over three miles, and about a mile from top to bottom. That means that while parts of Little Havana — like the area along the Miami River — might see high rise growth and new construction, it's not even noticeable to tourists in the historic core.
"I've been very clear with the midrise developers who've come in here," Fuller says. "I say I'm not gonna stop you from doing whatever zoning allows you to do. But if you come anywhere near the historic part of this neighborhood I will publicly fight you."
A tourist attraction that doesn't feel touristy
Tourists flock to Little Havana to the tune of nearly three million a year, and nearly every day you will see busloads of them buying up Panama hats and guayaberas in the souvenir stores. Strolling the streets with hand-rolled cigars, mojito in hand, watching old men play dominoes at Maximo Gomez Park.
"Americans and Europeans alike have this curiosity of what defines Latin Culture," says Melo, who is Dominican-American. "Here they get to see it without getting on a plane."
But whether or not this is sustainable remains to be seen.
A week later, Melo and I are strolling through the Viernes Culturales street fair, as a live Colombian band plays and people dance in the street. I'm carrying a mojito and a cigar. He has a beer. A street vendor offers us a look at some Afro-Cuban art from her booth. The fair is a monthly occurrence and has been going on since even before Little Havana was cool.
"We have 90 buses of tourists a day stopping here now," he says over the band. "And it's happening now that rents go up in some places 20-25 percent. You have it now, a developer can come in and build something that doesn't fit the current mold of the neighborhood, and it's eroding very quickly."
On this cool Friday night, it still feels like Little Havana, and not what some out-of-town developer feels Little Havana should be. In a city that erases its history as soon as it makes it, this neighborhood holds out hope that maybe there are still developers and business people who appreciate character over cash. Who value place over profits. And while the beaches in Miami will always be the biggest draw, Little Havana may still be its biggest asset. At least it is for the time being.


More like this:
How Ft. Lauderdale and Broward County are moving past spring break and botched elections
The post How Miami's Little Havana cleaned itself up without losing its soul appeared first on Matador Network.