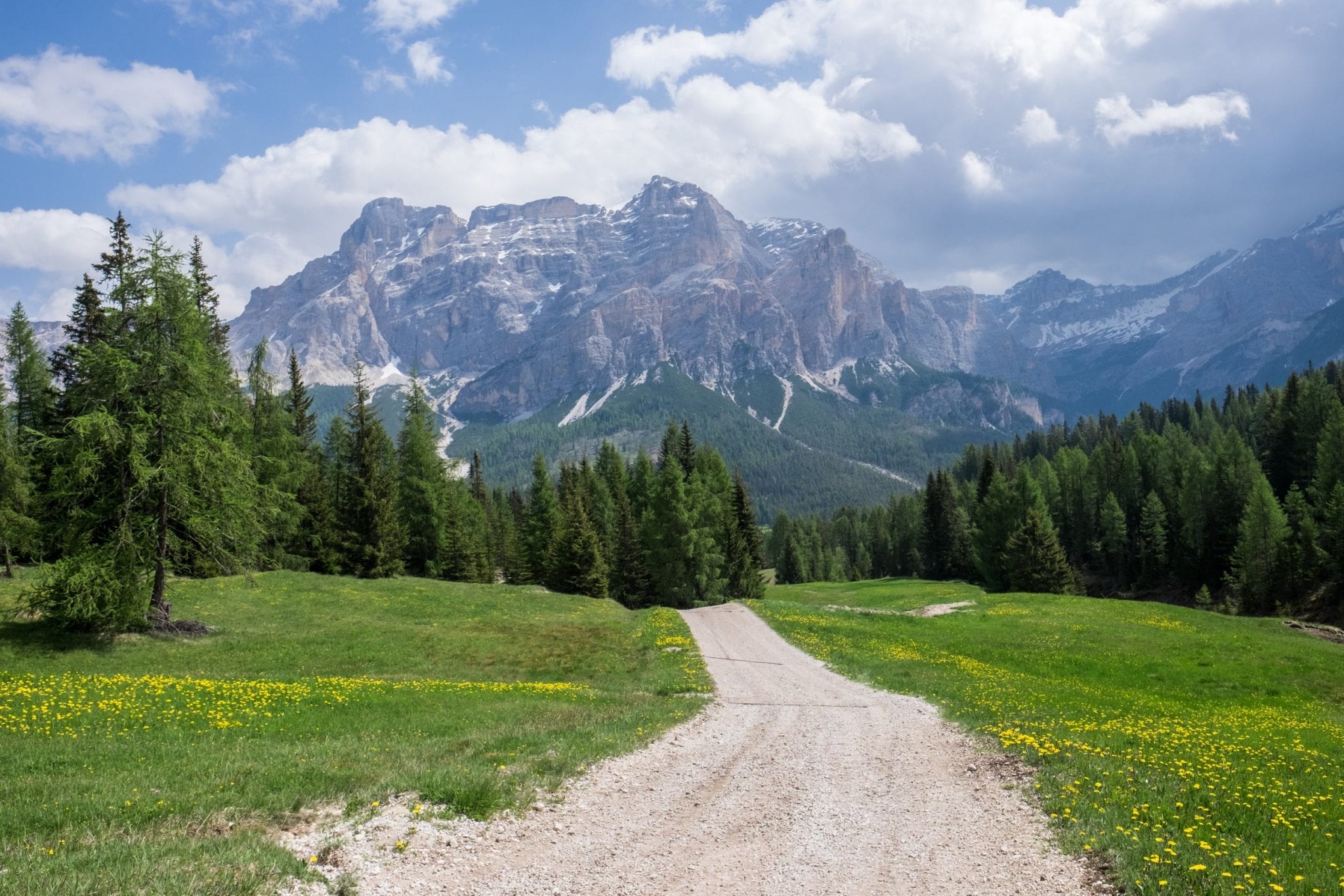 If you've been reading this site for a few years or so, you may have noticed that I've frequently mentioned South Tyrol and the Dolomites as a travel goal. For years I've been yearning to explore this beautiful part of northeast Italy, but it hasn't been part of my Italy travels until recently.
For our three-week trip to northern Italy, Cailin and I decided to spend a few days in the Dolomites. We would be heading to those gorgeous mountains for a summer getaway with great hiking and fantastic food.
We were invited as guests to spend a few days at Ciasa Salares, a gorgeous boutique resort in the Alta Badia region of the Dolomites. Staying there gave us access to explore the whole gorgeous region.
---
READ MORE:
---

All About Alto Adige (South Tyrol)
Most of the Dolomites are contained within the Alto Adige region of Italy, though they spill into neighboring Trentino and the Veneto as well. Alto Adige is also known as South Tyrol, and I find it to be the region most different from the rest of Italy.
Drive into Alto Adige and you'll swear you're in Austria or Switzerland. It's all towering mountains, rolling hills, and chocolate box villages. How can this still be Italy?!
We had spent the last few days in Trentino, and technically the administrative region is Trentino-Alto Adige — but once you step into Alto Adige, everything changes. All the place names are suddenly in both Italian and German. Bolzano, the largest city in the region, translates to Bozen; Bricone becomes Brixen; La Vila is also known as Stern (don't know how they came up with that one).
Even so, the local language in the Dolomites is neither Italian nor German — it's Ladin. Strongly related to Swiss dialects descending from the Romance languages, Ladin is spoken by roughly 20,000 people today. And each of the four valleys has its own accent and dialect!
It feels nicer, too — public transportation is in better condition; the streets seem more orderly. It has a bit less of Italian chaos and a bit more of Germanic organization. Right from when you arrive, you'll see German families with children all riding on mountain bikes together!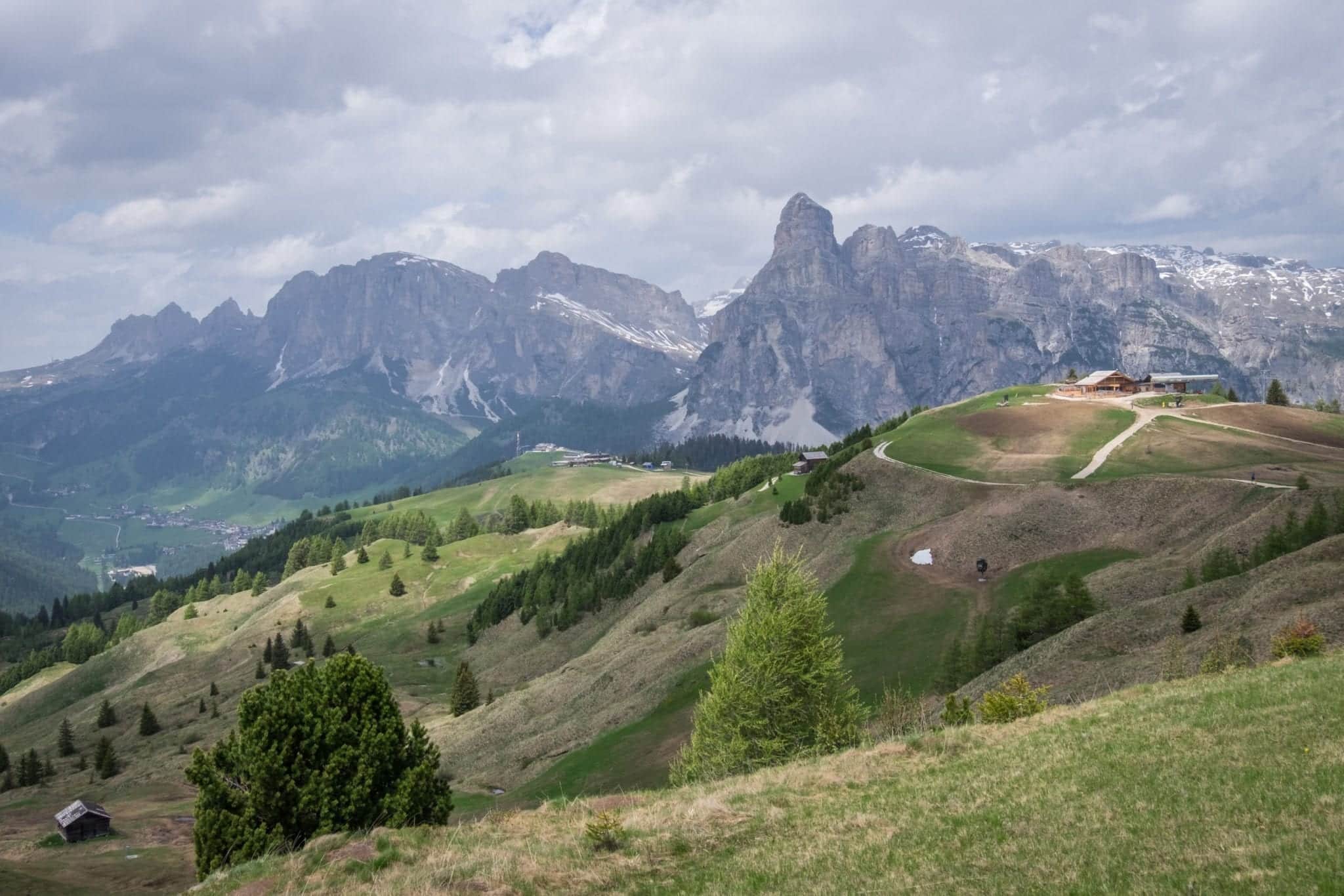 But what most distinguishes Alto Adige is its mountains — the Dolomites reach up into jagged, sharp peaks that bring to mind broken teeth or overgrown gravestones. You can recognize them anywhere.
In fact, the Dolomites themselves are a UNESCO World Heritage Site because they are so geologically distinctive compared to other mountain ranges. They're composed of unique limestone formations, they have an unusual vertical structure, and they're famous for changing color with the time of day. Look out the window and the same mountains could look gray, blue, purple, or even pink depending on the hour!
The mountains are what make this region famous — and what draw the tourists. People come to hike up the mountains in summer and ski down them in winter. Via Ferrata, a terrifying-looking kind of rock climbing along protected routes, was actually invented in Alto Adige. It began as a way to get supplies to soldiers during World War I and now it's one of the most popular adventure sports in northern Italy.
Until this trip, I always thought that Sicily was the most different part of Italy — I thought I knew Italy well, but Sicily knocked me sideways. Suddenly the language was different, the people were different, the roads had shrunk in size. But still, Italy looked a lot more like the rest of Italy than Alto Adige did!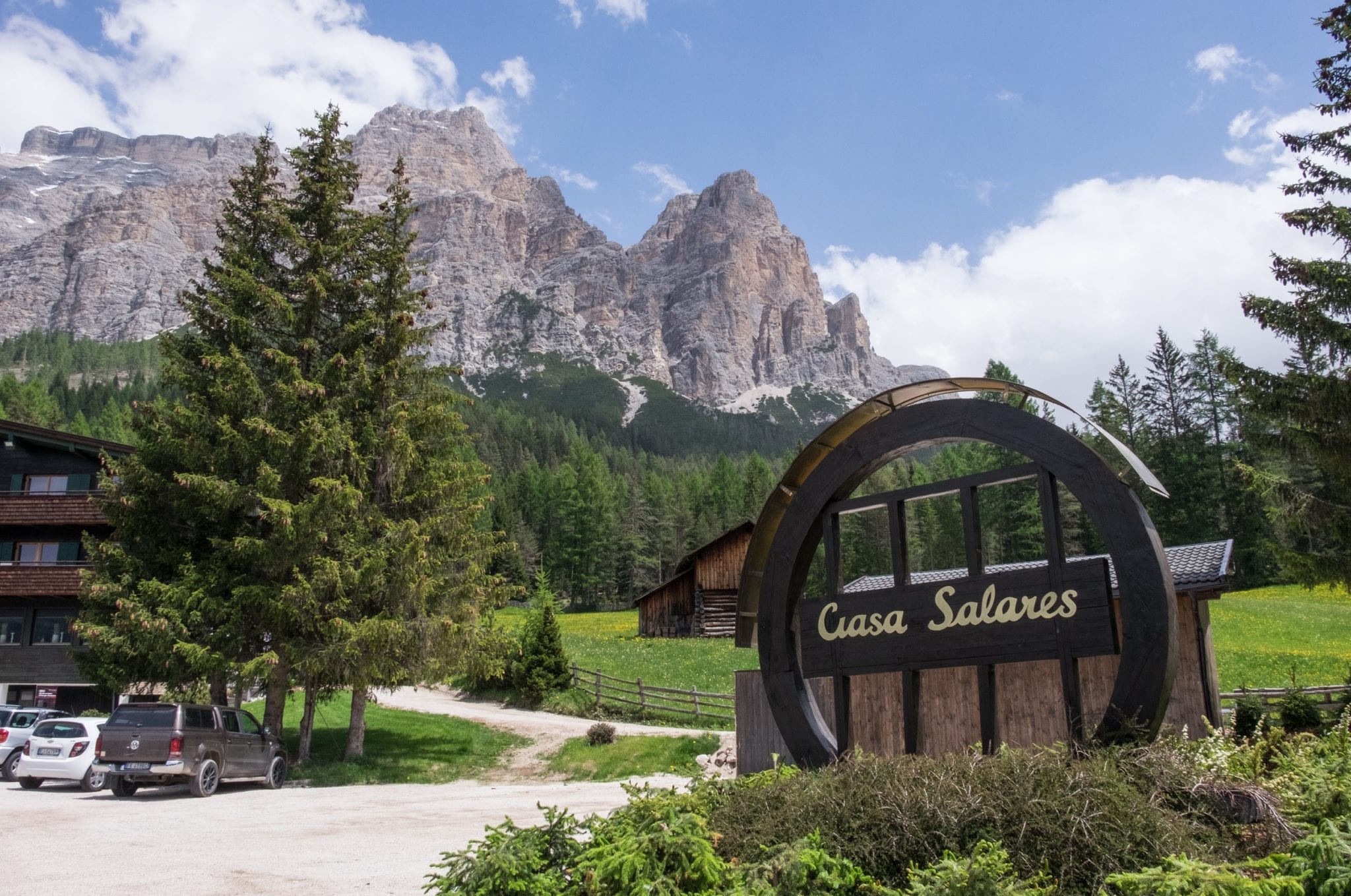 Staying at Ciasa Salares in the Dolomites
I have a friend who works with many luxury properties — and while she loves them all, for months she has been raving to me about Ciasa Salares more than any other hotel. So this trip was in the making for a long time — as soon as I had an opportunity to go to Italy for a few weeks, I reached out to her, she connected me, and the property offered me and Cailin a hosted three-night stay.
Ciasa Salares is a family-owned resort that opened in 1964. Today it's owned by the Wieser family: Stefan and Wilma and their son, Jan Clemens, the resident wine guy (and fourth-generation hospitality worker). Every year, year upon year, they improve the resort somehow. Right now they're actually reducing the number of rooms from 47 to 42 but making them more high-end.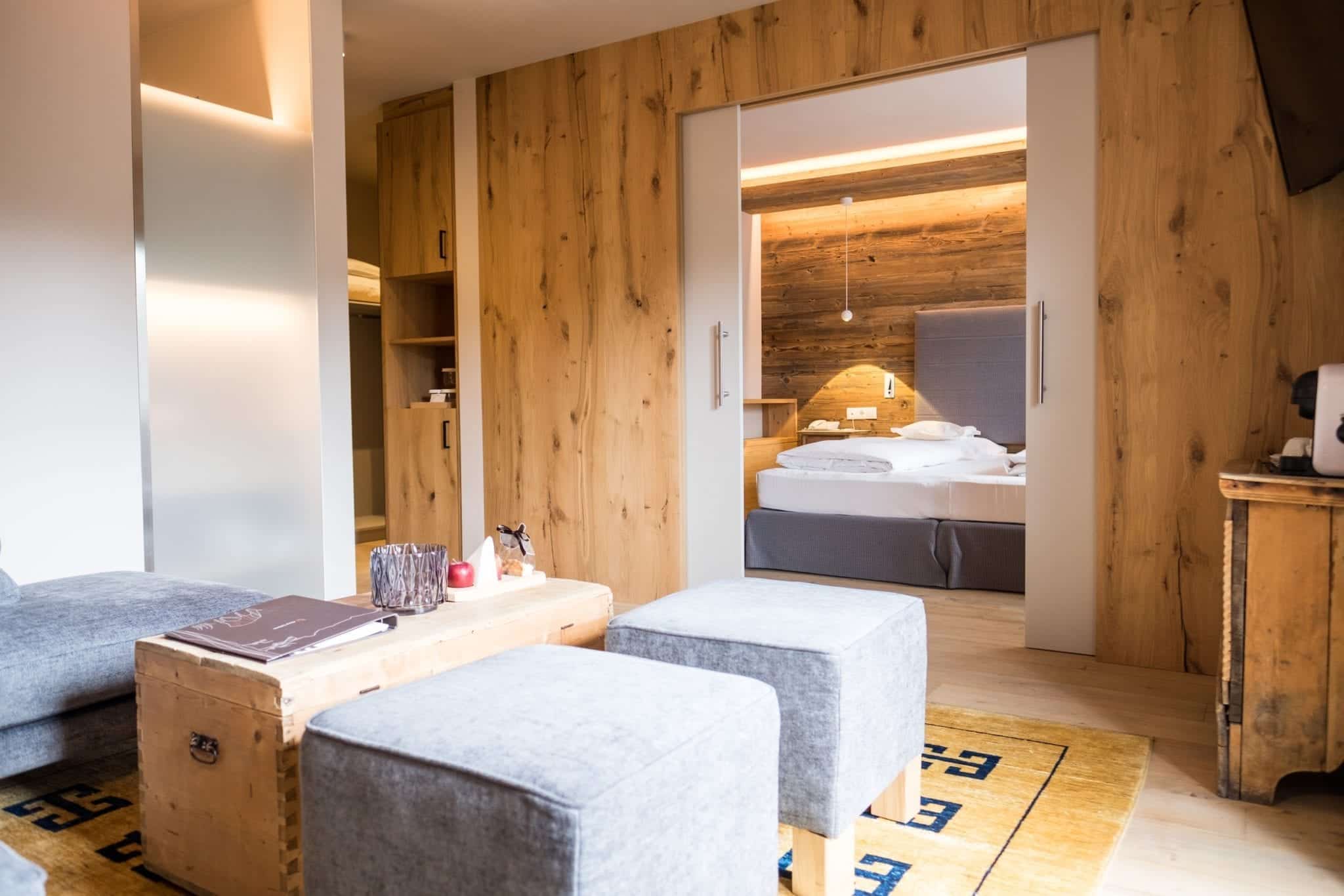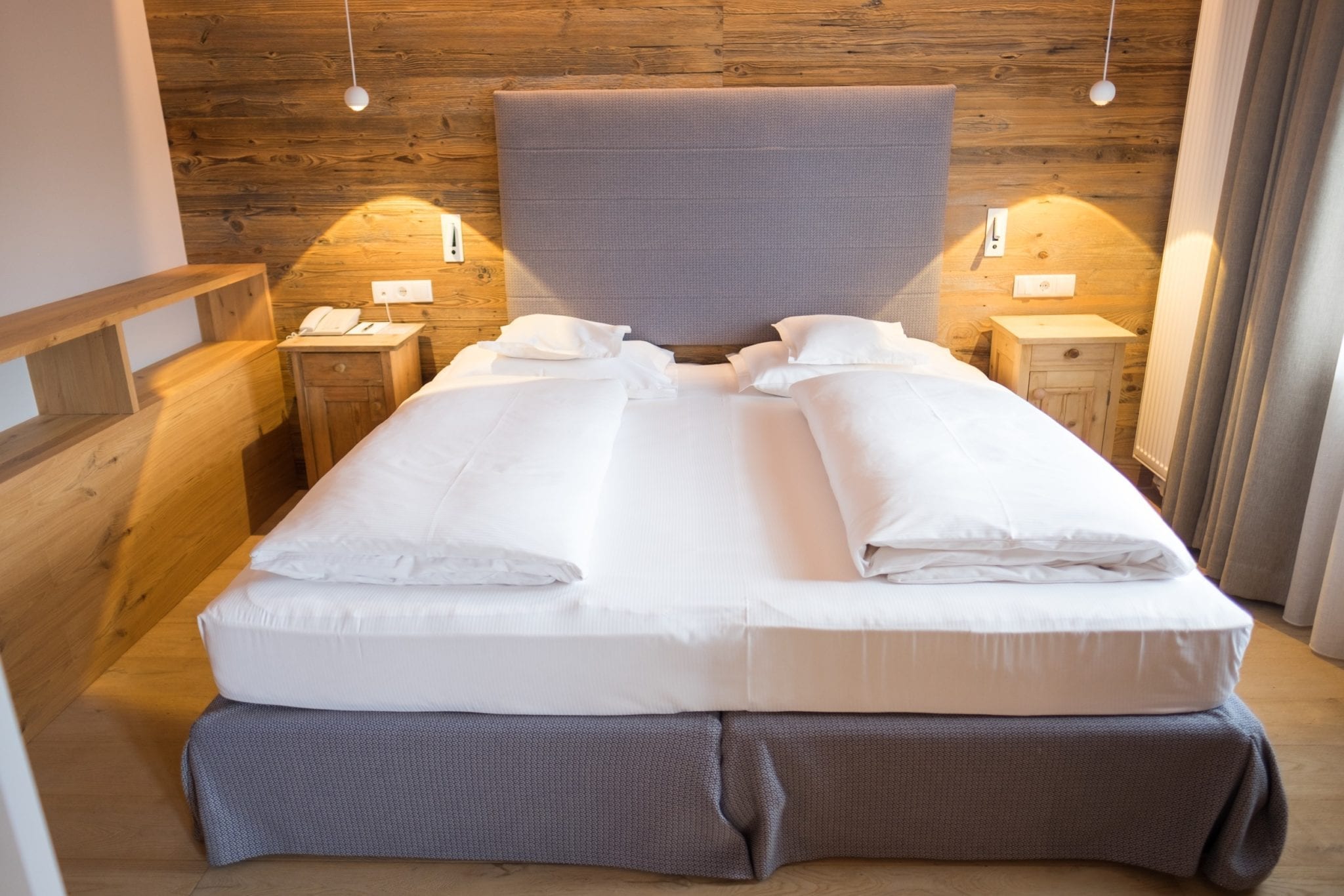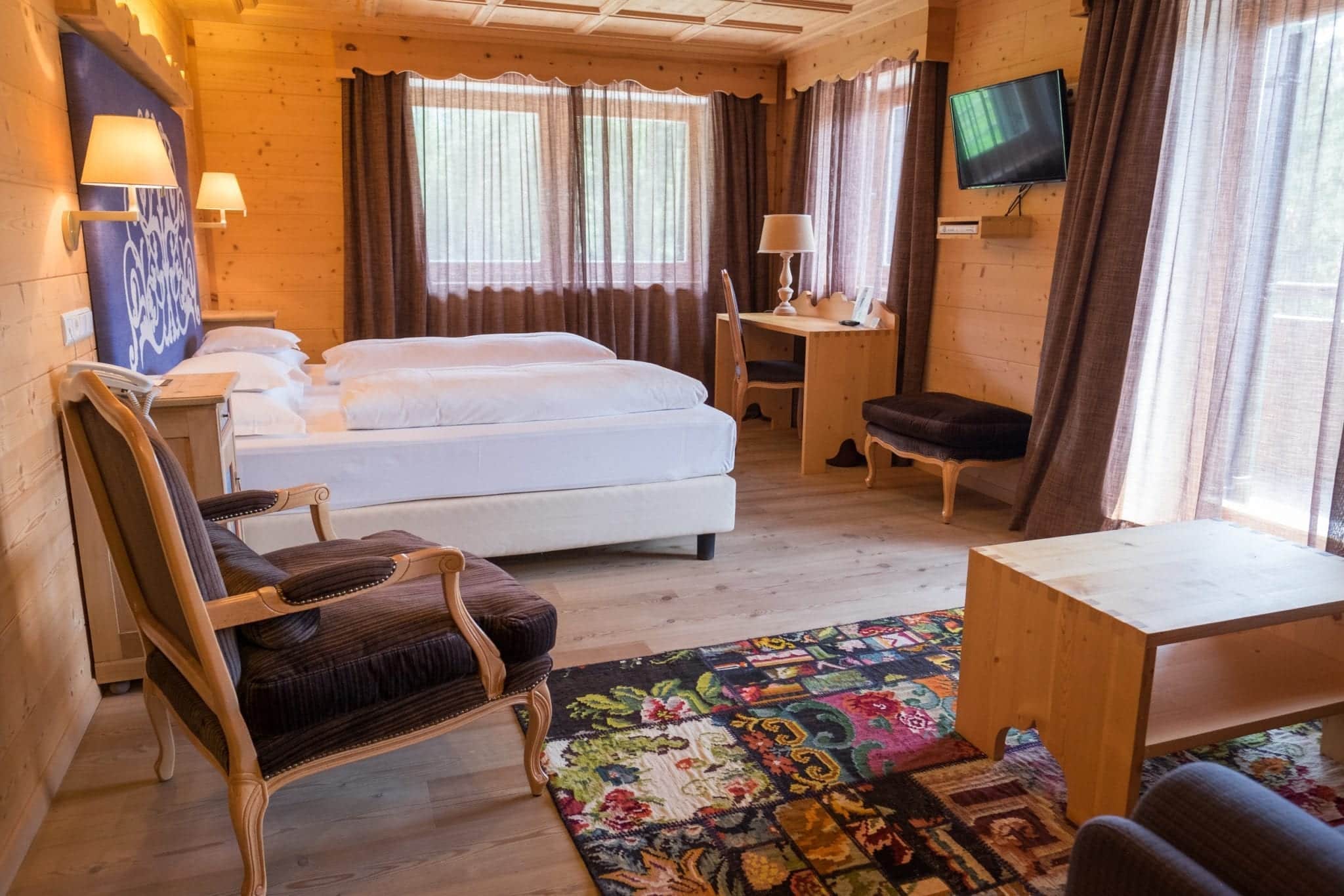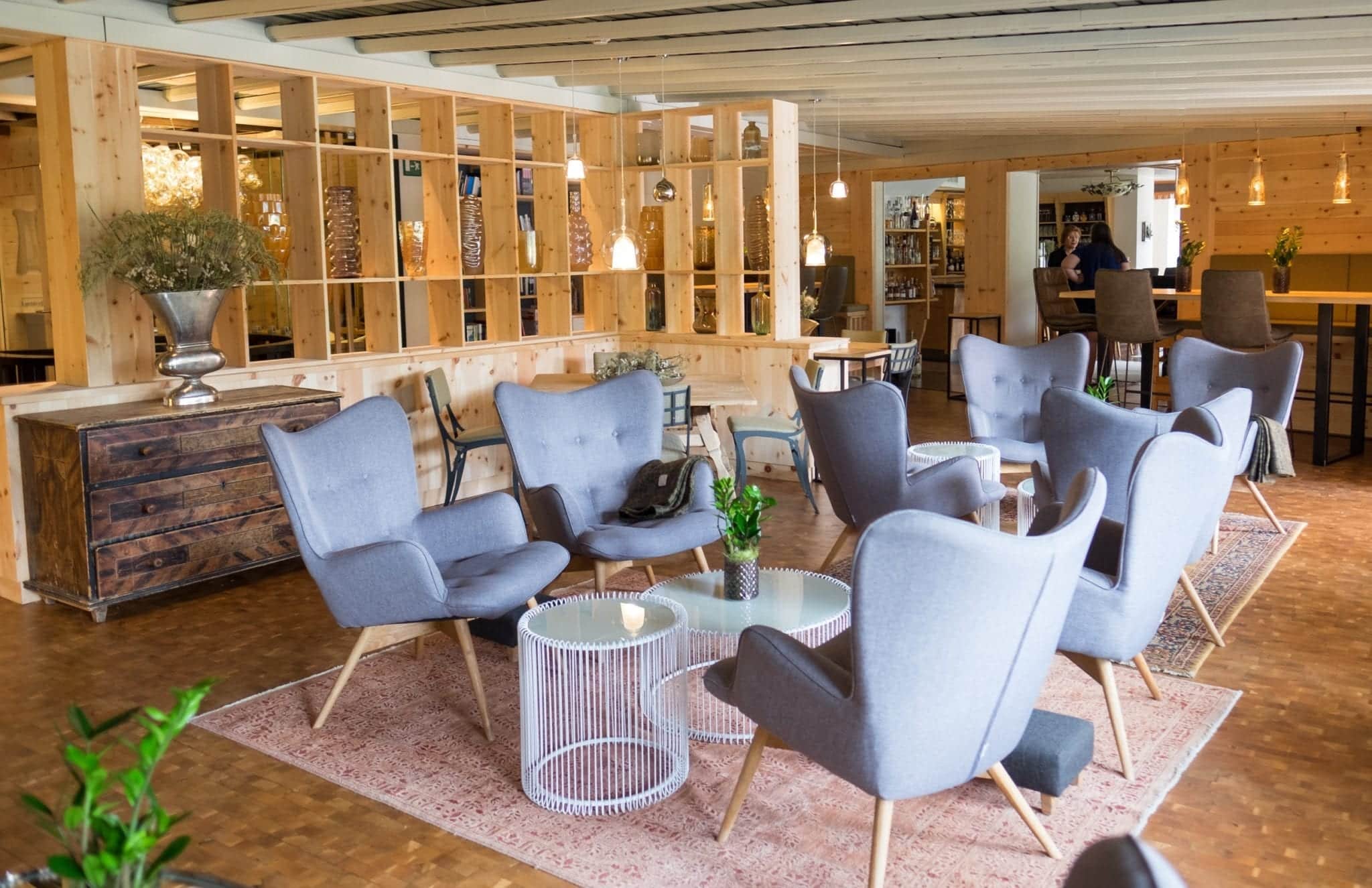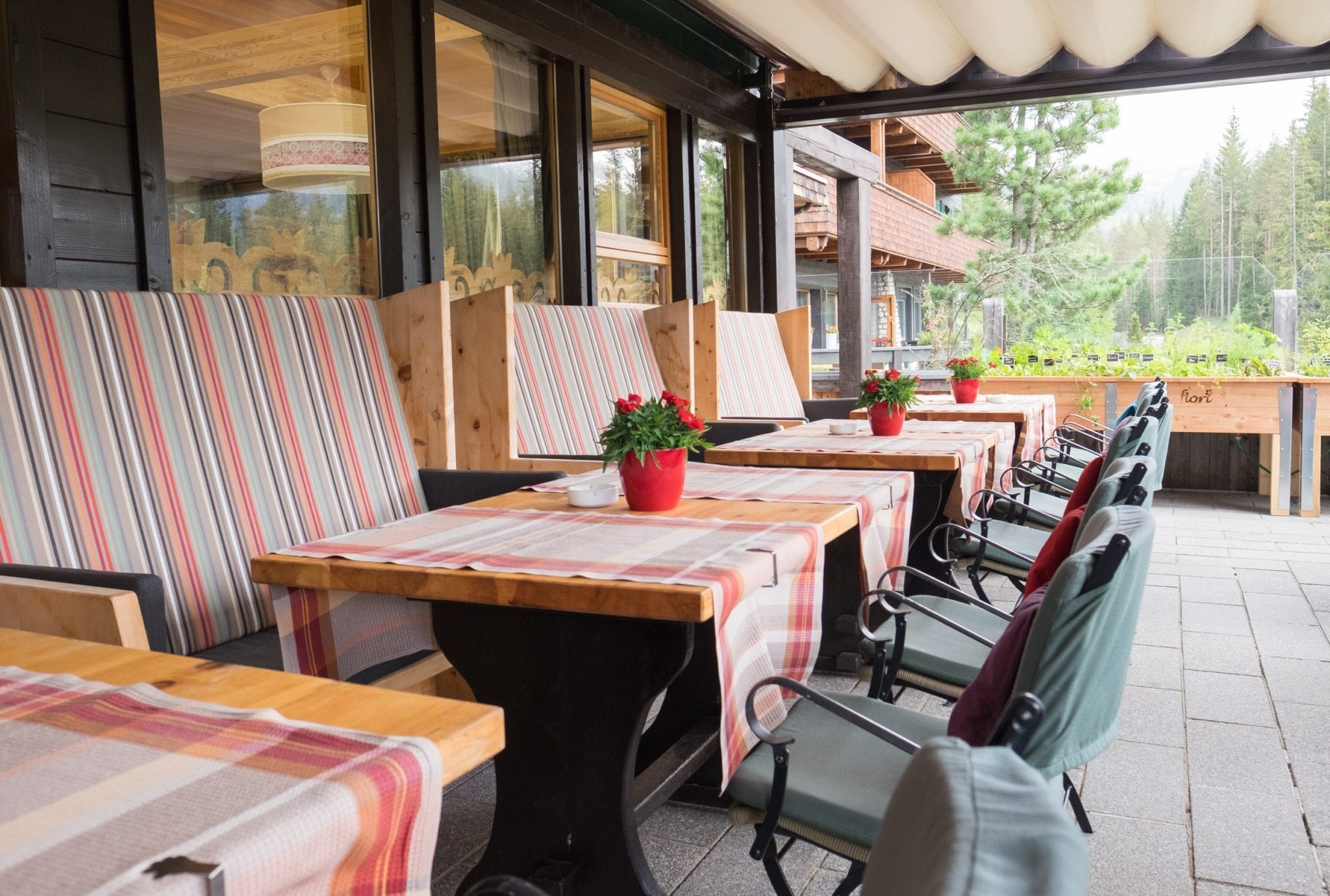 The decor at Ciasa Salares mixes the traditional Ladin designs with modern touches — think hand-painted wooden dresses alongside gray mid-century modern chairs. It continues into the bedrooms. Ours had light wooden paneling on every wall and modern gray furniture, including a sofa with a chaise on which you could stretch out.
Most properties who try to mix those two very different styles can't pull it off — but they do here, and very well.
But there is way more than just the resort. First off, there's easy access to skiing and snowboarding in the winter. A nearby life connects to the Dolomiti SuperSki network, the largest ski region in the world.
Then again, I'm not a skier — I'm a hiker. Those same mountains that you can ski down are just as good for hiking up in the summer — and in my opinion, the views are even better. And you have easy access all over the region.
It's funny how different the seasons are. In the winter they get tourists from Italy (35%), then the UK (25%), then France, Germany, and Belgium, with new contingents from Asia and South America, while in the summer they get 50% Italian tourists, followed by Americans.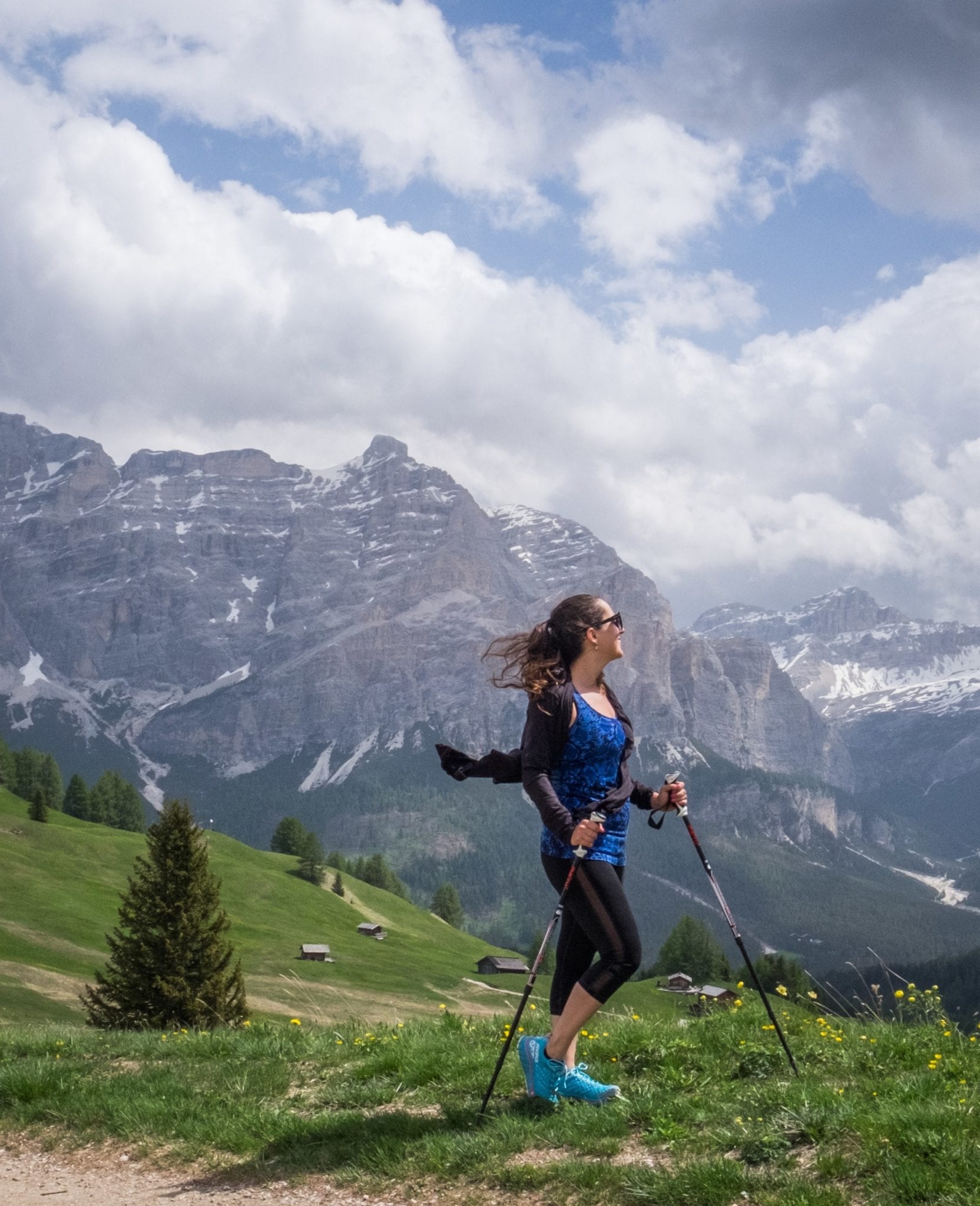 Hiking in the Dolomites
Hiking was the one thing I wanted to do in the Dolomites. You don't have to go far to find mountain trails, and in my case, it began just across the street, leading me on a walk up a spectacular mountain.
Ciasa Salares owner Stefan Wieser invited me out on a hike in the nearby region. I was a bit nervous, remembering how exhausted I was when hiking at altitude in Vail, Colorado, but I had no fears. This was less about hiking to the point of exhaustion and more about hiking to take beautiful photos.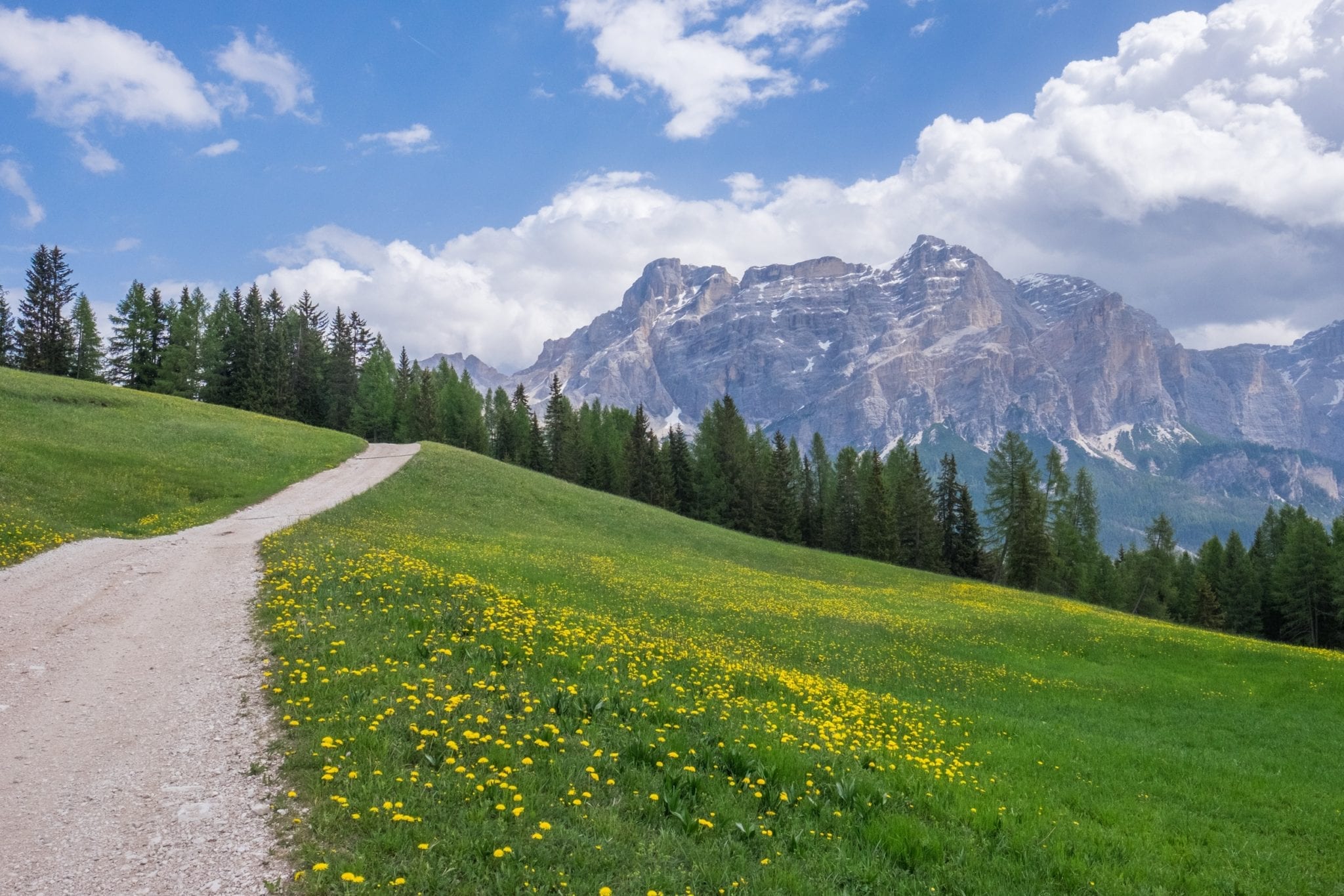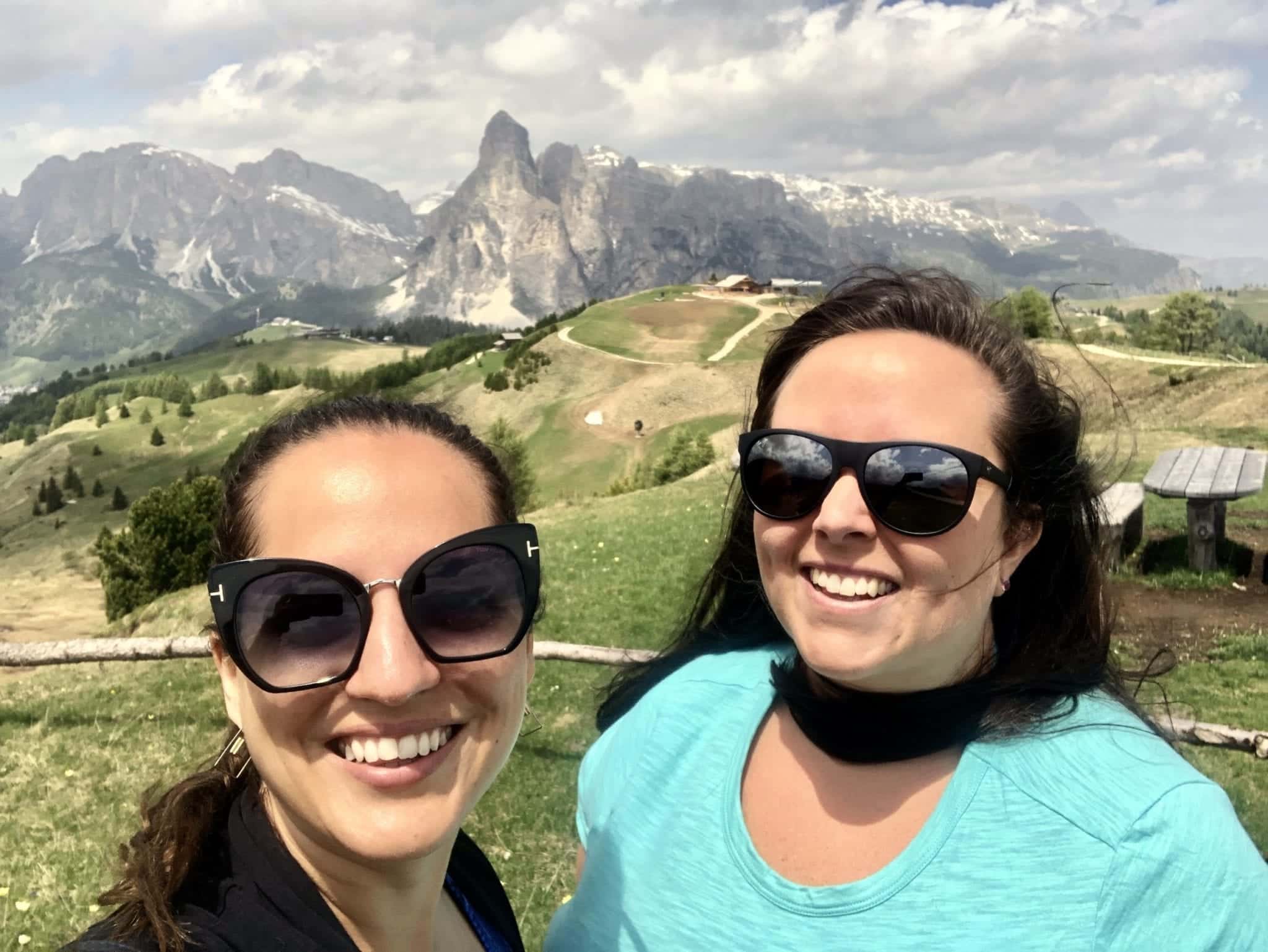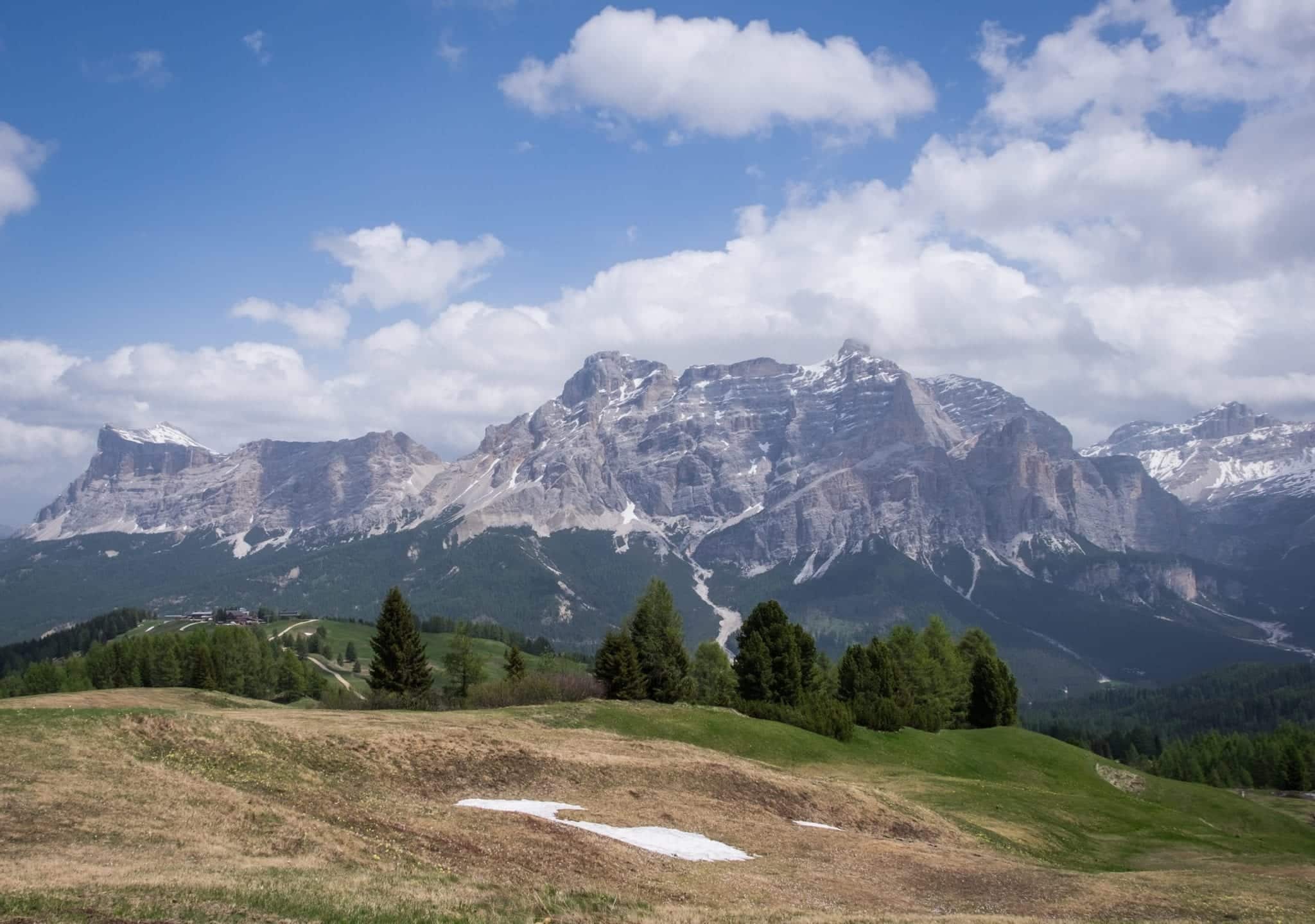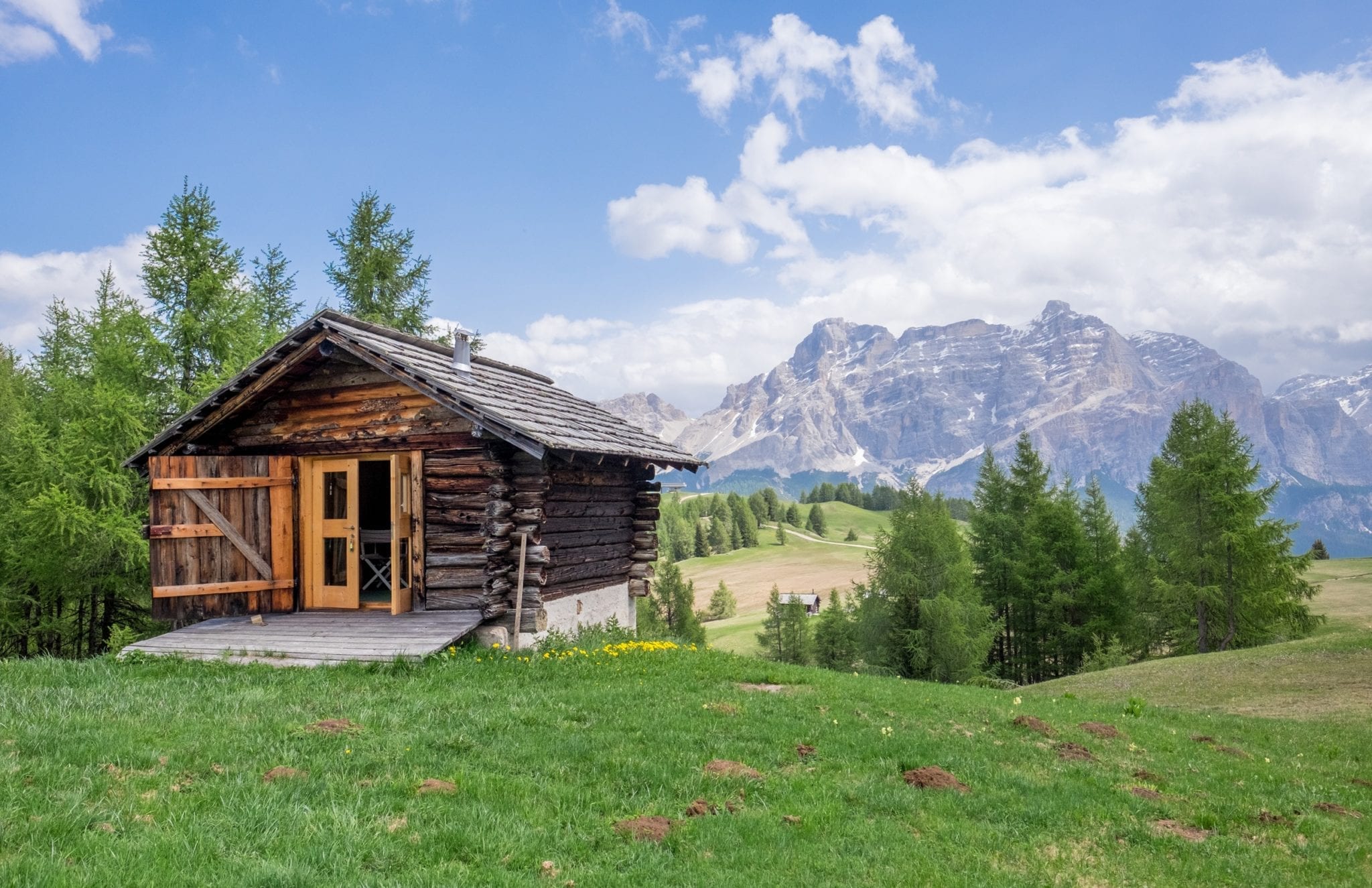 Throughout the landscape, you'll see mountain huts along the mountains. Some people use them for summer storage of keeping some food and supplies while you're skiing. Ciasa Salares has one of their own where they put on picnics!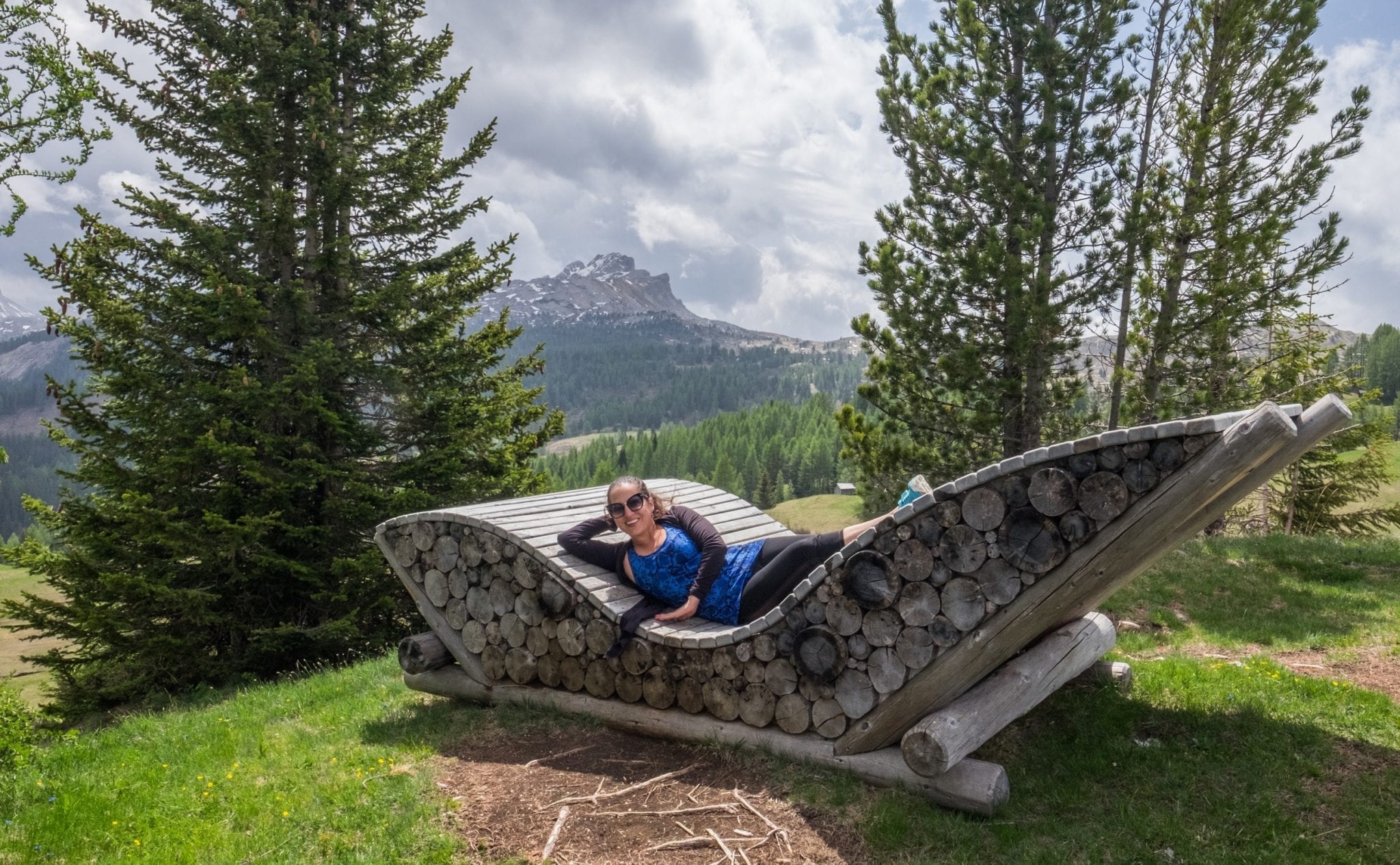 And here's the crazy part — I swear the Dolomites healed us. Cailin and I arrived directly from the Traverse conference in Trentino, where late nights, too much socializing, and not enough sleep had left us with the "post-conference flu."
I arrived with a nose so stuffed up that I couldn't taste anything the first night (a nightmare at a culinary resort!). Cailin was having some tummy troubles. Thankfully I could smell and taste again by the next morning, and Cailin started feeling better as well.
Was it the fresh mountain air? The local cuisine? Actually getting outside and hiking instead of sitting behind a computer all day? Who knows?
But after three days in the Dolomites, we were both feeling a million times better. Then we went to Lake Como and got a lot worse. (Sounds like proof to me!)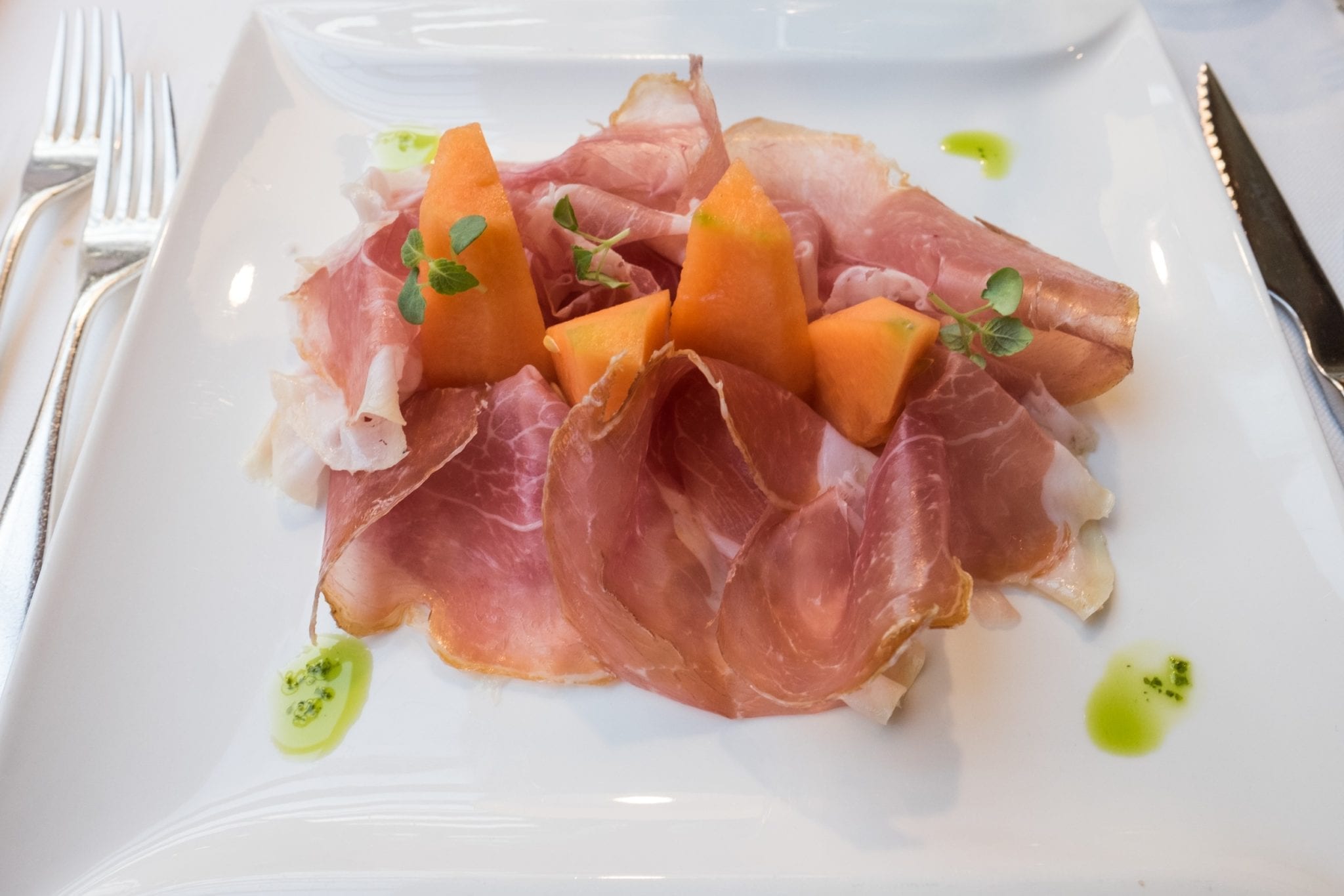 What to Eat in the Dolomites
I didn't have high expectations when it came to food and wine in the Dolomites, but I was blown away by how good everything was! First off, don't expect food in the Dolomites to be anything like what you get elsewhere in Italy — don't come here looking for an insalata caprese.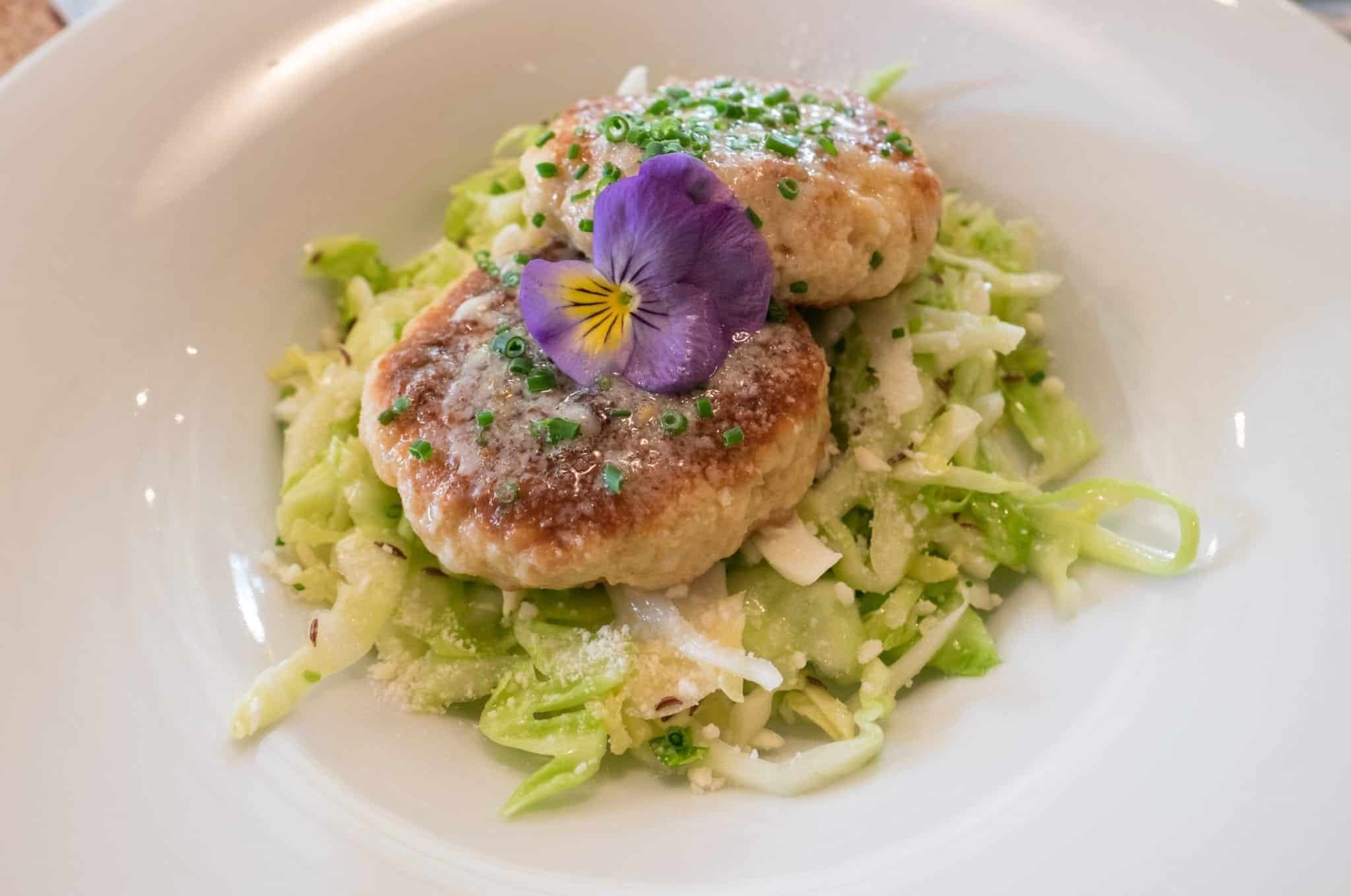 The food here is hearty enough to keep you energized while climbing those mountains all day. You might enjoy pressknödel, bread dumplings with cheese, served over a sharp cabbage salad.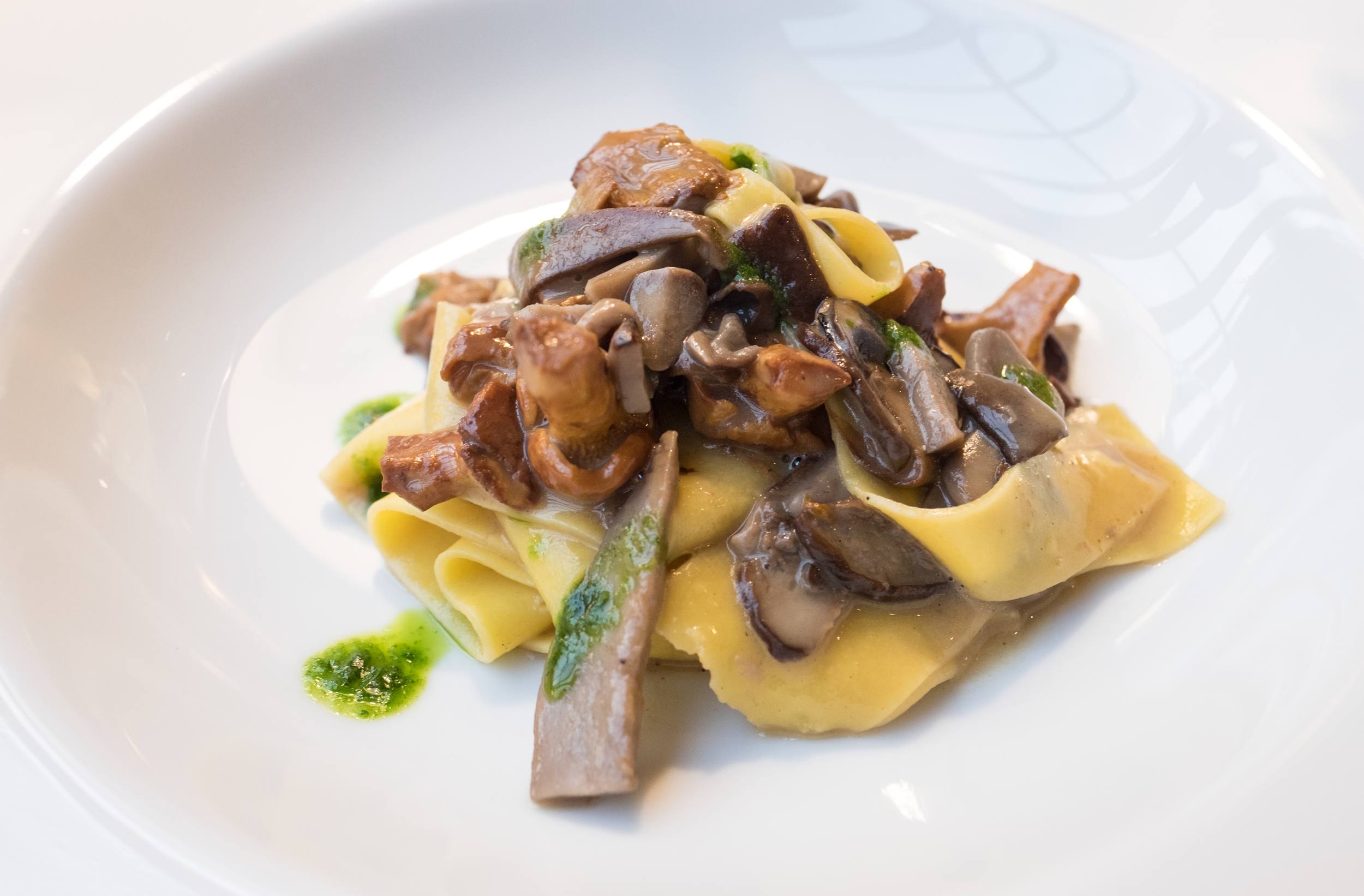 You could have pappardelle topped with mushrooms — including chanterelles, one of my favorite things to eat in the world. Mushroom-hunting is very popular in Alto Adige, but you need a license and you're limited on how many you can gather.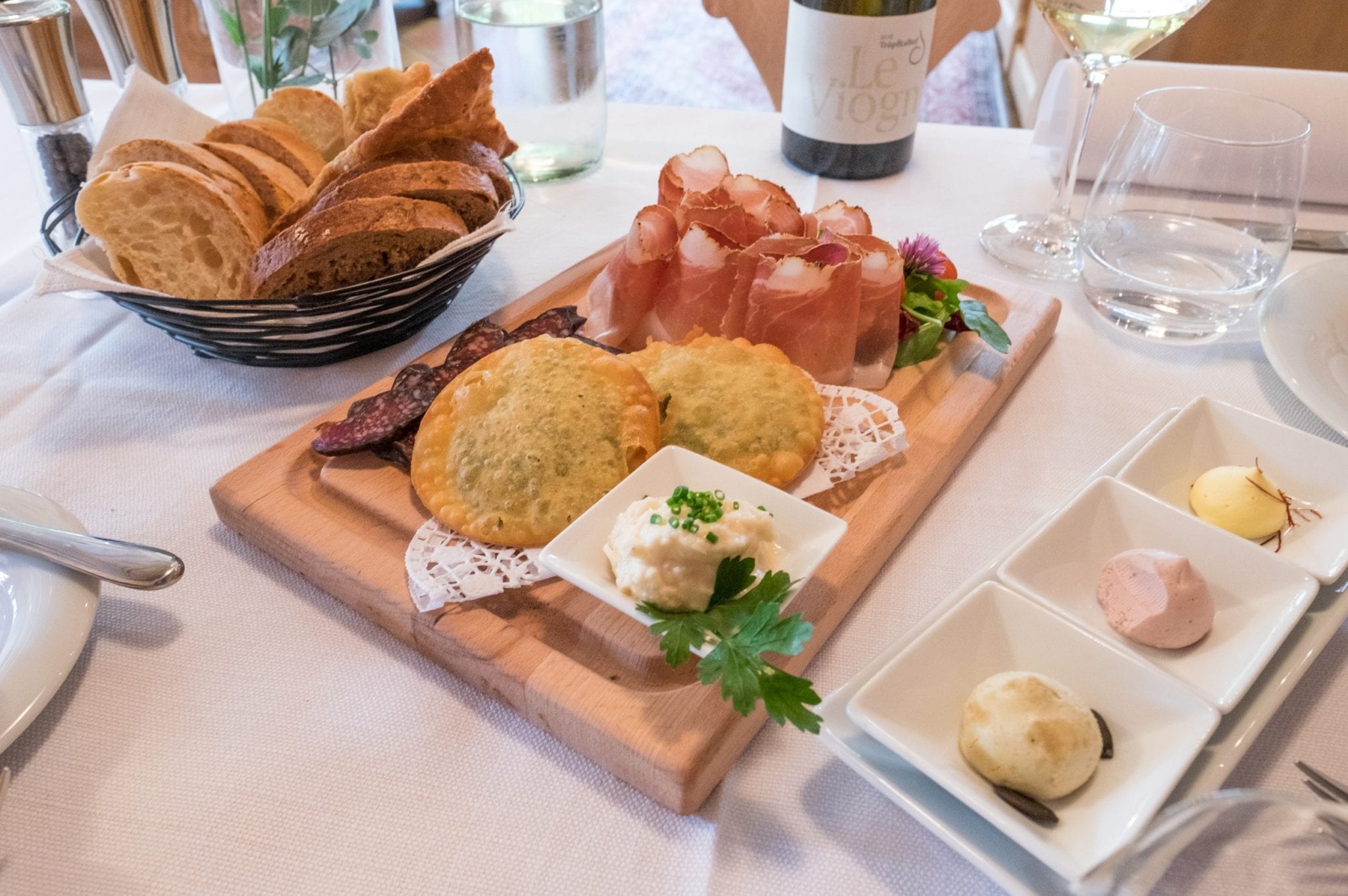 You could have speck served with fried bread and mountain goat sausage. First, the mountain goat sausage — it's delicious, but know that there usually isn't enough mountain goat in supply to create a whole sausage. Instead, it's often mixed with pork. (Know that if anyone you're traveling with is avoiding pork.)
But let's talk about that speck. Speck is often referred to as bacon, especially in Germanic parts of the world, but in the Dolomites, speck is the gentlest, most feathery prosciutto you can imagine — only with a distinctly smoky flavor that you won't find in Parma or San Daniele.
I had speck at almost every meal in the Dolomites, and I marveled at it each time. This is one of the great meats of the world.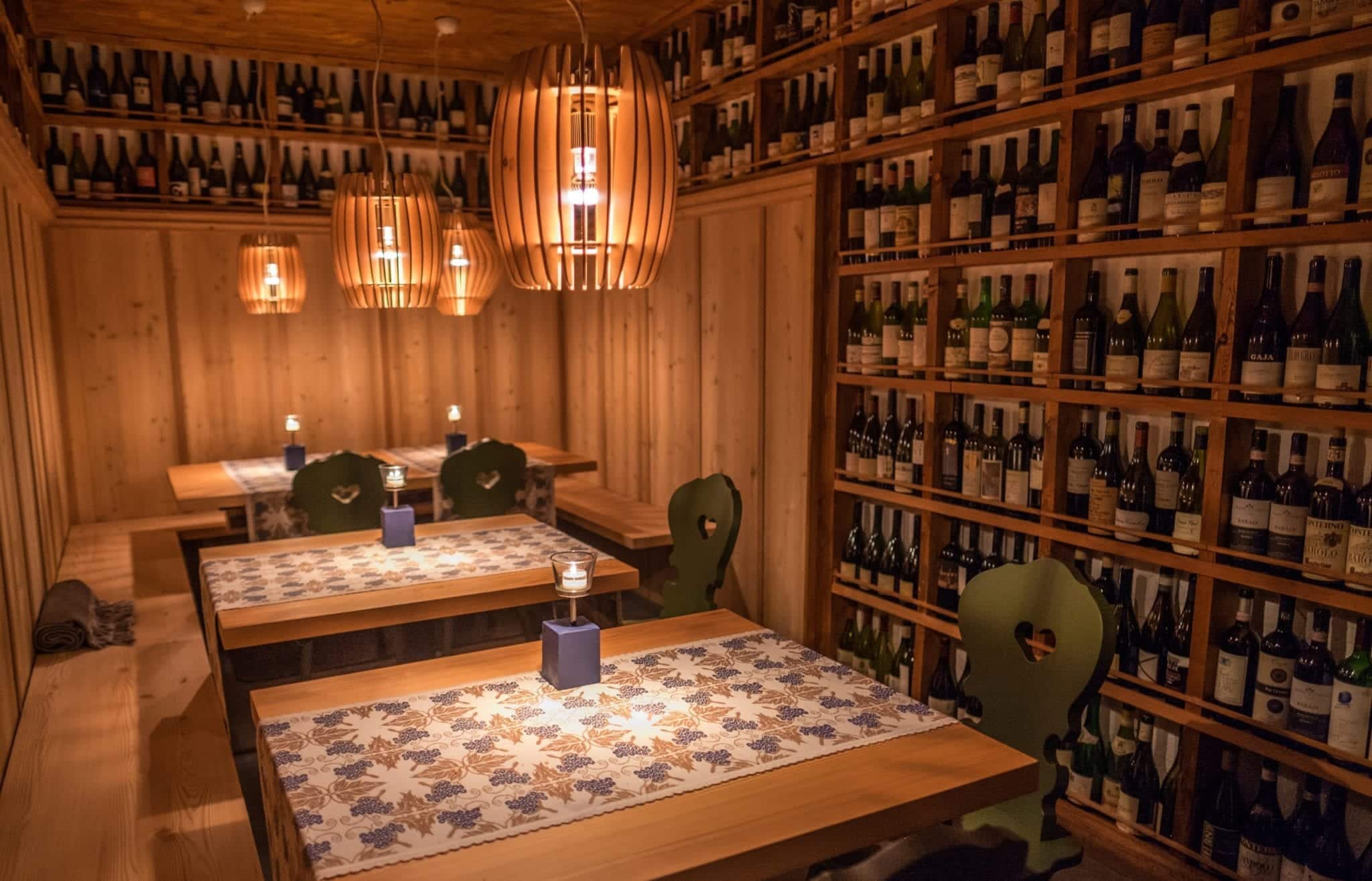 But the culinary highlight of my time in the Dolomites was a wine tasting and dinner we had in the Ciasa Salares wine cellar. Clemens, the resident wine guy in his early twenties, gave us one of the best meals of my entire time in Italy.
Ciasa Salares's wine cellar is home to a whopping 26,000 bottles of wine. They turn over 14,000 each year. At least 10,000 are turned over during the winter. Those numbers are insane!
(You may be wondering what the most expensive bottle was — it costs 12,000 EUR ($13,500). They have three bottles and have sold two of them. Personally, I wonder about the kind of person who spends 12,000 EUR on a bottle of wine, but that's just me…)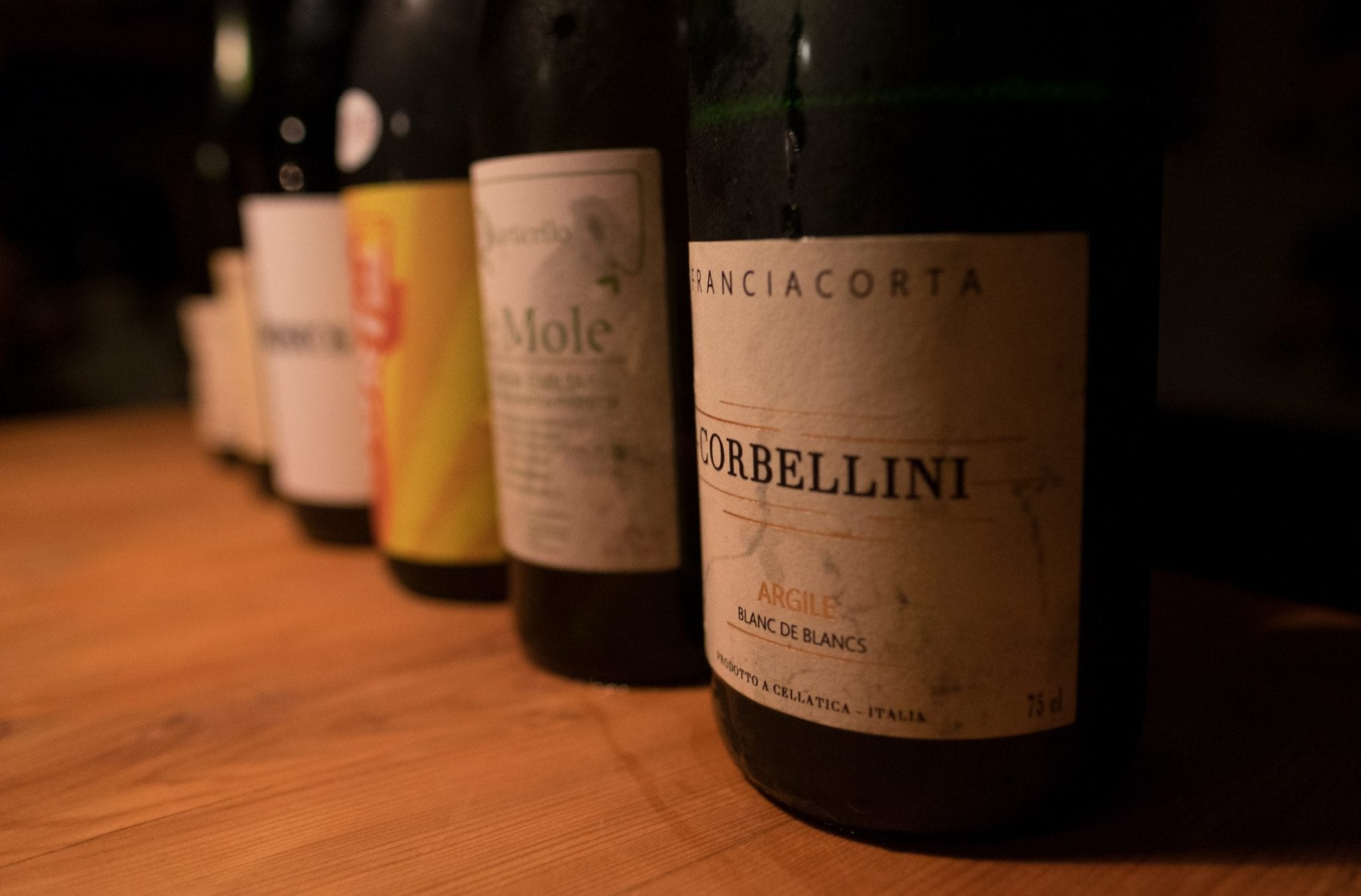 I thought we'd be focusing on local wines only, but Clemens loves wine so much, he couldn't resist sharing his favorites from all over Italy. I love wine, but I can't talk about it very effectively — but we had so many interesting-tasting wines from all over Italy. Including one from the Veneto called Insolente — well, it doesn't translate to anything nice!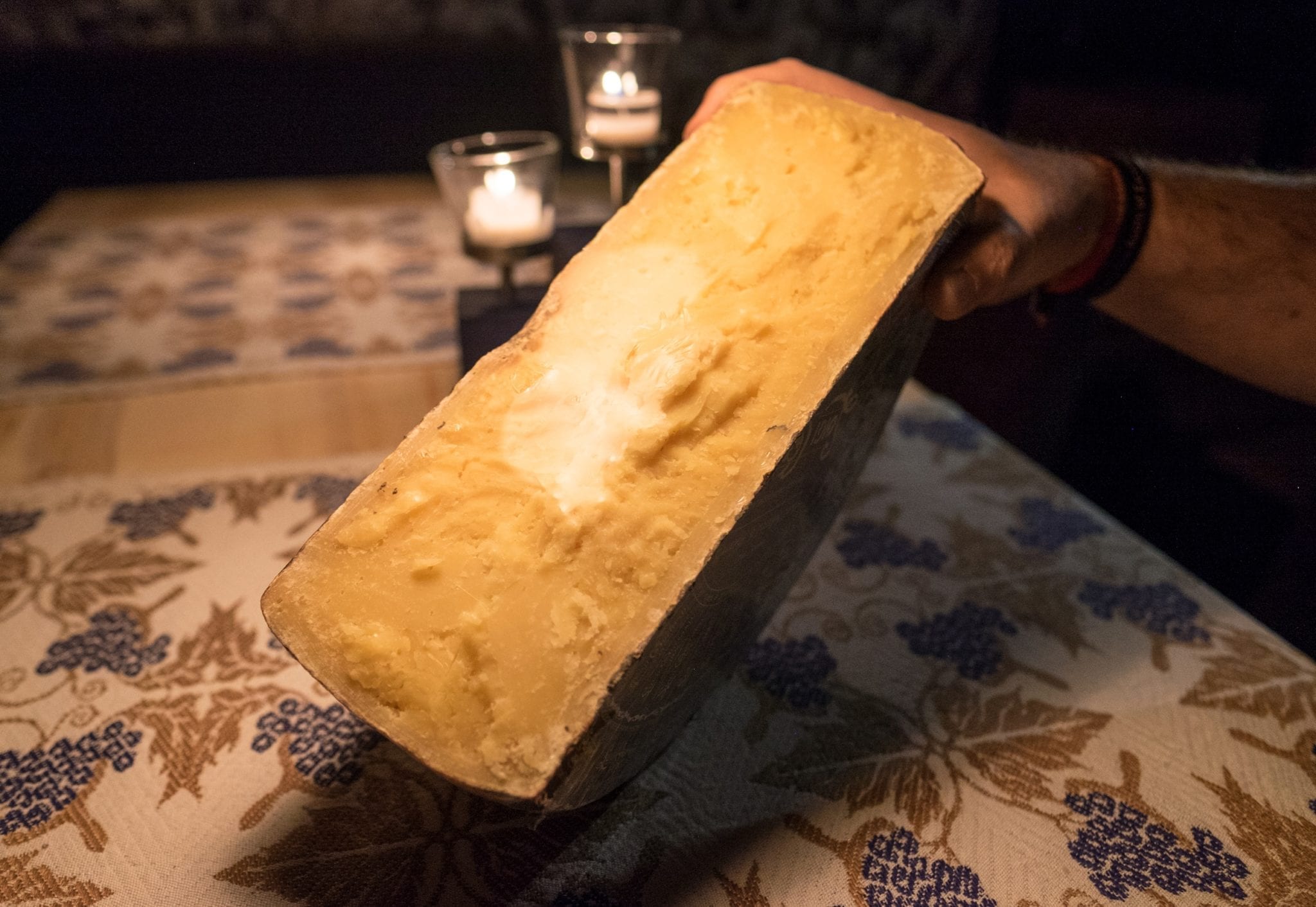 As you can imagine, there is a "cheese room" down in the wine cellar as well, filled with giant chunks of deliciousness.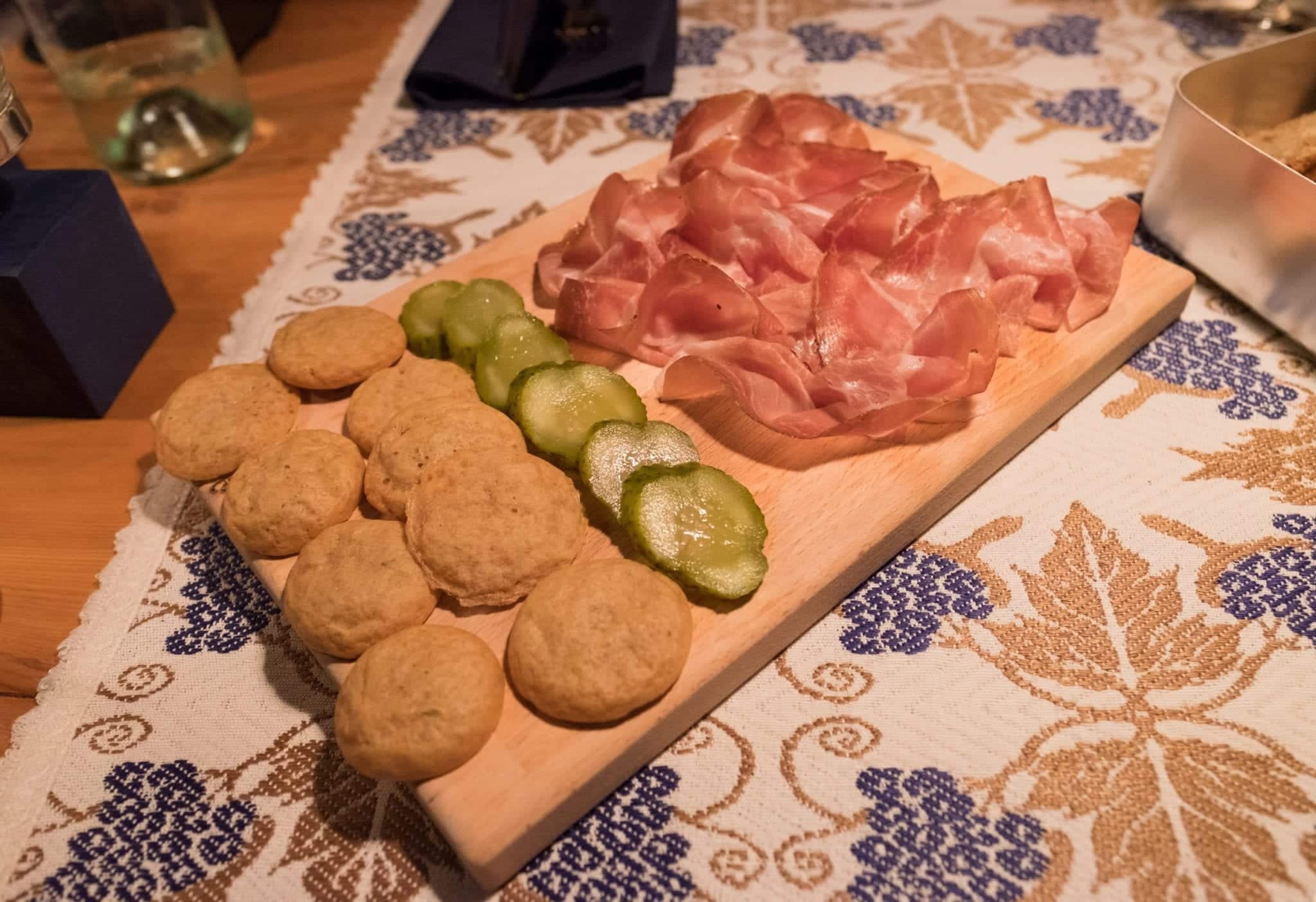 And of course a proper Tyrolean meal starts with some speck, pickles, and round pieces of bread to make the ultimate sliders…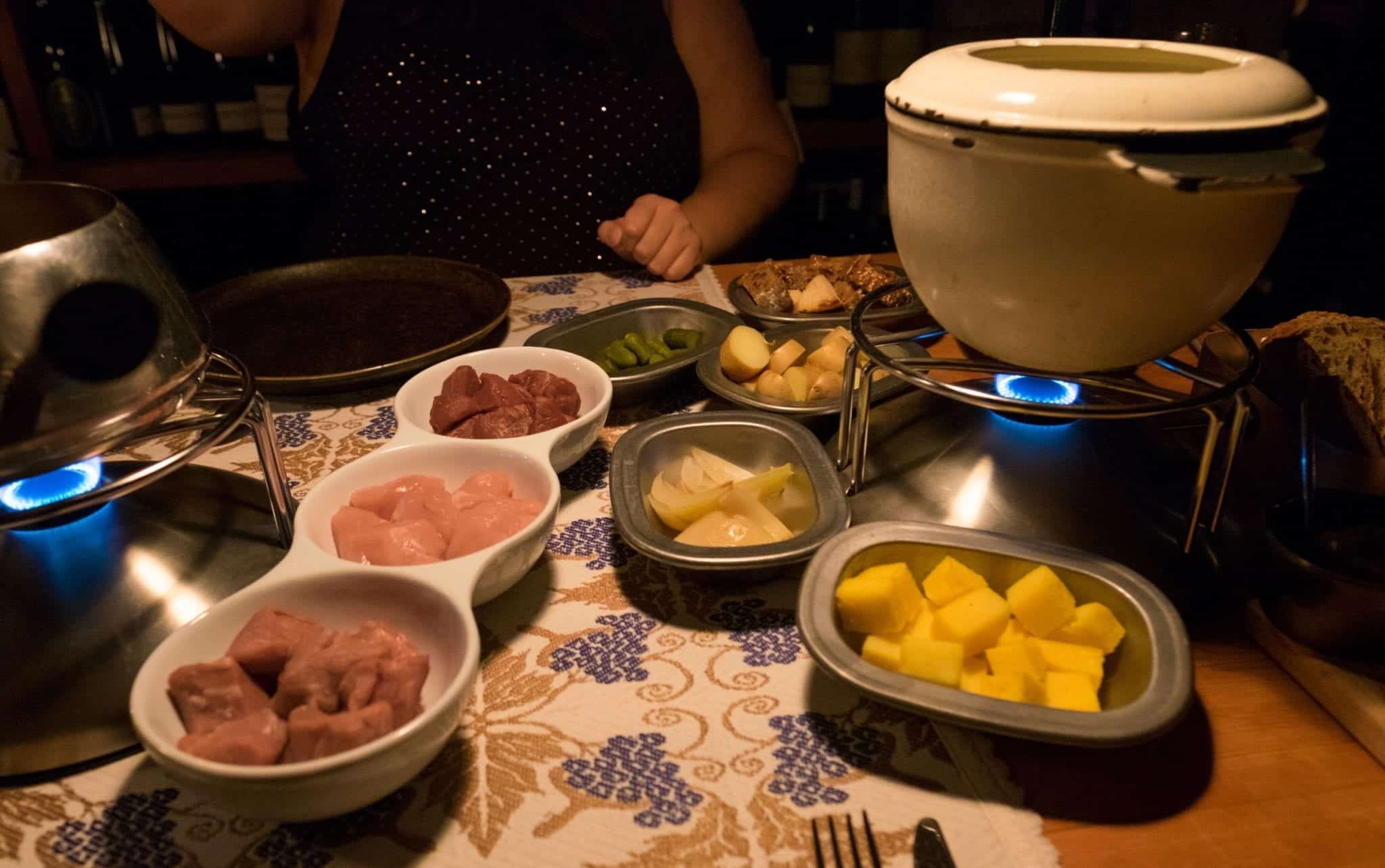 And then FONDUE! I know, it sounds crazy to have fondue in the summer (and I've been criticized for doing just that in Switzerland, let me tell you) but down in the cool wine cellar, it was perfect.
We had bowls of the absolute freshest chicken, beef, and veal to cook gently in the simmering broth, and accoutrements including polenta, onions, and potatoes to dip into the cheese.
You know what the best thing was? Dipping sliced pancetta into the cheese. It sounds messy (and it was) but it was OUTSTANDING. Definitely make sure you do some hiking or skiing to work it off, though!
And finally, after finishing out meal, we were brought to the CHOCOLATE ROOM. Lined on the wall were all kinds of chocolate. Clemens asked each of us what we liked in chocolate, then curated us perfect platters catered to our tastes. Cailin and I were in heaven.
That's not even all. Ciasa Salares has another surprise for after the chocolate room. I think I'm best off not mentioning it here. But it's GOOD.
Ladin Culture
Stefan Wieser took me out on a day to explore a bit of Ladin culture. First up, we stopped at a wood carver's home. The carver, an octogenarian, has covered his home and workshop with all kinds of crazy wood carvings. Today he spends all his time in his hut, working on his carvings, enjoying life from above it all (and eating groceries brought by his family).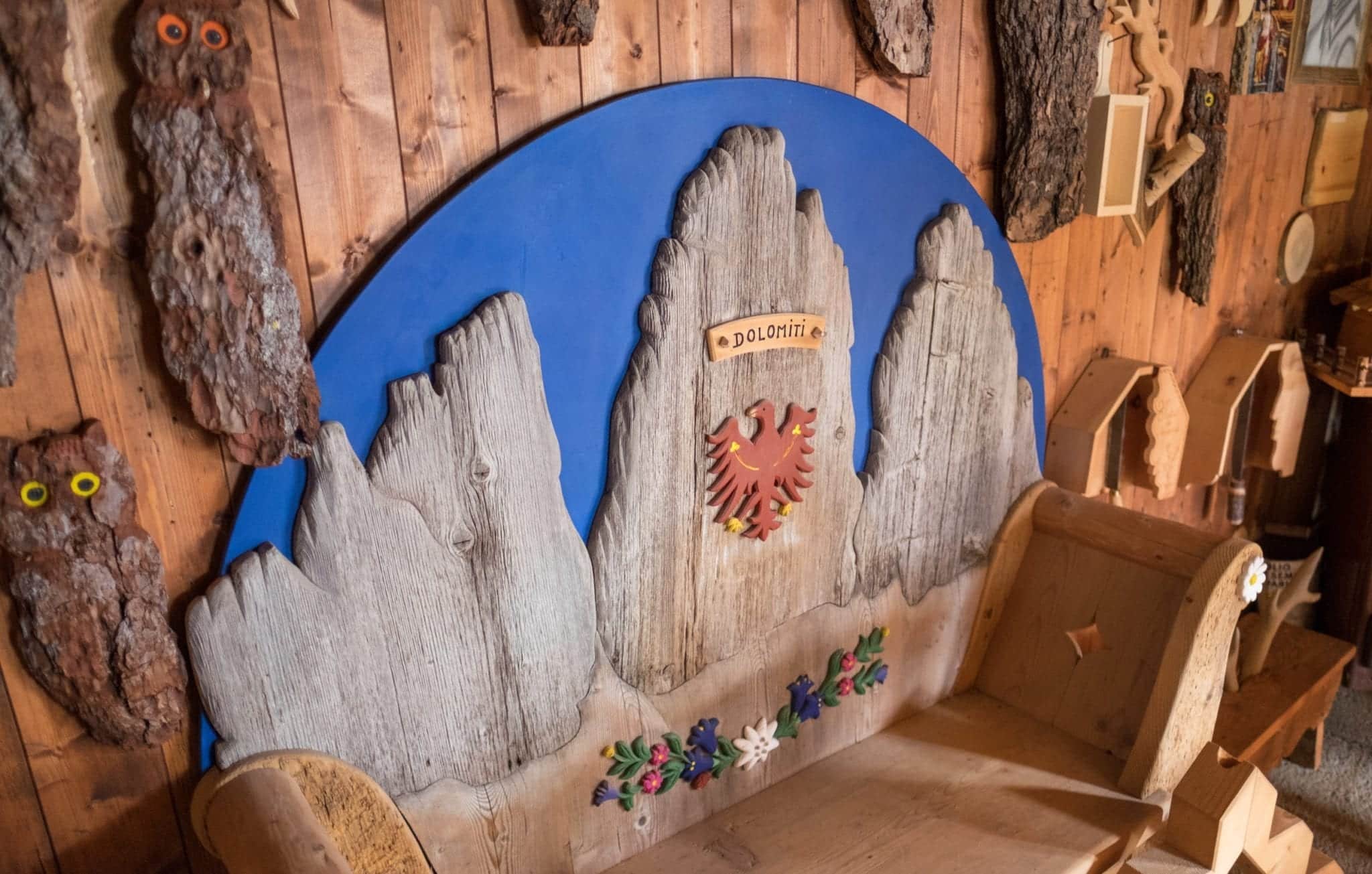 The carvings were outstanding. There were owls, there were antlers, and there was a variety of handmade furniture — including a bench shaped like the Dolomites themselves, made with a ridged wood to evoke the texture of the mountains. Absolutely incredible work.
The carver presented me with a tiny carving to take home with me — an axe in a stump with a tiny heart carved into it.
"How do you say thank you in Ladin?" I whispered to Stefan.
"Giulan," he replied.
"Giulan," I said, probably badly, to the woodcutter.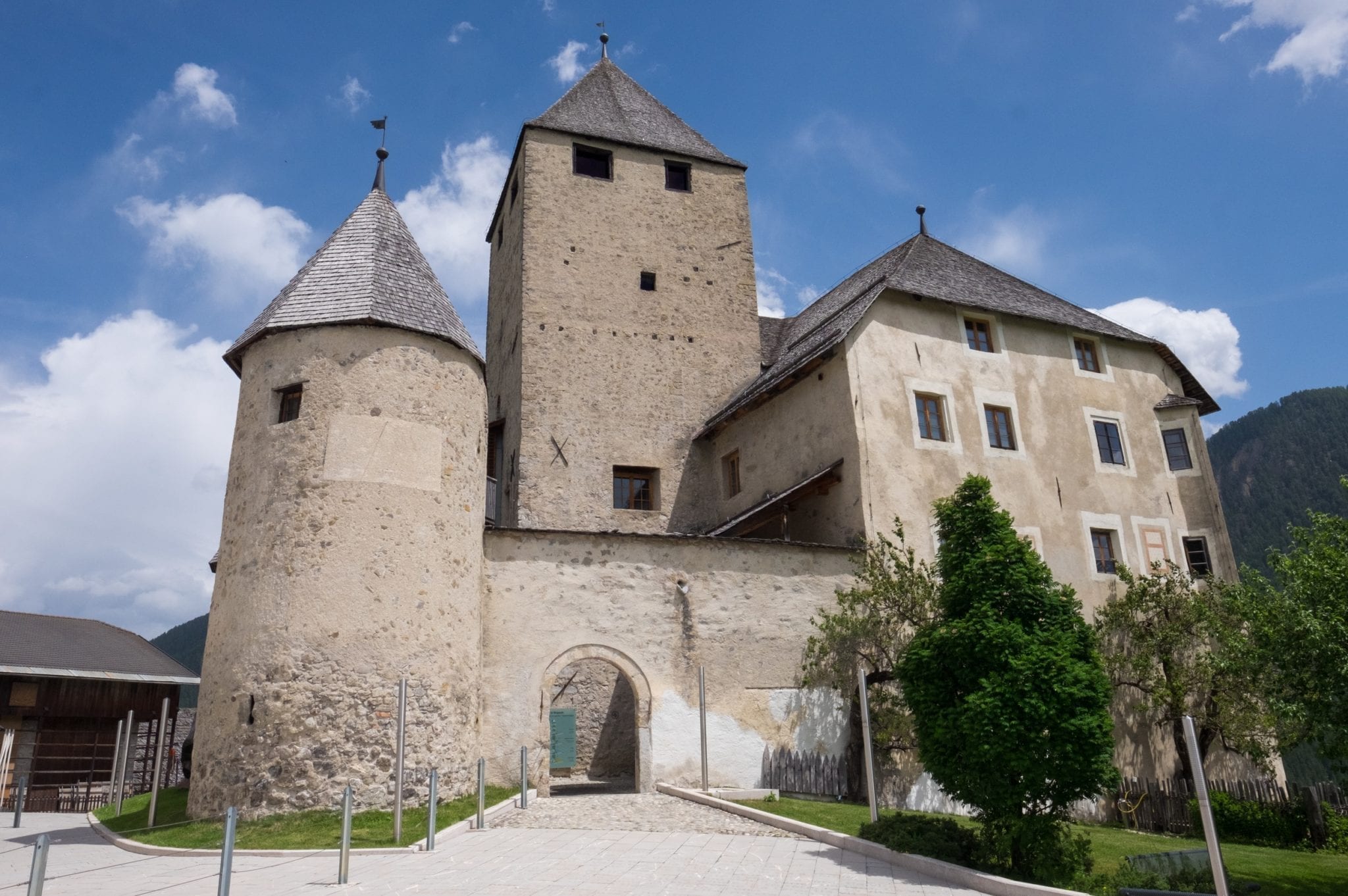 Next up, we visited the Ladin Museum, which introduces you to the unique culture in this region. The views aren't half bad, either! You can learn all about how people survived in the harsh environment of the Dolomites for centuries, and the beautiful art they developed along the way.
This is the first museum I've ever seen that had captions and guides in Italian, German, and Ladin — but not in English. Fear not, there are audioguides in English that will help you navigate the museum.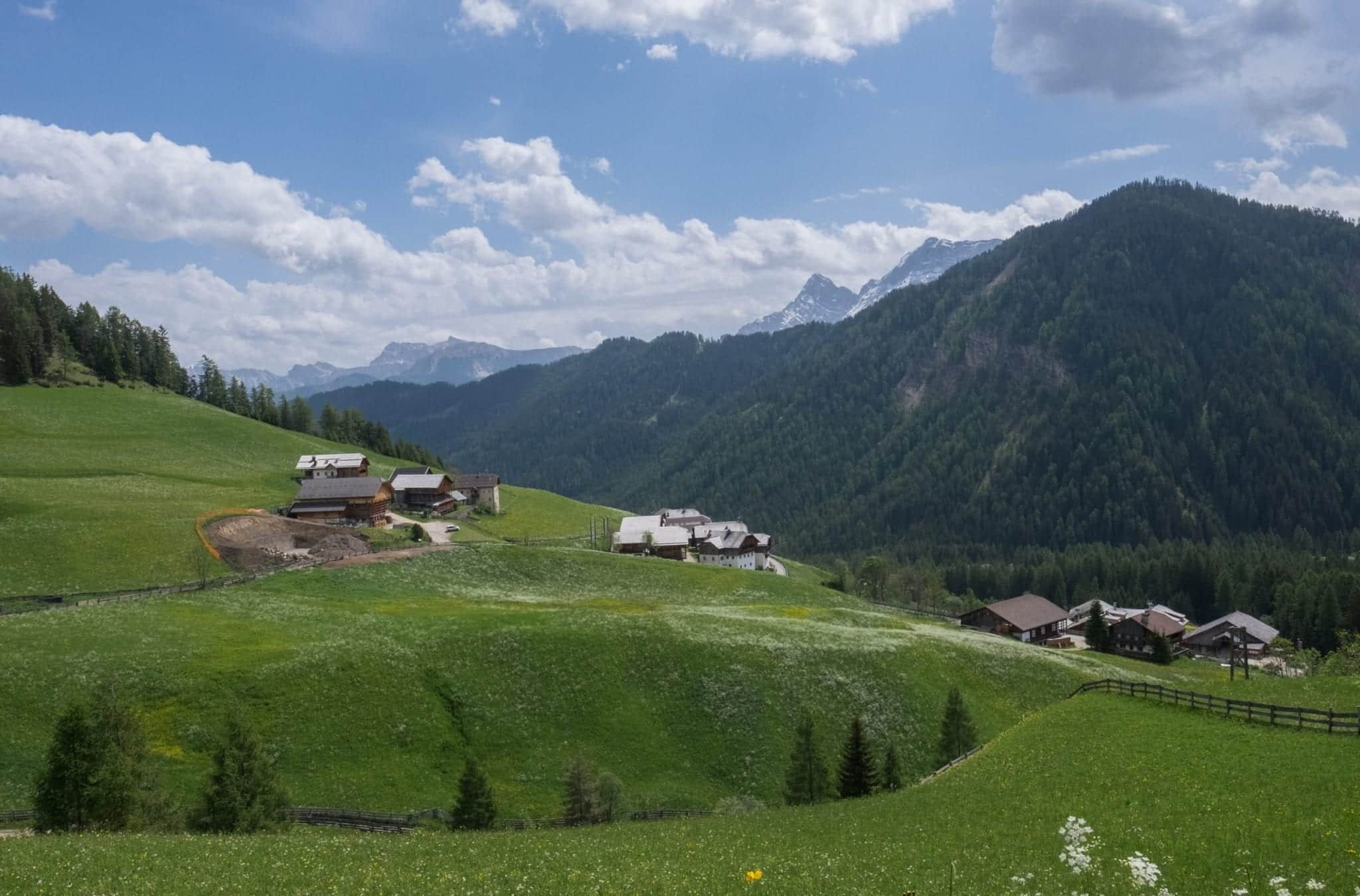 But one of the joys of the valleys was just driving around and taking in the beauty of the setting. There were gorgeous views in every direction.
Occasionally, though, we would pass large swaths where it looked like entire hills had their trees ripped out from the roots, not unlike one of those pore strips covered with blackheads.
"What happened there?" I asked Stefan.
Storms, he told me, in late October 2018. The high winds were so severe that some regions lost up to 20% of their forests.
Climate change manifests itself in more ways than just rising temperatures. Unusual storm activity — which you've undoubtedly noticed throughout the world the past few years — is one symptom. And it doesn't only happen in the tropics. Alpine regions are susceptible, too.
Relaxing in the Dolomites
I came to the Dolomites to detox from the craziness of the conference — and I did just that. Best of all were the afternoons that Cailin and I spent chilling in the outdoor wood-burning hot tub (and, um, making Hot Tub Time Machine parody videos on Instagram Stories).
Sometimes all you need is to get into the mountains — and three days in the Dolomites certainly did me well.
---
READ NEXT:
---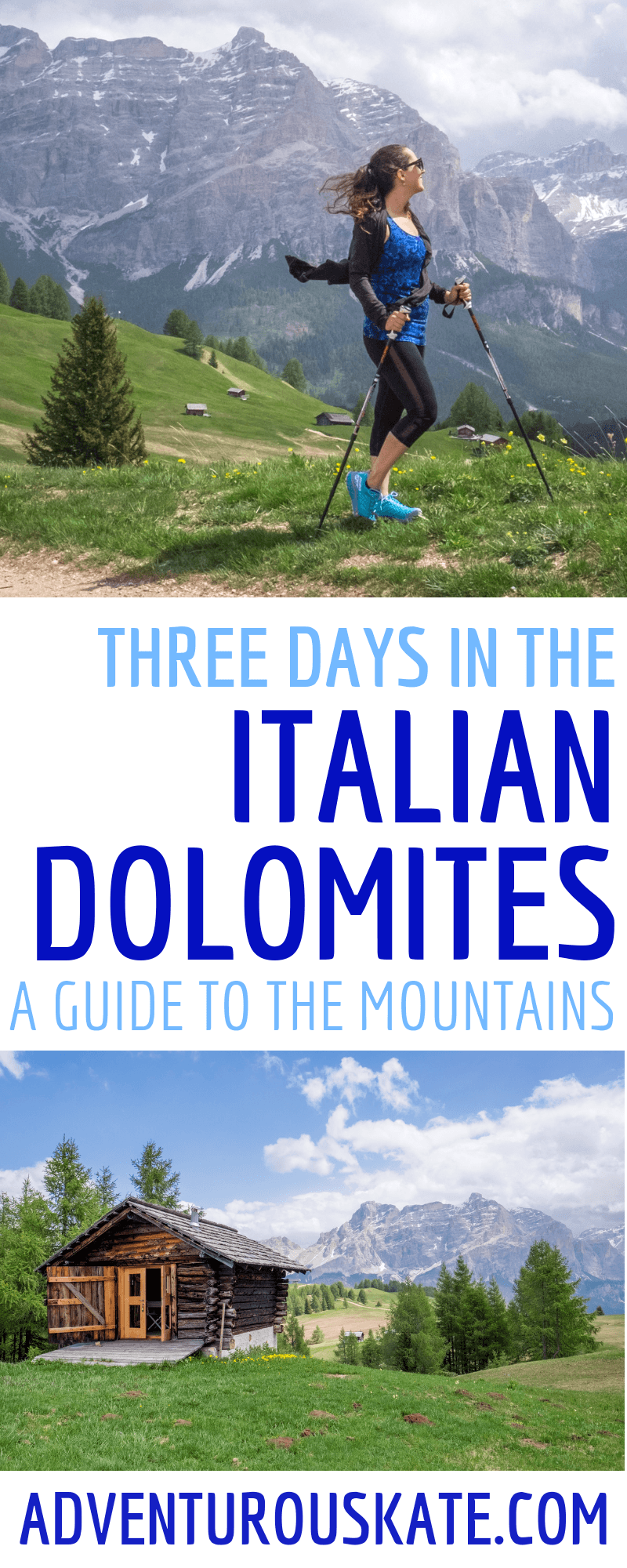 Essential Info: Be cautious when planning your trip to the Dolomites — the summer season doesn't begin until June, and often, like in 2019, it can snow as late as June. While I often encourage people to travel in shoulder season, I would advise against that in the Dolomites, as many properties are only open in summer for hiking and winter for skiing, closing in spring and fall.

I recommend renting a car if you're visiting the Dolomites in the summer. We got by using public transportation, which was excellent, but the journey was complicated and some trains only ran twice per day. If you're flying in, Venice's airport is a two-hour drive from Alta Badia and Ciasa Salares.

Take it easy when you arrive in the Dolomites. Suddenly arriving at a high altitude might leave you feeling weak and out of breath, even after mild exertions like climbing stairs. Alcohol may affect you more strongly. It may take you

If you're traveling to the Dolomites, I recommend packing trail runners — they double as hiking boots and sneakers, which takes up less room in your suitcase! I own the Merrill Siren Edge Q2 Waterproof Trail Runners and love them — they're great for easy and moderate hiking. They are not pictured in this post; I borrowed a pair of hiking shoes for this trip. (If you're doing advanced hiking or mountain climbing, you may want a more hardcore pair of boots that fully covers your ankles.)

Winter rates at Ciasa Salares start from 230 EUR ($256). Summer rates start at 126 EUR ($140).

Admission to the Ladin Museum is 8 EUR ($9).

Don't visit the Dolomites without travel insurance. Whether you get appendicitis and need to be hospitalized, or your phone gets stolen, or a hiking injury means you need to cancel all or part of your trip, travel insurance will help you when you need it most. I use and recommend World Nomads for trips to Italy.
Many thanks to Ciasa Salares for hosting us for three days at their property, including accommodation, food, hiking, and my Ladin cultural tour. Special thanks to Stefan and Clemens for taking the time to show us their beautiful home. All opinions, as always, are my own.
Have you been to the Dolomites? Do they look like your kind of destination? Share away!
The post Three Days in the Dolomites: A South Tyrol Getaway appeared first on Adventurous Kate.