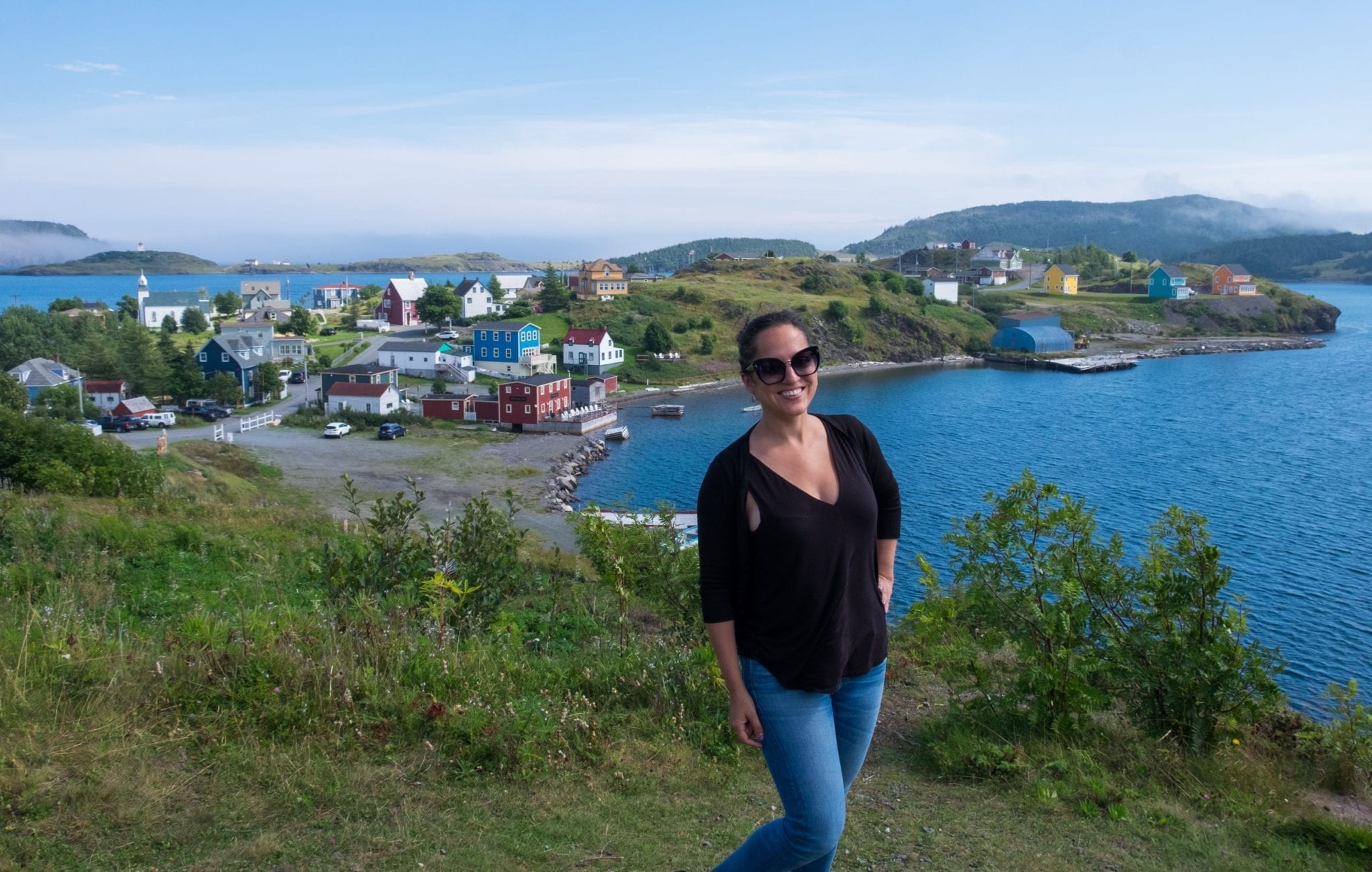 How can I even begin to describe traveling in Newfoundland? How do I describe the beauty of the landscapes, the kindness of the people, the moments that I will treasure forever?
When I got back from my trip to Newfoundland, I would tell people, "Newfoundland is a lot like Ireland, but more colorful and with fewer tourists."
What does "like Ireland" mean, anyway? Is it that the locals welcome you like family, speak with borderline incomprehensible accents, and tell the most wonderful stories? Is it that the weather's nothing to write home about and you could be in a winter jacket in July, but rain or shine, the place reverberates with spectacular beauty? Is it that folk music fills the air, not as an act put on for visitors, but as part of the cultural fabric of the society?
Because that's Newfoundland!
Many Newfoundlanders are of Irish origin — a big reason why the Newfoundland accent has Irish undertones and the pub scene of St. John's could rival that of Galway.
But there's a huge difference. Ireland is swamped with tourists; you could argue that certain parts of Ireland, like the Ring of Kerry, are victims of severe overtourism. Newfoundland, by contrast, has far less tourism. Here, you will never worry about Trinity or Twillingate being packed to the gills with tour buses and umbrella-toting guides. Even in the highest of high season, I was one of few tourists everywhere I went.
Newfoundland is the kind of place that makes you say, "Why isn't everyone traveling here?!"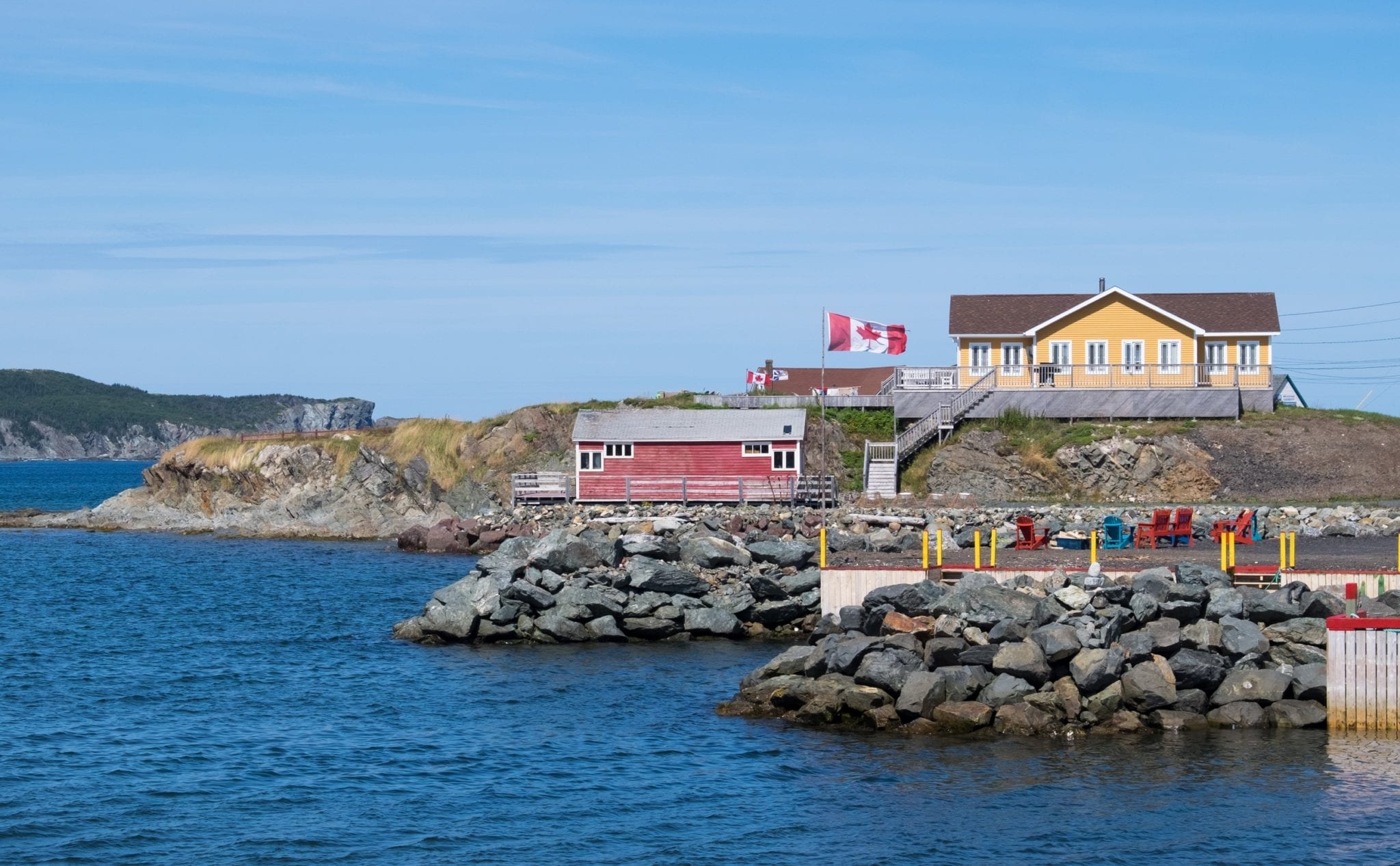 Travel to Newfoundland
In some ways, my travels to Newfoundland began last summer. I went to see Come From Away on Broadway with my mom and sister. It tells the story of Gander, Newfoundland, the tiny town that welcomed 6,700 stranded airline passengers on 9/11.
I went in with no expectations and I was blown away. That show is magical.
Normally, I avoid any entertainment related to 9/11. I lived through that day; I think of it constantly. It still upsets me so much that it's not my choice of subject matter for entertainment.
Come From Away is different, though. It avoids the horrific details of 9/11 and instead focuses on a unique, uplifting story. Gander was a small town with an airport and their population nearly doubled overnight. But the locals opened their homes and hearts to the stranded passengers, introducing them to the quirks of Newfoundland life and showing them kindness at a time when everyone was scared. It was about friendship and generosity — but also folk music, and Screech, and kissing the cod.
I had to visit this place for myself.
I came home from the show that night and started looking up flights to Newfoundland for September. "I'm finally coming!" I wrote to my friend Candice, a proud Newfoundlander, frequent travel buddy, and one of my fellow OG travel bloggers.
Sadly, that trip didn't end up happening; I had too much going on in September 2018. But when I attended an industry event with lots of Canadian tourism folks the following January, I made sure to schedule a meeting with Newfoundland and Labrador Tourism.
It paid off. We had our meeting, we talked Come From Away, and they invited me to visit for a campaign in August.
Newfoundland Map
First, know the terminology: Newfoundland and Labrador refers to the province, which is made up of Newfoundland (the island) and Labrador (the region on the mainland northwest of Newfoundland, adjacent to Quebec). The province has a population of 519,000, 92% of which lives in Newfoundland.
I was shocked to hear that Newfoundland and Labrador didn't join Canada until 1949! Before then it was a British colony, flying a green, white and pale pink flag. You still see the flag around the island: some fly it as a celebration of their history and culture, while some fly it in the hopes that Newfoundland will to be independent again.
On your trip to Newfoundland, you'll most likely fly into St. John's, which is on the east coast of the island. From there, you can pick up a car and head out.
(Keep in mind that St. John's lost many of its international airline connections abroad after 737 Max planes were grounded in March 2019. Today they have nonstop flights from Toronto, Montreal, Halifax, St. Pierre, and other destinations in Newfoundland and Labrador.)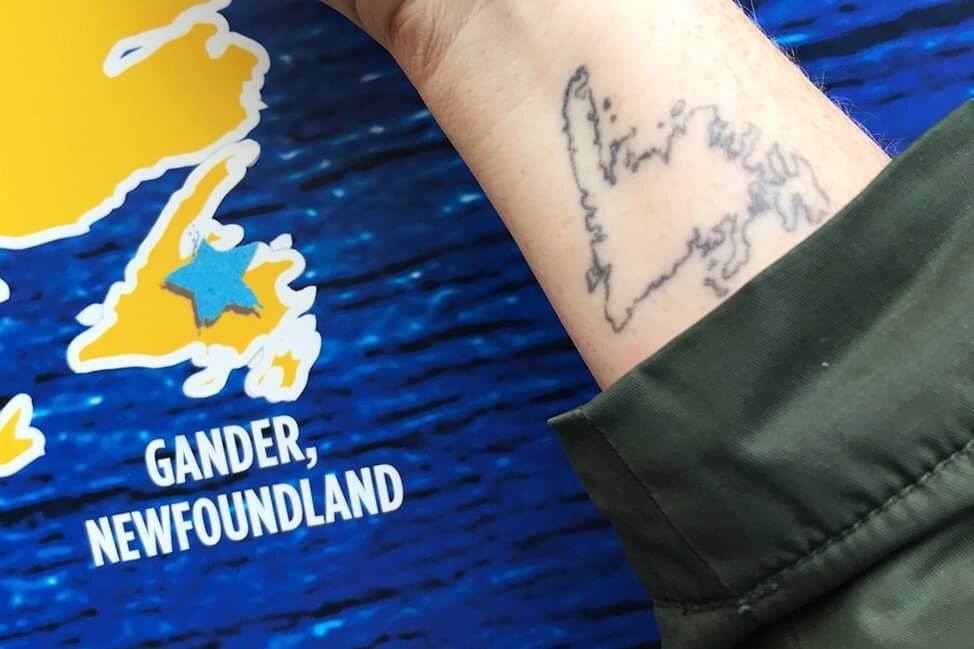 Alternatively, you can navigate by Candice's Newfoundland tattoo. (Seriously. Don't underestimate the value of being able to flip your wrist over and say, "See, we're here now, and you're going here next.)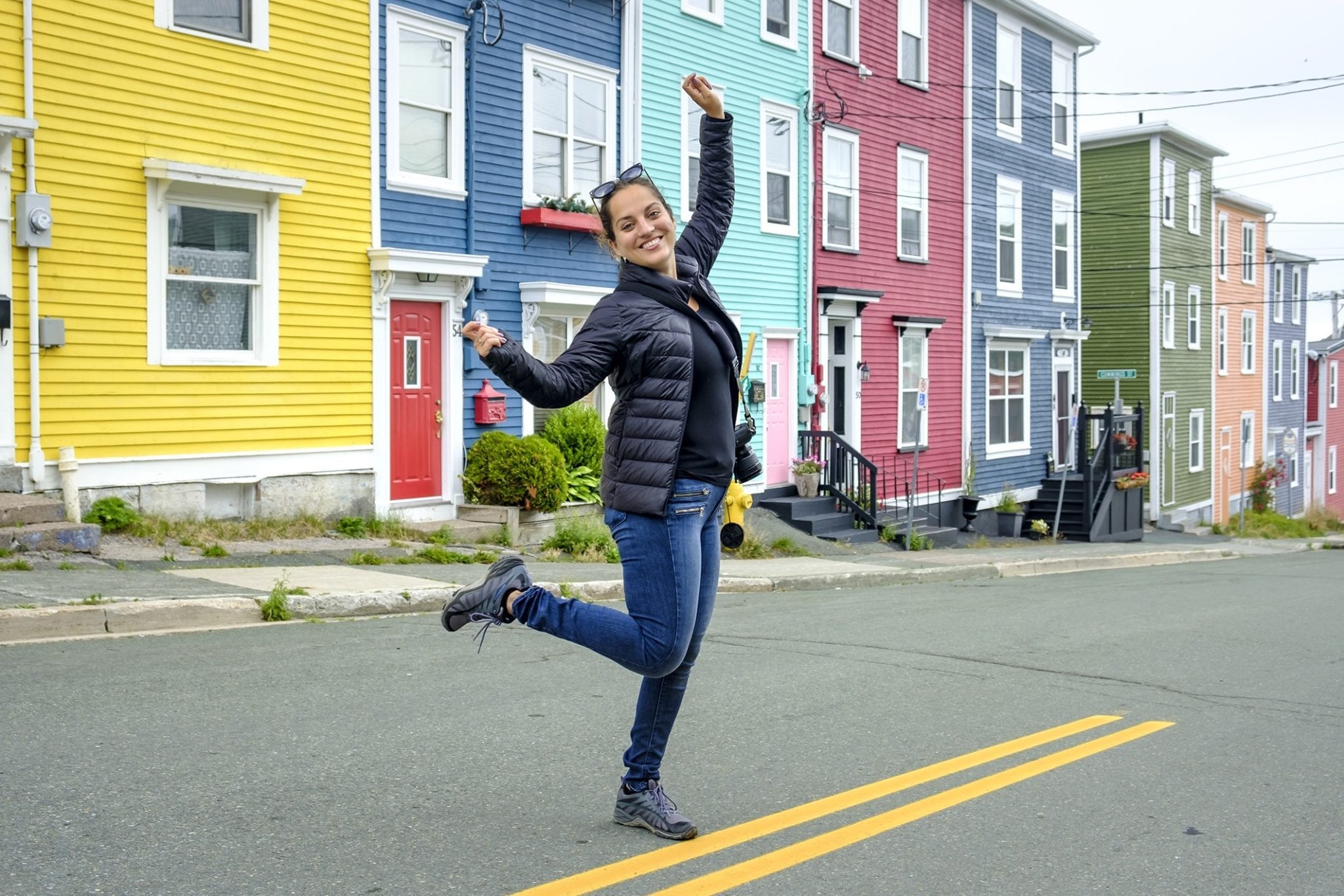 St. John's, the City of Color
St. John's stuns you the moment you see it. Nestled against the craggy coast are brightly colored houses in turquoise, orange, purple, sky-blue, and every color you can imagine. My first activity was a photography tour of the city with Far East Photography Tours. Owner Maurice "Mo" Fitzgerald took me to see various photo spots throughout the city.
"You're shooting with a Fuji," Mo said as we started. "The film simulation modes are the best thing about Fuji. Do you ever shoot on Velvia?"
Velvia is a kind of Fuji film that gives you bright saturated colors, especially blues. On Fuji cameras, you can change the film simulation settings to Velvia, which makes the JPEG files come out extra bright and colorful.
"Not really," I confessed. "I tried it once in the Caribbean. I liked it. But I shoot in RAW — what's the point if the Velvia disappears once I upload them to Lightroom?"
But I switched the settings to Velvia anyway and took a photo. Check out the difference:
Well.
"That looks…really good," I told Mo. "I think I'll try Velvia today."
Sure, it would mean more work, but I could always add a Velvia preset to Lightroom, or just edit them with a heavier hand on the saturation. The important part was getting to see the saturation in the first place as I took the photo — that would guide my photography.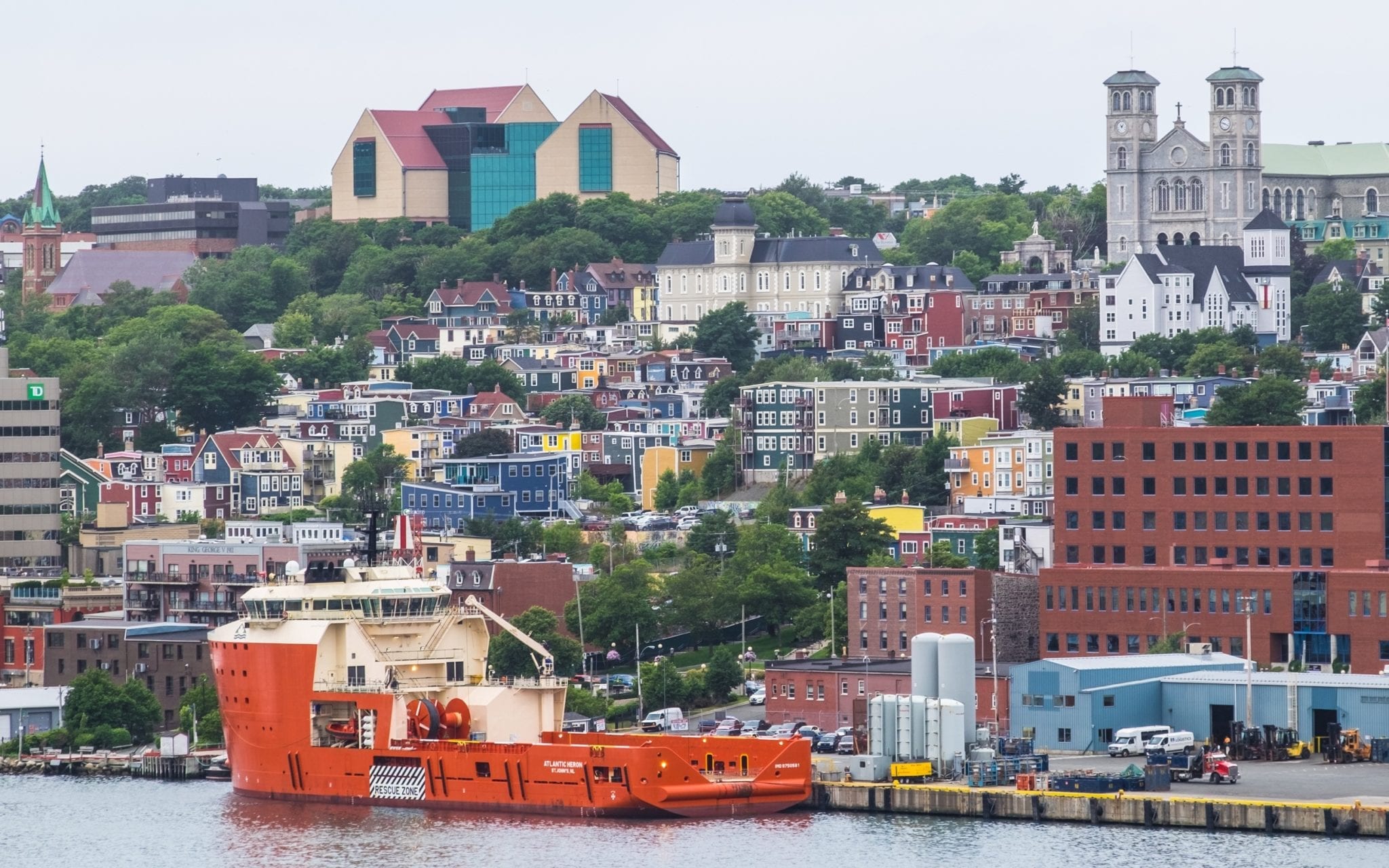 St. John's is famous for its brightly colored houses, which keep the neighborhoods looking cheerful during the long, dreary winters. They call the neighborhood Jelly Bean Row, even though it doesn't refer to any specific row in particular.
Don't come to St. John's looking for a specific set of houses like the Painted Ladies in San Francisco — there isn't any one row of houses more famous than the others. Just walk around and find the corner that looks good to you.
I was particularly amused to find that Victoria Street was steep, colorful, and filled with hanging flower pots — just like Victoria Street in Edinburgh, my favorite street in that city!
"What's your favorite color?" Mo asked me.
"Hot pink," I replied without hesitation.
Mo knew exactly where to find a hot pink house for me. "I try to find a house for everyone's favorite color."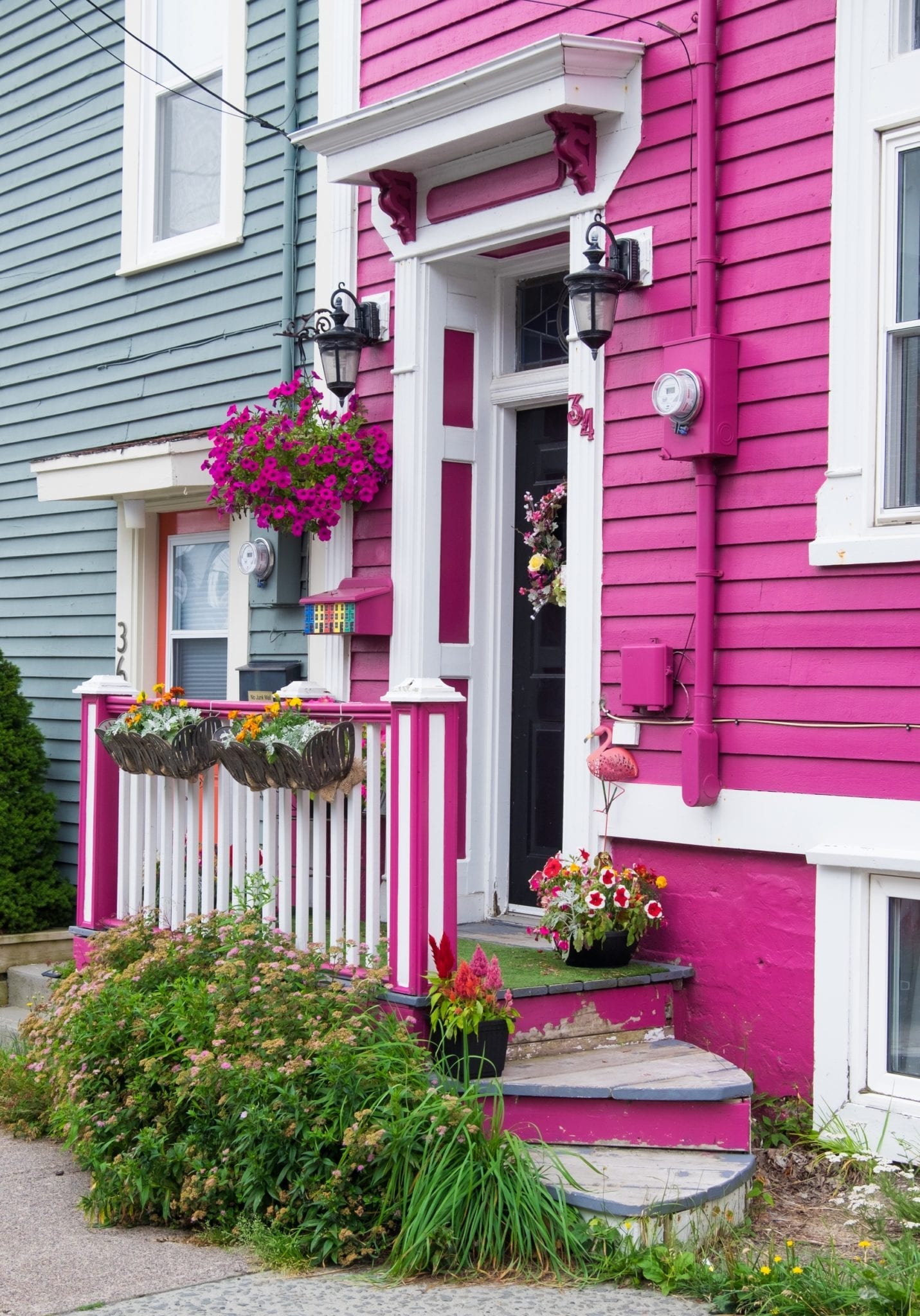 "That is my dream home," I told him.
I am so glad I got the Velvia tip from Mo on the first day, because it changed how I took photos the whole trip. Velvia is MADE for Newfoundland. Whether you're shooting the brightly colored homes of Jelly Bean Row or the cliffs, bays, and cottages of Trinity, or one of the best sunsets of your life in Twillingate, it all looks SO much better in Velvia.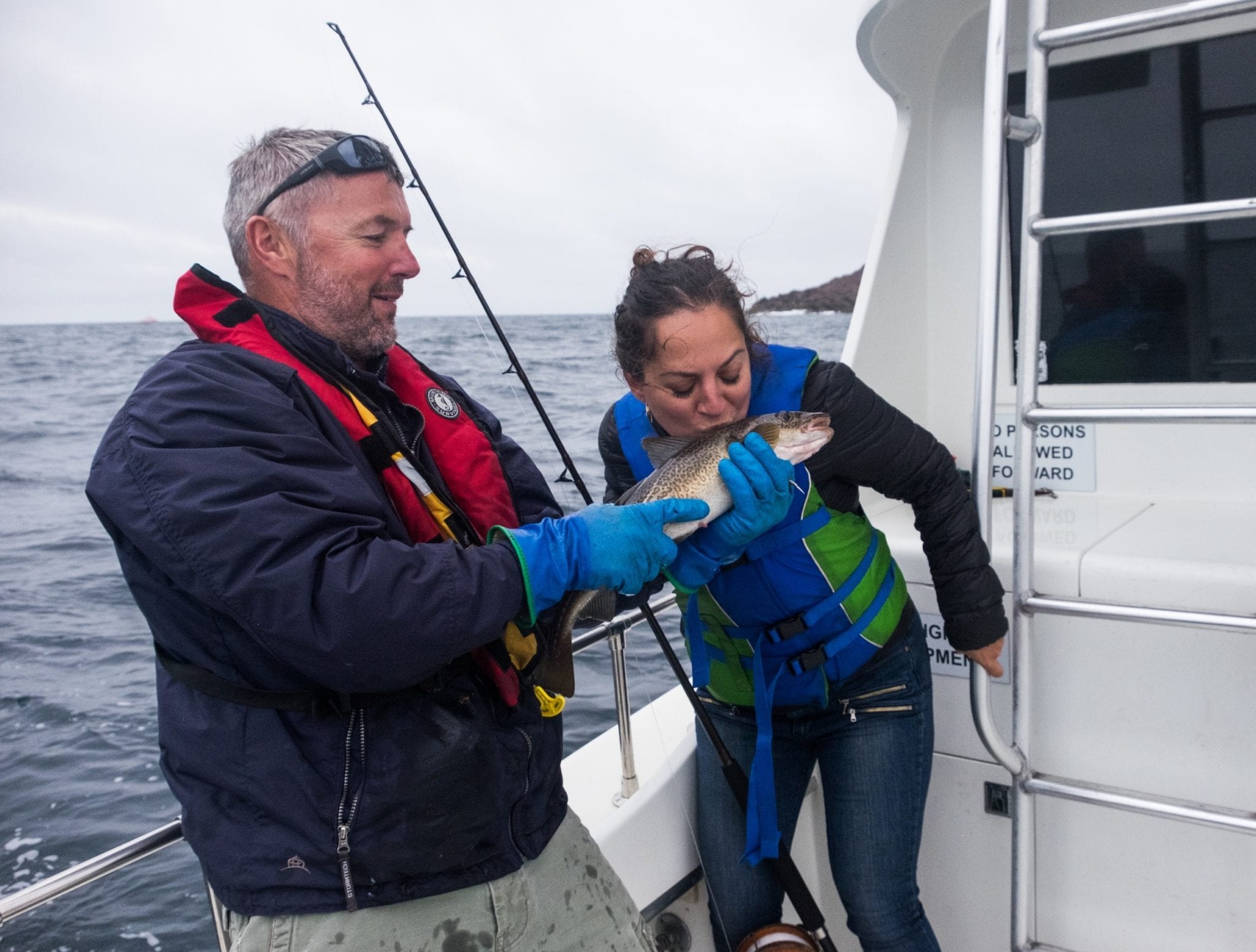 Fishing in Newfoundland and Kissing the Cod
I've done a lot of crazy things on my travels. Swimming in Antarctica. Volcano-boarding in Nicaragua. Dancing until dawn with Vikings. Getting shipwrecked in Indonesia.
But until Newfoundland, I had never gone fishing. (How?! I have no idea.)
That changed when I went out on a fishing trip with Quidi Vidi Fishing Charters. We would be fishing for cod, the fish that has been the lifeblood for Newfoundlanders for so long.
The Beothuk, the indigenous people of Newfoundland, were the original people to fish for cod. Later, the British, French, Spanish, Portuguese, and even Basques traveled to Newfoundland to fish the rich waters. However, over the course of several centuries, the fishing was extensive and in the early 1990s, it was estimated that waters only contained 1% of the cod they once had.
In 1992, a moratorium was placed on cod fishing in Newfoundland. More than thirty thousand people lost their jobs and it severely damaged the economy.
While the moratorium has since been lifted, today there are a lot of rules and regulations around cod fishing in Newfoundland. On the day I went fishing, we were only allowed to catch and release. Which was fine! It was still a lot of fun.
Soon I caught my first fish ever. I was giddy with joy.
"Now you have to kiss it," the men told me. "It's what we do in Newfoundland."
I puckered up and gave my fish a big smooch on its back. It responded by defecating.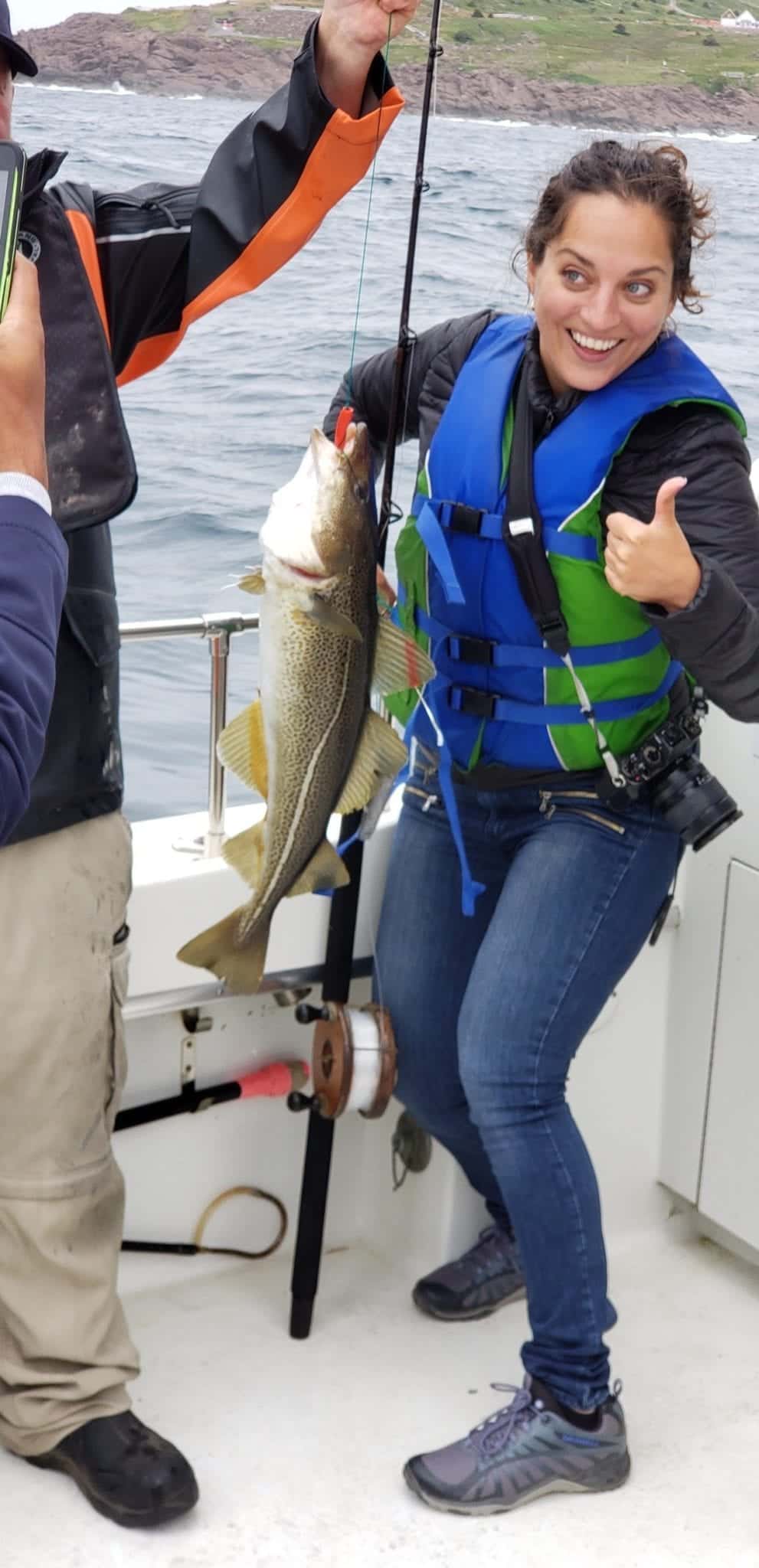 Later that day, I caught the biggest fish of the day! Look at the size of that guy!
We had a nice group on the boat — me, a guy from New Hampshire (we quickly figured out we grew up an hour apart), and a family from Toronto with two parents and three kids. The family had recently done a 180 on their travels, the father told me, giving up their usual beach vacations for interesting adventure trips, and finding that this was both cheaper and more fun.
The weather turned, as it often does in Newfoundland, and soon we were fishing in a cold drizzle. And soon after that I realized I was fishing in the rain with a big grin on my face. I barely noticed. I was having too much fun catching fish.
Whether it was out on the fishing boat in the rain, or sitting in a shed drinking beer afterward, that's when I first felt at home in this unique part of the world.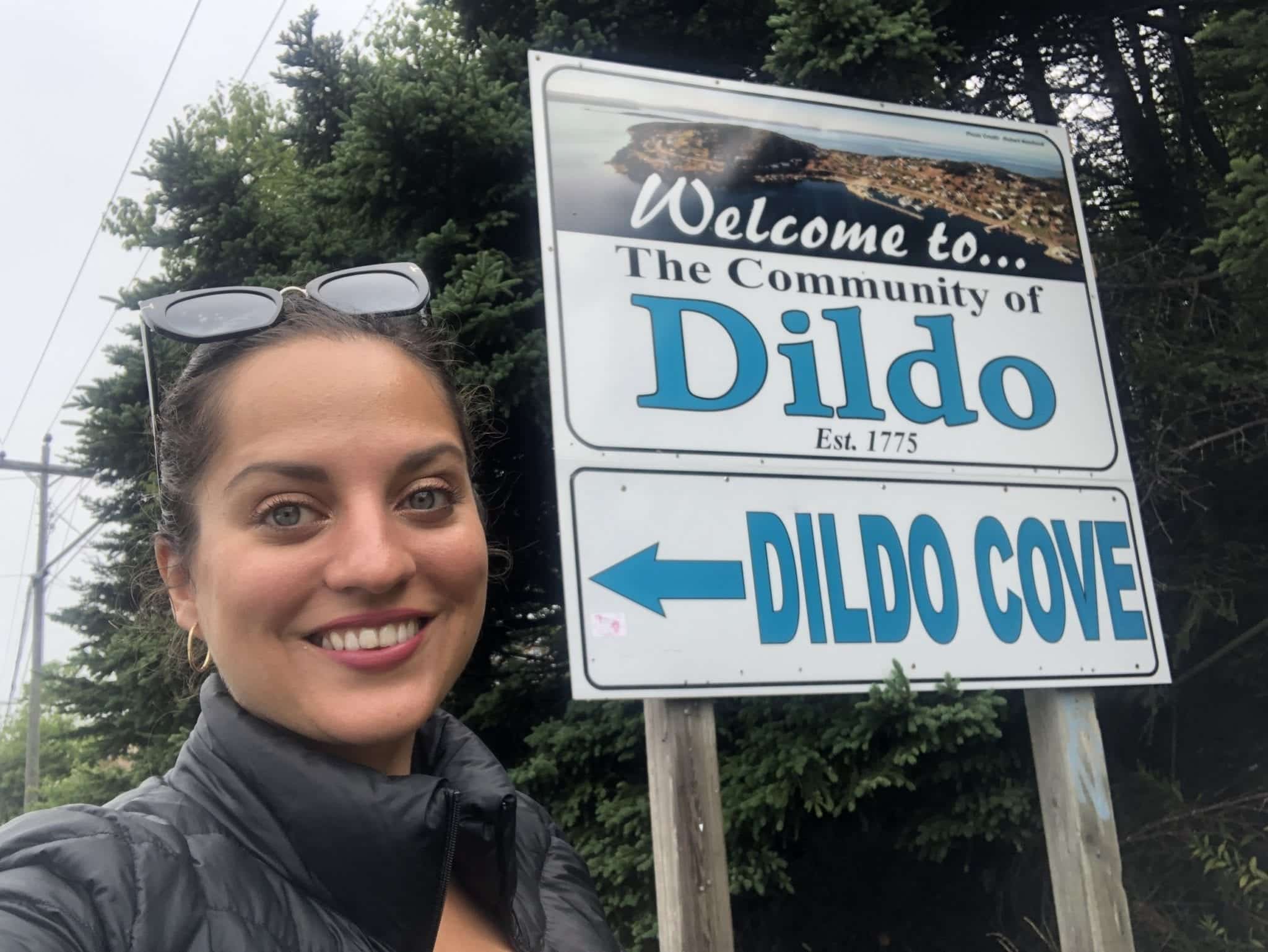 Dildo, Newfoundland
Newfoundland is filled with quirkily named towns — Heart's Desire, Come by Chance, Tickle Cove. But let's be real — the town that everyone wants to know about is DILDO.
Yes, it's real. There is a town called Dildo, Newfoundland. Jimmy Kimmel did a whole special about it. He was named the honorary mayor.
I was driving from St. John's to Trinity and Dildo was just a short detour off the highway — I HAD to do it. Fourteen minutes later I was parking by the "Welcome to Dildo" sign, taking the best selfie of my trip.
It was incredibly foggy in Dildo — in fact, one of the first things I learned about Newfoundland was that the weather there is CRAZY. It goes from foggy to clear and back so fast!
The fog made it really hard to photograph, but I did my best.
Dildo's Hollywood-style sign made me laugh so hard!
Hell yes, Dildo is worth a detour for the selfie alone. Oh, and if you're into beer, be sure to swing by the Dildo Brewing Company. Yes, they sell t-shirts, and if even if you don't make the drive to Dildo, you can buy their merchandise in St. John's, too.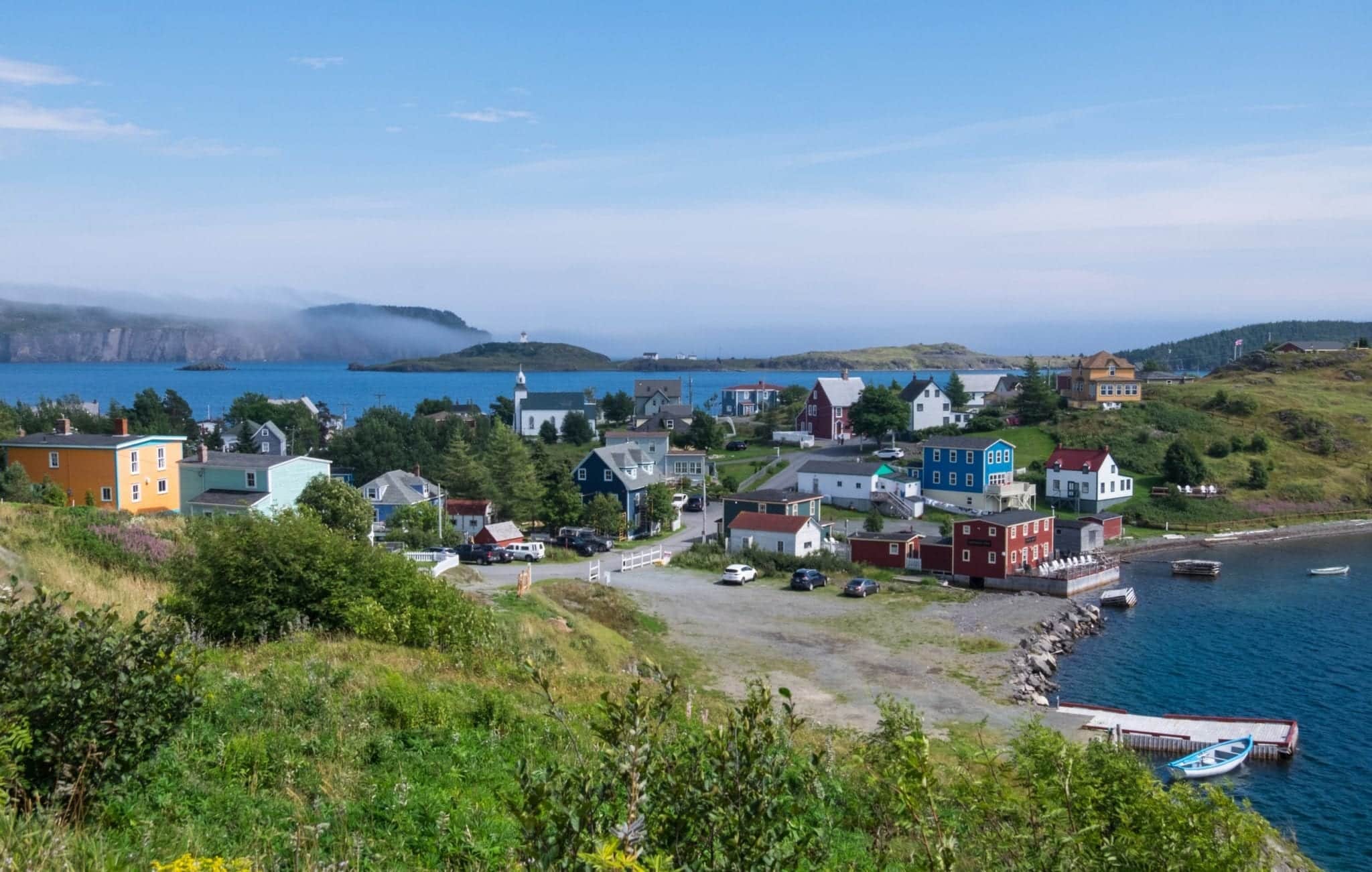 Trinity
I had high hopes for Trinity. I knew that it was one of Candice's favorite places in Newfoundland, and considering how much I trust her, I knew that it had to be somewhere special.
Then I drove into Trinity and gasped.
That was one of the best views I had ever seen. A tiny village filled with brightly painted houses. Rocky cliffs around the edges; a soft cloud wrapping around islands in the background. It felt like something out of Neverland.
Trinity has a few attractions — some historic homes, and I visited a few sites for the Bonavista Biennale (more on that below). But this is a great place just to relax, an important component of Newfoundland travel. And even if you're a busy traveler who doesn't want to slow down, the Bonavista Peninsula is full of places to visit.
If you're staying close by, Trinity has gorgeous surrounding towns, like Port Rexton (don't miss Two Whales Coffee Shop and its delicious vegetarian sandwiches) and Champney's West. Both are incredibly photogenic.
I stayed at the Artisan Inn and was quickly welcomed to Trinity and shown what makes the region so special. I was delighted to meet Marieke Gow, whose family owns and runs the inn. I don't know what I expected in a town with a year-round population of approximately 17, but Marieke is a dynamic woman my age who travels almost as much as I do! (With no winter tourists in Trinity, she wisely spends the cold months in warm places.)
The Artisan Inn has both rooms and cottages for rent, and they have an acclaimed restaurant called the Twine Loft. I set up shop for the night in the Blueberry Cottage, the whole house to myself.
Forgive the hyperbole, but seriously — this cottage was perfect. The decor was perfect. The amenities were so modern. The village was out of a storybook. There was an ice cream shop next door with local Newfoundland flavors — including partridgeberry! I could not get enough out of this place.
Oh, and let me add that this was probably the third time in my career that I had a three-bedroom house to myself as a solo traveler, and choosing your bedroom is pretty weird and fun.
Oh, and the food? OUTSTANDING. As I enjoyed a roasted duck breast with Marieke and her fiancé Jon, I regretted only having one night here and wished I could stay for longer.
And as I ate my partridgeberry pancakes for breakfast the next morning, I strategized about how I could come back. Maybe for a writing retreat? Maybe in the fall so it would be cheaper and quieter?
(Since then, Candice told me that she and the Newfoundland travel blogger girls love to go to Trinity for few days in the fall and stay at the Artisan Inn — they're all friends with Marieke. Candice wrote about it here; Melissa wrote about it here.)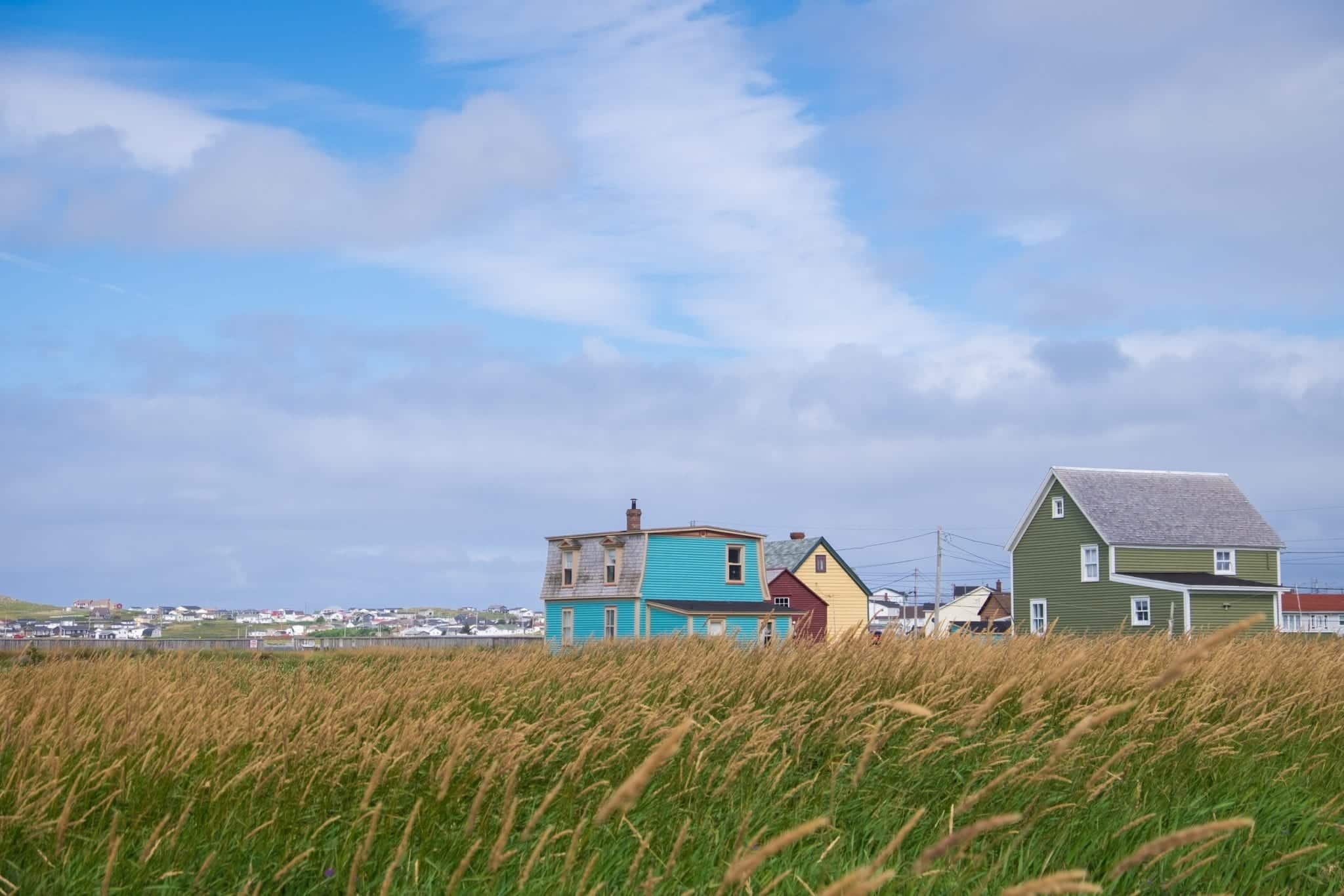 Bonavista Art Biennale
Every other year, the Bonavista Biennale takes place on the Bonavista Peninsula: it's a collection of themed art installations. Their mission is "to make a positive cultural, economic and social impact on the Bonavista Peninsula through curatorial excellence in the presentation of contemporary visual art."
This year the themes were connectivity, floe, and art, with art by indigenous, Canadian, and international artists. There were 21 art exhibitions throughout the peninsula, clockwise from Duntara to Trinity. I was to do it in reverse.
Consequently, this is where I became frustrated.
I had a brochure with all the exhibition sites listed. And the first two were easy to find. But then it became nearly impossible to find the rest of them. "Champney's Cove"? That was an entire body of water! "Fisherman's Protective Union Store"? Google Maps hadn't even heard of it!
I drove around in confusion, thinking to myself that I would tell the organizers to make the places easier to find next year.
And then it hit me.
You're not supposed to use Google Maps.
This exhibition is a way to explore Newfoundland. The point is to drive to a town with an exhibition, then drive around until you see the little red Biennale signs. Don't see any? Talk to a local.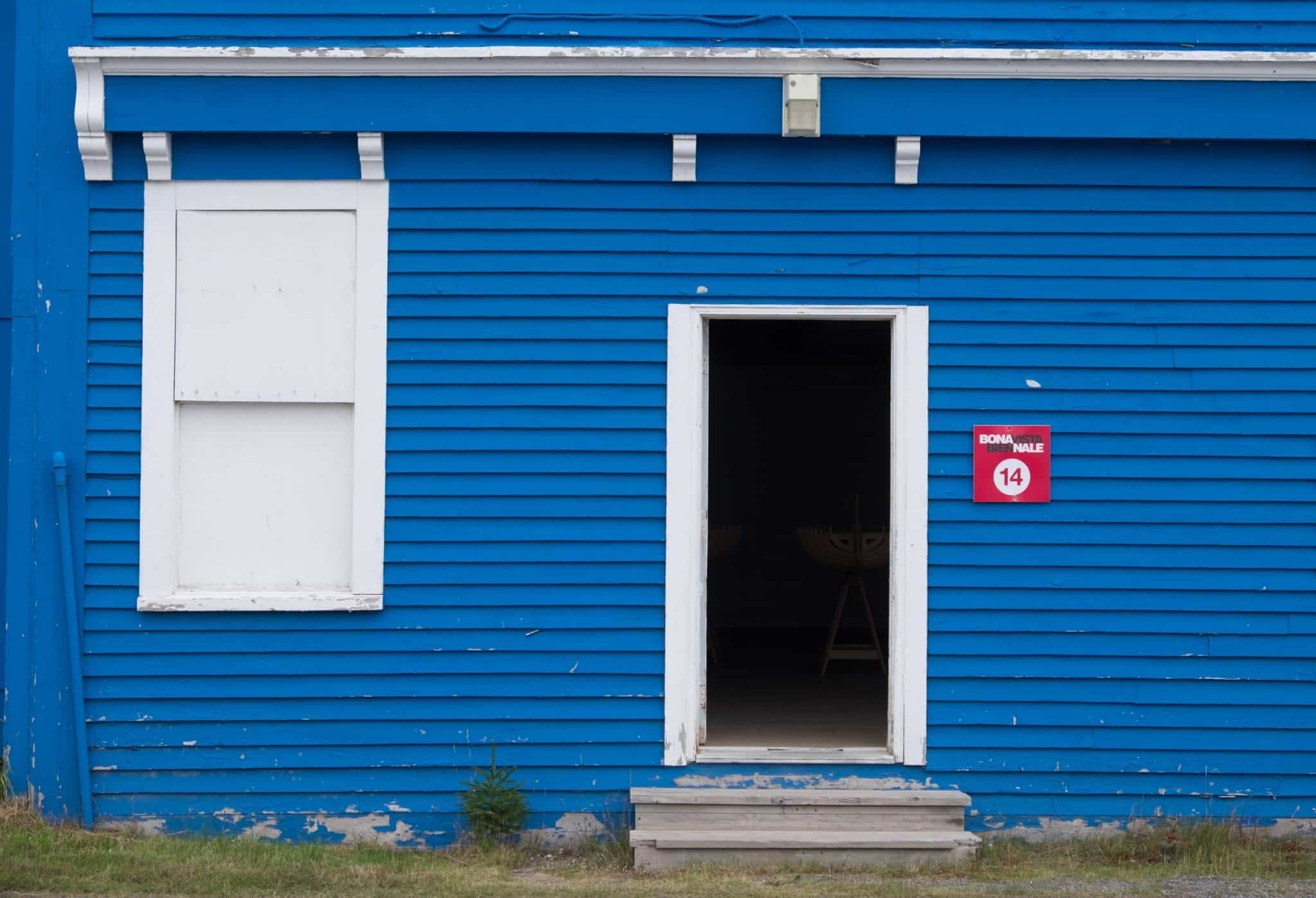 That was the biggest moment of my trip. It was like a massive shift took place in my brain. Newfoundland isn't built for modern technology — it's built on the assertion that you can find your way, and the people will get you to where you need to go.
"Every set of directions in Newfoundland includes a color of a house, a church, and 'You can't miss it,'" Marieke told me.
And with that, I was no longer a visitor looking to check off 21 sites. I was an explorer of Newfoundland's villages, searching for artistic treasures.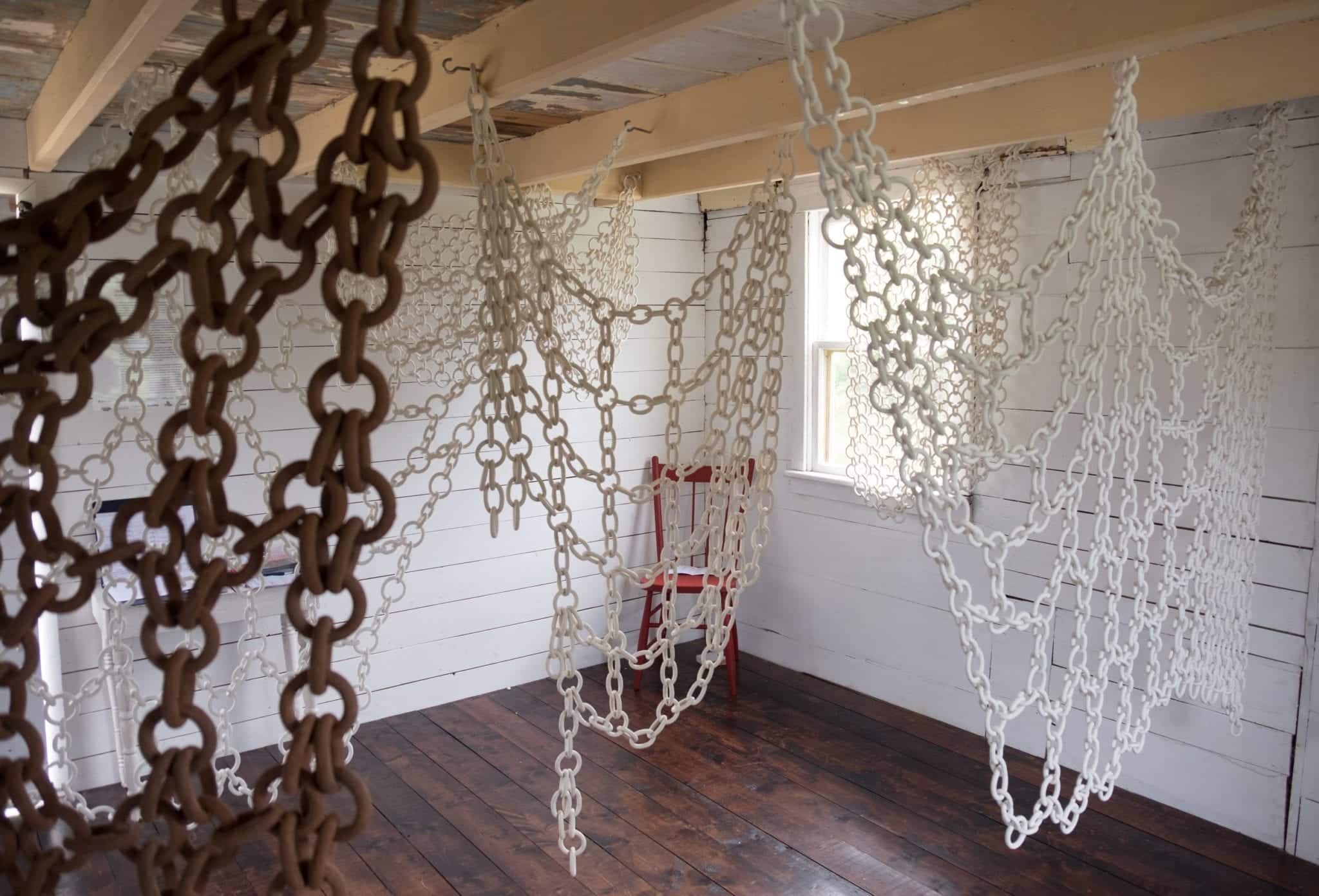 At 2 Rooms Contemporary Art Exhibitions in Duntara, I walked among the clay chains of Jason Holley, the material symbolizing their weakness, not their strength.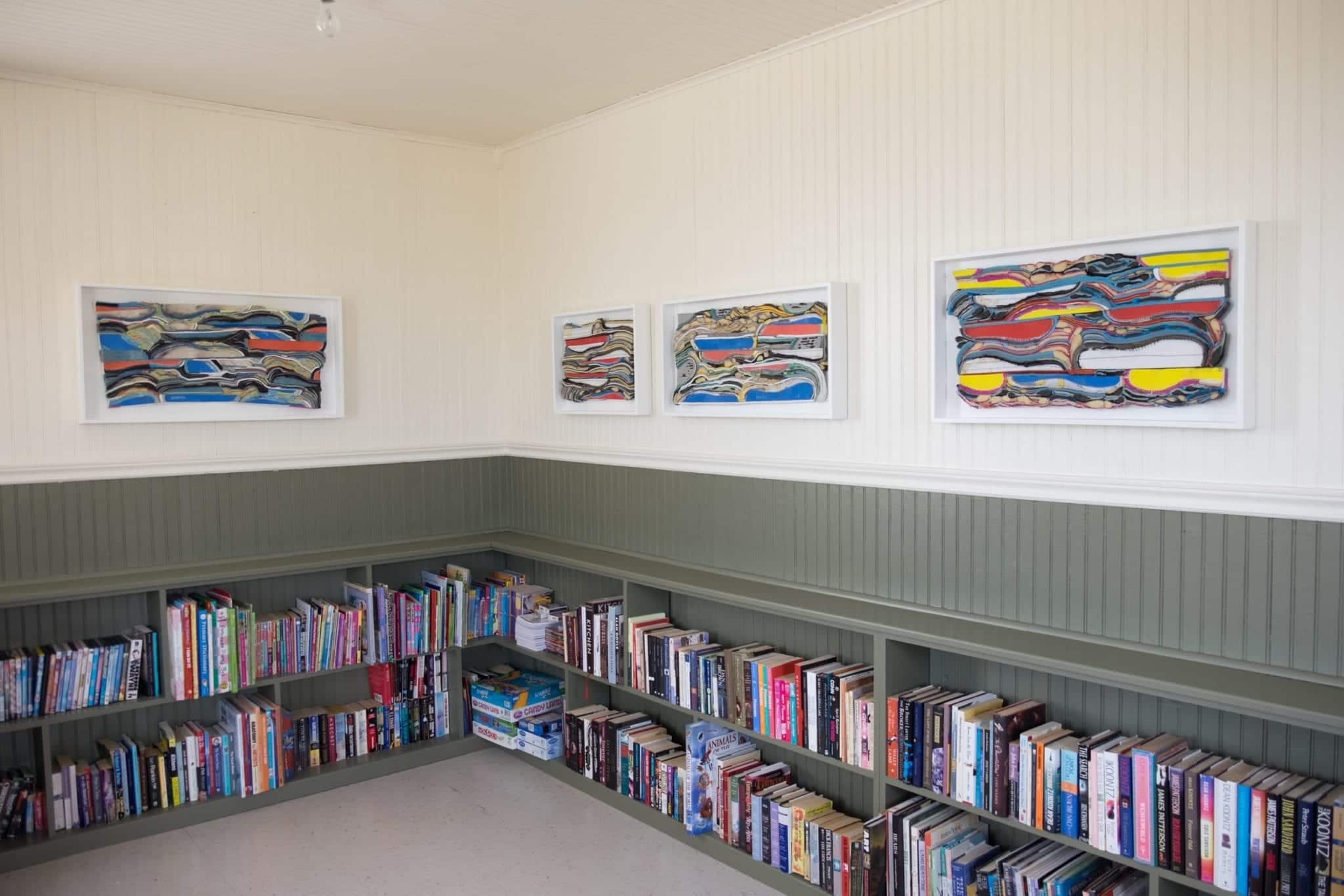 At the Old Post Office in Port Rexton, I gazed upon the artwork Meghan Price made out of the layers of colorful materials in athletic shoes. "New Balance" represents the Earth's crust and is a profound statement on the state of the environment and the economic and social factors that put it in danger.
At St. Mary's Church in Elliston, a Gothic-style wooden church, Barb Hunt and Jane Walker covered it with rows of paper flowers symbolizing the death and decline of Newfoundland's rural communities. It ends on a hopeful note and it made me think of my time in the Îles-de-la-Madeleine and the woman who told me that young people were finally coming back.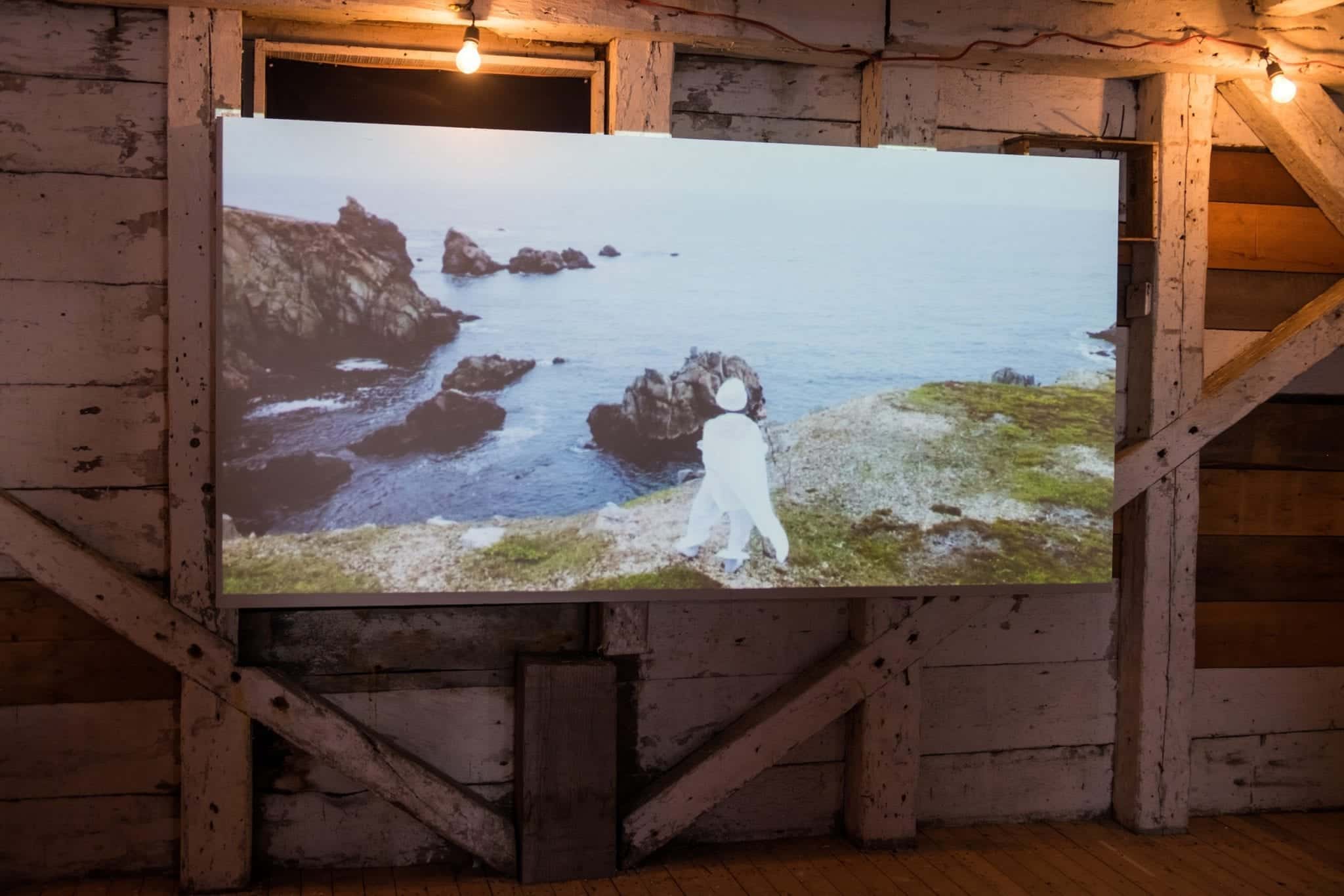 And my favorite exhibition — at the Fish Store on the Mockbeggar Plantation of Bonavista, artist Camille Turner reckoned with Newfoundland's role in the slave trade in The Afronautic Research Lab through video and a collection of primary sources.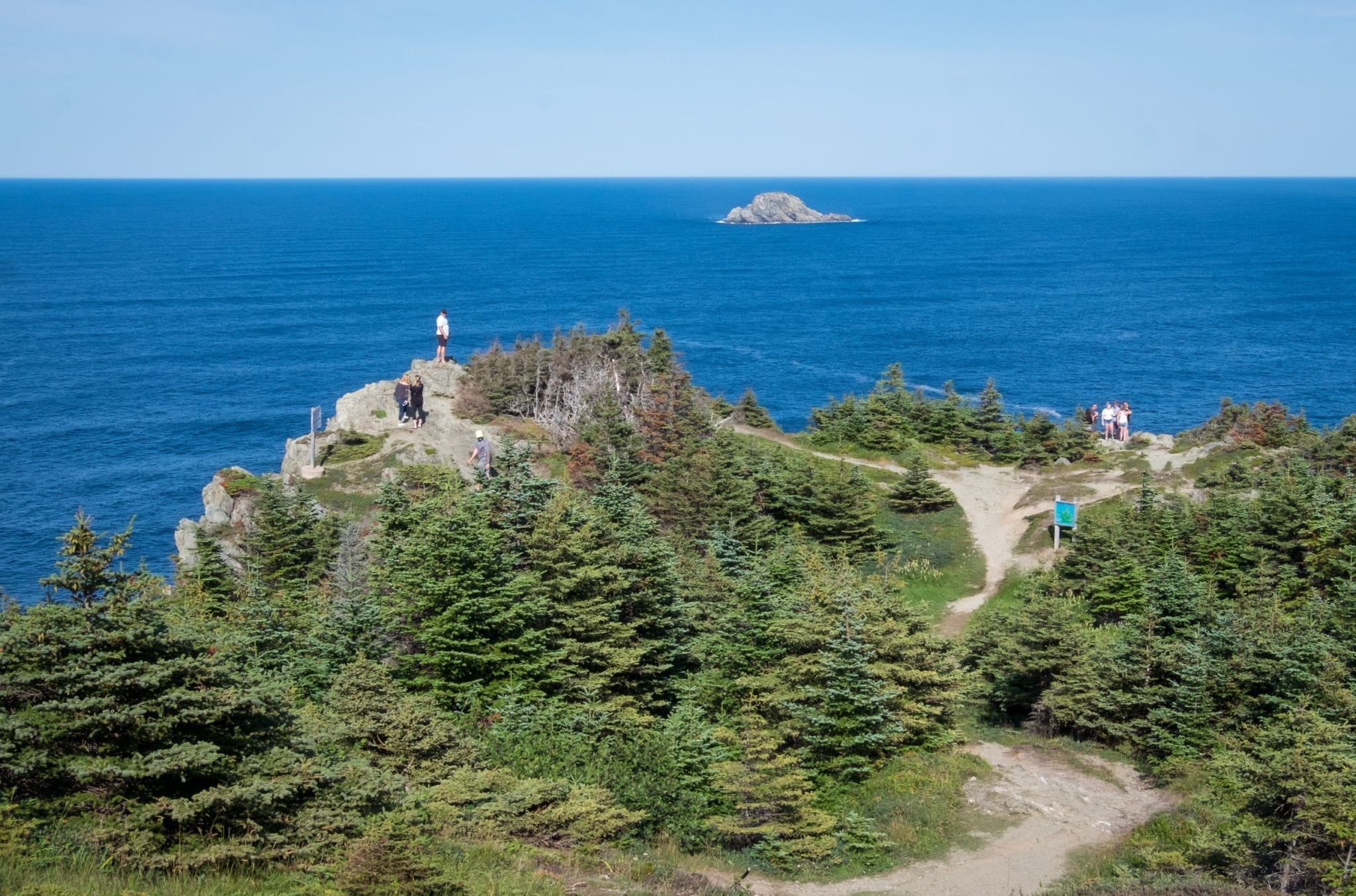 Twillingate
As I drove north to Twillingate, I sighed with happiness. After days of uneven weather, the sky had turned solid blue and it looked like it was going to stay nice. No more rogue Dildo fog! (Wow, there's a sentence I never thought I'd write…)
Twillingate. Isn't that a romantic name? Perched on a northern peninsula, it feels like the end of the world. Every spring, giant icebergs float down from the Arctic and settle around Twillingate's harbor, earning it the moniker "Iceberg Capital of the World."
In many other countries, Twillingate would be swarming with tourists. But this is Newfoundland, so there were very few, even in late August. But that may change soon due to the efforts of Twillingate and Beyond, an effort of two sisters looking to grow the tourism industry in their hometown.
Mandi Young and Joelle Blandford are thoughtful entrepreneurs and proud Twillingate residents passionate about sharing their town with the world. And they're doing that by offering a variety of services on a small scale.
There's the Artisan Market, a shop featuring handmade crafts by 80 artists from Newfoundland and Labrador: hand-knitted mittens, photography, indigenous artwork. I fell in love with the brightly colored patchwork quilts! The market also has a cafe with coffee, pastries, and a beautiful tea setup.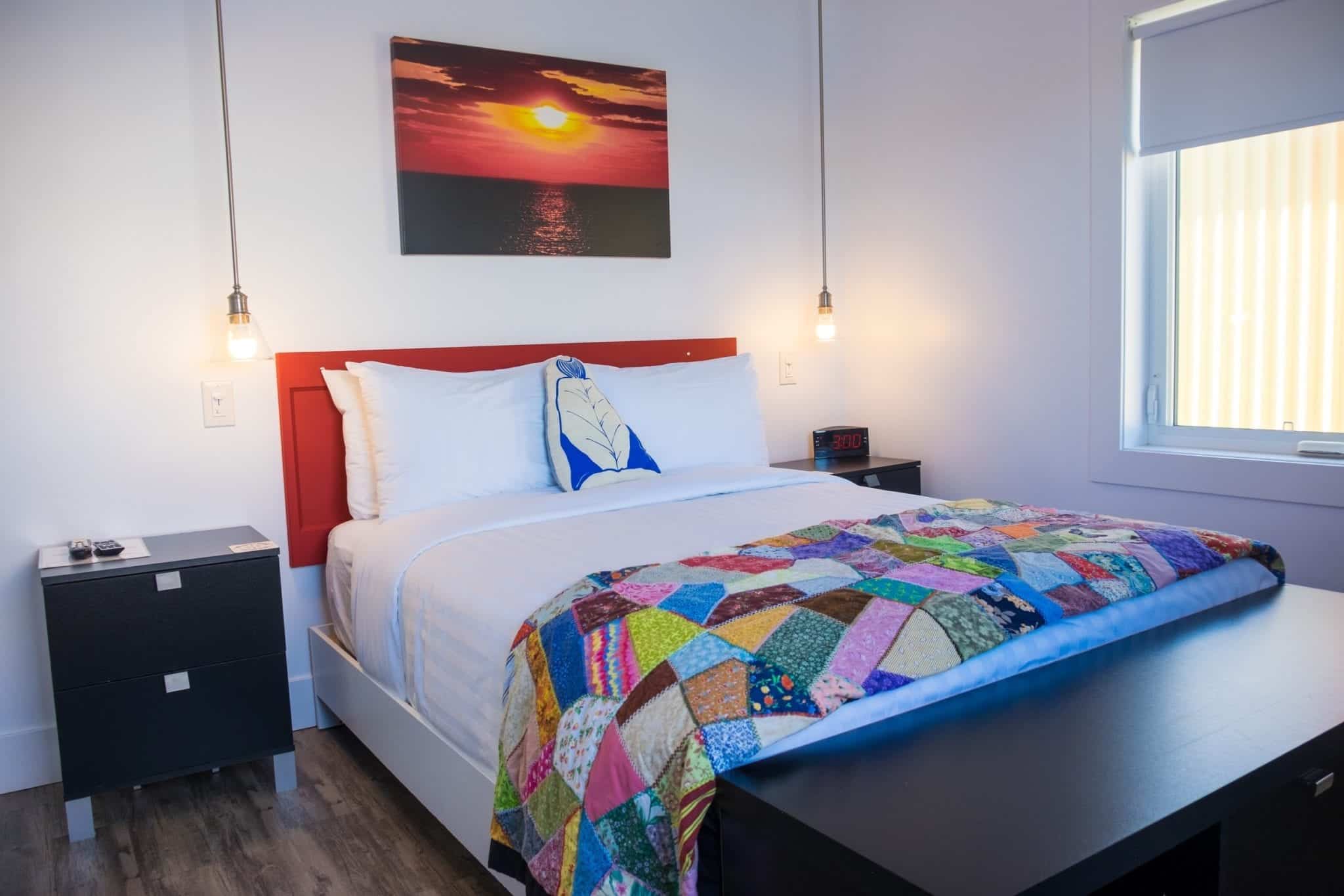 And they've opened three different kinds of accommodation in Twillingate. A four-star mid-range hotel (Sunshine Inn, where I stayed, pictured above), a luxury apartment with a jacuzzi called the Drift Away Suite, and a hostel called Hi Tides Hostel. All are located on the same block, along with the Artisan Market.
Sunshine Inn was lovely and cozy and quiet, with great sea views, and I appreciated how the doors all opened by keycode so I didn't have to carry keys. You can buy that quilt and the decorative pillow at the Artisan Market.
Mandy and Joelle have their sights on the next steps of tourism in Twillingate. They're thinking about putting together winter travel packages with activities like snowshoeing. And there are businesses that Twillingate needs, like a bakery and a barbershop ("We get our hair cut in people's basements"). But they know that the most critical aspect is bringing in young people — to visit, but also to live here.
I feel like these women are the future of Newfoundland travel. Twillingate is just waking up to tourism on a major scale, and while so many Newfoundlanders are bemused that tourists are interested in their island, Mandy and Joelle understand tourism clearly and see what needs to happen next.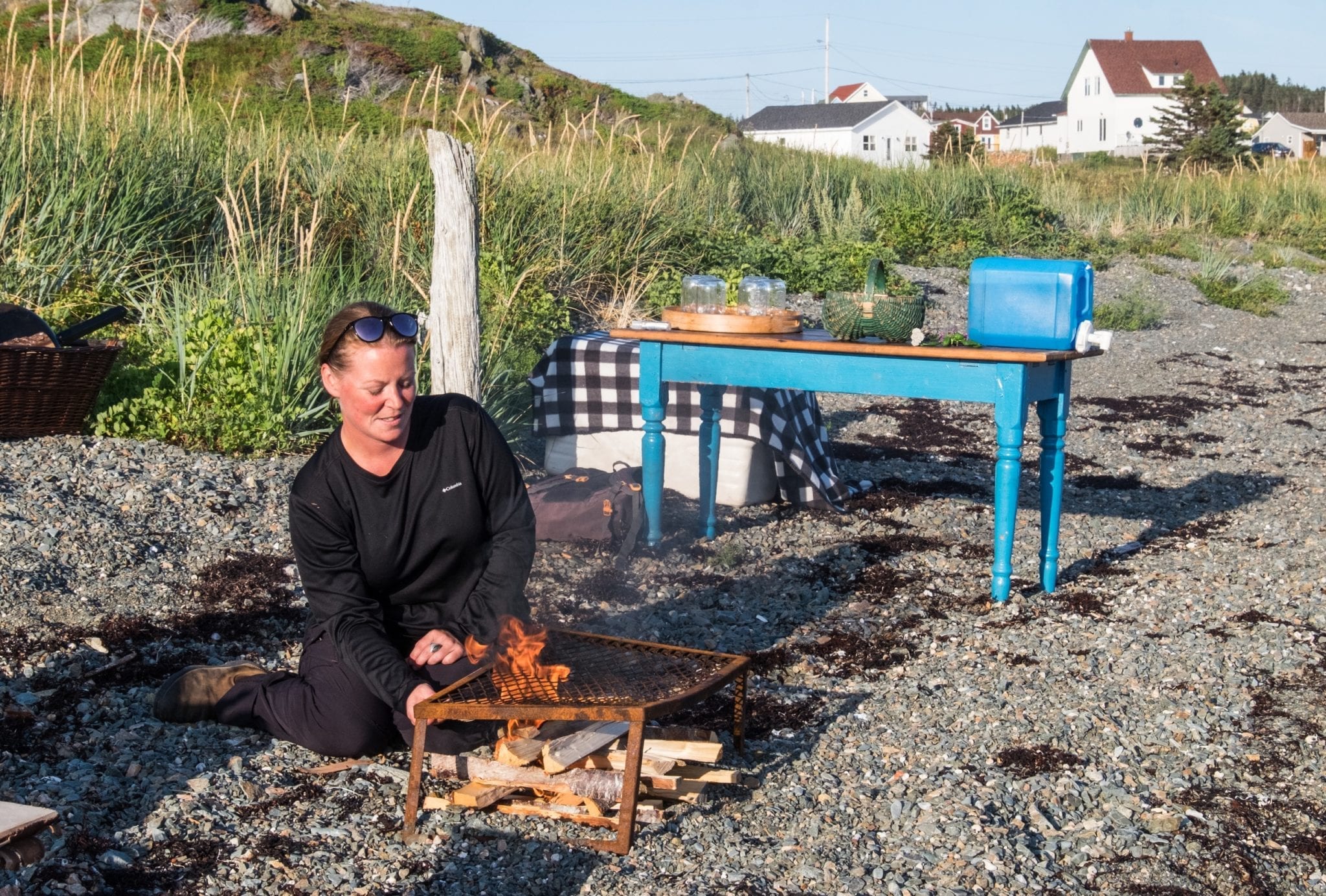 And then came the best single activity of my time in Newfoundland — dinner on the beach with Experience Twillingate. Chef Crystal Antsey brings visitors to the beach and cooks over a campfire, serving fresh local produce.
I expected a typical seafood boil on the beach. I've done that a few times before — but this one went so far beyond anything I've ever experienced.
Crystal is a chef at the Canvas Cove Bistro in Twillingate, cooking up outstanding cod tacos and tomato-based seafood chowder. (Side note: getting a native New Englander to willingly eat tomato-based chowder is about as likely as a Red Sox fan cheering for the Yankees. Yet I ordered that chowder and LOVED that chowder. That's how good Crystal's food is.)
We started with a walk to the beach as Crystal foraged for plants along the way, showing us what grew nearby and what was edible. Joining me were Melinda and Steve, a recently retired couple from Vancouver who were traveling all over Canada with their dog.
We picked blueberries off the bushes, told stories, laughed, and walked to the beach. Crystal set up a campfire and got started on dinner, throwing slabs of butter into cast-iron skillets.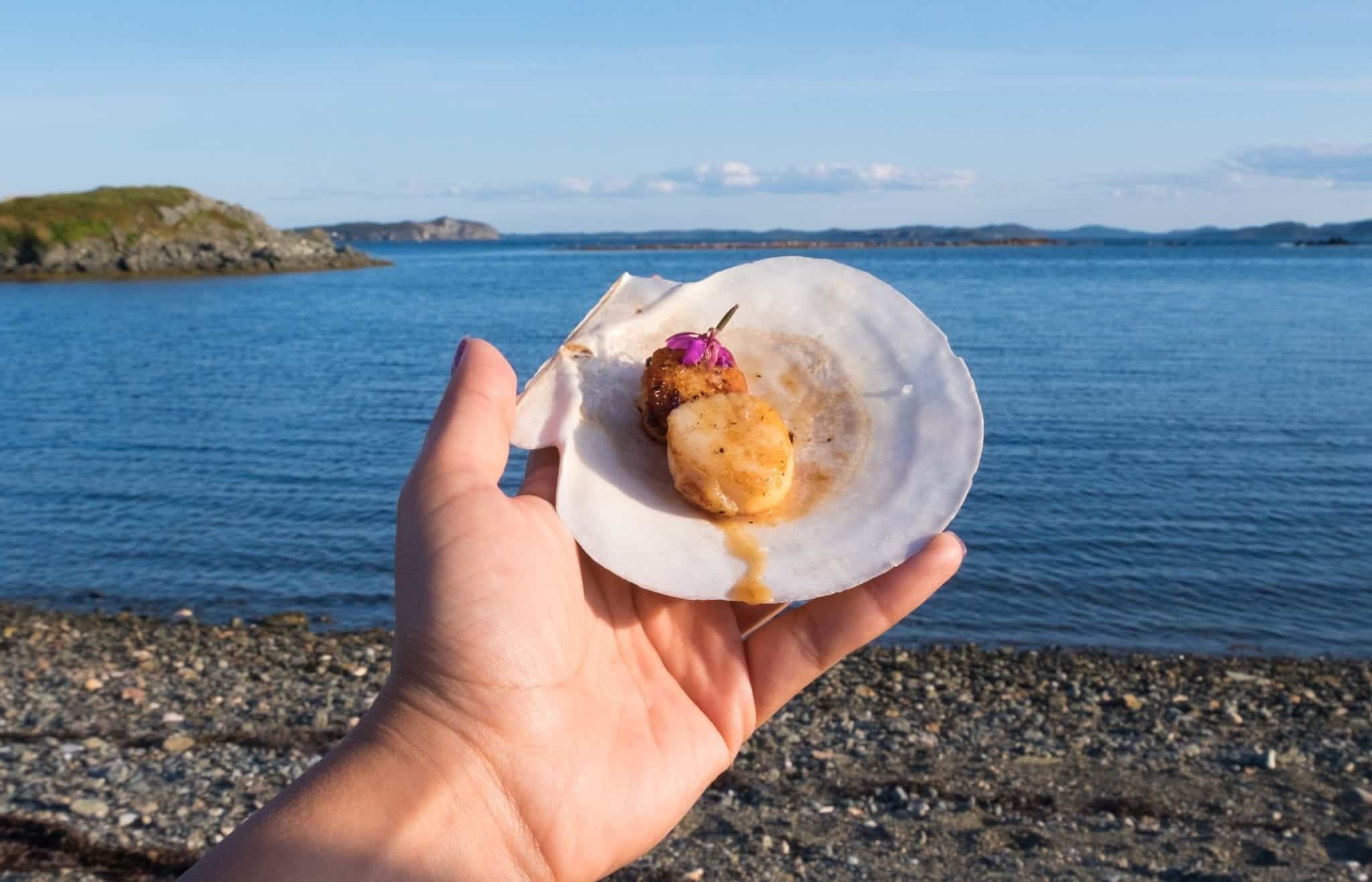 We started with scallops, served in their own shells and topped with edible flowers.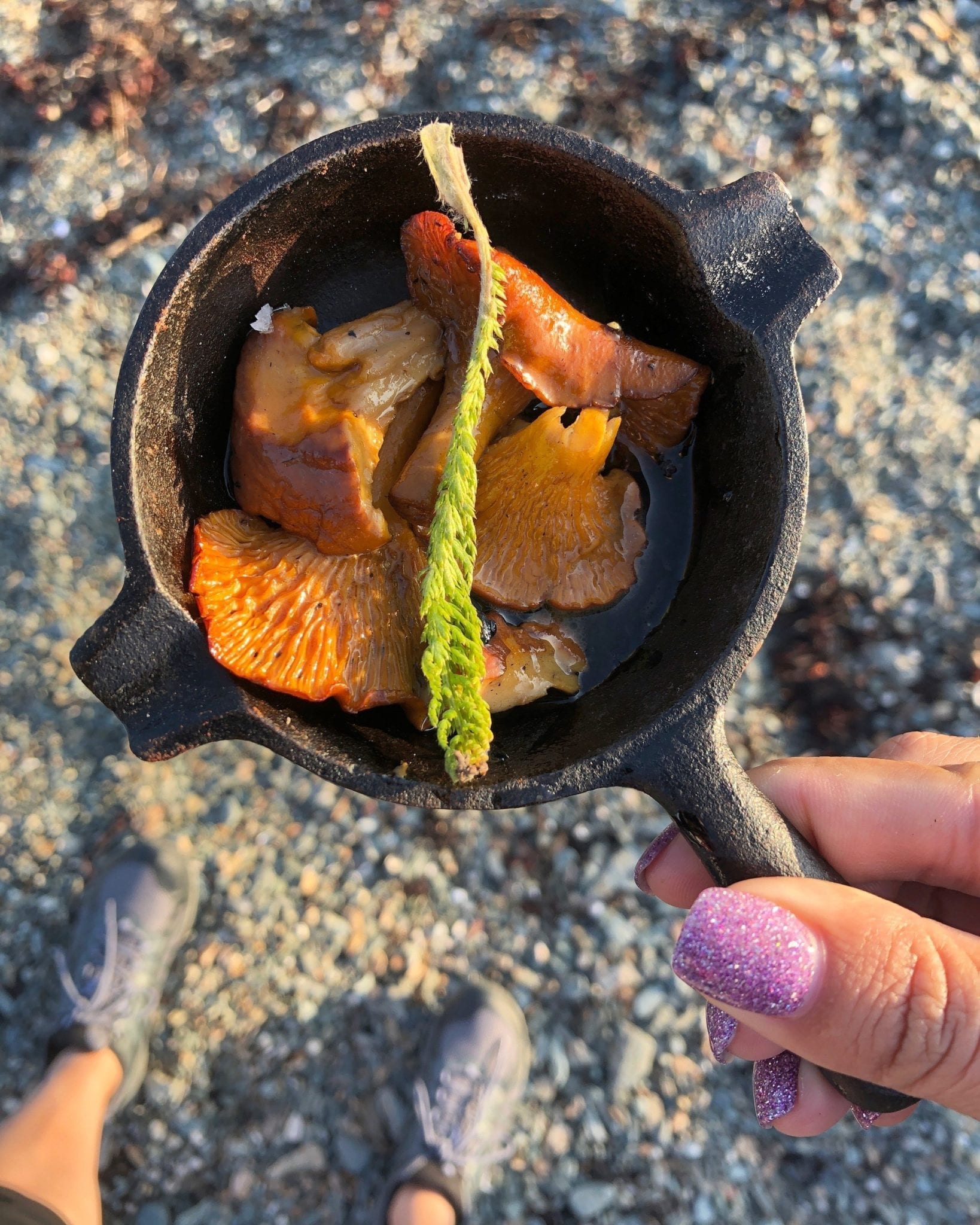 Next up, chanterelles, cooked in teeny tiny cast iron pans with fresh herbs.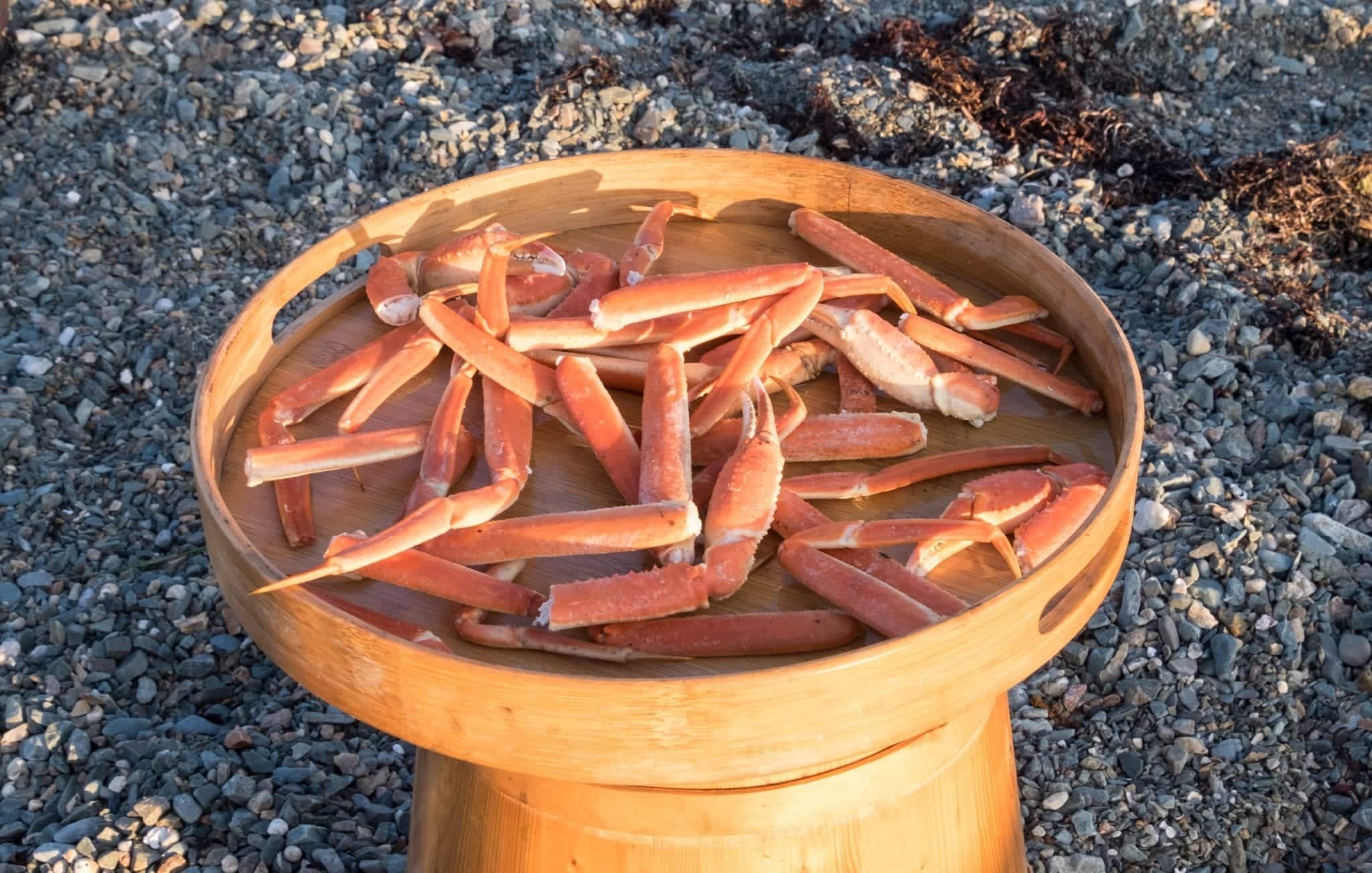 We dined on buttery crab legs — so tough to get the meat out (at least for me) but SO deliciously worth the effort.
And finally, cod and COD TONGUES! Cod tongues have long been a staple of Newfoundland cuisine. And they're not as bad as they sound. If you cook them in a lot of pork fat, like Crystal does, of COURSE they are amazing!
You can see footage from the night and watch me eat a cod tongue in the video above.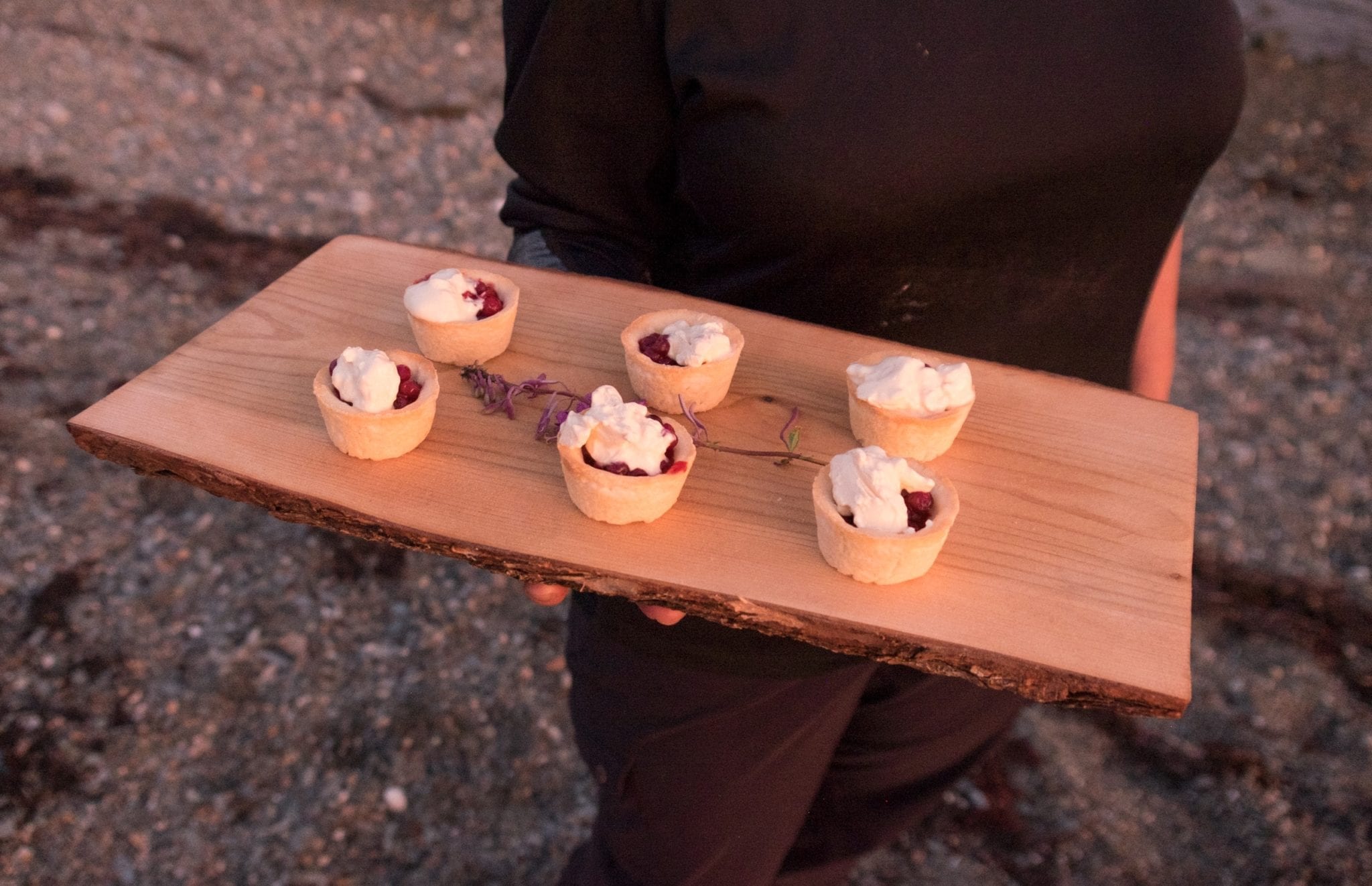 And finally, we finished with "small pies" — NOT tarts, Crystal pointed out, but small pies — filled with partridgeberries and topped with cream. The perfect finale to a dinner on the beach I'll never forget.
The night ended with perhaps one of the top five sunsets of my life.
I loved this evening so much. I definitely lucked out with the weather and the company, but it was as close to a perfect night as I've had while traveling. If you're visiting Twillingate, please promise me that you'll drop a line to Experience Twillingate. Tell Crystal I sent you.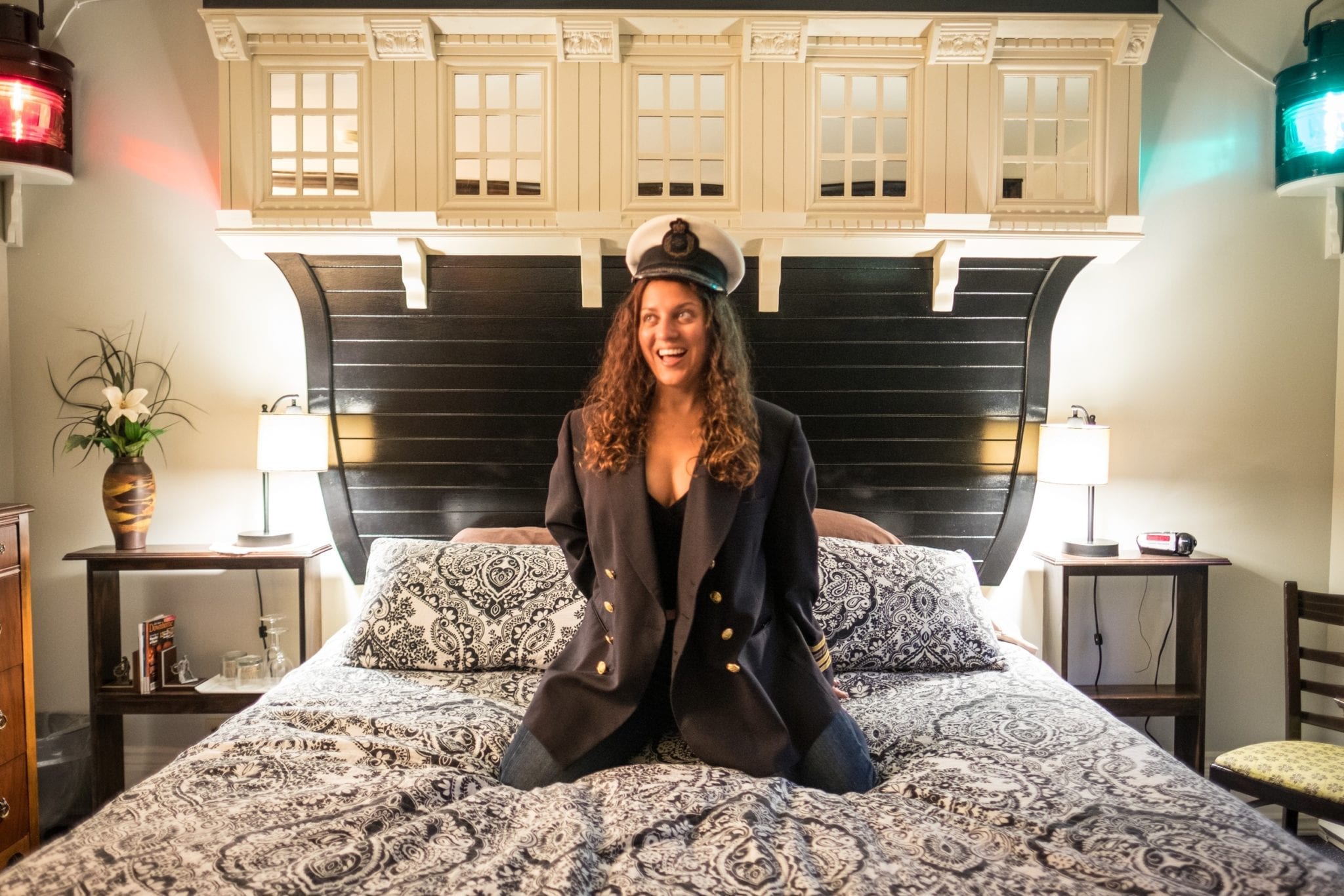 Newfoundland Quirks
It seemed like the quirks never ended in Newfoundland! Some of my favorite moments? Definitely staying at the Round da Bay Inn in the Captain's Quarters — a nautical-themed room that was a sailor's dream. There were model ships on the walls, the headboard was shaped like the front of a boat, green and red lights twinkled in the back, antique maps were on the wall. But hilarously, it came with a captain's hat and blazer for photos!
Also, the town of Elliston calls itself "the root cellar capital of the world." It also has the largest puffin colony in the world that you could see from land, but still! Root cellars! The expression that flew through my head was, So I got that goin' for me, which is nice.
I ordered toutons for breakfast one day, hearing they were a Newfoundland specialty. What did I get? Round slabs of fried dough, topped with maple syrup and served with a plate of potatoes. Carbs on carbs on carbs? Why not!
There's a beer here made from ice chipped off icebergs. It's called Iceberg Beer and it's as delicious as its cobalt bottles are beautiful. (Incidentally, beer in Newfoundland can be shockingly expensive, to the chagrin of locals. I paid $26 CAD ($20 USD) for a six-pack of Iceberg near Gros Morne on my OneOcean expedition back in July.)
I bought wine made from blueberries and blackberries at Auk Island Winery in Twillingate. It was called Fifty Shades of Bay. I took it on six flights (St. John's to Montreal, Montreal to New York, New York to London, London to Bologna, Bologna to London, London to Bari) — and eventually opened it on a balcony in Lecce, Italy. It tasted…bizarre. Like fizzy berry juice. Worth tasting? Sure…I just wouldn't be so quick to call it wine.
And in the town of Gander — which, somewhat disappointingly, looked more like an average landlocked town in Massachusetts than part of Newfoundland — I grabbed a coffee, sat in Tim Horton's, and people-watched as locals greeted each other with cherished familiarity. I wondered who of them welcomed the Come From Aways into their home in 2001.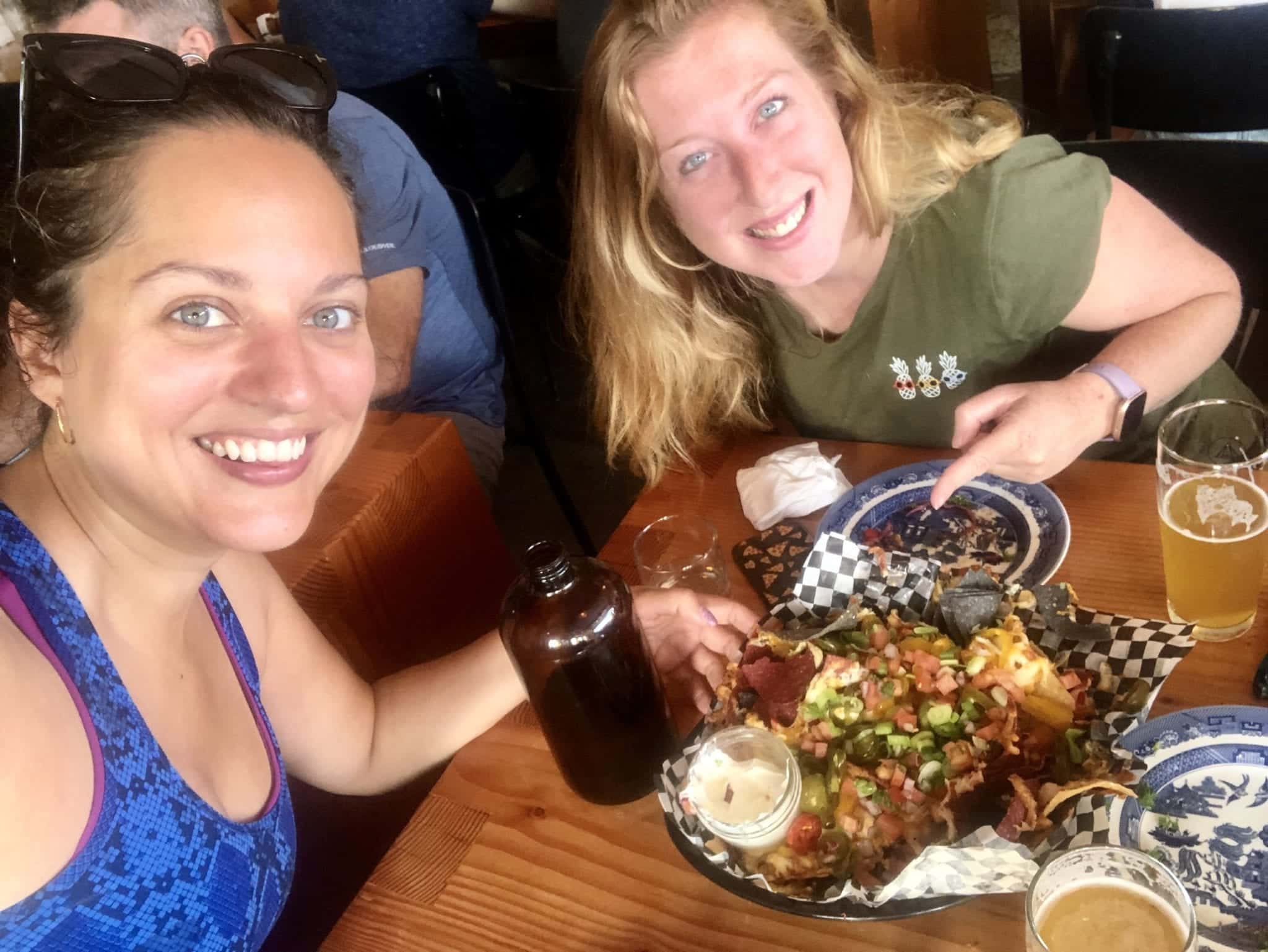 Becoming a Local in Newfoundland
After my road trip ended, I decided to spend a few extra days hanging out in St. John's. I would be working wherever I would be; why not just spend a little longer in Newfoundland?
That's when the real Newfoundland magic began to happen.
It started while I worked on my computer at Rocket Bakery. I looked up and recognized a red-haired man across the room. We had both worked at the Jumping Bean the day before, and in that instant, smiled and nodded at each other in recognition.
I got up to grab another coffee and ran into someone I actually knew — a friend of Candice's whom I had met briefly at the bar a few days ago. We greeted each other and I filled her in on the past week.
I went out to dinner with Candice and her friend Leila, who works in television, and before the meal was finished, she booked me an appearance on NTV to talk about my travels in Newfoundland.
Shortly after that, Marieke from the Artisan Inn in Trinity came to St. John's, and we gabbed like crazy, catching up on every moment I had spent since leaving Trinity.
Candice and I showed up at Bannerman Brewing Company for the second day in a row and the same waiter welcomed us back warmly.
Getting to feel those connections over and over again was what really made me feel like a real Newfoundlander.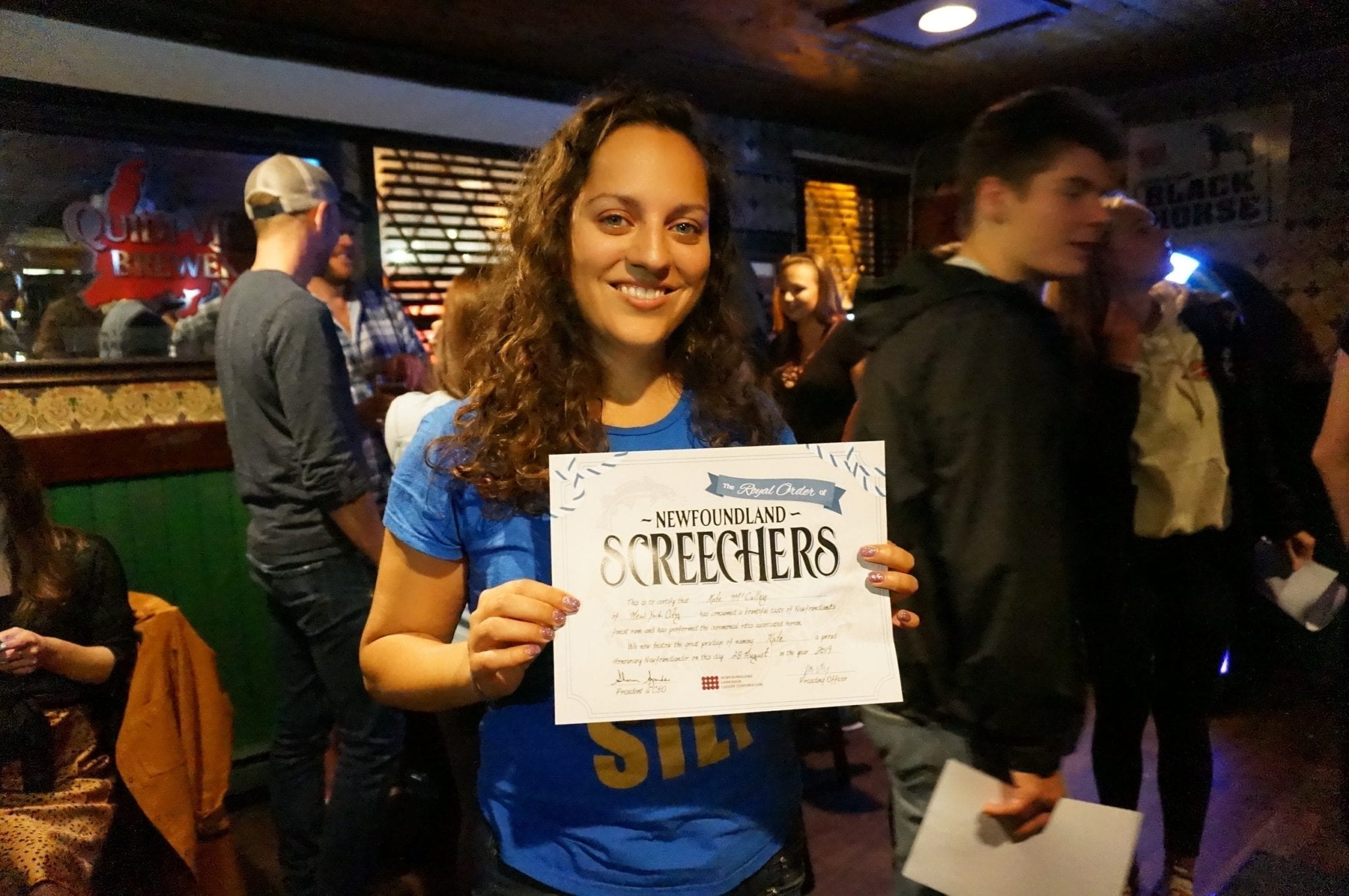 Getting Screeched In
But the strangest and best Newfoundland tradition, in my opinion, is to get "screeched in." If you've seen Come From Away, you know about this — it's a baptism of sorts that indoctrinates visitors, making them honorary Newfoundlanders.
You can get screeched in privately with locals, or do it with part of a group at one of the many pubs on George Street in St. John's. We went to Christian's Pub, Candice's favorite bar for screeching in visitors.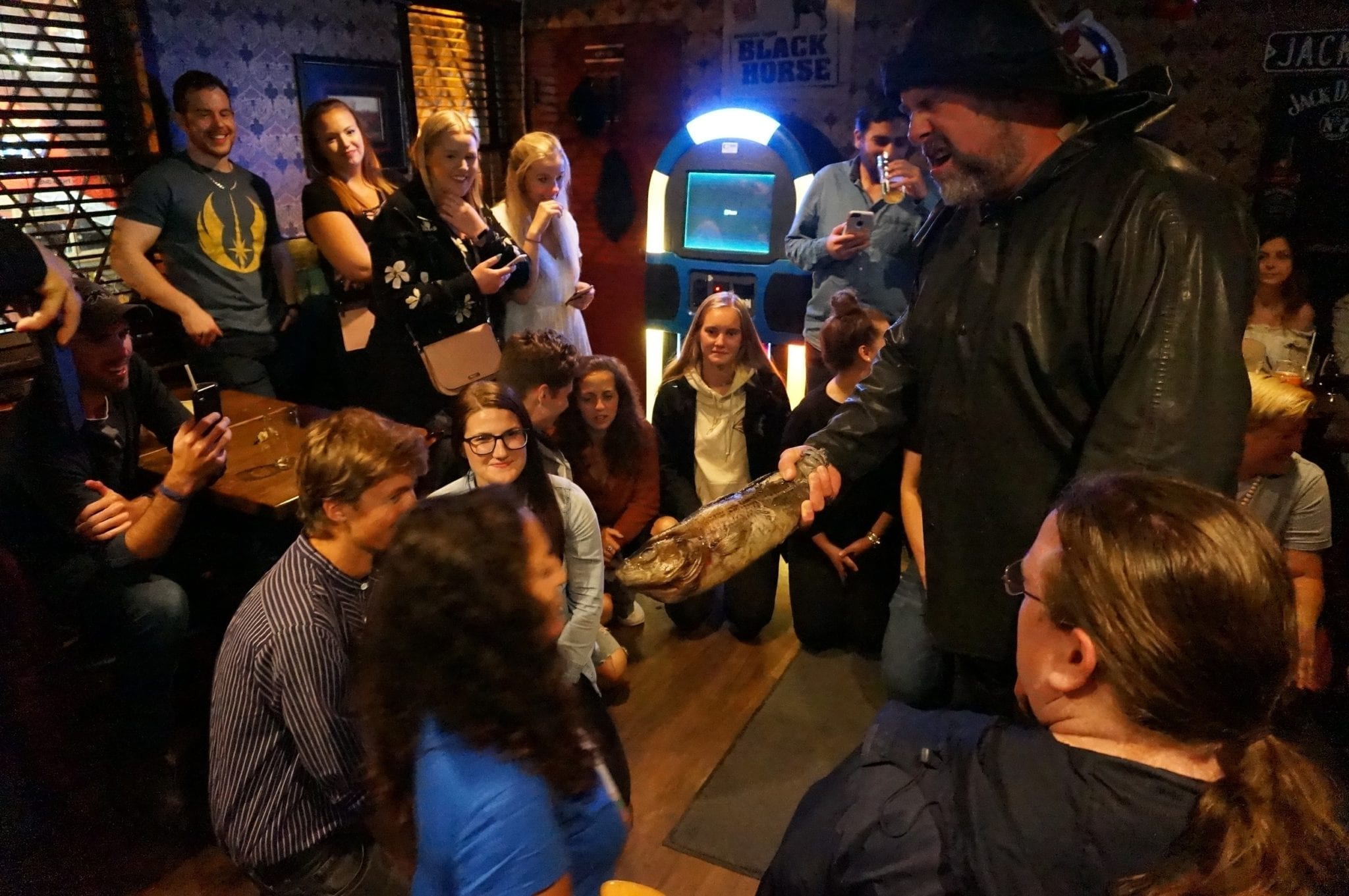 The process is simple. Everyone gets on their knees and recites an oath. (Honestly, the hardest part is figuring out what he's saying in his Newfoundland accent and repeating it.) Then you eat a chunk of bologna, also known as "Newfoundland steak." Then you kiss a frozen cod on the lips. Then you down a shot of "screech," or local rum.
My fellow tourists and I cheered each other on as we pressed our lips to the frigid fish. It was official — by getting screeched in, we were "real proper Newfoundlanders" now!
If you travel to Newfoundland, you absolutely must get screeched in. It's a special experience.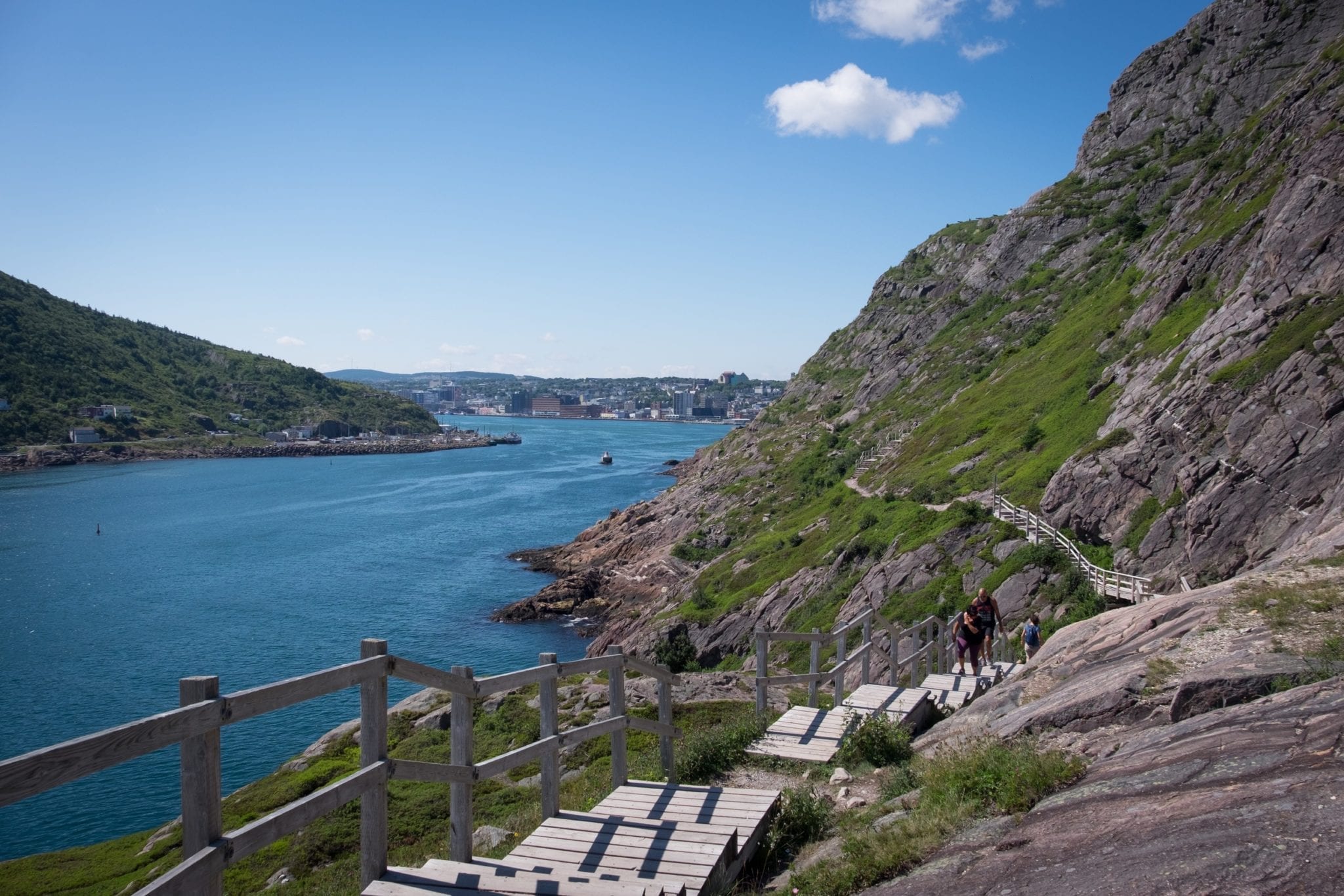 Hiking Signal Hill
And finally, on my last day, the trip finished with some of the most beautiful scenery yet. Candice and I hiked Signal Hill, right from the steps of her house to the top of the hill. At times St. John's feels like it's built in the most ridiculous location — why on top of all those hills?! — but that leads to some scenic hiking as well.
Signal Hill is a short hike. It takes as little as 45 minutes from the base to the top, and you can walk there from downtown St. John's. With our extra distance, it took us 90 minutes altogether, surrounded by craggy rocks and soft green grass.
This was St. John's. This was Newfoundland.
And frankly, I barely took any photos. I didn't care. By this point, it was all about feeling Newfoundland.
Candice and I got to the top, then decided to head back to town for beer and cod tacos.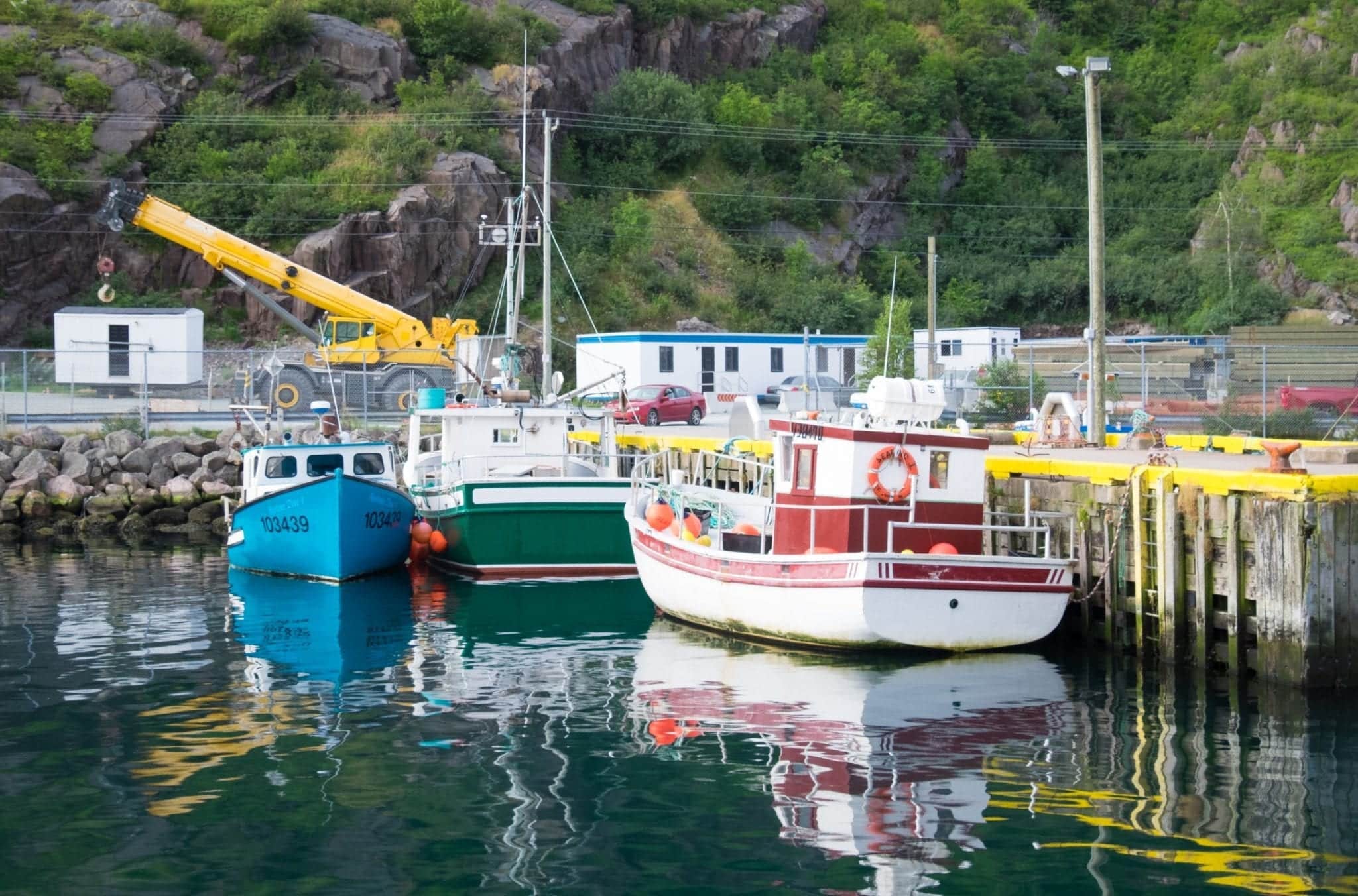 Best Time to Travel to Newfoundland
The best time for Newfoundland travel is during the summer months: June through September. July and August will have the warmest weather, and because Newfoundland doesn't get overwhelmed with tourists, you don't have to worry about peak season being too crowded.
The only issues from traveling during the summer are that flights can get expensive and rental cars can sometimes be all booked out. Book at least a few months in advance. I recommend checking flights on Skyscanner and making sure rental cars are available.
If you want to see icebergs in Twillingate, your best chances are from mid-May through mid-July. If you want something much quieter, the fall can be gorgeous, though keep in mind many places won't be open.
All that being said, know that Newfoundland has unpredictable weather. It changes constantly and could be worse than you expect. You could visit for a week in August and it could be cold and rainy the whole time. I was in St. John's for seven days total and they were all gray and rainy except for one. The weather was much nicer in Trinity, the Bonavista Peninsula and Twillingate.
My recommendation? Newfoundland travel is best during the warmest months, but don't plan on having great weather. It's like Ireland that way. Go in with low expectations (and a windbreaker and umbrella), and if you have sunny skies, enjoy every minute of it.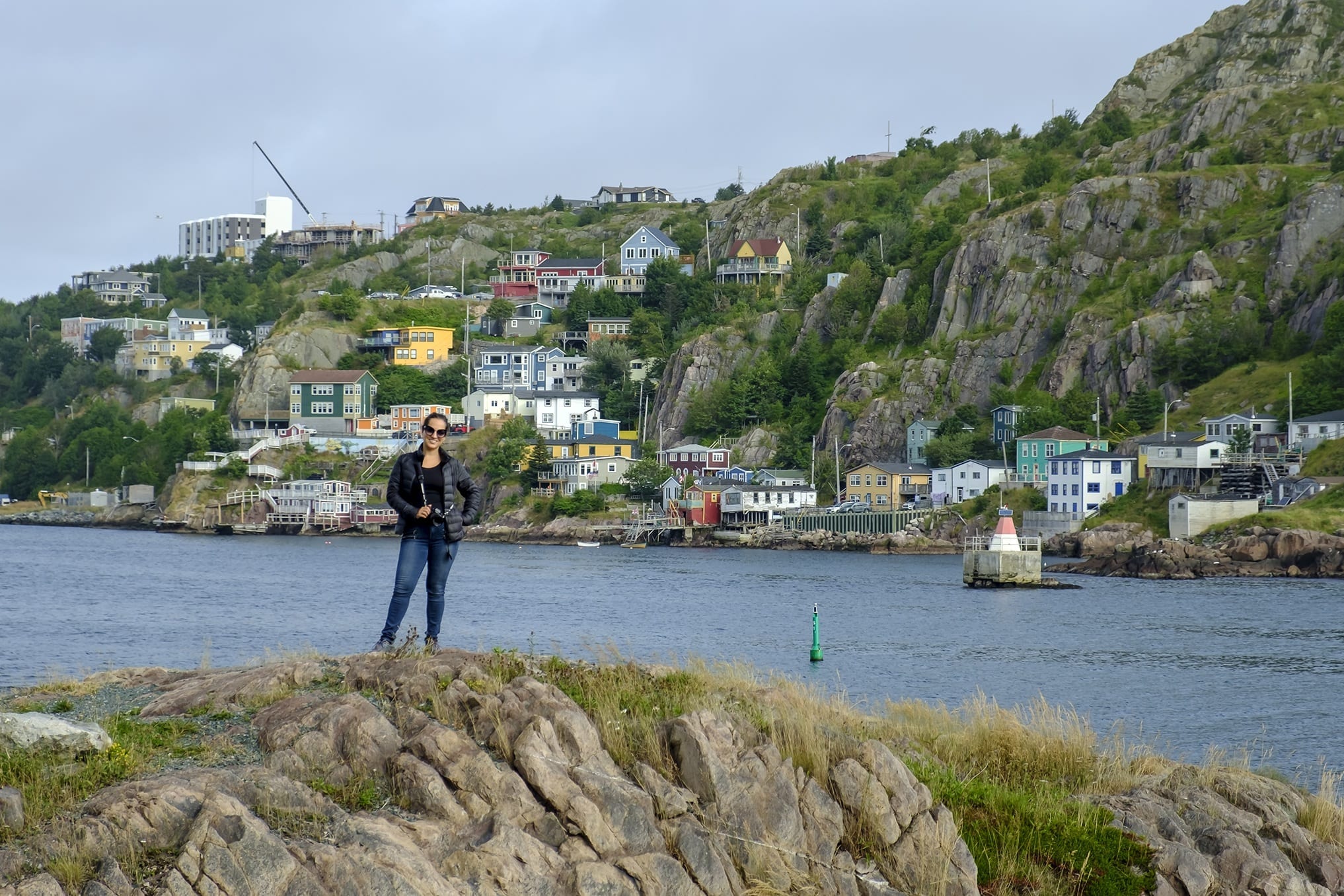 Solo Female Travel in Newfoundland
Newfoundland is an excellent destination for solo female travelers, as long as you're happy to drive. Newfoundland is an extremely safe destination and you will be warmly welcomed by everyone you meet. Some will be used to seeing travelers; others will welcome you with curiosity and perhaps even incredulity.
You'll be spending a lot of hours in your car, driving from place to place, so be sure to come armed with audiobooks. I recommend The Shipping News by E. Annie Proulx, a Pulitzer Prize-winning novel that takes place in Newfoundland. There's just something magical about hearing her gorgeous descriptions of the cliffs and mountains and forests as you drive through Newfoundland's spectacular landscapes.
The one drawback of traveling alone in Newfoundland is that it will be hard to get photos of yourself in remote, gorgeous places. You may want to bring a tripod and self-timer and get comfortable with them before your Newfoundland vacation.
Additionally, be sure not to get too complacent about safety. Yes, Newfoundland might be the kind of place where people leave their doors unlocked, but that doesn't mean you should do the same thing. There are bad apples even in the most phenomenally safe places. Take the same precautions you would anywhere else: Keep your valuables on you while in transit. Don't get too drunk. Get travel insurance (I use and recommend World Nomads).
Finally, brake for moose. I saw one moose on the road in Newfoundland — an adolescent on the smaller side — but you must NEVER hit a moose. Hitting a moose will usually kill you, as they are tall and will fall through the windshield and crush you. It's not like hitting a deer. Always brake for moose.
---
READ MORE:
---

The Takeaway
I feel like this is just the beginning of my love affair with Newfoundland. I need to come back. There's so much more I want to see, but there's so much temptation to revisit the same places, enjoying them a second time and seeing all my Newfoundland friends again!
I feel that now is the time to travel to Newfoundland, before the rest of the world realizes what a treasure it is. You may argue that that time is years away — but I've seen it play out in a similar destination.
In 2012 I was the first travel blogger invited to the Faroe Islands, back when most people hadn't heard of them. It was the height of high season and I was one of half a dozen tourists, max, almost everywhere I went. Seven years later, dozens more travel bloggers have visited and one blogger friend told me about being one of 30 people on the ferry to Mykines. THIRTY.
I could see Newfoundland travel taking a similar route. All the ingredients are there for it to become a major destination. All it needs is the attention. And while that will bring economic opportunity to the island, it won't always be as it is now. I feel lucky to have had the opportunity to discover Newfoundland as an undertouristed destination.
You should take that opportunity, too. It's a little too easy to fall in love with Newfoundland.
---
READ NEXT:
---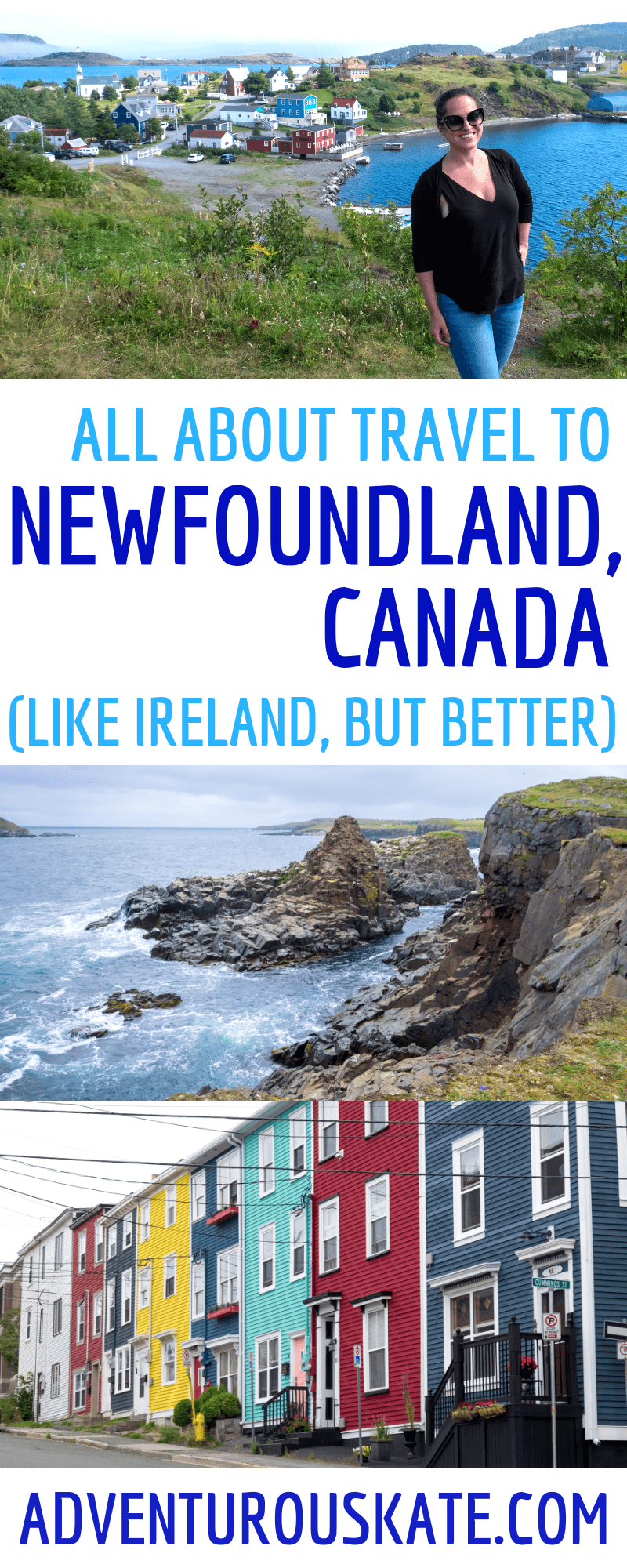 Essential Info: Plan ahead for your trip to Newfoundland — flights can get expensive and there aren't always enough rental cars on the island. I recommend checking flights on Skyscanner and making sure rental cars are available.

Definitely get a SIM card for Newfoundland, but keep in mind that lots of areas have no service. I got my SIM card from Lucky Mobile. You may want to download offline maps for your driving.

In St. John's I stayed at the Alt Hotel St. John's for the first two days, a comfortable, beautiful design hotel with a great lobby in a perfect downtown location. Terre Restaurant downstairs is outstanding. Rates from $134 USD. Book the Alt Hotel here or check out more St. John's hotels here.

Later, when I stayed in St. John's on my own dime, I stayed in a private bedroom at my friend Melissa's house, a short walk from downtown, which she rents out on Airbnb for a very reasonable $55 CAD ($42 USD) per night. Great budget option. You can see it here.

Far East Photography offers private photography tours for 1-3 people. Rates range from $200 CAD ($151 USD) for two hours to $400 CAD ($302 USD) for four hours.

Quidi Vidi Fishing Charters offers a variety of fishing tours. I did the QV Tour, which included a few hours fishing and fried fish afterward, and cost $150 CAD ($113 USD). Your experience may be catch and release depending on the day of the week; if you get to keep your catch, you can learn how to gut and clean a fish.

I got screeched in at Christian's Pub in St. John's. You need to register at least 30 minutes in advance; the pub doesn't have much of an online presence, so drop in during the day to check the times and sign up. Getting screeched in costs $20 CAD ($15 USD).

If you plan on working remotely in St. John's, I recommend setting up shop at Rocket Bakery (check their schedule to avoid daytime events first), the Jumping Bean on Duckworth St. (closes at 5 PM), Coffee Matters, or the Alt Hotel lobby. There's a Starbucks if you're in a pinch.

In Trinity I stayed at the Artisan Inn. You can rent individual rooms or whole houses. My house was the Blueberry Cottage, a beautifully decorated three-bedroom house with water views. Twine Loft is a fabulous restaurant; be sure to order your meal ahead of time. Room rates from $145 CAD ($109 USD); Blueberry Cottage rates from $325 CAD ($245 USD). Book the Artisan Inn here or check out more Trinity hotels here.

The Bonavista Biennale takes place bi-annually and will next take place in August-September 2021. I highly recommend making the Biennale a priority if you're visiting at that time.

In Plate Cove West I stayed at the Round da Bay Inn, a motel with quirky themed rooms like my Captain's Quarters. Rates from $125 CAD ($94 USD). Book the Round da Bay Inn here.

In Twillingate I stayed at the Sunshine Inn, a lovely, modern, and comfortable four-star hotel with a great common area. Rates from $135 CAD ($102 USD). The Sunshine Inn is affiliated with Twillingate and Beyond, which also has a hostel and a luxury Drift Away Suite next door. Book the Sunshine Inn here or check out more hotels in Twillingate here.

Experience Twillingate offers dinner on the beach in Twillingate, usually a 4-5 course feast. Contact them directly for the current specials and pricing.

Be sure to have travel insurance for your trip to Newfoundland. Whether you're in a car accident or you get appendicitis or bad weather cancels your flights, travel insurance will help you in your moment of need. I use and recommend World Nomads for trips to Canada.
Many thanks to Newfoundland and Labrador for hosting me in Newfoundland, covering flights and my travels from St. John's through Twillingate and back. I stayed in St. John's an extra five days at my own expense. All opinions, as always, are my own.
I'd like to give a special thanks to the Newfoundlanders who welcomed me with open arms and made my trip so special. I can't wait to return.
The post Travel to Newfoundland, Canada, and You'll Never Want to Leave appeared first on Adventurous Kate.