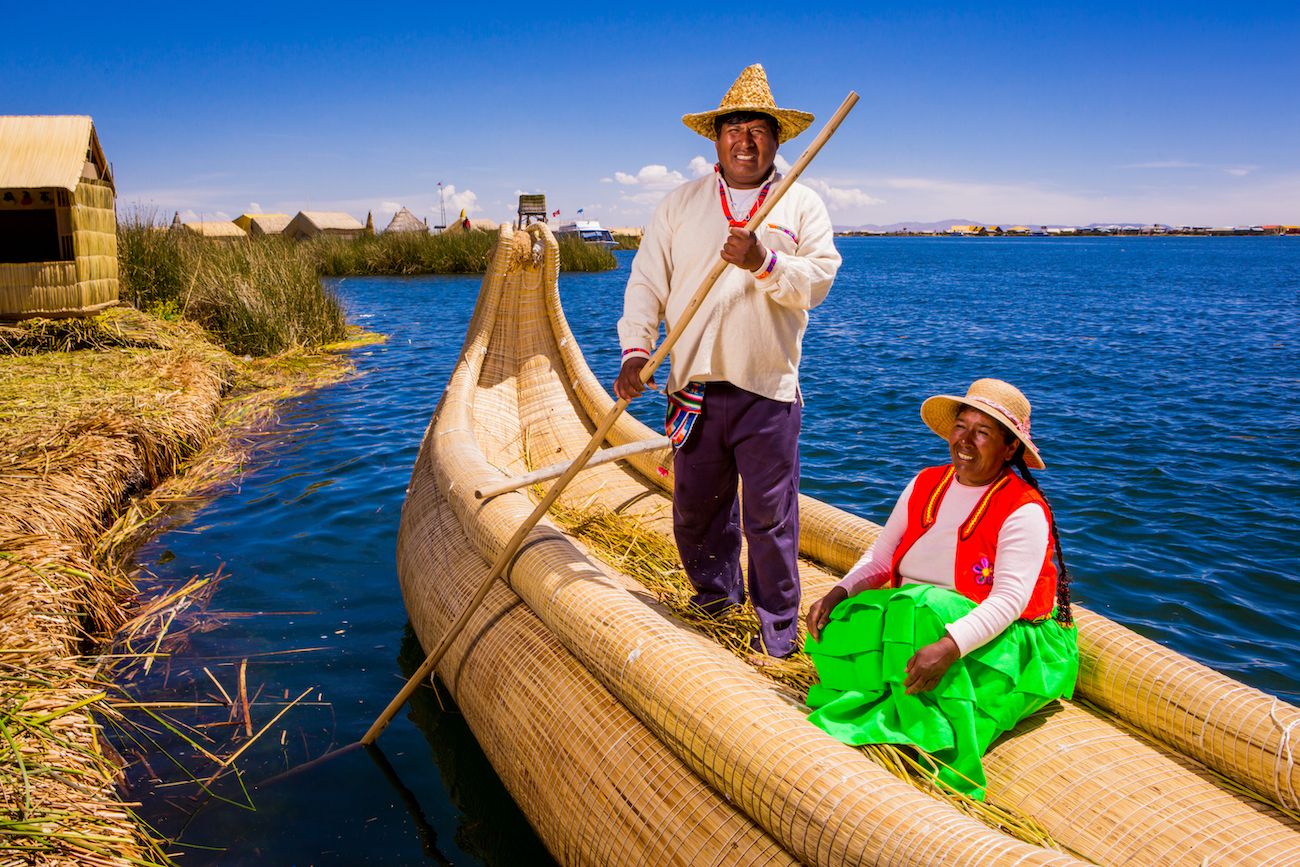 The Uros Islands are a group of over 60 floating grass islands located in the middle of Lake Titicaca, Peru. The 1,200 or so people who inhabit those islands, the Uru people, have lived here for centuries. They started building islands out of totora reeds they harvest from the lake to protect themselves against the Incas and have preserved this lifestyle ever since.
My visit to the Uros Islands
When my boat first arrived at Khantati Island, I was greeted by local women wearing vibrant traditional woven skirts and sporting braided hair tied with neon pom-poms. It was like a fantasy world where everything was made out of grass and bright colors. The islands, the boats, and the homes were made entirely from the totora reeds.
The Uros women wasted no time welcoming me into their family for a couple of days and were excited to get me acclimated to life on the island. This included dressing me in thick cotton and colorful layered skirts and donning me with a knitted cap, signifying that I was single and not married. Tradition has it that when Uros women are ready to marry, they announce it by wearing colorful pom-poms, while married women wear straw hats.
After I changed into the traditional garb, I was given a grand tour of the island. It had a full kitchen with solar panels perched on a grass pole, a lounge area with a swing set and chairs all made out of grass, a pond where the fish that is caught is kept, separate men's and women's bathrooms (port-a-potties with holes cut through the island), and of course the family homes.
The islands mix the traditional Uru lifestyle with modern conveniences. Besides solar electricity, some homes have satellite TV, and many of the inhabitants own cell phones. And like families in other parts of the world, the ones on Uros Islands have pets — the family I was staying with had a cat and a flamingo.
How the Uros islands are made
The Uros people create these islands by hand using a type of mud that floats and stacking layers of reeds on top of the mud. They then attach the floating mud blocks together with wooden stakes. The foundations of the islands are ever-thickening stacks of Totora reeds that have to be cut daily from the lake and layered on top of one another. This constant making and re-making of the totora reed floor of the island is to sustain families' weight and their homes on the top layer and prevent the island from sinking.
Whenever a boat passes the islands, the ground moves underneath your feet the way it does when you're standing on a dock. Usually, four or five families live on one island at any given time. If someone wants to move to another island, the home is cut away and reattached to another island, making inter-island marriages and separations much easier.
The daily lives of the Uru people
I spent my days watching the local women hang their hand-made woven reed mobiles and other arts and crafts to sell to tourists and boats passing by.
In the evenings, I joined Victor, the patriarch of the island of Khantati. He took me on boat rides in my local garb to show me the inhabitants' fishing techniques and grounds. Victor also taught me how to cut the grass to make traditional boats. He told me that totora reeds boats usually only last a few months before turning into a soggy mess. But everything on Uros Island eventually becomes a soggy mess — that's why men spend their days cutting reeds to maintain their homes and island.
For generations, the Uros people subsist primarily by fishing, bird hunting, and gathering bird eggs from the reed beds. Children attend kindergarten and elementary school on the Uros islands, while older children continue their education on the mainland. Nowadays, the Uros also earn income through tourism.
A small floating convenience store stocked with candy, junk food, and sodas for purchase comes to the island daily, as well as the tourists.
How to get to Lake Titicaca's floating islands
The easiest and safest way to reach Uros Island is by flying from Lima to Juliaca, a town 12,500 feet above sea level. After a two-hour car ride from the airport (you can hire a driver or a guide), you'll arrive in Puno, the town on the edge of Lake Titicaca, where you'll get picked up by boat to Uros.
Travelers can also reach the Uros Islands via a long overnight bus ride or an all-day train ride from Cusco. While the train ride is said to be beautiful, it's also long, so if you're short on time, get on a plane.
How to visit Uros Islands
Travelers can visit Uros Islands during guided four-hour tours from Puno. Most boats depart in the morning between 7 and 8 AM for a 20-30 minute ride to the islands. The tours take turns visiting certain islands on odd days and others on even days to limit how much tourism disturbs local life.
I opted for a three-day homestay through the tour company Mystery Peru, which provided a far more in-depth experience. This way, you can dive into the locals' daily lives, participate in community tasks, and even try your hand at making crafts.
Things you need to know before visiting the Uros Islands
Best time to visit: The dry season, between April and November, is the best time of the year to visit the Uros Islands. The shoulder seasons from April to May and September to November are excellent options for good weather with fewer tourists.
Language: The native Uru language has faded away from the Uros Islands over the years, but don't expect the Uru people to speak Spanish. The inhabitants of the Uros Islands speak Aymara or Quechua, the language of the Inca Empire. But worry not, simple gestures and a little bit of patience will get you just about every you need. If you're on a quick tour of the Uros Islands, your guide will likely act as a translator.
Altitude adaptation: The Uros Islands and Lake Titicaca sit at 12,500 feet above sea level. You will feel very uncomfortable at this elevation unless you acclimate by visiting lower altitudes in Arequipa or Cusco before heading to Lake Titicaca. Higher altitudes also mean stronger sun exposure and drastic changes in temperatures, so be sure to bring a hat, sunscreen, warm layers, and comfortable shoes.
Other islands on Lake Titicaca
The Uros islands are not the only islands travelers can tour on Lake Titicaca. There are other larger islands both on the Peruvian side and the Bolivian side of the lake that you can visit and even stay on (although they are not made of totora reeds). The largest and most popular of these islands are Taquile, Amantani, and Suasi islands.
Taquile Island, Lake Titicaca's largest island, is known for its beautiful textile traditions recognized as UNESCO Intangible Cultural Heritage. It's a two-hour boat ride from the Uros islands, and once you get there, it's a challenging 500-stair hike from the shore to the main town plaza, but the views from the top make it worth the climb.
Because of its remote location, Amantani is lesser-known and therefore less visited. Inhabited by about 4,000 Quechua people, the island is home to two mountain peaks called Pachatata (Father Earth) and Pachamama (Mother Earth) — ancient ruins are on the top of both peaks. There are no hotels on the island, so some families on Amantani open their homes to tourists for overnight homestays. The islanders even hold games and nightly traditional dance parties for their guests.
For a more luxurious stay, head to Suasi Island, an eco-retreat on a private island in the middle of Lake Titicaca. Completely solar-powered, Suasi was designed as a place for meditation and relaxation. You can hike from high hills to empty beaches, kayak in the crystal-clear waters, enjoy the full-service spa, or just relax on hammocks overlooking the lake. The rooms are simple, but all have views of the lake from the terraces. Be sure to request a room with a skylight so that you can fall asleep while stargazing.

More like this
The post Visiting Lake Titicaca's Uros Islands is a unique way to experience Peruvian indigenous traditions appeared first on Matador Network.