Are the Budapest Christmas markets worth it? Absolutely! I just got back from a wonderful visit to Budapest's Christmas Markets (yes, in 2021). I've always thought of Budapest as a funky, offbeat city — but it's also a wonderful place to celebrate Christmas and experience four different Christmas markets.
Germany may be most famous for its Christmas markets, but any Europhile knows you can find wonderful Christmas markets all over Europe. Whether you're enjoying your Christmas Market with raclette in Lyon or trdelnik in Prague, Europeans know how to celebrate!
In fact, Budapest has become a Christmas hotspot in recent years, thanks to the explosion of river cruises. Danube river cruises are especially popular during the Christmas season, hitting up the legendary Christmas markets of Vienna, Regensburg, and Nuremberg.
And you know what? Most Danube cruises either start or end in Budapest. Many travelers choose to add on a few extra days in Budapest at the beginning or end of their trip. If that's your plan, I highly recommend you do so!
This return trip to Budapest was a long time coming. It has been 17 years since my first visit, when I was 20 years old and studying in Florence. I convinced my roommates that we needed to go to Budapest, and we found a one-cent flight there from Bergamo on Wizz Air. (Still have no idea how that happened. I haven't found a deal like that since.)
What a time we had. It was a blur of goulash, chestnuts, fast-moving escalators and thermal spas. I loved Budapest then and I vowed to return. I can't believe it took this long — 11 years into my professional travel blogging career.
I was invited to Budapest by the tourism board, who provided me with two 72-hour Budapest Cards, admission for two to the Szechenyi Baths, and three nights at the La Prima Fashion Hotel. I paid for everything else, including my train journey from Prague.
If I can give you any one piece of advice, it's to get the Budapest Card before your trip. I happily used a Budapest Card in both 2004 and 2021. It will save you a ton of money, make public transportation easier, give you free access to tons of attractions, and give you Christmas market freebies!
And that's BEFORE I give you the extra 10% off the card with my exclusive code, ADVENTUROUSKATE! More on that below.
Budapest Christmas Markets 2021 Dates
Yes, the Budapest Christmas Markets are happening in 2021! I myself visited the Budapest Christmas Markets in 2021 from the day they opened on November 19, 2021. The Christmas Markets on Vörösmarty Square and St. Stephen's Basilica open in November; the markets in Óbuda and Szentendre open when Advent begins in early December.
And yes, the Budapest Christmas Markets are still happening during COVID. (See more on traveling internationally during COVID here.) Because of this, all of Budapest's Christmas Markets require either proof of vaccine or a recent negative test in order to enter.
However, you should know that the US CDC cards are not accepted as proof of vaccine in Hungary. They ARE accepting the EU Green Pass, and you can have your CDC card converted into an EU Green Pass at a pharmacy in Germany or France. Unfortunately they are difficult to convert otherwise unless you're an EU resident.
If you don't have proof of vaccine, there are a few Christmasy stalls on the outsides of the markets selling food and gluhwein.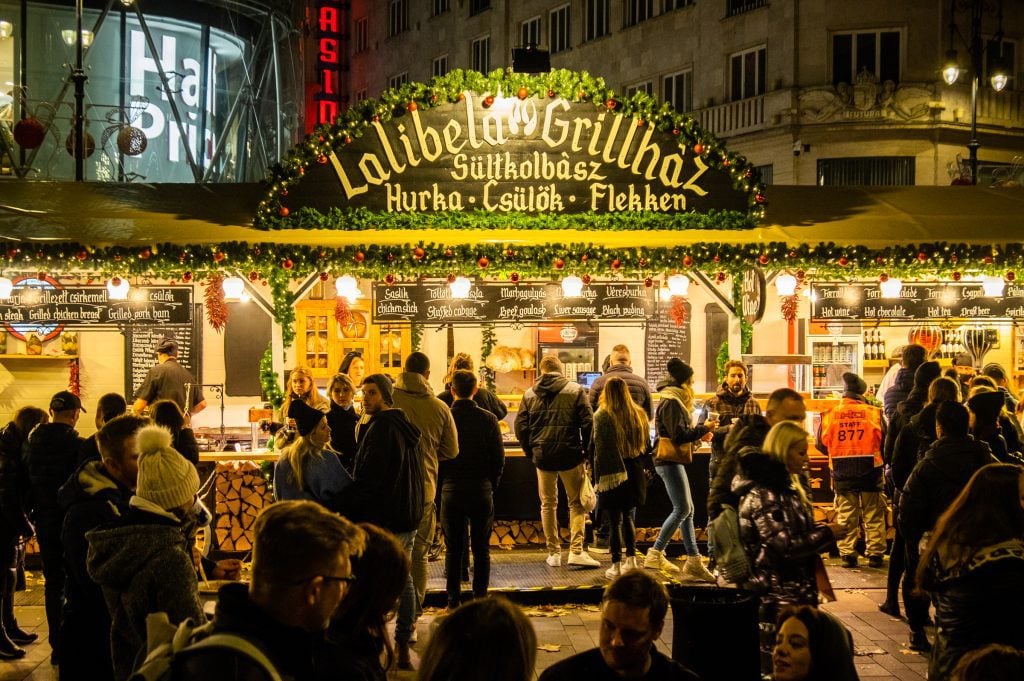 Budapest Christmas Markets Map
Budapest is a city spanning two sides of the Danube, with the two halves of the city named Buda and Pest. Most of central Budapest is concentrated on the Pest side, though there are lots of beautiful sites to see in Buda as well.
Budapest's primary Christmas Market is on Vörösmarty Square, in the center of the city on the Pest side.
There are three additional Christmas markets in and around Budapest. The Budapest Christmas Market at St. Stephen's Basilica is a short walk away from Vörösmarty Square.
The Óbuda Christmas Market is on the Buda side. And the Christmas Market in Szentendre is about a 40-minute train ride north of Budapest.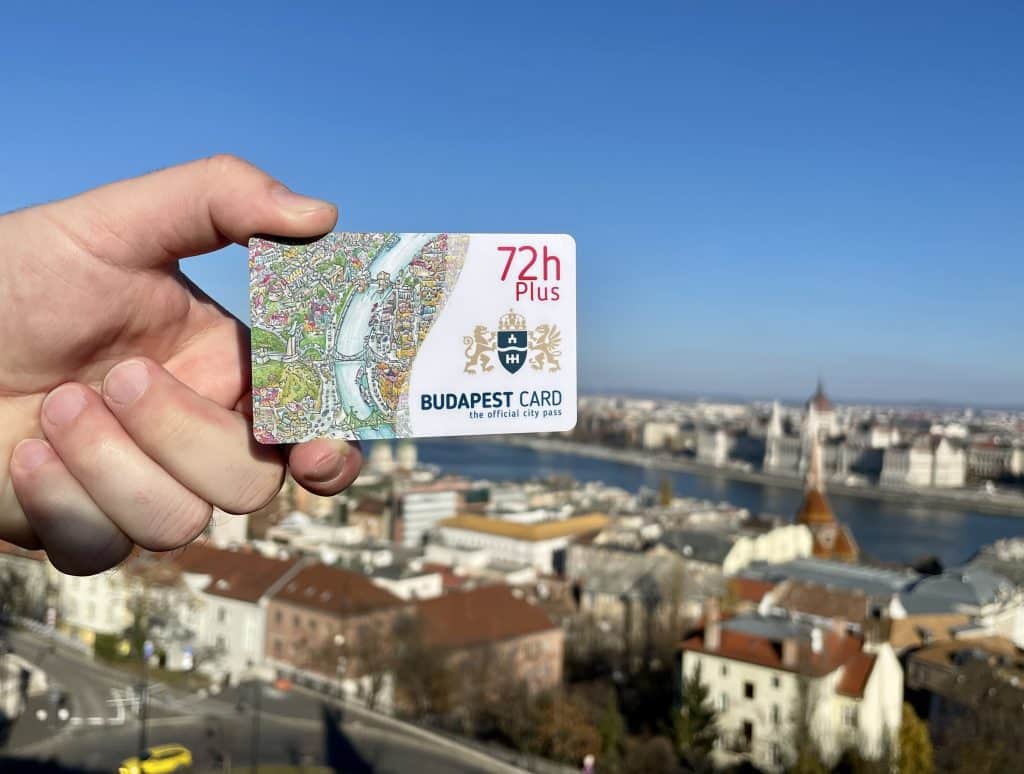 Budapest Card
If you're heading to the Budapest Christmas markets, I highly recommend getting a Budapest Card before you arrive. It gives you so much value, makes your life easier, and ensures that you'll have an even better trip.
I've used lots of "city cards" on my travels around Europe, and they are often great value, but the Budapest Card has some of the absolute best value I've ever seen. You can get cards that last 1-5 days and give you so much stuff.
There are two levels: the Budapest Card and Budapest Card Plus. Plus gives you more benefits. I used a Plus card. You can compare the two cards here.
Free transportation? Yes! You get free public transportation, and free shuttle transport from the airport.
Museums? You get free admission to several, from popular Museum of Fine Arts and National Art Gallery to niche spots like the Ferenc Hopp Museum of Asiatic Arts and the Underground Railway Museum.
Heading to the Buda side? The Budapest card gives you free access to the Buda Funicular, Budapest Castle Bus, Matthias Church, Castle Museum, plus a tour there.
Thermal baths? Get free admission to the Lukacs Baths and 20% off admission to the Szechenyi Baths and Rudas Baths.
Christmas bonus? Yes! Get a free mulled wine plus 10% off all your food at the Vörösmarty Square Christmas Market.
I find that cards like the Budapest card take a lot of pressure off. If I pay full admission to a museum, I feel like I need to see every corner and every exhibit — but if I have admission to several museums on the Budapest card, I'll drop in for a few minutes, see what I want to see, leave without feeling guilty, and hit up the next place.
I genuinely wouldn't visit Budapest without the Budapest card. It's too good of a deal not to.
Get 10% off the Budapest card with code ADVENTUROUSKATE.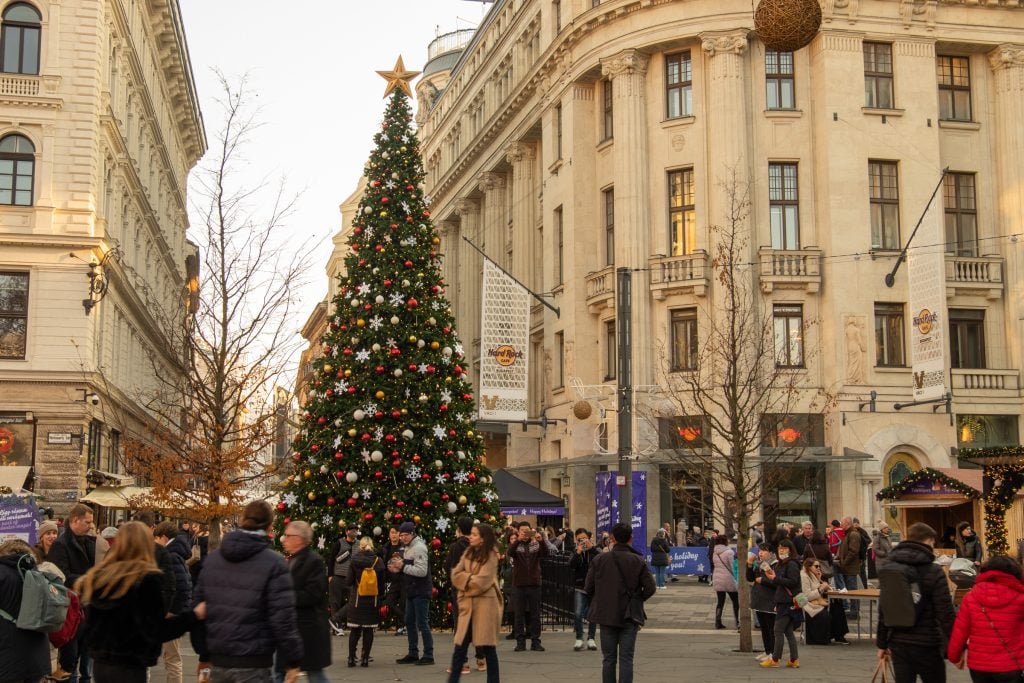 Vörösmarty Square
Budapest's largest Christmas market takes place on Vörösmarty Tér, or Vörösmarty Square. This is the big kahuna of Budapest's Christmas Markets — it's the largest and main market of the event.
For 2021, the market is fenced off to restrict it to those who are vaccinated. And once you're in, you'll find a wonderful collection of booths. The food section has some enormous kitchens dishing up a variety of local fare, and there are plenty of tables for sitting and standing.
Vörösmarty Square is the one Budapest Christmas Market that gives you special benefits with the Budapest Card — 10% off food purchases, plus a coupon for a free mulled wine.
I found the crafts section at this market to be among the best I saw in Budapest, and I had to resist a lot of temptation to buy so much of the stuff!
You can see a video of the Budapest Christmas Market on Vörösmarty Square here:
This market tends to get very popular at night — I recommend going before dusk if you want a less hectic atmosphere.
St. Stephen's Basilica
What's more famous of a building — St. Stephen's Basilica or the Hungarian Parliament Building? Well, I bought a ton of vintage postcards and almost all of them had St. Stephen's on them, so take that as a sign!
At any rate, St. Stephen's Basilica (Szent István Bazilika in Hungarian) puts on their own Christmas market on the plaza in front of the cathedral. It's small and has a very different feel from the main market on Vörösmarty Square.
It feels a bit more upscale and polished, there is stunning video-mapping on the cathedral, and there are live music acts performing in the evenings. We got to hear a wonderful band performing on our visit.
You also see quite a bit of corporate sponsorship here — for example, brands like Beefeater Gin and Costa Coffee have booths throughout the market, serving drinks with their own products. Which is fine, but I felt like it took away a bit of the Christmas magic, having all these name brands all over the place. A little too close to American Christmas.
Either way, definitely make sure you stop by St. Stephen's Basilica to peruse the wares, have a nice mulled wine, and listen to the live performers.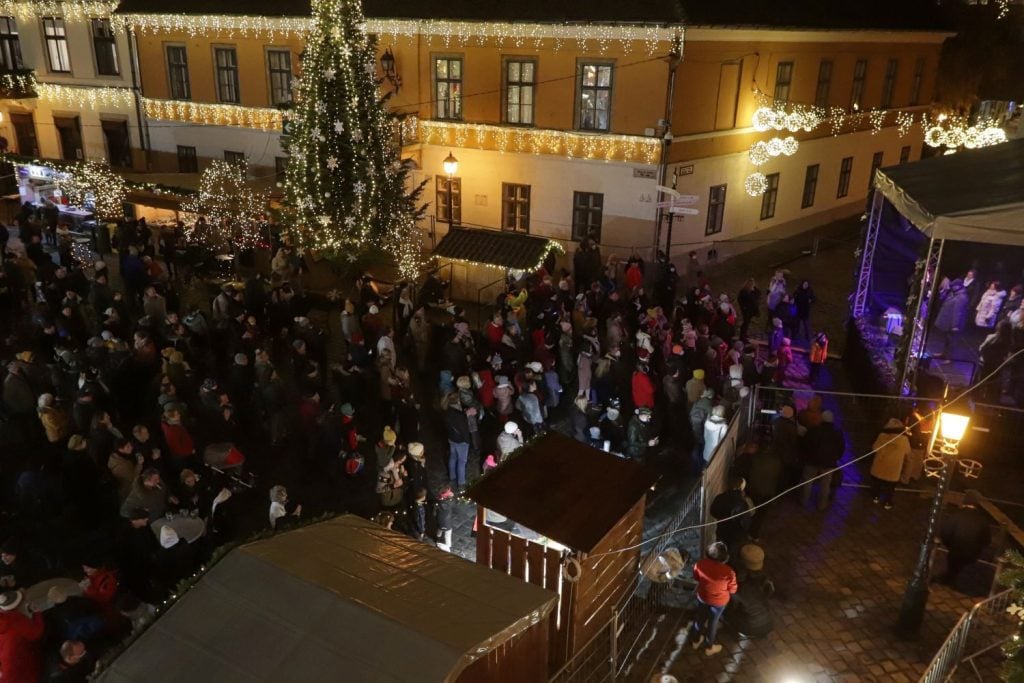 Óbuda
Looking for a Christmas Market that feels a bit more traditional, a bit more local? The kind of place where people don't automatically switch from Hungarian to English when you're ten steps away? Consider dropping by the Óbuda Christmas Market.
Óbuda means "Old Buda" and this market is located on the northern part of the Buda side, close to the northern tip of Margit Island. (It's on a square called F? tér, of which there are a few in and around Budapest. This is the one by Szentlélek Tér.)
Óbuda's Christmas Market puts on quite a few musical performances throughout the season. You can try to figure out the schedule here on their website, but this is a local place with an all-Hungarian website! Just show up; it's more of an adventure that way!
Óbuda's Christmas Market opens at the beginning of Advent, so you can plan a visit to the market in early December. To get there, take the H5 local train to Szentlélek Tér.
Szentendre
Szentendre is a small, artsy village located about 40 minutes outside Budapest. The town is filled with small but lovely museums, as well as shops and galleries, all in a placid atmosphere.
Szentendre makes a wonderful half-day visit from Budapest any time of year, but it's especially nice to visit during the Advent season and get all the Christmas joy. There's a nativity scene in the center, and many of the local artists are selling their wares.
(Fun fact: my first visit ever to Budapest, during my semester abroad in Florence in 2004, was because of Szentendre. I read in my guidebook that they had a white chocolate statue of Michael Jackson and knew I had to go. They still have it. It's at the Szabo Marcipan Museum. I…wouldn't plan a trip around it today.)
Szentendre's Christmas Market opens at the beginning of Advent, so you can plan a visit to the market in early December.
To get to Szentendre, take the H5 train from either Batthyány Tér or Margit Híd to the Szentendre stop. The journey takes about 40 minutes. You'll need to pay an extension supplement of 310 HUF ($1 USD), even with the Budapest Card.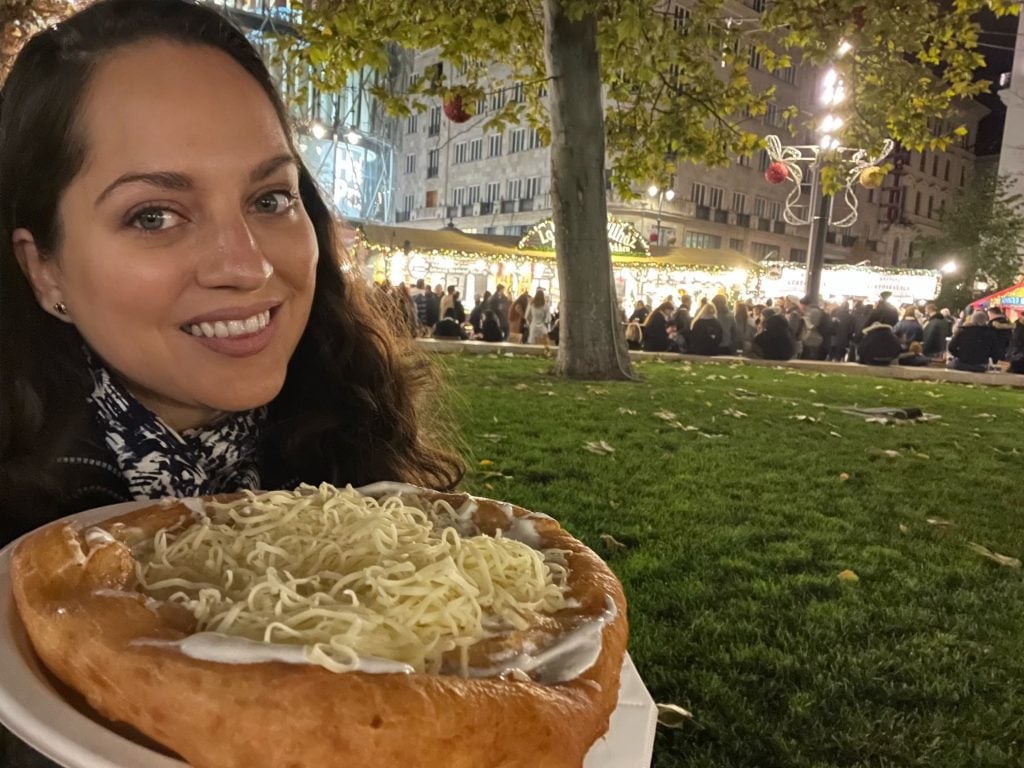 What to Eat at the Budapest Christmas Markets
If you're not familiar with Hungarian food beyond paprika, don't feel bad — you're not alone. Hungarian food is fantastic and one of the true delights of a trip to Budapest. Don't be surprised if Hungarian food becomes one of your favorite European cuisines!
At the Budapest Christmas markets, you'll find sweet delights along with enough main meals to stuff yourself for the rest of the day!
And a bonus: at the Vörösmarty Square Christmas Market, you receive an additional 10% off all food and drink purchases with the Budapest Card (10% off with code ADVENTUROUSKATE). You also get a coupon for a free mulled wine at this market.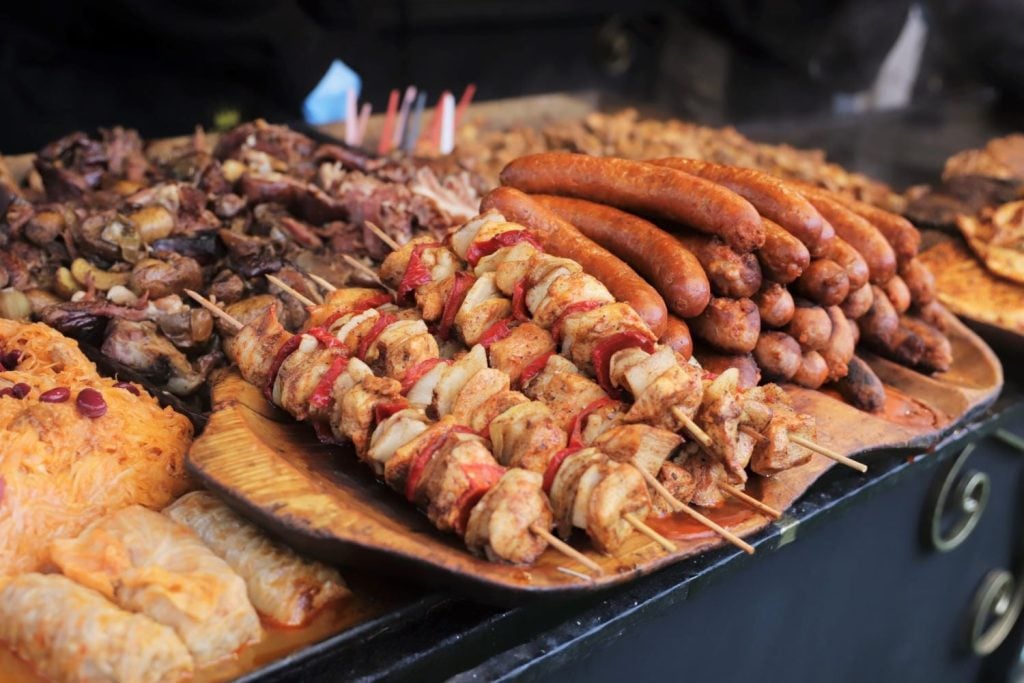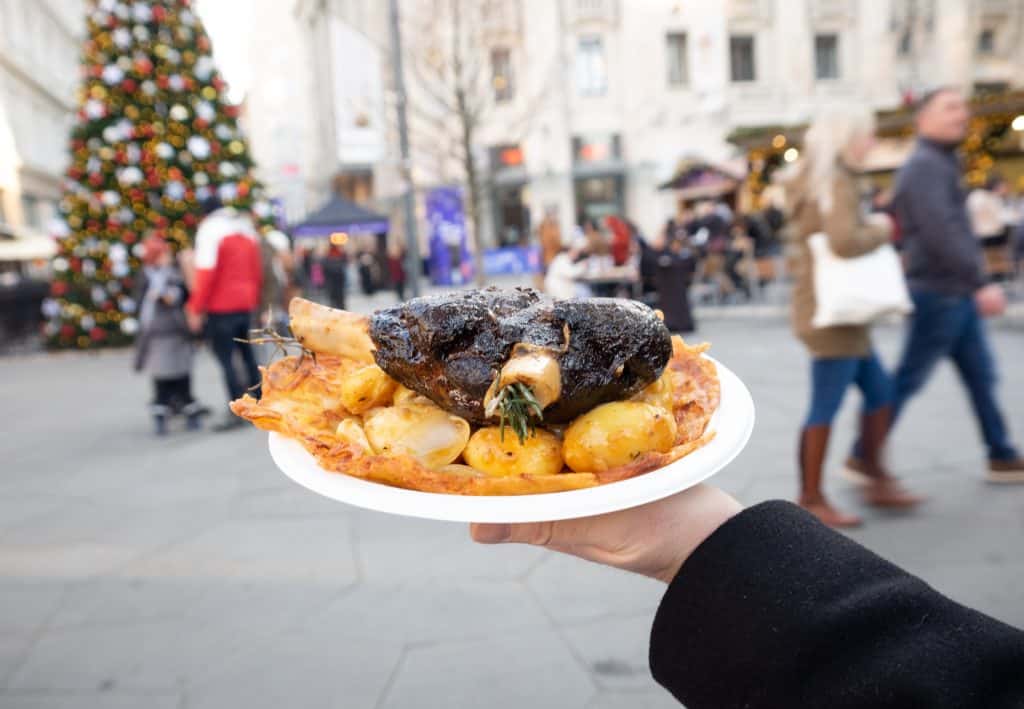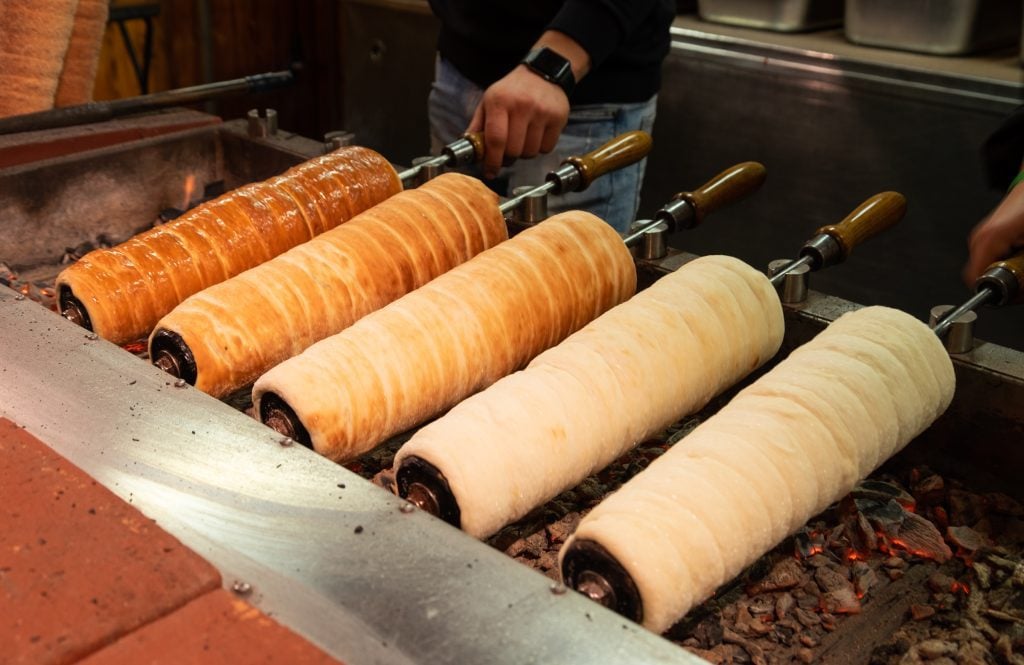 Lángos (LAHN-goash) — Lángos is a big slab of fried dough with toppings, often just sour cream and cheese. When the dough is fresh, it's heaven on Earth! Honestly, I spent 17 years looking forward to my next lángos after falling in love with them in Szentendre in 2004.
Gulyás (goulash) — Goulash might be the most internationally famous Hungarian recipe: a beef stew with lots of paprika. It's delicious and everyone has their own variation on it. It's often served in bread bowls at markets. If you get it at a market, make sure you have a table, because soup is not comfortable to eat off your lap!
Mangalica (man-ga-LEET-sa) — Mangalica is one of Hungary's best pork breeds, a curly-haired pig with uniquely delicious meat. At the Christmas markets you mainly find it in the form of sausage, but keep an eye out for it elsewhere. Charlie loved his mangalica ribs at Kiosk restaurant.
Kürt?skalács (KUR-toosh-ko-latch) — Also known as chimney cakes, these cakes are roasted over hot coals. You can get them with a variety of toppings, or with soft ice cream! (ALSO: with the Budapest Card, you get a free kürt?skalács at Molnar's cafe. I had one for breakfast. With ice cream. HELL YEAH.)
Mulled wine or glühwein (GLOO-vine) — Mulled wine is the classic beverage for Christmas markets! I found many of the wines to be on the sweet side, and not too strong, but in generous servings (0.3 liters). Hunt around and you'll find the perfect wine to your taste.
Other foods — At Budapest's Christmas markets, we found quite a few meat options like stews, sausages, and roasted meats, and even some seafood options like salmon. On top of that there are plenty of potatoes in roasted and pancake form, and vegetables.
The market vendors speak English — pretty much everyone who works with tourists in Budapest does — so don't be afraid to ask what the dishes are.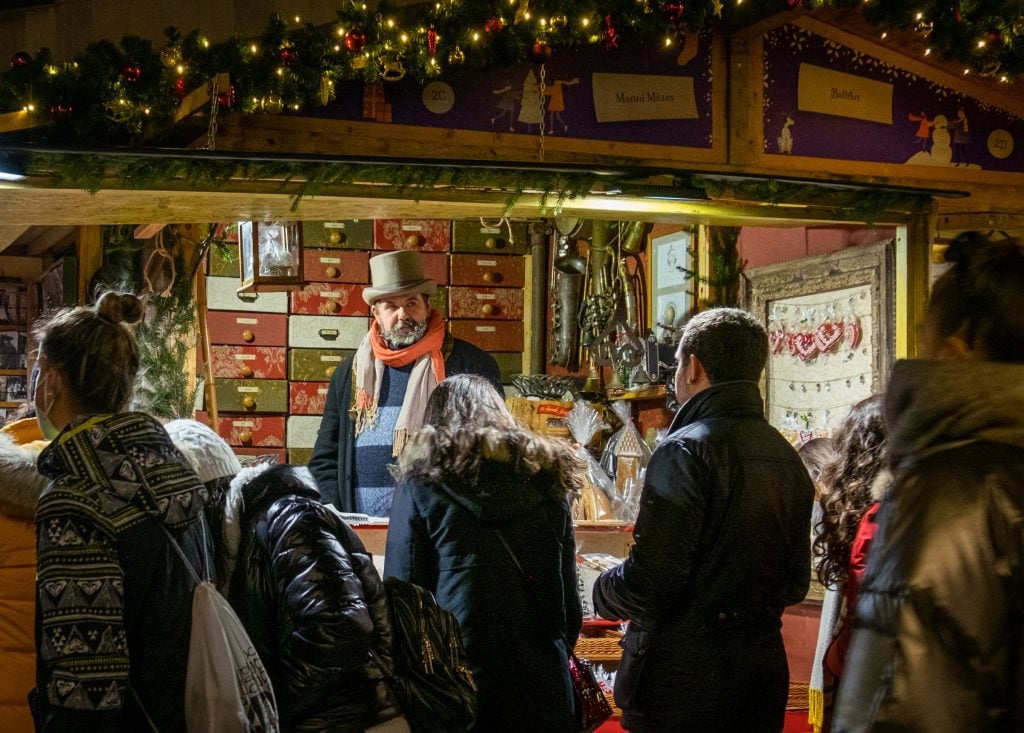 What to Buy at the Budapest Christmas Markets
While many Christmas markets in Europe are focused on centuries-old crafts — particularly in Germany — Budapest's Christmas markets are all about modern crafts and the badass artisans who make them. Which I enjoyed immensely. Sure, you'll see traditional knitwear, but you'll also see amigurumi crochet animals.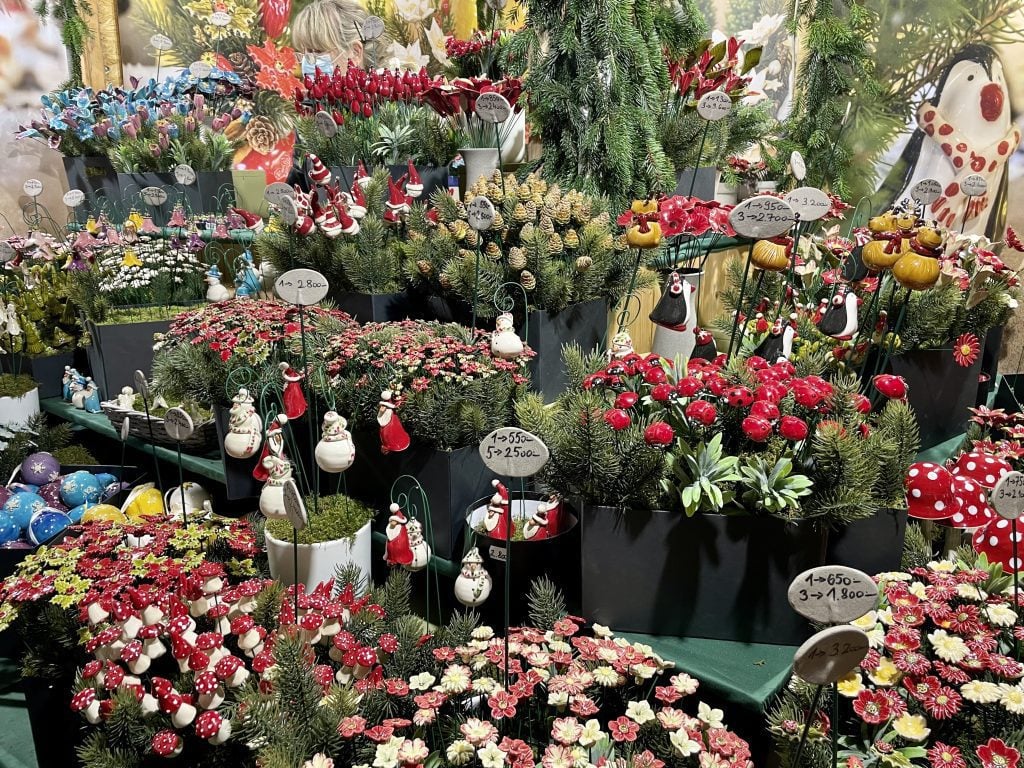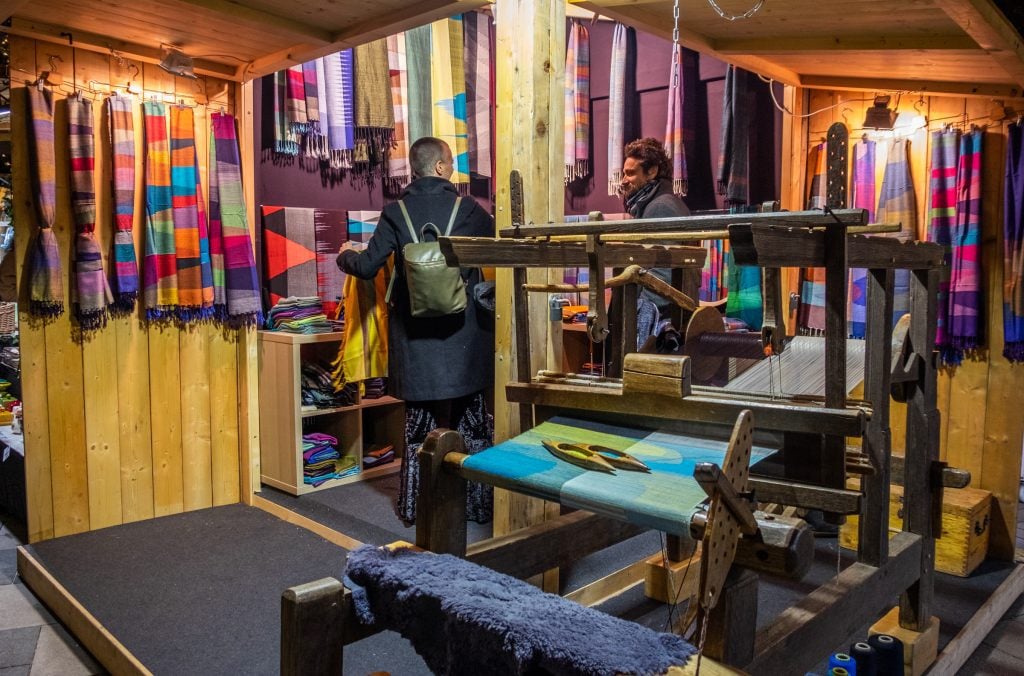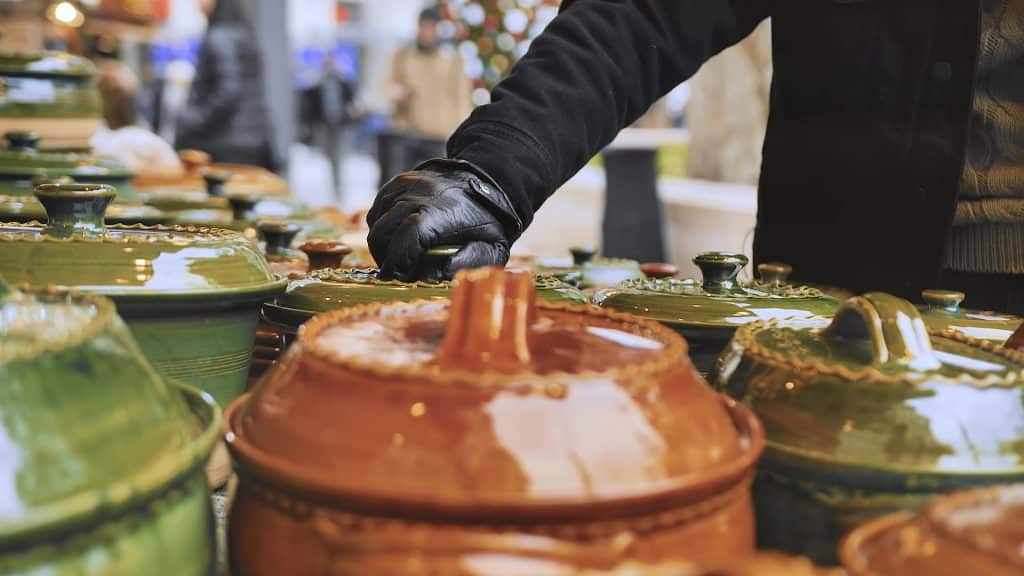 If you're looking for winter wear, you'll find plenty of options — think long, heavy coats and the kind of hats that have flaps over the ears.
I browsed the print selection closely. Prints are one of my favorite things to buy on my travels — my walls have so much art on them! It's time to put together a new gallery wall behind the couch.
Paprika stuff makes a great gift for the foodie in your life. Hungarians are serious about paprika and you find it in various forms here, including freshly ground, in spice blends, and even in tubes (just squirt it into a beef stew and boom, you got goulash!).
And while I didn't get any photos, there was some beautiful cookware at the market on Vörösmarty Square — beautiful pans in shades of emerald and sapphire. The kinds that look like they can handle anything but also make beautiful serving dishes for the holidays.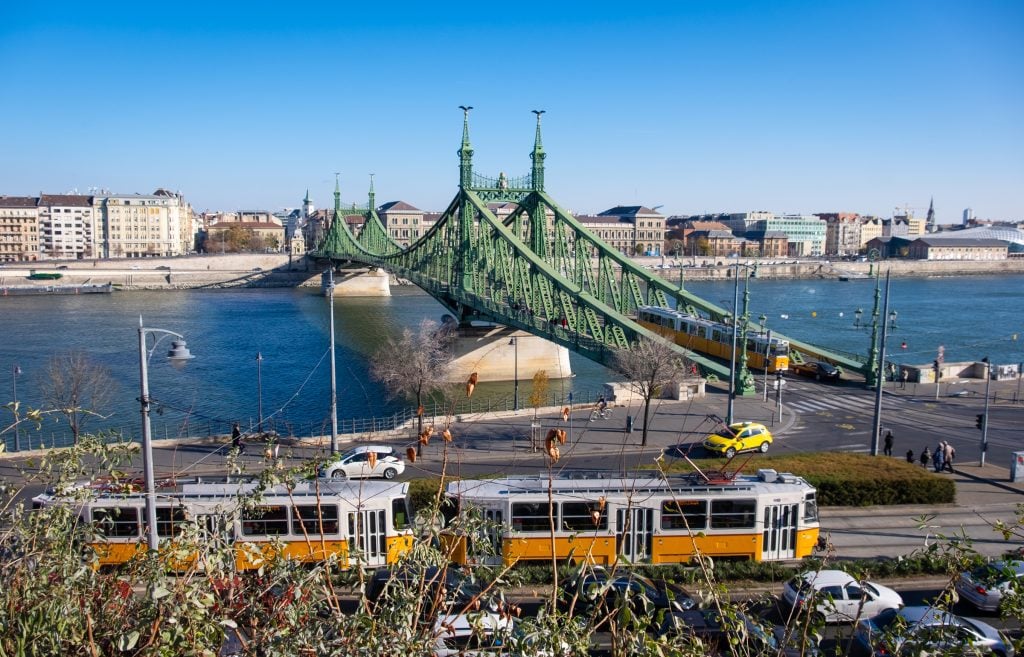 Things to Do in Budapest Around Christmas
Budapest is a wonderful city to visit year-round, but here are a few of my favorite things to do during Christmas in Budapest.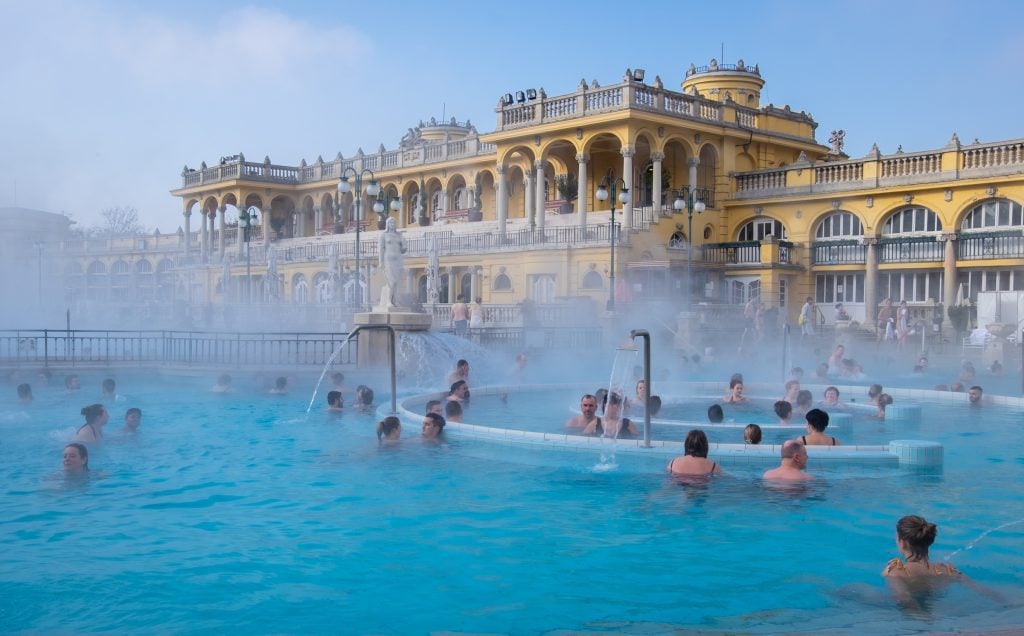 Szechenyi Baths
Budapest is a city of thermal baths. There are many to choose from in the city, from the stunning tourist magnets to the understated local options. You should experience at least one.
And if you're going to visit one, make it the visual stunner — the Szechenyi Baths. Here you have an ornate baroque yellow and white building home to outdoor baths, steaming into the air and adorned with statues. There are several indoor baths as well, with pools of various temperatures.
And the outdoor bathing areas are SO nice on a chilly day! It's wonderful sliding into the hot baths while breathing in the cool, crisp air.
My tip: bring flip-flops and towels (they charge for both, and you must buy, not rent). You only need a bathing cap if you're swimming in the outdoor swimming pool.
Proof of vaccine is required to enter the Szechenyi Baths. You get 20% off admission with the Budapest Card (10% off with code ADVENTUROUSKATE).
Looking for more baths? The Lukacs Baths have free access with the Budapest Card, and the Rudas Baths give you 20% off admission with the Budapest card. The Rudas Baths are traditional and often sex-segregated, so check the schedule before you go.
(Back in the day I visited and enjoyed the Gellert Baths, but they are about to close for a much-needed renovation.)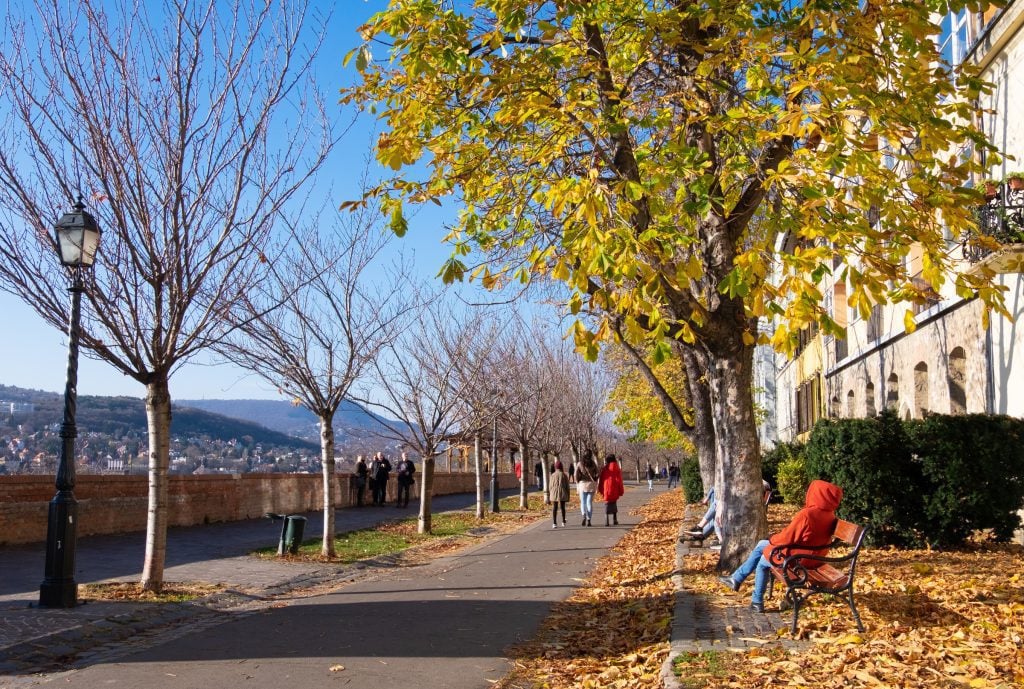 Explore Buda
Pest may be the heart of central Budapest — but the Buda side is a must-see. Here you have some of the best sites of Budapest, along with stunning panoramic views of the city.
It's a long, steep walk uphill, so take advantage of the Buda Castle Funicular or the Budapest Castle Bus. Explore Matthias Church (don't miss the chapel of the Black Madonna, which to me looked like it was covered with uterus and ovary symbols!), wander the Fisherman's Bastion, a major Instagram hotspot, and take a look at Buda Castle, where Katy Perry shot her Firework video!
But mostly walk around and enjoy the scenery. This part of Buda is very peaceful and beautiful.
The Budapest card (10% off with code ADVENTUROUSKATE) gives you free admission to Matthias Church, free admission on the Funicular, and free admission on the Budapest Castle Bus, as well as free admission to the Castle Museum and a free Cityrama walking tour of Buda. If you've got more time, take the Zugligeti Chairlift into the Buda Hills — also included for free on your card.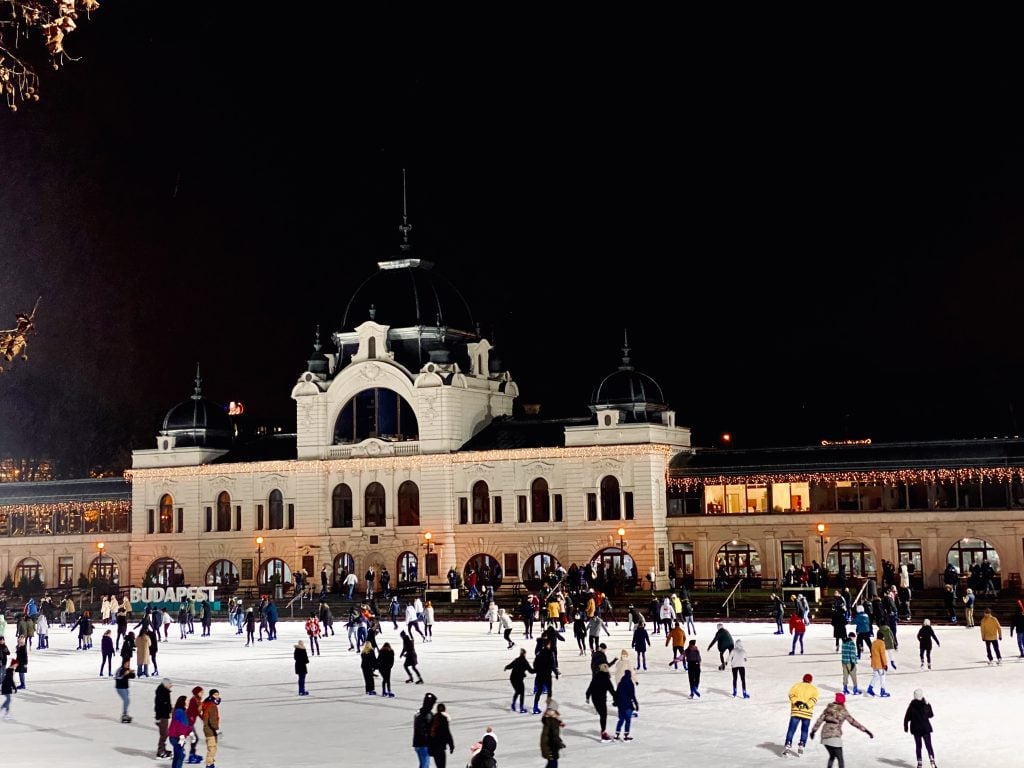 City Park and Ice Skating
Ice skating is a quintessential Christmas activity — and you can find a lovely rink in Budapest. City Park, a large and beautiful park worth exploring, is home to Városligeti M?jégpálya — an ice rink overlooking the park's castle.
No skates? No problem. You can rent skates there.
City Park is close to the Szechenyi Baths, Heroes' Square, and the Museum of Fine Arts, so it makes sense to plan all these activities in the same time frame if you want to be efficient.
You can also find small ice rinks at the St. Stephen's Basilica Christmas Market and the Óbuda Christmas Market.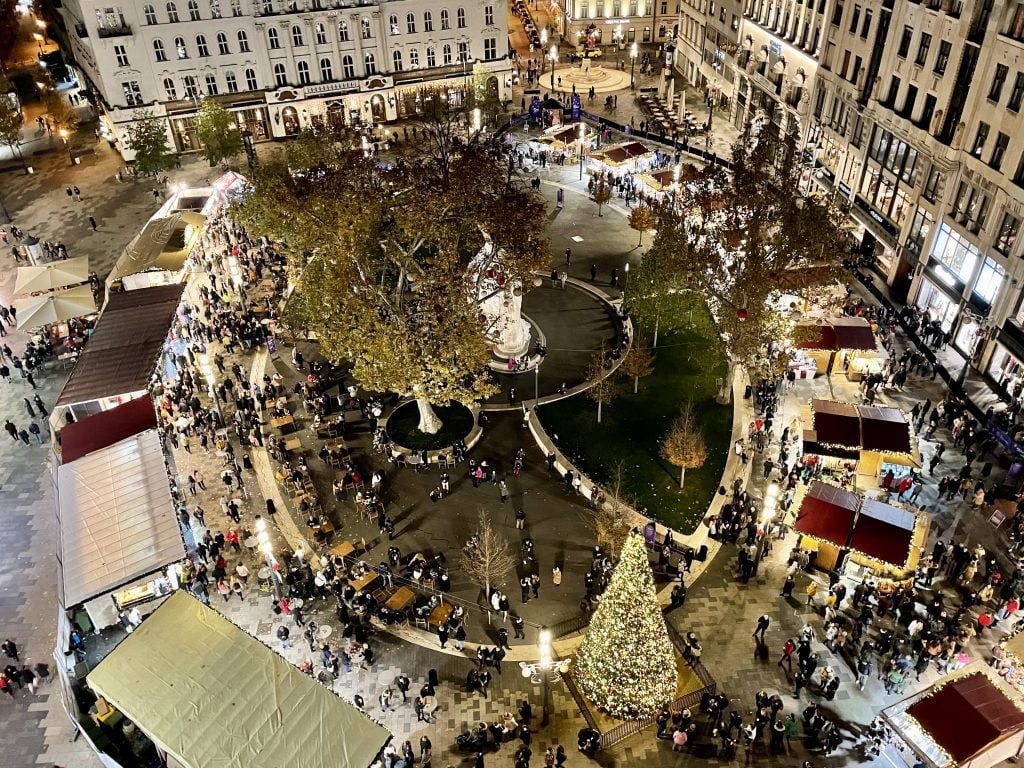 Rooftop Cocktails at St. Andrea Wine and Skybar
This rooftop bar is a must on a Budapest Christmas trip — St. Andrea Wine and Skybar overlooks the Christmas Market on Vörösmarty Square. You need to go for the photo alone!
This place fills up quickly, so make a reservation if it's later in the evening. Surprisingly, our favorite cocktail was the Kagura, which was actually a non-alcoholic mocktail with interesting tropical and spice flavors.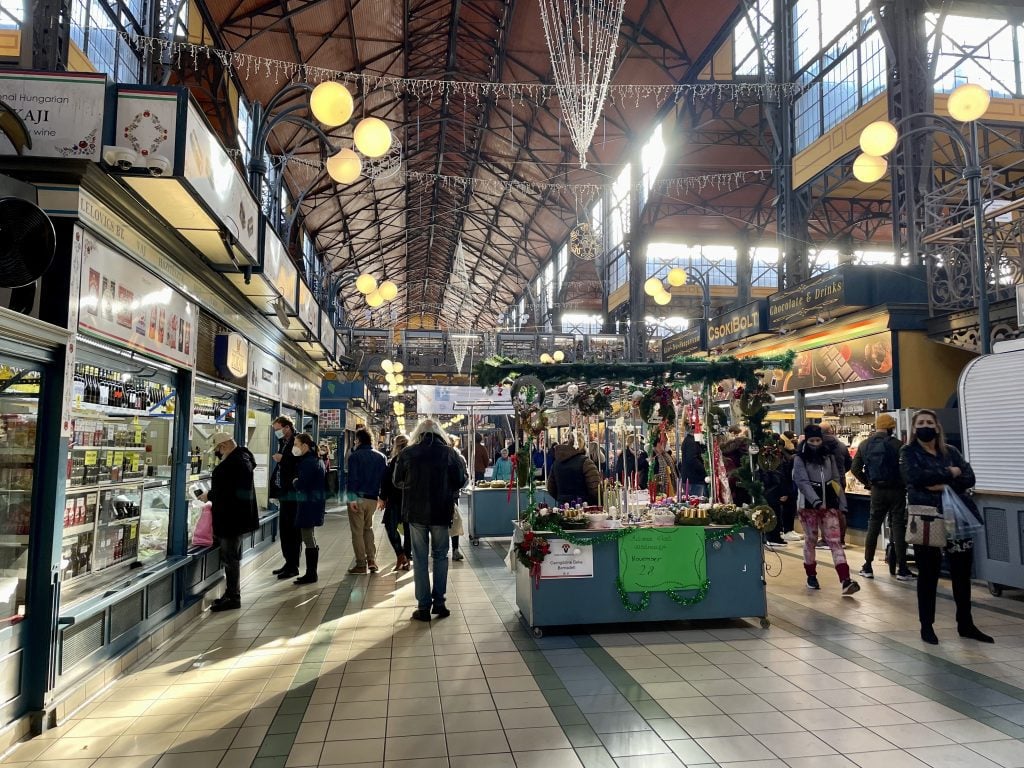 Central Market Hall
I think the Central Market Hall (also called the Great Market Hall) is a must for anyone visiting Budapest. Whether you want to grab a bite to eat, browse for souvenirs, or simply giggle at Fakanal Restaurant, a stop here is definitely worth your time!
The top level is primarily dedicated to souvenirs, while the ground floor has a variety of food vendors. I found some cool vintage Budapest postcards by the same artist who made many of my favorite vintage Croatia postcards.
My tip: Grab a pastry at Rétes, in the center on the ground floor of the market hall. I had a nice sour cherry and poppyseed pastry, and they have many different flavors.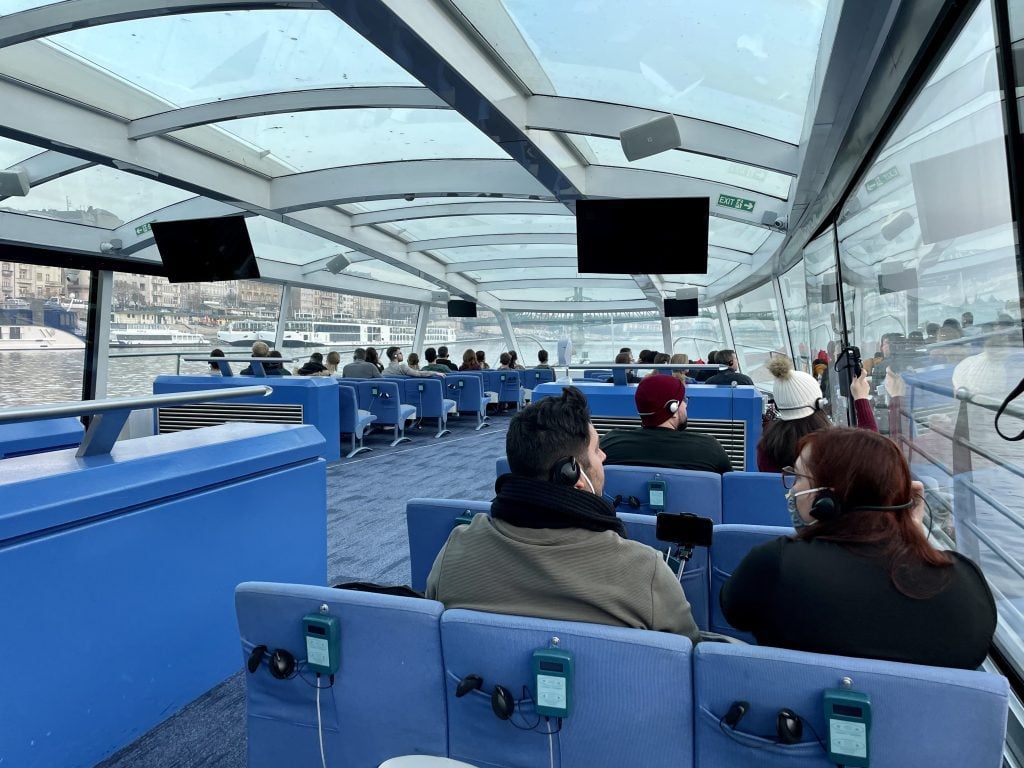 Danube River Cruise
Budapest is a feast for the eyes, especially when you view it from the Danube. This city has some of the best riverside views in Europe. So I highly recommend getting on a boat.
I hopped on a Legendary Duna Bella cruise, which is included with the Budapest Card. This cruise on a comfortable glassed-in boat has a headphones-on guide in 30 languages (!!), from Portuguese to Korean.
My tip: Go for the last cruise of the day. During Christmas Market season, that's at 3:30 PM, and the sun sets during the cruise. It's a wonderful way to unwind after you've taken 20,000 steps running around the city and need a break while still exploring the city.
I couldn't think of a better way to end our day in Budapest than chilling out in a comfy seat, sipping a tea, and watching the city go by.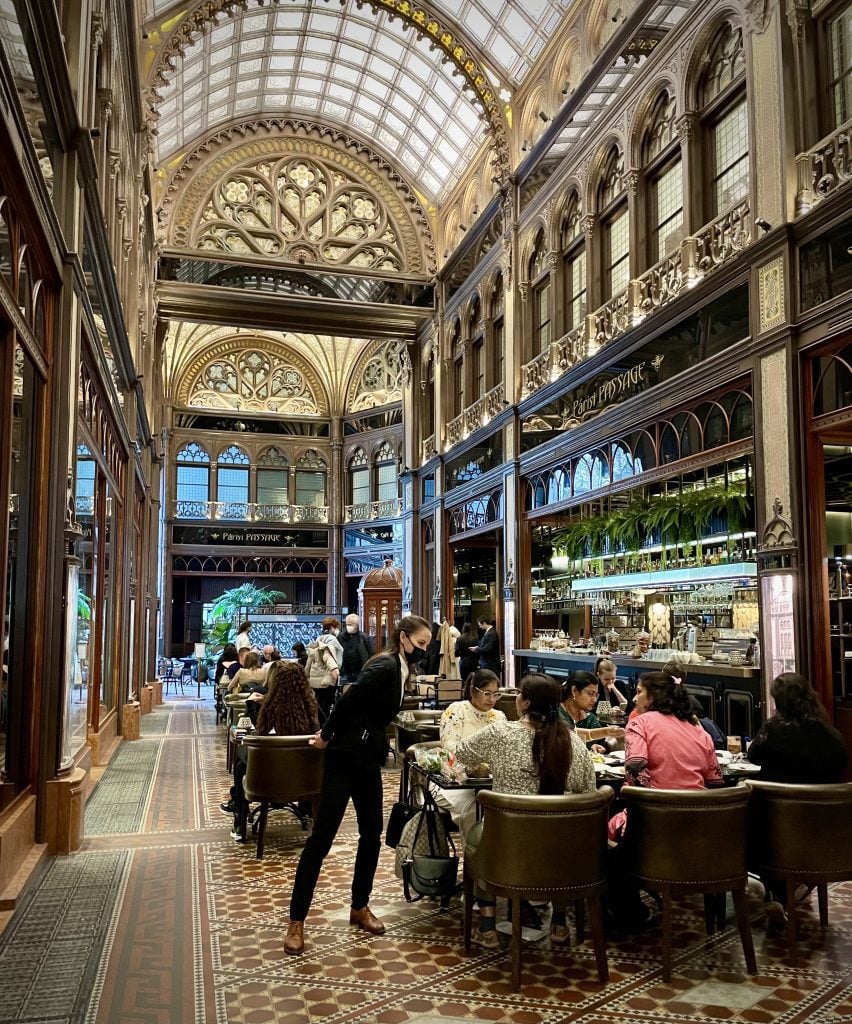 Gorgeous Cafes
If you're looking for an Instagrammable cafe, you're in luck. Budapest has a wonderful cafe culture — yet somehow it doesn't get the fame of other Central European cities' cafe cultures. Coffee is good and the desserts are legendary!
On this trip I visited Párisi Passage Cafe, which is located in one of Budapest's iconic buildings and blew me away with its beauty. They had a fantastic three-course lunch special, but if you're on a budget, just come in for a coffee or tea. You'll still get to enjoy the atmosphere.
Párisi Passage is a bit under the radar in Budapest — the crowd looked entirely local. But two other cafes that are huge tourist favorites are the New York Café, with perhaps an even more ornate interior, and Cafe Gerbeaud, which is right on Vörösmarty Square, making it a good place to warm up after visiting the Christmas Market.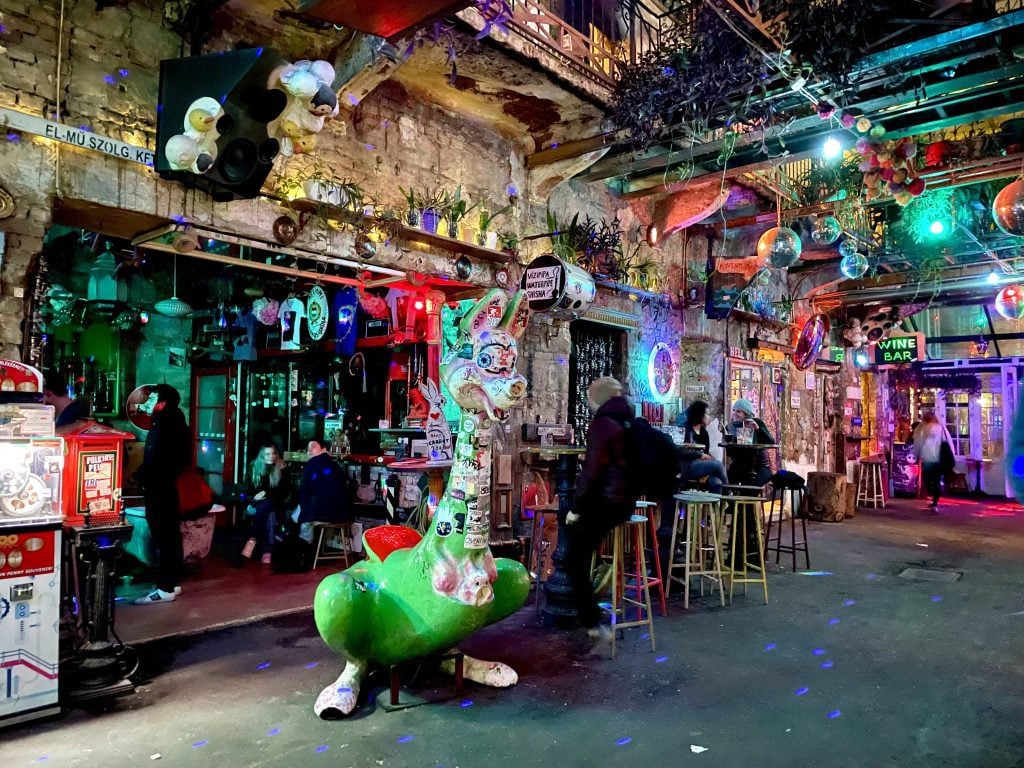 Ruin Bars
Did you know that Budapest has a ruin bar culture? These bars are SO much fun! They are made in formerly dilapidated buildings and have several levels, rooms, bars, and nooks, a mix of indoor and outdoor space, each area decorated interestingly (often strangely) with affordable drinks and an unforgettable atmosphere!
One thing I really liked is that Budapest's ruin bars tend to be open all afternoon, too — it's not just a nighttime activity. This way you can visit more.
So which Budapest ruin bars are worth visiting? Two that I highly recommend are Szimpla Kert and Instant-Fogas Complex. Szimpla is the original ruin bar of Budapest and Instant-Fogas is a complex of several — so either place (or both!) will give you the quintessential experience.
If you get hungry on your bar crawl, check out Mazel Tov — it's like a grown-up ruin bar that has morphed into an Israeli restaurant with fantastic food.
Not up for going out on your own? Join a ruin bar tour with a local! Not only is she a friendly expert, she's a pro photographer and will get great shots of you in these killer locations.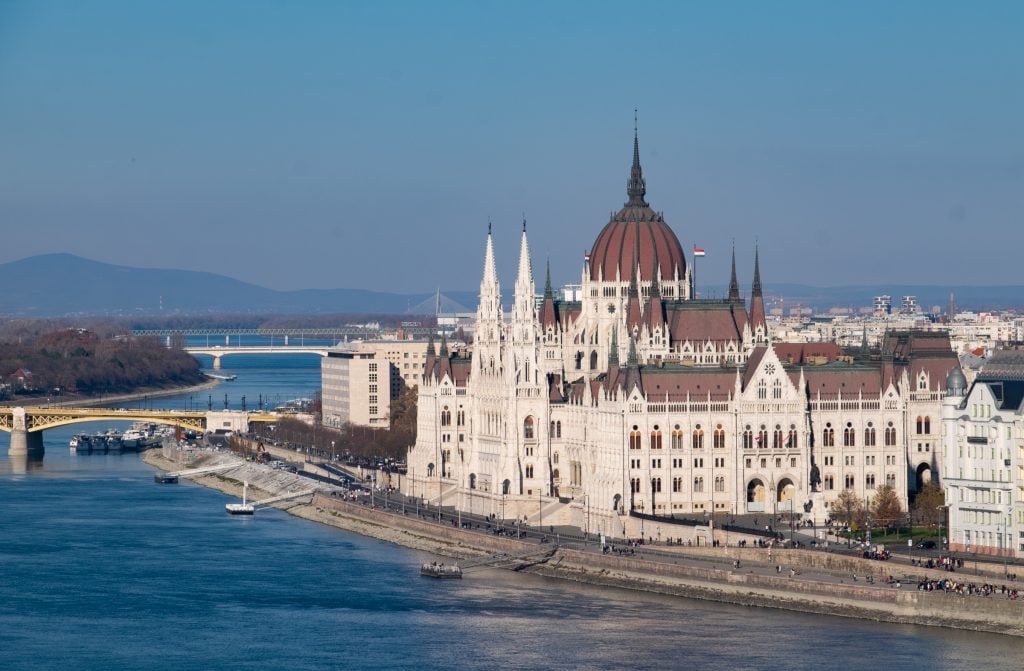 More Cool Things to Do in Budapest
Here are a few more cool activities and excursions in Budapest that I spotted.
Get a professional photo shoot in Buda, overlooking the city. Professional photos with one of Europe's most gorgeous river views — for WELL under $100. I love getting this done in different cities.
Go on a Budapest food tour, stopping in 6-8 eateries and trying the local specialties. Learn all about a truly dynamic and proud city.
Take a farm-to-table Hungarian cooking class! This highly rated class has you cook a traditional Hungarian meal mongst new friends (vegan and vegetarian options abound!).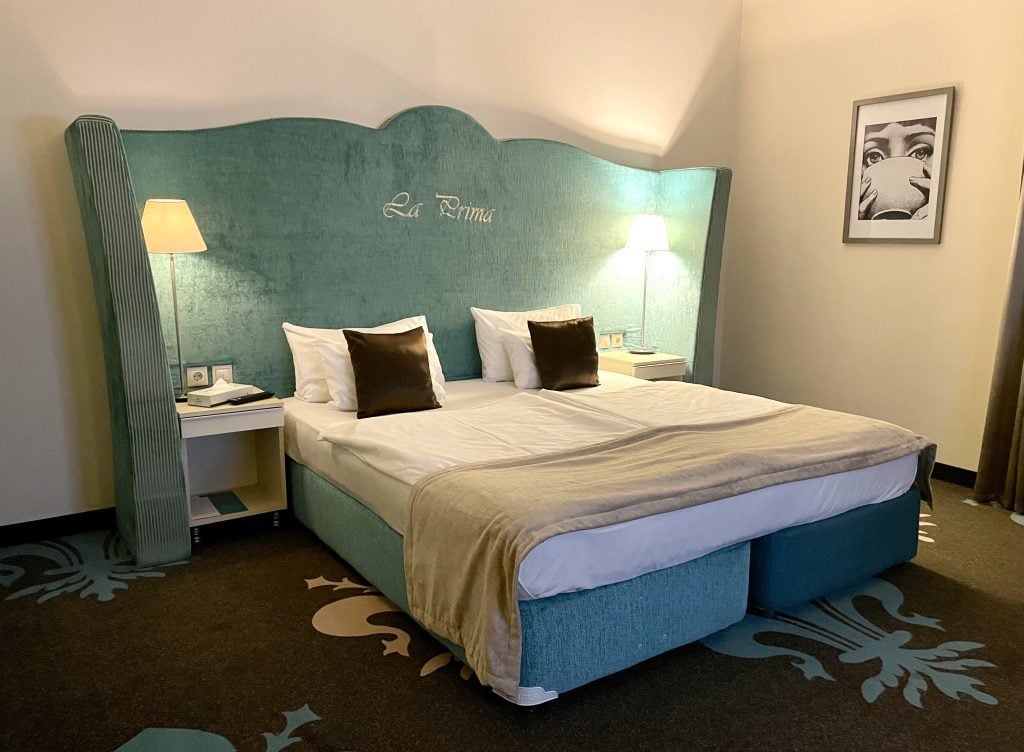 Where to Stay in Budapest
If you're visiting Budapest for the Christmas markets, it can be helpful to stay in a hotel close to the action. It makes it that much easier popping into the market throughout the day — in the afternoon when it's less crowded, at dinnertime for a quick bite — and it's easy to get home after having a few mulled wines!
I stayed at La Prima Fashion Hotel, a mid-range hotel that is a five-minute walk from the main Christmas Market on Vörösmarty Square.
I usually go for mid-range hotels on city breaks, and La Prima gave me everything I needed — a quiet atmosphere despite its easy access to central Budapest, a very comfortable bed (with super-comfy pillows, a rarity), staff that take COVID protocol and masking seriously, and breakfast included.
If you stay at La Prima Fashion Hotel, be sure to grab dinner at a restaurant called Kiosk — it's just around the corner, has a fabulous interior, and the food is delicious! Book ahead on weekend nights.
Recommended Budapest Christmas Markets Accommodation
Find deals on Budapest hotels here and see all Budapest apartment rentals here.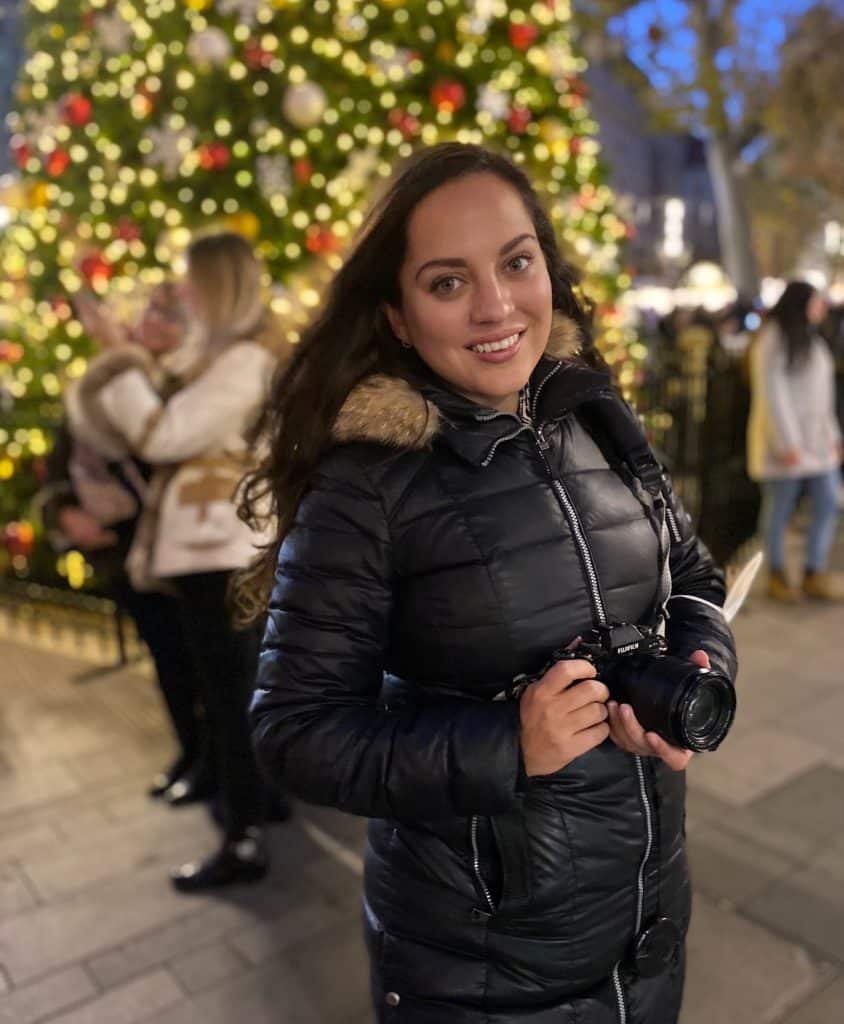 Budapest Christmas Markets: The Takeaway
Budapest is a wonderful city for visiting the Christmas markets! It may not be an obvious choice for a Christmas market trip, but it brings the holiday season beautifully. I had such a wonderful time here.
Go enjoy your time at the Budapest Christmas markets — then come back and tell me all about it!
More Christmas Markets in Europe:
How to Plan a German Christmas Market Trip
Scenes from Christmas in Bavaria, Germany
Have you been to Budapest's Christmas markets? Share away!
The post Visiting the Budapest Christmas Markets in 2021 appeared first on Adventurous Kate.