What is the worst thing you could possibly do in Boston? Throw a one-woman "Dunkin' Sucks and I Love the Yankees" parade? In January? In flip-flops? Wow, actually, that might be the most "what NOT to do in Boston" moment I can imagine.
I grew up 20 minutes outside Boston, spent several years living in downtown Boston and Somerville, and I return to the city often. Being from Boston, I have a lot of strong opinions about my home city!
Boston attracts all kinds of travelers — history fans looking to get their American Revolution on, girls trips here for restaurant-hopping and dancing, families looking for an educational and fun trip, high school students and their parents scoping out colleges.
No matter what kind of traveler you are, you'll have a great time in Boston. As long as you have a pretty good idea of what is taboo in this city.
Here is everything you need to know about what NOT to do in Boston.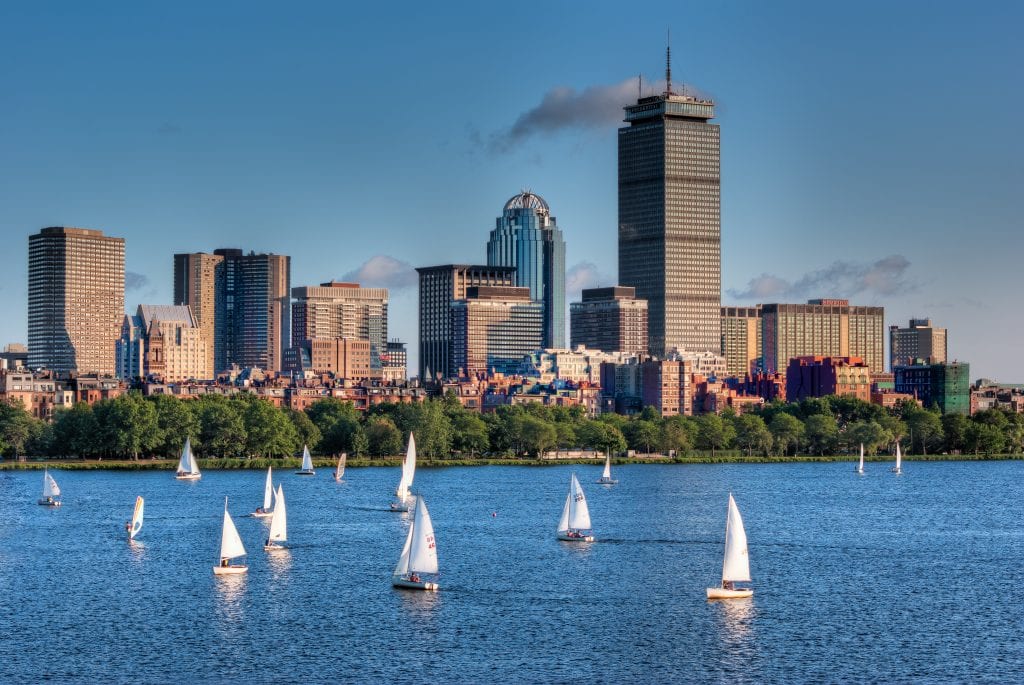 Don't ask people if they park their car in Harvard Yard.
Everyone who comes to Boston attempts to do the accent at some point. Everyone. And this go-to phrase, the quintessential Boston accent performance, is like nails on a chalkboard to a New Englander. (Personally, I prefer the phrase I got chowder in my trousers.)
Yes, we know, the Boston accent is hilarious. It's also an exceptionally difficult accent to imitate. Almost nobody can pull it off, even some highly lauded actors.
It's a point of contention with Bostonians that most Boston movies are filled with terrible accents — which, frankly, is a huge distraction for us when watching these movies.
There is only one actor who I think successfully pulled off a seamless Boston accent: Jeremy Renner in The Town, who sounded like he had Charlestown flowing through his veins.
Alec Baldwin WISHES his accent sounded like that. Hell, Ben Affleck wishes it, too.
I said what I said.
In short, if you've ever worked as a cashier and were ready to murder the millionth person who said, "Guess it's free," when something didn't ring up, you'll understand why you shouldn't ask if someone pahks the cah in Hahvahd Yahd.
Even worse? Saying, "Oh, you're from Boston! So you drink cwaffee?"
Eek.
No. That's New York. I'm genuinely shocked at how often people assume "cwaffee" is Boston vernacular.
That being said, if you want to watch something stereotypically Boston and yet perfect, I encourage you to watch SNL's Dunkin Donuts sketch with Casey Affleck from 2016. This sketch is so incredibly, blindingly accurate — "CUT YA NAILS, F'GOD'S SAKE!" — that it was all my family could talk about at Christmas.
Don't wear Yankees gear.
This is actually a serious one. You probably know that Boston is a huge sports town. You probably know that the Boston's Red Sox's biggest rival is the New York Yankees.
You might even know that "Yankees Suck" chants fill the air surrounding Fenway before, during, and after a game when they win against the Orioles, or the Blue Jays, or the Royals.
But you don't know just how deep the rivalry runs until you show up wearing pinstripes.
Wearing another team's sports gear — whether you're repping the San Antonio Spurs or USC — is actually a good conversation starter in Boston. After all, most Bostonians love talking about sports with out-of-towners.
But wearing Yankees gear, even a Yankees hat, will get you constant dirty looks and snide comments from Bostonians. Trying to order a drink in a bar? You will be served last.
"But I'm a nice person!" you may protest. "I don't care that we're rival teams! I just like the hat!"
Oh, I don't doubt that you're a nice person! But wearing a Yankees hat in Boston will get you off on the wrong foot immediately with everyone you meet.
I've actually had great times with Yankee fans in Boston. Derek Jeter's final game was in Boston in 2014 and tons of Yankee fans came up to cheer him on. All of Fenway Park gave him a standing ovation. Later that night, my friend and I shared a scorpion bowl with two Yankee fans at the Hong Kong in Faneuil Hall as we toasted "the captain" together.
So yes. There's some genuine affection there underneath it all.
Even so…wearing Yankees gear will make things worse for you in Boston. Don't even bring that hat with you.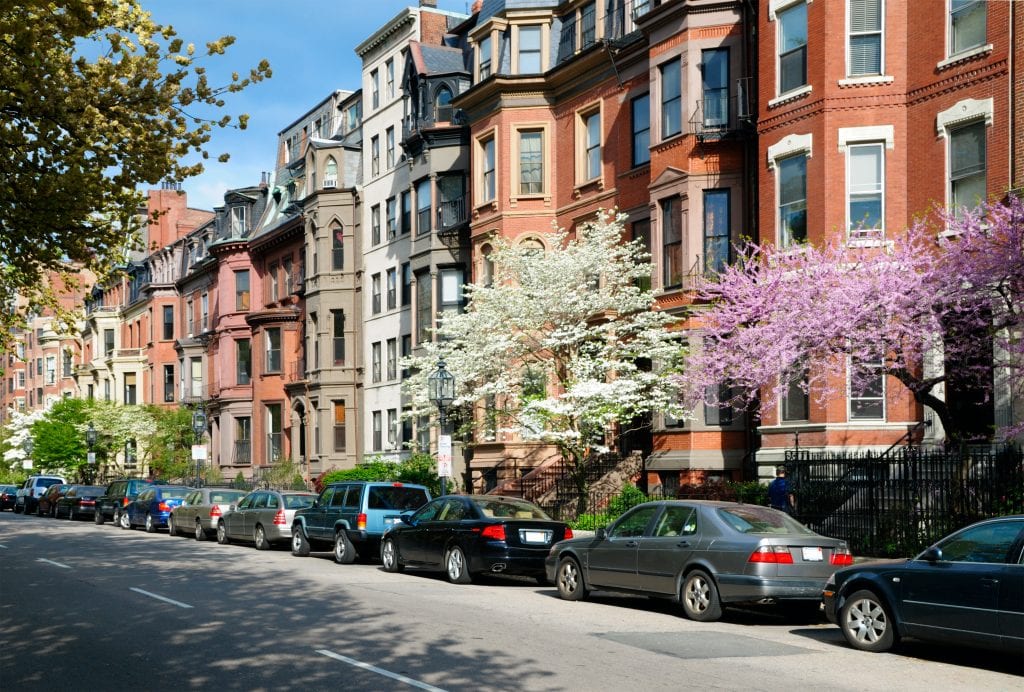 Don't drive. It won't end well.
In most cities, drivers refuse to follow the laws of the road. Boston drivers refuse to follow the laws of physics.
On top of that, Boston's street layout dates back to the 1600s. It's a net of twisted streets, one-ways, and secret passages that only the most seasoned locals know about.
And that's after the Big Dig, Boston's notorious multi-year transportation makeover project, finished! You don't want to know what it was like before. (Ask me about the time my friends and I tried to drive into the North End as 17-year-olds in 2002. There was screaming.)
Plus, there's the parking factor — either paying for an expensive garage or driving around in circles looking for street parking. (On that 2002 trip, firefighters took pity on us and let us park in their driveway.)
I had a car when I lived in Somerville, which is a bit of an urban/suburban hybrid next door to Boston. But as soon as I moved to Fenway, I got rid of my car and haven't owned one since. Boston is one of the few American cities where you don't miss having a car.
That being said, if you're looking to rent a car for a day trip or two outside Boston, go ahead! I encourage that! Having a car can get you to harder-to-reach spots, especially since the commuter rail doesn't run as often as it used to.
Looking for travel inspiration?
See the best day trips from Boston and my ultimate guide to the Berkshires.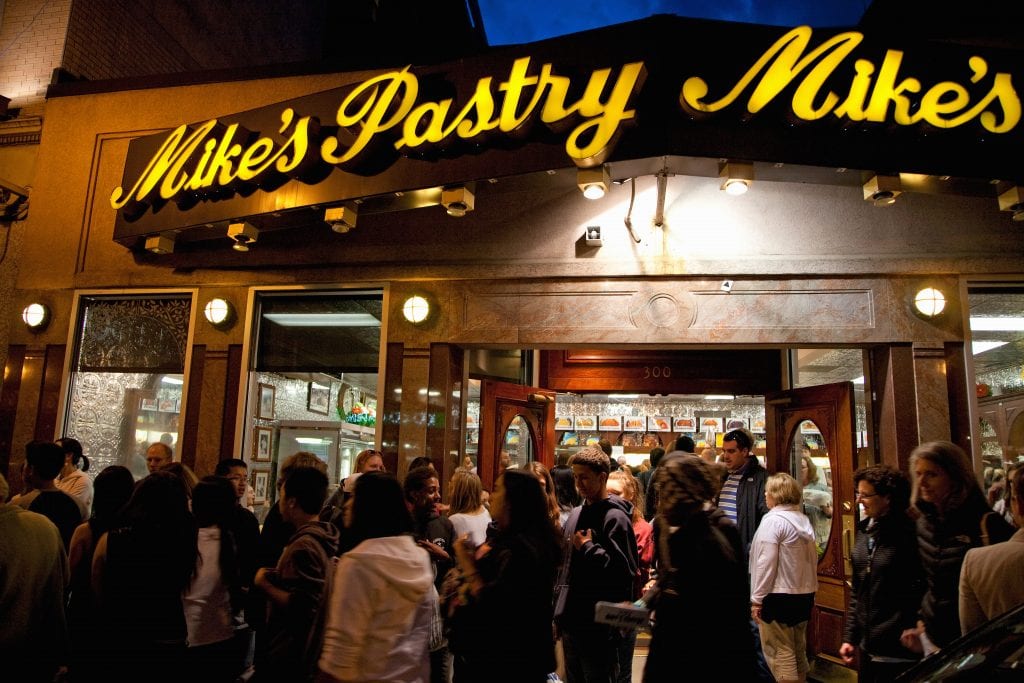 Don't get a cannoli from Mike's Pastry.
The North End is the traditionally Italian neighborhood of Boston, though that's been changing a lot over the years. Today most of the Italians who live in the North End are elderly, and as the neighborhood has gentrified, housing prices have risen exponentially.
Even so, Hanover Street brings Italian-American enthusiasm with its cafes, pizza joints, and bakeries. Green, white and red flags cover the streets; St. Anthony's Feast in August brings a parade, turning the neighborhood into a street party.
Mike's Pastry is the most famous place on Hanover Street, and you'll know it when you see the lines down the block.
But is it worth the wait? I don't think so.
Any cannoli connoisseur knows that you don't fill cannolis with ricotta until you order them. If not, they sit around all day and get soggy. And what does Mike's Pastry do? They fill them in the morning and let them sit around all day!
Unacceptable!
Instead, do what I do and go to Modern Pastry, right across the street. This is my favorite place to get pastry in the North End — especially cannolis, which are filled with ricotta the moment you order them.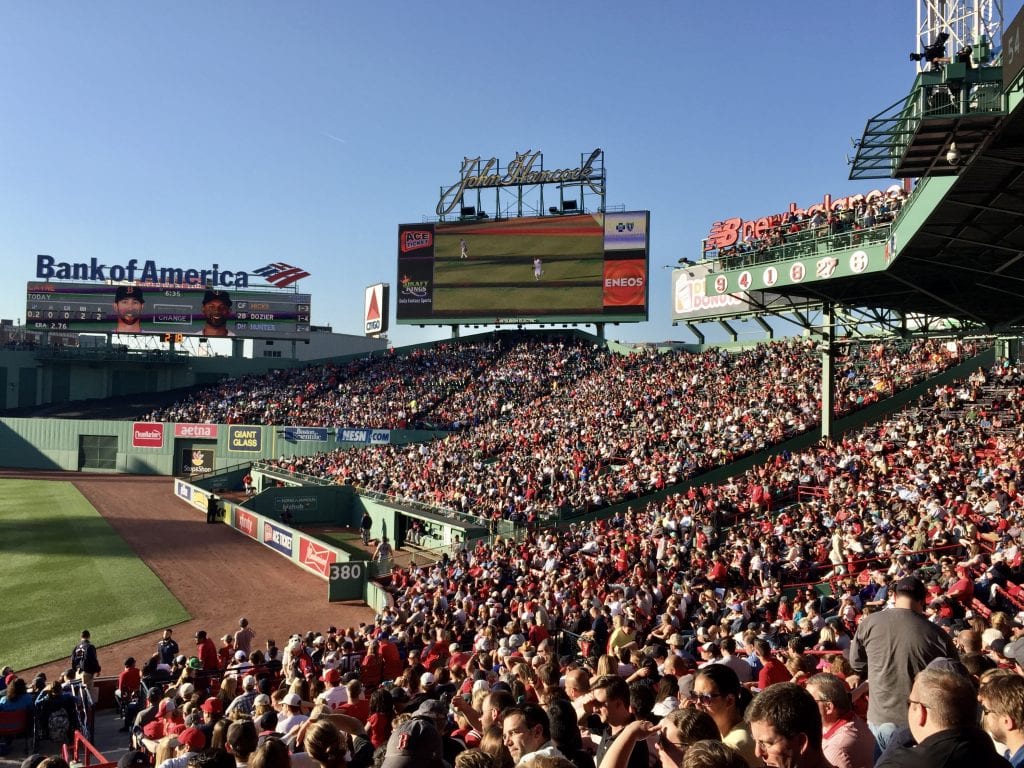 Don't buy Red Sox tickets before doing your research.
Going to a Red Sox game is one of the best things you can do in Boston — even if you're not a sports fan! I personally am not much of a sports fan, but I love Red Sox games because they're such a cultural experience.
It's about singing "Sweet Caroline" during the seventh inning stretch. It's about celebrating at the bars before and after the game. It's about cheering and groaning with a few thousand of your new closest friends.
However, it is critically important to do research on the seats at Fenway Park, and this is something that is not public knowledge.
Fenway Park opened in 1912; it's the oldest Major League park still in use today. As a result, part of the stadium was designed for 1912 bodies, which were much smaller than 21st century bodies.
If you are heavy, tall, or large in any way, avoid the Grandstand sections 1-33. Those are the smallest seats in the park and they can be uncomfortable.
I know people who booked seats in the Grandstand and ended up spending most of the game in the standing room only section. Make sure this doesn't happen to you.
On the other hand, the Grandstand is home to the only shaded parts of the stadium, so you might want to get seats there if you're going to a day game during the summer, just to give yourself relief from the sun.
If I go to a day game, I'm sitting in a shaded part of the Grandstand. If it's a night game, I'll sit anywhere.
Finally, if you're lucky enough to get tickets to the seats atop the Green Monster, the legendary green wall in the park, don't pass it up! Monster Seats are a bucket list experience for many Bostonians.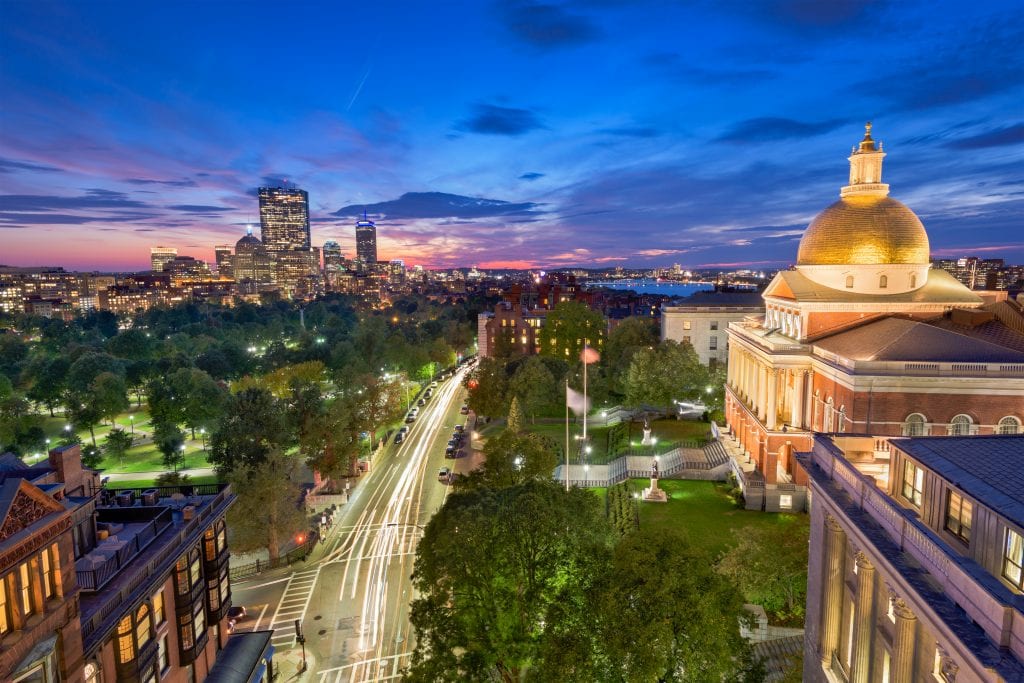 Don't plan to go out past 2:00 AM.
Boston shuts down early. How early? Last call is at 1:45 AM; doors shut at 2:00 AM. The last trains and buses of the night depart their stations at 1:00 AM. This can be frustrating if you're a night owl from a city with much later hours!
Is there anything to do after 2:00 AM in Boston? I think I tried all of them in my early twenties. (Fun fact: I got my start in travel writing as a Boston nightlife writer!)
The South Street Diner is open 24 hours. So is Bova's Bakery in the North End. And back in the day there used to be an after-hours club called Rise that sold nothing but Red Bull; that's long gone now.
But the most solid option is Chinatown, where plenty of restaurants are open late. Just follow the crowds.
And if you want to keep drinking, ask for the "cold tea." They'll bring you a teapot of beer. (Note: this does not work if a cop or bouncer-type is hanging out in the restaurant.)
It's not a lot, but it's something. And if you think this is bad, just thank your lucky stars that Uber exists today. Imagine spending 45 minutes fighting for cabs with dozens of drunken Bostonians on a freezing February night. Gen Z, you have no idea how easy you have it!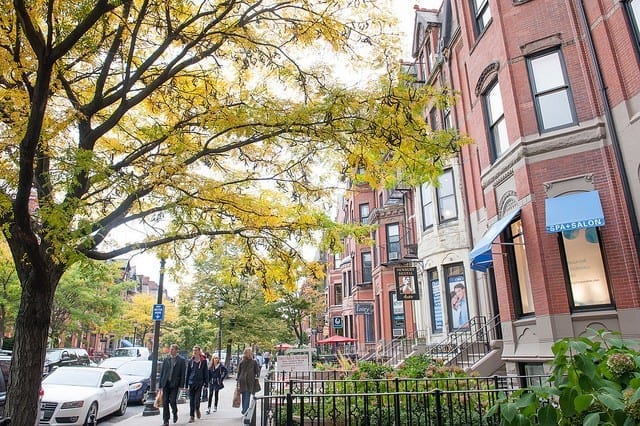 Don't take the T from Back Bay to Cambridge.
Back in the day, I used to go from Back Bay (or the South End, or Fenway) to Cambridge (or Somerville) on the T. It makes sense on paper — hop on the green line and change to the red at Park St., or hop on the orange line and change to the red at Downtown Crossing.
Turns out I was wasting lots of time! Both of those methods end up taking way longer than necessary.
A much easier solution? Jump on the #1 bus. It runs up and down Mass. Ave, all the way from Roxbury to Harvard Square, shaving quite a bit of time off your journey.
A lot of people are intimidated by taking a bus in a new city as opposed to the subway. And I get it! It's intimidating! You need to SIGNAL to get off! But once you step on board, you'll see how easy it is.
If there's any bus tourists should take in Boston, it's the #1!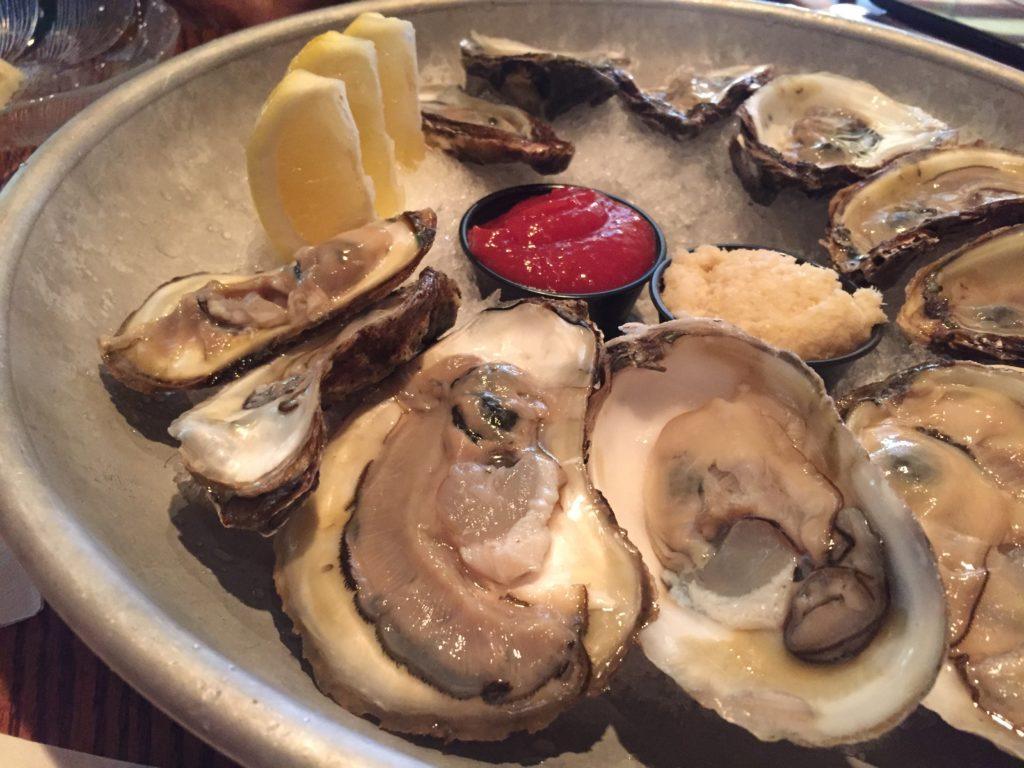 Don't overlook the seafood.
Growing up in Massachusetts, I assumed that everywhere in America had fresh seafood. Today I now realize that other cities don't have it as good as we do.
You should take advantage of some of Boston's best seafood dishes. Ask for what's local. Keep an eye out for Ipswich clams and Wellfleet and Duxbury oysters. If you see "scrod" on the menu, that's Boston vernacular for young cod or haddock.
My absolute favorite place to have seafood in Boston is Neptune Oyster — a TINY place in the North End that serves superb oysters and fabulous lobster rolls. Because it's so small and so popular, you should try to time it at like 3:00 PM on a weekday, and you'll still have to wait to get in.
As for chowdah? Every restaurant puts their own spin on it. Some are thick; others are briny. My personal favorite clam chowder is at Legal Sea Foods, of which there are several locations in and around Boston. They have a low-calorie version, too, but you don't want that. Get the real stuff.
And if you're free in October, consider coming for Chowdafest! After all, October is the best time to visit Boston.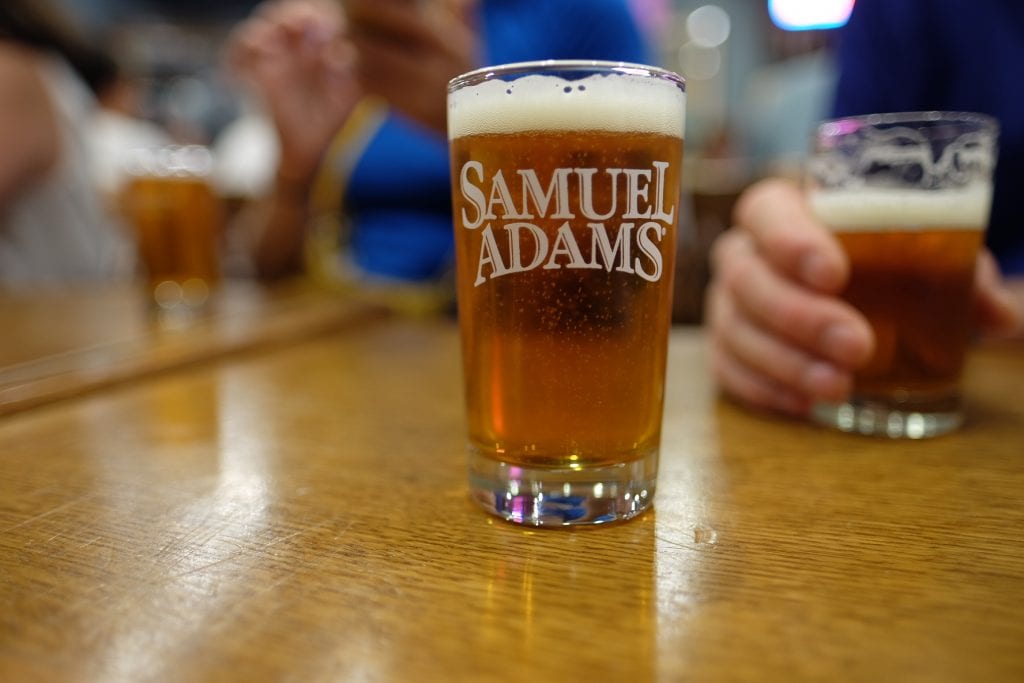 Don't expect Cheers to look like Cheers.
The bar from Cheers was based on an actual bar in Boston — the Bull & Finch, located on Beacon Street, right across from the Public Garden. It was a cozy neighborhood spot where the regulars were like family.
Today the Bull & Finch has been rebranded as Cheers Boston, complete with the iconic sign outside. But a lot of tourists step inside and their faces fall. It doesn't look anything like the show.
Is Cheers worth visiting? Eh. The food's not great; the atmosphere's nothing special. It's worth a beer if you're a Cheers fan, though, and you might end up sitting next to some fellow fans eager to make new friends at their favorite TV bar.
Whenever I take out-of-towners to Cheers, I insist we get a Sam Adams Brick Red Ale, a beer that is only served at select bars within the city limits of Boston. I love how strict they are — you can't even get it in Cambridge!
And if you enjoy that beer, take the orange line down to Jamaica Plain and join the Sam Adams Brewery Tour. That's a much better beer activity in Boston!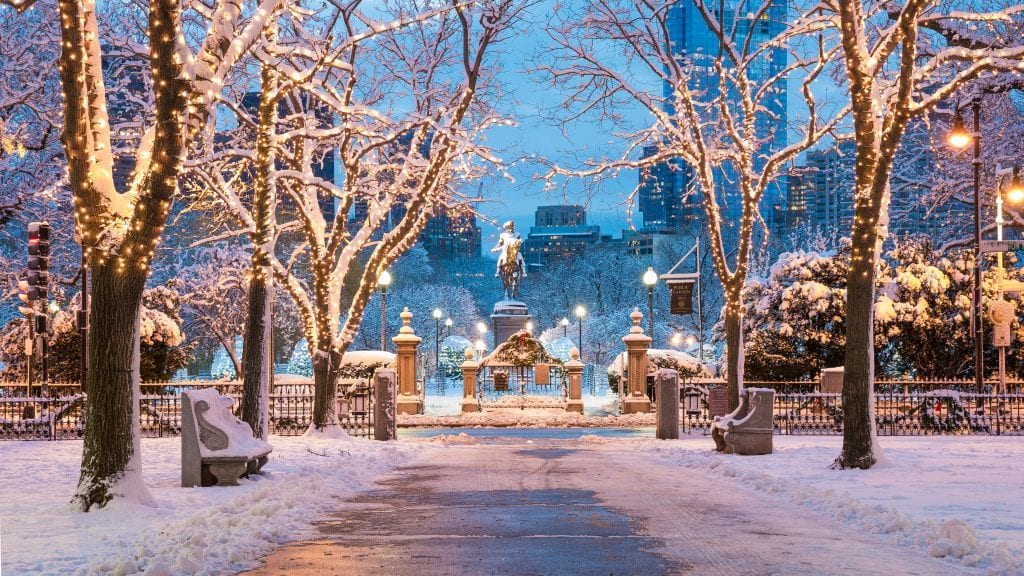 Don't visit Boston in the winter if you're not used to our winters.
As I always say — if you're from Chicago or Minnesota, you know what you're getting into with a Boston winter. If you're from Florida or Texas, you're going to be miserable.
Boston's winters are very cold, very snowy, and very LONG. It's not unusual to get snowstorms as early as November or as late as April, and people are often in their winter coats from October through May.
We get huge snowstorms in Boston — we call them nor'easters here in New England — and most of them hit between January and March. They can dump upwards of 2.5 feet at a time, which can lead to shutdowns, traffic jams, and cancelled flights.
If you do decide to come to Boston in the winter, make sure you have a heavy winter coat, hat, scarf, gloves, and waterproof boots. If you arrive with inadequate gear, head to Newbury Street and stock up at Uniqlo or H&M for cheap.
The good thing is that Boston has so many fun indoor activities, especially museums, so you'll be able to enjoy yourself while staying toasty.
Finally, don't assume that March is springtime. Sure, we might have a warm day or two, but March is one of the snowiest months of the year. It might be spring break on the calendar, but it's definitely not spring in Boston!
Don't rub the foot of the John Harvard statue.
If you head over to Cambridge to explore Harvard and its environs — and you should! — you'll see the sitting statue of John Harvard, his foot burnished gold. Tourists from around the world come to rub his foot for good luck, then continue on their way.
Well.
Harvard likes a good prank. (MIT's hacks are better, but yes, Harvard is known for the occasional prank.)
And one of the most popular pranks is for Harvard students to pee on the foot of the statue in the middle of the night, then tell tourists to rub it for good luck.
Now you're going in with your eyes open. And hopefully armed with hand sanitizer.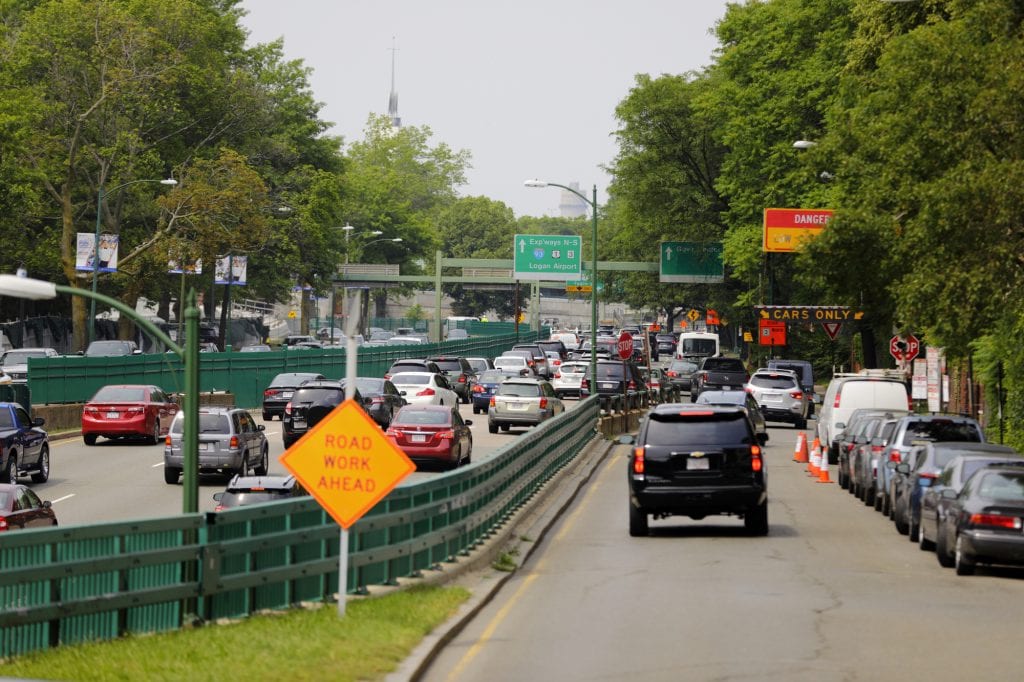 Don't drive a U-Haul down Storrow Drive.
That might sound a little overly specific, but trust me here. This happens so often that it deserves its own spot on this list.
Boston is a college town, which means there are lots of students moving into new apartments on September 1. And most of them are coming from outside Boston, without the lifetime of Boston knowledge that most of us have.
Storrow Drive is a highway running along the Boston side of the Charles River. You need to take it to get to many neighborhoods in Boston. However, because there are so many low bridges over it, Storrow Drive is limited to cars only. There are signs everywhere that say CARS ONLY.
Yet every September 1, every single year, at least one moving truck gets wedged under one of the bridges on Storrow Drive, freaking out the driver and causing traffic delays all over town. Which is why many Bostonians welcome September 1st with dread.
Every year, someone gets stuck under there. Make sure it's not you!
Planning a trip? Let me help!
Where to Stay in Boston — Best Neighborhoods and Accommodation
Top 10 Travel Safety Tips for Women
What NOT to Do in New York, ltaly, Croatia
See all Boston posts here.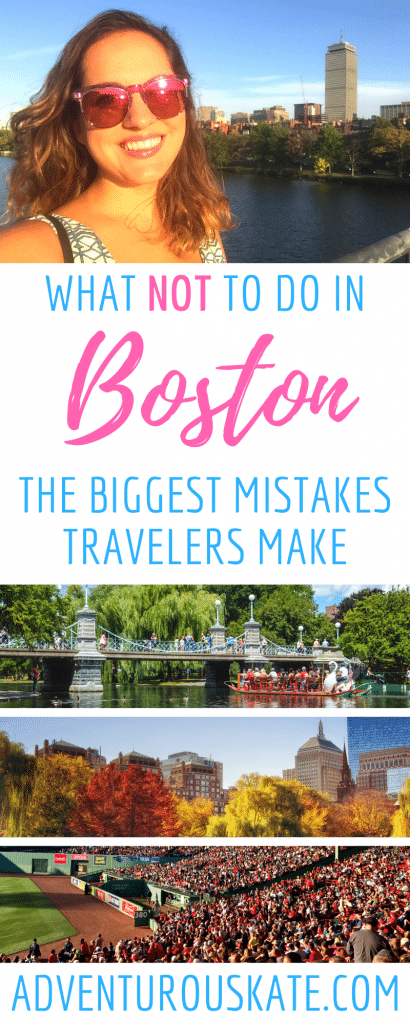 Have you been to Boston? What would you add to this list?
The post What NOT to Do in Boston appeared first on Adventurous Kate.