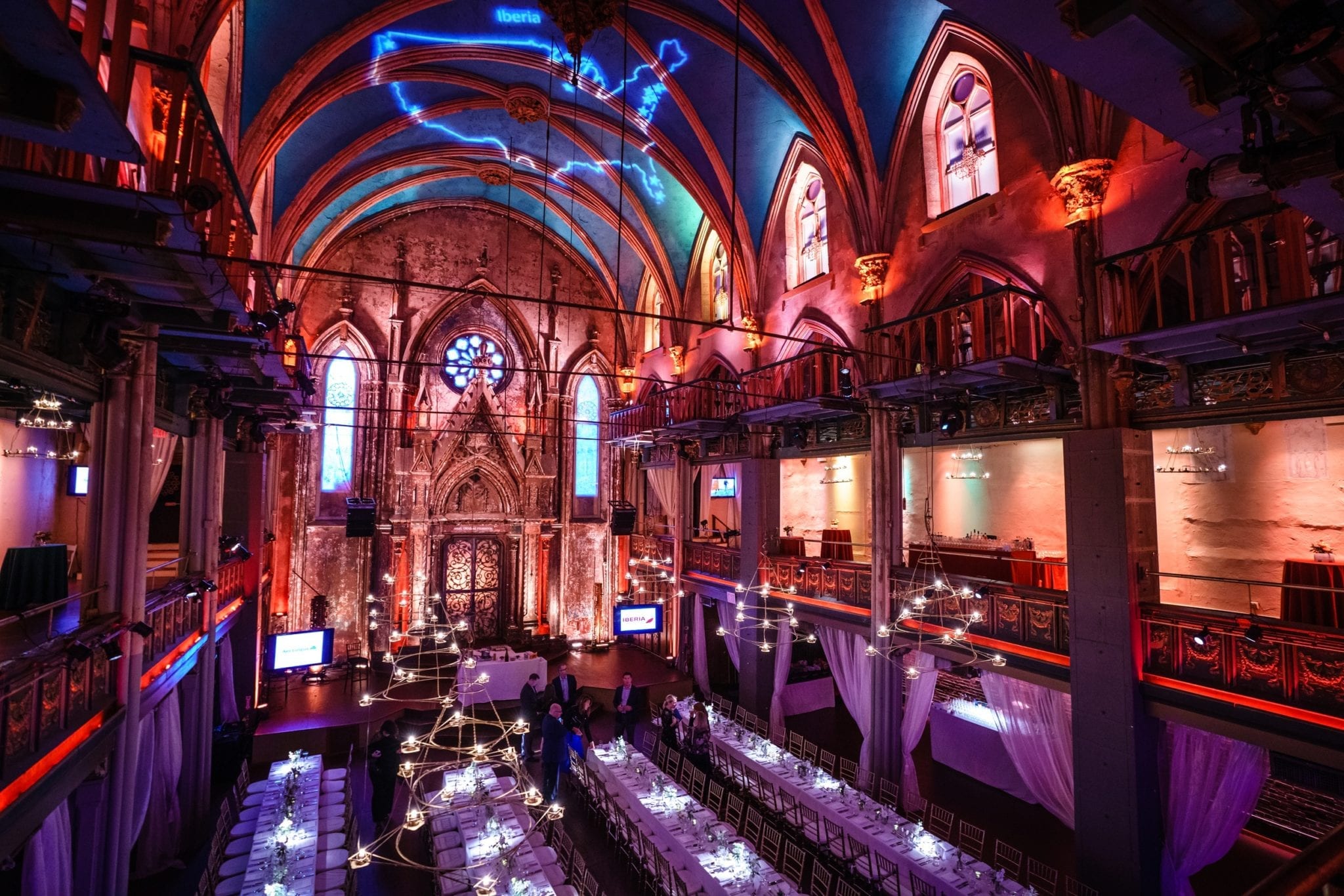 I walk into the building and gasp. What seemed like an ordinary entrance in a brick Lower East Side building has given way to a sprawling gothic cavern. Have I traveled to a European cathedral that is somehow lit up in magenta and royal blue?
Far from a cathedral, the Angel Orensanz Center is actually a synagogue. In fact, it's the oldest surviving synagogue in New York and the fourth oldest in the United States. Today it's still a synagogue as well as a gallery and arts center. And it's one of the most unexpectedly stunning venues that I've ever seen in New York City.
This is the kind of venue that you walk into and say, "I need to get married here." (And in fact, Sarah Jessica Parker and Matthew Broderick did just that! It was 1997. She wore a black dress. They danced to show tunes until 2:00 AM. It was an EVENT.)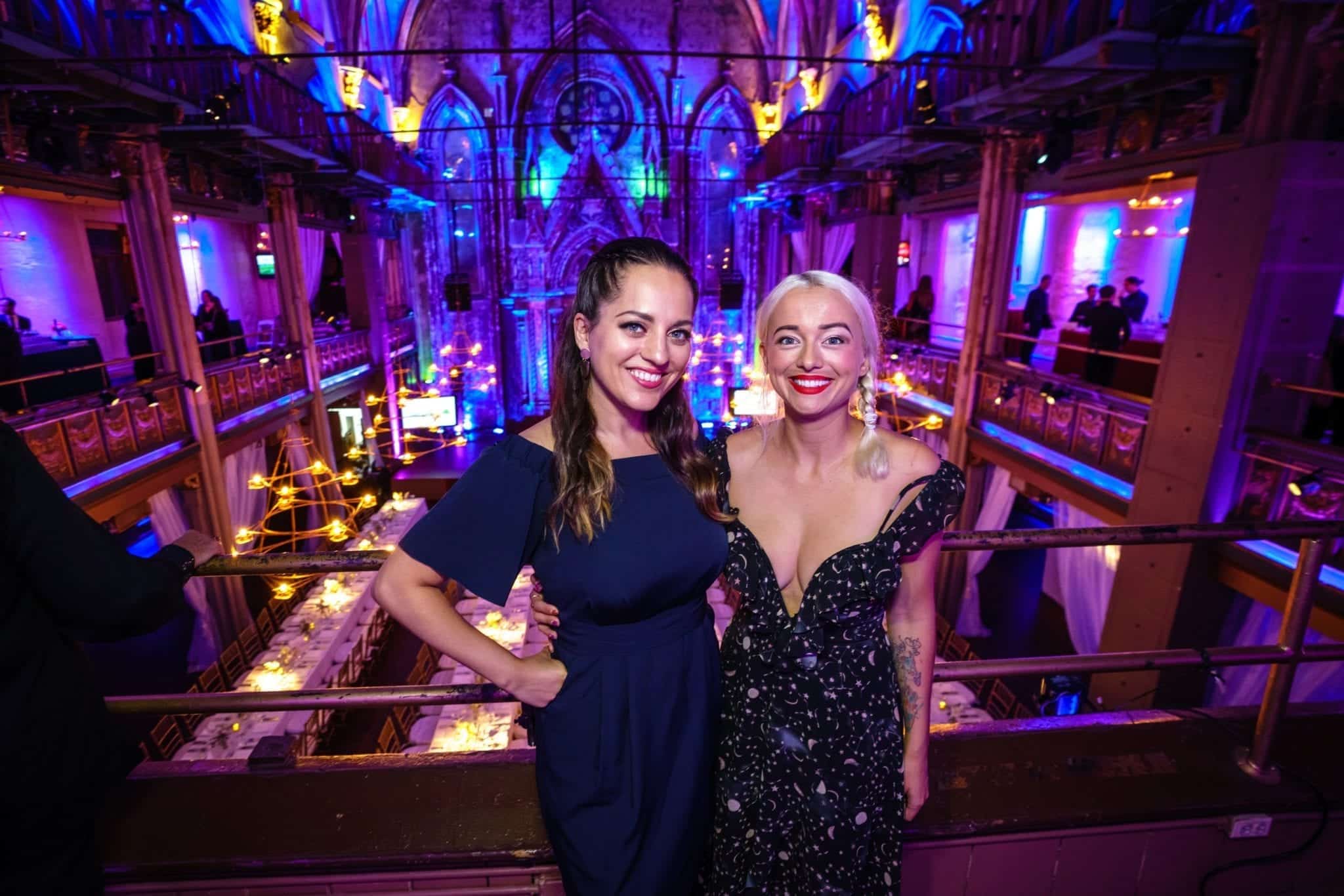 I'm here for an evening of Spanish and Irish culture with Chase — my second of three events for select Chase Cardmembers that I'll be covering this fall.
Why Spanish and Irish fusion, you ask? It's for the launch of two Chase credit cards: the Iberia Visa and Aer Lingus Visa cards. Both of these cards allow you to earn miles for their respective airlines from your purchases.
My friend Anna has joined me for this evening — like me, she can't resist any opportunity to dress up! She rocks the red lipstick; I rock the fake eyelashes.
We start the night by circulating the upper level, sipping Spanish sangria, Irish whiskey, and passed appetizers from both countries. Smoked salmon holds court alongside spicy meatballs.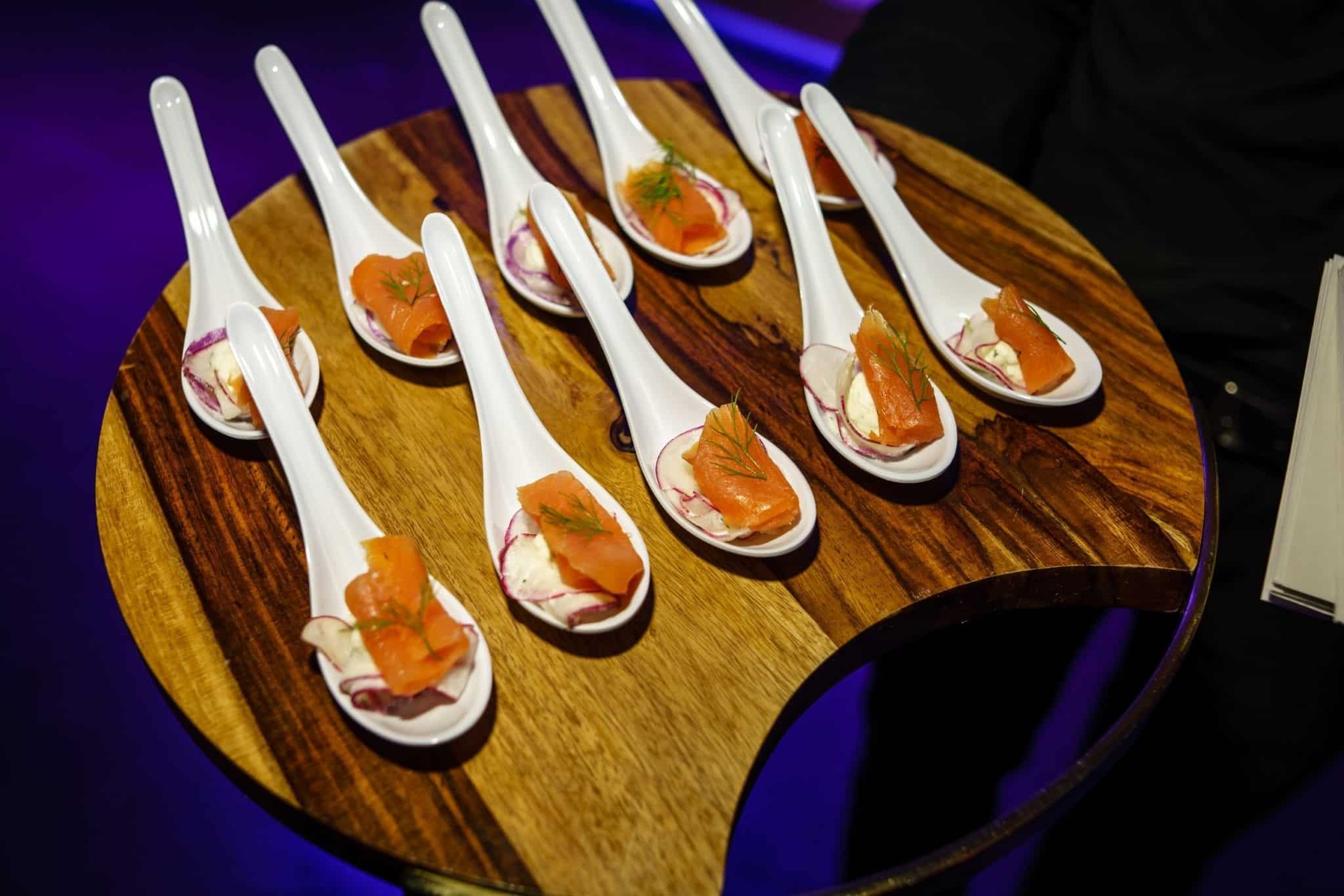 And oh, do I love these two cuisines. Irish cuisine doesn't get much of an attention or international praise — and all I have to say is that if you've spent a day cruising across the choppy North Atlantic to perilously climb to the top of Skellig Michael and back, the oysters and scallops you'll eat at the end of the day will be the finest things you've ever tasted.
Spanish cuisine gets much more international attention, yet not as much as I think it deserves. Catalan food especially stands out to me: fresh mussels, wrinkly and flavorful tomatoes, crema catalana. And jamon ibérico, a food I've evangelized with frequency on this site, may be the greatest cured meat on the planet.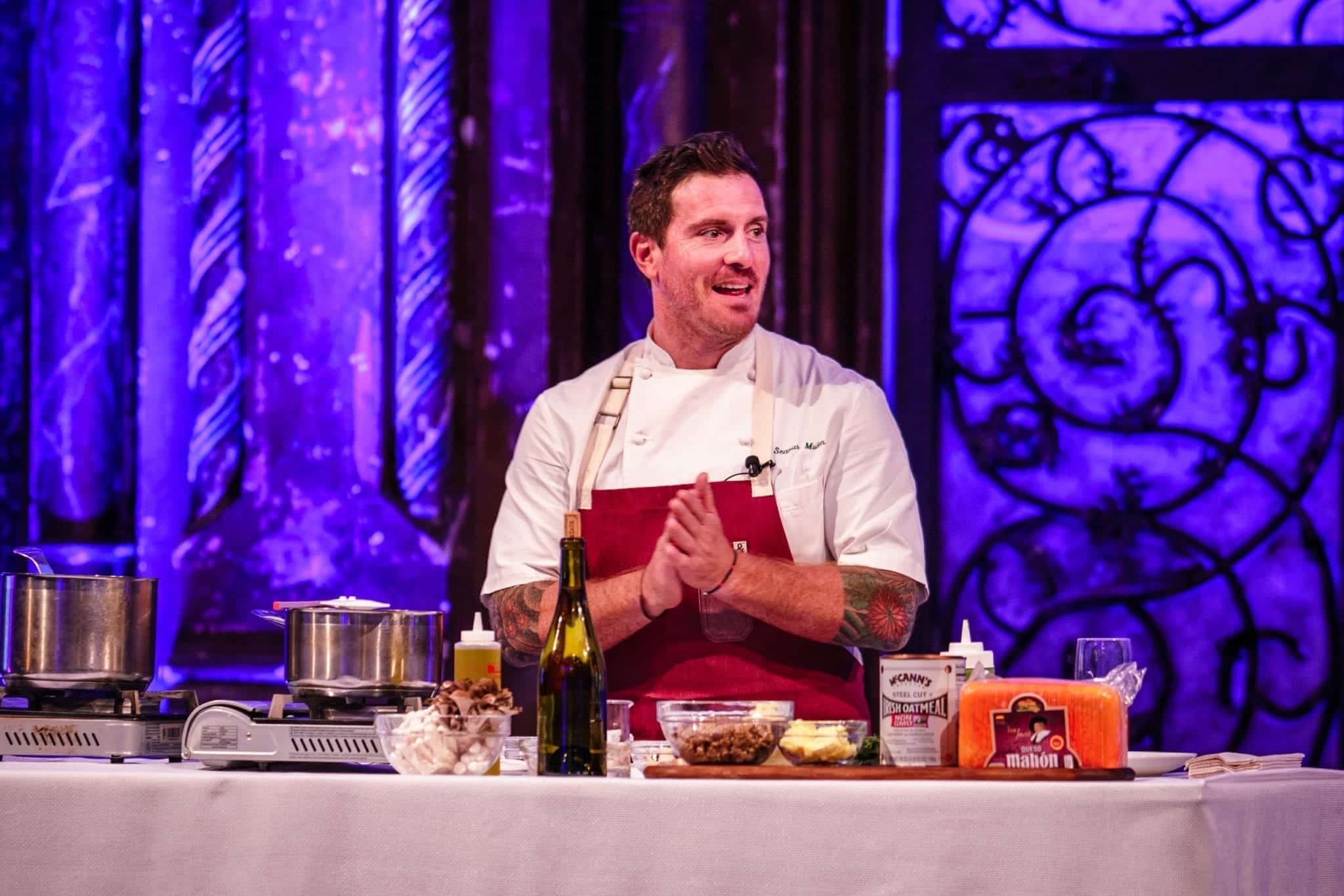 Our evening starts off with a cooking demonstration by Chef Seamus Mullen. He looks familiar — not only is he a famed New York restaurateur, but he pops up on Food Network from time to time!
Soon we're seated and welcomed to dinner, and our first course arrives: it's a roasted beet and Cana de Cabra goat cheese salad with walnuts and a fino sherry vinaigrette.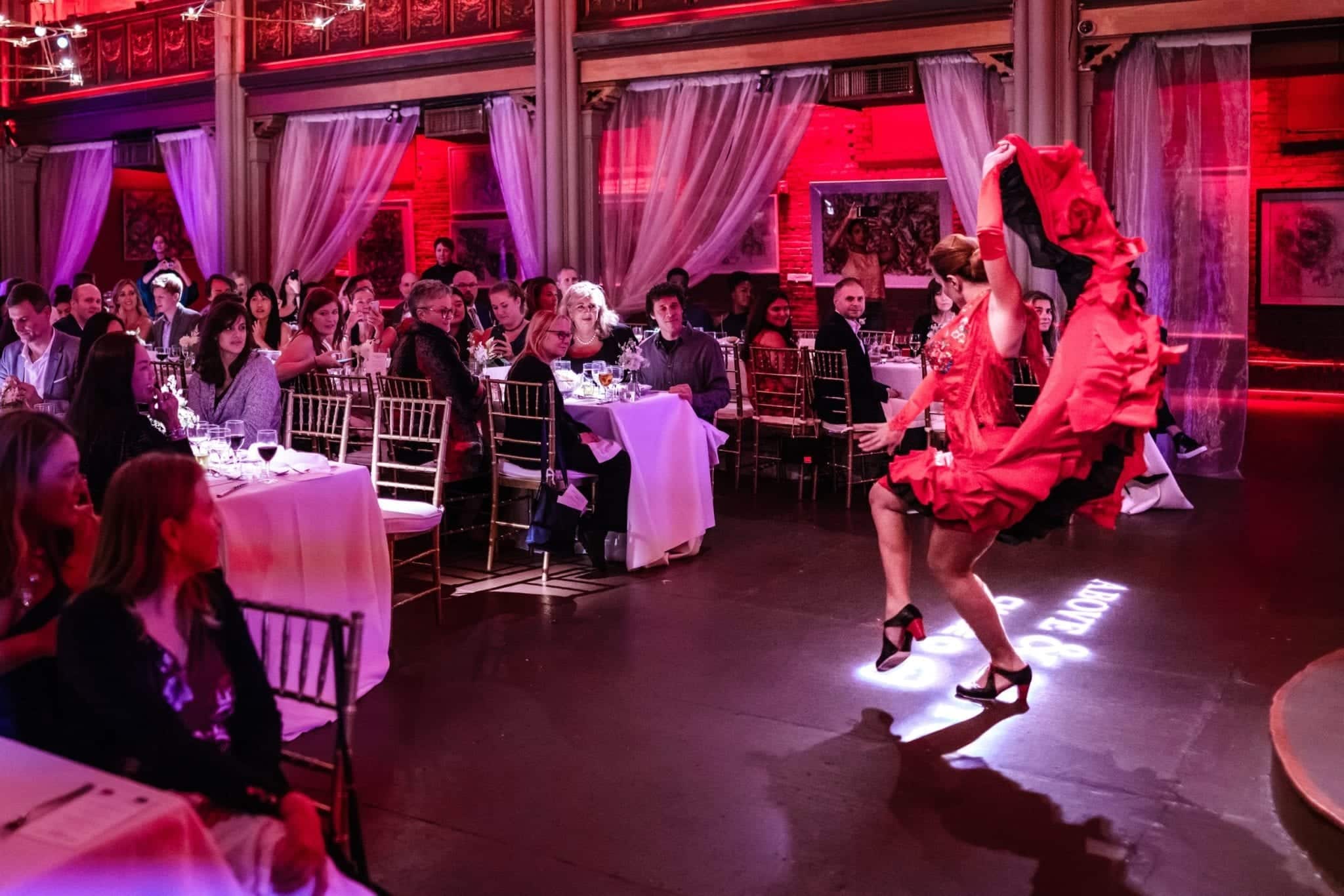 Next up, we get a flamenco performance! I've seen a lot of flamenco on my travels in Spain — and if you want the best, you should head to Andalusia in the south — but these performers are outstanding.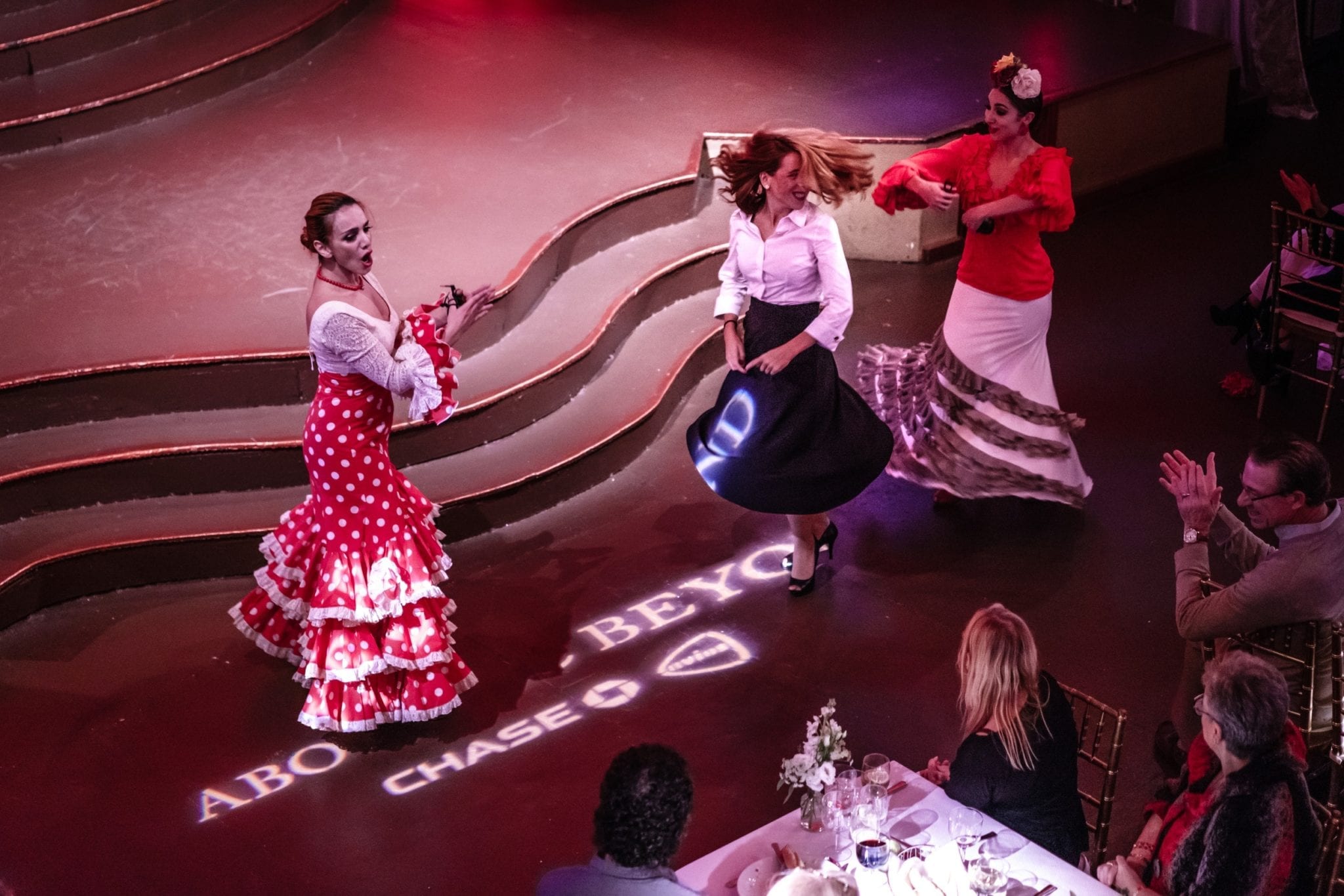 Unexpectedly, Iberia's Sales Director for EMEA, USA and Asia, Celia Muñoz Espin, gets up and starts dancing perfect flamenco with the dancers! The crowd goes wild.
In between we have our second course — a giant lamb steak colcannon potatoes and salsa verde — and we are treated to our second performance of the evening. Irish stepdancing! These four dancers have feet that seem to fly at the speed of light, and soon the whole room is cheering.
After our second dance performance, we finish with the best course of all: a dark chocolate and olive oil mousse with Marconi almonds, Bailey's ice cream, and Celtic sea salt. A perfect blend of Spain and Ireland.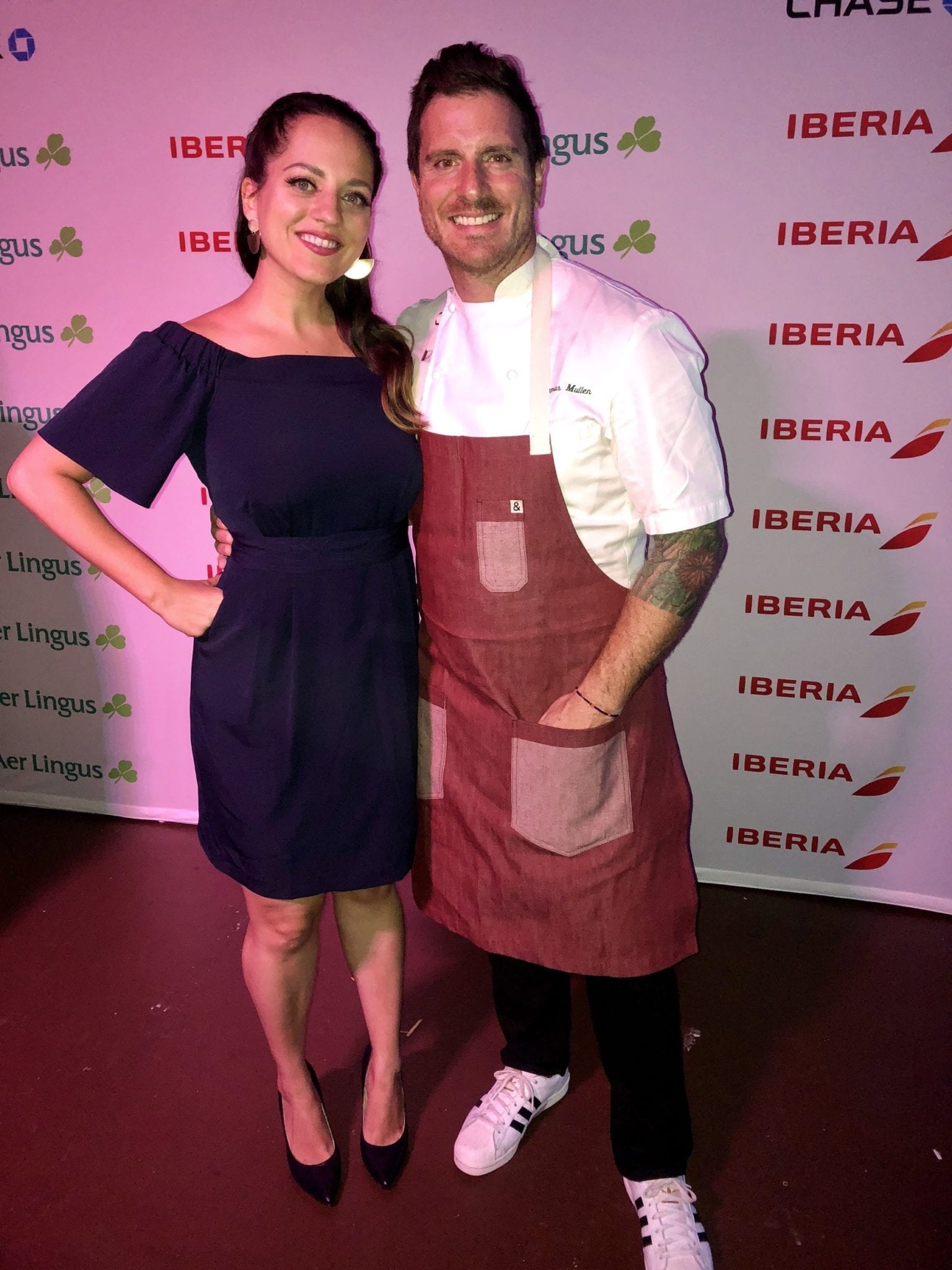 Later I grab some time with Chef Mullen and ask him — what does he think is special about Spanish and Irish cuisine?
"I think that when it comes to Spanish culture, Spain is so much more than just paella and pan con tomate and tortilla española," he tells me. "It's a very diverse culinary culture. So many different offerings. So many dishes are the most simple things.
"Ireland is clearly its own as a true gastronomical destination. Both cultures are quite humble in their roots when it comes to food. Historically they were quite poor nations and so there was a need to be as creative as possible, whether it was off cuts or inexpensive ingredients."
Culturally, Spain and Ireland have similar values, Chef Mullen adds. "Being around the table, spending time together as a family, strong Catholic cultures."
Chef Mullen's backstory is interesting as well. Years ago, he was ill with rheumatoid arthritis, but he improved his health enormously due to changing his diet. He's written a book about it — a book that we all receive as a parting gift that evening.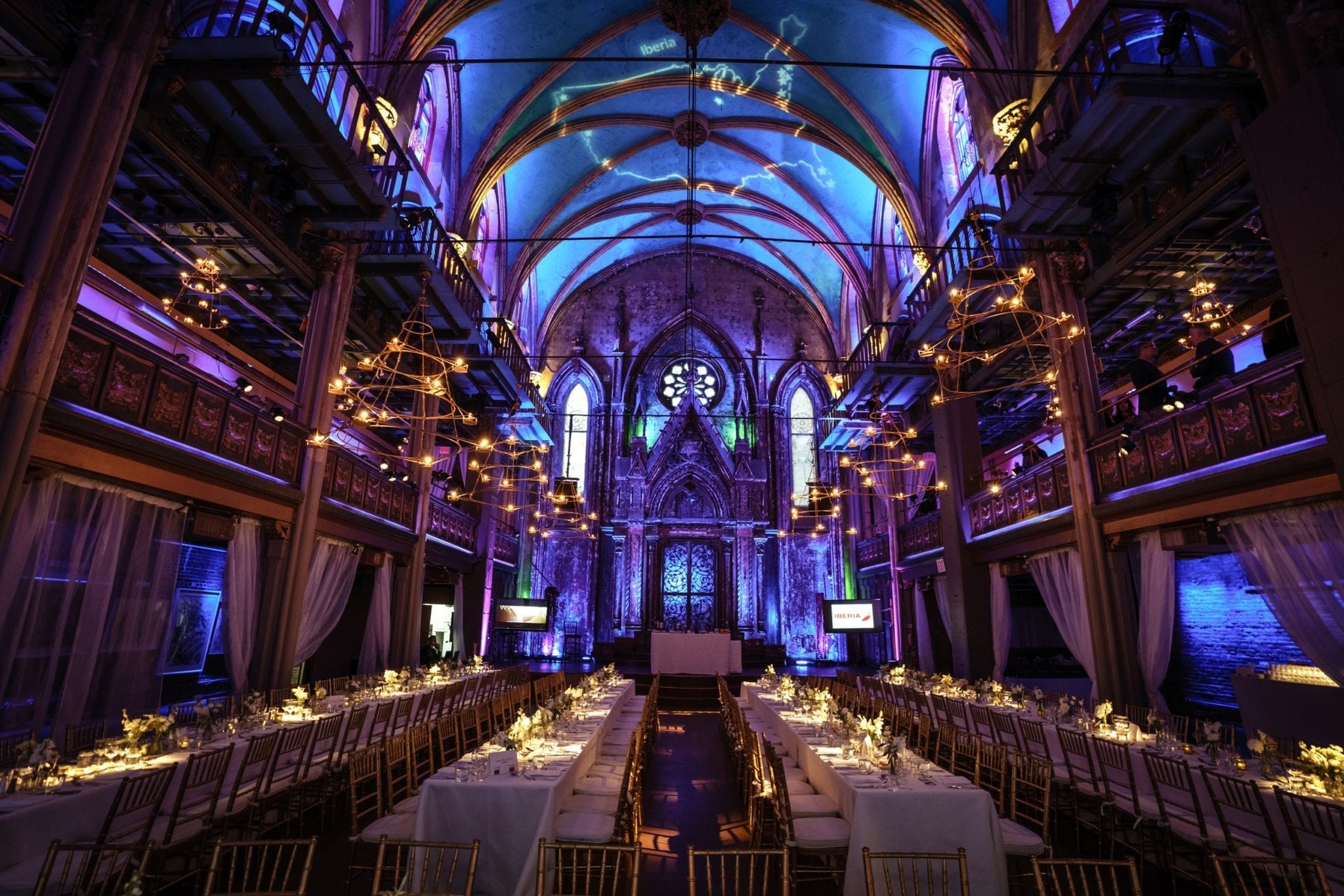 And soon it's time to go, with our happy, well-fed, and entertained group heading out into the night.
What are the takeaways from this event? That if you look a bit deeper, you can find treasures. Behind a normal brick facade is a stunning gothic synagogue. Normal and cheap ingredients can be transformed into something magical. And with one of Chase's miles credit cards like the Iberia or Aer Lingus Visa Cards, well, you've got access to some magical evenings.
This branded content post is brought to you by Chase. All opinions, as always, are my own.
What's your favorite Spanish or Irish dish?
The post Where Irish Culture Meets Spanish Flair — An Evening with Chase in New York appeared first on Adventurous Kate.