Where are the best neighborhoods and hotels to stay in Bangkok? I've got you covered! Bangkok is one of my favorite cities in the world and I have spent a ton of time there.
What I love most about Bangkok is that it's endlessly interesting. Beyond that, Bangkok has some of the most delicious street food on the planet. And my personal favorite: you can get massages everywhere for super cheap — only about $7 per hour! And compared to other major cities, Bangkok is super cheap.
If you're traveling through Southeast Asia, chances are you'll route through Bangkok several times. And if you're visiting other destinations in Thailand, you'll likely spend the beginning and end of your trip in Bangkok. So you should try to stay in the neighborhood that is best for you — or even multiple neighborhoods if you've got enough time!
Best Neighborhoods to Stay in Bangkok
Bangkok is a megacity, and it is chock full of diverse neighborhoods. You can't paint the city with a single brushstroke. Some frenetic neighborhoods are more suited for partiers; others are more suited for people who want to get away from Bangkok's craziness.
Your biggest consideration should be how you plan to spend your time in Bangkok. If you plan on zipping all over the city, you'll probably be better off close to a transit station. If you're coming here for an overnight after a trip to the islands, you might want to stay in a shopping district so you can buy tons of souvenirs without having to drag them all over the country. And maybe you want to be as close as possible to Bangkok's insane nightlife. Whatever you're into, Bangkok has the perfect neighborhood for you!
Best Bangkok Neighborhood Overall: Siam
It's so hard to pick a best Bangkok neighborhood when they're all so different! Some people are wild about Sukhumvit but it doesn't do anything for me; some people live for Khao San Road but others are repulsed by it. It's all about what you're into as a traveler (and I know that whatever I write here, Bangkok superfans will complain about it).
Personally, I think the Siam area is a great neighborhood. This neighborhood is central, close to tons of shopping and activities, and home to some glorious hotels and hostels. It's a good introduction to everyday urban Thai life, as you have tons of teenagers hanging out, taking selfies, and trying to see and be seen. (In fact, Siam Paragon was once the #1 most-photographed places on Instagram!)
In the Siam area, you can shop like crazy at the high-end Siam Paragon (when you're sick of Thai food, head to its basement). You can head to Jim Thompson's house and marvel at this beautiful architecture, a relic from the past. And if you want to get out, you have multiple Skytrain lines at your doorstep. You never have to go very far to find something you need in Siam.
The biggest drawback? Siam doesn't have a neighborhood feel; it's very commercial. It's also very crowded, which could be a bit much if you're looking for a low-key place.
Best Siam Hotels:

Best Bangkok Neighborhood for Backpackers and Newbie Travelers: Khao San Road Area
For Southeast Asia backpackers, all roads lead to Bangkok, and Khao San Road is the backpacker center of the universe. Here you'll find wild bars and fun restaurants; tons of street stalls hawking t-shirts, bathing suits, and jewelry; lots of outdoor massage stands; street food vendors; and hotels, guesthouses, and hostels. This is where Leonardo DiCaprio landed in The Beach.
Even if you don't desire to be surrounded by backpackers, you might still enjoy this area because it's easy. Located in the Banglamphu neighborhood, Khao San Road also makes a great landing spot for your first trip to Bangkok. You'll probably arrive feeling exhausted and overwhelmed, and it's a lot easier to settle in and find your first meal when you're in a neighborhood that caters to foreigners.
I don't recommend staying on Khao San Road itself, as it's extremely loud. Instead, stay in the surrounding area — I particularly recommend the area around Soi Rambuttri (not Thanon Rambuttri), which is still lots of fun but quiet and lovely. The hotels I recommend below are all far enough from Khao San Road that you can get a good night's sleep.
Khao San Road is within walking distance of the Grand Palace and Wat Pho, and you're just across the river from Wat Arun. This is a good base neighborhood for visiting those sights.
The biggest drawback? There is no MRT or Skytrain near this neighborhood. To get to other parts of Bangkok, you could take a ferry on the Chao Phraya to Sathon Pier to pick up the BTS, or you could take an Uber, cab, or tuk-tuk.
Best Khao San Road Area Hotels:
Best Bangkok Neighborhood for Hipsters: Ari
If you're looking for the coolest neighborhood with the best cafes and restaurants, where you're on the verge of something hip and amazing, Ari is the place for you. For years, Ari was primarily a residential neighborhood for middle-class Thais without any attractions — but in the past few years, dozens of new restaurants and cafes have opened, making it a destination for people who love to hang out and enjoy the local amenities.
Ari has lots of delicious restaurants, quirky shops, and luxurious places as well. It has its own night market if you're looking to eat on the cheap. And if you're here to work, Ari has a high concentration of excellent coffee shops.
Ari is conveniently located with its own Skytrain stop, giving you access all over the city, and it's very close to Chatuchak Weekend Market.
The biggest drawback? There aren't a ton of hotels in Ari at this time. Many people who stay here tend to use rentals. Don't expect to see any major hotels arriving soon, but I wouldn't be surprised to see more boutique hotels spring up in Ari in the next few years.
Best Ari Hotels:
Best Bangkok Neighborhood for Foodies: Victory Monument
To be honest, every neighborhood in Bangkok is a great neighborhood for foodies. Bangkok is one of those cities where you can find outstanding cuisine on every corner, and some of the best dishes come from street carts. But one place shines above the others: Victory Monument. This neighborhood is home to some of the best street food in the city, for much cheaper than the tourist-driven neighborhoods.
You won't find a ton of tourists in this neighborhood — this is where you come to live as a local.
Victory Monument is one of the major transit hubs of Bangkok, making it an ever-changing landscape of buses, tuk-tuks, and scooters, as well as the SkyTrain, and travelers from all over Thailand. As a result, you have a lot of drivers who are looking for cheap eats. And taxi drivers are aficionados for cheap and delicious food.
Soi Rangnam is one of the most hopping streets in the neighborhood, and here's where you'll find some of the best high-end restaurants, some of the best street food stalls, bars, and the King Power duty-free shopping mall.
The biggest drawback? This is a neighborhood for locals who live here, not tourists who are looking for things to do. It's not as popular with expat tourists, either. That may be a pro for you, actually.
Best Victory Monument Hotels:
Best Bangkok Neighborhood for Nightlife: Sukhumvit
If you're coming to Bangkok to enjoy the best parties, bars, and restaurants, head to Sukhumvit. While Khao San Road is known for being a party zone, Sukhumvit is more upscale. You'll have easy access to the rooftop bars, high-end clubs, excellent restaurants, and fun, chilled out bars for a fun night out. Sukhumvit is home to Soi 11 is one of the best party streets in the city.
Sukhumvit is also home to some red light district hotspots, like Soi Cowboy and Nana Plaza. And if you're into shopping, there are plenty of great neighborhoods around.
Sukhumvit Road is the longest street in Thailand, and you navigate the neighborhood by the number of the soi off the main road. The Skytrain literally runs down the road, giving you easy access all over Bangkok. (Which is a good thing, as the traffic can be insane around here.)
The biggest drawback? It can be more expensive here. Also, Bangkok has a lot of sex tourists, and while they're in every neighborhood, quite a few of them tend to congregate in Sukhumvit. Seeing older Western men with Thai women barely out of their teens is just part of visiting the city, but you may prefer to hang out where this scene is not as prevalent.
Best Sukhumvit Hotels:
Best Bangkok Neighborhood for Peace and Quiet: Silom
As much as I love Bangkok, it's not for everyone. A lot of travelers are overwhelmed by Bangkok's chaos and prefer to stay somewhere quieter and more isolated. If that's you, Silom is a great choice. Frankly, every time I've stayed in Silom, I've been surrounded by backpackers who had spent their trips in Chiang Mai or the islands and were just staying in Bangkok because they were flying out of BKK the next day.
Silom is a business-oriented neighborhood with some of the best hotels in the city. It also has nightlife access — most notably, the red-light district of Patpong, as well as Patpong's night market (great for fake bags). It has access to both the MRT and Skytrain, making it very convenient for getting around the city.
But Silom also has easy access to Lumphini Park — and if you're not a big city person, Lumphini Park may be what you need in order to avoid going crazy in Bangkok. Come here to run, walk, join a free workout class, or just breathe in somewhat-less-polluted air.
The biggest drawback? It's a bit boring, to be honest. But you can always travel to the crazier neighborhoods.
Best Silom Hotels:
Best Bangkok Neighborhood for Shopping and Stopovers: Pratunam
Pratunam is home to some of the best shopping destinations in Bangkok. You're a short walk from the Platinum Mall, the Central World wall, and Pantip Plaza — home to five floors of electronics! If you're coming to Bangkok to shop, especially if your visit does not coincide on a weekend day, when Chatuchak Market is open, Pratunam is the best place to set up shop. Pratunam's eponymous market is a great spot for finding great souvenirs on the cheap.
Pratunam is also an ideal choice if you're in Bangkok on a brief stopover. You can take the ARL (Airport Rail Link) straight from BKK Airport to Ratchapraprop and avoid Bangkok's legendary traffic.
The biggest drawback? Like Siam, it's crowded and commercialized here — not as much of a neighborhood feel as you might want to have. If you get anxious around crowds, you might not be a big fan of this neighborhood.
Best Pratunam Hotels:

Where to Avoid in Bangkok
There aren't a ton of places in Bangkok that should be avoided for safety reasons. While petty theft exists, Bangkok for the most part is a very safe city.
There's no need to stay near the airport unless you're arriving late at night and departing early the next day.
Bangkok is one of the best cities in the world for luxury hotels. There is an incredible variety of excellent luxury hotels, they tend to go for much cheaper than in other cities, and Asian luxury travel is a few levels up from Western luxury travel.
Basically, if you're looking to splurge, this is the place. And if you're looking for a VERY special place, the Mandarin Oriental is one of the absolute best. Everything is immaculately designed, you've got sweeping views over the Chao Phraya, a gorgeous outdoor pool with beautiful landscaping, and amenities like 24-hour room service, a Turkish bath, and French and Chinese restaurants on the premises.
The hotel is located in Silom near the Chao Phraya.
Five more excellent Bangkok luxury hotels:
Midrange in Bangkok means you can get a lot of perks you wouldn't find in other cities. If you're looking for something nicer than budget but not too expensive, you can get a quite decent place for less than the worst hotel in your home city.
Galleria 10 in Sukhumvit is a hip, modern hotel with colorful decor. You've got a rooftop pool with lots of space to lounge around, and the rooms are decorated with Bangkok's city skyline.
The hotel is located in the heart of Sukhumvit, near the Asok Skytrain station and just around the corner from the nightlife of Sukhumvit Soi 11.
Three more excellent Bangkok midrange hotels:

This is the first place I ever stayed in Bangkok, on recommendation of a friend, and I almost always stay here when I'm in the city. It's super basic — the simpler rooms have no windows and a shared bathroom — but it always feels homey and friendly to me. The nicer rooms have ensuite bathrooms and windows, and there's now a rooftop pool.
The location is just off Soi Rambuttri, my favorite street in the Khao San Road area, and a short walk from Khao San Road itself. Even so, it's pretty quiet and close to lots of good street food.
Be careful when searching for budget hotels in Bangkok, though — cheaper is not always better. And keep in mind that most hostels now have private rooms in addition to dorms.
Three more excellent Bangkok budget hotels:
Bangkok is one of the best cities in the world for hostels. There are tons of them, they're all over the city, and quite a few of them are of excellent quality (including every hostel on this list). But one that deserves special recognition is The Yard.
The Yard bills itself as a "social but not party hostel" and an oasis in an otherwise busy city. You've got a big green area in the backyard and the furnishings are constructed from environmentally friendly materials, giving the hostel a rustic-yet-modern design feel. There are group dinners, yoga classes, and events to help you meet fellow travelers.
Located in the hottest neighborhood of the moment, Ari, The Yard gives you easy access to some of the best restaurants and coffeeshops in the neighborhood, with easy Skytrain access to get you all over the city.
Three more excellent Bangkok hostels: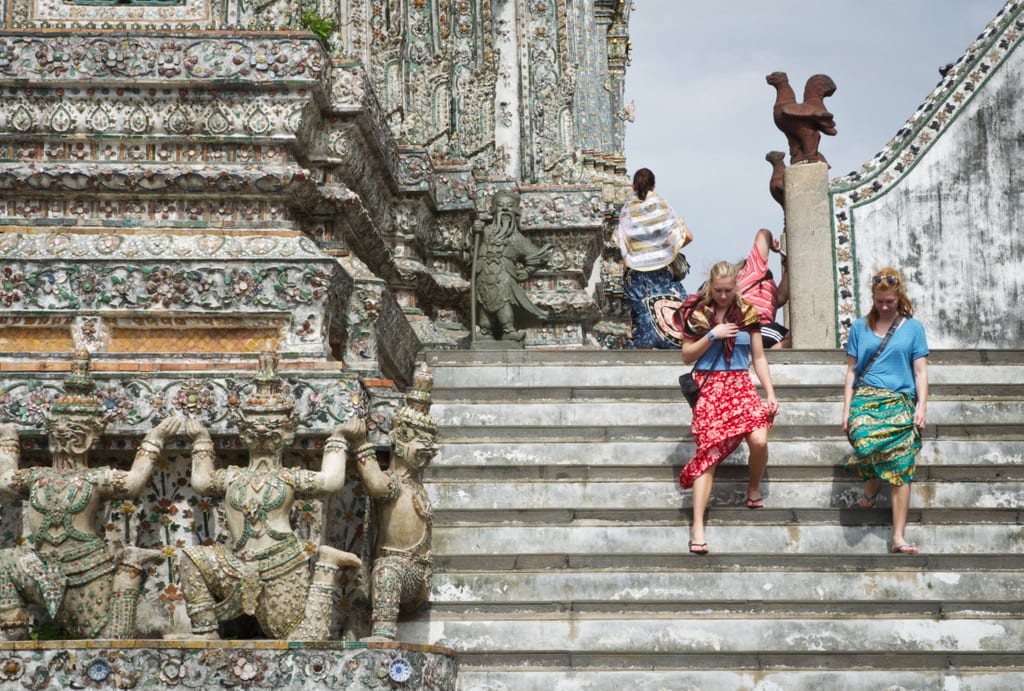 Bangkok Travel Tips
Don't just get to Bangkok and leave — spend some time here. It's one of the world's great cities and it's so different from the rest of Thailand. So many tourists arrive in Bangkok just to leave 24 hours later, but it's the kind of city that takes time to get to know properly.
Get a SIM card as soon as you arrive. My first stop is always the Siam Paragon mall, where I pick up a SIM card at the AIS store. SIM cards are cheap and the staff here are used to assisting foreigners. Don't forget to bring your passport.
Use cabs, Uber, and tuk-tuks strategically. The traffic in Bangkok is legendary — be sure you leave more time than you need. Bangkok taxi drivers often have no idea where they're going, so using Uber makes navigation and payment a lot easier. Only get in a cab if the driver agrees to use the meter. Tuk-tuks are fun, but they're best for short distances (Bangkok's air quality is not great, especially when sitting in traffic) and you must negotiate the fare yourself.
Learn a few Thai phrases before you arrive. Just a few phrases can help you out. The most important phrases: "Sawadee ka/krap" (if you're female/male) is hello and "kap khun ka/krap" is thank you. Adding "ka" or "krap" to the end of each phrase, if you're female or male, is a polite thing to do.
Get yourself on Thai time as soon as possible. If you're crossing several time zones to get to Thailand, you'll likely be a zombie. I like to stay up as late as humanly possible, go out for walks while it's light out, minimize napping (no longer than 90 minutes), and if I'm having trouble getting to sleep, I push things along with a melatonin supplement.
Indulge in all the massages. Massage in Bangkok is dirt cheap — around 250 baht ($7) for an hourlong massage. Thais see massage as a vital part of staying healthy. If you've never had a foot massage before, get one here — I get them daily when I'm in Thailand!
Eat lots of street food. Bangkok is one of the best destinations for street food on the planet — and it's safe to eat. Thais tend to eat out often because of how cheap it is. Look for busy street stalls that have a lot of turnover; these are the places where the food is both fresh and delicious.
Know that Thai food is ordinarily spicy. The concept of "medium spicy" or "a little bit spicy" does not exist. To quote my late friend Wes Nations, Thais eat red hot coals for breakfast, so when the cook hears 'a little bit spicy' he thinks "Okay, I'll use smaller coals." And if you say "Thai spicy," well, hope you're ready to be murdered with chiles.
That said, many Thai vendors understand the phrase "not spicy," and the Thai phrase is "mai pet, ka/krap."
The water in Thailand is not safe to drink. If you're not used to Thai water, drinking it can lead to illness. There are two ways around this: drink bottled or sterilized water, or sterilize it yourself.
While most travelers in Thailand rely on bottled water, it creates a major waste issue. For this reason, I recommend you bring a reusable bottle and invest in a SteriPen water purifier (much better and faster than tablets). Alternatively, you can bring a LifeStraw, a bottle that purifies water as you drink it through its straw.
Additionally, be mindful of waste. When you buy a drink at a 7-Eleven, the cashier will automatically put it in a plastic bag with napkins and a straw! Say "Mai ow, ka/krap" (no thank you) and take the bottle alone.
Guard yourself against theft while in Thailand. You should protect your belongings in your room and on your person. Lock up your belongings in a portable safe and lock it to something sturdy in your room. When you're out, use a crossbody purse that zips shut (see more here on what kind of handbag is best for travel) and you may want to try a Speakeasy Travel Supply Scarf, which has a hidden pocket for your valuables that no pickpocket will know about. Use a good day bag that locks if you're carrying your camera and lenses; I use this one.
Keep a backup stash of cash in USD and an extra debit card in your luggage. Hide these in different, random places.
Be prepared for tuk-tuk scams. If you are walking into a temple and a driver tells you, "You can't go in, it's a holiday," or "You can't go in, it's a special ceremony," and then offers you a cheap ride around the city, it's a scam. He will be taking you to his friends' shops expecting you to spend money. Don't fall for this; it will ruin your day.
Visit during Songkran for the water fight of your life. Taking place in April each year, this New Year's festival features a three-day water fight across Thailand! It's a fantastic time to visit the city. Get ready to ride around in a Hawaiian shirt with a super soaker. The best water fights in Bangkok are on Silom Road and Khao San Road. Don't forget to protect your electronics.
Be careful with the drinks, especially the buckets. It's popular to drink buckets of Sangsom ("Thai whiskey," or rum), Red Bull, and Coke, especially on Khao San Road. This binge-drinking can lead to dangerous situations, especially since you're masking the alcohol's effects with caffeine. Be cautious.
Do your souvenir shopping in Bangkok. If you're planning a longer trip to Thailand or Southeast Asia, I recommend setting aside a day at the end of your trip in Bangkok to buy gifts for your loved ones (so you don't have to drag them around the whole time). If you make it a weekend day, you can go to Chatuchak Market; otherwise, I recommend Pratunam or Siam.
Invest in a digital guidebook and keep it on your phone. Even as a travel expert in this day and age, I still get travel guidebook PDFs and keep them on my phone. They often contain invaluable information about how to get from place to place and medical facilities that treat foreigners. I buy Lonely Planet PDF guides — either the book or just the chapters I need. They have a Thailand guidebook and a Bangkok guidebook; if you're traveling further in the region, I recommend Southeast Asia on a Shoestring.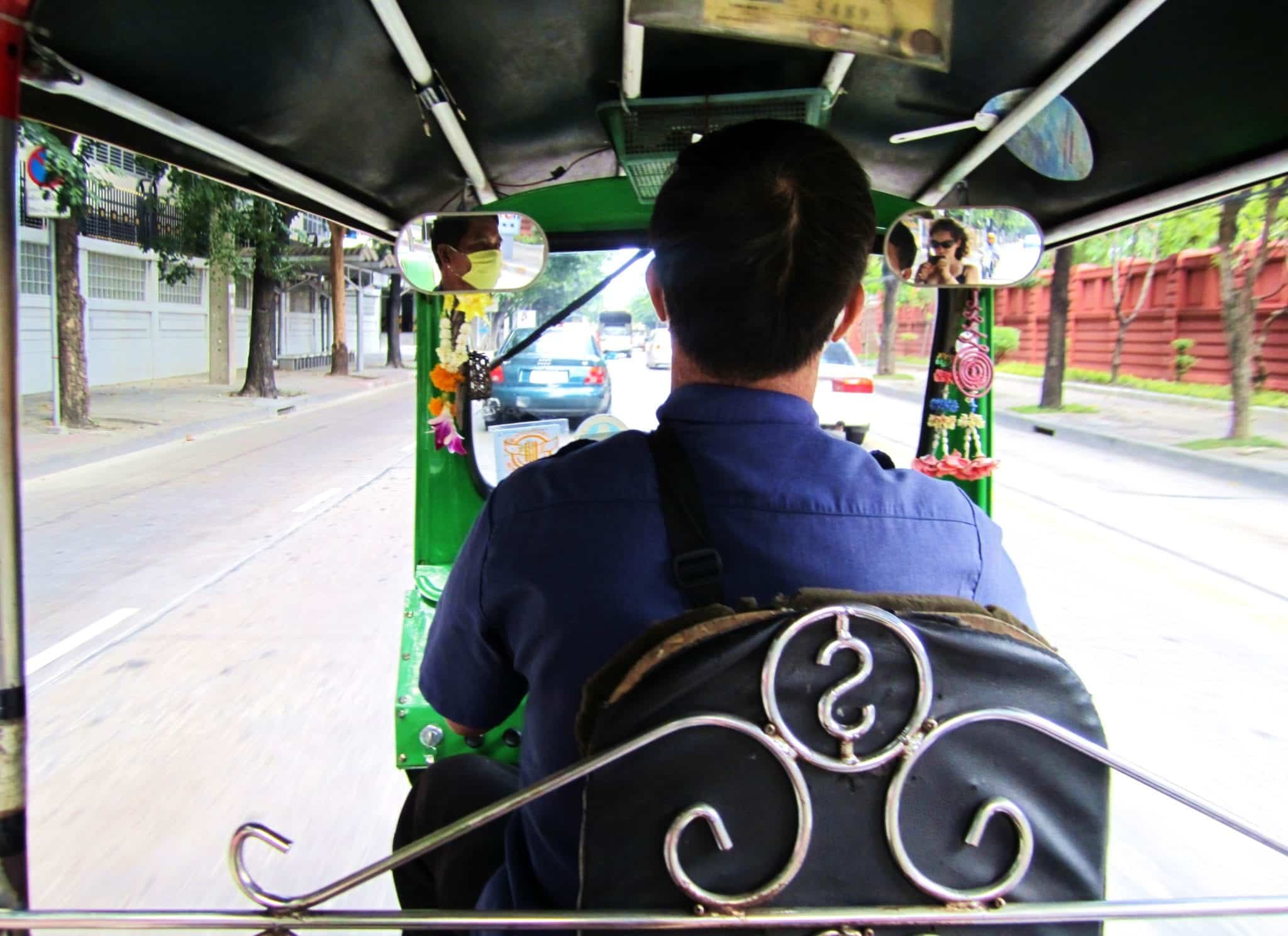 Don't Visit Bangkok Without Travel Insurance
A lot of people think travel insurance is an unnecessary expense — I couldn't disagree more. Travel insurance is vital. It's saved me hundreds of dollars and for a few of my friends who seriously injured themselves abroad, it's saved them hundreds of thousands of dollars.
If your wallet is stolen at a bar in Sukhumvit, travel insurance will refund you what you lost.
If you slip and break your ankle while climbing Wat Arun or get appendicitis, travel insurance will cover your medical costs, which could run into the tens of thousands. Thai healthcare is cheap but it's not THAT cheap. (If you need a hospital in Bangkok, I highly recommend Bumrungrad — it's upscale and very comfortable.)
If an immediate family member dies while you're halfway across the world, travel insurance will help you get home ASAP.
These are unpleasant things to think about, but it's so important to be prepared for the worst.
I use and recommend World Nomads Travel Insurance. They're a great fit for almost every traveler. Take a look at their policies before you buy to make sure they're right for you.
My #1 Bangkok Travel Tip
Eat everything in sight. Even the stuff that looks weird. Don't hesitate — just go for it. You'll be glad you did.
---
---
Have you been to Bangkok? Where to you recommend staying?
The post Where to Stay in Bangkok: Best Neighborhoods and Accommodation appeared first on Adventurous Kate.