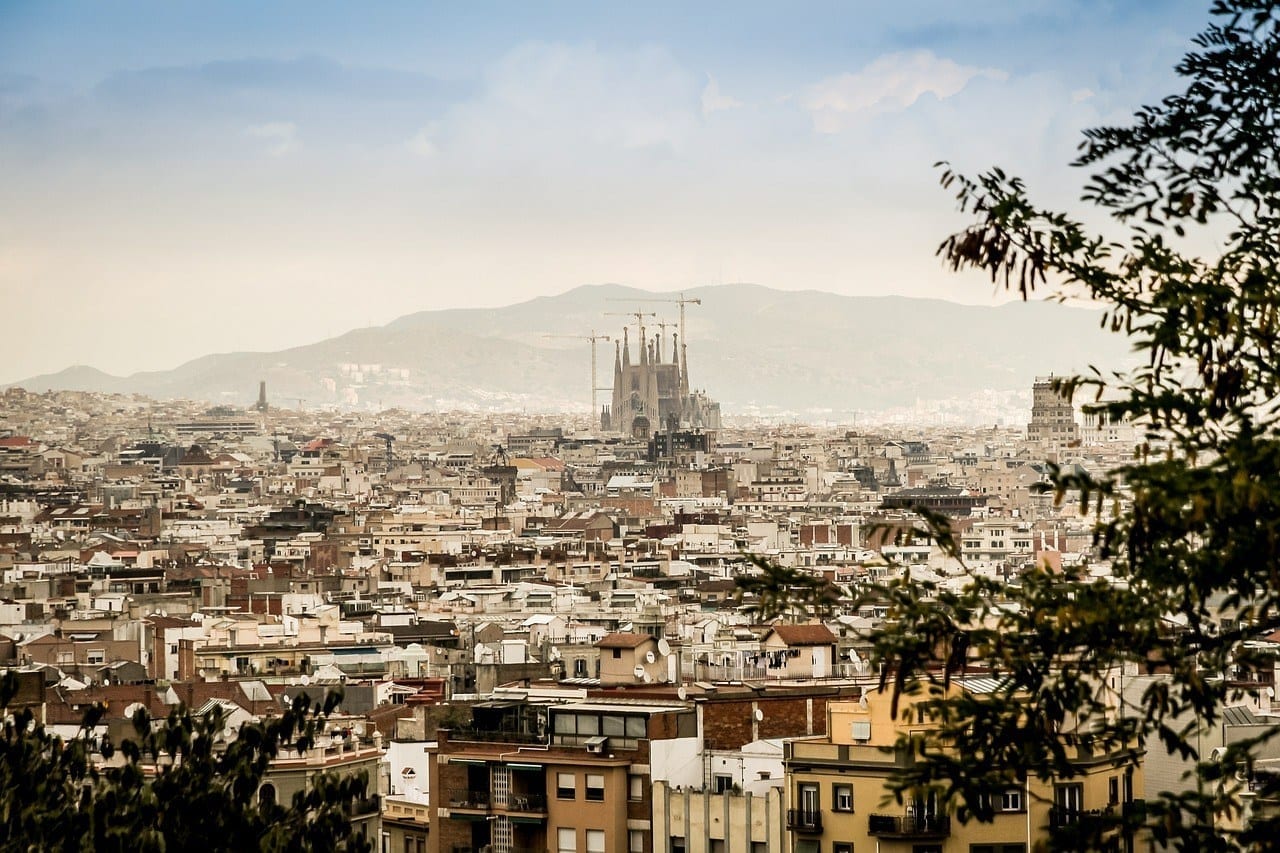 Where to stay in Barcelona? You have plenty of gorgeous options! The enchanting city of Barcelona is our favorite city in Europe to explore, and we love indulging in its unique culture. We're not alone — tourists around the globe flock to this coastal Mediterranean city year-round, seeking out beautiful beaches, a vibrant culinary scene, and lively nightlife.
This post was updated in September 2019. Top image by Pixabay.
Barcelona is part of the region of Catalonia in northeast Spain, and the independence flag hanging off balconies reminds us that they are Catalan, not Spanish. The Catalan residents are proud of their city, their culture, their heritage, and of course their fútbol team, FC Barcelona! Their spirit of independence is contagious and gives the city so much character.
But choosing where to stay in Barcelona can be overwhelming, as it's a large city broken into many different neighborhoods. Each neighborhood has its own distinct feel, charm, and loyal locals. How do you find the best places to stay in Barcelona? That's where we come in!
This post was written by Ashley and Alex from the blog In Pursuit of Adventure, While I've been to Barcelona a few times, I'm no expert — so I hired two Barcelona experts to write the best, most detailed Barcelona accommodation guide possible. They did a great job and I hope this post helps you find the best Barcelona neighborhood for you.

And for the record — my personal favorite Barcelona neighborhood to stay in is Gràcia!
We know each of these Barcelona neighborhoods like we know the stamps in our passports. So here are our favorite neighborhoods to make your trip memorable. Just remember, no matter where you end up staying in Barcelona, be sure to venture out and sample the charms of each neighborhood from the touristy yet hipster neighborhood of El Born to the gritty and diverse El Raval. And keep in mind that every traveler is different — the best areas to stay in Barcelona for one person might be the worst for another!
Best Areas to Stay in Barcelona
Where are the best areas to stay in Barcelona? Honestly, it depends on what kind of traveler you are. Some Barcelona travelers want to be right on the beach. Others want to be close to as much Gaudi architecture as possible. And others prefer being in a calmer, small-town-like neighborhood. Here is what made the cut:
El Born is our pick for best Barcelona neighborhood overall, thanks to its hip shops and restaurants and terrific location right next to Barceloneta, both central and close to the beach.
Barceloneta is the best neighborhood in Barcelona for beach lovers, as this neighborhood is nestled against the city's best beach.
El Raval is the neighborhood for a cultural mishmash in modern Barcelona, featuring interesting food and nightlife options. This is where to stay in Barcelona if you like cutting-edge hip spots.
Poble Sec is the neighborhood for foodies who want to be as close to the best restaurants as possible.
Gràcia is the neighborhood that feels like a small village in the middle of a big city — one of the best places to stay in Barcelona if you like to go out hard, then come home to quiet.
And Sant Antoni is the new hipster zone, a bit rough around the edges and ready to start welcoming all kinds of intrepid tourists.
El Born
El Born is our pick for the best neighborhood in Barcelona. It's THE neighborhood to stay in if you are looking to be in the heart of the old city with fantastic artisan shops and hip restaurants. While it can be touristy, El Born is one of the best places to stay in Barcelona.
El Born is also perfect for anyone looking to be in the heart of Barcelona, as it's walking distance to Barceloneta, the beach, the Gothic Quarter, and several metro stops that can connect you to all the different major sites in the city.
This neighborhood is perfect for exploring little local shops full of amazing products from handmade ceramics to custom leather aprons (which every trendy restaurant seems to have their waiters wear!) to art galleries. If you plan on buying souvenirs, this is definitely one of the best areas to stay in Barcelona! The alleyways are filled with street art, especially la bomba (the bomb), which represents Barcelona's anarchist spirit, and flags and buntings for the perfect photo opportunities.
Be sure to pop into the Picasso Museum, which showcases the artist's work from an early age to some of his most famous paintings. Try to visit on the first Sunday of the month when it's free! Then grab a coffee or a vermouth at one of the many outdoor patios and soak in the relaxed lifestyle here.
Lower El Born is the more touristy side of the neighborhood with the church of Santa Maria Del Mar dominating the area and a large pedestrian area lined with hip restaurants, cocktails bars that go all night and boutique shops.
Upper El Born is quieter, filled with more residential apartments, local bar, and the famous Mercat Santa Caterina where you can go for the best local menú del día, or lunch special, at Bar Joan, which we think is the best lunch deal in town.
Where to Stay in El Born:
Barceloneta
Barceloneta is arguably the proudest Catalan neighborhood in Barcelona, where you're never further than five minutes from the beach. The independence flag of Catalonia flies proudly from almost every balcony here.
Barceloneta is also the neighborhood where you'll see the greatest backlash to tourism. Residents want to keep the neighborhood local and have fought ardently to keep it that way.
That doesn't mean you should stay away, though. Thoughtful tourists who respect the locals are welcome. That means that when you leave the beach, put on some clothes before you pop into a shop or grab a bite to eat. If you are out until the early hours of the morning (which happens easily here), keep your voices down to avoid disturbing people who are asleep. Do that and you'll be welcomed into one of the best areas to stay in Barcelona.
Also, make an effort to support local businesses here. Head to small, family-run restaurants like La Cova Fumada, where la bomba (not the street art — in this case, a glorious ball of fried mashed potatoes stuffed with minced meat and topped with aioli and bravas sauce) was first invented back during the Civil War. Or head to Vaso del Oro, where they have been brewing their own beer and serving it up in flautas, or beer flutes, for over fifty years.
---
READ MORE:
---
Take a stroll along the sand and notice all the locals out walking, rollerblading, biking, and soaking up the Mediterranean sun. Barceloneta will treat you well if you treat it well.
Where to Stay in Barceloneta:
El Raval
El Raval is the infamous neighborhood once known for drinking establishments, cabaret shows, crime and Hemingway — and that cultural mix is exactly why you should stay there. This neighborhood embraces its gritty past while looking to a modern future. Centrally located near the main port in the historical district of Barcelona commonly known as Ciutat Vella, today El Raval is far more charming than seedy.
The neighborhood is known for its diversity and often referred to as Barri Xinès, or Chinatown, by the locals. Today Chinese, Pakistanis, Filipinos, South Americans, Eastern Europeans and Middle Easterners inhabit the neighborhood, creating a unique melting pot of cultures. Back in the day, few people considered it on the list of neighborhoods where to stay in Barcelona — but now couldn't be more different.
Here you will also find one of Gaudi's earlier works, the Palau Güell, and the Barcelona Museum of Contemporary Art, more affectionately called MACBA. Here you will find locals of El Raval on the steps drinking wine and watching the skateboarders do tricks in the streets.
Today El Raval has become a treat for young foodies and boozehounds. The neighborhood is filled with restaurants and bars like Bar Marsella, an old absinthe bar stuck in the time of Hemingway (the writer himself used to drink here quite often), or Bar Cañete, a modern player in the Barcelona culinary scene using classic Catalan ingredients to make innovative, modern dishes.
Where to Stay in El Raval: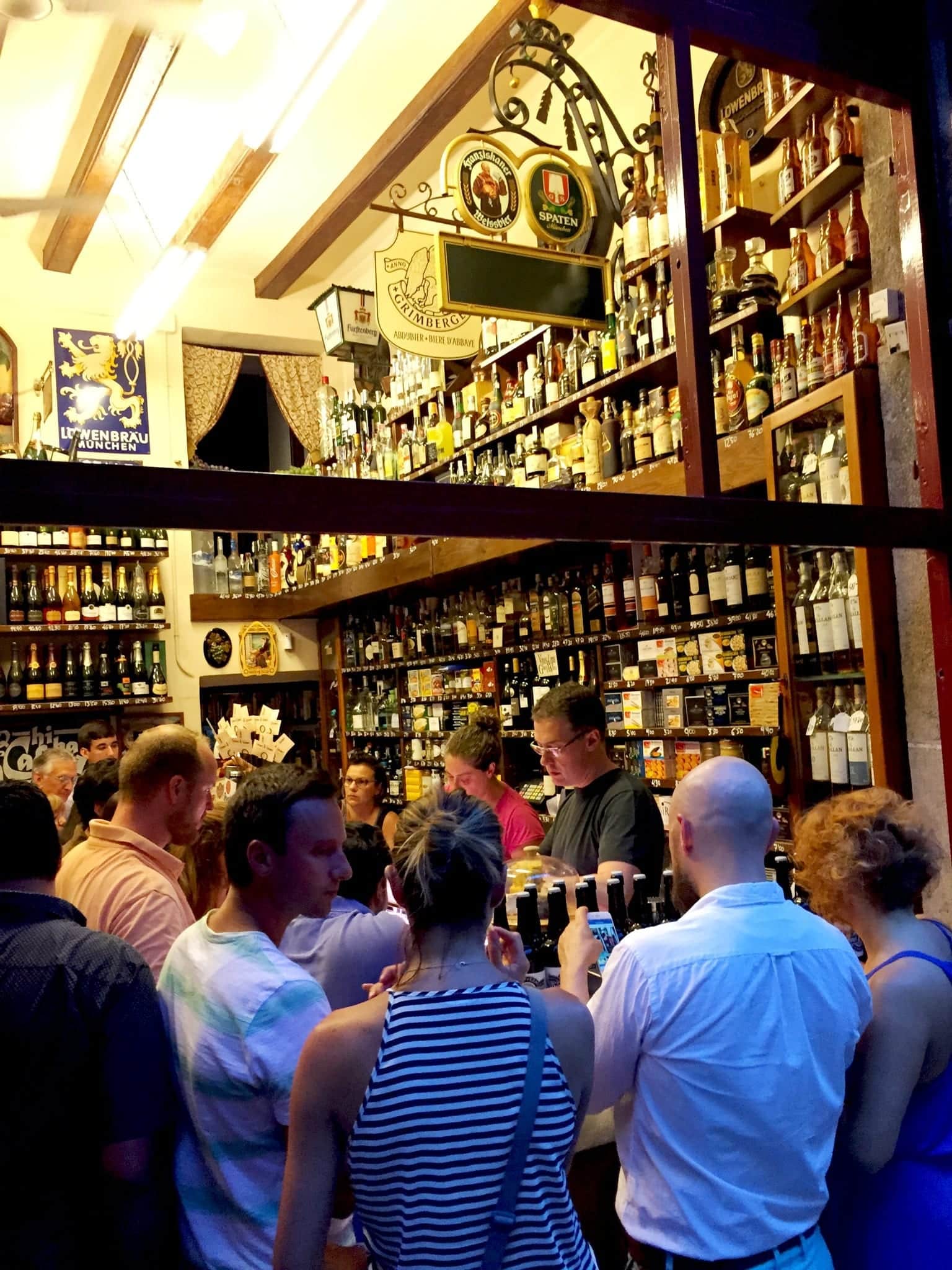 Poble Sec
Poble Sec is the best neighborhood in Barcelona is you're a foodie — but also if you are looking for a some peace and quiet. The neighborhood is quiet during the day but really comes to life at night when all the tiny tapas bars along the pedestrian-only Carrer de Blai open up shop and fill with hungry locals. This is the neighborhood to drink vermouth, grab some cheap eats, and revel in being Catalan if only for the duration of your stay.
While there are no major tourist sites in Poble Sec, this neighborhood is well connected by metro and it's just a hike up the hill to see the castle of Montjuic, the gardens, and to take the funicular down to the beach.
This is also the neighborhood to visit Quimet & Quimet, one of the most famous tapas bars in the city. Here they focus on high quality conservas, or canned food, and montaditos, small open-faced sandwiches.
Squeeze in here, order some cava, a couple montaditos and throw your napkins on the floor like a local — that's what you do in Poble Sec! But we'll be honest — it's not one of the best places to stay in Barcelona if you're watching what you eat…
Where to Stay in Poble Sec:
Gràcia
Gràcia is the neighborhood to stay in if you are looking for that small town charm while still in the big city. One of the more unique neighborhoods, Gràcia was its own village until Barcelona's expansion absorbed it into the city itself. The locals, however, still very much consider themselves separate to Barcelona and it's noticeable as soon as you exit the metro. It feels like you've stepped into another world here in Gràcia.
We personally love Gràcia as it is lesser-known to tourists as a place where to stay in Barcelona, but it has a wonderful bar and restaurant scene for classic Catalan dishes. Cal Boter is one of those restaurants that features traditional dishes like snails and pig trotter. If that's a little too old-fashioned for your taste, head over to Bar Bodega Quimet for tapas in their small, bustling, and decidedly local bodega. Don't forget to grab a drink at La Festival, a modern wine shop focusing exclusively on organic and biodynamic wines.
During the late afternoon, head to Plaça del Sol, the main square, where everyone in Gràcia congregates to gossip, people-watch, and just enjoy their daily life. Grab a beer and join in!
Gràcia exemplifies what Barcelona is all about: individuality and independence against larger outside forces. It's quiet and quaint with traditional shops but leaves room for modern roots to be established. Gràcia comes as a highly recommended neighborhood to stay in especially if you enjoy that local vibe and you are visiting Barcelona for the second or third time, as it is not located in the old city.
That said, Gràcia is located just beneath Gaudi's famous park, Parc Güell, and is close to lesser-known Gaudi architecture and Tibidabo, an amusement park from the early 1900s that is still operational.
Where to Stay in Gràcia: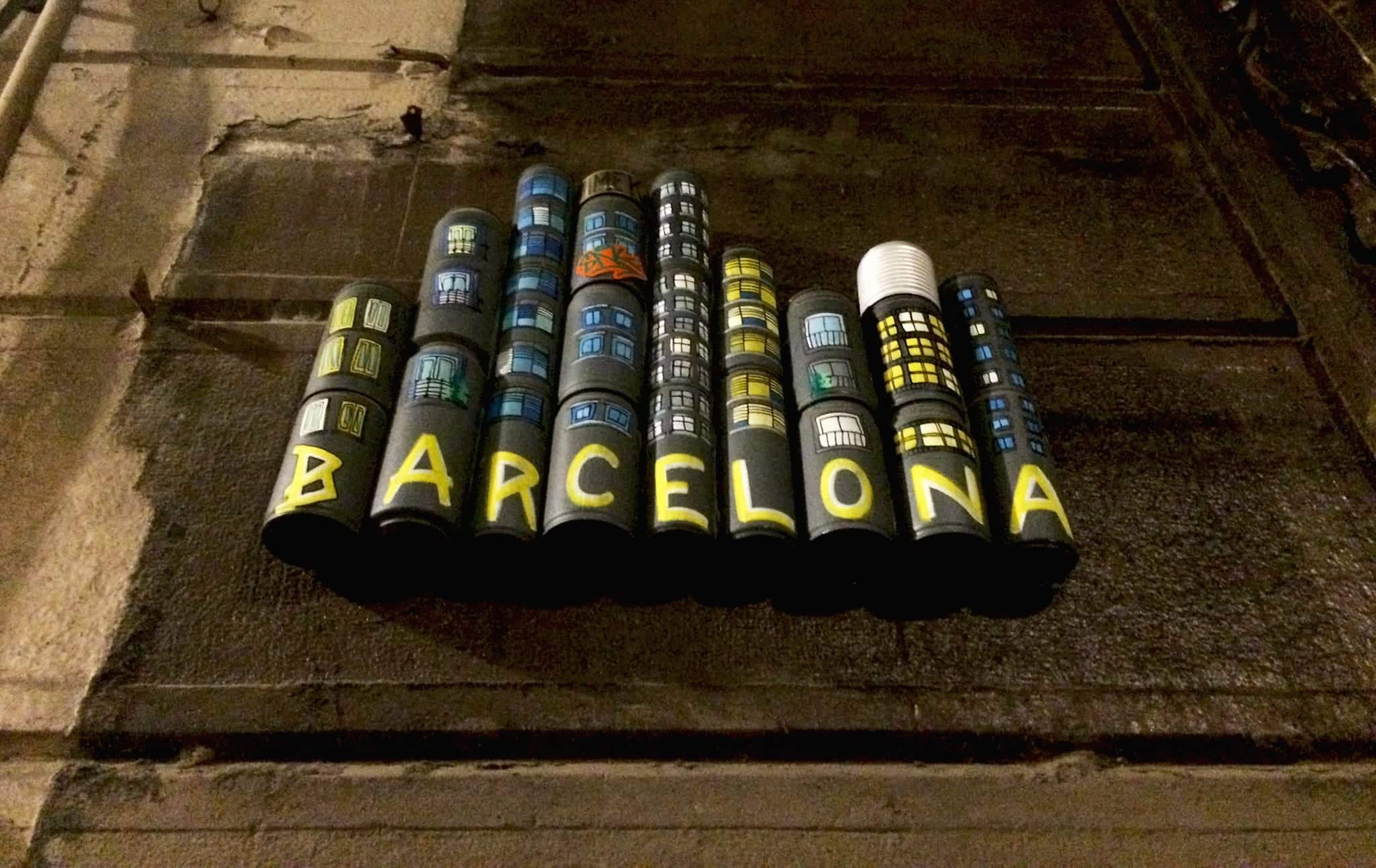 Sant Antoni
Sant Antoni is the hipster neighborhood and one of the best areas to stay in Barcelona for those looking for a modern vibe. While still very residential, it is quickly becoming host to a number of hip establishments like Cafe Cometa and La Donutería (yes, you can even find fancy donuts in Barcelona!). You will also find locals of Sant Antoni congregating around the Carrer del Parlament which is host to several very chic restaurants, bodegas and bars.
Sant Antoni hasn't totally abandoned its roots, however, and here you will also find the much loved old school La Bodega d'en Rafel. They're also renovating the heart of the neighborhood, Mercat Sant Antoni, which has been around since 1882.
Sant Antoni is a neighborhood that is focused on residential life, making it a great neighborhood to live like a local. However, it is not as well-connected to the city for first time visitors and does not have any tourist attractions. There are few hotels at this time, but there are some nice ones.
However, with the expansion of restaurants and nightlife, this may change in the future; Sant Antoni is, after all, the chic neighborhood.
Where to Stay in Sant Antoni:
Best Places to Stay in Barcelona
There are so many great places to stay in Barcelona, but we have three places that we love in particular. Here we're going to recommend you our favorite luxury hotel, mid-range hotel, and hostel.
The W Barcelona is our pick for the best luxury hotel. It's probably the only hotel in Barcelona that is an icon in its own right, and you can't beat the cool factor and beach location!
The Barceló Raval is an excellent mid-range hotel in the El Raval neighborhood. We love this place because of its value for money and 360-degree views from the rooftop bar.
Generator Barcelona is our favorite hostel in a city filled with dozens of hostels. The design makes it feel upscale and it's a great place to meet new friends at the bar or lounge.
Read on for more in-depth descriptions of our favorite properties.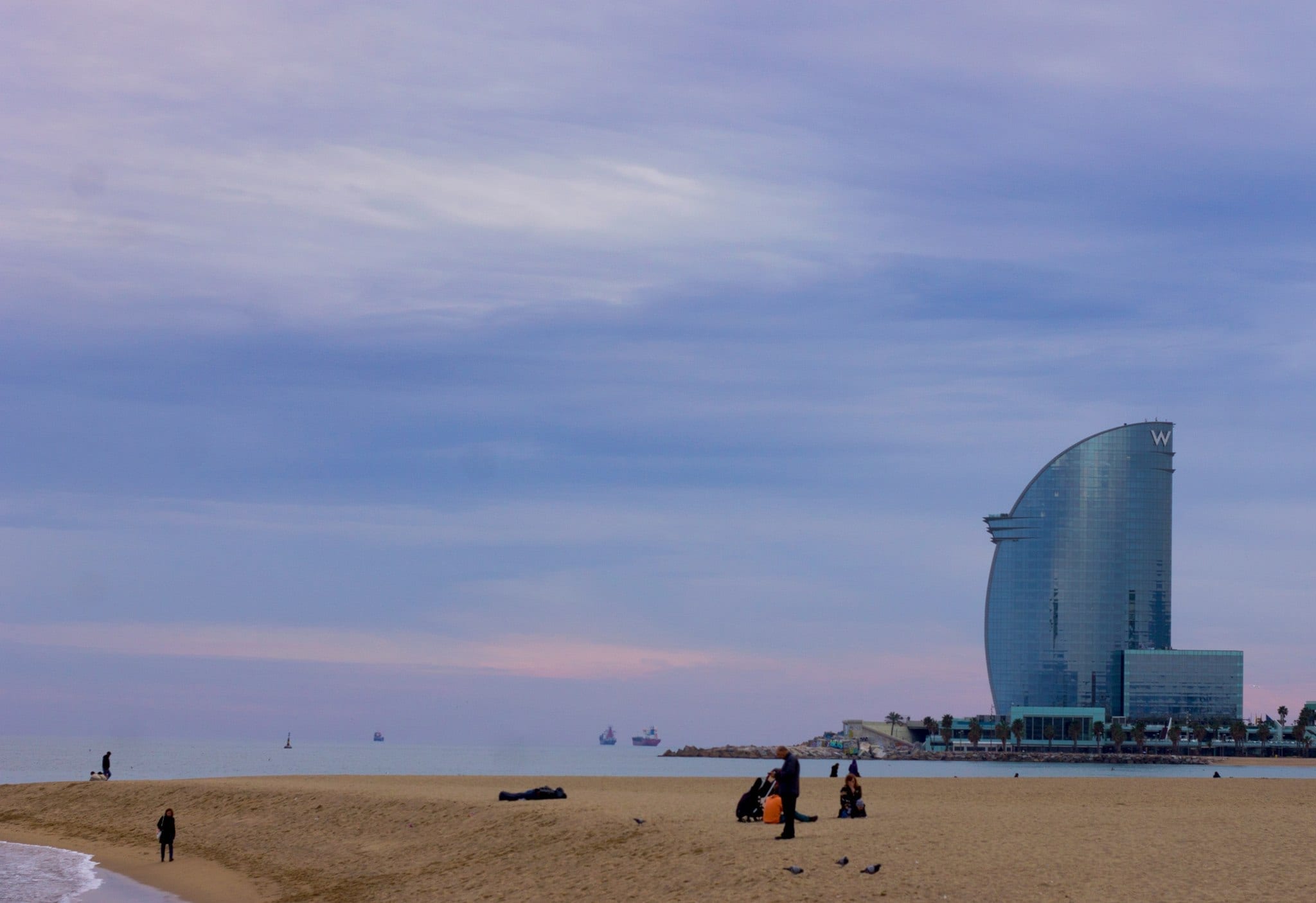 Best Luxury Hotel in Barcelona: W Barcelona
The W Barcelona is an icon and the place to stay for luxury in Barcelona. Located on the beach in Barceloneta, across the street from the Desigual headquarters, the W Hotel invites sunbathers with its glass sail-like facade, reflecting the city and the beach below.
There is a pool with a bar located on the 26th floor, so you can soak in views of both the city and the Mediterranean. Plus, during the summer they host a series of parties with local and international DJs on their pool deck. The W is where to stay in Barcelona if you want the epitome of Barcelona cool.

Best Mid-Range Hotel in Barcelona: Barceló Raval
Dominating the skyline at Rambla del Raval is the Barceló Raval. This imposing circular hotel offers the perfect place to stay in the heart of the city with 180-degree views.
When it comes to value for money, this is one of the best spots in one of the best areas to stay in Barcelona. Plus, there is a swimming pool and a 360-degree rooftop bar that is the perfect place to catch every gorgeous Barcelona sunset. (That photo above is from the roof!)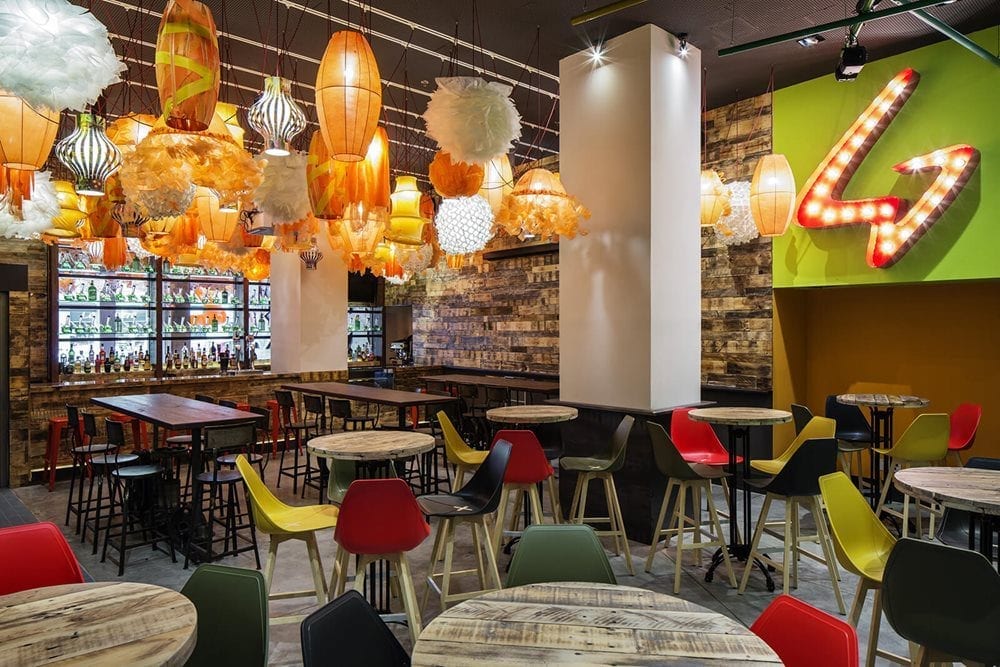 Best Hostel in Barcelona: Generator Barcelona
Located in Gràcia, Generator Barcelona is a fantastic hostel to stay in while visiting the city, especially if you're not a hostel person. The design of this hostel alone makes it less like a hostel and more like a boutique hotel. They also have a range of rooms starting from dorm shares to privates with twin beds to even a penthouse with a terrace!
This hostel has it all — free wifi, a lounge, even a bar, and is the perfect place to decompress after a day of sightseeing or a wild night out. You can meet lots of fellow travelers if you wish or just relax and enjoy your solitude.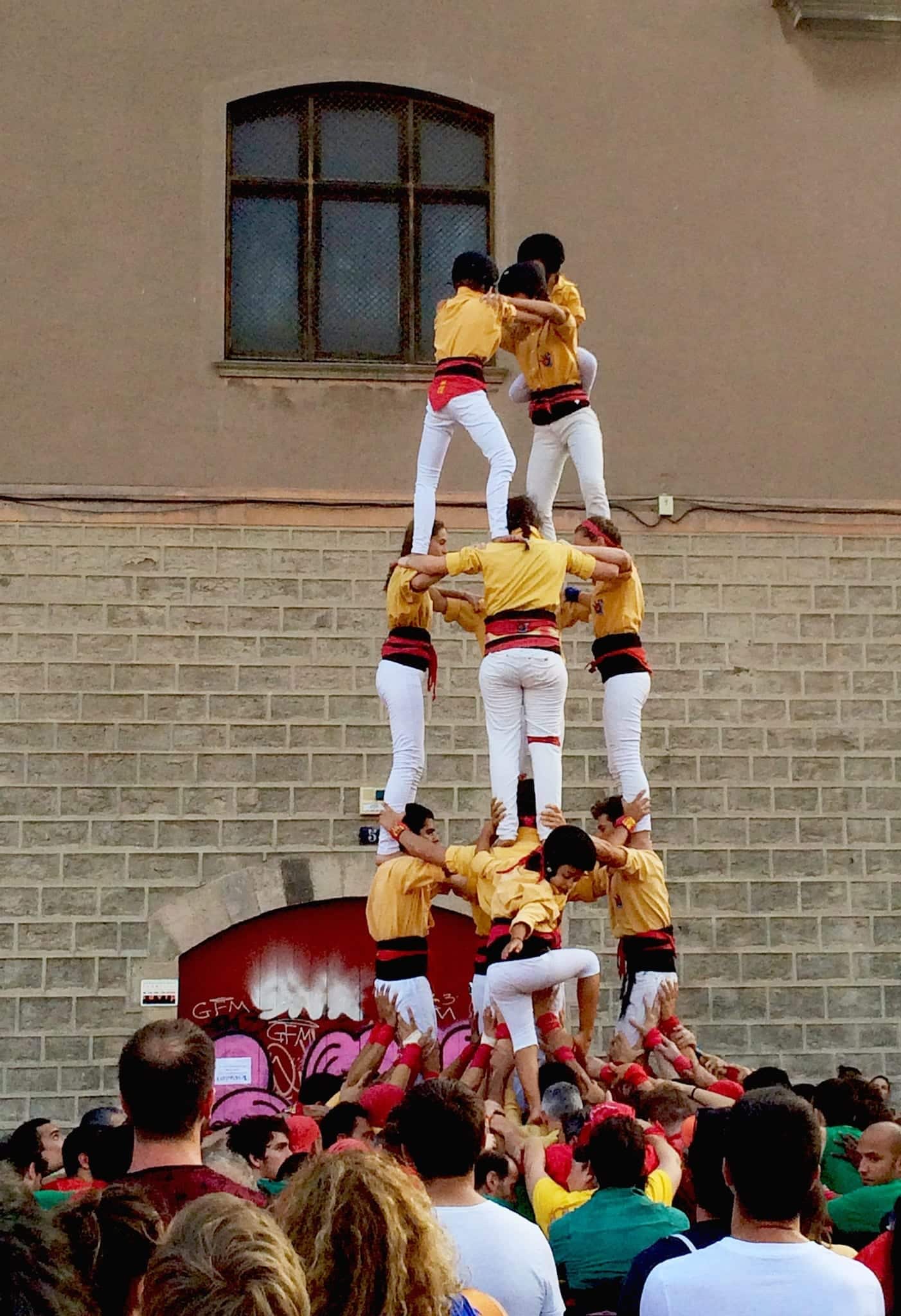 Barcelona Travel Tips
Barcelona can be overwhelming at times, so here are some travel tips to ensure you have the best trip possible:
Use Skyscanner to make sure you're getting the best flight deal to Barcelona. The best rates tend to be on Skyscanner. It's always good to double-check before you book.
Don't stay too far outside the city. Barcelona has a very large metropolitan area, which is more than just the downtown and tourist sites, and the easiest way to ruin your trip is to stay too far outside.
Instead, the best places to stay in Barcelona are within the old city limits, or right outside like in Gràcia. When you're out in the further neighborhoods it can be difficult to find transportation back and forth to downtown. Keep in mind that the metro closes around midnight — you don't want to take expensive taxis or tear yourself away like Cinderella!
Avoid La Rambla. La Rambla, or Las Ramblas as it is more often called, is the most famous street in Barcelona and at one time would have been a wonderful place to stay. Over the years, however, its popularity has become its downfall with overpriced souvenir shops and tourist traps.
We suggest taking a walk down to see La Rambla for yourself, but avoid spending too much of your precious time there. Barcelona has a lot of amazing things to offer you, but La Rambla is not one of them. Go see it and then hightail it to one of the best places to stay in Barcelona: El Raval or El Born.
Learn a little Catalan. Barcelona's official language is Catalan, not Spanish. Locals will not expect you to know Catalan, but they will appreciate it. Say bon dia for hello, adéu for goodbye, and mercès for thank you. Learn these three simple phrases and the Catalans will be so appreciative of your respect of their language!
Barcelona is best seen on foot. Despite its large size, Barcelona is a walking city at heart. Most of Barcelona's tourist sites are clustered around Ciutat Vella, the old city. The little windy streets are like treasures — and you'll miss them when underground on the metro!
Soak up all the wonderful vibrant energy this city has by taking daily strolls in different neighborhoods. You never know what you may encounter. As a bonus, you will work off all that wonderful food you've been eating. Speaking of which…
Eat when the locals eat (yes, they eat late). To truly understand the Barcelona lifestyle, you have to eat when the locals eat, otherwise you'll be sitting in empty restaurants that are only for tourists. Get up in the morning but not too early, as the Catalans are not early risers, and have a cafe con leche (coffee with milk) with some pan con tomate (bread rubbed with tomato and garlic).
And then between 12:30 and 3:00 PM, enjoy the menú del dia, daily cheap lunch specials that often get you three courses with wine for around 10-15 EUR ($11-16). Locals love the menú del dia!
Drinking and eating is crucial to Catalan life, so grab drinks and tapas between 6:00 and 9:00 PM. Hop from one tapas bar to the next while enjoy a drink and just grab a few tapas at each place. Stand up at the bar or outside as you enjoy the bustling atmosphere.
Next, head to dinner around 10:00 PM and take your time eating. There is no rush in Catalonia, especially when you stay centrally and don't have to worry about the metro closing! This is what the locals do, so you might as well enjoy it while you're there.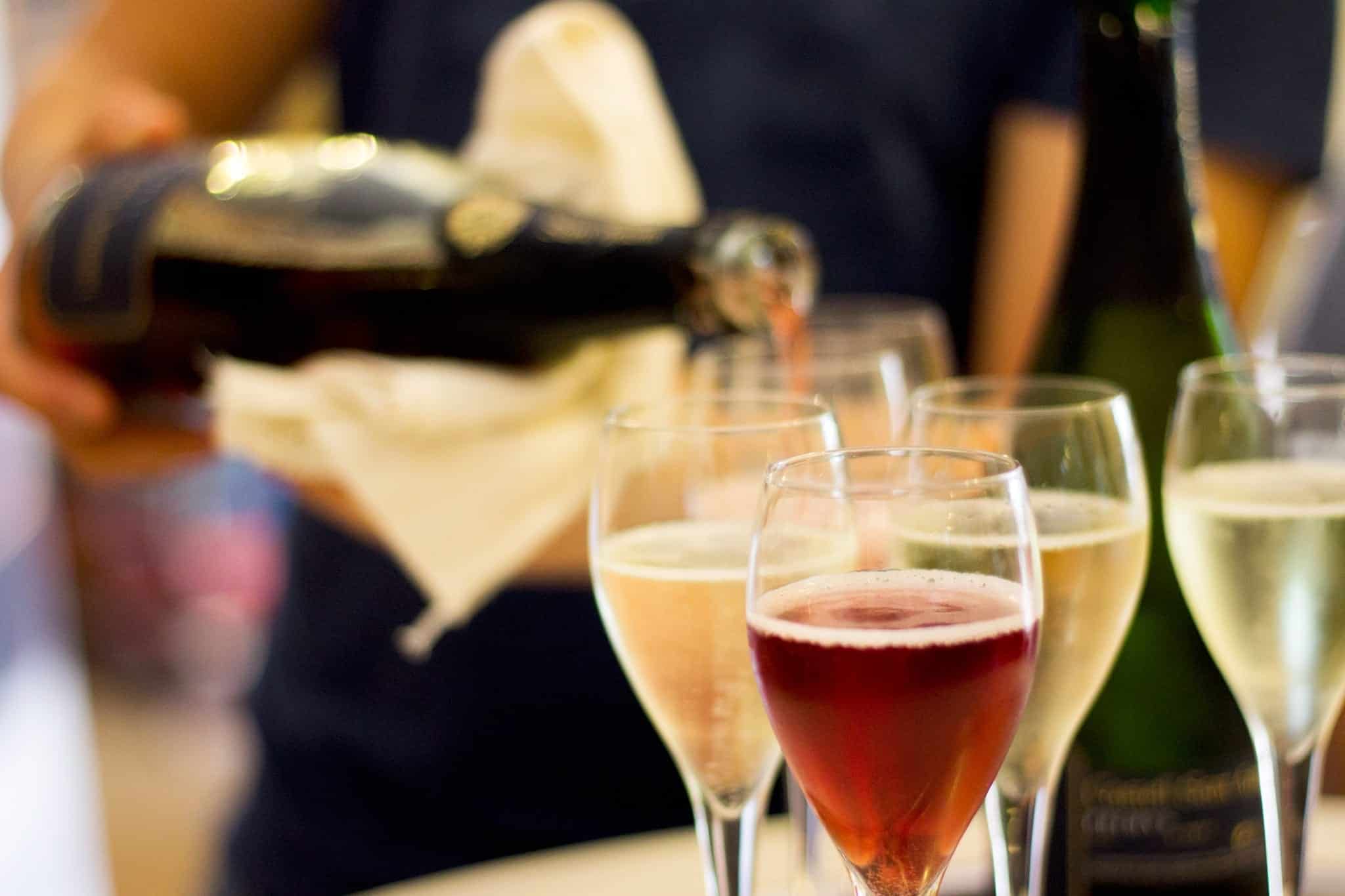 Barcelona Travel Insurance
A lot of people think travel insurance is an unnecessary expense — that's far from the truth. Travel insurance is vital. It's saved Kate hundreds of dollars and for one of her friends, who slipped and broke his back while traveling, his travel insurance saved him literally hundreds of thousands of dollars.
If you get pickpocketed on Barcelona's metro, travel insurance will refund you what you lost.
If you slip on the stairs at the Parc Güell and break your ankle, travel insurance will refund your medical costs and get you home for free.
If you get appendicitis while in Barcelona, travel insurance will cover your medical costs.
If an immediate family member dies while you're in Spain, travel insurance will help you get home immediately.
These are unpleasant things to think about, but it's so important to be prepared for the worst.
AdventurousKate.com uses and recommends World Nomads Travel Insurance. They're a great fit for almost every traveler. Take a look at their policies before you buy to make sure they're right for you.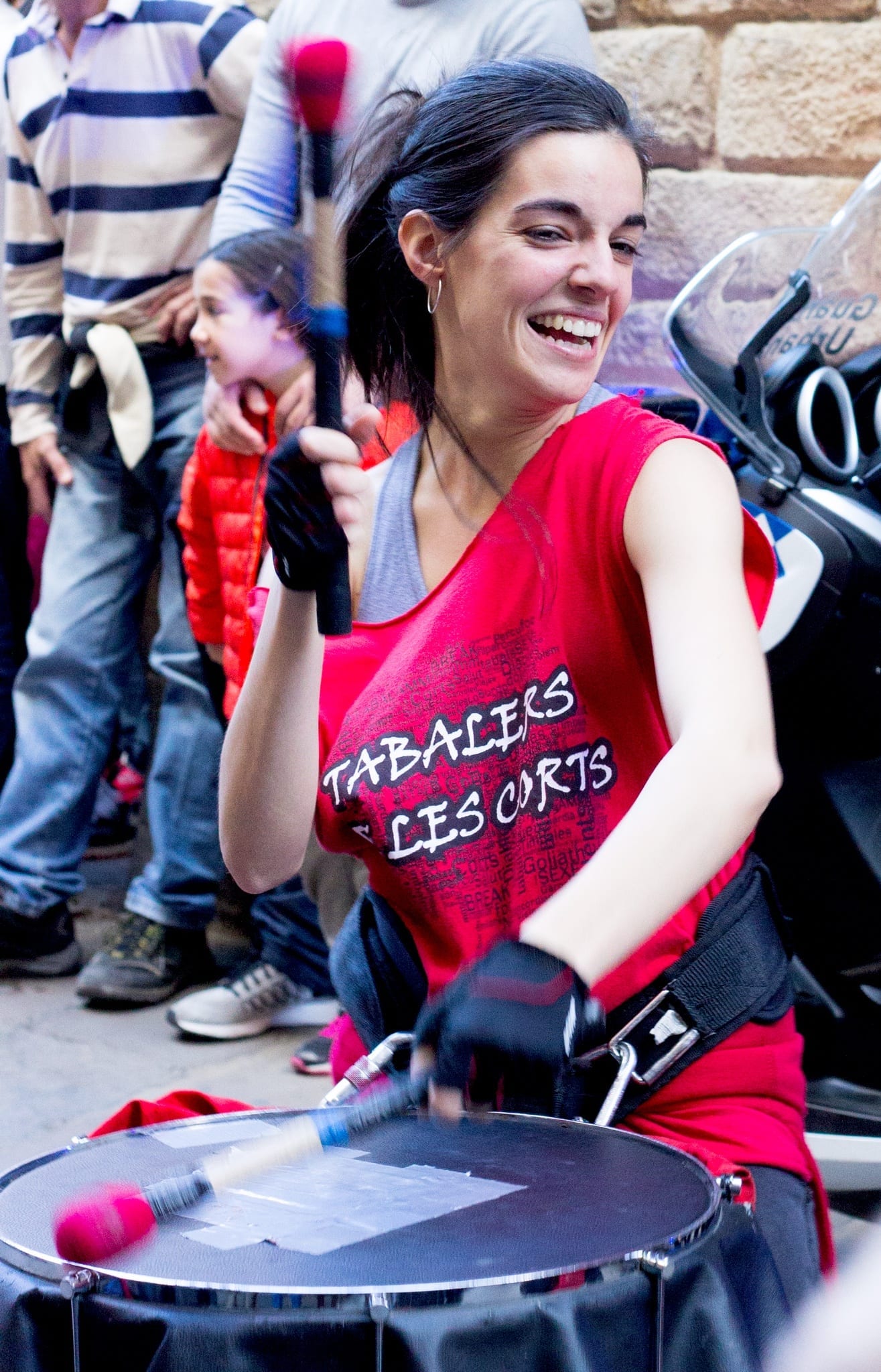 Barcelona is waiting for you!
So there you have it — everything you need to know to set yourself up for the best trip to Barcelona. Once you are settled in a neighborhood, just let the infectious energy of the city carry you away and we promise you will love Barcelona as much as we do!
---
READ NEXT:
---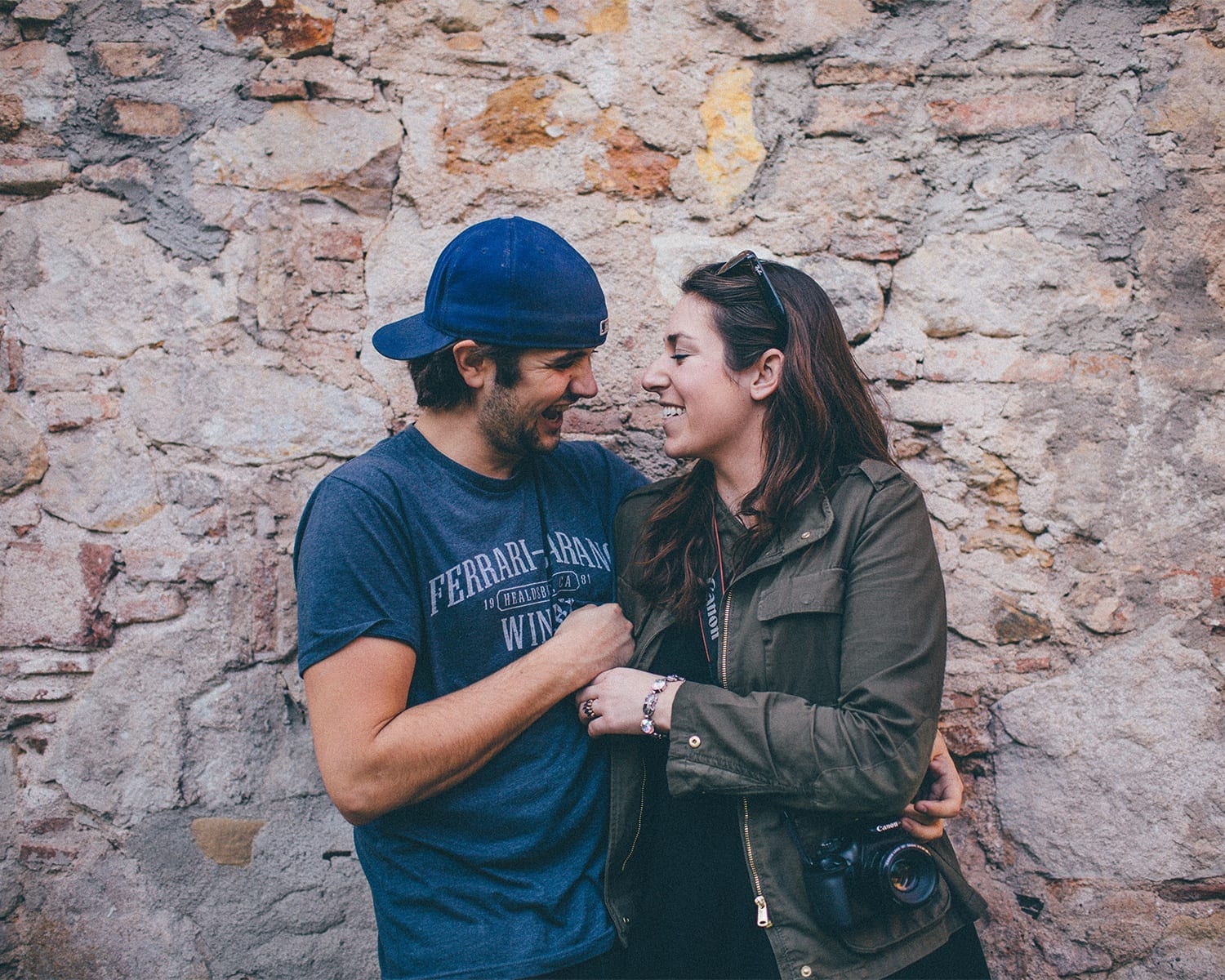 Meet the Barcelona Experts
Ashley and Alex are two travelers from California who are addicted to living local. They run the travel blog In Pursuit of Adventure and focus on eating, drinking, and living locally across the globe. They are currently exploring the cuisine and drinks of Cuba before turning their sights to Peru. They also are the authors of Eat Local in Barcelona: A Guide to Catalan Cuisine.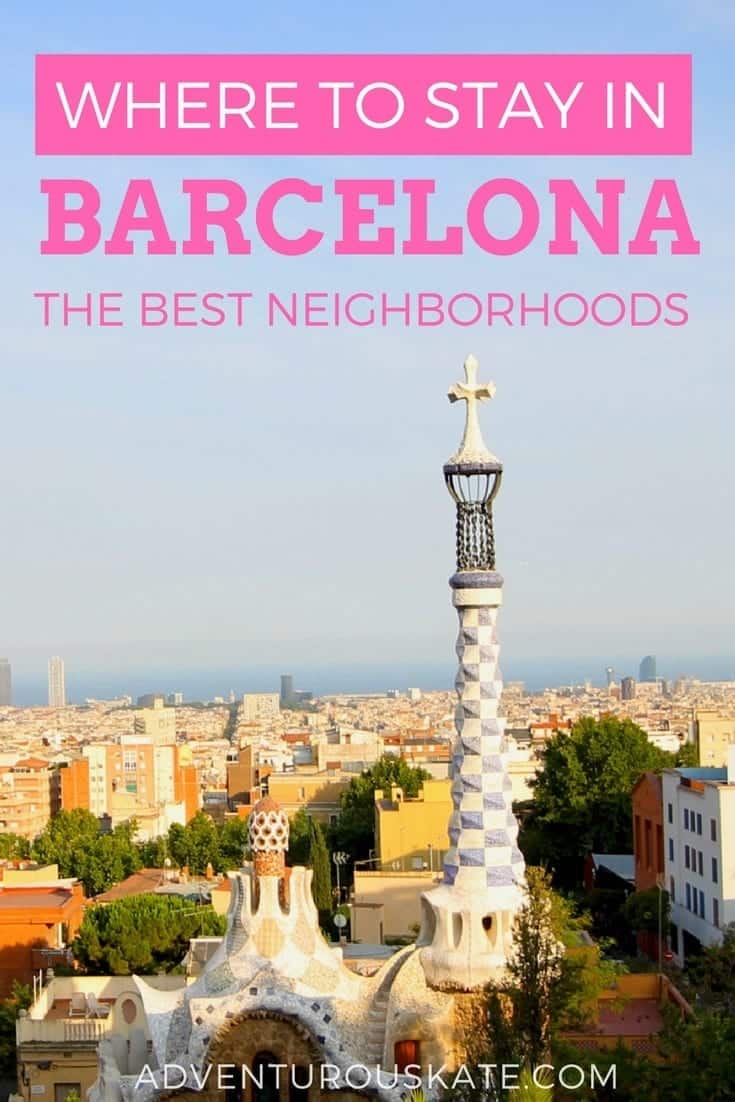 Have you been to Barcelona? Where's you favorite place to stay? Share away!
The post Where to Stay in Barcelona — Best Neighborhoods and Accommodation appeared first on Adventurous Kate.