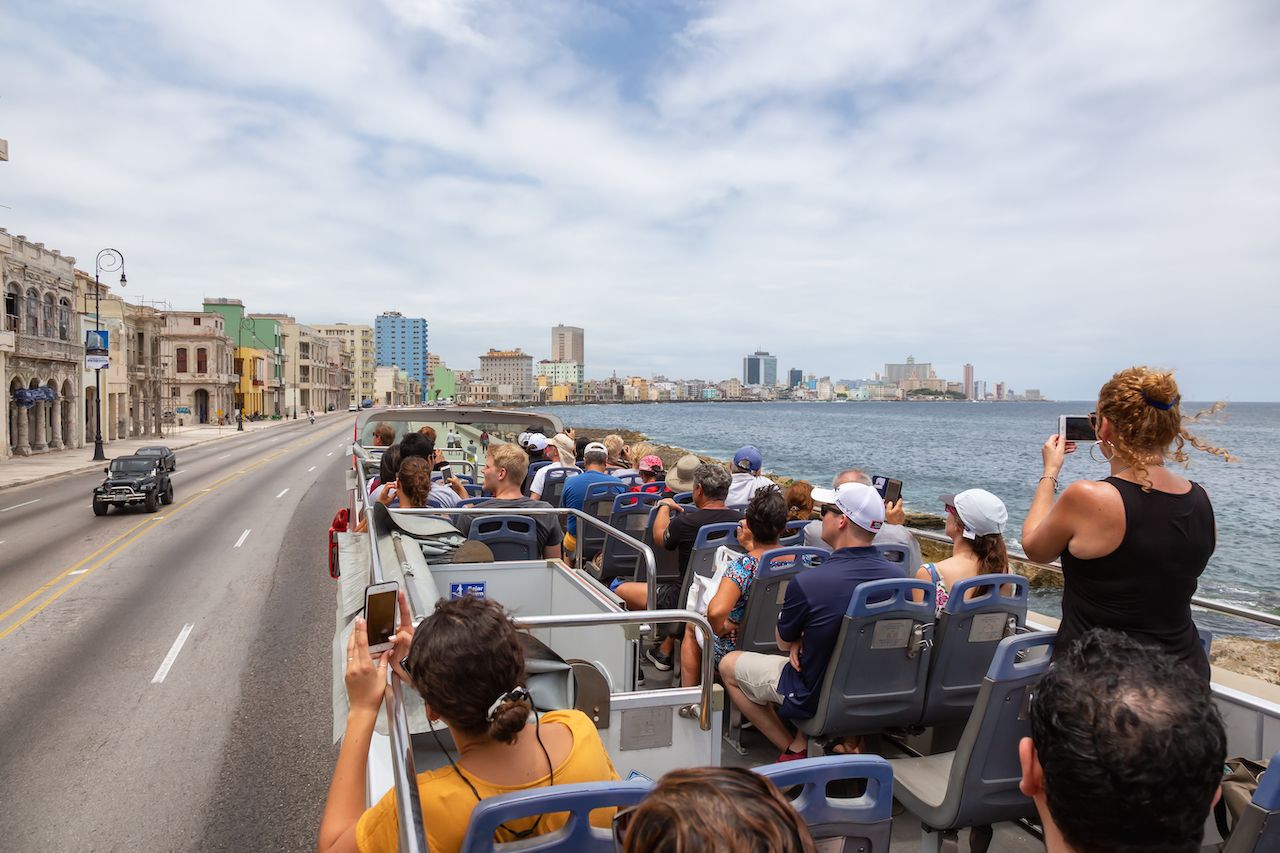 There are many ways for a traveler to get quickly acclimated to a new city. An extended walk is always a good start, as is a food tour or pub crawl. What you shouldn't do is get on a segway unless you want to zip right by what makes a place great and be laughed at by everyone you pass. But the best way might surprise you, as it did me before I took the time to consider it as a valid option.
I'm talking about the notorious hop-on, hop-off bus. Yes, really.
It's easy to name the downsides of the hop-on, hop-off bus. We've got Google Maps and other GPS navigation systems readily accessible on our phones and at our fingertips. Also, we can find and grab a printed copy of a city map from the place where we're staying, a nearby tourism office, or pretty much any other building catering to visitors — and we can do so on our own time.
Then there's the issue of cost. Riding a hop-on, hop-off bus requires not only putting some of our money toward buying a ticket, but it also requires us to commit some of our precious and limited time. Time that will be spent sitting on a double-decker bus that runs on someone else's schedule.
They're touristy, kind of nerdy, and the bane of local drivers the world over. But, if you're lucky to get a good seat on the top, and the weather's right, well, that's another story.
When I was getting my feet wet as a world traveler, this tourist attraction was not something I would have considered doing right off the bat. When I first went to London with my cousin, he suggested taking a hop-on, hop-off bus. The rest is history.
An easy way to learn the city
Hop-on, hop-off buses can give you a good 101 on the city's overall layout. Usually, in major cities, guided hop-on, hop-off bus tours take the most frequently used routes and streets and pass through or stop at key locations. Often having two or more different routes, these buses' loops typically encircle city centers, going around the main areas and into various neighborhoods within or just outside of the downtown or city center. You'll get a basic understanding of how the city flows while taking these routes.
For short weekend trips when you don't have much time to spend simply exploring, these routes can be the ideal way to experience more of the city than you could on foot in a short period of time. They can also be useful for plotting an itinerary around the city.
Being so un-cool is just so useful sometimes
While learning your way around, you should also absorb the included history lesson you get on board a hop-on, hop-off bus through the audio tour guide. These audio tours are played — not spoken — while the bus is in motion. Yes, it's recorded, and you'll have to perk up your ears or don goofy headsets, but for the most part, the recordings are at least well done, and the best are both informative and hilariously cheeky. The recordings point out buildings and landmarks known globally and locally, plus throw in neat tidbits about a city's history, people, cuisine, and culture. Each recording is in sync with the route, so you can turn your head and get your camera ready for a quick picture on cue. It's also offered in multiple languages — generally English, Spanish, Italian, and Chinese, among other choices depending on location.
Speaking of regions, a hop-on, hop-off bus route could go up, down, and all around the city. On a trip to Dublin, a hop-on, hop-off bus took me not only past Dublin hotspots like Trinity College and the touristy Guinness Storehouse but also to Dublin landmarks that I wasn't aware of like Kilmainham Gaol, a prison turned museum that once held the Irish independence leaders of the 1916 Easter Uprising.
Should you be inclined to visit any of these, all you need to do is employ the "hop off" portion of the mantra.
You can always bail
You can get always just get off. Hop-on, hop-off buses often have scheduled stops on the routes around certain sections of the city where you can do some additional sightseeing. You just have to make sure you know the schedule for the next pickup times and what time the buses stop running. Also, some bus tour companies offer combo tickets where you can get a bus ride that also ties into a river cruise or some other offering and then ride a hop-on, hop-off bus separately.

The post In defense of the hop-on, hop-off bus appeared first on Matador Network.