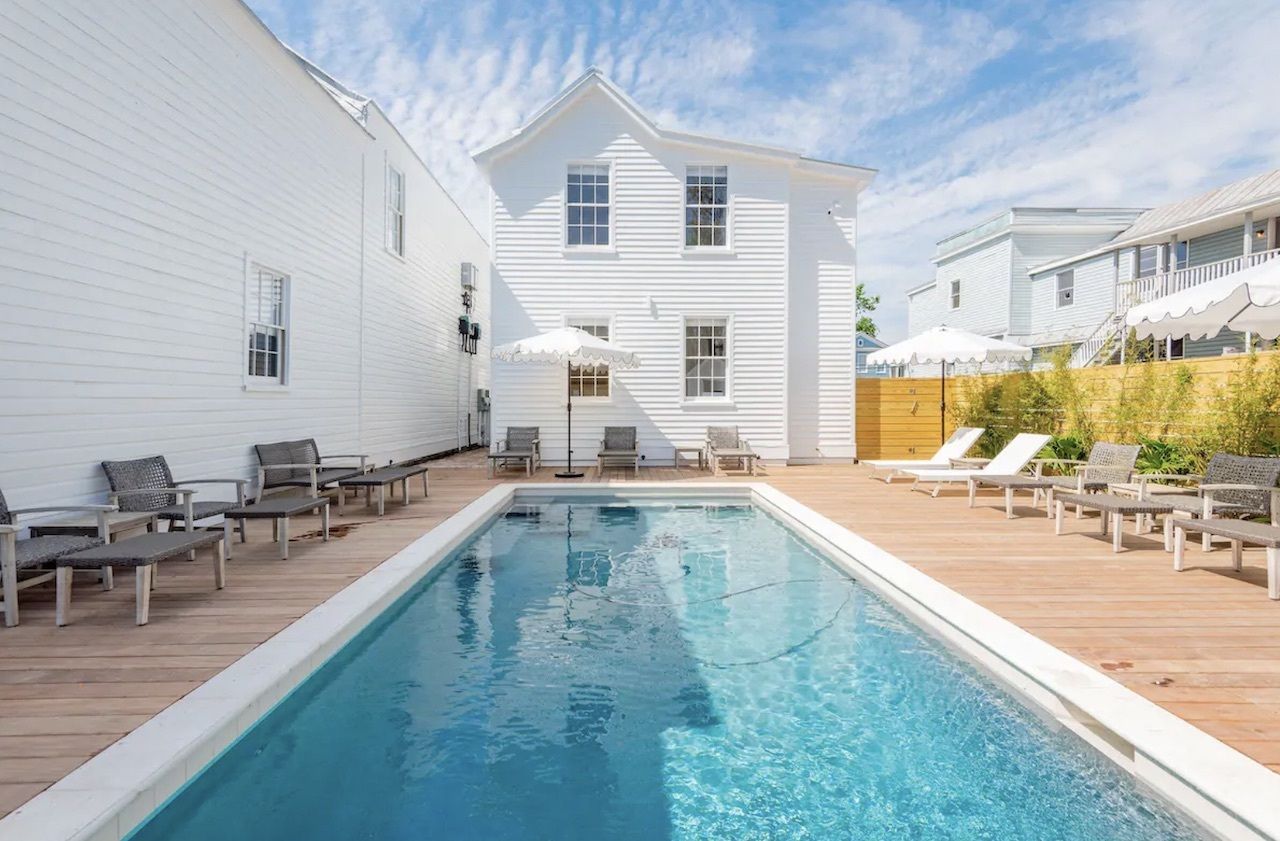 We hope you love the spaces and stays we recommend! Just so you know, Matador may collect a small commission from the links on this page if you decide to book a stay. Listed prices are accurate as of the time of publication.
There's no place like Charleston to have a bachelorette party. Gorgeous sightseeing complements the city's legendary food and drinks scene, and several chilled-out beaches line the city's coast. Whether you're looking to spend relaxing nights in after a day on the town, or you want to find the best place to check out Charleston's nightlife, there are dozens of Airbnbs to choose from here. The following listings are the best Charleston Airbnbs for a bachelorette party, from historic downtown guest houses to homes in some of the city's more eclectic neighborhoods.
1. Historic downtown house with pool
Why tour historic homes when you can sleep in one? This large historic house has been recently renovated and has a wraparound porch, as well as a private courtyard with a pool, perfect for sipping wine and watching the sunset. Just a short walk to the action on Upper King Street or a short ride to Rainbow Row and the Battery, this stay could be the perfect home base for exploring downtown Charleston.
Ten guests, four bedrooms
Price: $642 per night
2. Three-bedroom home in Park Circle
If your party has members traveling by plane, consider this three-bedroom home only eight minutes from the airport. Located in Park Circle, the historic district of North Charleston, this stay is within walking distance of the neighborhood's eateries and a short drive away from downtown Charleston and nearby beaches. The house also has a backyard with a fire pit, and a screened-in porch to enjoy drinks without getting stung by mosquitos.
Eight guests, three bedrooms
Price: $451 per night
3. Spring Street luxury apartment
For a larger group looking to enjoy Charleston in style, this elegant apartment offers a variety of amenities with a great location. This stay is in historic downtown, just a few blocks from King Street. Made up of two units, the apartments are connected by an interior door, creating a luxury four-bedroom, three-bathroom suite. There's also an outdoor patio for laughs and bubbles.
Twelve guests, four bedrooms
Price: $973 per night
4. Boho bungalow in West Ashley
This beautifully decorated home in West Ashley offers the perfect place to rest after a day exploring downtown Charleston or soaking up the sun on Folly Beach, both less than 30 minutes away. Located across the Ashley River from downtown Charleston, the West Ashley district also offers plenty of bars and restaurants of its own. The house sleeps eight, and its full patio is sure to be the perfect place for afternoon cocktails or party games.
Eight guests, three bedrooms
Price: $475 per night
5. Cozy Cannonborough house for five
This house in the Cannonborough/Elliotborough district is the perfect stay for a group of foodie bachelorettes. Ten of the city's most well-known restaurants are located in the district, not to mention more further south on the peninsula. Regardless of where you choose to dine, the home's location near King Street is perfect for experiencing the town without the street noise from traffic and nightlife.
Five guests, two bedrooms
Price: $216 per night
6. Condo two blocks from Rainbow Row
Just two blocks from Charleston's iconic Rainbow Row, this second-floor condo suitable for for five guests has an almost unbeatable location for exploring Charleston's historic district. The stay is also a quick walk from Waterfront Park, the perfect place to soak up the sunshine within view of the river and some of the city's most beautiful historic homes.
Five guests, two bedrooms
Price: $530 per night
7. Oceanfront home on Folly Beach
For a group who'd prefer to spend their days lounging on the beach, this beachfront home on Folly Beach won't disappoint. With a large living space and porch, the house offers the perfect space for catching up and relaxing. After a day on the beach, head to downtown Charleston (only 11 miles away) for dinner and drinks. Parking won't be an issue here, with room in the driveway for up to six vehicles.
Nine guests, five bedrooms
Price: $377 per night
8. Upper King Street apartment
Just one block away from Upper King Street, this seven-guest apartment offers a place to explore Charleston's historic district for a lower price than stays further south on the peninsula. The apartment has a lot of character, with exposed beams and open kitchen shelving, not to mention it's within walking distance to bars and clubs.
Seven guests, two bedrooms
Price: $287 per night
9. Colorful Avondale home with hot tub
This colorful Avondale home can accommodate up to nine guests and includes a large porch for socializing and a hot tub in the backyard. Avondale, another neighborhood located across the river from downtown Charleston, is sometimes called the downtown of West Ashley. Shops and restaurants are within walking distance, and downtown and beaches are nearby.
Nine guests, four bedrooms
Price: $600 per night
10. Harleston Village loft
If you want to stay on the main peninsula, but don't want to splurge on a stay closer to downtown, this guest house is the perfect fit. Harleston Village is home to the College of Charleston campus, as well as a number of historic homes and churches. The second floor of the town-style home is equipped with two bedrooms, a full kitchen, and a spacious living area.
Six guests, two bedrooms
Price: $225 per night
11. Charming historic downtown house with pool
This historic home, which uses modern decor with vintage touches, can welcome up to ten guests. The stay is close to everything including the historic district, Charleston's French Quarter, and other points of interest downtown. Spend the day sightseeing, and return for a spa night to make use of the home's large pool and chill-out area in the back. This stay is also a great base for a walk through historic Charleston.
Ten guests, four bedrooms
Price: $659 per night
12. Warm and modern Cannon Street house
If you're worried about having enough space to get ready for a night out, this house is your answer. This stay in the Cannonborough/Elliotborough district along Upper King Street sleeps nine guests, with four queen size beds and three full baths. The house also has a parking space for a car and lists other parking areas in its description.

Nine guests, three bedrooms
Price: $784 per night
More like this
The post 12 Airbnbs in Charleston for a bachelorette party filled with southern charm appeared first on Matador Network.