Looking for fun things to do in Salem, Massachusetts? This historic city near Boston becomes the spookiest city on the planet the month before Halloween!
But is Salem actually worth visiting? If you're a Halloween fan, experiencing Haunted Happenings in Salem should be on your bucket list for sure. But even if it's nowhere near Halloween, Salem has tons of cultural, historic, even spiritual sights.
You may have heard of Salem from the Salem Witch Trials: a period of hysteria in 1692 and 1693 when more than 200 people were falsely accused of witchcraft and imprisoned. Ultimately, 20 were executed; five more died in prison.
While this was a historic tragedy, Salem used its witchy reputation to grow in a new direction. Today, in addition to being one of the top Halloween destinations on the planet, it's a popular center for practicing witches and those interested in the occult.
It's a bit of an odd combination — history-packed town and New Age center — but it works in Salem!
Salem is a place I know very well. I grew up just 20 minutes away in the town of Reading. As a result, I have spent quite a bit of time in Salem, exploring its historic side and its witchy side (not to mention more field trips than I can count!).
Salem is one of the most popular day trips from Boston, but there's enough to do here to make it a full weekend getaway. And if you're here for Halloween, you'll be glad you had the extra time!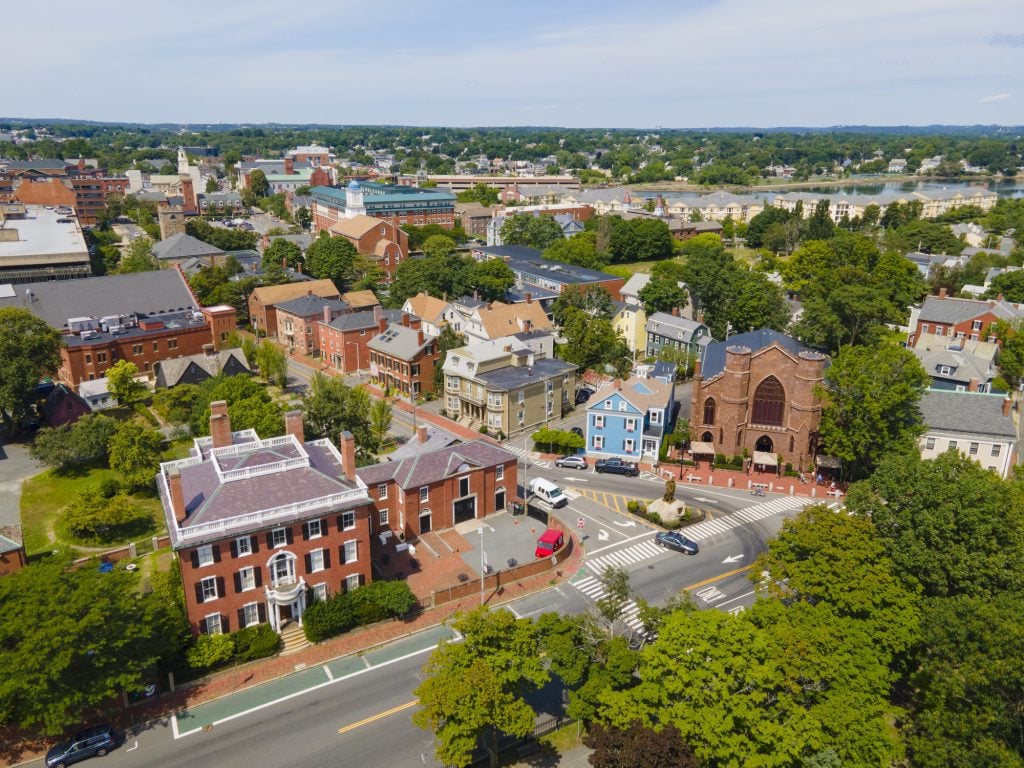 Finding the Best Things to Do in Salem, Mass
Located on the North Shore of Massachusetts, Salem is a small city of 43,000 residents that wears many hats. You've got one of the key historic ports of the United States, a hotspot for Boston day-trippers, a vibrant college town, a gathering place for modern-day witches, and the most Halloween-crazy city on the planet.
It's easy to overlook Salem in Massachusetts, a state filled with so many cultural riches. But I think you're going to like it here.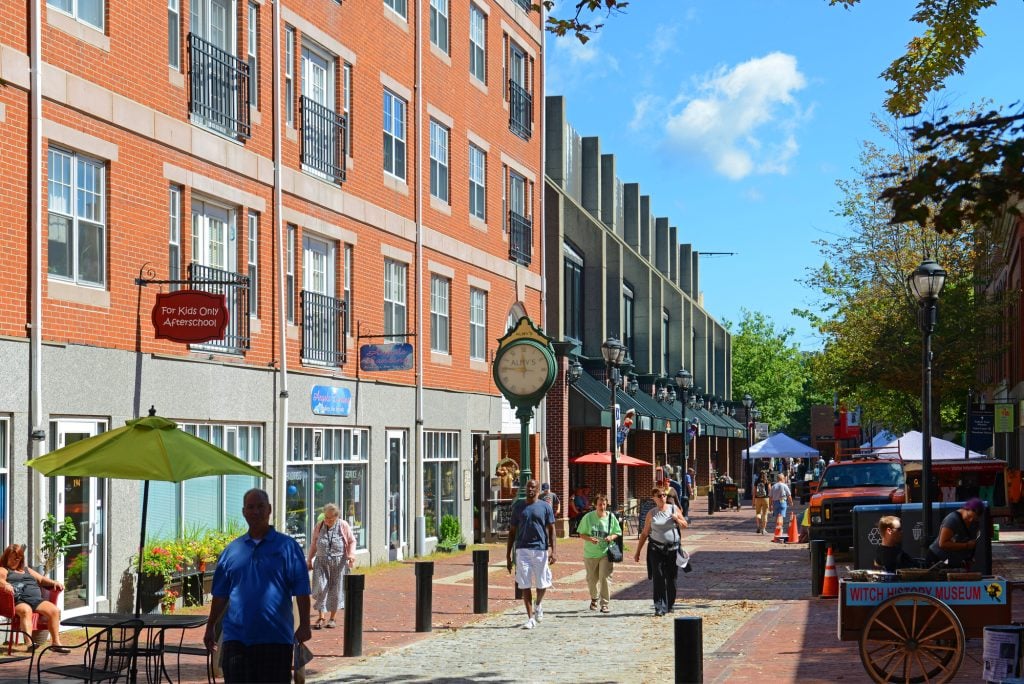 Best Things to Do in Salem, Massachusetts
There are two main sides of Salem that draw visitors: the historic and cultural attractions of Salem and the haunted, witchy, spooky attractions of Salem. I recommend experiencing both sides of Salem, even if you aren't visiting during Halloween.
Salem particularly excels when it comes to guided tours, and I highly recommend you go on at least one tour. Whether you're interested in the Salem Witch Trials or Maritime History, whether you want to learn about modern witchcraft or hear about vampires and voodoo, there is a tour just for you!
Additionally, there are tons of historic sites worth visiting. If you're really into historic sites, you'll love that Salem has so much to offer. But if you're not the biggest history fan, I recommend that you don't overdo the historic attractions. Don't burn yourself out if it's something you don't like ordinarily!
Here are some of the best things to do in Salem. I've divided the list into two categories: first the cultural and historic things to do in Salem (including Salem Witch Trials history), and the haunted, spooky things to do in Salem.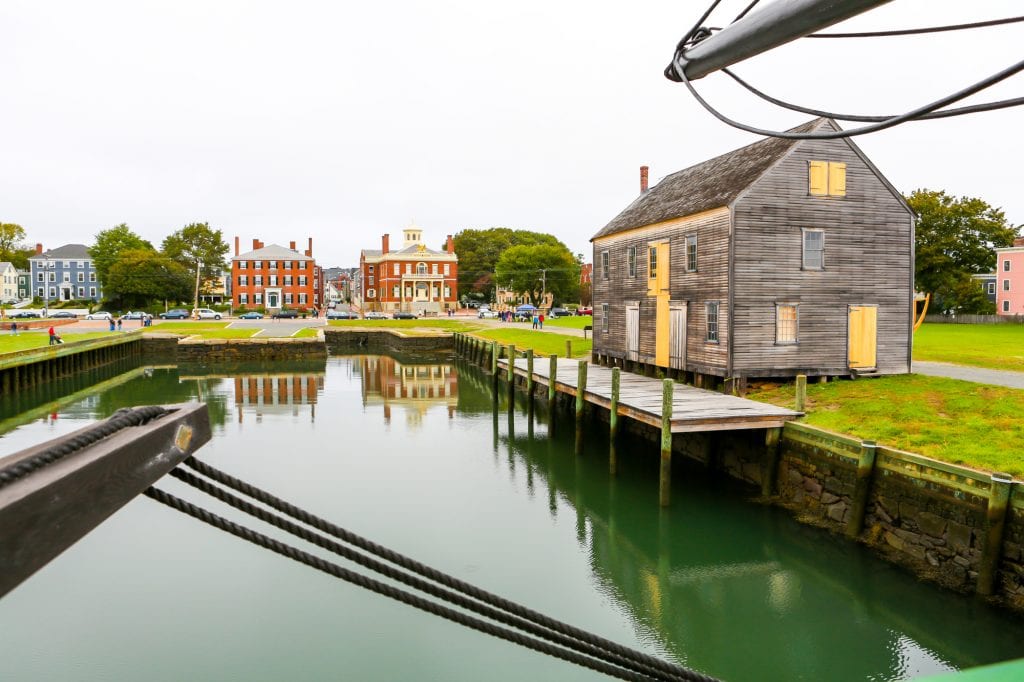 Cultural and Historic Things to Do in Salem
Salem Maritime National Historic Site
Did you know that the oldest National Historic Site in the United States is located right in Salem? Salem Maritime National Historic Site was established in 1938. Here nine acres of land, you can explore 12 historic structures and a ship.
The entire historic site is located on the waterfront of Salem Harbor, which has been in operation since Salem was settled in 1626. For centuries this was one of the busiest ports in the country. (Fun fact: when my 12-year-old great-grandfather jumped on a boat from Sicily to the US, this is where he landed!)
As a National Historic Landmark, the site and all tours are free. You can see artifacts and hear stories about people who lived and worked in Salem.
Across from Salem Maritime National Historic Site is the Custom House, originally built in 1819. The high ceilings, staircase, and woodworking created a sense of strength and stability. This is where Nathaniel Hawthorne worked while writing The Scarlet Letter and you can see his office.
Historic and Architecture Tours in Salem
Salem has tons of guided tours. Here are the best of the historic and cultural tours you can take in Salem. (Spooky and haunted tours are further down.)
This Salem history and sightseeing walking tour is a perfect 2.5-hour introduction to the city's history and culture (and makes a great activity on your first day). You'll learn about the witch trials while passing buildings and landmarks like the Witch House, Chestnut Street, and Ropes Mansion.
Another historic option is this one-hour tour of America's oldest cemetery, taking place in the Old Burying Point with a licensed guide. You'll learn about the people buried here, the history of the Puritans, macabre grave robbing, and more.
Prefer to do things solo? Consider doing one of Salem's self-guided tours.
This self-guided tour of Salem is as easy as downloading the $5 tour to your phone. Start at the Ropes Mansion and enjoy a tour around the city. This works on up to four phones simultaneously, so you can do it as a small group.
This self-guided audio tour of the Salem Witch Trials is a great way to learn the history of the event at your own speed. Learn about the events that transpired, visit the pivotal locations during the mass hysteria, and find out how this period in history inspired 20th century authors like Arthur Miller.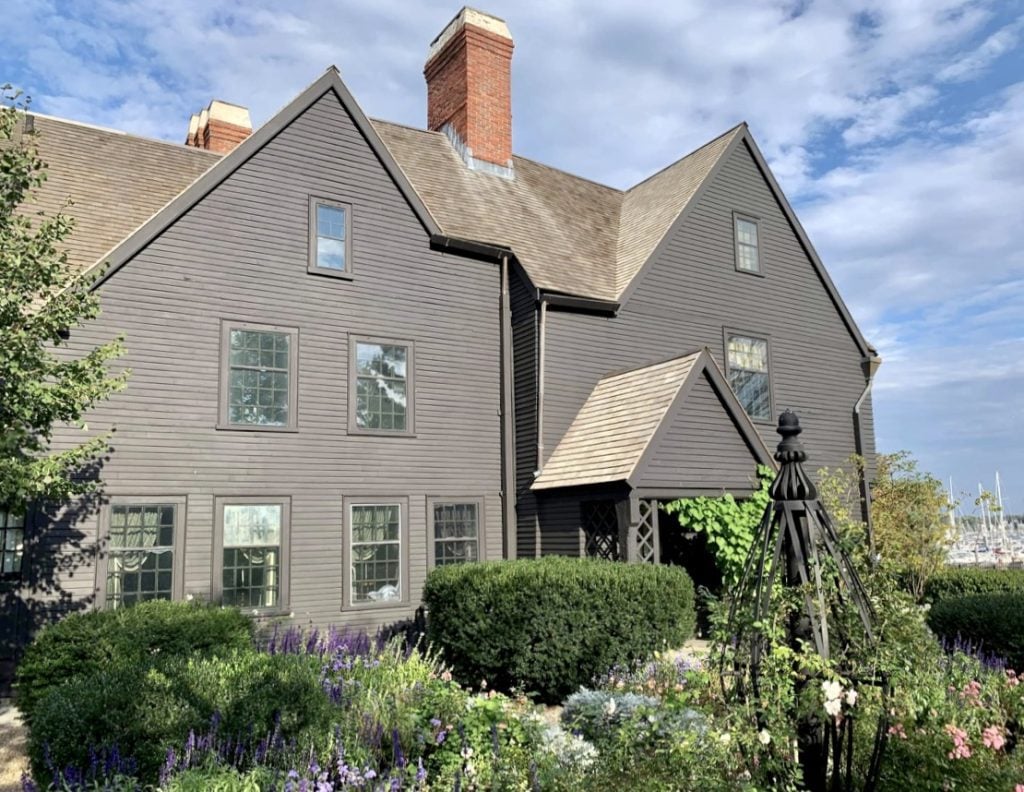 House of the Seven Gables
The House of the Seven Gables is perhaps the most famous building in all of Salem, built by merchant John Turner in 1668 and set on Salem Harbor. In 1851 author Nathaniel Hawthorne published his novel The House of the Seven Gables, catapulting it into national fame.
The house was owned by various families throughout the years until the early 20th century, when historic preservation of the mansion began. 350 years of history adds up to a lot of interesting stories!
A guided tour of the mansion costs $20. You can also go on a separate gardens and grounds tour that comes with an audio tour for $10.
Peabody Essex Museum
The Peabody Essex Museum is one of Salem's greatest cultural treasures. A combination of the former Peabody Museum and Essex Institute, it was established in 1799 as the East India Marine Society. It's one of America's largest art museums as well as the nation's oldest continuously operating museum. 
The museum has a major collection of Asian Art as well as Native American, African, and American art to showcase New England's heritage over 300 years. At the Peabody Essex Museum, they are constantly challenging the meaning of art, history, and cross-cultural exchange.
Admission to the museum is $20 for adults.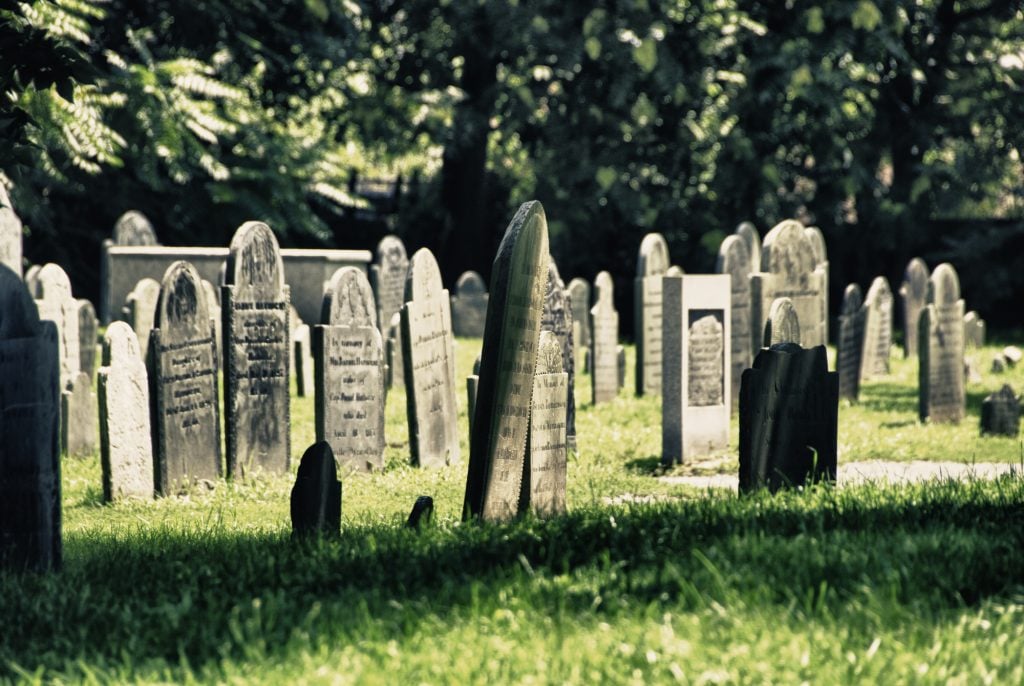 Old Burying Point Cemetery
The Old Burying Point Cemetery, also known as Charter Street Cemetery, was built in 1637 and is one of the oldest cemeteries in the United States.
Here you'll find the burial ground for judges of the Salem Witch Trials as well as many of those accused of witchcraft. In total, 19 people were hanged, one was pressed to death, and five died in prison.
Also buried here are some Revolutionary war figures and heroes and many other early notable residents of Salem.
Some visitors try to capture the ghost of Salem Witch Trials Judge John Hathorne by taking photos at his gravesite. Some also say the spirits of the accused witches still show up in the cemetery. Others claim to hear voices, feel a drop in temperature or see weird orbs. Welcome to Salem!
Salem Witch Trials Memorial
Located next to the Old Burying Point Cemetery is the Salem Witch Trials Memorial on Liberty Street. It's a moving tribute to tho the innocent people executed in Salem in 1692 and 1693.
The memorial was unveiled in 1992, commemorating the 300-year anniversary of the Witch Trials. Each victim of the trials is represented on a large granite stone with their name, means of execution, and date of execution. You can read their final words.
The memorial is a quiet place to reflect and pay respect to the lives lost as well as learn a little about each person. Keep this in mind — Salem has lots of places to goof off, but this is not one of them.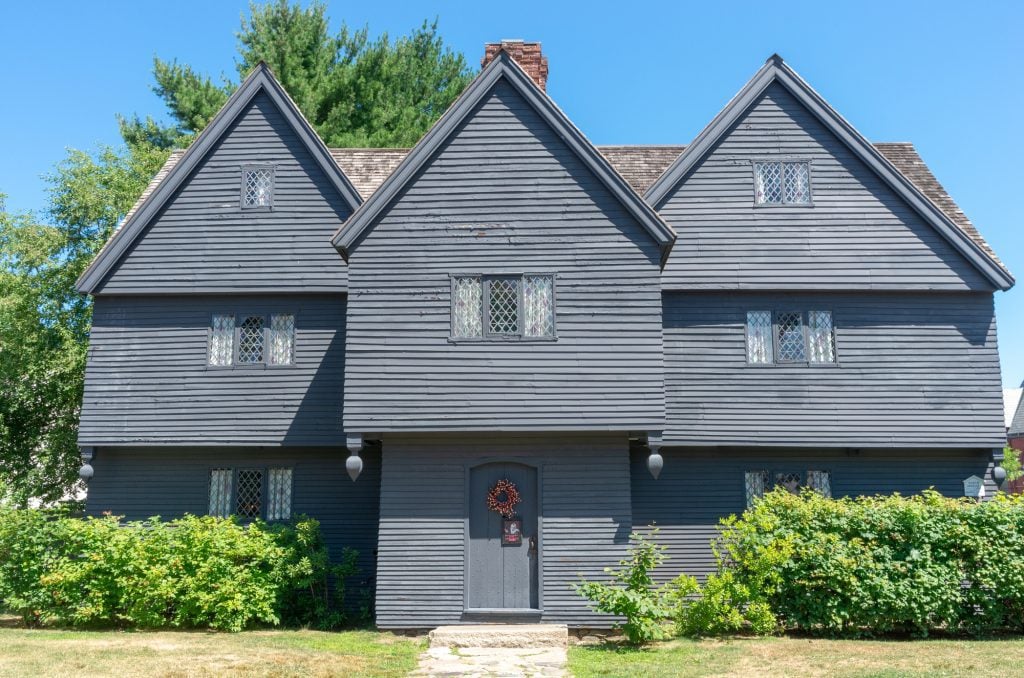 Salem Witch House
The Jonathan Corwin House, also known as the Witch House, was originally built in 1675. But by 1692, Salem became engulfed in the Witch Trials and the inhabitants of the house ended up playing a large role in the mass hysteria.
When touring the Witch House, you'll learn more about how the fear of witchcraft came to be and what brought it to an end. The Witch House is outfitted as it would have been during the late 17th century.
Admission to the Salem Witch House is $8.25 for a self-guided tour or $10.25 for a guided tour.
Witch Dungeon Museum
Ever wondered what the Salem Witch Trials actually looked like? The Witch Dungeon Museum aims to bring you back in time to 1692. First, you'll witness a trial with actors performing a realistic recount of the experience. After the re-enactment, you'll tour a dungeon.
The dungeon is a replica of ones used to hold those who were accused of witchcraft.
Tickets cost $13 per adult, $12 for seniors, and $10 for children 4-13. The museum aims to display the horrifying truth of the Witch Trials.
Pickering Wharf
Located on Salem Harbor, Pickering Wharf is a shopping village along the water. Here you'll find some of the best local boutiques, restaurants, and shops.
This is a lovely place to stroll along the water after lunch, checking out what's on offer and picking up the perfect Salem souvenir.
Come back in the evening to enjoy live music!
Sail on the Schooner Fame of Salem
For a completely different Salem experience, take a ride out on the Schooner Fame sailboat. You'll get to see Salem from a new perspective out on the water. And take it from me, a North Shore native — our coastline gets no attention but it's really pretty!
The sailboat ride begins at Pickering Wharf and you might sail up toward Beverly or Marblehead — it depends on the wind. Along the way, you'll see lighthouses, waterfront mansions, forts, and more. You'll learn about the history of the Schooner Fame and the War of 1812.
If you love being out on the water or want to do something unique, this is perfect for you. Rides take2 hours. Alcoholic beverages are for sale on the boat and there's nothing like sailing with a Dark & Stormy in hand!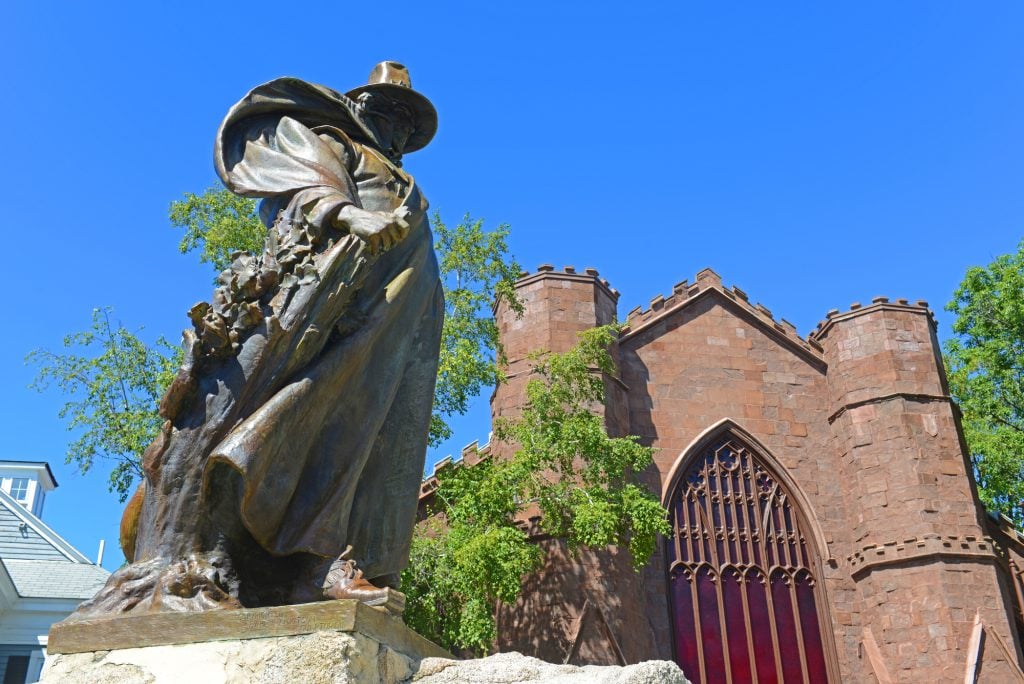 Salem Witch Museum
To immerse yourself in the With Trials of 1692 and 1693, consider visiting the Salem Witch Museum.
There are two presentations that take place while visiting the museum. First, you'll learn through narration and visible stage sets about the Salem witch hunt. The second exhibit is centered around the word witch and how it led to the Salem witch trials.
A quick note — among us locals, the Salem Witch Museum is known as the "letdown" attraction. People are often disappointed when they realize how limited it is. I don't discourage anyone from visiting, but do some research to see if it's something you want to include in your limited time in Salem.
Visiting the Salem Witch Museum costs $15 for adults and often sells out during the busy times of year.
Proctor's Ledge
Historians once believe that the victims of the Salem Witch Trials were executed on Gallows Hill, but the exact spot was never marked. It wasn't until 1921 that a historian found evidence that the actual execution took place near the base of Gallows Hill on Proctor's Ledge.
The city of Salem bought the land in 1936 and called it Witch Memorial Land but no memorial was built. In 2010, historians began to research this again and confirmed in 2016 that Proctor's Ledge was the execution spot for witch trials thanks to accounts from eyewitnesses who could see the hangings from their homes.
In 2017, a memorial was created to honor the lives that ended here. You can visit the small stone memorial for yourself. Remember that this is a place of sorrow.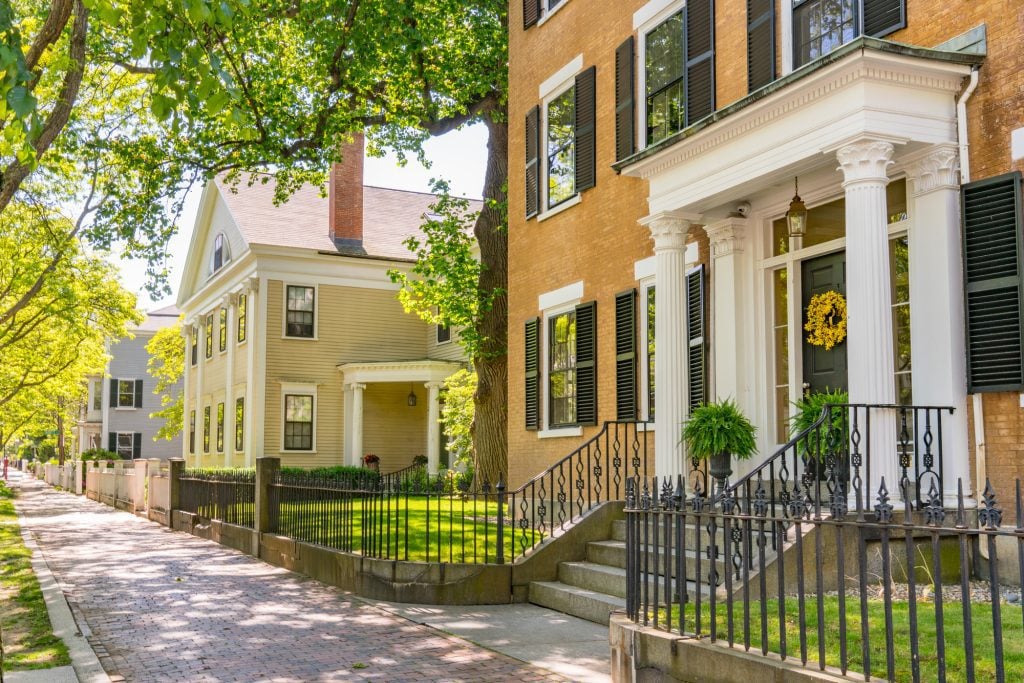 McIntire Historic District
If you love to explore historic buildings, be sure to check out the McIntire Historic District, home to more than 300 historic structures. You can go on a walking tour of this area and see many places built by Samuel McIntire, an architect who built homes in the late 18th and early 19th centuries.
The entire district is a little over a mile and takes about 45 minutes to walk. It starts from The Witch House. McIntire himself lived at 31 Summer St. The route is marked by wheat on posts and sidewalks. Many of the homes are privately owned and not open to the public but there are a few you can visit.
One house that you can visit is the Phillips House, now a museum. The house was first built in the early 1800s in South Danvers, Mass. One-third of the house (which equaled four rooms) was transferred by oxen and logs to Salem.
You can also enjoy the McIntire Historic District on a guided architecture walking tour. The tour focuses on the McIntire District.
Ropes Mansion
Also known as Ropes Memorial, the Ropes Mansion is a historic building run by the Peabody Essex Museum. This Georgian mansion was built in 1727 and is listed on the National Register of Historic Places.
You may recognize this house from Hocus Pocus — this is where the character Allison lived (where her parents threw the fancy Halloween party). Some Salem residents believe the house and gardens are haunted by some of its former inhabitants. See for yourself, if you dare.
The Ropes Garden surrounds the mansion and was created in 1912. It's free of charge for the public to enjoy the garden at all hours of the day, every day. Tours of the Ropes Mansion are on Saturdays and Sundays at select times of year.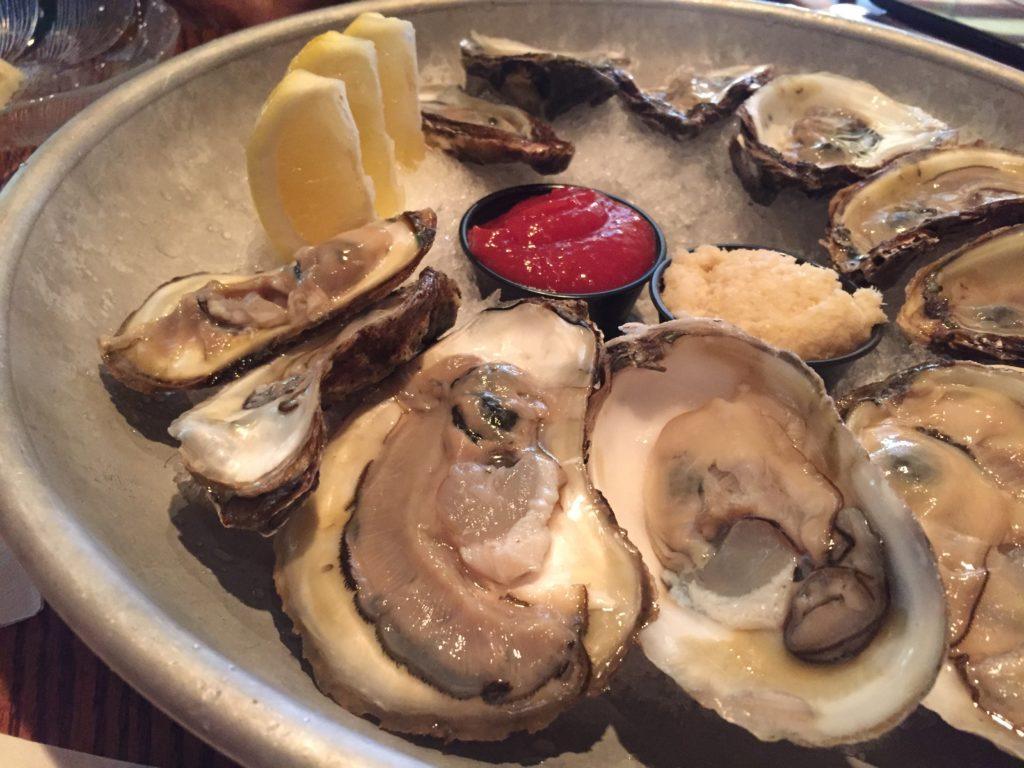 Eat Fresh Seafood
Salem is a great place to indulge in seafood, and you often get better value for money than some restaurants in Boston.
Finz is located on Pickering Wharf and has both indoor and outdoor seating. You'll find fresh seasonal seafood, caught sustainably whenever possible, and a raw sushi bar. You'll also find options for non-seafood eaters.
Sea Level Oyster Bar has an excellent raw bar as well as diverse menu options — inventive and classic seafood dishes, plus pizza and tacos. In 2017, the restaurant received the Best of the North Shore award. The waterfront view is great and the cocktail selection is a lot of fun.
Dube's Seafood has been a Salem classic since 1961, serving mainly fried seafood with some broiled options on the menu as well. This is one of the cheaper seafood spots in Salem and it makes a fun meal out.
Ride a Bike to a Picnic
If you want incredible Instagram photos from Salem, you'll love this bike ride and picnic. You'll go sightseeing around Salem, receive a palm reading, shop, and enjoy an upscale picnic lunch.
The picnic will be completely set up for you with pillows, board games, blankets, decorations, and lights. This bike and picnic tour would be the perfect romantic activity or just a nice and relaxing way to explore Salem with a friend.
It costs $130 for two guests and includes a tandem bicycle and picnic supplies. You'll need to purchase the food for the picnic and the entire tour lasts about 2 hours.
Visit Marblehead
Marblehead is next door to Salem, about a 10-minute drive, and worth visiting if you have some extra time. Despite visiting Salem all my life, I never visited Marblehead until 2021! It's a pretty little town to visit.
You can easily explore Marblehead on your own, from the historic fort to the fun shops and cafes. It has a reputation as one of the fancier, more hoity-toity towns of the North Shore, and it's definitely more refined than Salem. Many of the historic homes are covered with golden fish or seashell decorations; it's fun to spot them.
Feel like joining a tour? This literary-themed Marblehead tour will take you along the beaches and coves of Marblehead while sharing the history and stories of people from the old fishing village.
Or try a coastal walking tour of Marblehead is another option when visiting Marblehead. You'll take a very scenic route to view the harbor, beaches, coves, islands, ponds, architecture, and more.
To get to Marblehead, I recommend driving or taking an Uber. You can also walk if you feel like it — it's about an hour's walk (though not a scenic walk) from city center to city center.
Go on a Salem Scavenger Hunt
For some adventure, go on a Salem Scavenger Hunt. You'll get to walk to all the best sites around the city while answering trivia and solving challenges. It's a fun and unique way to learn about Salem.
You can choose to work with a team of friends or against them while completing the scavenger hunt. It's a great idea for couples, big groups, and just about anyone. You'll definitely get a side of Salem you didn't expect!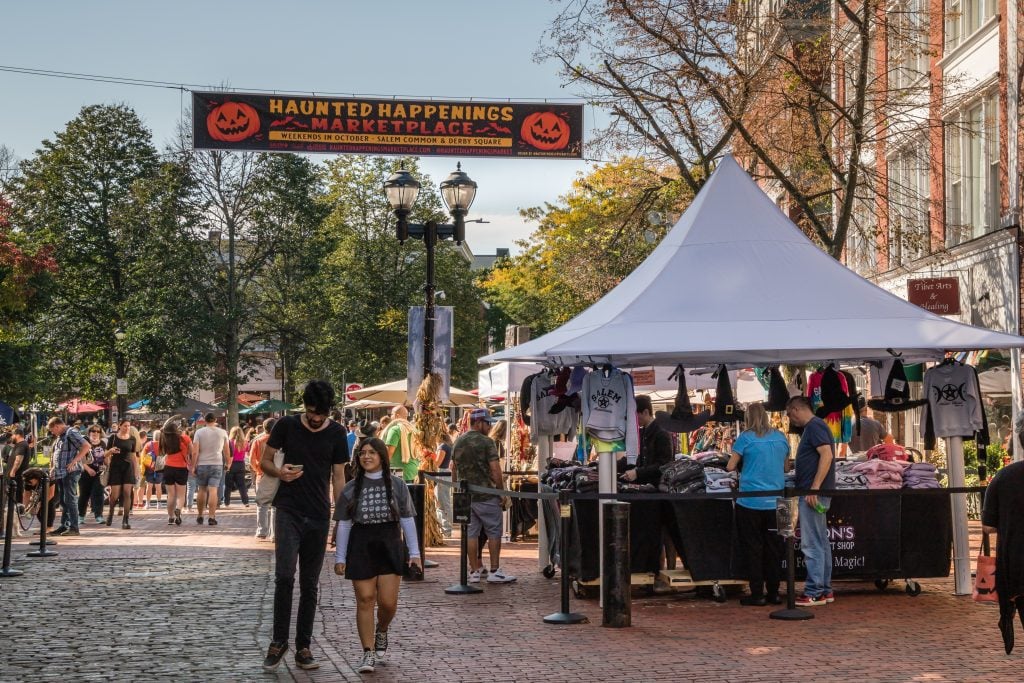 Halloween and Spooky Things to Do in Salem, Massachusetts
Haunted Happenings
Salem is fun to visit 12 months of the year, but the month of October is when Salem is at its absolute best. This month is the time for Haunted Happenings, a month-long festival leading up to Halloween.
Salem Haunted Happenings first began in 1982 as a week-long event leading up to Halloween and has continued to grow larger every year since. You'll find events taking place all month long on the event calendar.
Some of the events include a Grand Parade, the Haunted Biz Baz Street Fair, ghost tours, haunted houses, live music, costume balls, and much more fun!
And if you come for Halloween night, you're in for a treat. While there are parties all over Salem, some of the most fun is out in the streets, seeing everyone in their costumes! (Almost as much fun? Train rides between Boston and Salem on Halloween night.)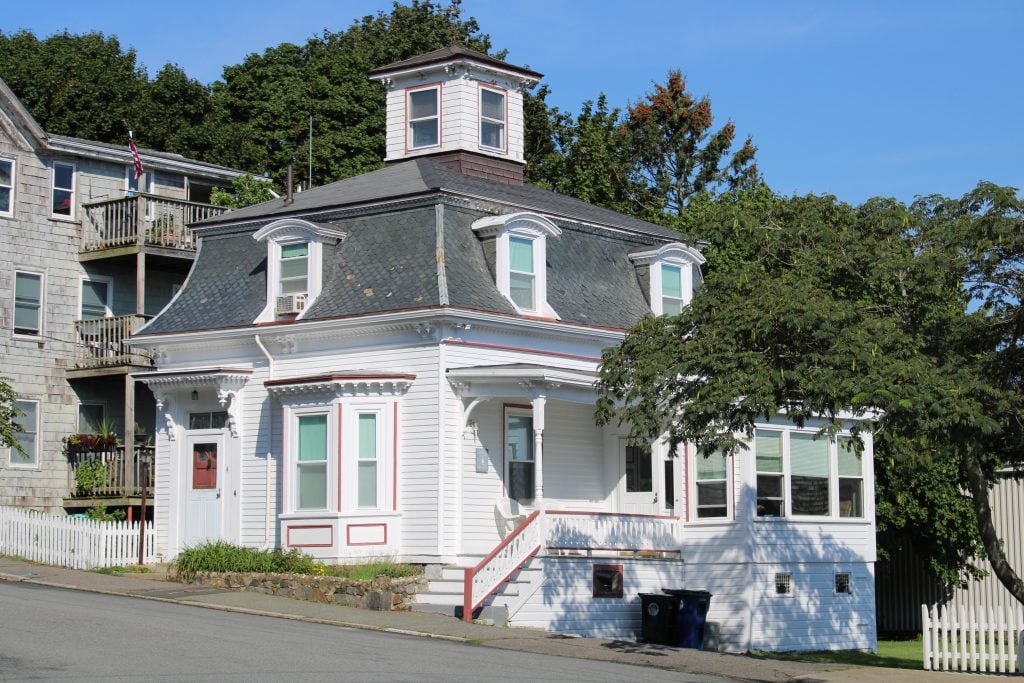 Go on a Haunted Tour of Salem (Ghosts, Witches, and More!)
Salem has every kind of haunted tour you can imagine! Seriously! They even put cities like New Orleans and Savannah to shame with their diverse spooky offerings!
This haunted history tour of Salem will take you on a two-hour walking tour related to the Salem Witch Trials. You'll learn the history of witchcraft, see some sites from Hocus Pocus, and hear stories about legends and hauntings in Salem. If you choose to take the tour at night you'll get ghost stories.
Another option is the Guided Ghost Walking Tour, where you'll visit eight of Salem's most haunted places. Your guide will tell you stories about the different spooky locations. This is a quick tour at only an hour long.
For something different, the Salem Voodoo, Vampire, and Ghost tour adds voodoo and vampire stories to the history of the Witch Trials. After you take photos at the haunted sites, your guide will help you decipher if there is any paranormal activity in the photo. Ever done that on a tour?
The Salem Night Tour will take you through the city while sharing some of the legends and tales of witchcraft that occurred here. You'll visit sites related to the Witch Trials and learn about some of the ghosts who are thought to still haunt the area.
Are you curious about present-day witches in Salem, but too shy to ask? Take a tour around Salem with an actual witch! For 90 minutes you'll explore Salem and many of its historic sites while getting to learn more about how witchcraft is used today. Your witch guide will show you some of the lesser-known witch sites in Salem.
How about a witch tour in the woods? Talk about maximum spooky potential! You'll leave downtown Salem and head into the wild. Your witch guide will tell you about witchcraft and the use of mushrooms and other healing plants that can be found in the woods. This 1.5 hour tour is definitely one of the more unique options.
Visit the Satanic Temple
Really? Visit the Satanic Temple? Seriously. Salem, Massachusetts, is home to the headquarters of the Satanic Temple organization, NOT to be confused with Satanists or the Church of Satan (which is a TOTALLY different organization).
The Satanic Temple functions to encourage benevolence and empathy. In their work they confront hate groups, work for equal representation when religious groups get representation, work for reproductive rights for all, and work to create non-religious alternatives when religion bleeds too often into American public life.
When visiting the temple, you'll be able to view the Salem Art Gallery with exhibits of witch hunts and Satanism. The Baphomet Monument is an infamous statue in the gallery. Since all religions are to be treated equally in the US, the Satanic Temple donated this monument to be displayed with the Ten Commandments Monument. The Baphomet Monument will remain on display in Salem until it's placed with other religious monuments.
You can find Satanic Temple organizations all over the country, and they're free to visit.
Explore the Spiritual Shops
In the past century, Salem has become a cultural center for witches, Wiccans, psychics, palm readers, and various followers of the occult. As a result, you'll find plenty of spiritual shops selling witch-related goods and memorabilia.
You'll find what you might expect — herbs, candles, tarot card decks — as well as art, jewelry, items for altars, books on every subject you can imagine.
Some witch stores in Salem include The Cauldron Black, Crow Haven Corner, and Hauswitch Home + Healing. Many offer psychic readings, tarot readings, or mediumship sessions.
Pose as a Witch in a Photo Shoot
Yes, you read that right. You can have a photoshoot done with a witch-like theme. That makes the ultimate Salem souvenir! It would make for a fun and memorable experience in Salem, that's for sure.
This Witch Photo Shoot occurs on a stage set in Olde Salem Village in 1692. You'll get to wear a costume and take several photos in different backdrops. This experience costs $70 per person.
This Witch Cottage Photo Shoot has a background of spell and potion books for posing. You'll also be given a costume to wear during the photo shoot. This simpler photo shoot costs $30 per person.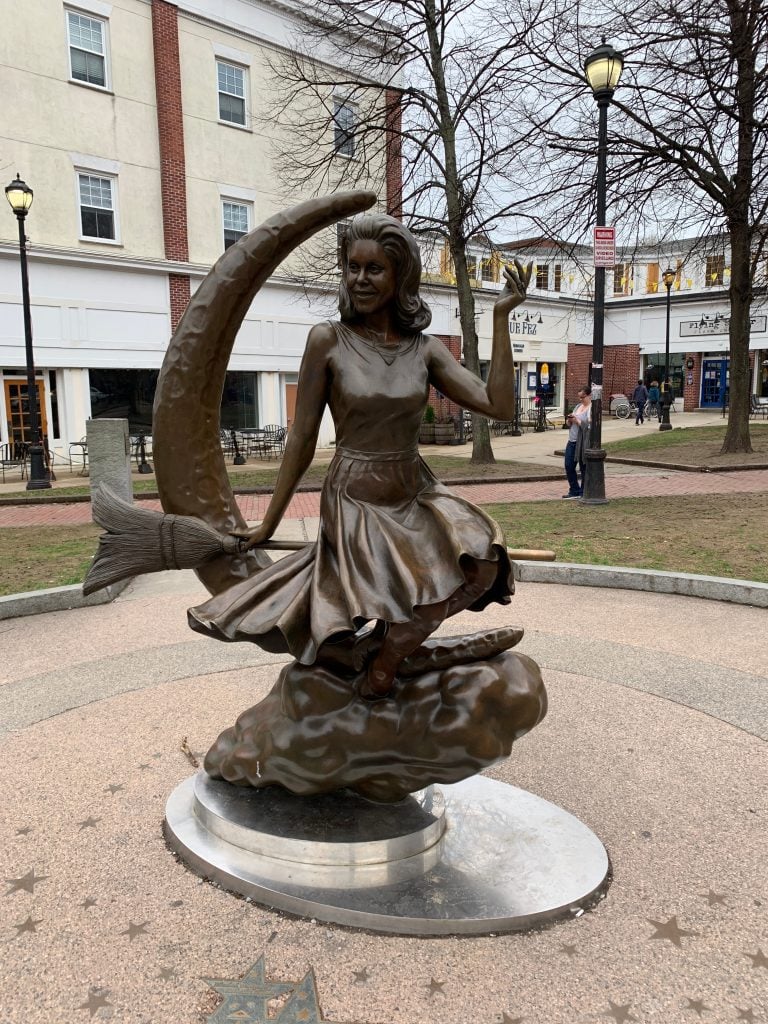 Pose with the Bewitched Statue
Remember the TV show Bewitched? (Am I dating myself here? I watched it on Nick at Nite!) The beloved 1960s sitcom starred Elizabeth Montgomery as a witch living with her somewhat hapless human husband.
Some of the show's later episodes were taped in Salem, which brought a lot of tourism and recognition to the city. The episodes are now known as the Salem Saga.
A statue of Elizabeth Montgomery was brought to Salem in 2005, and it promptly became a local favorite. You can visit the statue on the Essex Street Pedestrian Mall. This is one of the top selfie spots in Salem!
Count Orlok's Nightmare Gallery
Count Orlok's Nightmare Gallery is a museum of horror, sci-fi & fantasy films where you'll get to see life-size monsters from movies. During the month of October, there is also a haunted house.
If you love scary movies, this place is for you — you'll get to see all your favorite monsters come to life! Not a horror movie fan? This might not be the place for you.
There are about 50 classic and modern monsters throughout the museum. Tickets to the museum cost $13 a person.
Worst Thing to Do in Salem, Massachusetts (Maybe?)
Okay, this is weird — Salem has a legendary culinary specialty, but a great many people find it unappetizing. A chop suey sandwich. Yes, literally slimy American-interpretation-of-Chinese noodles on a hamburger bun, served with a fork and knife, filling a styrofoam container with a sludgy gray puddle.
Is it popular? Well…I think "cult item" would be more accurate. It is loved by some, and feared by many.
A lot of food specialties of the North Shore have expanded beyond their town of origin. It's because of Kelly's Roast Beef in Revere that there are tons of excellent roast beef sub shops all over the North Shore!
But the chop suey sandwich? It has not caught on beyond its origins in the towns of Salem and Fall River.
Truth? While many locals are horrified that the chop suey sandwich exists, some folks unironically love it. Maybe you will, too! But I recommend a trip to Google Images and perhaps a read of this Twitter thread before you make the full commitment.
You can get a chop suey sandwich at Salem Lowe at the Salem Willows.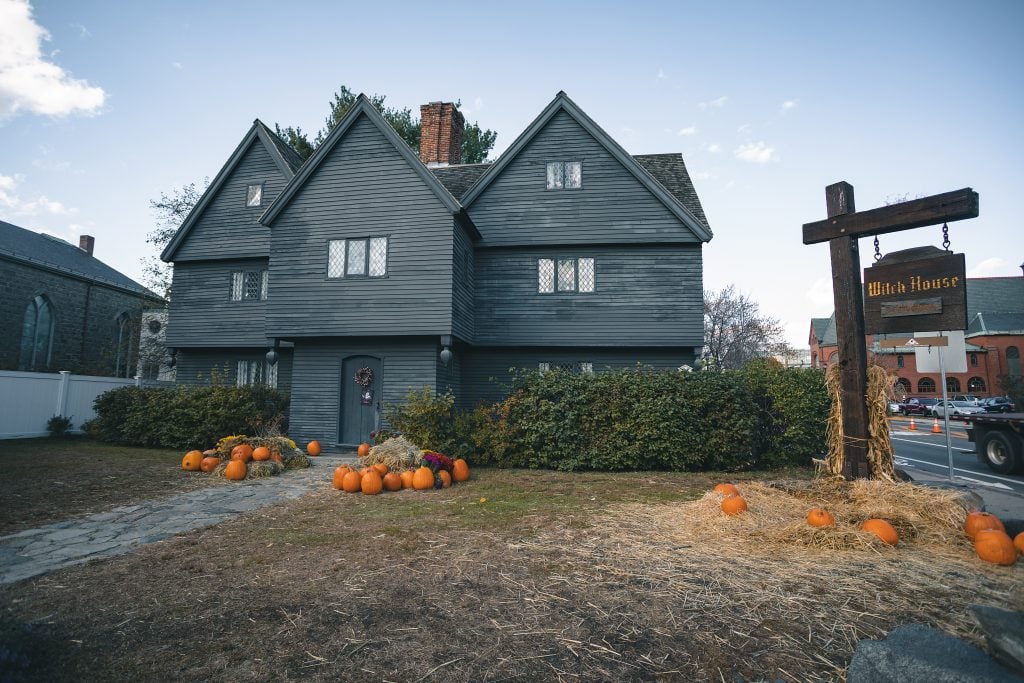 How Much Time to Spend in Salem, Massachusetts
Most people visit Salem as a day trip from Boston or elsewhere in New England. Can you do all of Salem in one day? You can see most of the big sights in a day.
But to really experience Salem, especially if you want to see all the sights and take multiple tours, you'll need more than a day trip. Give yourself a night or two to immerse yourself in the city and really get a feel for the witchy side of town if you have the time to spare.
And if you're visiting during October for Haunted Happenings, you might be interested in spending a few days and attending several parties and events. Check the event schedule and go wild!
Too much time in Salem? I recommend heading up to Newburyport. It's a beautiful seaside town on the same train line as Salem.
READ MORE: Best Day Trips from Boston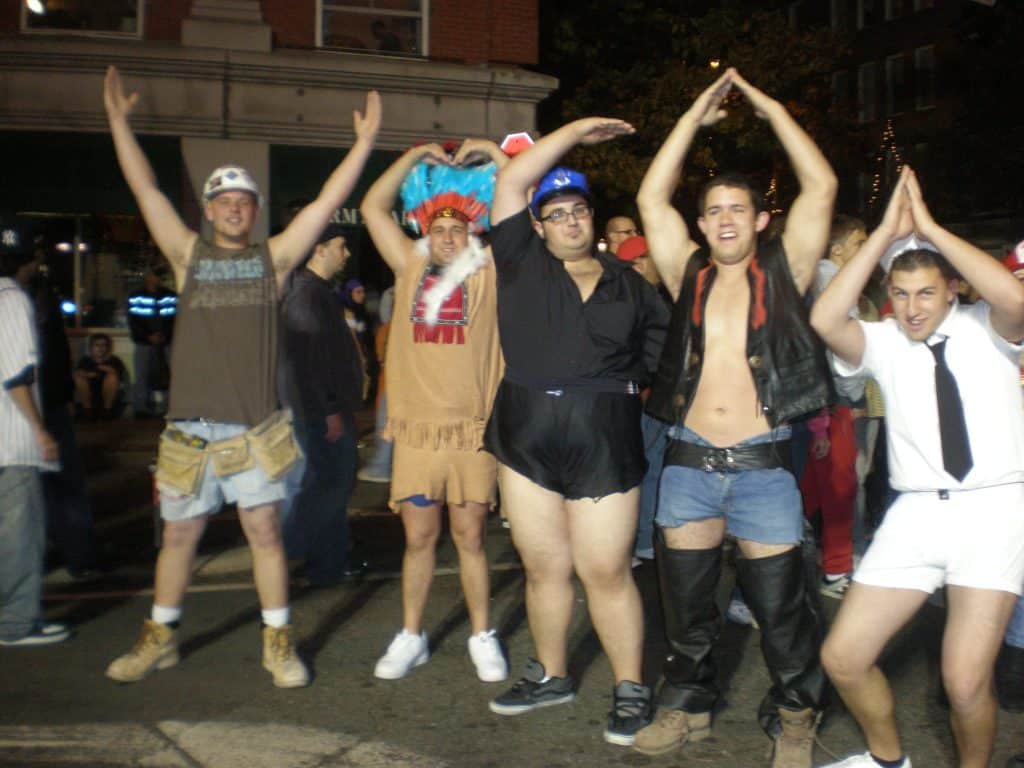 How to Get to Salem, Massachusetts
Salem is walkable and very well-connected by public transportation, making it a great stop for a car-free visit. The closest major airport, Logan Airport in Boston, is about a 30 to 45 minute drive from Salem depending on traffic.
In terms of public transportation, Salem has a train stop on the commuter rail and is a 33-minute journey from North Station in Boston. (Keep in mind that North Station is different from South Station, where most Amtrak trains come in.)
There is a bus to Salem from Haymarket Station in Boston, which takes around 45 minutes.
The most pleasant and scenic journey to Salem, however, is taking the Salem Ferry from Boston. It costs $25 for a one-way ticket and runs every day to and from Salem to Boston. Enjoy the Boston skyline and the views along the way. See the schedule and book the ferry here.
You can also drive to Salem, but keep in mind that you'll likely have to pay for parking, especially during Haunted Happenings. You probably won't need your car while exploring Salem; it might be cheaper to take the occasional Uber or Lyft ride and walk the rest of the time.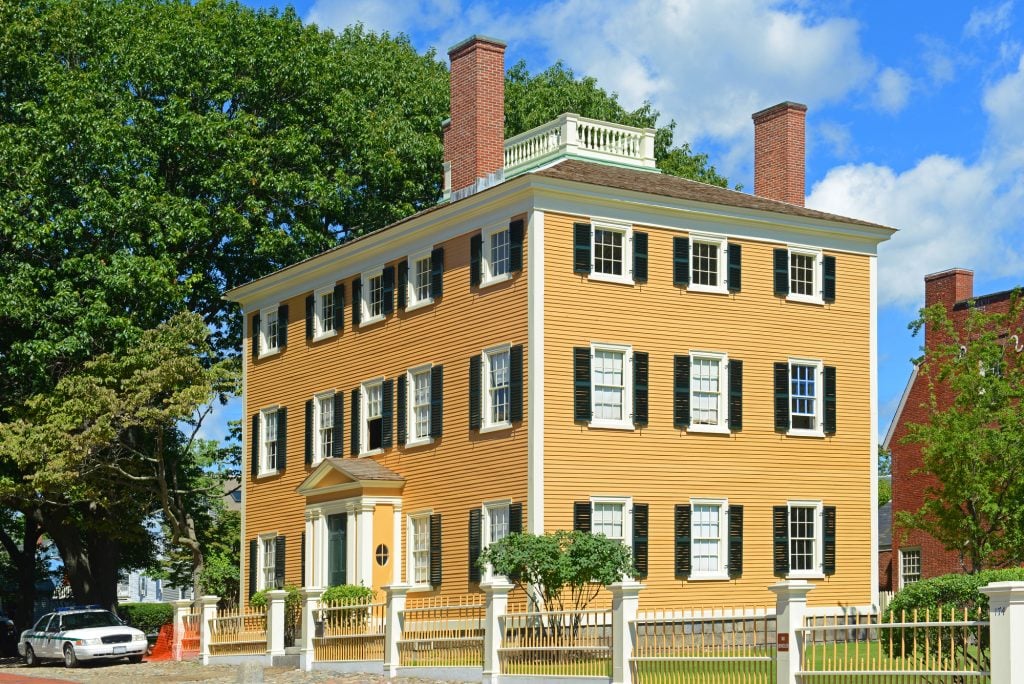 Where to Stay in Salem, Massachusetts
Where's the best place to stay in Salem, Mass? I recommend looking for accommodation close to the city center. Landmark-wise, look for anything around the Peabody Essex Museum, Salem Common, or Salem Maritime National Historic Site. Anywhere within walking distance of those locations is a great location in Salem.
Below are my top recommended places to stay in Salem:
Best Luxury Hotel in Salem: The Salem Inn — This boutique hotel spans three historic mansions in the heart of downtown Salem — an absolutely perfect location. The rooms have historic touches, some with fireplaces, lace canopies, and Persian rugs.
Best Mid-Range Hotel in Salem: The Hotel Salem — Modern, colorful, and sexy, everything in this boutique hotel in downtown Salem is a designer showpiece. The rooftop deck is a great place to watch the sunset. Definitely a foil to The Salem Inn, in a wonderful way.
Best Budget Hotel in Salem: Hampton Inn Salem — Not dirt-cheap, but an excellent deal at a much lower price point. Cookie-cutter but clean and comfortable rooms, plus a gym and pool on the premises.
Find deals on all Salem accommodation here.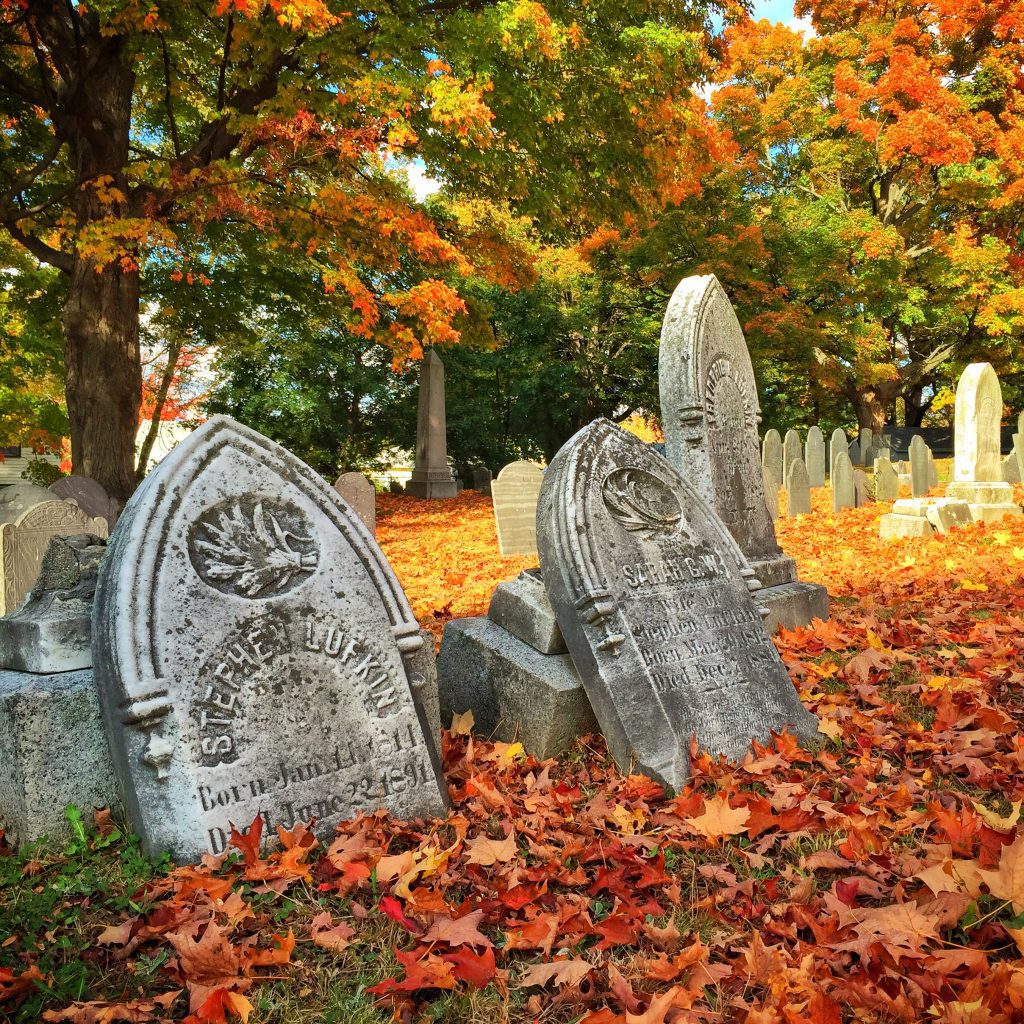 Best Time to Visit Salem, Massachusetts
The best time to visit Salem is definitely during the month of October for Haunted Happenings. Salem residents take the month of Halloween seriously and plan fall and spooky-related events all month long! You'll find something interesting to do every single day during October, and Halloween night is a once-in-a-lifetime experience here!
Keep in mind, however, that October is a very crowded and expensive time to visit Salem, with accommodation prices peaking on Halloween night.
Other than Halloween, shoulder season is the name of the game. September is a wonderful time to explore Massachusetts, with the leaves turning toward the end of the month. May and June can be very pleasant times to visit, though be careful to watch out for rain. Early November can still feel a bit like fall with nice yellow leaves.
Visiting Salem in the summer can be beautiful but very hot. Be sure to hydrate, wear sun protection, and take breaks. July and August are also a time for busy crowds and high prices throughout the Boston area.
I generally recommend avoiding Boston (not to mention the northeast USA overall) if you're not used to very cold and snowy winters. If you're from Chicago, you'll know what you're getting into; if you're from Texas, you will be gobsmacked by the cold.
Snow can occur from November through early April; major blizzards tend to hit between early January and late March. Snowfall in Salem is less than inland Massachusetts, but a snowstorm can destabilize the whole region's transportation, so keep that in mind if you're planning a winter trip to Salem.
READ MORE: Best Time to Visit Boston
Is Salem Worth It?
Absolutely! Salem is a cool place to visit throughout the year and a fun day trip from Boston. But if you are a Halloween fan in the least, Salem is one of the best places on Earth you could possibly visit.
Salem is the place to put on your Halloween bucket list. You are going to love it!
Go enjoy the trip of your life in Salem. Then come back and tell me all about it!
More on Massachusetts:
Where to Stay in Boston, Massachusetts
Traveling to the Berkshires: The Best Things to Do and More
Things to Do in Cambridge, Massachusetts
What NOT to Do in Massachusetts
See all Massachusetts posts here.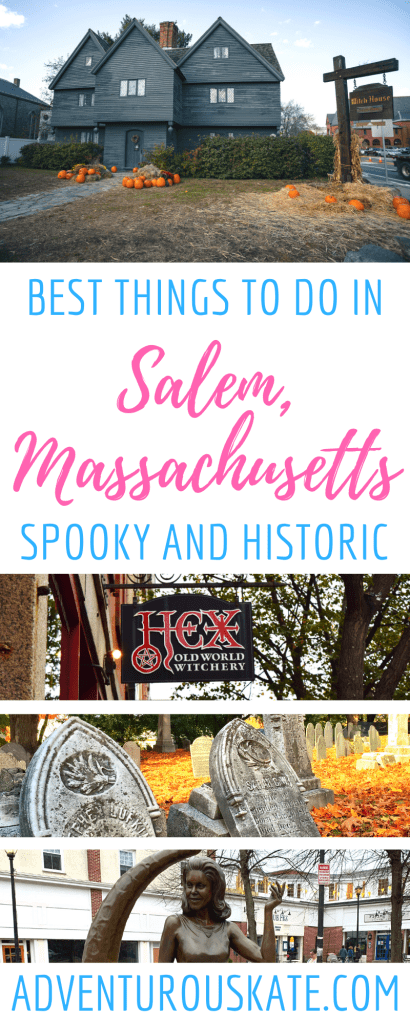 Have you been to Salem? What would you suggest to a visitor? Share away!
The post 25 Historic, Spooky Things to Do in Salem, Massachusetts appeared first on Adventurous Kate.