Planning a trip to Croatia's Dalmatian Coast? Chances are high that you'll be spending time in the city of Split. So what are the best things to do in Split? This coastal city and major port has so much to offer!
Split is the second-largest city in Croatia after Zagreb, and it's a major transportation hub. A lot of people come here for a brief stopover before heading to the islands; other travelers prefer making Split the center of their trip, using it as a base for day trips all over Dalmatia.
But is Split worth it? Most definitely. There's so much to do in Split! You can indulge your inner historian while exploring the UNESCO World Heritage-listed Diocletian's Palace or checking out the Salona ruins. You can try chase adrenaline and go rock climbing or night stand up paddleboarding.
As for day trips, Split has the most extensive options in Croatia! From gorgeous national parks (a great foil to Split) to interesting cities, from tiny fishing villages to spectacular islands, you'll find something perfect for you near Split.
So come with me on a journey to explore Split, this wonderful, historic, and beautiful Croatian city.
This post was last updated in August 2021.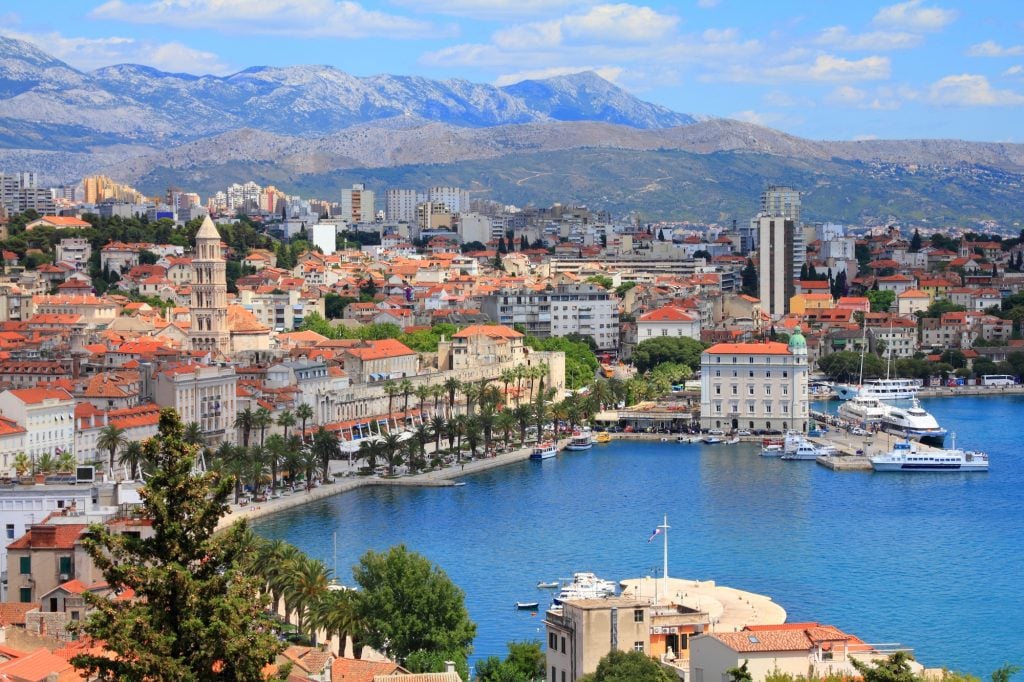 Travel to Split, Croatia
Some people come to Split for an overnight — and to be honest, that's what I usually do. Others come for a few days, or even a week. Once you know how long you'll be spending in Split, you'll be able to structure your time wisely.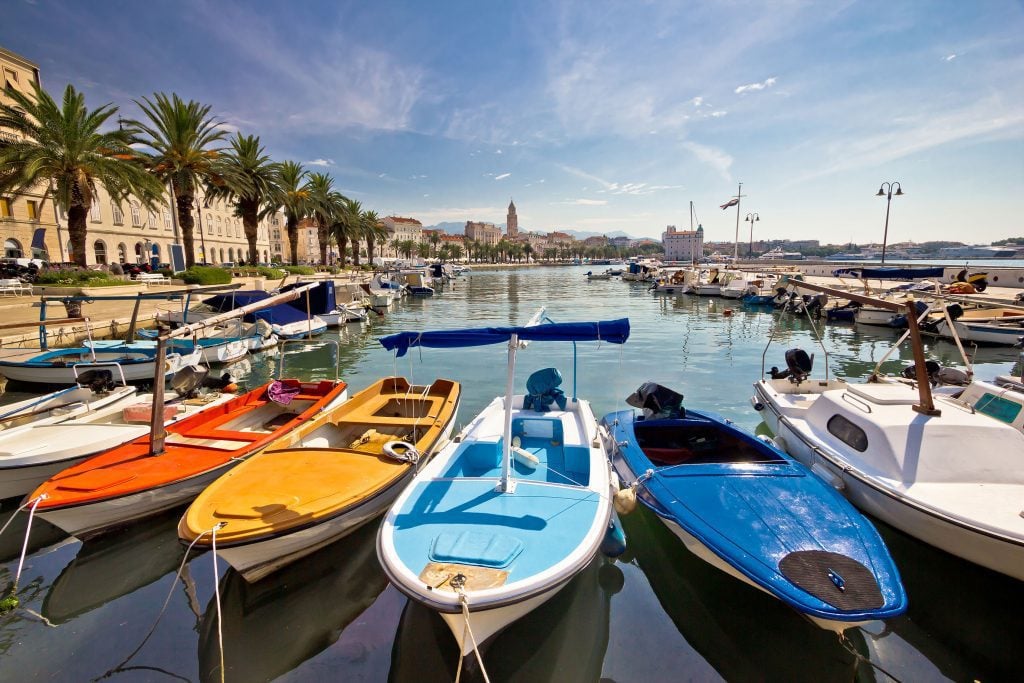 Things to Do in Split, Croatia
A lot of people travel to Split thinking that they're going to spend their whole time on the beach. Not so much! First off, while Split is a coastal city, much of the seafront is dedicated to the port. Beaches are a bit further out.
Beyond that, Split is home to so many interesting activities. You can explore Diocletian's Palace, Klis Fortress, and the Salona ruins if you're into history. You can take a cooking class or learn about Croatian wines at the wine bars.
And if you're active, you can go rock climbing, kayaking, or even stand-up paddleboarding (day or night)!
So yes, there are beaches in Split — but you'll get so much more out of your trip if you do a little exploring.
Here are some of my favorite things to do in Split.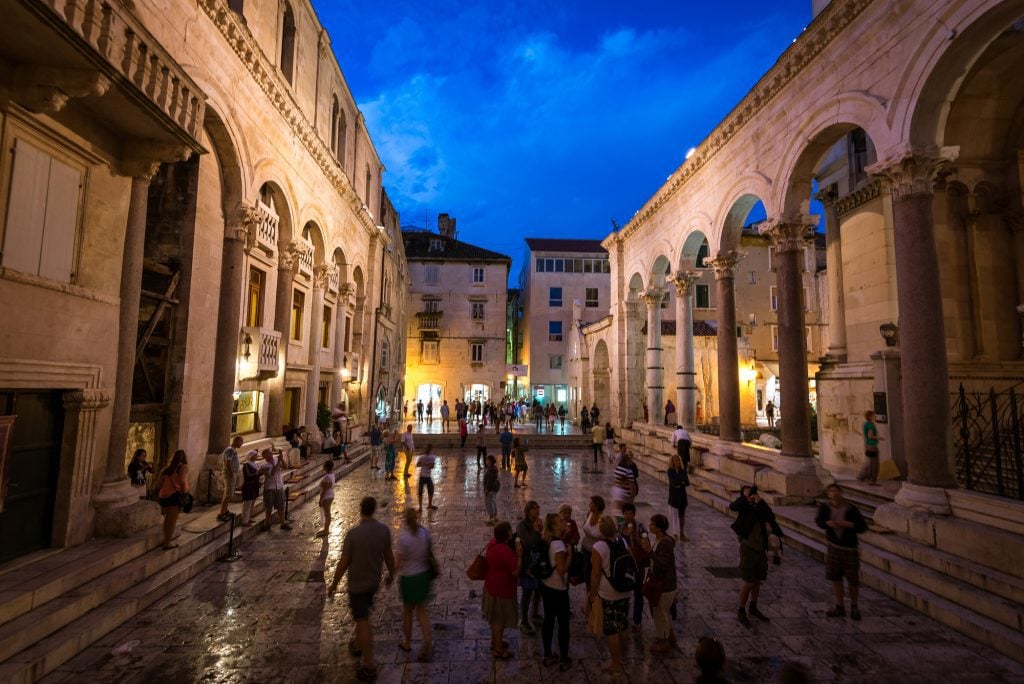 Diocletian's Palace
Many travelers expect Diocletian's Palace to be a standalone building where they pay a ticket and go in. Well, Diocletian's Palace is actually a whole neighborhood today — and it represents more than half of the old town of Split! People live inside it and you can even stay overnight in it.
A UNESCO World Heritage Site, the palace was built in the fourth century AD for Roman emperor Diocletian. Today, walking through the stone walls feels like you're part of history.
Today, more than 3,000 people live within the palace walls! With over 200 buildings in the palace, you'll also find various shops, hotels, restaurants, and bars.
Visiting the palace is free of charge, but if you'd like to learn more about the history and some of the coolest spots to check out, consider taking this excellent 90-minute walking tour.
Climb to the Top of the Bell Tower
Split's bell tower is part of the Cathedral of St Domnius. You'll recognize it from the skyline. If you think it's beautiful from below, just wait until you see the view from the top!
If you choose to climb the St. Dominus bell tower, know that there are more than 180 steps. If that's within your physical capabilities, you'll find it well worth the climb to view the city, Marjan Hill, and the sea from above.
A visit to both St. Dominus Cathedral and the bell tower costs 20 kuna ($3) per person. There are often options to purchase combination tickets that include access to various places throughout the city.
Explore Old Town Split
Some people mistakenly believe that Diocletian's Palace is the Old Town of Split — but the Old Town extends well beyond Diocletian's Palace. This part of Split is charming and worth exploring.
Old Town Split is home to interesting shops, restaurants, and cafes, and has some of the best architecture in the city.
Some of the best days in Split — and anywhere — are the ones where you stroll without an agenda. This is a good place to do it.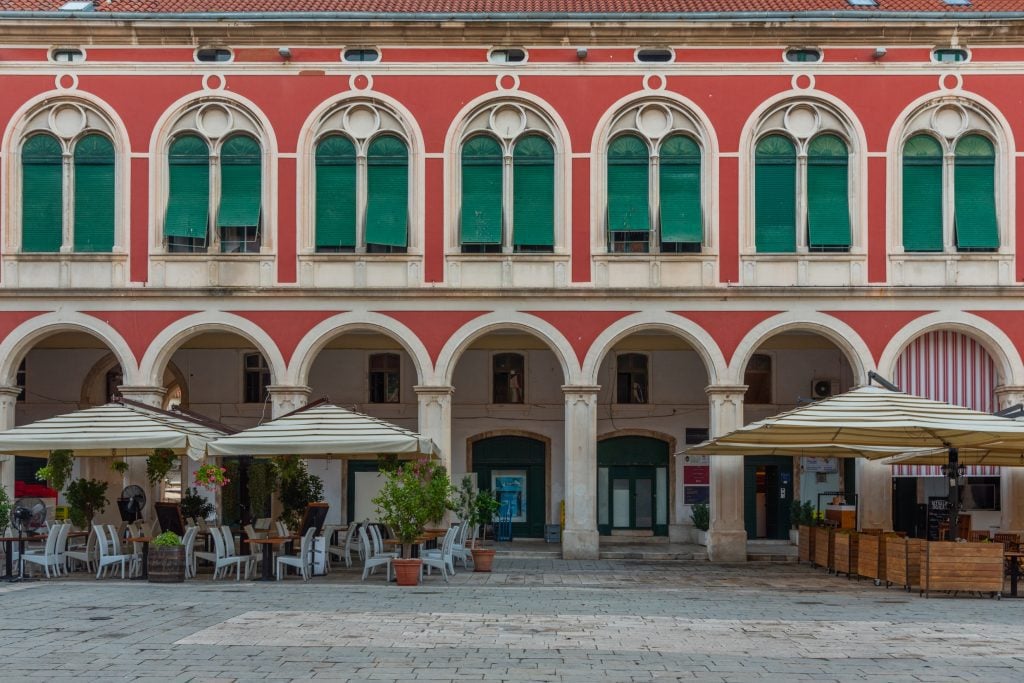 Have a Coffee on Republic Square
Republic Square is one of the most recognizable places in Split — a square surrounded with elegant red walls, tall green shutters, and porticoes. This piazza dates back from the Venetian period, has an Italian vibe, and it may give you the urge to start calling Split by its Italian name, Spalato! 
Enjoy some relaxation by grabbing a cup of coffee and people-watching in the square. It's a great way to start your day — but some of the best people-watching is just before sunset.
It's free to roam around Republic Square, and thanks to the Italian influence, you won't pay much more than the equivalent of a dollar for an espresso.
Have Honduran Food at To Je Tako
Any traveler who loves Latin American food knows how tough it is to find it in Europe. Which is why To Je Tako is such a surprise! This is a Honduran restaurant serving both Honduran and Mexican food, located right in Diocletian's Palace.
You'll find the usual Mexican favorites like quesadillas, enchiladas, all kinds of tacos. Want to try something Honduran? Try the baleadas: Honduran-style refried beans served with flour tortillas, jalapeno cheese, pickled vegetables, and crema. I loved them! Best served with a margarita.
I should warn you that much of the food on Croatia's Dalmatian Coast tends to be the same items over and over, so definitely indulge in Latin American food while in Split! And be sure to book ahead, as this place can get popular.
Museum of Croatian Archaeological Monuments
If you're a fan of ancient history, you'll love the Museum of Croatian Archaeological Monuments. It's one of the oldest museums in Croatia. Its goal is to study and collect tangible and intangible Croatian culture from the 7th to 15th century.
There are about 20,000 artifacts total, telling the story of this nation. It's a great experience to immerse yourself in the country by learning about the rich history and culture of Croatians. 
Admission to the Museum of Croatian Archaeological Monuments is 20 kuna ($3) per person. Many people could be in an out within an hour, but if you're really into history, you could be there for hours!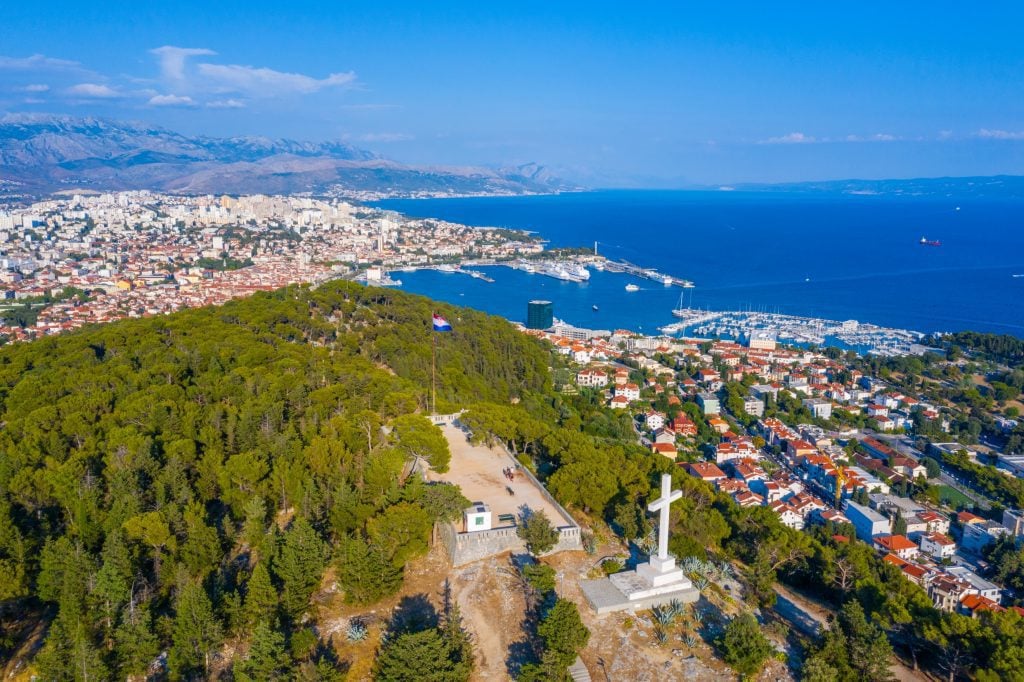 Marjan Hill
Marjan Hill is a forested oasis close to Old Town Split, offering gorgeous views of the city. You can come here to hike, take photos, or just enjoy the views! There are various scenic viewpoints and paths for hiking and enjoying the scenery.
There are two ways to climb to the top of Marjan Hill: you can either take the stairs or do the forest hike. If you make it to the top, you'll see a Croatian flag and a large cross 178 meters high. 
You'll be able to enjoy a 360-degree view of the islands, mountains, and city below. And of course, Marjan Hill is one of the free things to do in Split.
Klis Fortress
Klis Fortress is located in the village of Klis, a small village that overlooks Split. In the center of this quaint hillside town, you'll find this medieval fortress. It was built on the hill which creates (yet another) perfect view of Split, the Adriatic Sea, and the surrounding islands.
Originally built by the Illyrians more than 2,000 years ago, Klis Fortress served as a point of defense — most recently, against the Ottomans. In the 21st century, Klis Fortress was a filming location on Game of Thrones, serving as the city of Meereen. 
Klis is only 20 minutes from Split and you could spend just a few hours or even make it a half-day trip. Admission to the Fortress is 60 kuna ($9) for adults and 20 kuna ($3) for children.
Stroll the Riva
If you're spending some time in Split, it's hard to miss the Riva — the promenade that runs along the seafront on one side of Diocletian's Palace. This area is home to lots of cafes and it's lined with with beautiful palm trees.
The Riva is a great place to grab a coffee or glass of wine and people-watch, or watch the big ferries sailing in and out. Occasionally events take place here, and you might see some live music.
For the best light and fewest crowds, check out the Riva early in the morning, before the city wakes up.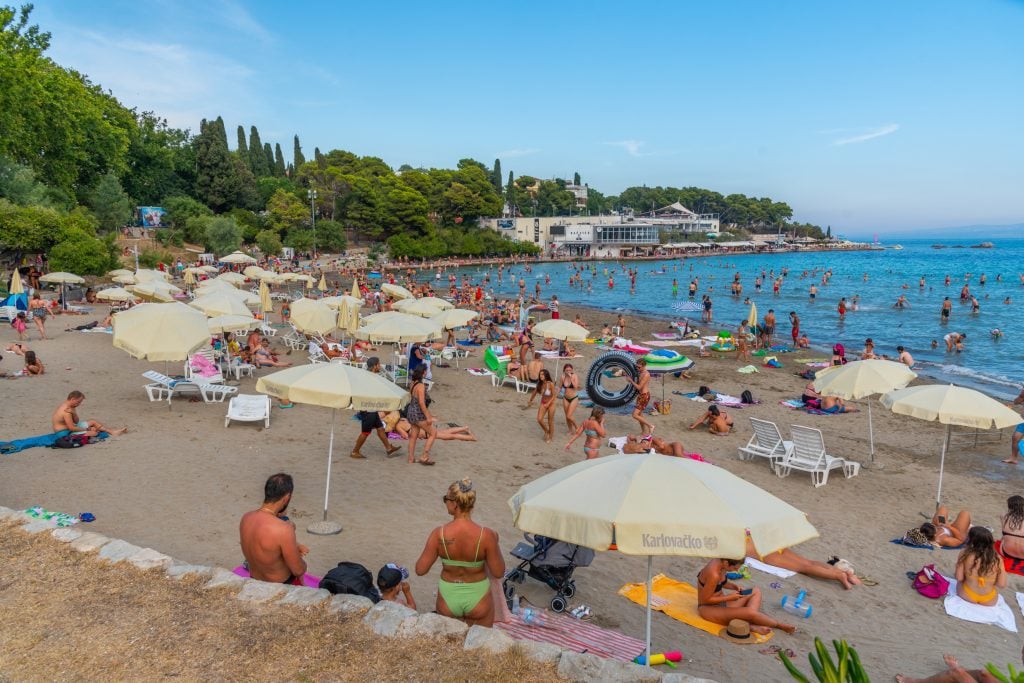 Relax on the Beach
One thing that surprises people about Split is that there are no super-central beaches. Split is on the coast, but much of the waterfront is devoted to the port. There are beaches in the area, but you need to go a bit further outside the center.
So which beaches are worth visiting in Split?
Bacvice is a sandy beach in central Split. It's beautiful, but it's usually pretty full. It's protected as a cultural heritage which allows it to stay clean and the water clear. 
Kastelet is about a 20-minute walk from the city center. It's not as crowded as Bacvice, which keeps things peaceful, and there are bars directly on the beach.
Kasjuni is another great beach located at the base of Marjan Hill, with one of the best views from the water.
But of course, the best beaches are in other beach towns and on the islands, so if beaches are a priority for your time in Croatia, I recommend doing some day trips!
Sample Local Wines in a Wine Bar
Ever tried Croatian wine? Don't worry if you haven't! Croatia's vineyards tend to be small properties, so they're not able to export internationally on a significant level.
But the wines here are sensational, from the rich red Dinga? of the Pelješac peninsula (my personal favorite!) to the light and fruity Malvasia of Istria, to the deep and minerally Grk of Kor?ula.
Split's Old Town is full of wine bars. I particularly recommend Bokeria Kitchen and Wine Bar, but there are plenty more, like MoNIKa's Wine Bar and Zinfandel Food and Wine Bar. 
My recommendation? Have a glass with some Pag cheese, a specialty from one of the neighboring islands.
Salona Ruins
Salona, also known as Solin, is a town just outside Split home to ancient ruins. Originally constructed in 119 BCE by the Greeks, Salona became a booming city home to 60,000 people. Diocletian was born here.
Today, people come to Salona to check out the ruins, which are quite impressive, especially the theater, baths, and city walls.
Admission to the Salona Ruins is 20 kuna ($3) per person. You can get there by cab or take a bus, and it makes a nice half-day trip from Split.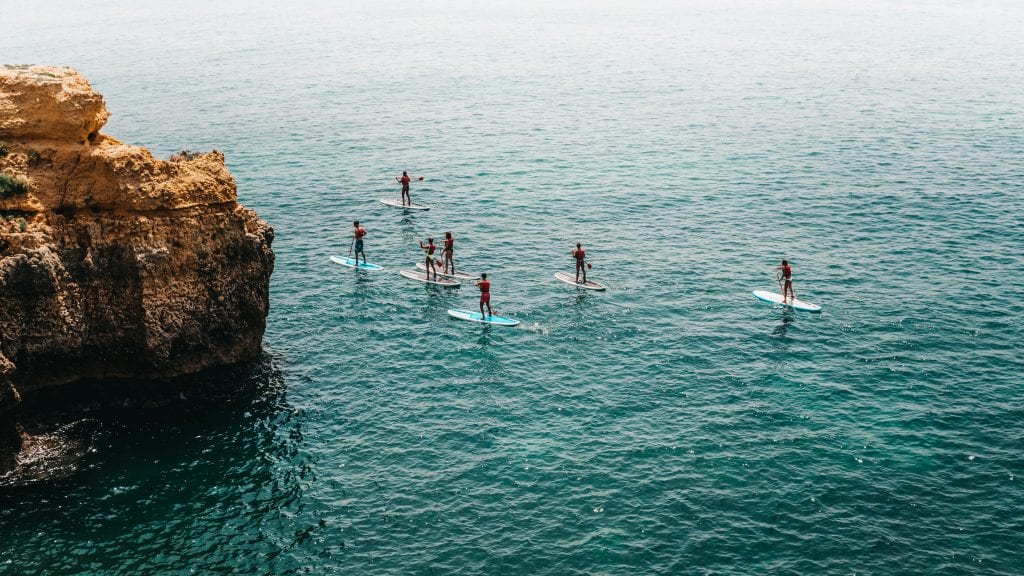 Go Stand-Up Paddleboarding
Ever tried stand-up paddleboarding (SUP) before? Split is a great place to learn! It's an easy and relaxing water activity, it's fantastic for your core, and it allows you to see more of the coastline once you've mastered the art of balance.
This top-rated Split SUP tour will take you on a journey along Croatia's spectacular coastline. You'll meet on the beach in Stobrec, a small town outside Split. From the water you'll view Mosor Mountain, Split, the islands, and the Stobrec white cliffs and rocks. You'll even have the opportunity to snorkel!
If you love being out on the water and want to see Croatia from a different perspective this is definitely for you. The tour lasts three hours.
Take a Croatian Cooking Class
Do you know much about Croatian food? There's no better way to learn about it than to take a cooking class!
This highly rated cooking class includes both time cooking and a walking tour of Split's city center. You'll visit a market, a bakery, a fish marketplace, and even enjoy some local sweets and a traditional Croatian digestive liquor all before making lunch together.
Learning how to cook a traditional meal is one of the best ways to bring your trip home with you — and share a bit of Croatia with your loved ones.
Go Rock Climbing
With a craggy, steep coastline leading to mountains, Croatia is a great destination for rock climbing — and the area surrounding Split has some nice spots for climbers of all levels, whether you're independent or you want to go with a guide.
At Marjan Hill, there are over 80 possible climbing routes to choose from, from beginners to the very experienced.
Want to go with a guide? This rock climbing experience comes with a guide, supervision, and all the equipment you need to scramble up the rock face safely.
If you're a die-hard climber, consider a day trip to Paklenica National Park as well. More on that below.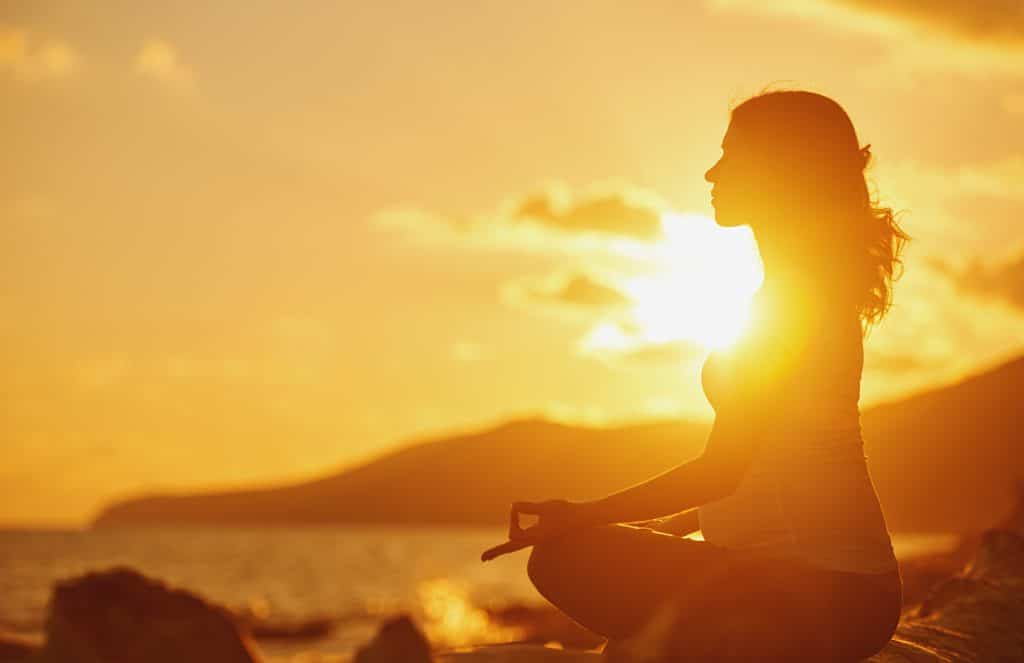 Join a Sunset Yoga Class
After a long day of exploring Split, taking a yoga class is the perfect way to find a bit of mindfulness and connection. This popular Split yoga class takes place during sunset at Sustipan Park, a 10-minute walk from the city center. This historical park has great views of the Adriatic Sea and the city of Split.
All skill levels are welcome to this yoga experience, and your guide can even take you to a secluded beach nearby if you're interested.
Don't worry if you don't have a yoga mat — your guide will provide one for you.
Explore Split by Bike
Some people think the best way to explore a new city is on two wheels. If you fall into that category, you'll love a biking tour of Split. You'll start in the center of the city and you'll cycle past the Riva promenade, Diocletian's Palace, and stroll through Marjan Hill Park.
Going on a bike tour is a great way to stay fit and pack in a lot of sightseeing at once. You'll also learn from a guide some of the best places in the city that you may not have seen otherwise.
This top-rated Split bike tour includes everything you need — including a helmet — and every review gushes about how wonderful the guides are.
See the Game of Thrones Sites
Dubrovnik may be more famous for its Game of Thrones sites (after all, it served as King's Landing) — but Split has its own collection of locations featured in the HBO show.
On this Split Game of Thrones tour, your tour guide will take you to some of the most iconic places that scenes were shot. Some of the places include the Diocletian palace basement where Daenerys's dragons were held and Daenerys's throne room. You'll even see behind-the-scenes GOT reenactments.
If you'd enjoy a walking tour of Split with a pop culture angle, this is a great choice for you.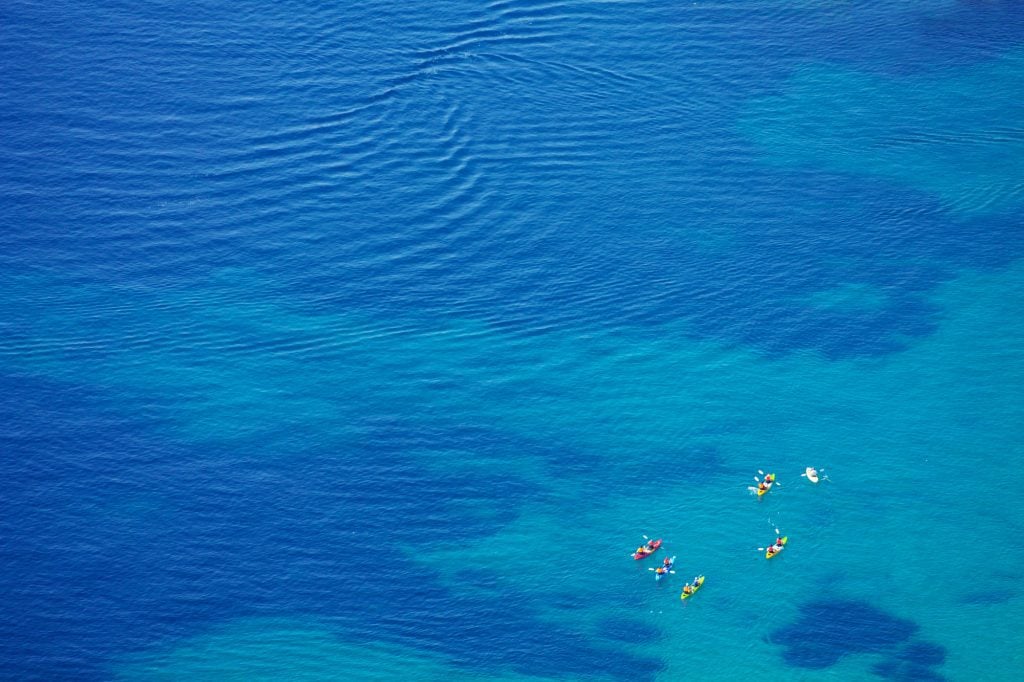 Kayak Split
Another fun active way to explore Split is from your very own kayak. This popular kayak tour departs from Marjan Forest. You'll paddle around Marjan Hill and arrive on a small beach where you can cliff climb, cliff jump, snorkel and swim.
This excursion is a good way to mix the more athletic kayaking exploration with some relaxing time swimming, snorkeling, and hanging out on the beach.
And as always — you can't beat seeing Split from the water.
Go on a Night SUP Tour
Sure, anyone can go stand-up paddleboarding by day — but going by night is a truly special experience. You'll paddle atop the Adriatic Sea under the moonlight with colorful LED lights on your paddle board lighting the way. You will get to see everything illuminated beneath you in clear water and enjoy night views of Split from a very different perspective.
It's basically snorkeling without actually getting in the water! The water is so clear here that you'll be able to see the underwater life easily. And there's nothing like doing this under the stars.
This top-rated night SUP experience includes a 2.5 hour trip on the water and all equipment included, and many reviews call it a once in a lifetime experience.
Quad Bike Tour
For some serious off-roading adventure, consider a quad bike tour of Split (also known as ATV). You'll be provided transportation inland where you can explore the mountain trails of Dalmatia by quad bike. Your guide will take you on a range of terrains so you can enjoy an exhilarating and off-the-beaten-path experience in Split.
Quad bikes are a surprisingly popular activity in Croatia — and this is an excellent way to explore the countryside surrounding Split.
This quad bike experience includes transport from Split, all equipment, and a meal. Not a bad way to explore a side to Croatia most visitors never get to see.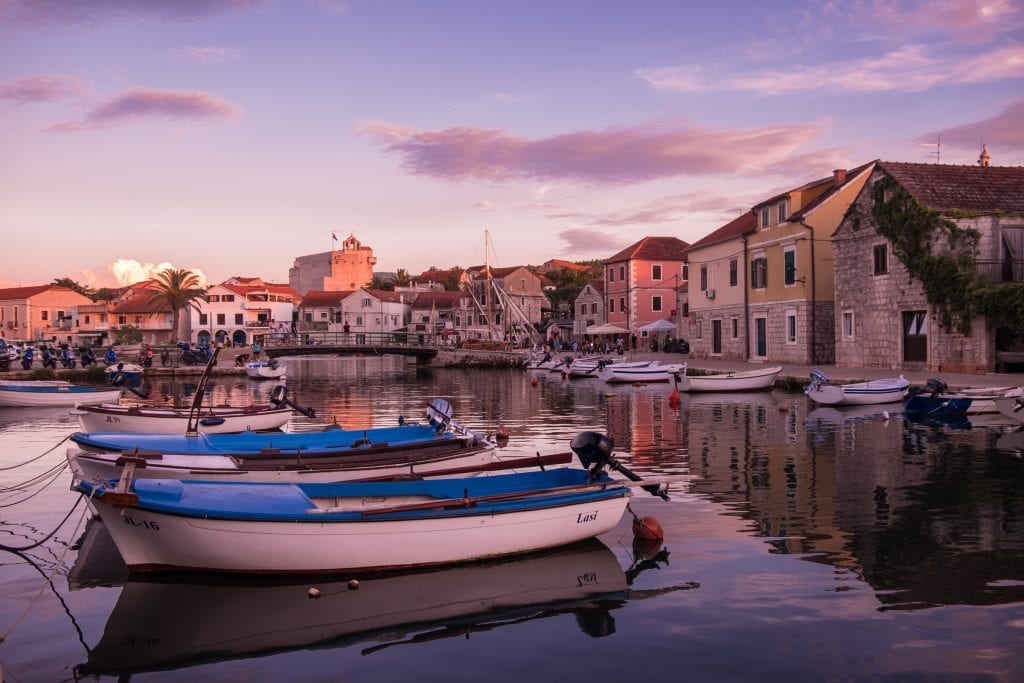 Day Trips from Split
Some cities are well suited for day trips — and Split might be one of the most day-trip-focused destinations in Europe! Split is a major land and sea transportation hub in Croatia, giving you easy access to all kinds of destinations close by.
While Croatia's islands are some of the most popular places to visit from Split, there are destinations for every kind of traveler.
Go rock climbing in Paklenica National Park, or marvel at the blue-green Plitvice Lakes. Spend a day exploring Hvar Town, or take a boat trip into the Blue Cave in Vis. Go on a mini road trip, hop on a bus, or spend the day lounging on the top deck of a sailboat. The opportunities are endless!
As for where NOT to day trip — I do not recommend taking a day trip from Split to Dubrovnik. It's way too far (three hours by car, not including the two border crossings in Bosnia) and there's too much to see. Treat Dubrovnik like the treasure that it is and spend at least three days there.
READ MORE: How to Spend Three Days in Dubrovnik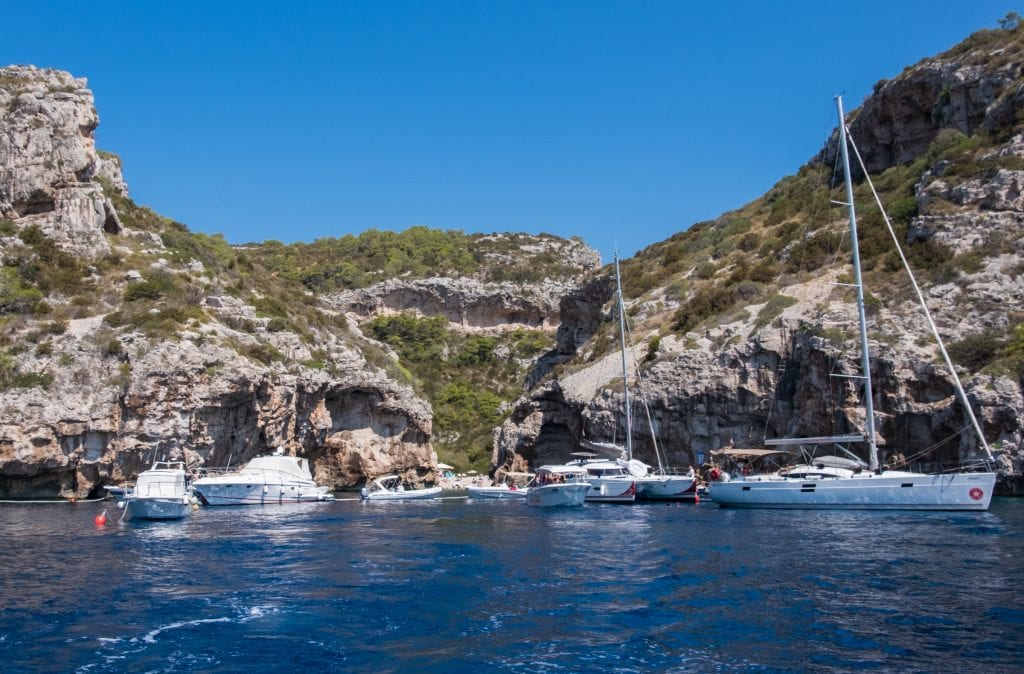 Sailing Day Trip from Split
My absolute favorite thing to do in Croatia is to sail along the coastline and to the islands. No matter where you're going in Croatia, you should try to do this at least once.
Here are some suggestions:
Hvar, Pakleni, and Bra? Catamaran Tour — This full-day catamaran excursion includes visits to Hvar, the Pakleni Islands, and Bra?. It includes lunch and unlimited beer, wine, and soft drinks, plus three different swimming stops.
Six-Island Hvar and Vis Speedboat Tour — This full-day, small group boat trip aboard a RIB (rigid-inflatable boat) includes stops at the Blue Cave, the Green Cave, the Blue Lagoon, Smokova Beach, and it includes lunch with wine, free time in Hvar town, and wine tasting on Bra?.
Blue Lagoon by Three Island Tour — This full-day boat tour is a good option for visiting quieter, lesser-known islands. You'll visit Necujam, Maslinica, and Krknjasi Bay, plus time in the Blue Lagoon with fun inflatables. Lunch with wine is included.
This might be your favorite day in Croatia!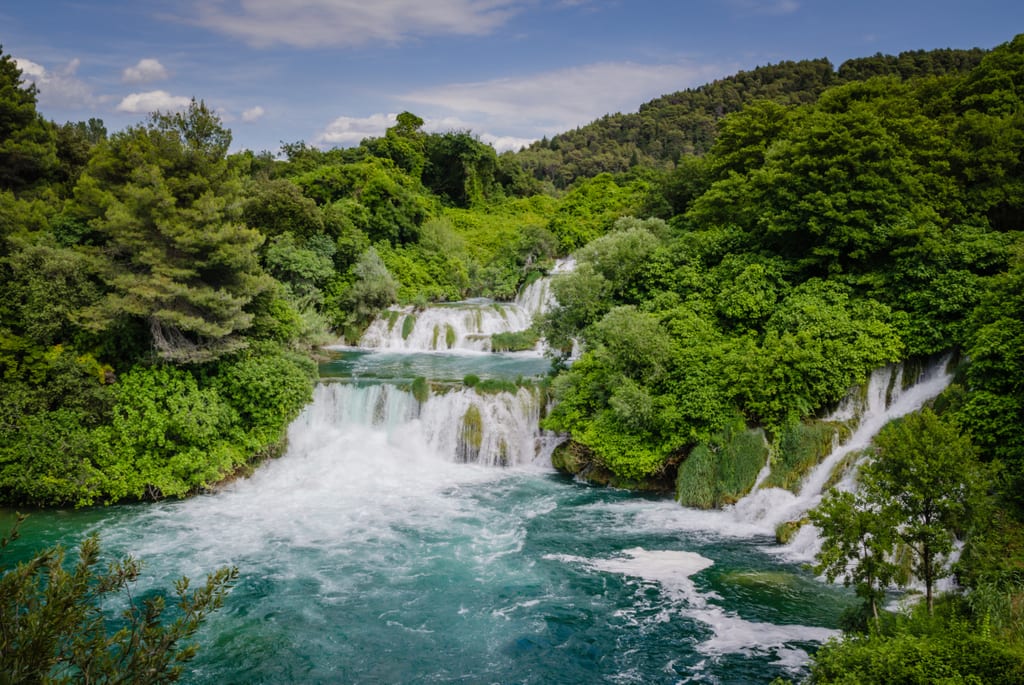 Krka National Park
Krka National Park might be my favorite day trip from Split — because it's the complete opposite of Split and makes a great foil! It's one of the best nature destinations in the country, it's home to iconic waterfalls, and it's only 90 minutes from Split.
Krka National Park is most famous for its lakes and waterfalls. You can even swim in some of them — though they've closed off some of the most popular swimming areas for environmental reasons, including the waterfall Skradinski Buk.
Additionally, there are nice hiking trails, and you can visit Visovac Island with its 15th-century monastery.
If you have time, consider visiting the town of Šibenik, located close by. Šibenik's church, the Cathedral of St. James, is a UNESCO World Heritage Site, and the town is nice for a stroll.
You can visit Krka National Park on a tour or on your own. This top-rated full day tour includes waterfalls, swimming time, and a spirits tasting. On your own, I recommend either driving or booking a direct shuttle from a travel agency in Split.
The price to visit Krka National Park varies throughout the year. From July to August it costs 200 kuna ($32) for adults and 120 kuna ($19) for children. April to June and September to October it costs 110 kuna ($17) per adult and 80 kuna ($13) for children. November to March costs 30 kuna ($5) per adult and 20 kuna ($3) per child. Children under 7 are free year-round.
READ MORE: The Waterfalls of Krka National Park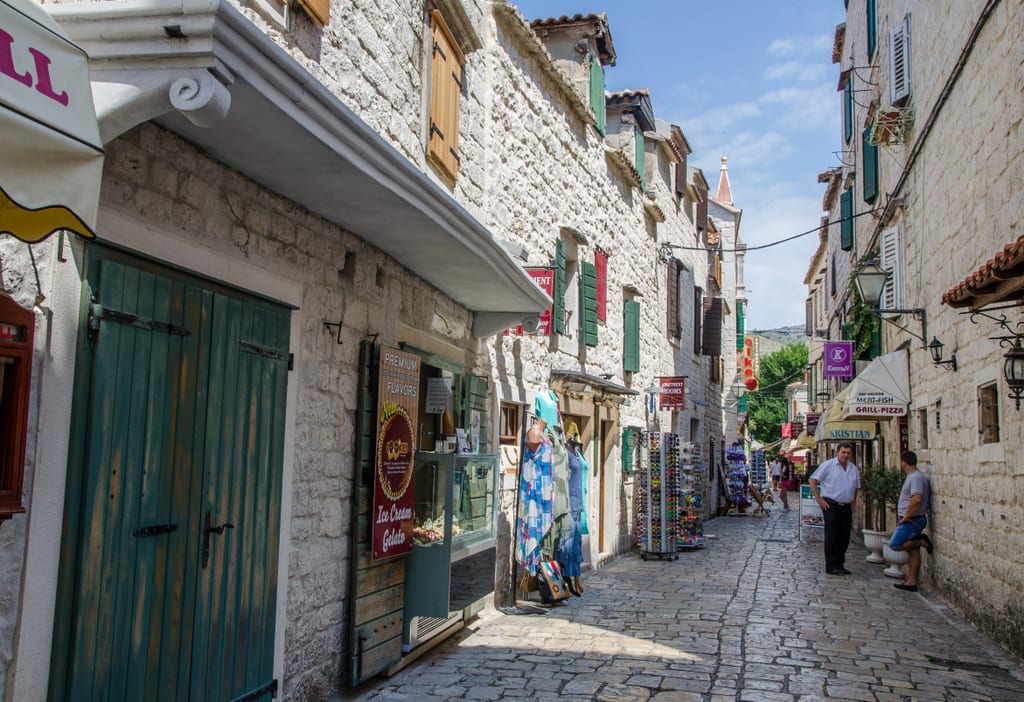 Trogir
Trogir is one of the easiest day trips from Split — a tiny coastal town located on an island accessible by a bridge, easily accessible by a direct bus line. This beautiful town is small enough that you can walk from end to end in about 10 minutes.
Trogir is also a UNESCO World Heritage Site thanks to its city layout, built according to Hellenistic and Roman tradition. You can climb the tower of the St. Lawrence Cathedral for amazing views or just stroll the streets.
Trogir is a nice calm getaway from Split. You can enjoy boutiques, dine along the water, and gawk at the luxury yachts that dock here.
Trogir is about 45 minutes from Split by bus. I think it works best as a half day trip from Split, but if you're having fun, there's no reason not to make it a full day trip!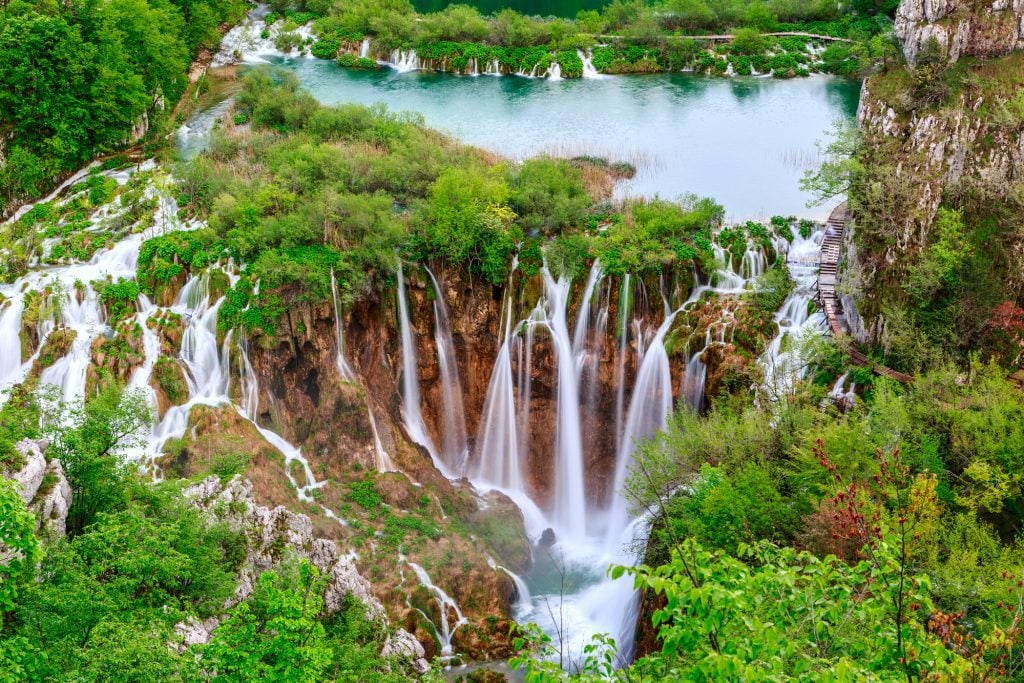 Plitvice Lakes
Plitvice Lakes National Park is one of the most popular destinations in all of Croatia, home to what feels like thousands of glorious waterfalls. This national park is a UNESCO World Heritage site and has truly earned that designation.
The Plitvice Lakes are a significant distance from Split, however — a 2.5-hour drive. For that reason, I think Krka National Park makes a better day trip from Split, but if this is your only chance to see the Plitvice Lakes, you can definitely do it this way. Just know that it will be a very long day.
If you're seeing the Plitvice Lakes on your own, I strongly recommend driving; public transportation will eat up your whole day. Otherwise, the easiest way is to join a group tour from Split.
This top-rated Plitvice Lakes tour from Split includes transportation and skip-the-line park entry. Admission to the park must be paid separately.
Take time to visit both the Upper Lakes and the Lower Lakes, taking the boat between them. They both have very different atmospheres! And don't worry if the weather isn't the best — just pack an umbrella and enjoy the beauty.
Admission to Plitvice Lakes National Park depends on the time of year. June-September is 300 kuna ($45) for adults and 120 kuna ($18) for children; May and October is 180 kuna ($26) for adults and 50 kuna ($8) for children; November through March is 80 kuna ($12) for adults and 35 kuna ($5) for children. Free for children under 7 year-round.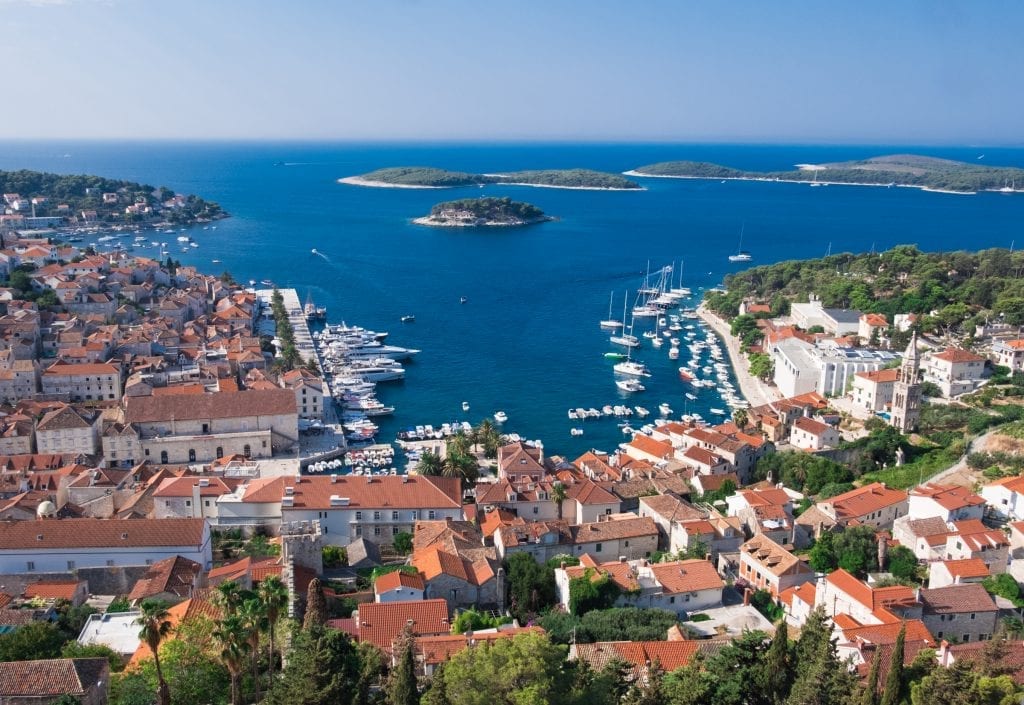 Visit Hvar
Hvar is likely the one Croatian island you've heard of, and it's internationally famous for its summer party scene. Hvar Town is one of the prettiest old towns in Croatia, and there are plenty of treasures beyond the town, too.
You can spend your day in Hvar exploring the town, taking a drive out to some of the beaches or taking a boat to the Pakleni Islands. If it's early July, you might be able to see the famous lavender fields in bloom!
To get the most out of your day, rent a scooter and explore the island. I particularly recommend making a stop in the canal town of Vrboska.
Hvar is an easy day trip from Split, as long as you book the right kind of ferry. Jadrolinija Lines has car ferries to Stari Grad and passenger-only catamarans to Hvar Town. You want the catamaran to Hvar Town, which takes one hour. (If you want to bring your car and drive around the island, take the car ferry to Stari Grad, which takes closer to two hours.)
If you'd prefer to visit Hvar on a boat tour from Split, I recommend the Hvar, Pakleni, and Bra? Catamaran Tour, which includes lunch and unlimited beer and wine.
READ MORE: Building Sustainable Tourism in Hvar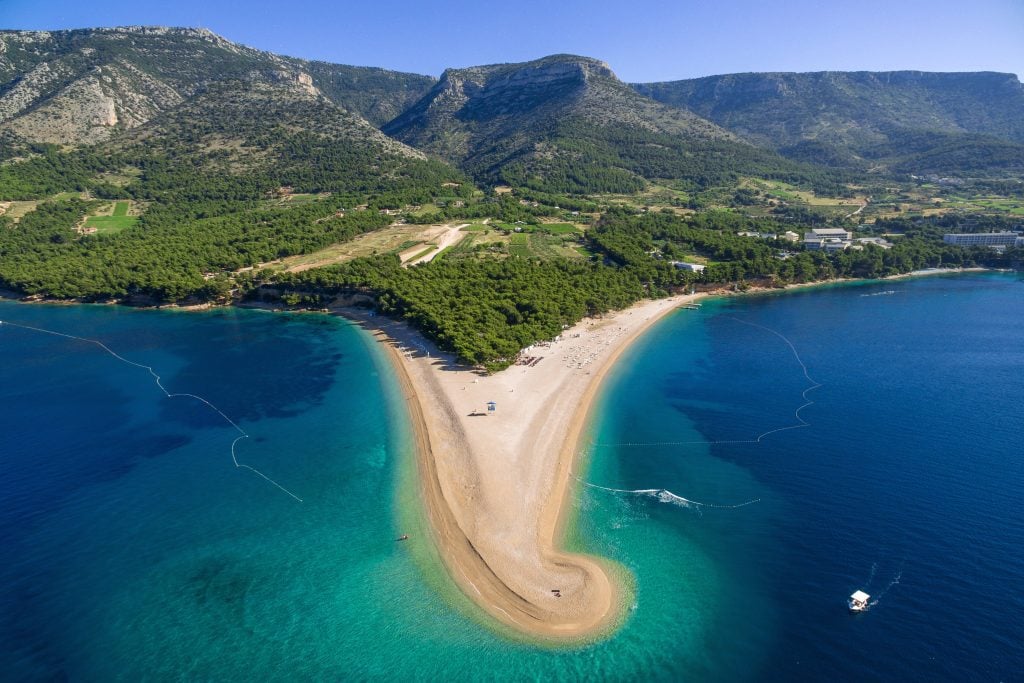 Bra?, Bol, and Zlatni Rat
Have you seen photos of that incredible golden horn of a beach off the coast of Croatia? That's Zlatni Rat on the island of Bra?, near the town of Bol, and it's a very easy day trip from Split!
Bol is a lovely and underrated town on the island of Bra?; I spent a full week there last year and loved the waterfront, stone houses, and tiny konoba restaurants.
Zlatni Rat, the famous beach, is a short walk along the water from Bol. You might be a bit disappointed — it looks SPECTACULAR from the air but feels like a regular beach on the ground. And it is VERY illegal to drone here due to proximity to the air strips. Only people who receive special government permits can drone near Zlatni Rat.
You can get here by booking a passenger-only catamaran ferry from Split to the town of Bol. You don't want the car ferry to Supetar; it's on the opposite side of the island from Bol.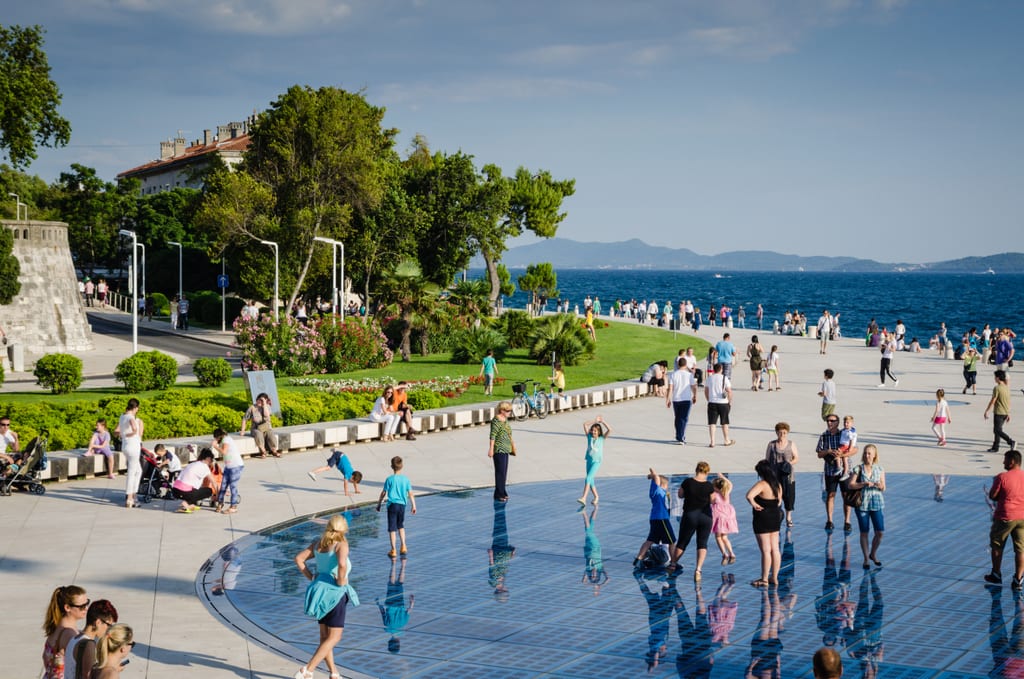 Visit Zadar
Zadar is another one of my favorite spots in Croatia, a beautiful and quirky city on the Dalmatian Coast. It has a lot of the things that make Split great, just with smaller, quieter crowds and slightly lower prices.
One of the coolest things in Zadar (if not all of Croatia) is the Sea Organ, an art installation that uses the ocean waves to play soft, low notes in the air. And if you stay in Zadar after it gets dark, you'll be able to see the Sun Salutation, a disc by the waterfront that lights up in different designs.
Even if you're just there to walk around and explore, I think Zadar makes an excellent choice for a day trip from Split.
Zadar is about a two-hour drive from Split. I recommend driving on your own; if you're going by public transit, make sure it's a direct bus, because the indirect buses take closer to 3.5 hours.
READ MORE: A Place Like Zadar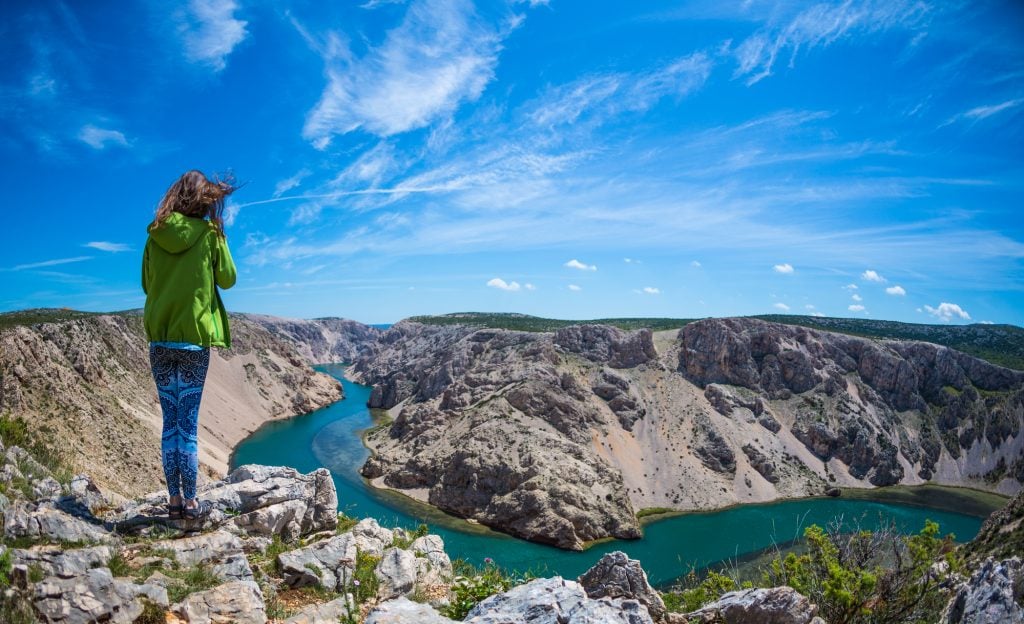 Visit Paklenica National Park
Paklenica National Park may not have the fame of the Plitvice Lakes or its southern neighbor of Krka, but this park is home to gorgeous natural treasures.
Here you have canyons, a black-pine forest, caves with stalagmites and stalactites, and so much more. The wildlife here is considerable, too.
There are some great hiking trails as well as places to rock climb for varying levels of climbers. You'll even find a few old villages in the park that were once booming many years ago but are now abandoned.
The best way to get to Paklenica National Park from Split is to drive, and it takes two hours. You could potentially include both Paklenica and Zadar in a long day trip from Split by car.
Admission depends on the time of year. June through September costs 60 kuna ($9) for adults and 30 kuna ($5) for children. From March to May and October, the price is 40 kuna ($6) for adults and 20 kuna ($3) for children. From November to February the price is 20 kuna ($3) for adults and 10 kuna ($2) for children. Children under 5 are free year-round.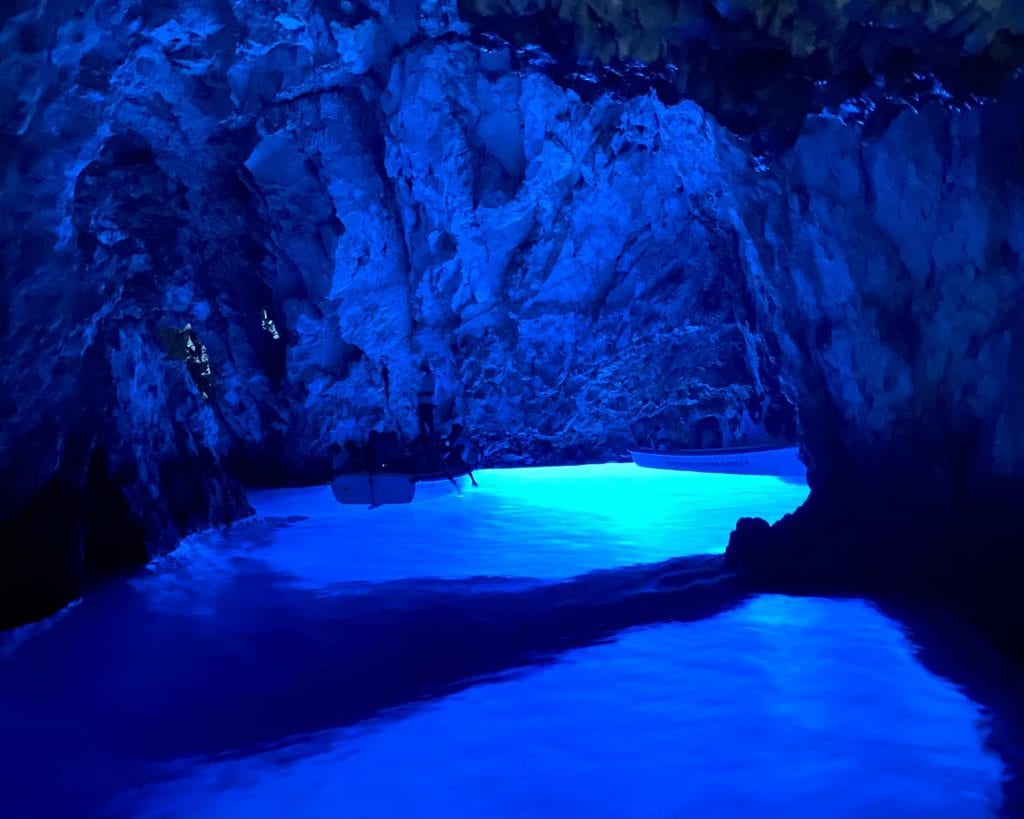 Vis and the Blue Cave
Vis is one of my favorite islands in Croatia, but most people know it for the Blue Cave — which is actually on Biševo, a small island off the coast of Vis. The cave is illuminated by light in shades of bright blue between 11:00 AM and 1:00 PM. You enter in a small wooden boat, ducking your head at the cave entrance, and the experience is eerily beautiful.
Vis is the furthest island from the mainland, and I do not recommend doing it on your own; the car ferry takes too long and will eat up the day, plus from the port you'll need to cross the island to the town of Komiža and get another boat to Biševo. But going on an organized tour can easily get you to some of the most beautiful sights in all of Vis.
This excellent Vis tour from Split takes you to some of the most beautiful spots around the island: the Blue Cave on the island of Biševo, the cliff-surrounded beach at Stiniva Bay that you swim into from the water, the Blue Lagoon on Budikovac, and you even finish with a little time in Hvar.
READ MORE: Ultimate Travel Guide to Vis, Croatia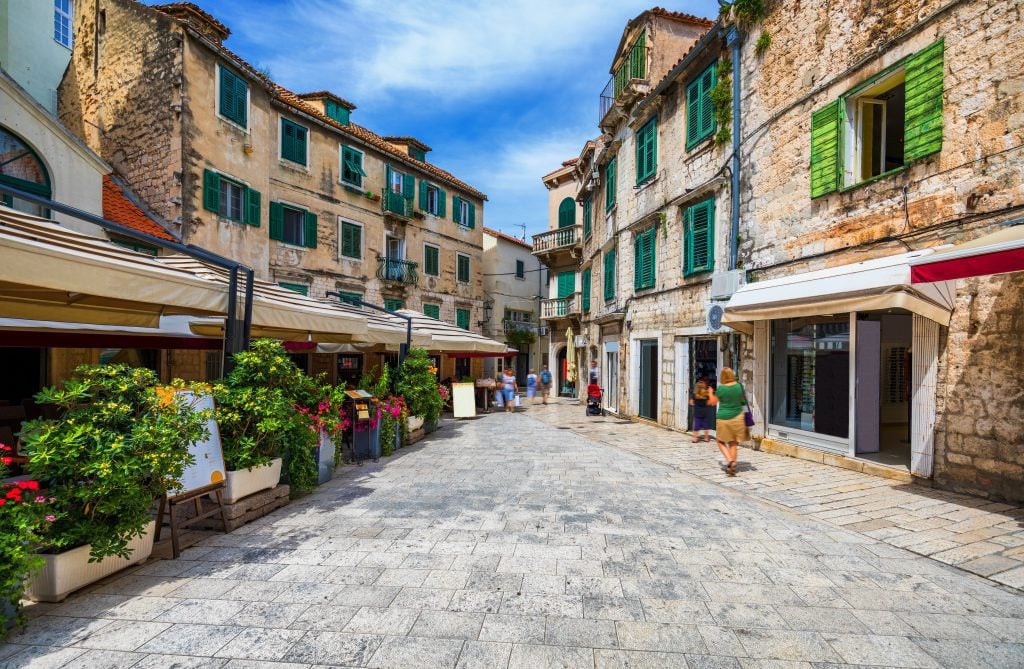 Where to Stay in Split
The best place to stay in Split is around Diocletian's Palace and the Old Town, or close by. However, if you're traveling with a car, this area is tough for parking, and you may prefer to stay a little bit outside with easier parking.
Apartments are a longstanding accommodation tradition in both Croatia and Central Europe as a whole. I'm going to recommend both hotels and apartments for that reason.
Here are the top spots I recommend to stay in Split:
Best Luxury Hotel in Split: Judita Palace Heritage Hotel — One of the most stunning hotels within Diocletian's Palace, with exposed stone walls and beams, and some rooms even have chandeliers. Wonderful, helpful staff.
Best Mid-Range Hotel in Split: Hotel Peristil — Excellent value for money in a place that feels special. Rooms are a bit small but nicely appointed with stone walls, in the heart of Diocletian's Palace.
Best Budget Hotel in Split: Hotel Villa Diana — Clean, comfortable and simple rooms, located a short walk from the Old Town and Diocletian's Palace, very close to the waterfront.
Best Hostel in Split: Old Town Hostel — My go-to Split hostel since 2012, this cozy and homey hostel in the heart of Diocletian's Palace is home to both private rooms and dorms and has a wonderful community-based atmosphere.
As for Split apartments, check out the following, all with the highest ratings in the city:
Luxury Boutique Apartment Stone Palace
See all accommodation deals in Split here.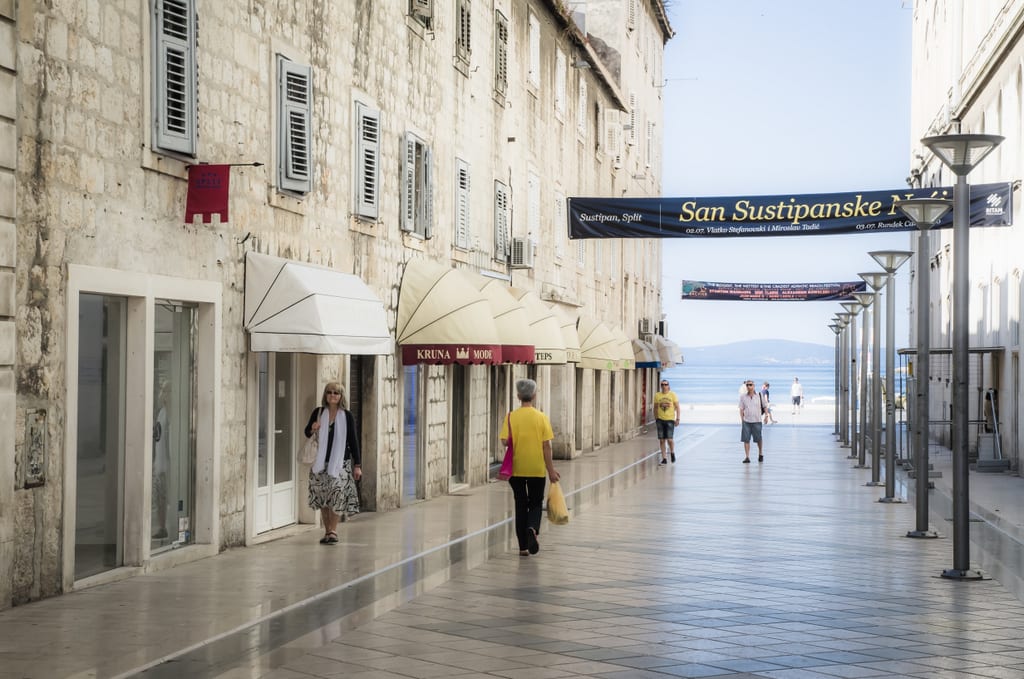 How Much Time to Spend in Split
How much time do you need for Split? To explore Split itself, you can do it all in about one day and don't need much more time than that.
If you're passing through Split, give yourself an overnight and you should be able to see a good portion of the Old Town and its surroundings.
If you're using Split as a base for day trips, give yourself at least a few days. But I definitely recommend having another base as well — maybe somewhere on one of the islands.
You might remember that I've said in my What Not to Do in Croatia post that you don't need to spend too much time in Split. But really, you're the traveler — you choose what's right for you!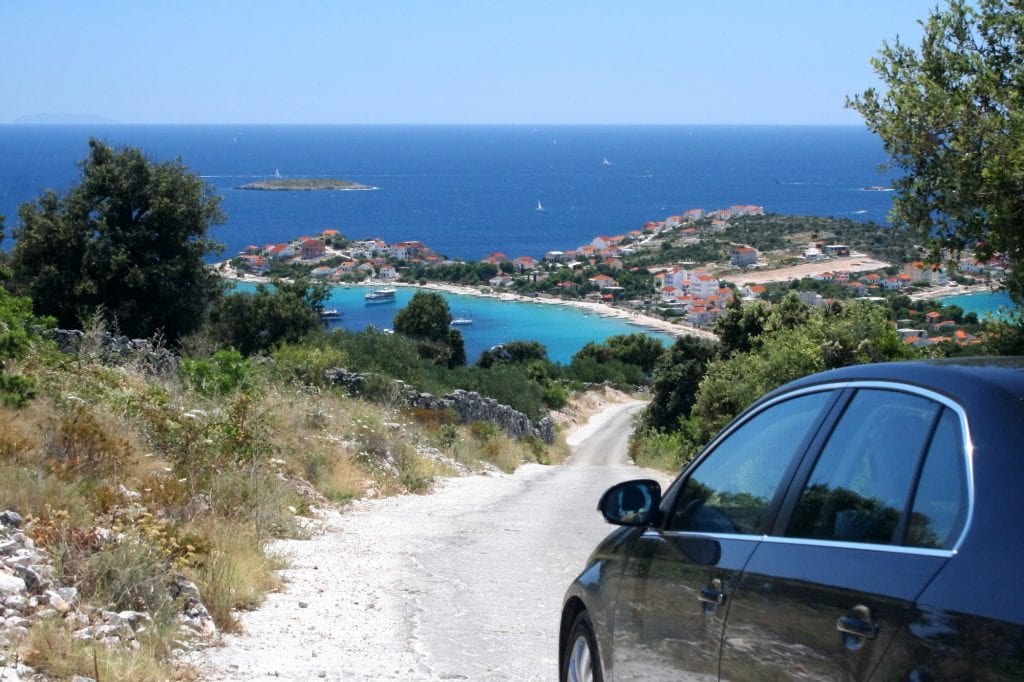 How to Get to Split
It's very easy to get to Split. Split is home to a major international airport — the busiest airport in Croatia during the summer months. You can also get to Split by bus or train. And of course, driving is an option.
Do you need a car in Split? Not if you're planning on staying within the city. It's easy to get by on foot, or to take taxis or Ubers when you need them.
But if you're planning on doing day trips by car from Split — to Krka National Park, Zadar, or anywhere else — you'll obviously need a car. Be sure to choose accommodation with a parking option or find a paid lot.
I prefer exploring Croatia by car, and I even enjoy exploring some of the larger islands by car (especially Hvar, Bra?, and Kor?ula). Having a car might be a good option for you, too.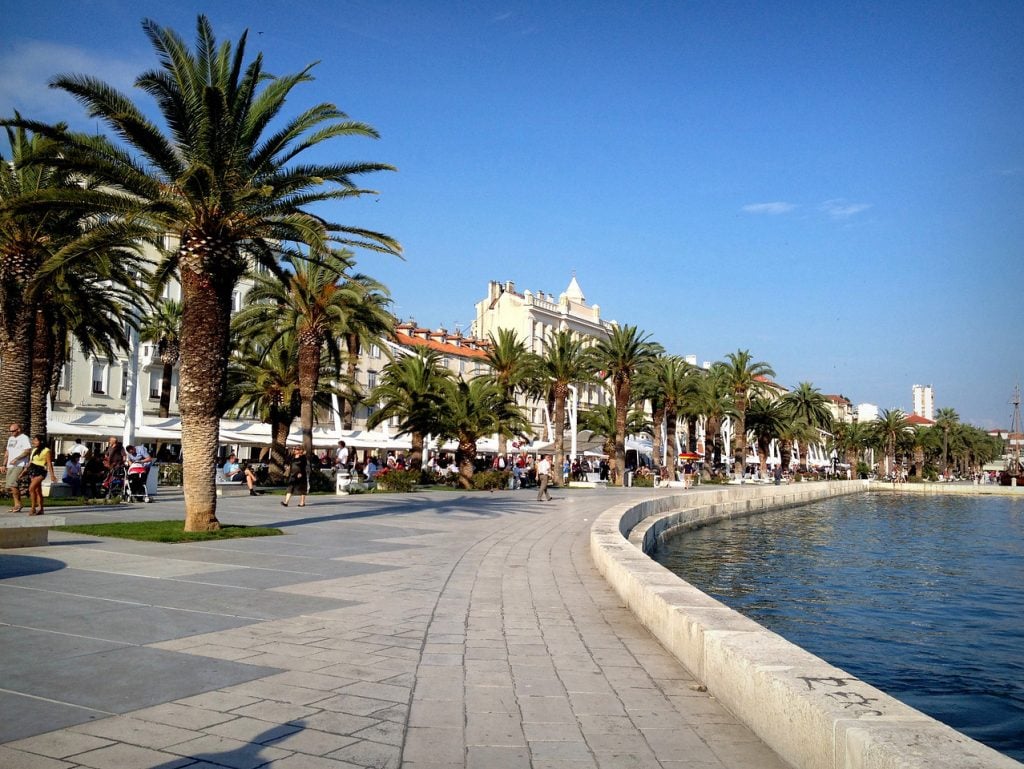 Best Time to Visit Split
Peak season in Split is from June through August. You can enjoy wonderful weather and smaller crowds in May, late September, and even October. It's still swimming weather in Dalmatia as late as October.
My personal favorite time to visit Croatia is late September — it's still summer weather, you can swim, the crowds are smaller, and the kids are back in school. Early October isn't bad, either.
Split is a year-round city with a large local population, so Split doesn't completely shut down in the off-season like a lot of resorts. Even so, the Old Town will be much quieter with some restaurants, shops, and businesses taking extended breaks during the colder months.
READ MORE: Best Time to Visit Croatia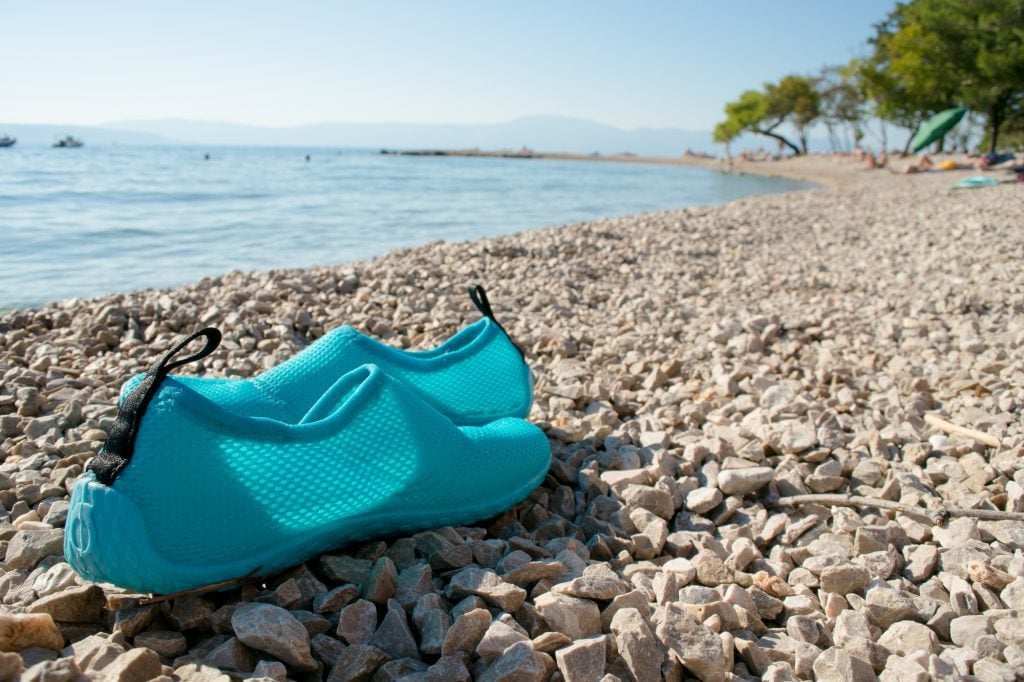 What to Pack for Split, Croatia
There isn't necessarily a packing list specifically designated for Split — but there are some items that work particularly well for Croatia.
Here are some items that you should consider bringing on your Croatia trip:
Water shoes — A necessity when walking on Croatia's rocky beaches. They will protect your feet from sharp rocks and help you stay upright.
Sports sandals — An easy, comfortable way to get around, especially for climbing rock slabs, and a better alternative to flip-flops.
Insulated water bottle — Saves you money but more importantly keeps you hydrated and does not add to plastic waste.
Reef safe sunscreen — Reef safe sunscreen is much better for the environment as a whole, whether there are coral reefs or not.
Wide-brimmed hat — Provides additional protection from the sun, especially great for boat trips.
Dry bag and/or waterproof phone bag — Protect your electronics when out on the water and keep them dry when swimming.
Portable safe — Keeps your valuables safe and only needs to lock to something sturdy in your room.
Speakeasy Travel Supply Scarf — The perfect hidden pocket that no pickpocketer will ever expect! Keep your money in the hidden pocket!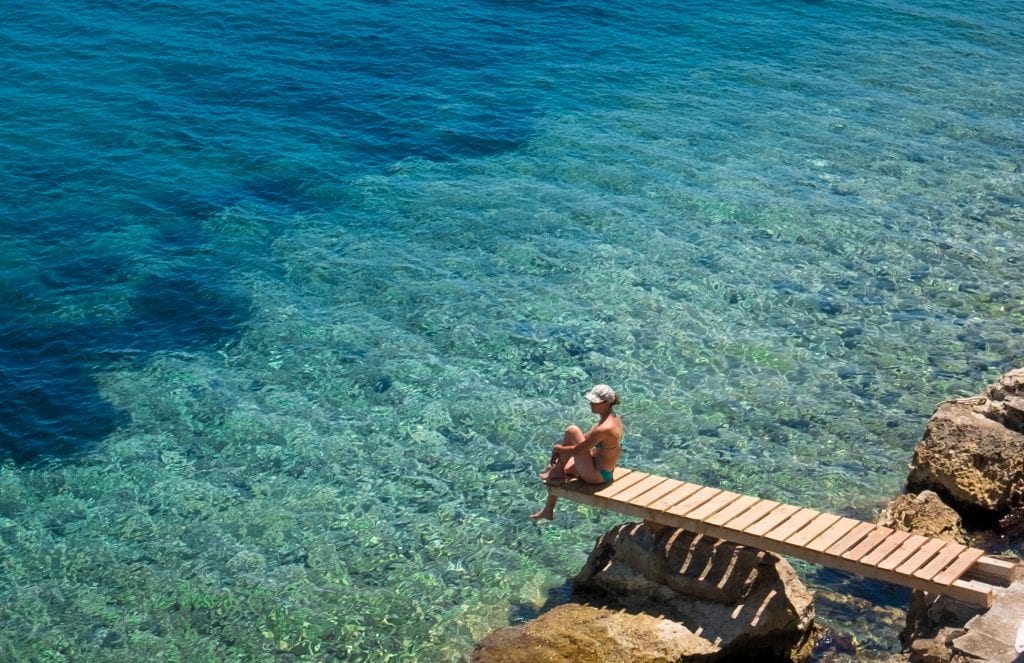 Travel Insurance for Croatia
A lot of people don't think it's necessary to get travel insurance for Croatia — after all, it's a safe country with decent healthcare. But you need it, even in Split. If you get sick or injured on your trip, if you get robbed, or even if you have to be flown home, travel insurance will protect you from financial ruin. I use and recommend World Nomads for trips to Croatia.
I have thankfully never needed to call my travel insurance for help while in Croatia — but I do have a friend who had to visit the hospital after being stung by a wasp in Split, one who sprained her ankle after falling down the steps in Dubrovnik, and one who got her wallet stolen and needed to go to the police station.
While Croatia's hospital prices aren't anywhere near what the US would charge you, you could end up paying a lot of money for a serious medical issue. But travel insurance protects you and refunds you for your costs. It's the kind of thing you don't know you need until you need it. See if World Nomads is right for you here.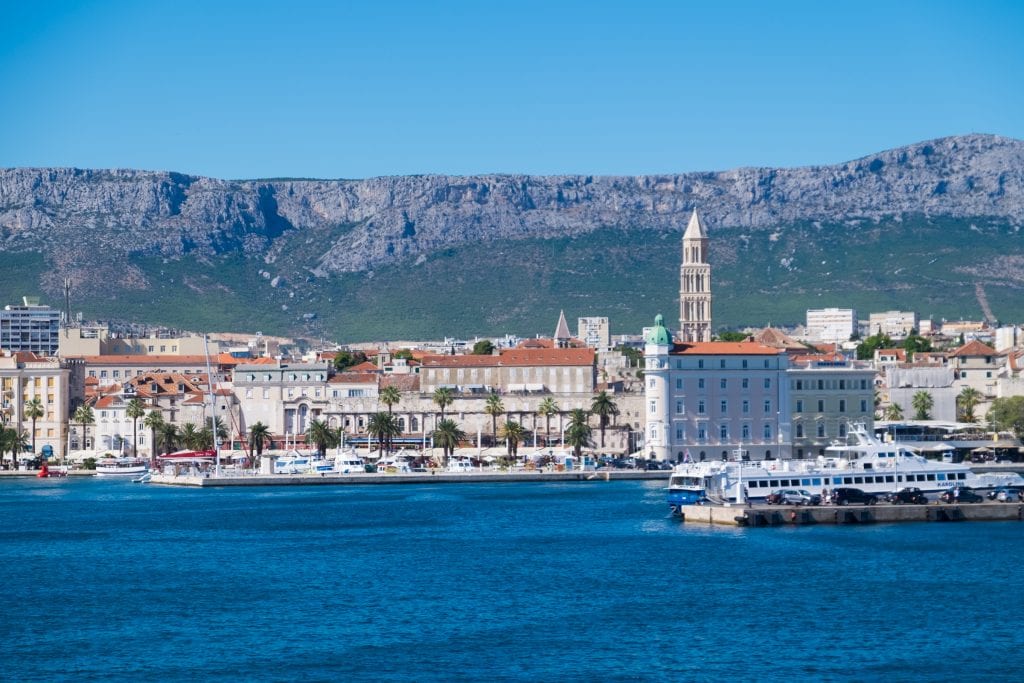 Is Split Worth It?
Absolutely! Split is SO worth it. You should absolutely prioritize getting to know Split, even if it's only for a day or an overnight. This city is full of treasures and awesome things to do.
That being said, I don't think you need to make Split the center of your trip. You might prefer staying longer on an island instead, and I'm always happy to recommend my two favorites: Kor?ula, if you want to do tons of cool things, and Vis, if you want to chill out.
Go have the time of your life in Split! Then come back and tell me all about it.
More on Croatia:
Solo Female Travel in Croatia: Is it Safe?
Destination Guides: Dubrovnik, Kor?ula, Vis, Zadar, Rovinj, Istria
See all Croatia posts here.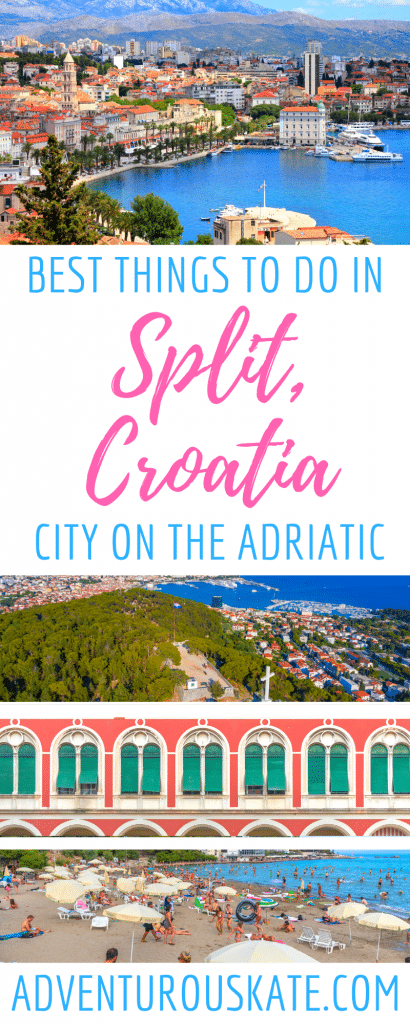 Have you been to Split? What do you recommend doing? Share away!
The post 30 Fabulous Things to Do in Split, Croatia appeared first on Adventurous Kate.