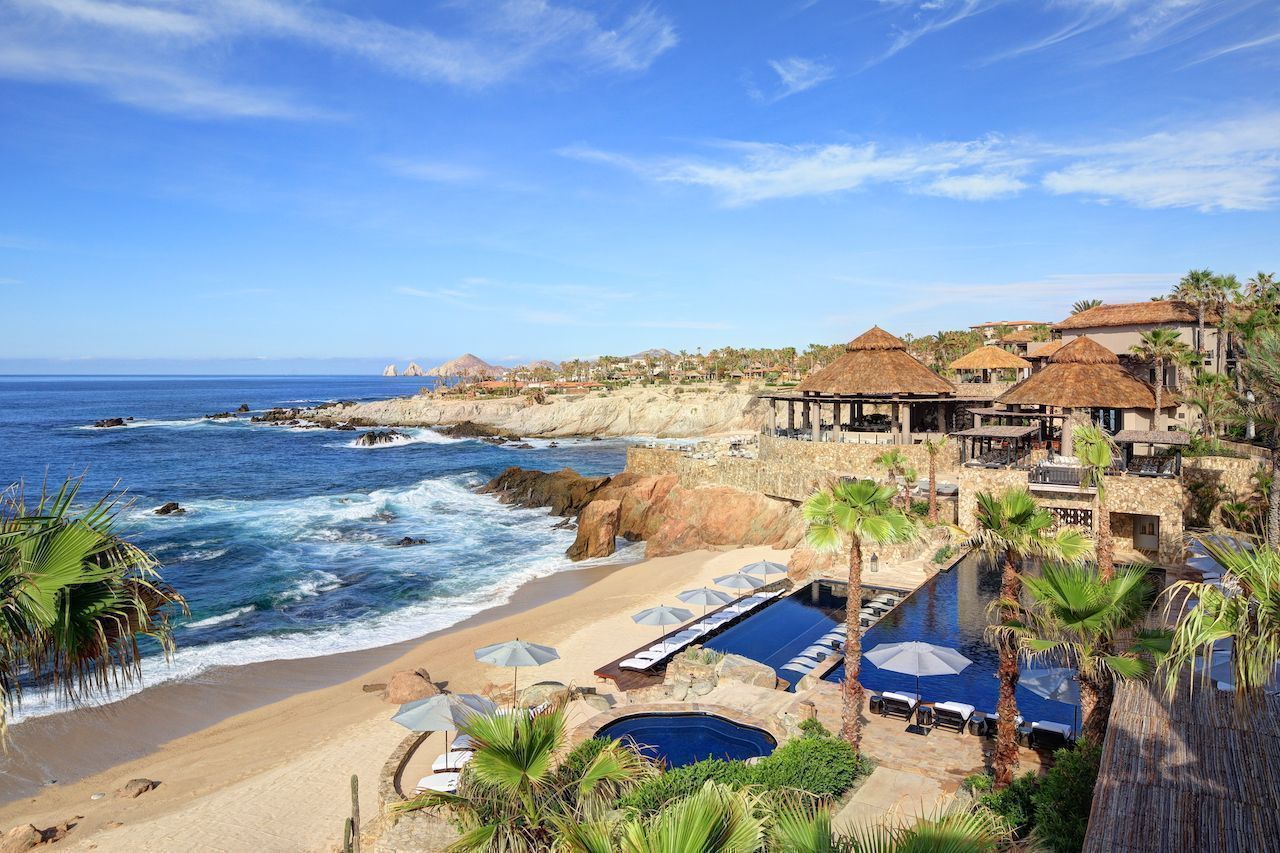 At the southern tip of Baja California, where the waters of the Sea of Cortez and the Pacific Ocean meet, sits Los Cabos, views of teal and sand in all directions. When in such a beautiful place, one ought to have a beautiful place to stay. Synonymous with the very essence of luxury, Auberge Resorts Collection is the standard bearer here with two distinctly different yet equally decadent properties to choose from: Esperanza and Chileno Bay Resort & Residences.
Esperanza is the original, with offerings straight out of your vacation dreams — for starters, it's the only private beach resort in Los Cabos. Palm-thatched roofs, meandering paths, and secluded villas overlook the mesmerizing crash of the surf below. Just up the road, Chileno Bay Resort and Residences is Auberge's stylish sister, whose modern edges make for sleek, contemporary settings. It also sits on one of Cabo's few swimmable beaches.
Two options, no wrong answer. The question becomes, which of the unparalleled experiences below do you want as part of your dream trip?
1. Hitting the H2O Cave at Chileno Bay
The resort's three-tiered, zero-edge infinity pool makes you feel like you're swimming along the ocean's edge. You could stay here all day — all week — if you wanted.
But if you're not here to simply feel like you're in the ocean, that's where the H2O Cave comes in. Head down to the shore, and the staff at this one-stop-shop activity center will hook you up with whatever gear you need to explore and enjoy the protected cove that envelops Chileno Bay's rare swimmable beach. Snorkel, kayak, paddleboard, or even nab a stand-up pedalboard, the SUP world's answer to an e-bike. If you don't care how many jump on your bandwagon, opt for the giant six-foot-wide board for you and up to five of your friends.
Whatever activity suits your fancy, take a minute to stick your head in the water for a look-see. You'll feel awestruck by the vibrant world just beneath — and to all sides of — your feet. Schools of fish are everywhere.
2. Going all out at Chileno Bay's Brisa Del Mar Villa
As if the main resort accommodations weren't posh enough, Chileno Bay's Brisa Del Mar Villa provides guests of discernment their very own level of opulence. The six-bedroom villa comes decked out in the finest of furnishings, complete with elevator, full kitchen, 6.5 bathrooms, media room, outdoor bar, pool table, private pool, exclusive beach access, a rooftop terrace, wicked ocean views — and your very own personal butler.
In total, the villa is 24,000 square feet (that's nearly half the size of the White House!). It's the perfect option for friends, families, or other large groups who want the Cabo vacation of a lifetime.
3. Sea foraging with Esperanza's Chef
Los Cabos' Punta Ballena coastline looks like — and is named after — a whale tail. It's here that you'll catch Chef wandering the rocky beaches around Esperanza in search of sea urchins, blue stone crabs, and snails. Paying special attention to "del día" resources for all four of the resort's restaurants, he'll gladly take you along on a sea foraging excursion.
You'll join Chef as he combs the area for delicacies, each ultimately playing a part in his famous chilpachole, a seafood feast cooked over an open fire right on the beach. A regional specialty, this Mexican fisherman's stew comes with a bottle of wine — and more than a few memories to last a lifetime.
4. Spending the day in a palapa on Playa Paraíso, Esperanza's private beach
Seclusion is nice, but what really seals this experience are Esperanza's two-story, open-air palapas, cozied up on Cabo's only exclusive beach, Playa Paraíso. Each palapa comes with the resort's luxury thumbprint, spoiling you to the point that reentering reality is best done slowly.
If you choose the All-Day Paradise package, your morning starts with yoga or meditation, followed by five-star zen throughout the day — that is to say, private butler service and a fully stocked Yeti cooler. Breakfast and lunch, cocktail tastings, a ceviche class, a private chef-prepared BBQ dinner, and a 45-minute massage for two fill the hours, the evening wrapping up with a bonfire and s'mores. Note: You can revel in shorter samplings of bliss with the Morning Journey and Sunset Splendor packages.
Whichever experience — and, ultimately, whichever resort — you choose, local culture will be brought to you. Whether it's turn-down service complete with artisan gifts or local dishes shared across generations, prepare for fond memories from the moment you arrive. Auberge makes Los Cabos unforgettable.

The post 4 unforgettable experiences to have on your trip to Los Cabos, Mexico appeared first on Matador Network.