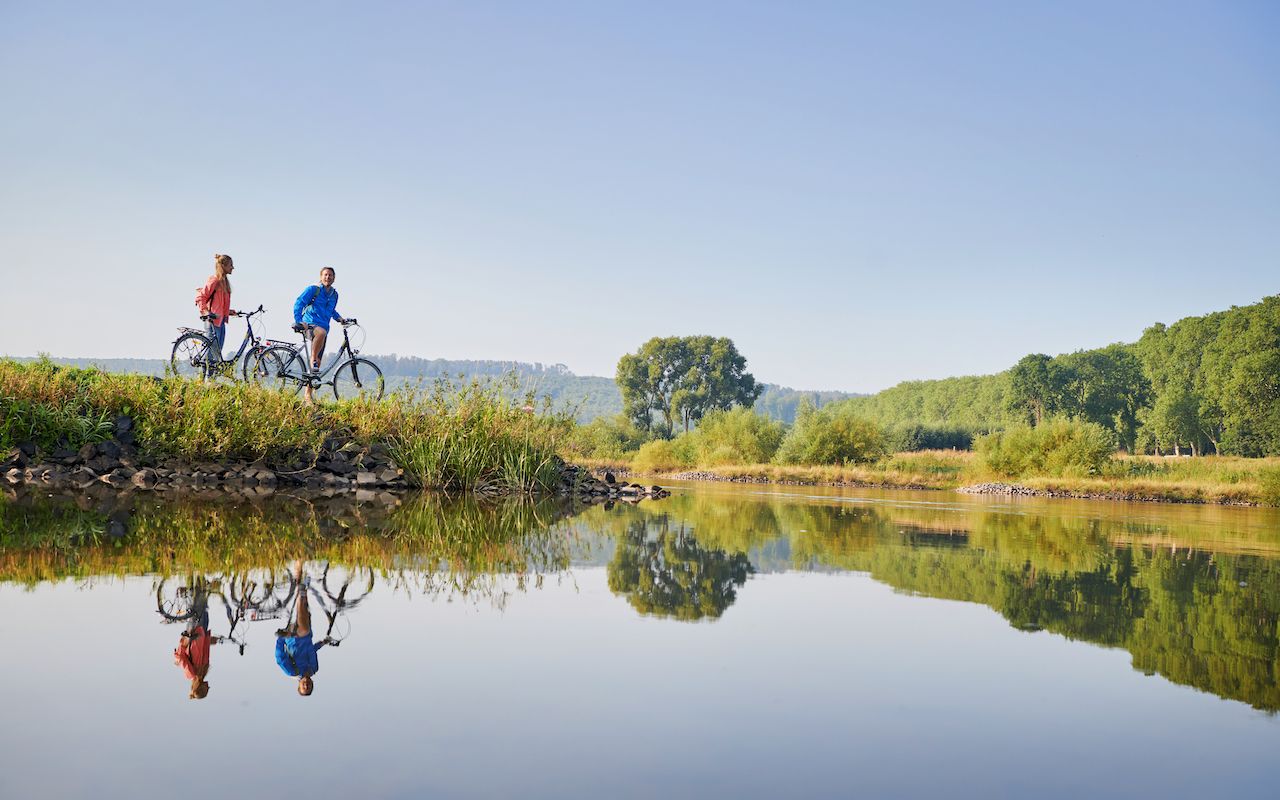 There are more than 250 designated cycling routes in Germany, which leaves one thing certain: Germans love their bikes. Radwanderwege is the German term for these trails, and a rad wander they are, indeed.
But instead of pouring over hundreds of maps to see if one might work for you, let this list be your starting point. Spanning the entire country, from UNESCO World Heritage Sites to rolling vineyards, here are six of the best cycling routes across Germany.
1. Berlin Wall Trail
The Berlin Wall — and all it stood for — infamously divided the German capital for nearly three decades. While its few remaining sections serve as poignant historic monuments, the entire 100-mile route has been transformed into a dedicated hiking and cycling trail. The Mauerweg, or Berlin Wall Trail, successfully combines nature, culture, and history like nowhere else.
While some of the route zigzags through the city, taking in major sights like the Brandenburg Gate, Checkpoint Charlie, and Potsdamer Platz, much of it runs through the outskirts, taking visitors through forests, scenic countryside, and leafy, lake-filled areas like Wannsee. Along the way are watchtowers and memorials, as well as palaces, historic churches, landmark housing estates, and more. Plentiful public transit stops mean you can easily break the route into smaller sections — and break for your own rest days and getaways.
2. Danube Cycle Path
The German section of the Danube Cycle Path — which itself forms part of the longer EuroVelo 6 — starts in Donaueschingen, in the southern state of Baden-Württemberg, and follows this famous river all the way to Passau in Lower Bavaria.
The 380-mile route passes through some famously glorious countryside. Cyclists will get to experience the natural lakes and wetlands of Donauried, taste local culinary specialties — Weissbier and Weisswurst in Bavaria, Maultaschen (Swabian noodles filled with smoked meat, spinach, and onion) in Baden-Württemberg — and take in historic towns like Ingolstadt and the UNESCO-recognized Regensburg.
Be sure to make time for exploring Passau, regarded by many as the "Venice of the North." It has a beautifully baroque old town, along with the remarkable St. Stephen's Cathedral and the 13th-century Veste Oberhaus.
3. Elbe Cycle Route
The River Elbe flows northwards through Germany before emptying into the North Sea. The Elbe Cycle Route, some 790 miles in total, takes in several states — Saxony-Anhalt, Brandenburg, Lower Saxony, Hamburg, Mecklenburg-Western Pomerania, Schleswig-Holstein, Saxony — and major German cities. You'll pedal through Dresden, Hamburg, Magdeburg, and Lutherstadt Wittenberg, where Martin Luther posted his Ninety-five Theses on the door of All Saints' Church in 1517.
There are endless urban highlights to this route, but the natural landscapes will stop you in your tracks. Worth a specific mention are the peaks of the mountainous Saxon Switzerland National Park, the sweeping landscapes of the Elbe Floodplain UNESCO Biosphere Reserve, and the scenic mudflats of the Wadden Sea, a UNESCO World Heritage Site since 2009.
4. Mecklenburg Lakes Cycle Route
This scenic cylcing route is characterized by, as the name suggests, lakes — thousands of them. It charts a 400-mile course through the Mecklenburg Lake District and travels all the way north to the Baltic coast.
Starting in Lüneburg, famous for its handsome, red-brick Gothic buildings, you'll pedal through the Elbe Valley Nature Park, with its dunes, heaths, and forested areas, and then on to Müritz National Park, which itself contains over a hundred lakes — including the eponymous Lake Müritz, the largest in the area and a spectacular highlight. You'll likely encounter a diverse array of birdlife, too, such as cranes, ospreys, and white-tailed eagles.
The route also takes in the vast and impressive Szczecin Lagoon before ending on the pretty island of Usedom, where beaches, seaside spa architecture, and a coastal atmosphere provide a superb reward for all that hard work.
5. Rhine Cycle Route
Forming a natural border between France and Germany, the Rhine is a world-class river, as well as one of Europe's longest, connecting the Swiss Alps to the North Sea.
Germany's Rhine Cycle Route travels 766 miles from the sparkling Lake Constance in Bavaria and passes through the historic cities of Karlsruhe and Mannheim in Baden-Württemberg, the cathedral city of Speyer, and the wine region around Mainz in the Rhineland-Palatinate. If you're only going to do one section, though, make it the Middle Rhine Valley between Bingen and Koblenz, which features sloping vineyards, majestic castles (around 60 of them), and striking medieval towns.
Adventurous souls can continue through Bonn, Cologne, Düsseldorf, and the post-industrial Ruhr district, before the Rhine passes over into the Netherlands.
6. Saarland Cycle Route
At just 70 miles long, the Saarland Cycle Route is one of Germany's shortest official bike trails, but it packs in a slew of natural and cultural thrills through dense woodlands, below unusual rock formations, and alongside sun-drenched vineyards. There are can't-miss sights like the UNESCO World Heritage Völklingen Ironworks, which offers compelling insight into 20th-century steel manufacturing; opportunities to learn about — and purchase — porcelain in Mettlach; and plenty of chances to sample local wines at Serrig, the "Saar Wine Gateway."
The last 18 miles of the trail follow the River Saar through the Rhineland-Palatinate, where it meets the mighty Moselle and flows into the charming town of Saarburg, with its quaint old town, castle ruins, and picturesque waterfall. For a speedy jaunt through some of Germany's best looks into porcelain, wine, and history, there's nowhere better.

The post 6 of the best cycling routes in Germany appeared first on Matador Network.