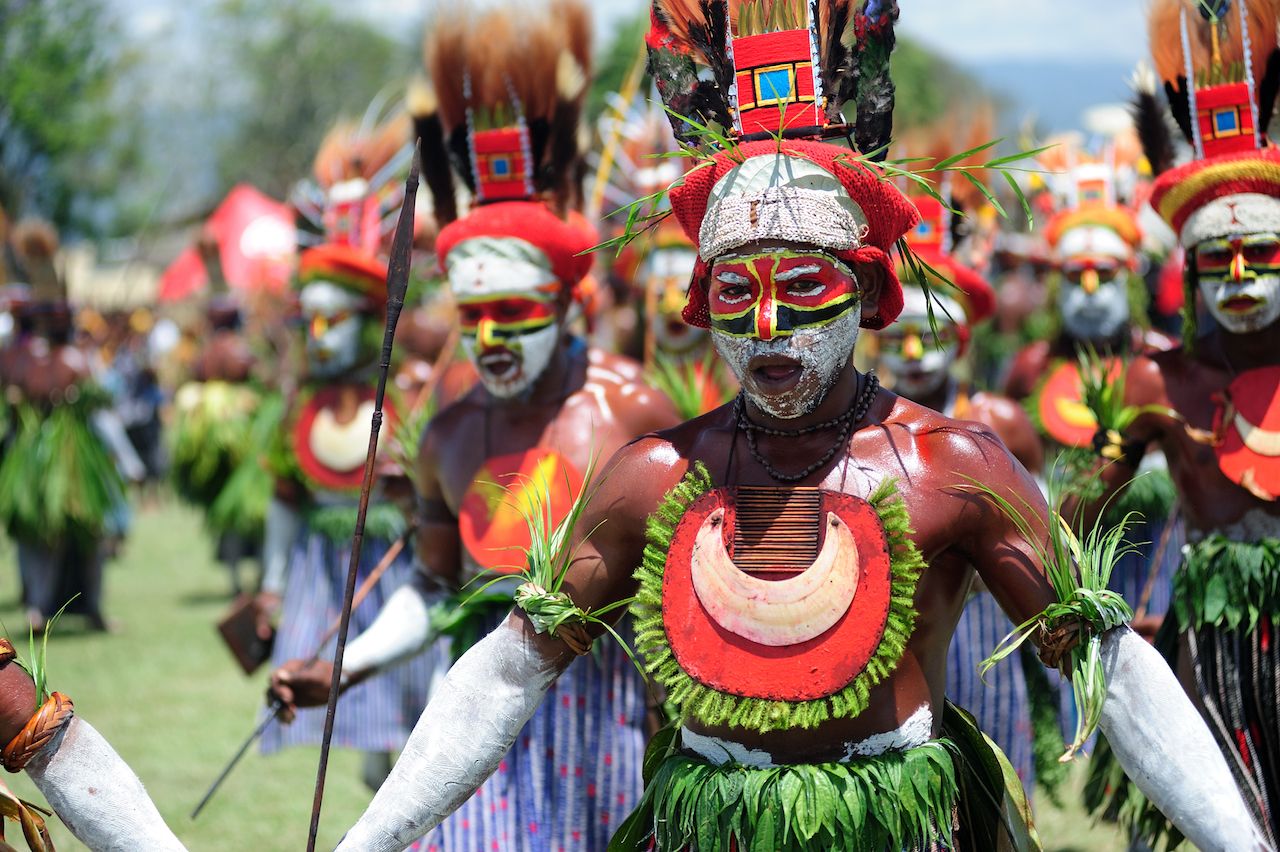 Papua New Guinea isn't at the top of most people's must-see lists — mainly because it's a heck of a long flight from most places in the world — but that's all the more reason to go. Still largely undeveloped, the remote nation in Oceania is one of the most culturally rich and naturally blessed places on the planet. It's a dream destination for travelers looking to get fresh mountain air in view of majestic volcanoes, scout pristine bays replete with coral reefs, and bear witness to unique traditional practices — you might even meet a witch doctor. Here are seven reasons why you need to check out Papua New Guinea before you kick the bucket.
1. It's home to hundreds of distinct indigenous groups.
More than 800 languages are spoken in Papua New Guinea, an independent state roughly the size of Sweden, owing to its vast number of tribal communities. Each tribe has its own customs, which are shared between villages at annual gatherings known as sing-sings. These lively assemblies bring together various indigenous groups to foster peace and cultural exchange, and they feature an array of ceremonial practices, including music and dance performances.
Two of the largest sing-sings are the Mount Hagen Cultural Show, hosted in the Western Highlands Province, and the Goroka Show, which takes place in the Eastern Highlands Province every September as part of the national Independence Day celebration. Tourists are invited to attend the events and should definitely do so to see what Papua New Guineans are all about.
2. You'll get postcard-worthy beaches all to yourself.
Pretty much everyone loves lazing on white-sand beaches while the sun beats down and cooling off in crystalline waters. But the beach can be hard to enjoy when it's littered with lounge chairs and taking a dip in the ocean feels more like wading in a public pool. Thankfully in Papua New Guinea, the beaches are still unsullied by mass tourism. To make your fantasy of having paradise all to yourself come true, head to the Milne Bay region in the southeast, nearby Tufi, or Madang on the north coast. There are also several tropical islands off the coast of Papua New Guinea worth checking out, including the Conflict and Panasia Islands.
3. The surfing and scuba diving are pretty killer, too.
Sunbathing in Papua New Guinea is as relaxing as it gets, but don't be fooled: The underwater scene is just as extraordinary as the beauty you'll bask in on land. Surfers should plan to visit Madang during the wet season, between December and March, for the best swells. Alternately, Tufi is one of the main hubs for reef and muck diving, as well as wreck diving among sunken World War II vessels. If snorkeling is more your thing, head straight to Kokopo, the capital of East New Britain off the east coast of the mainland. The reefs there are known for their colorful biodiversity, making you feel like you're swimming above a fireworks display, and there's a good chance you'll even see sharks reveling in their natural habitat.
4. The Kokoda Track is a dream for hikers and history buffs alike.
The Kokoda Track, a 60-mile trail that passes through the Owen Stanley Range, is a rewarding albeit challenging trek. The remote mountainous region is filled with luxuriant rainforest flora, obscure villages where you can stay the night, flowing creeks you'll cross on log bridges, and WWII relics ranging from leftover munitions and forgotten helmets to entire aircraft. The site served as a battleground for Japanese soldiers and Allied forces during the war, making it one of the wildest history museums you'll ever see.
Permits are required before you can set off on the Kokoda Track, and they'll run you roughly $100 for adult hikers and $50 for students and kids. Follow this link to obtain the necessary paperwork, learn how to prepare for the trek, and find tour operators to take you.
5. It's a paradise for bird watchers.
Birding is one of the most popular activities in Papua New Guinea, which hosts more than 700 avian species, around 10 percent of which are endemic to the area. You'll see the most avifauna during the dry season from June to October, and tours are offered along the coast, in the mountains, and everywhere in between. Birds of paradise are the thing to see in Papua New Guinea as the majority of the world's existing species can be seen flaunting their colorful plumage there. For some of the best birding around, organize a morning hike through the Rondon Ridge area, traverse the shores of Lake Murray, or wander around Tari — home of the hospitable Huli people — camera in tow.
6. The markets put your neighborhood flea and farmers markets to shame.
Local markets are essential to Papua New Guinean life, serving as places where people come together to buy and sell everything from fresh fruit and vegetables to handmade crafts, artwork, and even animals. Locales like north-central Mount Hagen and Wewak on the northern coast host bustling markets throughout the week, but the real must-see is the Ela Beach Craft Market in capital city Port Moresby, which feels more like a festival with its late-morning music and dance shows. Stock up on souvenirs like woven baskets, carvings, and wax candles or simply meander around, barbecue in hand, on the last Saturday of the month for a special treat.
7. Winding down the Sepik River is incredibly peaceful.
The longest river in Papua New Guinea, the Sepik River snakes through dense lowland forests populated with remote tribes that still have limited exposure to the outside world. Sepik River cruises combine all the best parts of Papua New Guinea into one serene outing, during which you'll take in the flora and fauna, stop ashore for village tours, and appreciate the untamed wilderness while rocking gently back and forth in your boat.
If you're looking for slightly more luxurious overnight experience, consider booking a three-night stay on the Sepik Spirit, which starts and ends its journey in Karawari. Whether you opt for a day trip or a longer tour, keep your eyes peeled for crocs while you float down the river; they're revered by many local tribes, some of which even practice initiation rituals for young men during which their backs are scarred to look like the reptilian beasts.

The post 7 reasons you need to see Papua New Guinea before you die appeared first on Matador Network.