I always have preconceptions about the destinations I visit, and St. Croix was no different.
I visited the Florida Keys because of Bloodline and Fire Island because of Baby-Sitters Club #76: Stacey's Lie. Midnight in the Garden of Good and Evil brought Savannah to life for me. Hell, I went to Budapest to see the white chocolate statue of Michael Jackson.
St. Croix, though? Well, that's a bit of a different story…
I always knew St. Croix was a Caribbean island, but I didn't really think about it until 2002. I was 18 years old, sitting in my dorm hallway, painting a doorstop with nail polish. College had started one week ago and this was our floor's first bonding activity.
A few of the girls were chatting and one mentioned St. Croix. "Oh, you go to St. Croix?" another girl asked. "We go to St. Croix every Christmas."
"We go every Christmas, too!" another girl chimed in.
"No way!" a third girl said. "My family goes to St. Croix every February. Where do you stay?"
My cheeks burned as I painted my doorstop. How rich are these people? I go camping. In New Hampshire. I imagined the girls sitting on yachts in designer bikinis, sipping champagne and laughing at me.
Looking back, I feel compassion for my 18-year-old self. Of course you were feeling insecure, Kate — it was your first week of college and you were terrified of not fitting in. At the same time, I knew nothing about the Caribbean at age 18 — I just assumed it was a destination for the wealthiest people in the world. I projected my feelings onto the entire region, and St. Croix in particular.
The Caribbean is far more than yachts and the uber-rich; I know that today. Each island has its own personality. Some are more about the jungles than the beaches; some are excellent for diving; some have a music tradition or culinary scene. Some pride themselves on their exclusivity; others are low-key and friendly. And St. Croix is definitely a down-to-earth and welcoming island.
This spring I got invited to visit St. Croix with Spirit Airlines. It's Spirit's newest destination. I thought of 18-year-old Kate sitting in the dorm hallway and thought, Yes, let's do this. It's time to see it for yourself.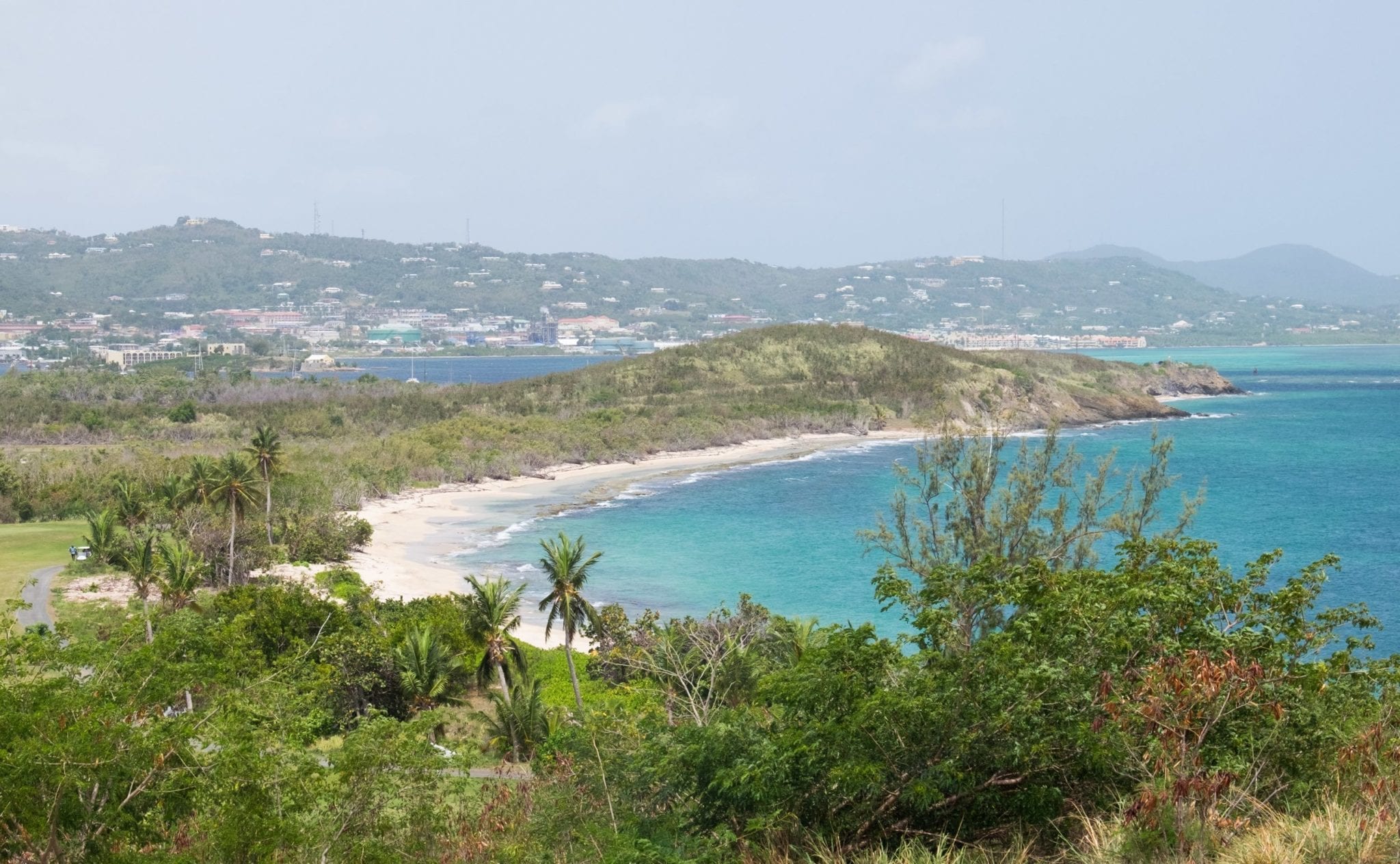 St. Croix: A Fabulous Little Island
St. Croix is one of the US Virgin Islands, along with St. John and St. Thomas. Visiting from the US is like visiting Puerto Rico: it's considered a domestic flight, you don't need your passport, US dollars are the currency, and your US-based phone plan should work. (Though for what it's worth, we found that those of us with AT&T had better coverage than Verizon.)
At 82 square miles, St. Croix is the largest of the US Virgin Islands. It's similar to the size of Grand Cayman (76 miles), Antigua (108 miles), or St. Kitts (65 miles), but to put things in perspective, St. Croix is four times the size of St. John, nearly three times the size of St. Thomas, but only 1/41st the size of Puerto Rico!
So what do you do on St. Croix, other than lie on the beach?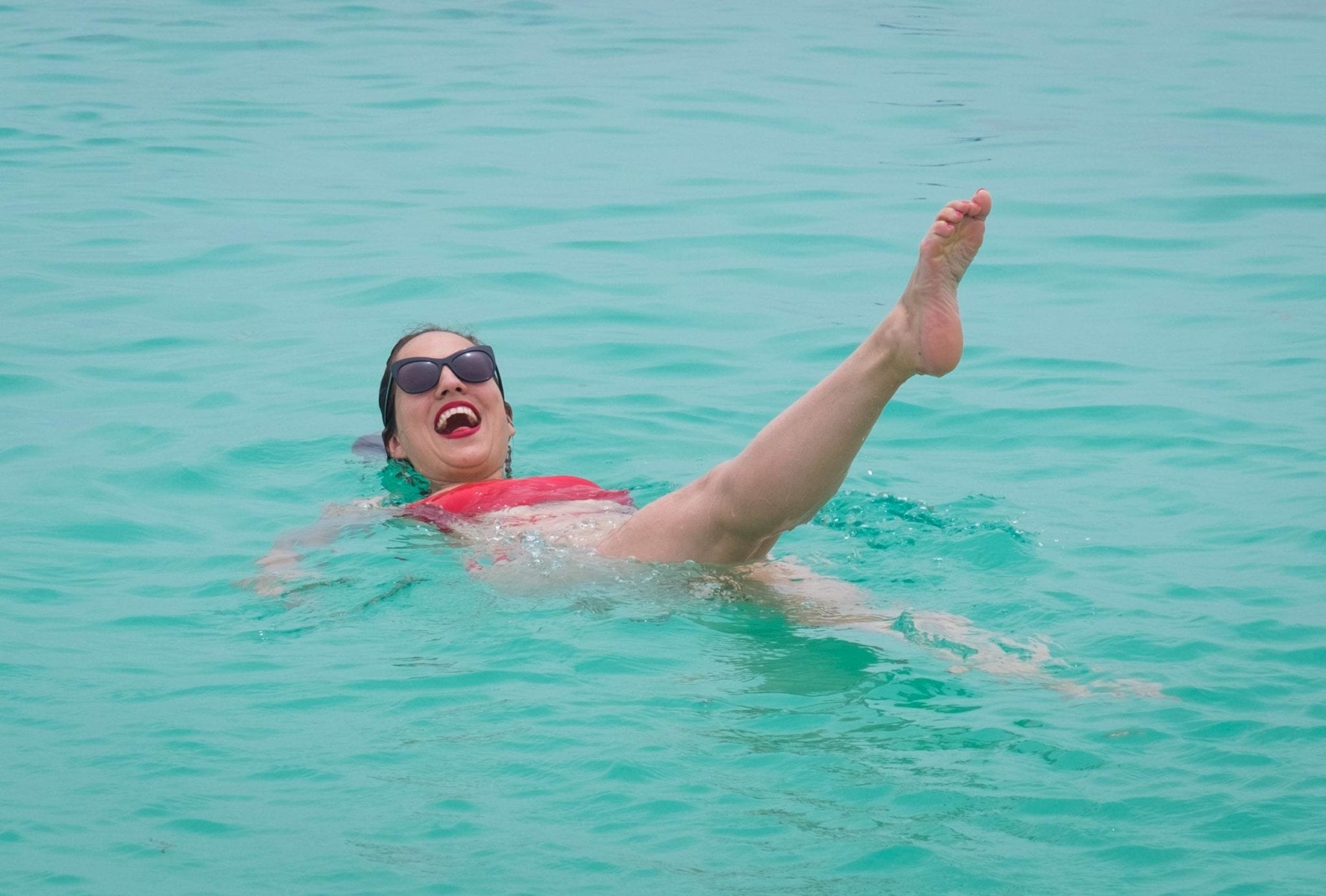 Go snorkeling at Buck Island National Monument! This island off the northeast coast of St. Croix is home to clear, bright waters. Our group did a half-day sail off the dock from our hotel.
First up was the island, which is home to white sand beaches…and poisonous trees! Seriously, when it rains, the poison drips down down the trunks. The captain encouraged us to stay on the sand and keep away from the trees, even though someone had inexplicably built picnic tables beneath them…
Next up was our guided snorkel tour. Amazingly, as you snorkel there are signs on the ground of the ocean that tell you about the animals you're seeing. I've never seen that anywhere else.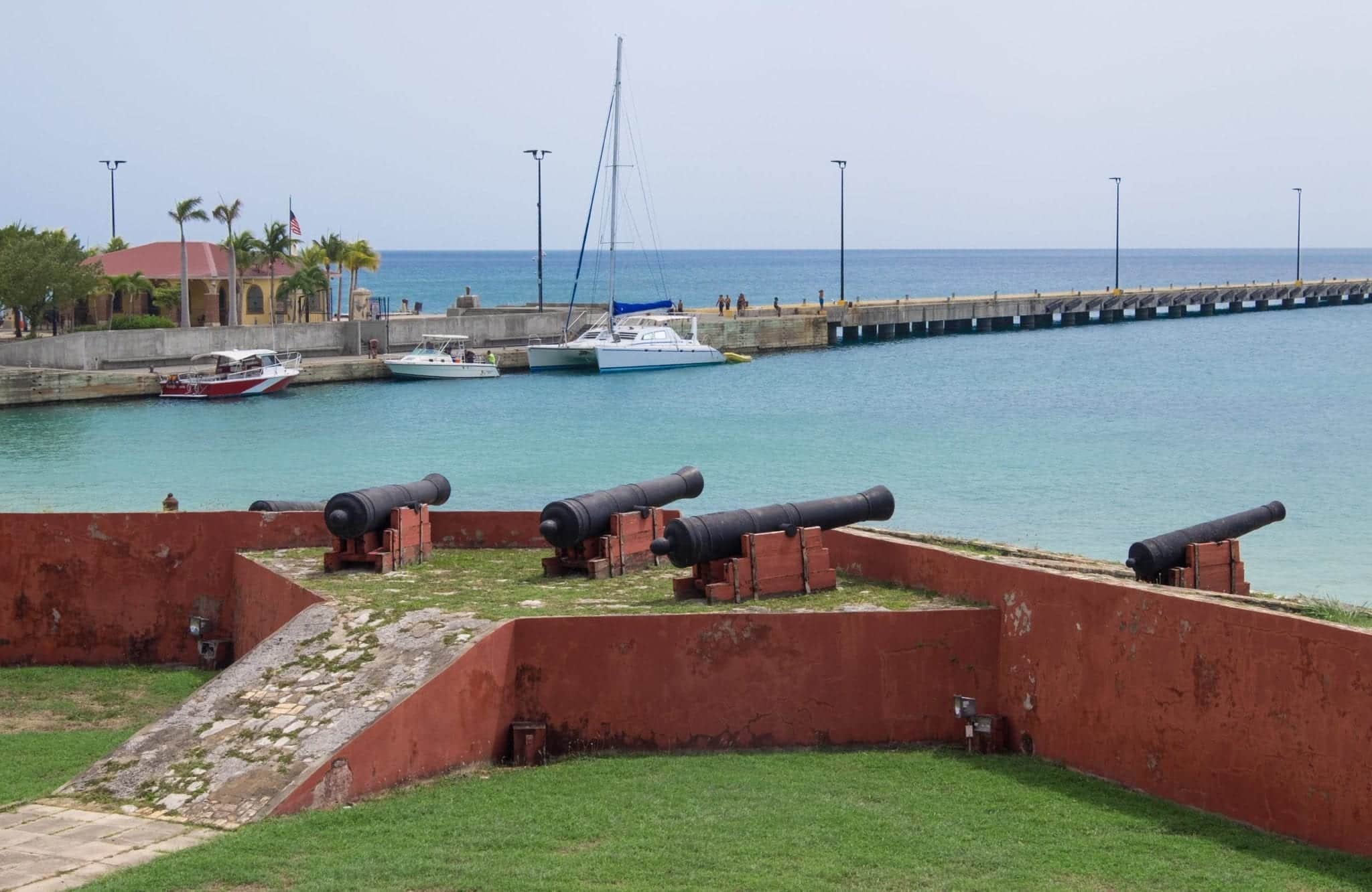 Frederiksted is where you go for the history. Hamilton fans likely know that this is where Alexander Hamilton spent most of his youth and where his neighbors collected money to send him to Kings College in New York. There are Hamilton-themed tours in Frederiksted, which I would have loved to do, and they also have regular historic tours.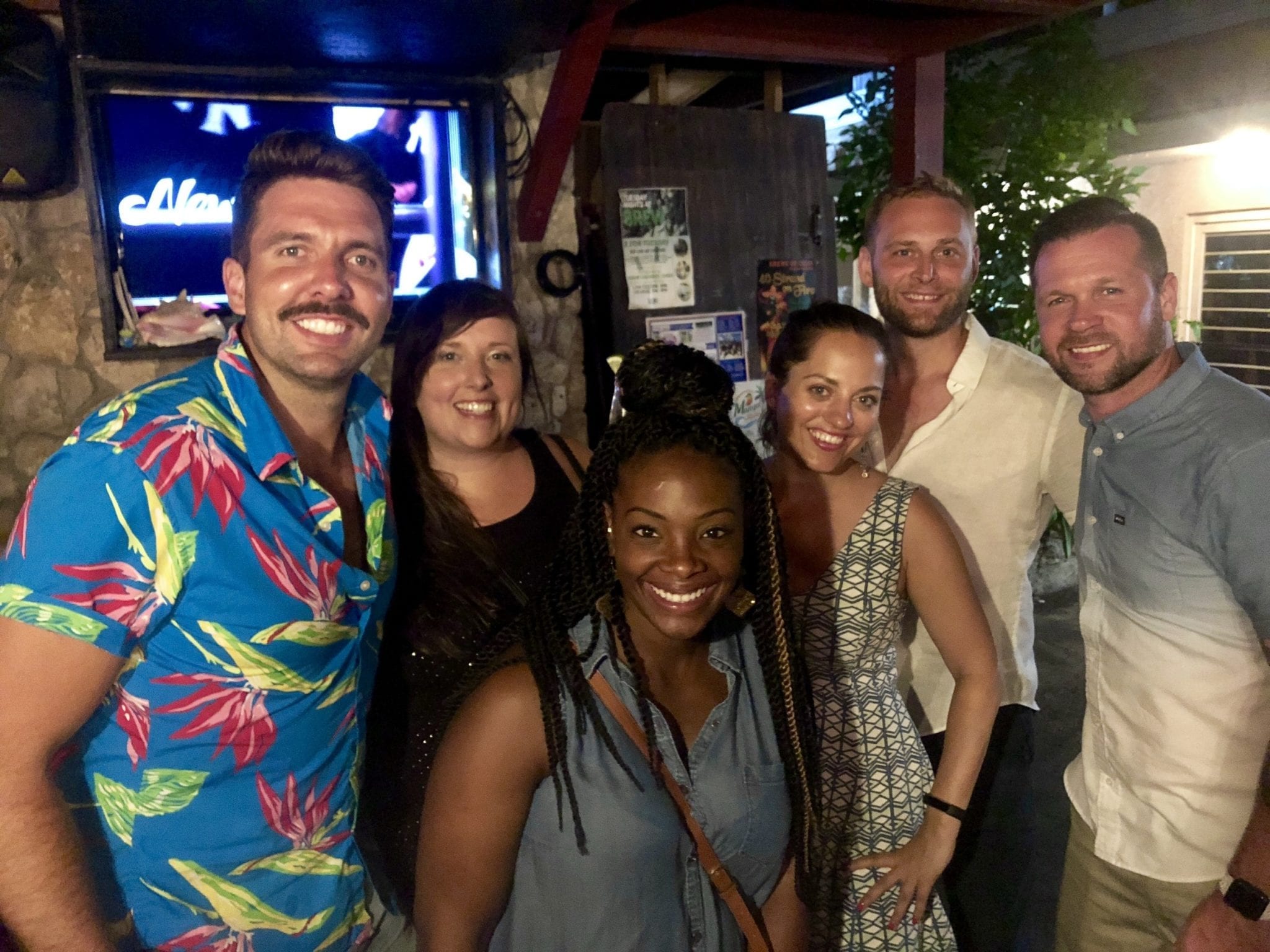 Christiansted is where you go to eat and party. I loved hanging out here — you get much more of a local atmosphere and meet some characters. Check out the boardwalk for some great bars. We spent a lot of our time at a bar called Shupe's.
(Shupe's has a drink called the St. Croix Masshole that includes tequila, raspberry liqueur, lime juice, OJ, ginger beer, and a splash of lemon. And it comes served as a shot and chaser. How do I know this? Well, Clint and I are from Massachusetts…)
For dinner, we had an outstanding meal at Zion Modern Kitchen, which I highly recommend. On the more casual end, you can get some creative pizzas at The Mill, right on the boardwalk.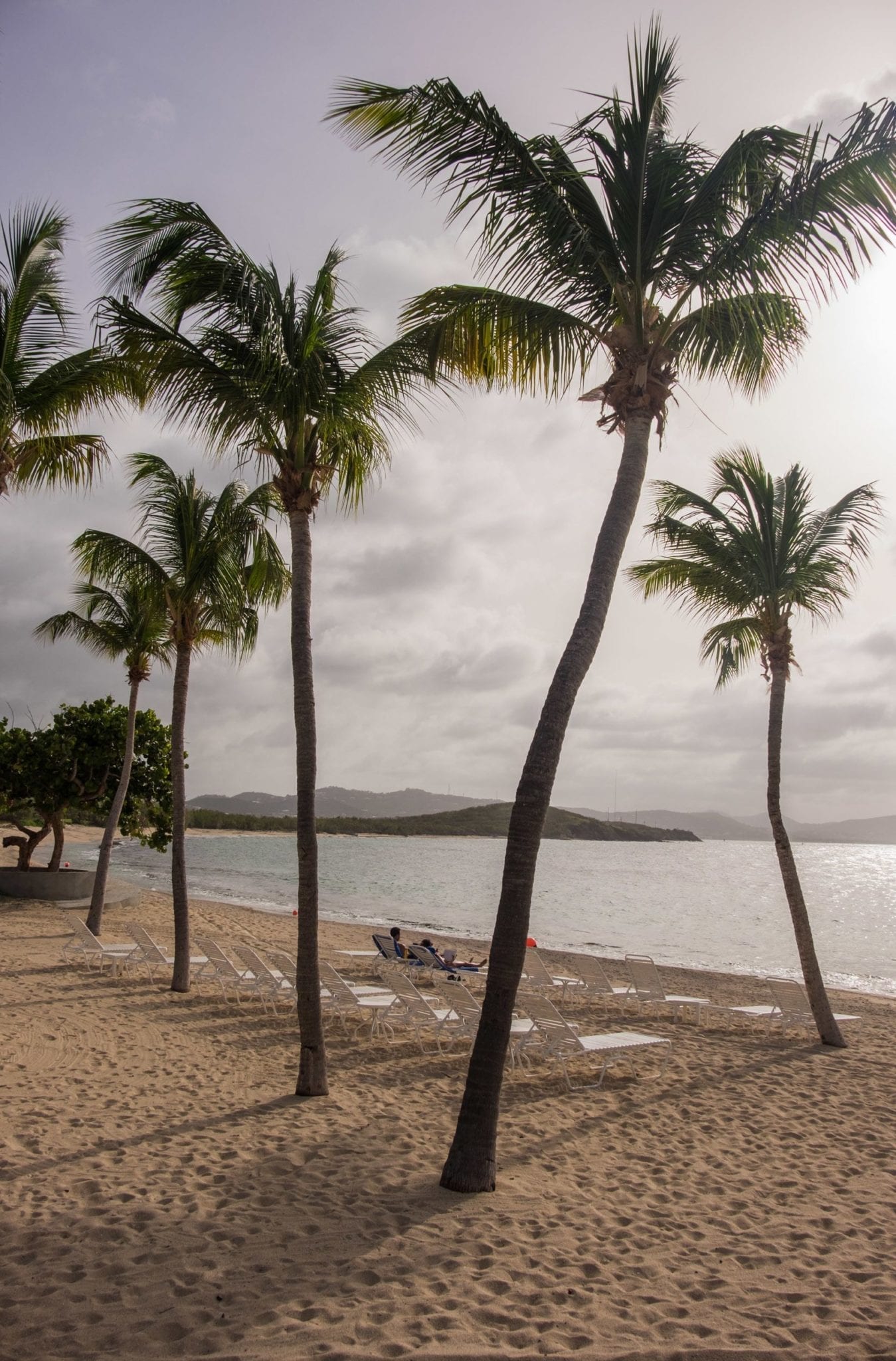 Visiting St. Croix in the Summer — Worth It or Not?
Our trip took place in the last days of June, which is shoulder season in the Caribbean. Shoulder season is a gamble — you could have all blue skies, all stormy skies, or a mix. For us, it was a mix. We only had one brief cloudless period — the rest of the time was either partly cloudy, mostly cloudy, or completely overcast.
Unfortunately our beach and snorkeling trip to Buck Island took place under the heaviest gray sky — it looked like you could pierce it with an arrow. And our historic trip to Frederikstad was gorgeous and sunny. I wish it had been the other way around, but that's life! Sometimes you get the opposite weather you want.
That said, this time of year can often be a cheap time to visit the Caribbean, both in terms of flights and accommodation. And you're not in the heart of hurricane season yet, so you don't have to be as vigilant.
My opinion? If gorgeous photos are your priority, complete with perfect blue skies and clear turquoise water, pony up the cash to travel during high season (December to March). You might still be okay in April or May (I had perfect weather in Belize in May a few years ago), but June starts to be rainier and cloudier, and then it goes into hurricane season until November.
If you can deal with some less-than-ideal weather, visiting St. Croix in the shoulder season might be better for you. If you're coming to the Caribbean to relax and chill out without much of an agenda, this might actually be the best time for you.
Would I travel to St. Croix in the shoulder season again? Maybe if I were there for longer, like a week or more, and I were likely to have at least a few good weather days.

My First Time Flying with Spirit
Truth? I had never flown Spirit Airlines in my life until this trip. I was familiar with them, though, because most people on my Central America tours flew in on Spirit. They were by far the cheapest option.
Spirit is an ultra low-cost carrier (ULCC) focusing on the United States, the Caribbean, and Latin America. You can get flights as far away as Lima, Peru, and Guayaquil, Ecuador; their main hub is Fort Lauderdale. I flew in from LaGuardia.
I'll be honest: I didn't expect much from an ultra low-cost airline, but Spirit impressed the hell out of me.
If you see Spirit pop up on a flight search engine, they very well may be the cheapest option. This is because Spirit does à la carte pricing (they call it à la smart) and only charge you for a bare-bones flight. For everything else, you only pay for what you want — whether it's food or drink, a carry-on or checked bag, or roomier seats. If you don't need much, you can fly for dirt cheap and spend your money on something more fun.
And this has paid off. Not only are Spirit's prices so cheap, but they actually brought down the prices of OTHER airlines just so they could compete!
A lot of people have a bad experience on an airline and say, "I'm never flying that airline again." Frankly, I can't stand when people say that. In the vast majority of cases, they're complaining about something that happens on literally every airline: delays, lost luggage, flight attendants in a bad mood. And people on ultra low-cost carriers are often shocked to learn that food and entertainment are not included.
But Spirit has improved its product exponentially. If you last flew Spirit in, like, 2006, and have been holding a grudge since, give them another try.
Here's what I liked the most about flying with Spirit:
Charging for carry-on luggage is actually smart. Case in point: when we were getting ready to fly back to the mainland, a different airline made an announcement: they needed 20 volunteers to check their carry-on bags. TWENTY VOLUNTEERS. What's the point of even offering carry-on if you're going to force 20 passengers to check it?
Compare that to Spirit: because checked bags are cheaper than carry-on bags, more people check their bags and there was ample space for those of us who did pay for carry-on.
They're on time more often than the major airlines. That's something that Spirit has massively improved in the past year. It's especially notable when you consider that Spirit operates so many flights in the Caribbean, which can be stormy.
Their big seats are cheap. The big seats up front are an add-on, but it only cost $38 for each leg. Most major airlines charge more than that for a premium economy seat, and Spirit's seats are much bigger and wider.
They're getting internet and it's SO cheap. Spirit will be adding wifi to their flights starting this fall, completed by mid-summer 2019. Regular internet is going to cost around $6 per flight and streaming internet is going to cost around $9 per flight. That is REALLY cheap — and most airlines don't allow you to stream at all. And because it's satellite wifi, there won't be dead areas! I'm excited for this to be implemented.
They invest in a woman-owned booze company. On the way back Cailin and I ordered some Buzzballz, little balls filled with cocktails. They were fun and tasty, and I so appreciate when a big company invests in a woman-owned company in a male-dominated field.
The staff were excellent when we had an emergency. On the LGA-FLL flight, not one but two passengers had medical emergencies and the staff handled everything calmly and professionally. If that's a reflection of Spirit, I feel safe in their hands.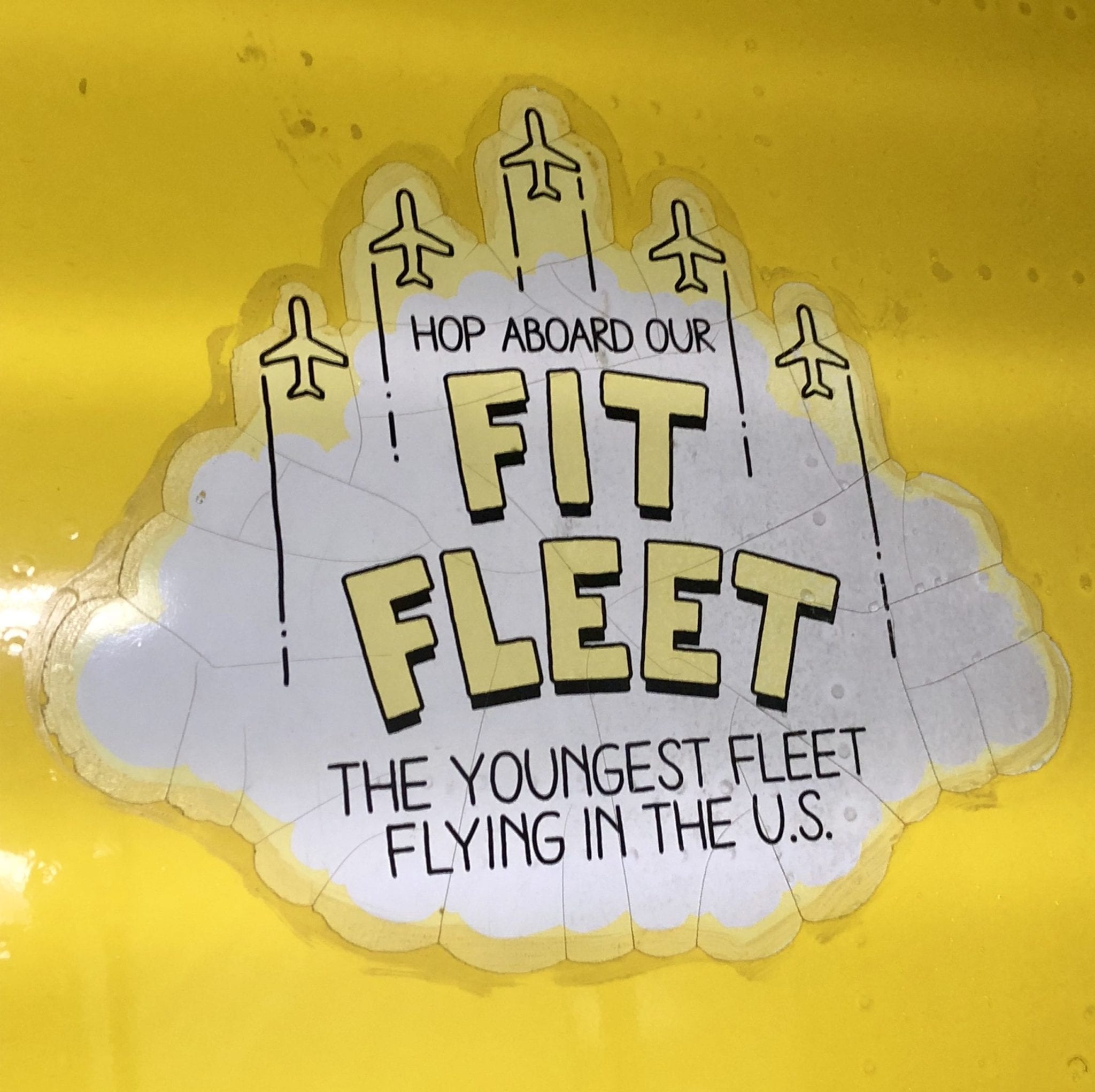 Now — here's what I didn't like. I don't think that Spirit should be charging for both carry-on and checked luggage; while technically you could pack a few pieces of clothing into your "small item" beneath the seat, I think they should cover at least one. And I don't love that their hub is Fort Lauderdale — it's my least favorite airport in the US, devoid of decent food options except one Chili's that's usually full, and there are no lounges in the terminals where Spirit flights depart.
Would I fly Spirit again? Absolutely — especially once their cheap wifi kicks in. But if I were on a longer flight (5+ hours), I would pay extra for one of the big seats up front.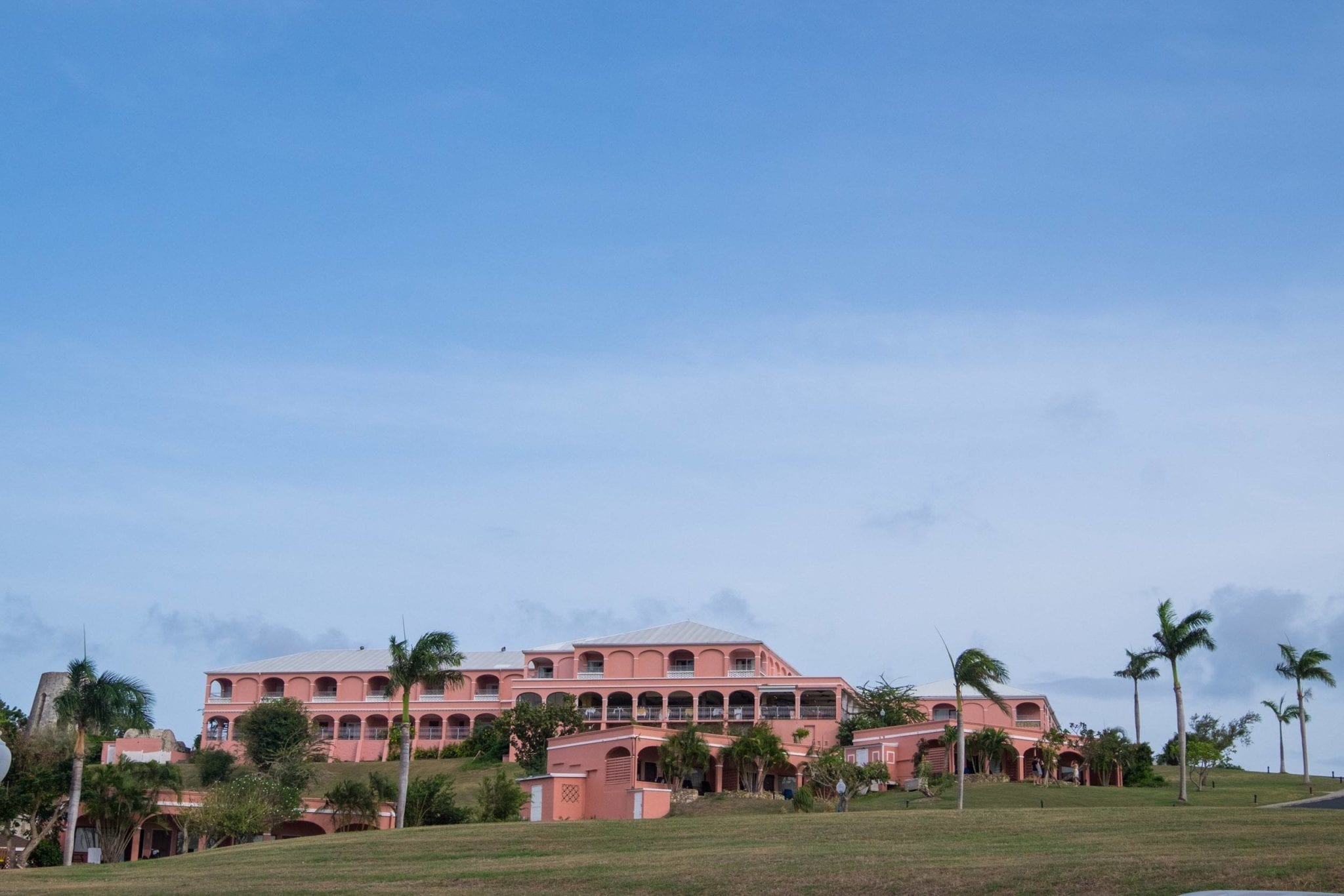 Where We Stayed: The Buccaneer Resort
If you're a fan of The Bachelor, you might recognize The Buccaneer — Sean Lowe's season took place here! There was a rose ceremony in the sugar mill near the front.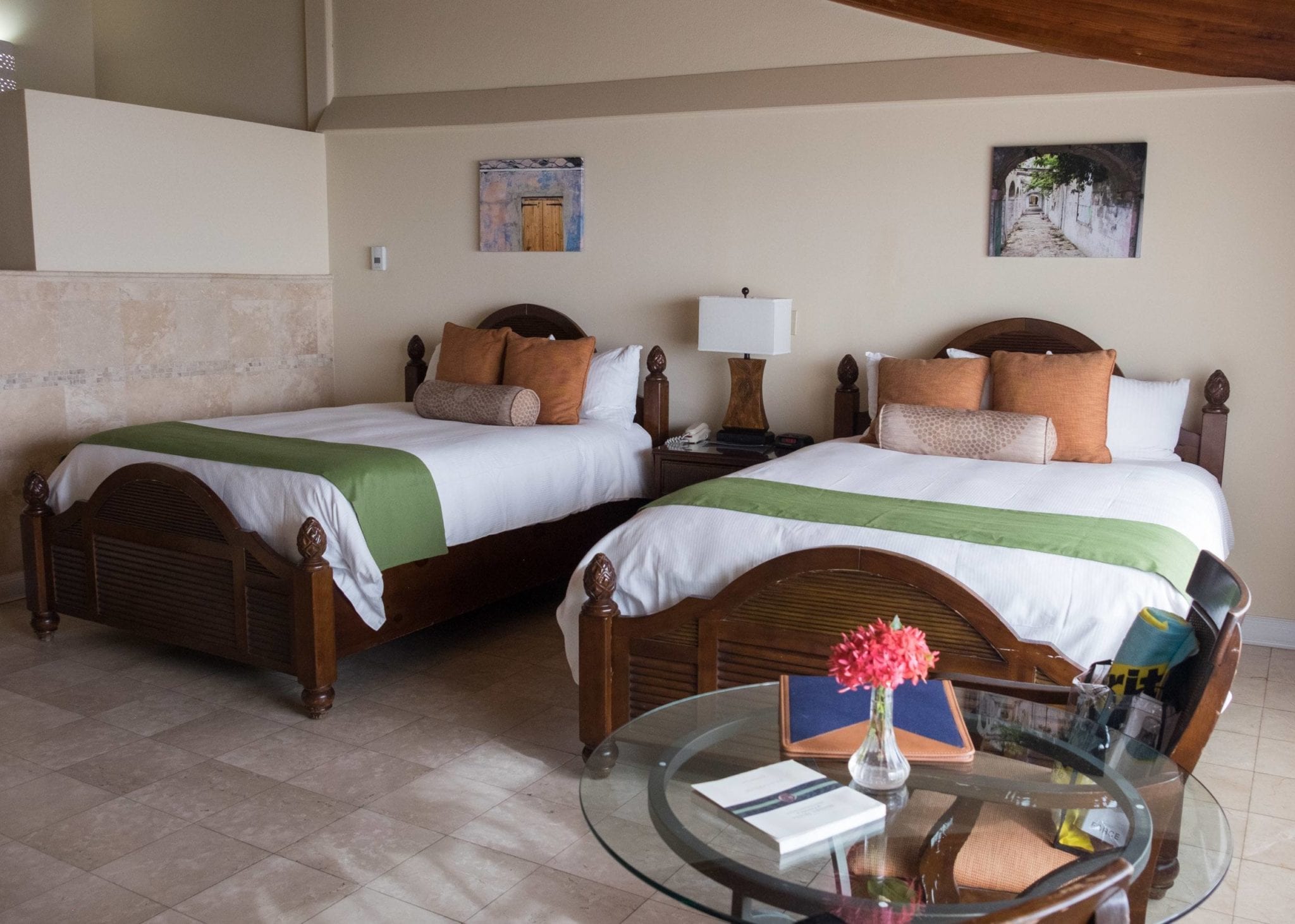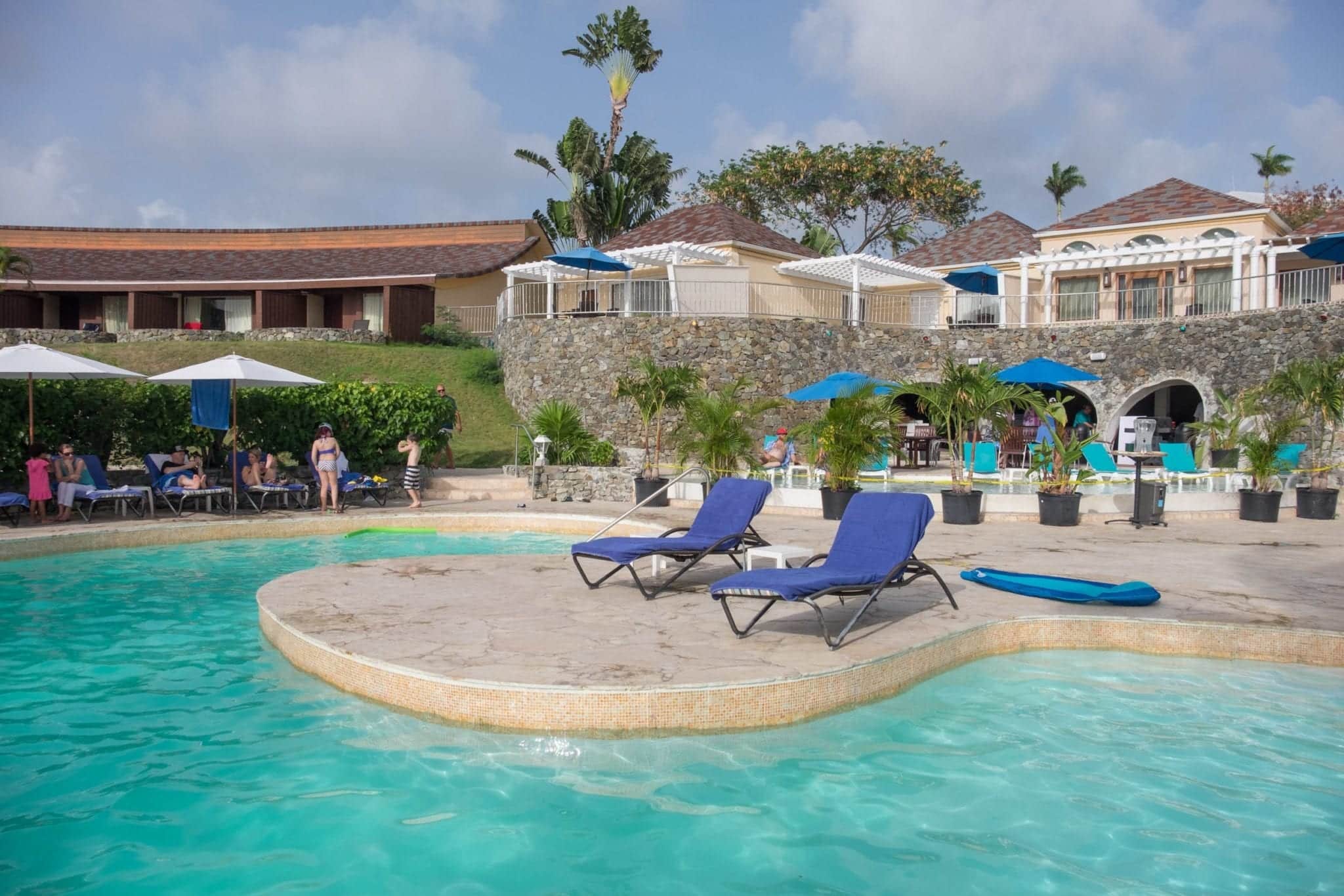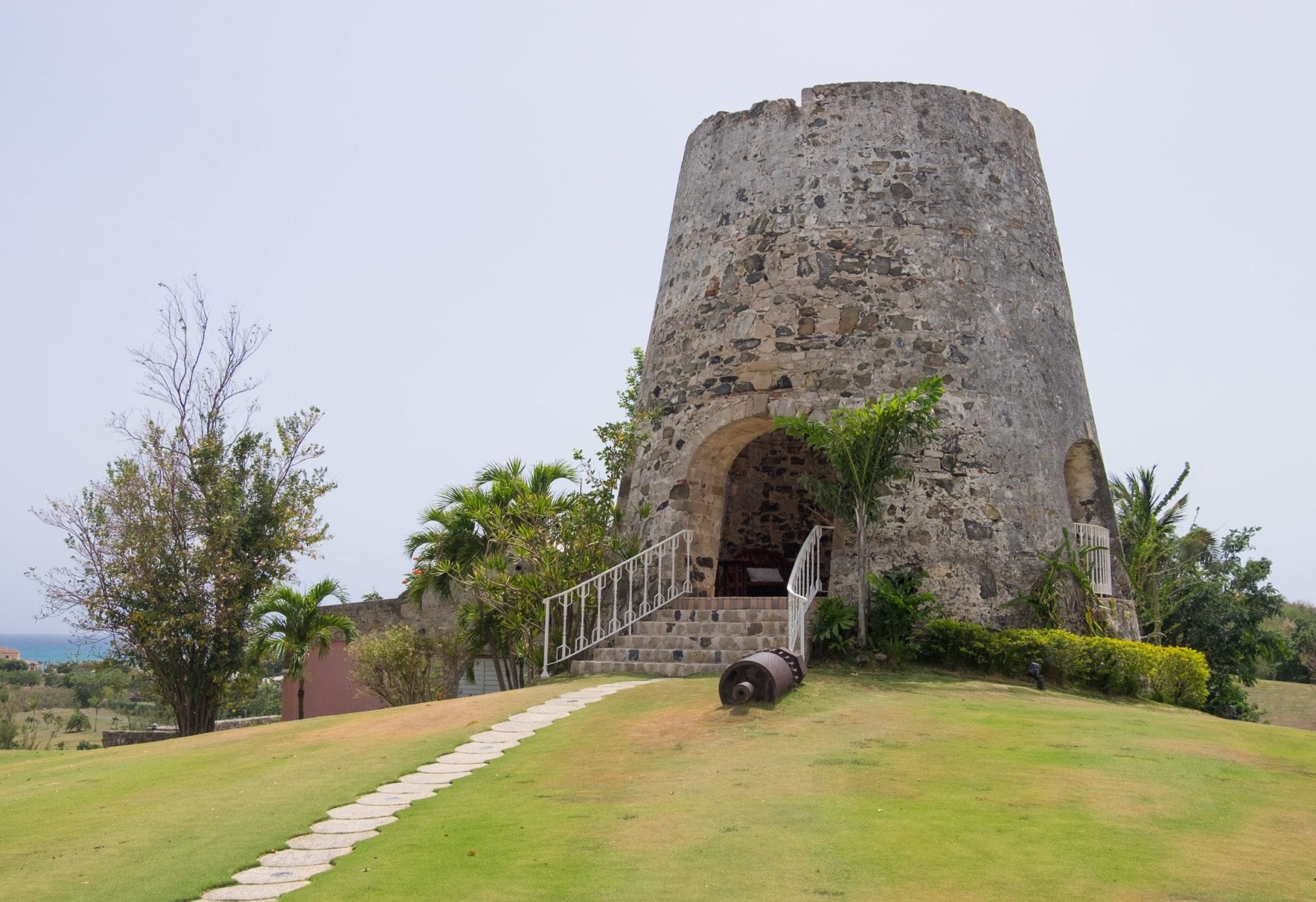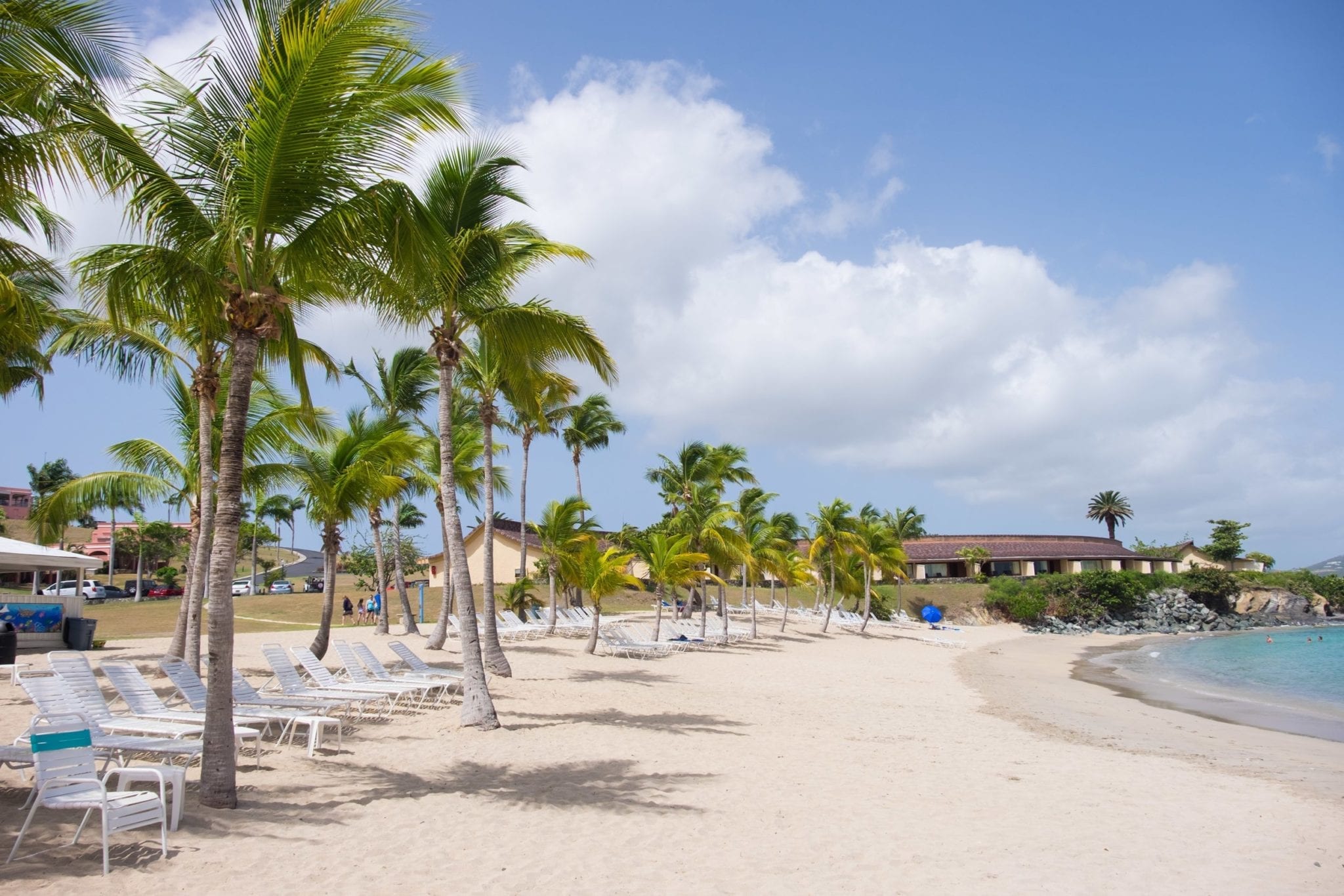 I loved our water-view rooms. There were three beaches. Breakfast was pretty good (I ate their Caribbean spiced oatmeal every day). I also appreciated that we were so close to Christiansted for going out at night — a taxi from the hotel cost $5 per person. And most importantly, the staff were wonderful.
That said, it's not a top-tier luxury property, and the suites could stand to be renovated (especially the bathrooms). Our group was disappointed that the pool bar closed at 5:00 PM and the hotel bar closed at 11:00 PM, both of which seemed incredibly early.
Would I stay there again? Under most circumstances, sure. I had a great time! But it's a very family-friendly resort and kids are everywhere, so I wouldn't stay there if I wanted to have more of an adult-oriented trip…or drink after 11:00 PM.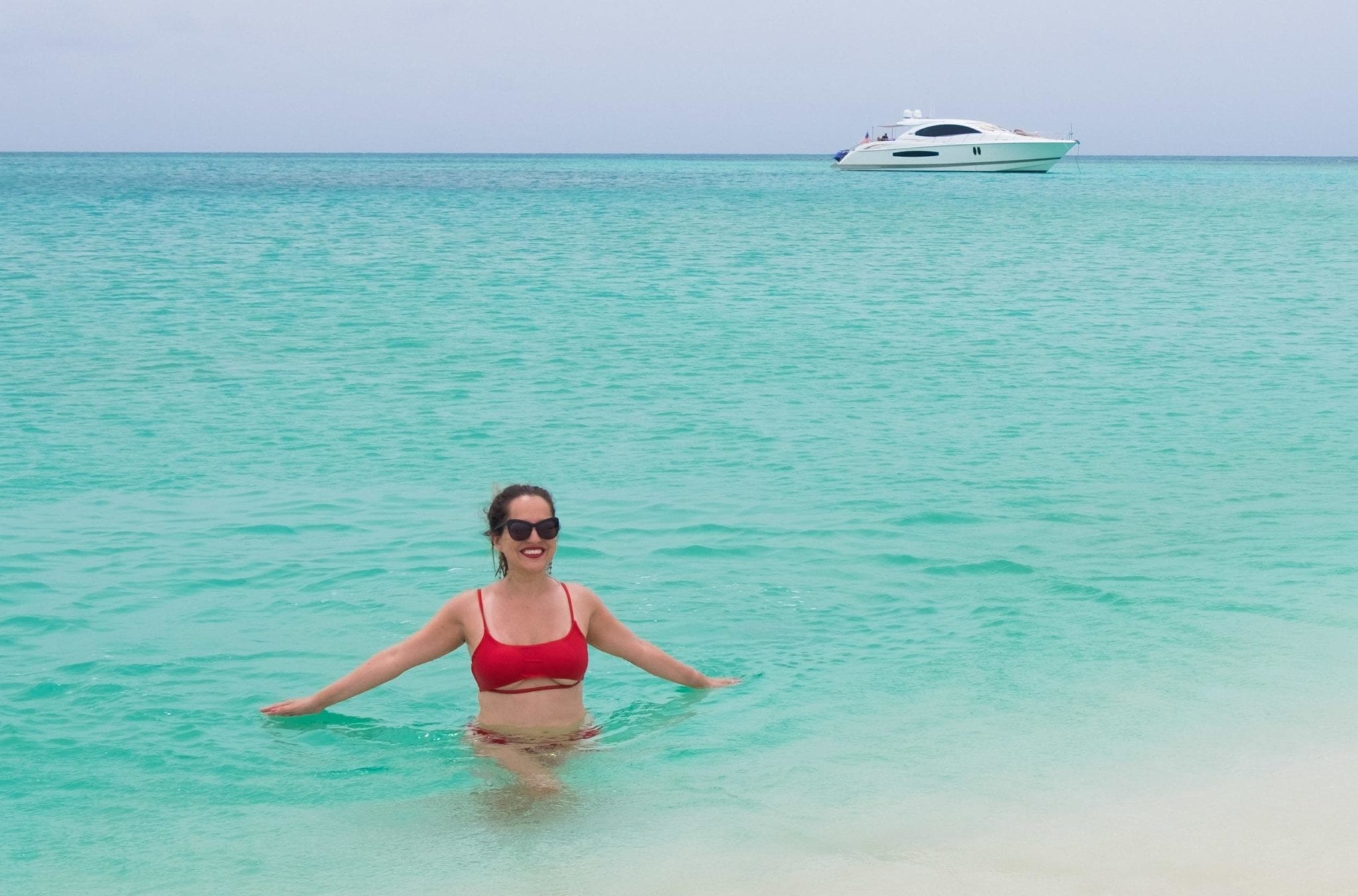 The Takeaway
I had a great time on St. Croix! And I would absolutely go back. Anywhere the water is that blue against your new favorite underboob bikini is fine with me! But in all seriousness, I found St. Croix to be an excellent spot for a chilled out Caribbean trip, especially if you base yourself at a hotel with nice beaches near Christiansted.
And yes — I was very impressed with what I learned about Spirit and I look forward to my next flight with them. I won't lie, I'm looking at countries they fly to that I haven't visited yet — Jamaica, Ecuador, Peru, Panama…where do you think I should go next?
And one other thing…if you followed along on social media in real time, you probably could tell that there was a lot of JOY on this trip. I laughed harder and more often in St. Croix than I have in a long time. Part of that was that the Spirit team assembled a fantastic group of people for this trip. That's actually rare, and it really makes a difference. I'm going to be looking back at this trip and smiling for a long time.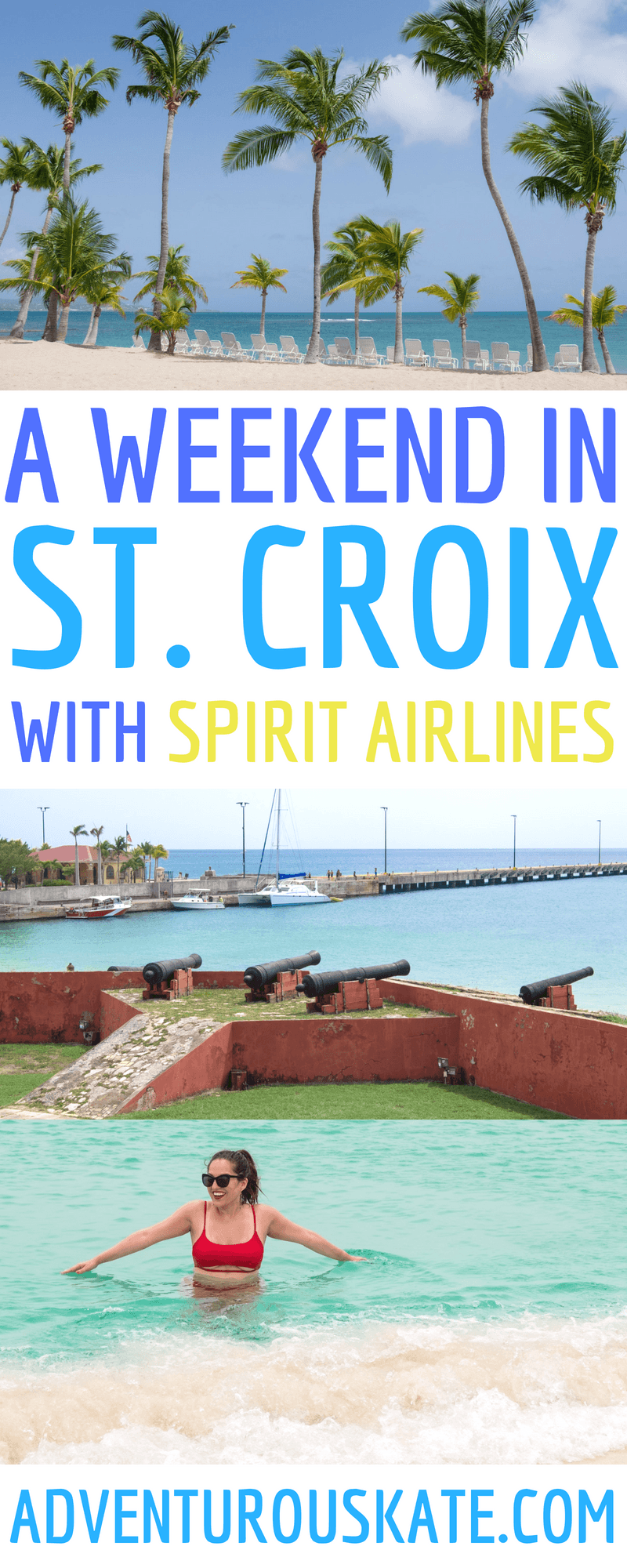 Essential Info: On this trip we stayed at the Buccaneer Resort. Rates from $299. Check out rates on hotels in St. Croix here.

Our snorkeling trip to Buck Island National Monument was with Big Beards Adventure Tours. Half day sails from $75, full day sails from $105.

Please bring reef safe sunscreen to St. Croix. Even if you're not planning to snorkel, St. Croix is surrounded by reefs, and this keeps them protected from harmful chemicals. Before this trip I only used reef safe sunscreen when snorkeling, but now I'm going to use it whenever I'm close to a reef.

I use travel insurance for all of my trips to protect myself (and my finances) from ruin. For this trip and all my US trips, I use World Nomads, which I recommend.
This campaign is brought to you by Spirit Airlines and Visit USVI, who paid for all expenses and incidentals, excluding my transport to and from the airport. All opinions, as always, are my own.
Have you been to St. Croix or flown Spirit? Share away!
The post A Weekend Getaway to St. Croix with Spirit Airlines appeared first on Adventurous Kate.