This month was a wild ride — at first it felt like things were getting back to normal. I went to my first travel trade show since COVID began. I got to see so many friends I hadn't seen in years. I had Thanksgiving with an actual group of people.
And by the end of the month, cases were soaring higher than ever before in the Czech Republic. Fanning outward, cases increased throughout Central Europe. Throughout Eastern Europe. Throughout most of Europe, in fact.
Not to mention the arrival of the Omicron variant that initially panicked the world. We're still waiting to hear more about just what this means, but I feel like the media (and governments) unnecessarily panicked.
Such is the world we live in today. I've made my peace with it. I know that things will be better in the future. And even though life is up and down, there are a lot of opportunities to find beauty and meaning in the world around us.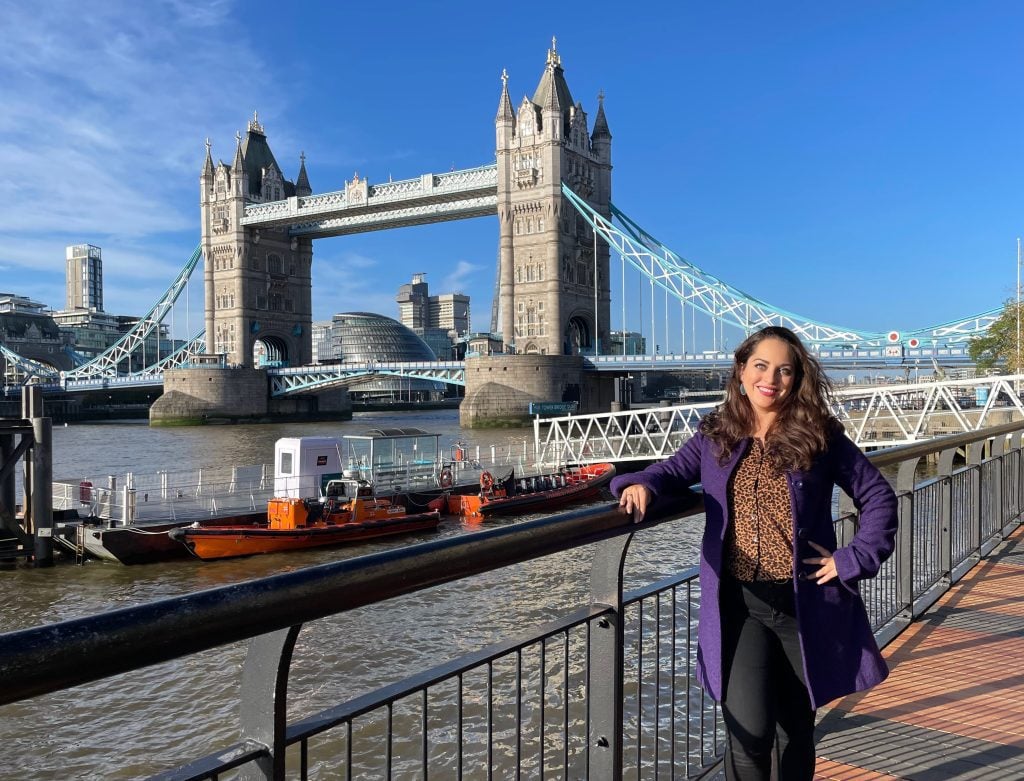 Destinations Visited
London and Watford, England
Prague, Czech Republic
Budapest, Hungary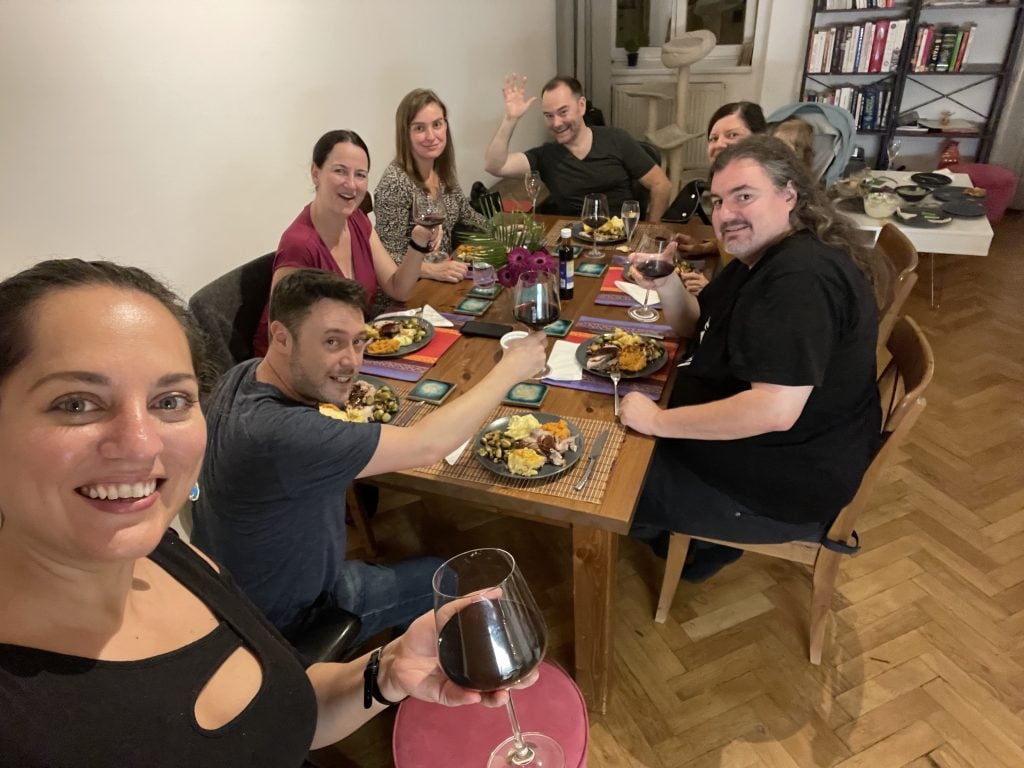 Highlights
Hosting Thanksgiving for a wonderful group of friends. This is the first time I've cooked Thanksgiving for more than two people and it was a lot of fun! We had a nontraditional menu. Charlie made a porchetta with demi-glace and I made sweet potatoes with chipotles and cinnamon, roasted garlic mashed potatoes, roasted brussels sprouts with pomegranate and walnuts, and lemon pistachio bars.
Friends made mac and cheese, a tarte tatin, gingerbread cookies, and chocolate mousse. And I also made some whipped feta with roasted scallions and green goddess dip. And Charlie and our friend did shrimp cocktail. It was kind of A LOT of food.
It was a lot of fun — and it was nice to have a fully vaccinated AND recently tested group. My big Thanksgiving tip? Do as much ahead of time as humanly possible, plan and schedule "oven time" (especially if you have a small European oven), and if one person is doing most of the cooking, have at least one other person serve as sous-chef for the hour before dinner.
A really nice trip to London. This was my first non-outdoorsy trip since the beginning of COVID. I went for a few reasons: for our friend's annual bonfire party, to see Charlie's family, and to attend WTM, a travel conference.
WTM was a bit odd. Lots of major countries weren't there — no Germany was weird enough, but I was floored by there being no China — and the gap was filled by the UAE and Saudi Arabia, who each had enormous sections.
Best of all was attending a Traverse meetup and getting to see so many of my friends I haven't seen in years. And next year's Traverse conference is going to be in Brno, Czech Republic! I'm so excited!!!
I did some London things — visited Borough Market, got an afternoon tea, visited the museum of stolen stuff I MEAN the British Museum — and was shocked at how few masks were worn on the tube.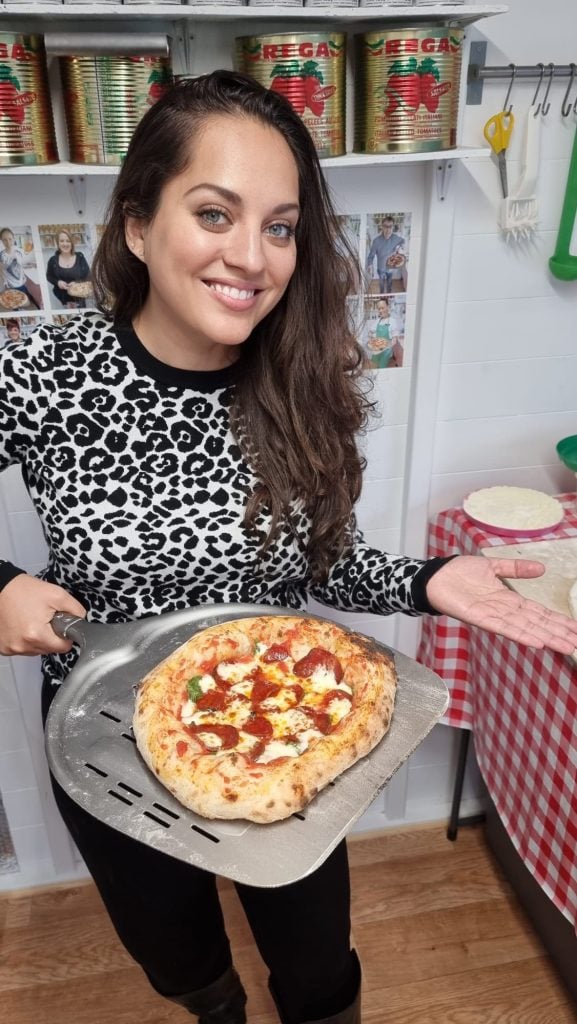 It was really nice getting to spend time with Charlie's family — I hadn't seen them in literal years. Once highlight was visiting his sister and her girlfriend, who had the best quarantine project ever — they built a PIZZA SHACK in their front garden! Now whenever anyone comes over, they get to make their own pizza with outstanding ingredients!
A Christmas Market visit to Budapest. What an awesome trip! It was so nice to visit Budapest after 17 years away (seriously) and get to enjoy the city during the festive season.
The Christmas stuff was fun. But some of the highlights for me were exploring the ruin bars, re-creating an image I have of myself in Budapest in 2004, and taking a relaxing cruise up and down the Danube. You can read more about it in my Budapest post.
My first Bonfire Party. Every year, Charlie's best friend Aeon throws a bonfire party at his mother's home, a large historic building outside London. This is a big tradition for Charlie's friends and I'm glad I finally got to take part, meet cool people, drink wine, and watch the flames dance.
I finally got my money back from Thrifty! You might recall that I spent months in conflict with Thrifty, the car rental agency, after the super-cheap car rental I had booked for September was mysteriously not in their system, and I had to pay hundreds of dollars more on the spot to even get a car.
For months, I would call, spend forever on the phone with customer service, and get promised a call back within 48 hours. They never called back. They kept my case in limbo.
Finally, on Charlie's suggestion, I emailed their PR department and told them I was about to write a story on what had happened. WHAT DO YOU KNOW, seven hours later they had refunded me $800. Amazing how quickly they were able to move on that.
Getting my booster! I finally got my booster, six months after my second shot. My first two shots I had fatigue and some light chills, but on the booster I had more intense chills and a fever for a few hours. I feel very grateful to be able to protect others this way.
Krampus! There was a Krampus parade in Prague, celebrating the evil Alpine Christmas character who terrorizes naughty children. Honestly, this was the biggest culture shock I've had in Prague. I expected it to be a gathering for gore-loving adults (after all, our metal-loving friend suggested we attend).
Nope. It was mostly families. Tons of kids, all wearing light-up devil horns. And they SCREAMED WITH DELIGHT, wanting to sit on Krampus's lap! I didn't see a single kid cry or get scared — and these were scary Krampuses with horrifying masks. (Krampi?)
Challenges
The state of COVID. If you've been following international news, you know that things have been pretty bad in Central Europe — especially the Czech Republic. It's really disappointing, especially since it seemed like we had avoided the summer Delta wave.
So I had to cancel my stop in Vienna on the way back from Budapest, as well as a much-hoped-for Christmas markets trip, driving across Germany to my beloved Strasbourg and Colmar in France, stopping in Rothenburg and Heidelberg.
The good news is that hospitalizations and deaths are far lower than before, thanks to vaccination, and cases are finally beginning to go down in the Czech Republic. The incoming government is determined for there not to be another lockdown; instead, restaurants and bars are closed at 10:00 PM, and Prague's Christmas Markets have been canceled.
Some mild food poisoning in London. Back when I lived in London I absolutely loved Franco Manca, a pizza place that prioritized local and/or organic ingredients. I went back and it was…not great. Then Charlie and I both felt ill on and off for the next several days. UGH.
Unfortunately, Franco Manca has gone way downhill, several of my London friends have since told me. It's too bad; it used to be so good!
And we tried some bagels from a recently opened shop — and they were so dense and tough, Charlie promptly lost a filling. Good times.
Blog Posts of the Month
What It's Like to Travel Internationally During COVID (November 2021 Update) — I've traveled a good amount internationally during COVID, and here are the things you should know — from getting PCR tests on time to the right masks to wear.
Of course, I need to update it already — the US has recently announced that people entering the US will need an antigen test from maximum 24 hours before flight departure.
Visiting the Budapest Christmas Markets — Everything you need to know about the Budapest Christmas Markets (yes, they are open this year), plus some other ways to enjoy a trip to Budapest.
The Best Gifts for Travelers — Every year I update my gift guide, and this year I have a few new items on the list — this year, I'm especially excited to promote my CBD products, AK CBD, and my two new scarf designs from Speakeasy Travel Supply!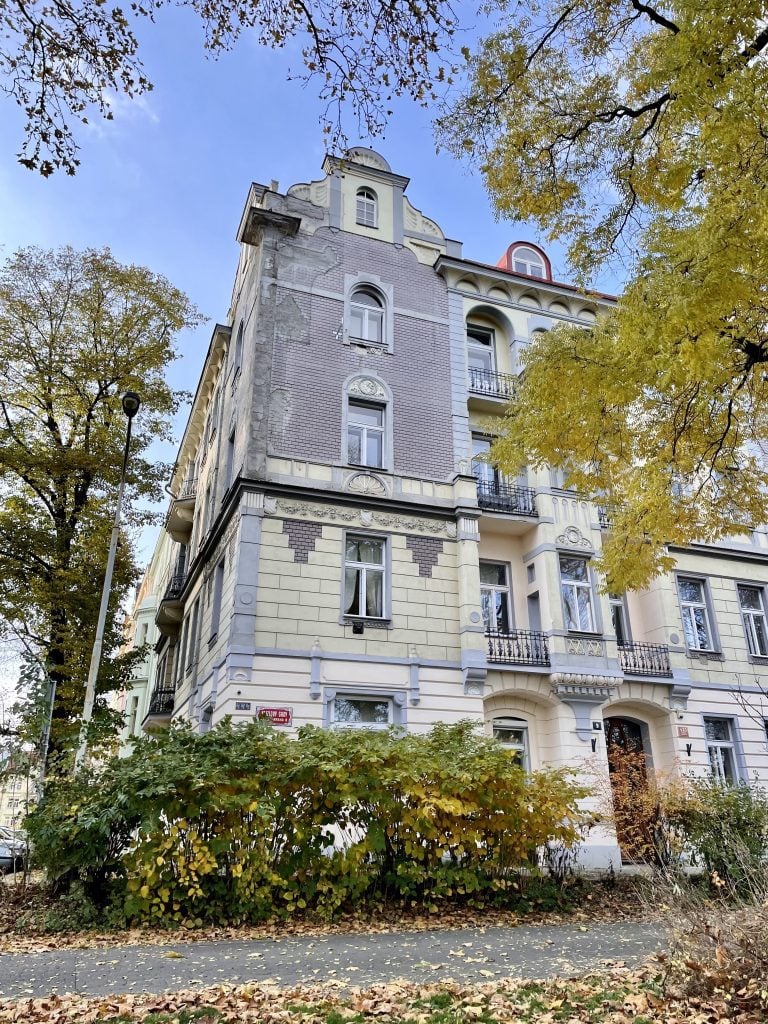 This Month on Patreon
On the Adventurous Kate Patreon, I publish exclusive content and never-told stories that you can access from $6 per month. We also have a private Facebook group and members get free access to the Book Club each month.
This month I published a long-form post about the hellish situation that Thrifty put me in — and how after months and months of inaction, I was finally to get that refund. And how you can use the "nuclear option" yourself.
I also did a piece on COVID in the Czech Republic (who know the magical way to increase vaccination was to limit pubs to the vaccinated!) and we had a discussion in the group about fertility-looking symbols in Budapest's Chapel of the Black Madonna.
Book Club This Month
Our book club is coming up two days from now: Sunday, December 5. My friend Lola Akinmade Åkerström recently released her new novel, In Every Mirror She's Black. So this may be last minute, but the book is so devourable that I know you can finish it by then!
"Three Black women are linked in unexpected ways to the same influential white man in Stockholm as they build their new lives in the most open society run by the most private people.

Successful marketing executive Kemi Adeyemi is lured from the U.S. to Sweden by Jonny von Lundin, CEO of the nation's largest marketing firm, to help fix a PR fiasco involving a racially tone-deaf campaign. A killer at work but a failure in love, Kemi's move is a last-ditch effort to reclaim her social life.

A chance meeting with Jonny in business class en route to the U.S. propels former model-turned-flight-attendant Brittany-Rae Johnson into a life of wealth, luxury, and privilege–a life she's not sure she wants–as the object of his unhealthy obsession.

And refugee Muna Saheed, who lost her entire family, finds a job cleaning the toilets at Jonny's office as she works to establish her residency in Sweden and, more importantly, seeks connection and a place she can call home.

Told through the perspectives of each of the three women, In Every Mirror She's Black is a fast-paced, richly nuanced yet accessible contemporary novel that touches on important social issues of racism, classism, fetishization, and tokenism, and what it means to be a Black woman navigating a white-dominated society."
You can buy the book at Bookshop.org here.
The book club will take place on Sunday, December 5, at 1:00 PM Eastern Time. This event is free and open to all.
We will start with a discussion with Lola, and later we will have a discussion amongst ourselves.
You can sign up here to join us. Hope to see you there!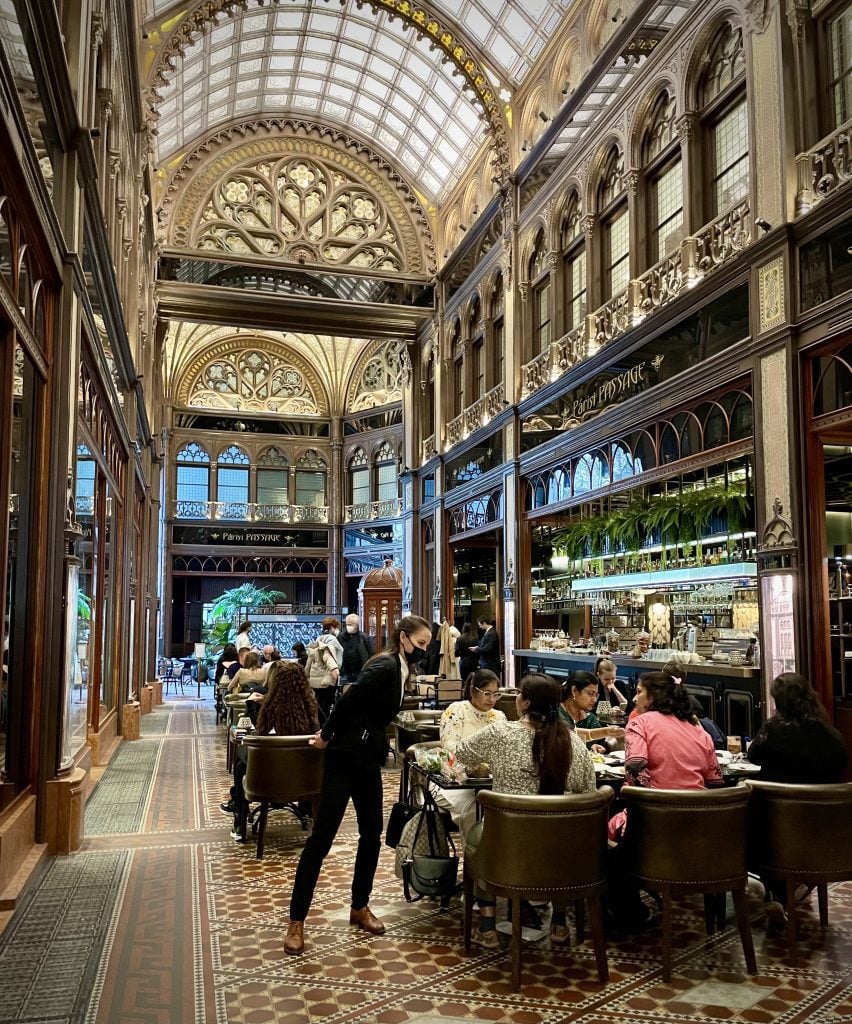 Most Popular Photo on Instagram
The most popular photo of the month came from a cafe in Budapest: Párisi Passage Cafe and Brasserie. Budapest has several ornate cafes, some more popular with tourists than others. This one didn't feel touristy at all! Everything inside was a feast for the eyes.
For more live updates from my travels, follow me on Instagram at @adventurouskate.
What I Watched This Month
My new obsession is Yellowjackets! Only three episodes have been released so far. This fictitious drama on Showtime is the closest predecessor to Lost…in a good way. (Many other shows have tried and not succeeded.)
In 1996, a plane with a champion girls' high school soccer team crashed in the Canadian wilderness. They were stranded for nearly two years. When they were rescued, none of them would discuss what happened out there, and there were always rumors that they turned to cannibalism.
The show picks up in the present day, the survivors now in their early 40s, and toggles back and forth between the present and when they were stranded. And it turns out what actually happened out there was much darker than anyone could have predicted.
What I Read This Month
I swear I'm still reading. It's just being put on the back burner for my Big Work Project.
In Every Mirror She's Black by Lola Akinmade Åkerström (2021) — This novel tells the story of three Black women living in Sweden, all connected to the same man. Kemi is a marketing dynamo recruited to Jonny's firm after a racism scandal. Brittany is a model-turned-flight attendant who finds herself ensnared in an unlikely relationship with Jonny. And Muna is a refugee from Somalia who cleans Jonny's office.
I really loved this novel. I love how well Stockholm served as the setting (not surprising, as Lola has been a travel writer specializing in Stockholm for quite some time). Racism is everywhere, but every country has its own personal flavors of it — even in a country many consider to be a pinnacle of progressivism. Sweden is chilly in many ways, and it has a particular way of freezing Black women out.
But in addition to the setting, I loved the characters and the paths they chose. I'm still thinking of where they would be now, a week after finishing the book!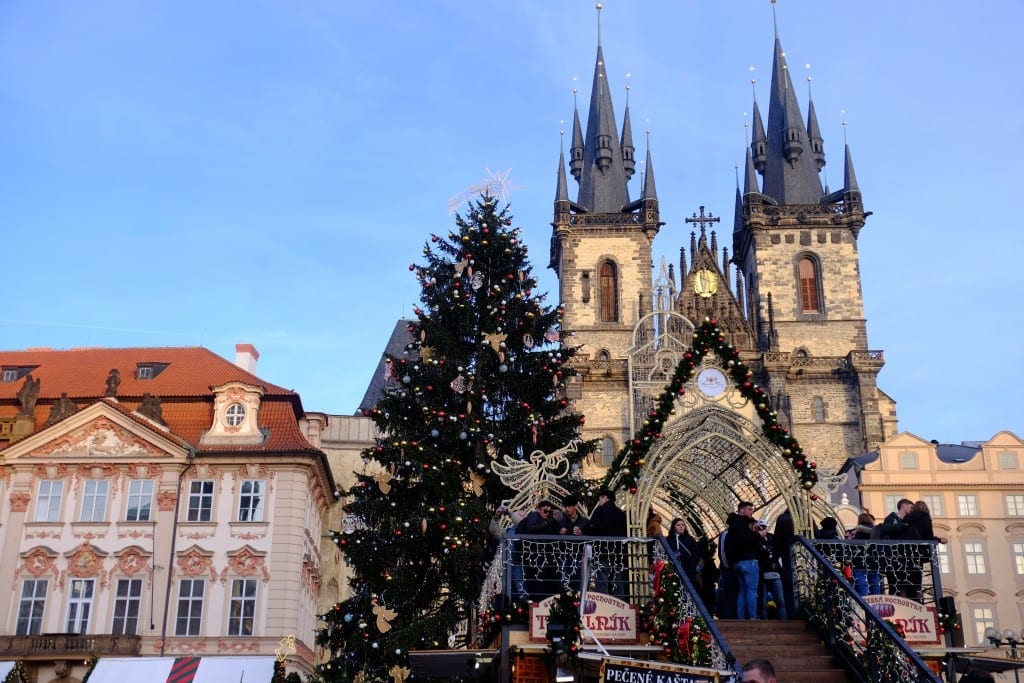 Coming Up in December 2021
We will be staying in place for December until we leave for the holidays. No reason to go anywhere while cases in Central Europe are so high.
Charlie will be able to get his booster this month, and I'm eager for that to happen.
On the 24th, we fly to London to spend Christmas with Charlie's family. (Due to some recent UK entry rule changes, we will need to take a PCR test upon arrival and self-isolate until it comes back negative. We found a place that will deliver results by midnight.) Then on the 26th, we fly to Boston for Christmas with my family.
We will be in Massachusetts for a few days, and then on the 31st, we fly to a brand new destination for us both, just in time to ring in the new year.
My Patreon people know where we're going. And they're known for awhile! All I will say is that it's warm and we will be there for a full MONTH. We will miss our kitties, Lewis and Murray, SO much, but they will be well cared for by house-sitting friends in our absence.
What are your plans for December? Share away!
The post AK Monthly Recap: November 2021 appeared first on Adventurous Kate.